Biographies—and really all books within the history genre—are definitely an area that is lacking in my my reading life. It's not that I don't enjoy learning about history; both of my parents are pretty big history buffs and they taught me to appreciate the subject from an early age. However, I've had the most luck with historical fiction, as I find many nonfiction history books to be pretty dry. I always end up enjoying (or, at the very least, learning a lot from) the history books that I do read, but I need to be in the right mood to pick them up. Including this category of books in this year's Reading Challenge was my way of nudging myself toward the genre, regardless of my mood.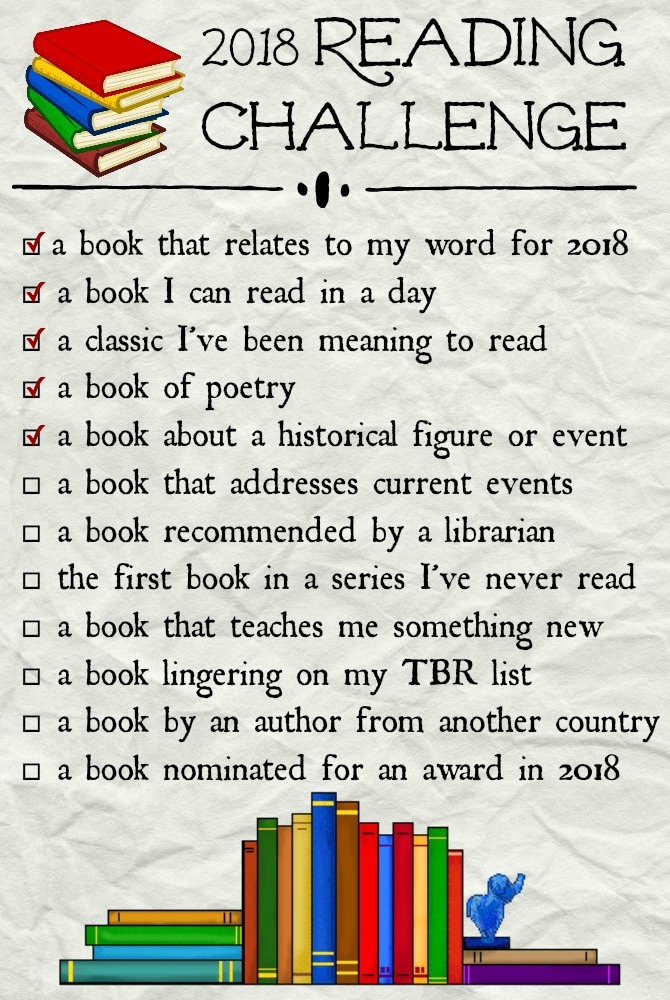 A goal for including this genre in my year's Reading Challenge was to do some in-depth learning about a single person or event. . . so I suppose I cheated a bit by selecting a book about not one, but SEVEN people. This book has been on my radar for a while, though, and when the Kindle version came on sale for under a dollar the very week I was selecting my next Reading Challenge title, it seemed like too much of a coincidence to pass up.
Eric Metaxas is a seasoned biographer best known for his works on Dietrich Bonhoeffer and William Wilberforce. In 7 Women: And the Secret of Their Greatness, Metaxas explores the lives and achievements of seven women who changed the course of history: Joan of Arc, Susanna Wesley, Hannah More, Maria Skobtsova, Corrie ten Boom, Rosa Parks, and Mother Teresa. Each of these women is deserving of her own complete biography, but I enjoyed getting a bird's-eye view of their lives and accomplishments, and the ways they contributed to society.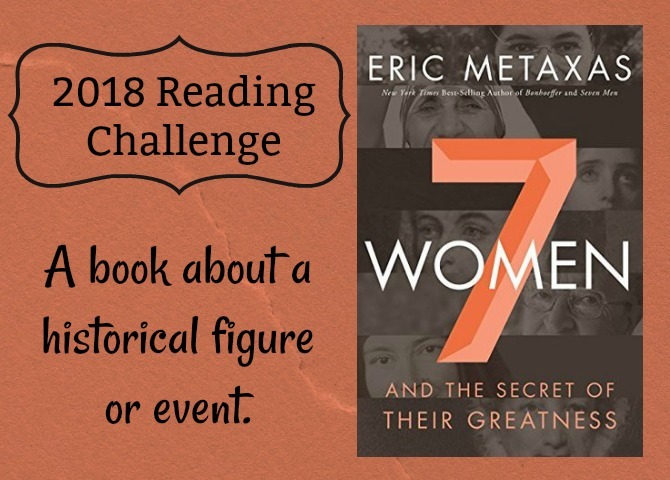 Metaxas begins with an introduction outlining his reasons for selecting these specific seven women for his book. After writing 7 Men: And the Secret of Their Greatness, he'd received many requests to write this book, and of course his fans had ideas about who would be included. Many of the suggestions were women who had been the first of their gender to do something men had already done, such as Sally Ride or Amelia Earheart. However, Metaxas didn't want to write a book that pit the sexes against each other. The great men in his first book had not been measured against women, and he did not want the women in this book to be measured against men. Instead, he selected women who were great, not in spite of their womanhood, but because of it: it was their specifically feminine attributes that empowered them to do such amazing work.
I loved Metaxas' perspective and am fully on board with his view of feminism—that men and women were designed by God to be different, and we need to celebrate these differences rather than pretend that men and women are exactly the same. The rest of his Introduction explores this theme further, and it was by far my favorite part of the book.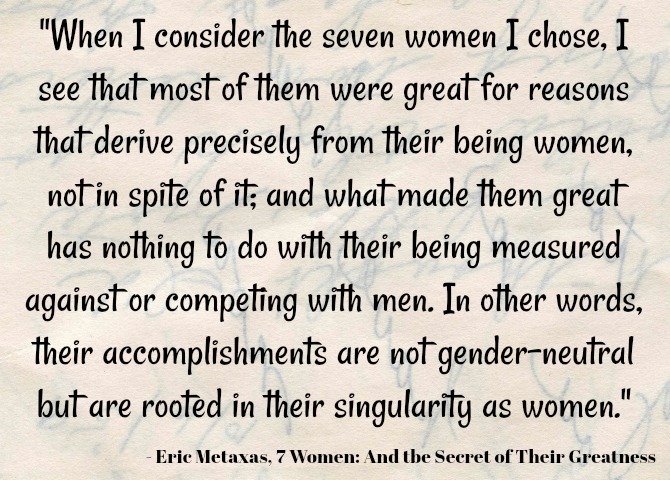 The seven women whose stories are told here are not the seven women I would have selected, but only because I had never heard of many of them! Corrie ten Boom has been my personal hero for decades (and her inclusion was the book's biggest draw for me), and I was familiar with Rosa Parks and Mother Teresa, but the remaining women's stories were all new to me. Having read them, I now have many more heroines to add to my list of personal role models. The seven women are incredibly diverse, coming from different decades, different faith backgrounds, and different life circumstances. But each was used by God to do incredible things, whether that was playing a role in the abolition of slavery, showing love and compassion to the sick and dying, or leading an army to victory.
I think my favorite story was that of Susanna Wesley. From the outside, she appears to have been nothing more than a stay-at-home mom (albeit one to nineteen children—that's quite a job!). But she was a strong woman who held her family together and provided for them when her husband failed to do so. She gave her children a strong spiritual and educational foundation, and her love and discipline inspired her sons John and Charles to lead a world-changing revival. Metaxas summarizes her legacy beautifully at the end of the chapter dedicated to her: "Anyone believing that the life of a woman dedicated to her family must be less than optimal cannot know the story of Susanna Wesley. Despite poverty, illness, a difficult marriage, and heartbreak in endless forms, she used her intellect, creativity, time, energies, and will in such a way that can hardly be reckoned. The world in which we live owes much of the goodness in it to her life."
Because this book consolidates the stories of seven women into a single tome, it is light on anecdotes and heavy on dates and other basic facts. As a result, it isn't the most engaging read. However, I appreciated the compilation: together, this group of women presents a powerful picture of how God has used women throughout history. And getting a taste of each woman's story has inspired me to read more about each one of them.
My Rating: 4 stars.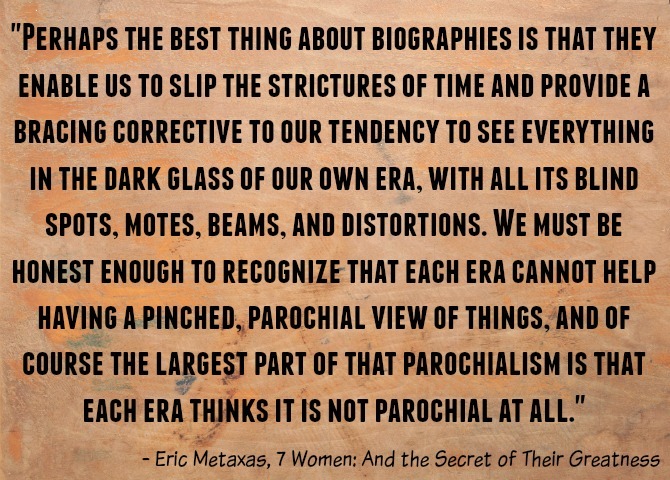 OTHER BOOKS I CONSIDERED FOR THIS CATEGORY
(I've included portions of each book's Amazon synopsis, along with the titles.)
Victoria: The Queen: An Intimate Biography of the Woman Who Ruled an Empire, by Julia Baird: "This page-turning biography reveals the real woman behind the myth: a bold, glamorous, unbreakable queen—a Victoria for our times. Drawing on previously unpublished papers, this stunning new portrait is a story of love and heartbreak, of devotion and grief, of strength and resilience."
Alexander Hamilton, by Ron Chernow: "Chernow presents a landmark biography of Alexander Hamilton, the Founding Father who galvanized, inspired, scandalized, and shaped the newborn nation… Chernow's biography is not just a portrait of Hamilton, but the story of America's birth seen through its most central figure. At a critical time to look back to our roots, Alexander Hamilton will remind readers of the purpose of our institutions and our heritage as Americans."
Killers of the Flower Moon: The Osage Murders and the Birth of the FBI, by David Grann: "Grann revisits a shocking series of crimes in which dozens of people were murdered in cold blood. Based on years of research and startling new evidence, the book is a masterpiece of narrative nonfiction, as each step in the investigation reveals a series of sinister secrets and reversals. But more than that, it is a searing indictment of the callousness and prejudice toward American Indians that allowed the murderers to operate with impunity for so long. Killers of the Flower Moon is utterly compelling, but also emotionally devastating."
The Midnight Assassin: Panic, Scandal, and the Hunt for America's First Serial Killer, by Skip Hollandsworth: "The Midnight Assassin is a sweeping narrative history of a terrifying serial killer–America's first–who stalked Austin, Texas in 1885… With vivid historical detail and novelistic flair, Texas Monthly journalist Skip Hollandsworth brings this terrifying saga to life."
Leonardo da Vinci, by Walter Isaacson: "Based on thousands of pages from Leonardo's astonishing notebooks and new discoveries about his life and work, Walter Isaacson weaves a narrative that connects his art to his science. He shows how Leonardo's genius was based on skills we can improve in ourselves, such as passionate curiosity, careful observation, and an imagination so playful that it flirted with fantasy."
Dead Wake: The Last Crossing of the Lusitania, by Erik Larson: "Gripping and important, Dead Wake captures the sheer drama and emotional power of a disaster whose intimate details and true meaning have long been obscured by history."
The Wright Brothers, by David McCullough: "In this 'enjoyable, fast-paced tale,' master historian David McCullough 'shows as never before how two Ohio boys from a remarkable family taught the world to fly' and 'captures the marvel of what the Wrights accomplished'… Essential reading, this is 'a story of timeless importance, told with uncommon empathy and fluency…about what might be the most astonishing feat mankind has ever accomplished.'"
The Radium Girls: The Dark Story of America's Shining Women, by Kate Moore: "Written with a sparkling voice and breakneck pace, The Radium Girls fully illuminates the inspiring young women exposed to the 'wonder' substance of radium, and their awe-inspiring strength in the face of almost impossible circumstances. Their courage and tenacity led to life-changing regulations, research into nuclear bombing, and ultimately saved hundreds of thousands of lives…"
The Romanov Sisters: The Lost Lives of the Daughters of Nicholas and Alexandra, by Helen Rappaport: "The Romanov Sisters sets out to capture the joy as well as the insecurities and poignancy of those young lives against the backdrop of the dying days of late Imperial Russia, World War I and the Russian Revolution. Helen Rappaport aims to present a new and challenging take on the story, drawing extensively on previously unseen or unpublished letters, diaries and archival sources, as well as private collections."
Jane Austen at Home: A Biography, by Lucy Worsley: "Lucy Worsley's Jane Austen at Home is a richly entertaining and illuminating new book about one of the world's favorite novelists and one of the subjects she returned to over and over in her unforgettable novels: home."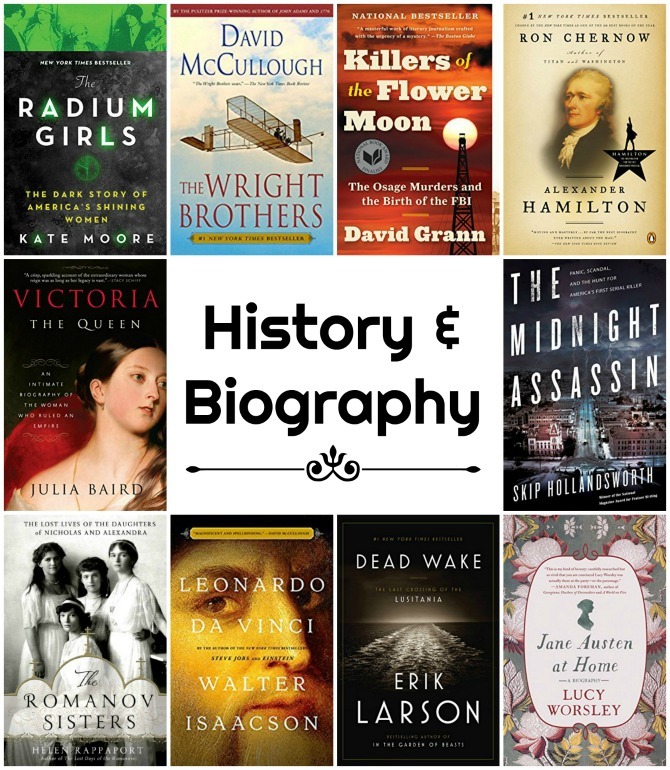 Do you read a lot of biographies or other history books? What's your favorite book from the genre? What would you have chosen to read from this category?