When we moved into our current apartment a little over a year ago, one of its key features was that it had a third bedroom. At the time, we only needed two bedrooms—one for us, and one to use as our office—but we knew (hoped!) that children were in our near future, so we left the spare bedroom mostly empty, with plans of turning it into a nursery once we had a little one on the way. Babies and interior design are two of my favorite things, and I've been mentally designing my dream nursery for years now, so once we did get pregnant, I was excited to begin creating a beautiful space for our precious little one.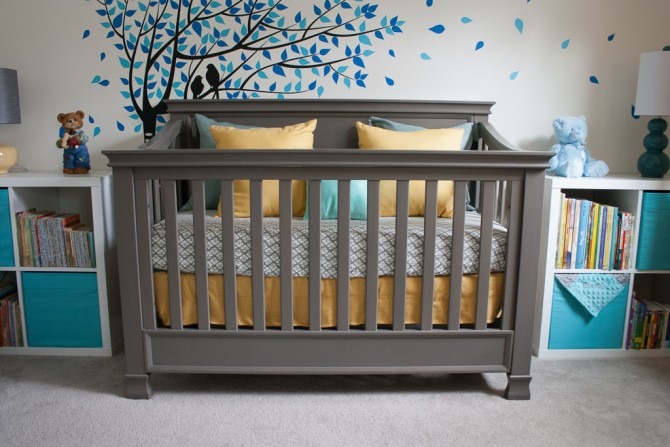 My planning process began with creating an inspiration board on Pinterest. The nursery images I was drawn to all had a turquoise, yellow, and grey color palette; these colors were particularly appealing to me because they would work for either a boy or a girl, and at the time we didn't know what we were having. (We also wanted to keep the room fairly gender-neutral so that we could repurpose the decor for future children.) I had initially wanted to paint the walls of the room grey, but we ultimately decided against it, since we are renting and didn't want to have to repaint when we move. Instead, we kept the walls white and used grey furniture to bring in the grey element.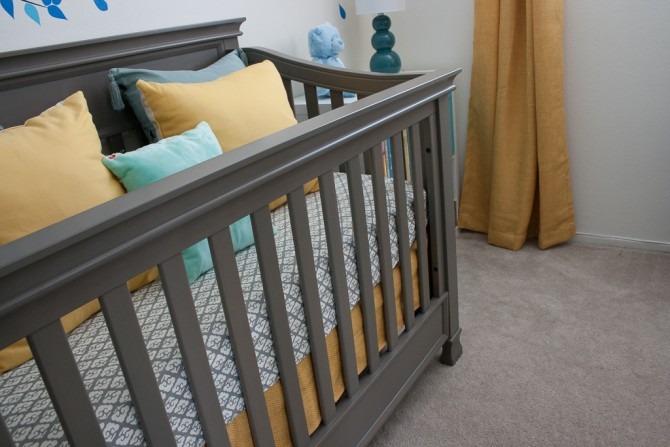 My parents generously offered to buy our crib and dresser, but they left it up to us to choose ones that we liked. We fell in love with a crib set at Babies R Us, but were disappointed to learn that it was back-ordered and might not ship until well after Charlie was born. We began looking elsewhere and found something we liked even better: this Million Dollar Baby convertible crib that we ordered from a boutique baby furniture store.
My mother-in-law made our bedskirt from a curtain panel that matches the yellow curtains we bought from Bed Bath and Beyond. The grey sheet was a shower gift purchased from our Babies R Us registry. And since Charlie won't be in his crib for awhile, I decided to fill it with decorative pillows for the time being. The blue pillows were ones we already had, and the yellow pillows are from Target. My aunt made the adorable turquoise pillow.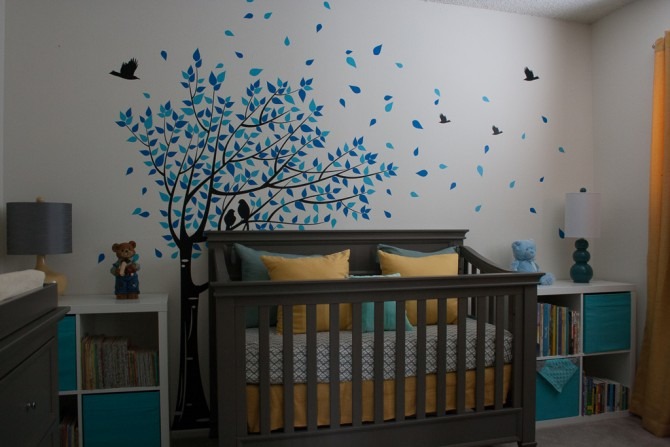 Almost all of the nurseries I liked on Pinterest had adorable tree decals, but most of them were white and wouldn't work with our white walls. I was excited to find this black one, which fills our space beautifully. Luke spent many, many hours applying the hundreds of individual leaves; I am way too much of a perfectionist to tackle this sort of freestyle artistic endeavor, so I was beyond grateful that he was willing to take on the project. He did a great job!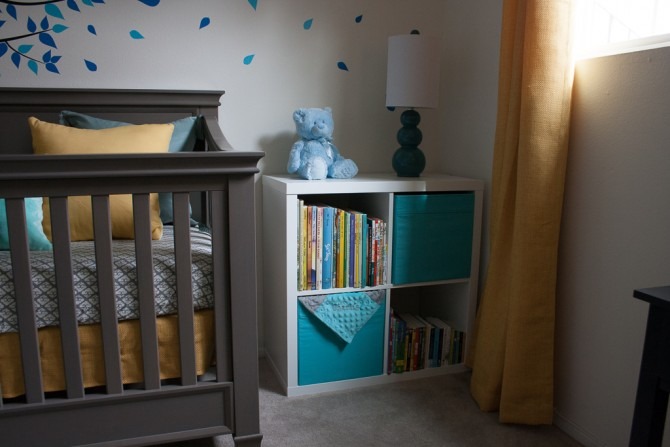 We bought the bookcases at IKEA (we have several similar cases throughout our home) and they are filled with books from my own childhood. I certainly hope Charlie likes to read because we have a lot of material for him! The blue boxes (also from IKEA) are filled with holiday-themed books as well as "girly" books that Charlie won't appreciate, but that I want to hang onto in case we ever have a girl. The little blanket lovie was a shower gift from a friend, and though it's hard to tell in the picture, she embroidered Charlie's name on it. The lamp was a Hobby Lobby purchase, and the bear was a gift that my in-laws brought to the hospital on the day Charlie was born.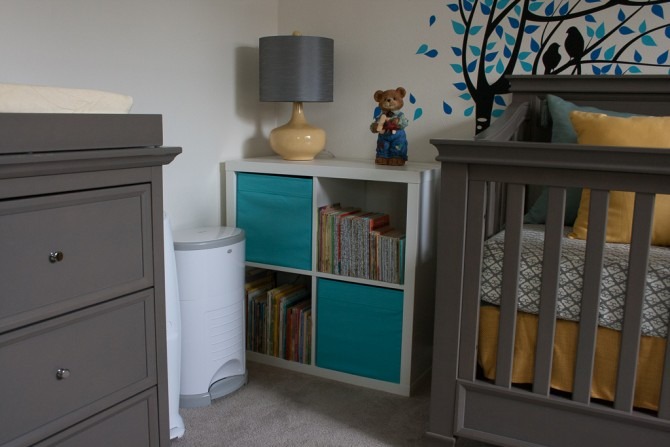 Another IKEA bookcase and more books! The blue boxes on this side are filled with toys and blankets. The yellow lamp is also from Hobby Lobby, and the ceramic bear (which is actually a piggy bank) was mine when I was younger. My parents recently discovered it when going through boxes of my old things, and we were all excited that it was boyish (most of my stuffed animals are decidedly more feminine). Luke is really into planes (he's already trying to convince me to do a plane theme for Charlie's first birthday), so the fact that the teddy bear is holding an airplane is a definite plus.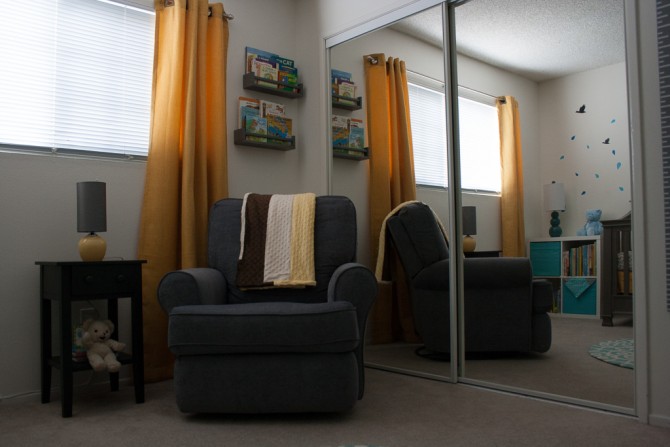 This is our little reading/nursing corner. We found the side table at World Market, and the glider is from Buy Buy Baby. The glider, which is also a recliner, is one of the most comfortable chairs I've ever sat in and was definitely a worthwhile purchase. The blanket was a Christmas present from my aunt; it wasn't intended for our nursery, but the colors matched so perfectly that we just had to include it in the room.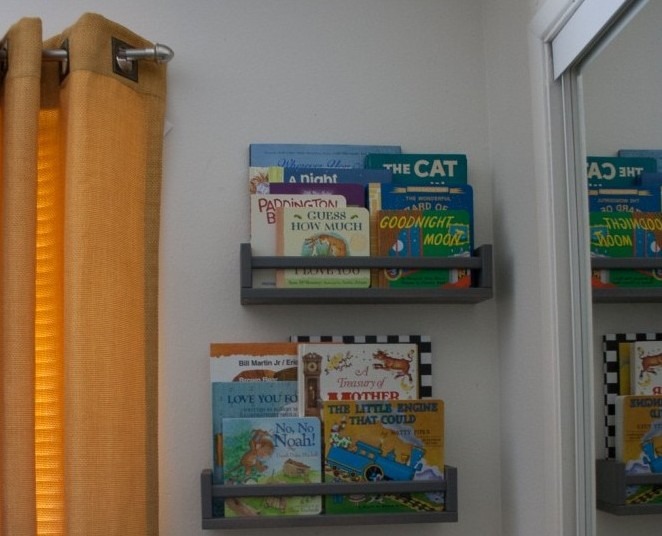 These book shelves are actually spice racks that we found at IKEA. They were an unfinished wood, but we spray-painted them grey to match the room. The books on these shelves were all gifts from my baby showers. So much book love going on in this room!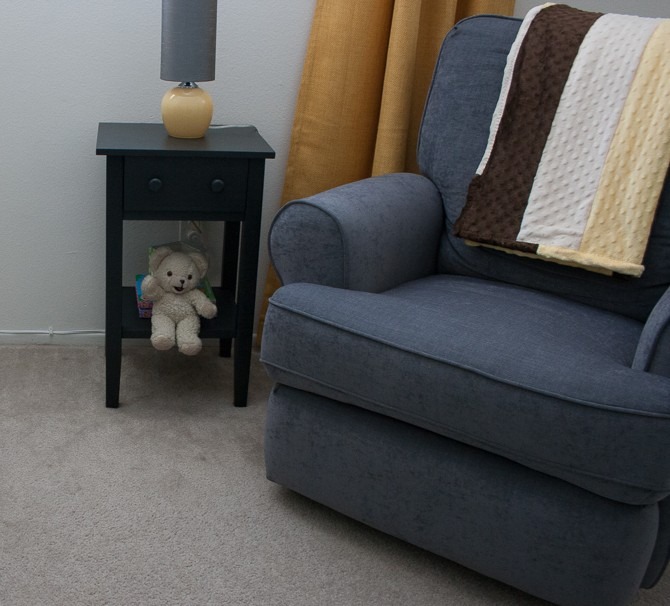 Meet Snuggles (yep, like the mascot from the fabric softener). This adorable little bear belonged to Luke's aunt, and he was so obsessed with it when he was little that she bought him his own. Not surprisingly, little Luke wanted nothing to do with the Snuggles substitute, but his aunt was never willing to part with the original. What a fun surprise when the original Snuggles showed up at our baby shower! I hope that Snuggles brings as much joy to Charlie as he brought to his daddy so many years ago.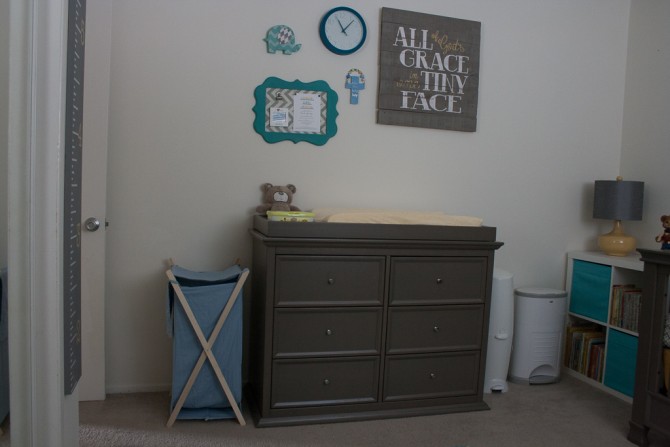 Like the crib, this dresser is from the Million Dollar Baby Classic Foothill set. It currently doubles as a changing table, but the changing tray is removable. To the right of the dresser are our two diaper pails: once Charlie can fit into his cloth diapers, the Diaper Genie (on the left) will hold disposable wipes and liners, while the Dekor diaper pail will hold cloth diapers that are ready to go in the wash; it has a cloth liner that can go straight into the laundry with the dirty diapers. The hamper to the left of the dresser was a baby shower gift purchased from our registry.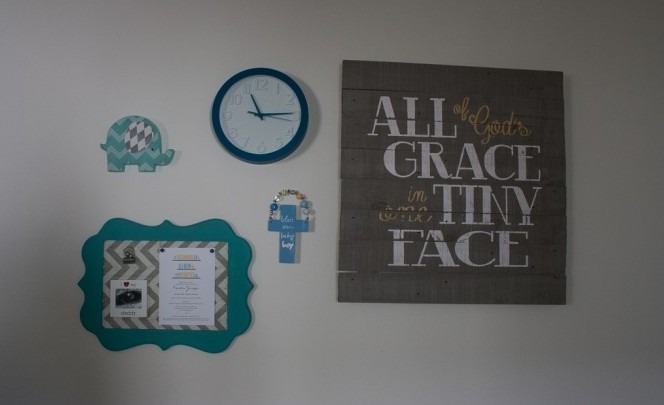 I'm really happy with how this gallery wall turned out. We spent quite a long time in Hobby Lobby trying to determine which items we wanted to buy; the elephant, magnetic board, and sign were all purchased there. The clock came from Target, and the cross (which reads "Bless Our Baby Boy") was a gift from my shower. On the magnetic board right now is the custom invitation from one of my baby showers and the sonogram from Charlie's first ultrasound in a frame that reads "I Love My Daddy" (I gave the picture to Luke as a Father's Day present last year).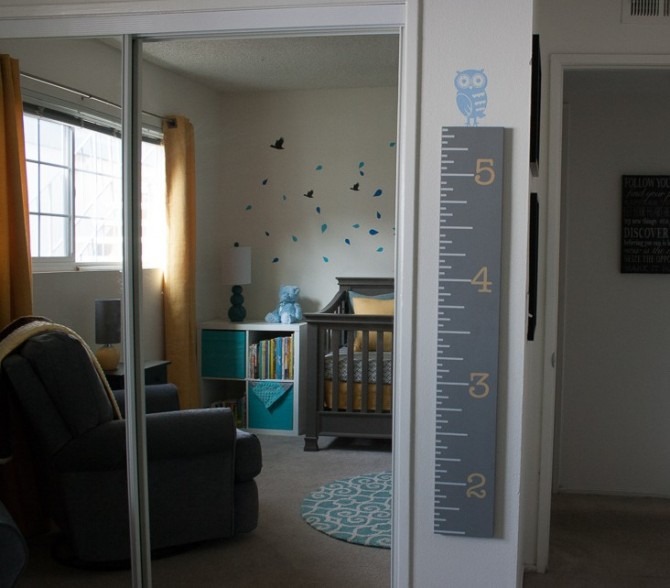 This wooden growth chart is also from Hobby Lobby (can you tell we had some fun there?!). Since we're renting our current home, we won't be able to mark our kids' growth on the wall, so we like the idea of a growth chart that will travel with us to wherever we go next. I am excited to one day see this ruler filled with names and dates, indicating our kids' growth over the years! In the closet mirror reflection, you can spot the room's turquoise area rug. We had a surprisingly hard time finding a rug that worked well in this space, but I eventually found one I liked at Tuesday Morning.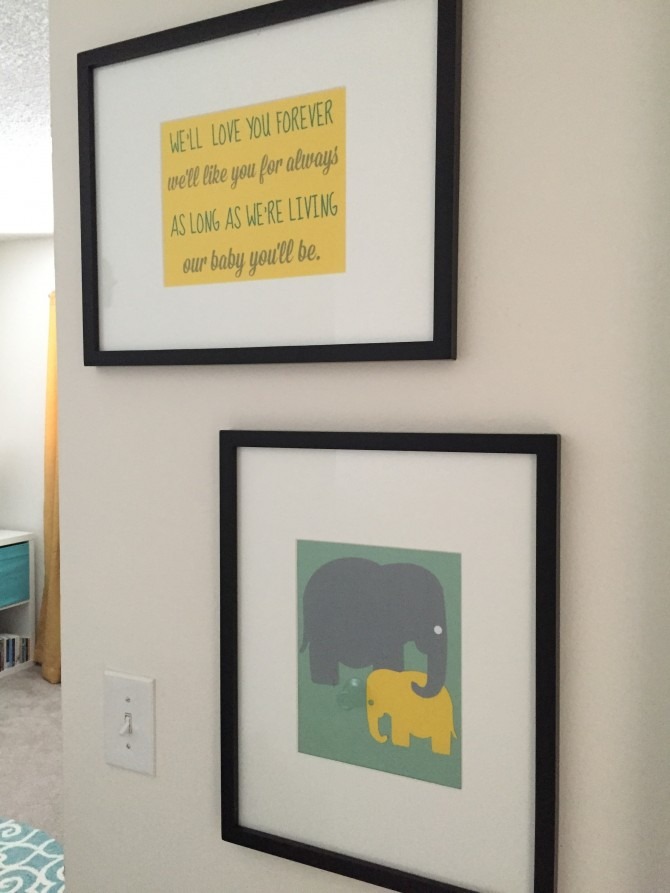 I created these pieces for the room's entryway. I was inspired by a trio of adorable prints that I found on Pinterest; they were cute, but I was unwilling to spend $43 for something I could recreate myself. I'm generally not very crafty, so I was pretty proud of my results. I Love You Forever is my favorite children's book, so I was excited to incorporate the story's sweet verse into our decor. The two elephants remind me of the touching "Baby of Mine" scene from Dumbo; I had that song on my labor playlist and always think of Charlie's birth when I look at this picture.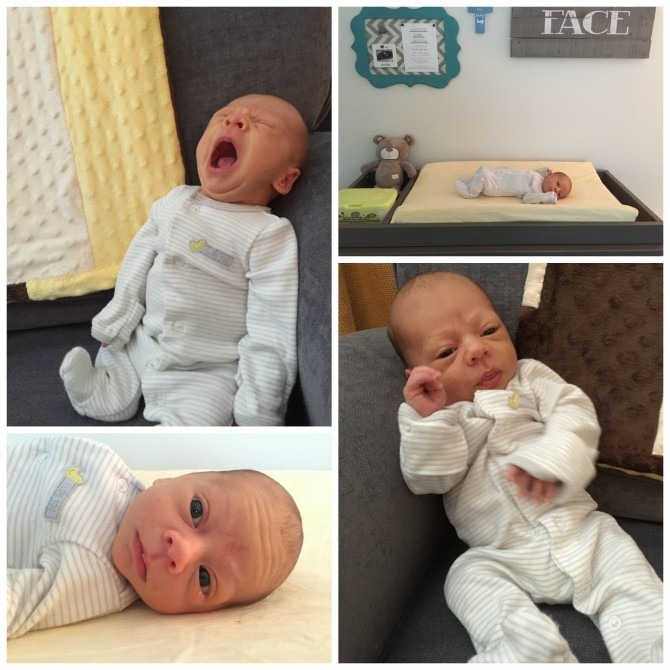 Though Charlie is still little, he already seems to enjoy his room. He's not sleeping here yet, but we have been spending some quality time in that glider (and some less-quality time on that changing table!). I look forward to the many memories we will create with him in this beautiful space.