Thanks to baby shower gifts and generous hand-me-downs, we haven't needed to buy much clothing for Charlie. Now that he's starting to outgrow the baby clothing (almost out of 9-month sizes, woohoo!) we may need to do some clothes shopping. Not that I mind—there are some seriously adorable options out there for toddler boys. Here's a look at a few items I'm wishlisting for Charlie's summer wardrobe.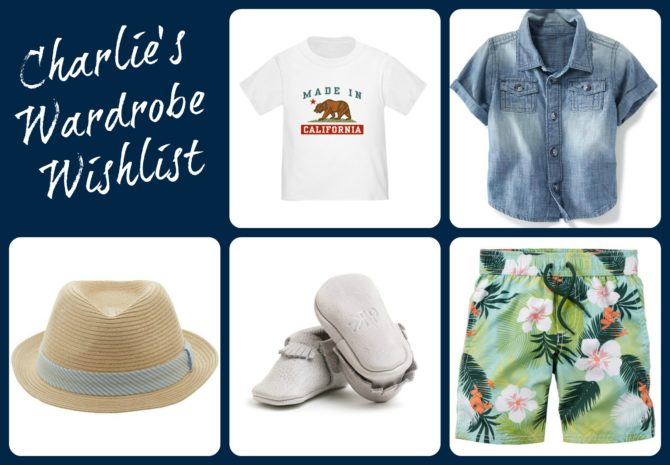 Charlie has a few Texas-themed onesies and tops, but nothing with a California logo. This t-shirt commemorates his coastal roots!
Old Navy has some of the cutest baby clothing. This chambray shirt is simply darling, and you can't beat the price.
I doubt that Charlie would actually leave this hat on his head, but as a hat lover myself, I think it would be fun for us to have matching fedoras!
We bought a weathered brown pair of these moccs for Charlie for Christmas and he wears them constantly. They are easy to put on, great for walking (neither bulky nor slippery, our toddler shoe nemeses) and have sparked many conversations with admiring strangers. Sixty dollars is a lot to pay for a pair of baby shoes, but we've gotten our money's worth from the first moccs and I'd like to add in this gray pair for some variety.
I'm loving the current palm trend. The print on these trunks might be a bit girly, but I think Charlie is macho enough to pull it off. 😉