For as long as I can remember, my mom has been telling me that I "think too much." She's not wrong. When it comes to mental aerobics, I'm an Olympics-caliber athlete with the ability to twist the simplest problem or idea into more knots than a Cirque du Soleil contortionist.
At times, this proclivity for overthinking has served me well, leading me to act with purpose and intentionality. More often than not, though, overthinking has led to frustration, procrastination, and an inability to remain present because my mind is otherwise occupied.
In the past few years I've made great strides in my battle against overthinking, but I still have quite a ways to go. Which is why I was thrilled when I learned that the forthcoming book from Anne Bogel (better known around the internet as Modern Mrs. Darcy) would be addressing this very topic. And as part of the launch team for Don't Overthink It, I had the opportunity to read an advanced reader copy!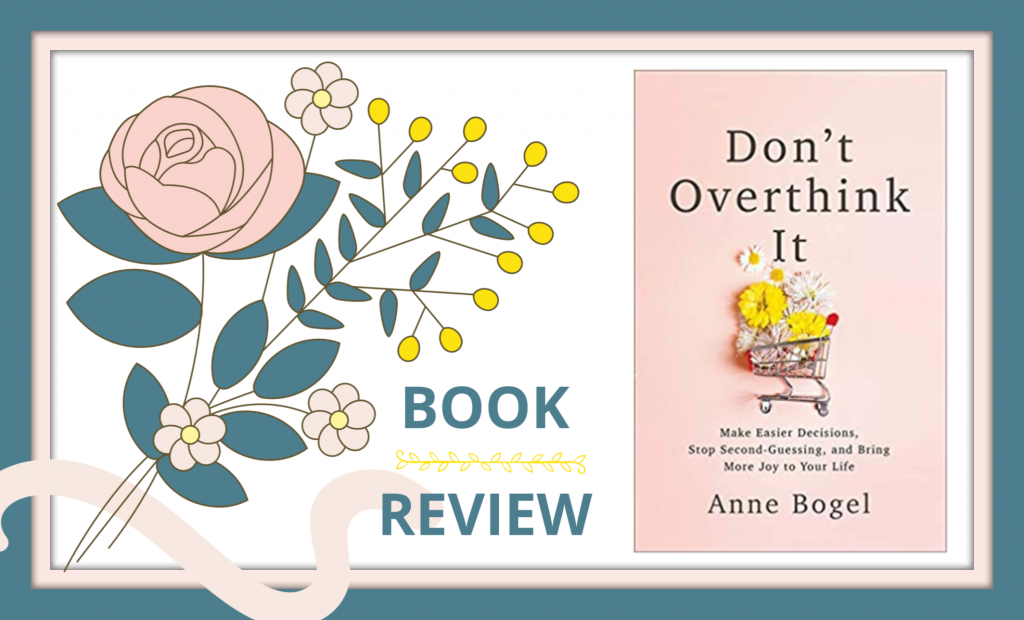 The book's premise is perfectly summed up in its subtitle: Make Better Decisions, Stop Second Guessing, and Bring More Joy to Your Life. Those are pretty big claims from a small tome, but after reading it, I can say that Don't Overthink It delivers on its promises.
In the book's opening chapter, Anne defines overthinking as "those times when we lavish mental energy on things that don't deserve it. Those times when we can't seem to think about anything else, even though we know our thoughts are better spent elsewhere."
Anne herself is no stranger to overthinking, having had her brain space hijacked by everything from travel plans to grocery purchases. And she knows that her readers can sympathize with this pitfall of getting caught in a loop of unproductive—or even destructive—thought. Overthinking can look like worry or fretting about the small stuff or second-guessing ourselves. Regardless of the form it takes, overthinking is repetitive, unhealthy, and unhelpful, depleting our mental energy and rendering us incapable of focusing on the things that actually matter.
Thankfully, we overthinkers are not condemned to a lifetime of mental imprisonment. According to Anne, it is possible to replace negative thought patterns with beneficial ones by following a three-part plan: 1) laying a solid foundation to conquer overthinking; 2) conquering unhealthy thought patterns in the moment and implementing practices that keep us from falling into these patterns in the first place; and 3) learning how to smartly think our way into life's simple pleasures.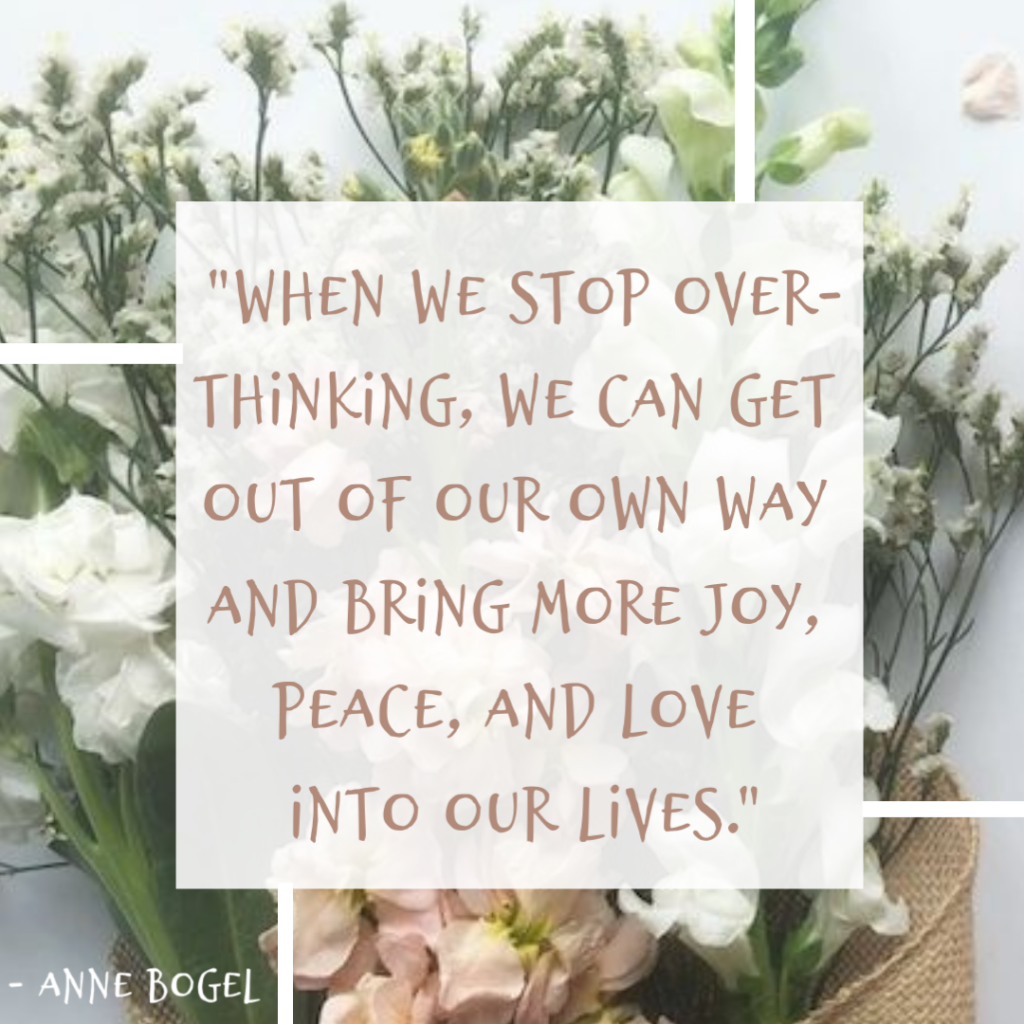 In Don't Overthink It, Anne digs into the specifics of this plan. She shows readers how to monitor our thinking, identifies potential triggers, and lists ways we can avoid them. As someone who has overthought my tendency to overthink, I was familiar with a lot of these concepts; still, I found it helpful and heartening to know that I am not alone in succumbing to these mental pitfalls. I also appreciated the reminder that I get to CHOOSE what to think about and that I don't have to remain a victim to my thoughts. Just knowing that overthinking does not need to be a chronic condition was freeing for me.
Many of the tools suggested in this book involve eliminating thinking altogether through steps such as streamlining decisions (e.g., eating or wearing the same thing every day), outsourcing, and getting clear on our values which brings clarity to our decision-making. I've already adopted may of these tools in recent years and can attest to their effectiveness.
No matter how much we do to minimize overthinking, it's bound to happen from time to time. To that end, I found the most helpful part of the book to be the section dedicated to strategies for interrupting overthinking as it happens. I actually made a list of these tips in an Evernote file on my phone, and plan to pull them up next time I find myself mentally spinning. In the weeks since I read this book, my most-used strategy from the list has been "considering a different view" by asking myself "what would I like about this if I liked it? what could I consider to be good here?" These questions quickly snap me out of rumination-mode and redirect my thinking towards solving the problem at hand.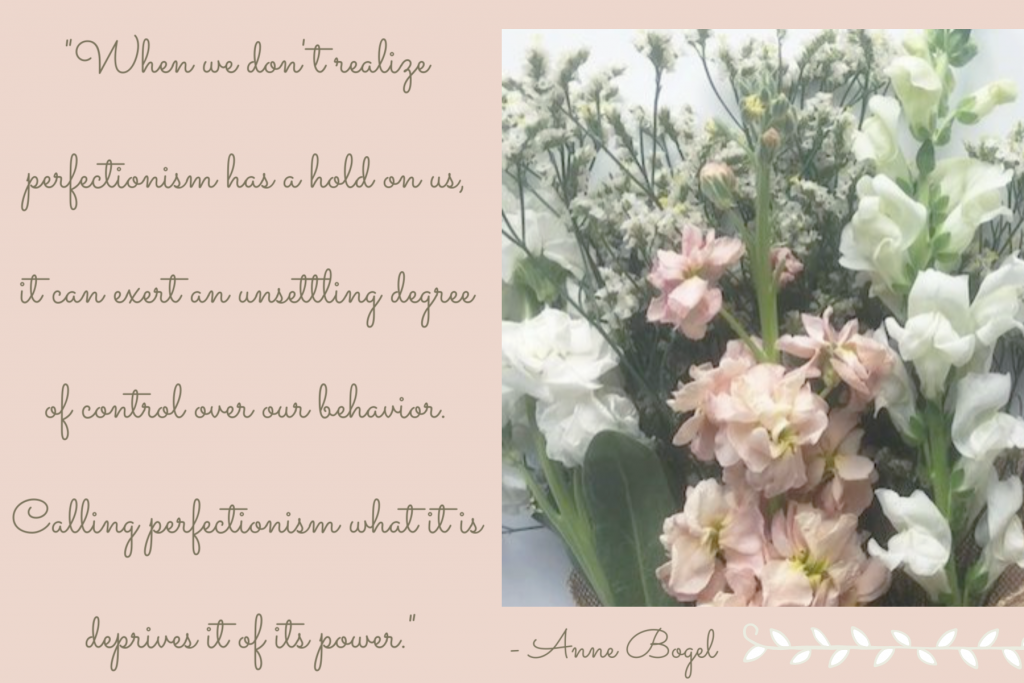 I loved how well the book's final few chapters on bringing joy into everyday life correspond to my word for 2020. Anne models how we can shift our mindset to expect good things from less-than-good situations. She also offers detailed strategies for using rituals to become more mindful, and gives ideas for learning how to embrace abundance through small, simple splurges—something that can be difficult for veteran overthinkers!
If you have read any of Anne Bogel's other books, or are familiar with her blog, you will know that her writing is warm and relatable, balancing personal anecdotes with solid principles and actionable ideas. While this book is more repetitive than I would have liked, it's still a quick, memorable read that I can wholeheartedly recommend. It would also pair wonderfully with Emily P. Freeman's The Next Right Thing which looks at the same concepts from a spiritual/soul perspective.
If you struggle with overthinking, or want to better understand someone who does, you'll definitely want to get your hands on Don't Overthink It. The book releases March 3, and if you preorder it before release day, you can receive a number of preorder bonuses including a free digital copy of the book, the free audiobook, and free access to the Don't Overthink It Course. Find out more information about preorders, as well as the dates for Anne Bogel's book tour, here. You can also take a fun quiz to determine your overthinking style here.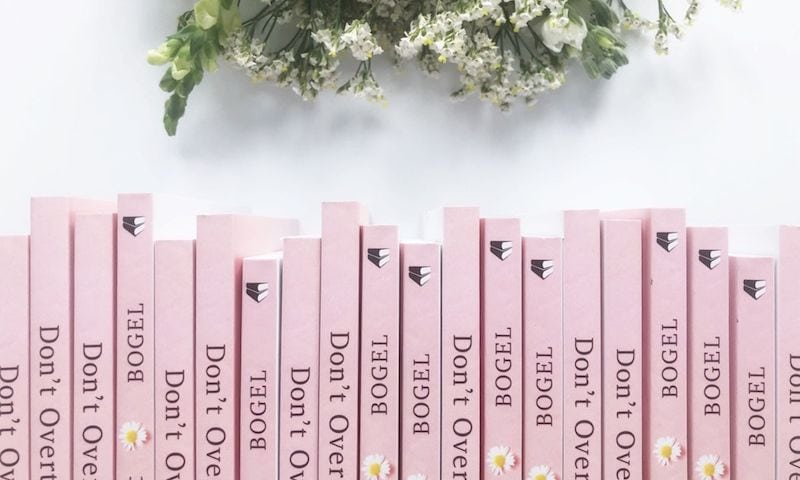 Are you an overthinker? What is your biggest overthinking pitfall? What strategies have you found helpful? I'd love to hear about them. . . and I'd love to know your thoughts once you read this book!