In this year of exploring and pursuing wholeheartedness, the word has taken on various meanings. One has been "the unapologetic embrace and unabashed pursuit of the things I love" (<—-not a Webster-approved definition, but it should be!).
One such love is all things Christmas, and with wholeheartedness in mind, I've been more enthusiastic than ever in welcoming ALL THE CHRISTMAS in this year. Additional decor items have been accumulated; a few more than necessary Christmas books have been read and/or purchased; and I've been insistent that every show or movie watched, every song played, and every school assignment given in the month of December has been Christmassy in nature. It has been a very WHOLEHEARTED Christmas in the Jernejcic home.
There was no question in my mind that my twelfth and final Word-related book for the year would be a Christmas devotional. And with its gorgeous cover and luxuriously illustrated pages, Ruth Chou Simons' Emmanuel was an easy choice.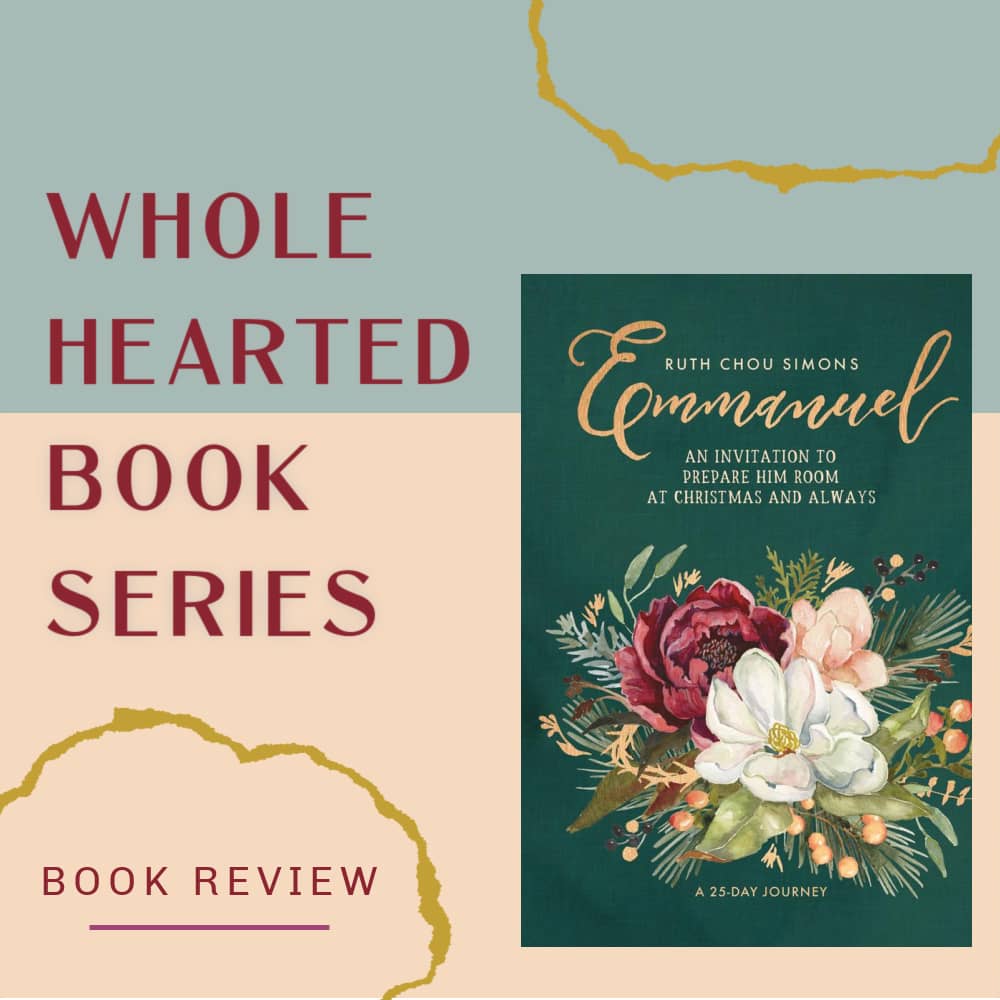 Emmanuel has been a steady companion in morning quiet times beside the Christmas tree throughout this month. The setting has been perfect, and with instrumental carols playing in the background, the glimmering lights from our tree illuminating my book and a mug of cinnamon tea warming my hands, it would be difficult not to be overcome with appreciation for whatever Advent devotional had been chosen. But even without the comforting seasonal accouterments, Emmanuel delivers on its promise to lead readers into making space for Jesus at Christmas.
For a book as beautiful as this one—with floral illustrations and creative word art on nearly every page—one might not expect to be impressed with the written content, but I was overcome by the beauty and truth of Simons' words as well as her art. She begins our journey by helping us settle into a worshipful posture as we exchange expectations for expectance, stress to gratitude, and jealousy for joy. We then enter into a study of God's promises—for relationship, a Savior, mercy, a transformed life. Next we respond—with faith, love, repentance, and worship. And finally, we spend time remembering who our Savior is and why we can trust Him. Each day's reading ends with reflection questions, a recommended worship song, and a prayer. (I was appreciative for the fellow reader who created this corresponding playlist for us all to enjoy!)
Emmanuel strikes that elusive balance between traditional and fresh, incorporating all the usual Christmas Scriptures and themes but presenting them in ways that are just a little unexpected. This book is truly a gift—a feast for the eyes, and nourishment for the soul.