By now, y'all know how much I enjoy sharing product discoveries with you here on the blog. Between Christmas, Charleston's birthday, and my usual parent- and homeschooling- product searching, our family has acquired quite a few fun toys and other kid-related items in the past couple of months that we are absolutely loving.
Today, I'm highlighting a few of these recent tried-and-true toddler and big-kid items that my kids are really enjoying and that we know you and your kids will love, too. Whether you're shopping for gifts or simply curious about "what the kids are into" these days, this roundup is happy to oblige.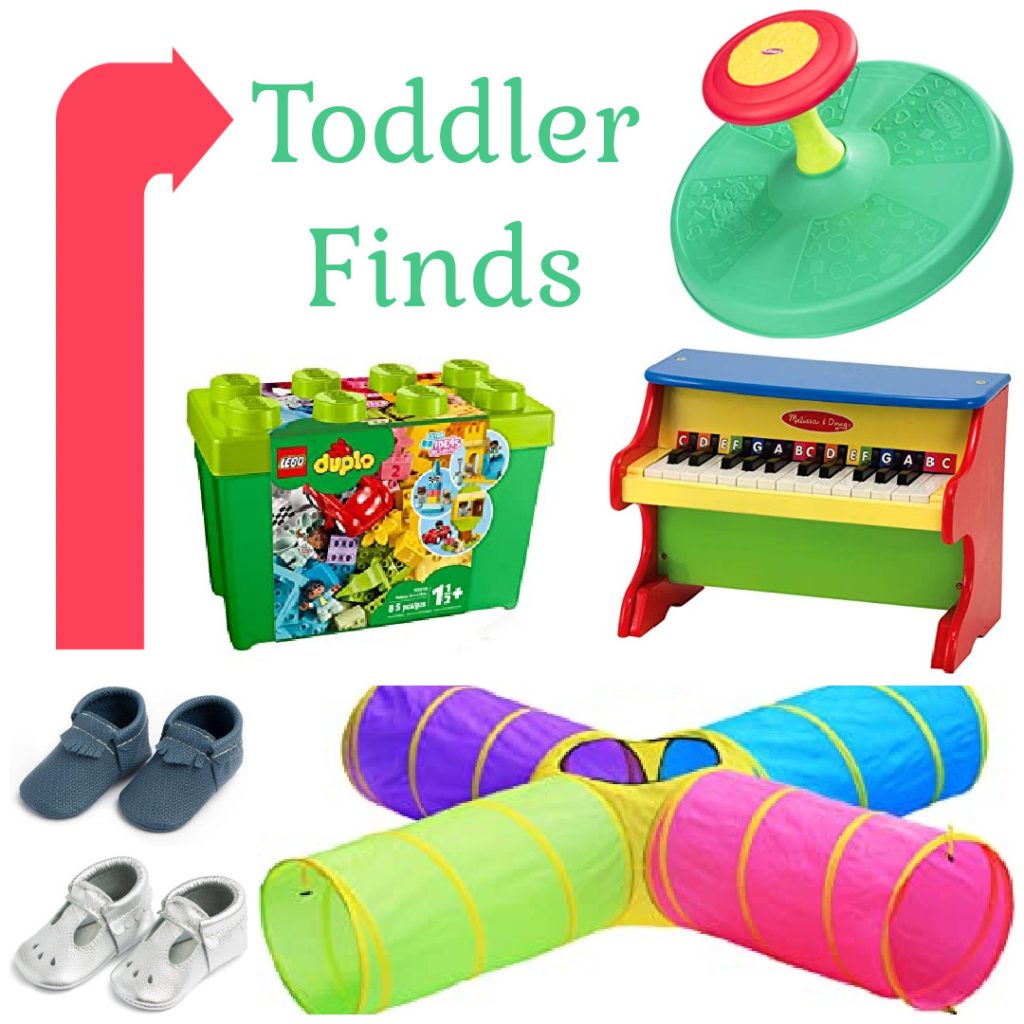 Playskool Sit 'n Spin Classic – My brother had this toy when we were little, and it's been fun to introduce this classic activity to my own kids. The twins are still a little young for it, but Charleston has loved spinning on it and helping them with it as well. The three of them are adorable sitting on it together!
LEGO DUPLO Classic Deluxe Brick Box – You probably don't need me to tell you about the wonder of the LEGO, but I would be remiss not to include this toddler-friendly set on this list. Kali and Sully each got a set for Christmas, and though I thought they'd still be too young to enjoy DUPLOs, they've been a huge hit. Clutter is always my one frustration with LEGO blocks, so I love that these come in a sturdy lidded container, making for easy cleanup and storage.
Melissa & Doug Learn-to-Play Piano – Melissa & Doug makes the BEST toys, and this piano fully lives up to the brand's stellar reputation. It's sturdy, has great sound quality for a toy piano, and is the perfect size for my littles. It's a great introduction to keyboard skills and musical concepts. It even comes with a color-coded songbook of familiar children's songs that Charleston has enjoyed learning while the twins listen on.
Freshly Picked Moccs (Boy /// Girl) – I wrote about these shoes when Charleston was little, and we are falling in love with the brand all over again for Kali and Sully. These are the only shoes we've found that go on easily and actually stay on my kids' feet. The craftsmanship on the leather shoes is superb, and I love that Freshly Picked now has girl-friendly styles as well as many shoes with the option of rubber grip soles.
Hide N Side Kids Play Tunnels – Charleston, Kali, and Sully all LOVE this play tunnel! They'll spend hours chasing each other through the tunnels, playing hide and seek and rolling balls back and forth through the tubes. The tubes are easy to assemble and fold back nicely into the carrying case when the kids are done playing.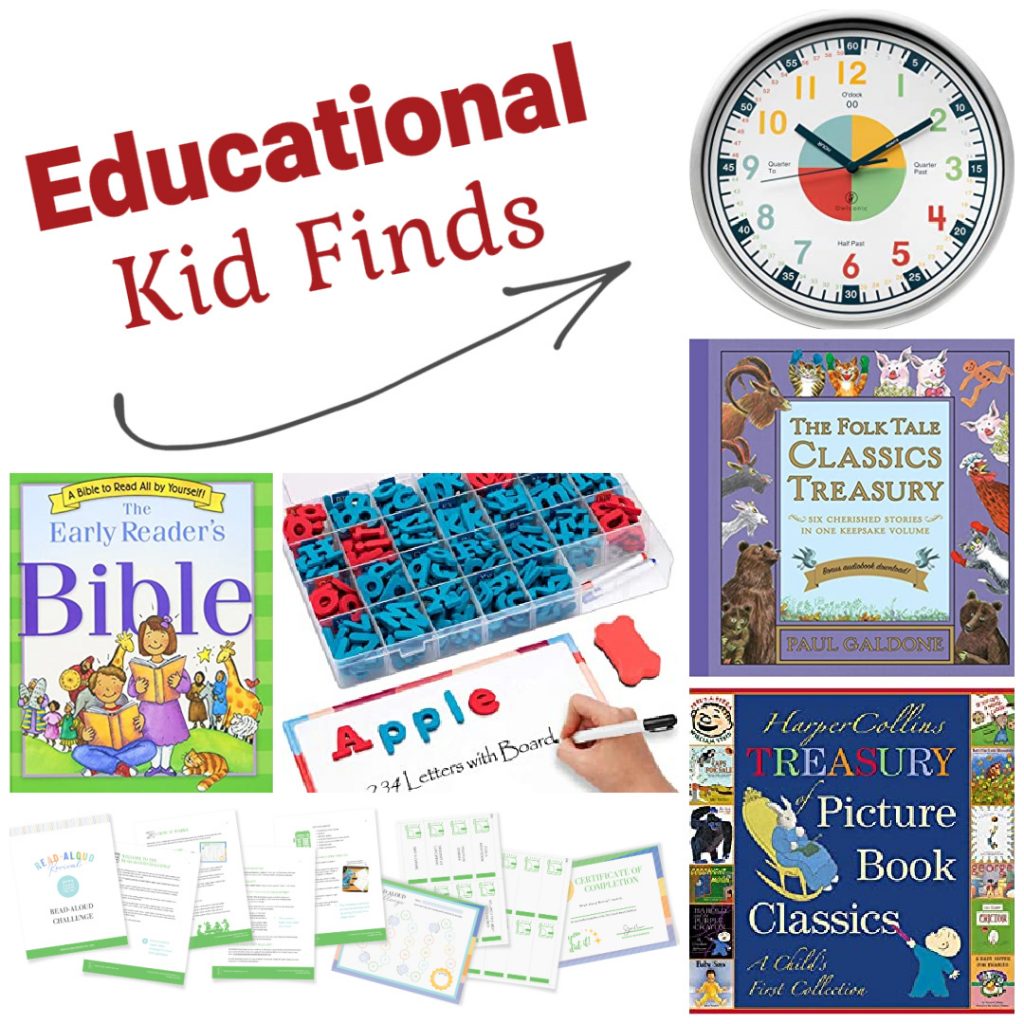 Owlconic Telling Time Teaching Clock – Charleston is intrigued by the concept of clocks but has had some trouble learning how to tell time. We hung this attractively colorful clock on the wall of our school/playroom and Charleston has since made great strides in his understanding of time-telling concepts. I particularly appreciate the second hand, which has been helpful when timing Charleston on school assignments like flashcards and timed worksheets.
Early Reader's Bible – We have amassed quite a collection of children's Bibles and have enjoyed reading through each of them during our nightly story time. This one is a little different from the others in that it is written in child-friendly language that Charleston is mostly able to read for himself. It's been a great tool for combining Bible study with early reading skills—cross-curricular learning at its finest!
JOYNOTE Classroom Magnetic Letters – This $20 item is the best purchase I've made for our schooling this year! The set includes plenty of each foam magnetic letter, meaning that Charleston can use the letters to write out long words and even whole sentences without running out of letters. The red vowels and blue consonants have been helpful and are in line with our spelling program, and Charleston likes that he can alternate between using the foam letters and writing his own letters using the white board markers included in the set. Since our school room doubles as the playroom, our school supplies need to be easily stowed away after school time, so I love that this set comes in a convenient carrying case (with compartments for each letter!) that is easy to take out for school time and put away when we're finished.
The Folk Tale Classics Treasury – Charleston has enjoyed reading fairy tales from the time I began reading aloud to him, and Paul Galdone's versions are some of his favorites, so we were excited to discover this treasury containing six of Galdone's books in one volume. The foil cover accents and ribbon bookmarks are an especially nice touch.
Harper Collin's Treasury of Picture Book Classics – This treasury contains twelve books in one! Some are stories we already knew and loved, and others have been new for Charleston and me. The stories are ordered from oldest (Goodnight Moon, 1947) to most recent (Pete's Pizza, 1998), and at the end of each story are a few pages of editorial commentary, suggestions for sharing the book with your child, and additional biographical information. This treasury is a homeschooling parent's DREAM!
The Read-Aloud Challenge – This technically isn't a product, and it also isn't something you have to pay for: it's a free program designed to get kids excited about reading aloud. This challenge has been the incentive we've needed to get Charleston enthusiastic about reading aloud to me for just ten additional minutes each day. The downloadable packet comes with a reading tracker, suggested incentive coupons, and a certificate of completion as well as tips for parents and answers to some FAQ's. This is great for homeschoolers or really any parent who wants to spend more time sharing reading with their child.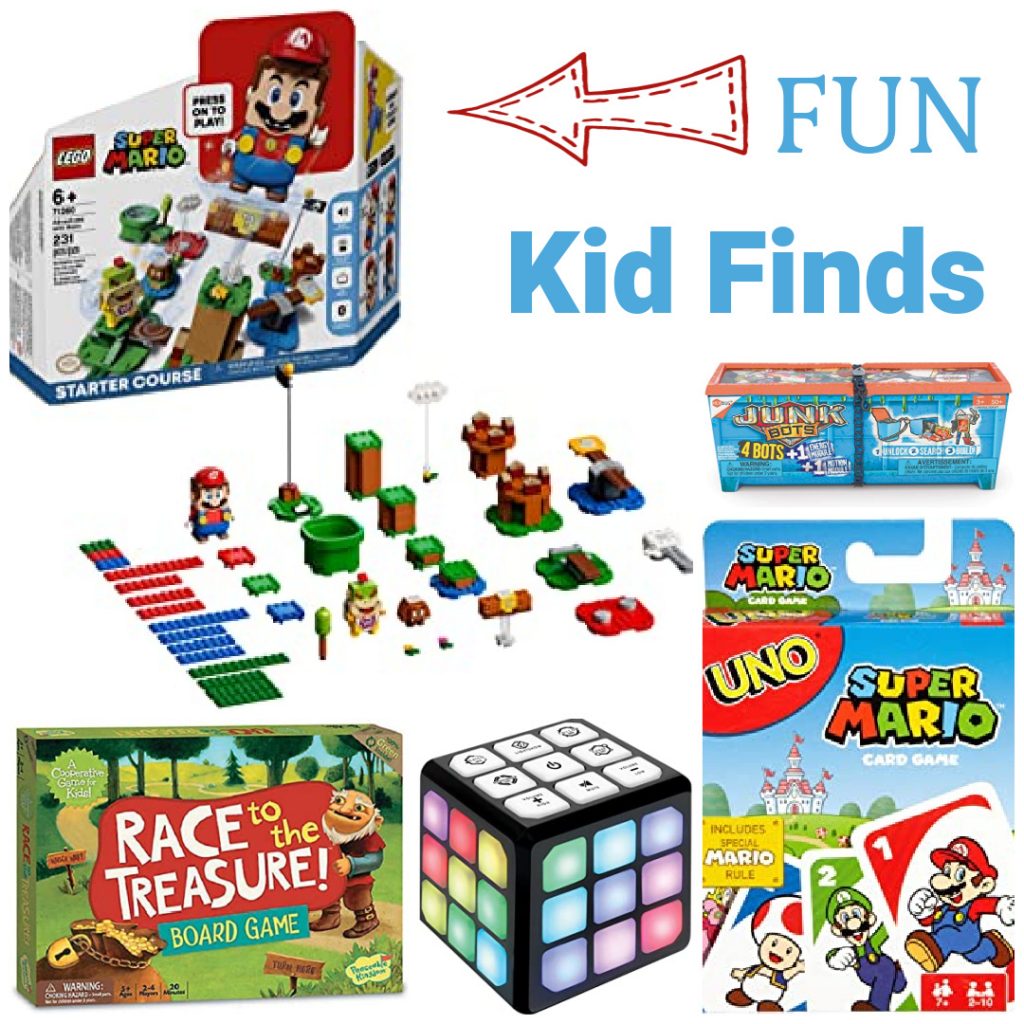 LEGO Super Mario Adventures I've never seen anything quite like these LEGOS, which combine traditional LEGO blocks with some creative interactive features. I'm amazed at how LEGO has infused the joys of block-building with the adventure of video games. (The concept is difficult to explain; check out the demo video for a better idea of how these work.) Charleston is obsessed with these: he got the starter pack for Christmas, and seeing how much he loved them we got him some add-on packs for his birthday. Charleston was already a Super Mario fan, but I imagine even kids who aren't familiar with Mario would enjoy these.
HEXBUG Junkbots This toy doesn't look like much, but the collection of pretend "trash" items has provided Charleston with countless hours of entertainment, and building robots from the pieces in this junk box has become his favorite quiet afternoon activity while the twins nap. Part puzzle and part sorting activity, this fun little dumpster of miniature junk reminds me of a button box for today's generation!
Race to the Treasure! Board Game Charleston and I both really enjoy this board game, which teaches strategizing and creative problem solving. It's a cooperative game (meaning all players work together to beat the game, rather than competing against each other); I wasn't sure what Charleston would think of this model, but he really enjoys it, and I love the opportunity to model game skills as we play together.
Flashing Cube Electronic Memory & Brain Game This nifty little toy is compact and contains four games in one. The cube is great for building brain skills and coordination, and it's easy enough for Charleston to play and challenging enough for me to enjoy as an adult. It's even a hit with the younger crowd: the twins are delighted by its lights and sounds.
Super Mario UNO What kid doesn't love the game of UNO?! And this creative version is more than just UNO cards with Mario figures printed on the front: the game features a few additional twists that make for an enjoyable and unique card playing experience that has been a lot of fun for our family.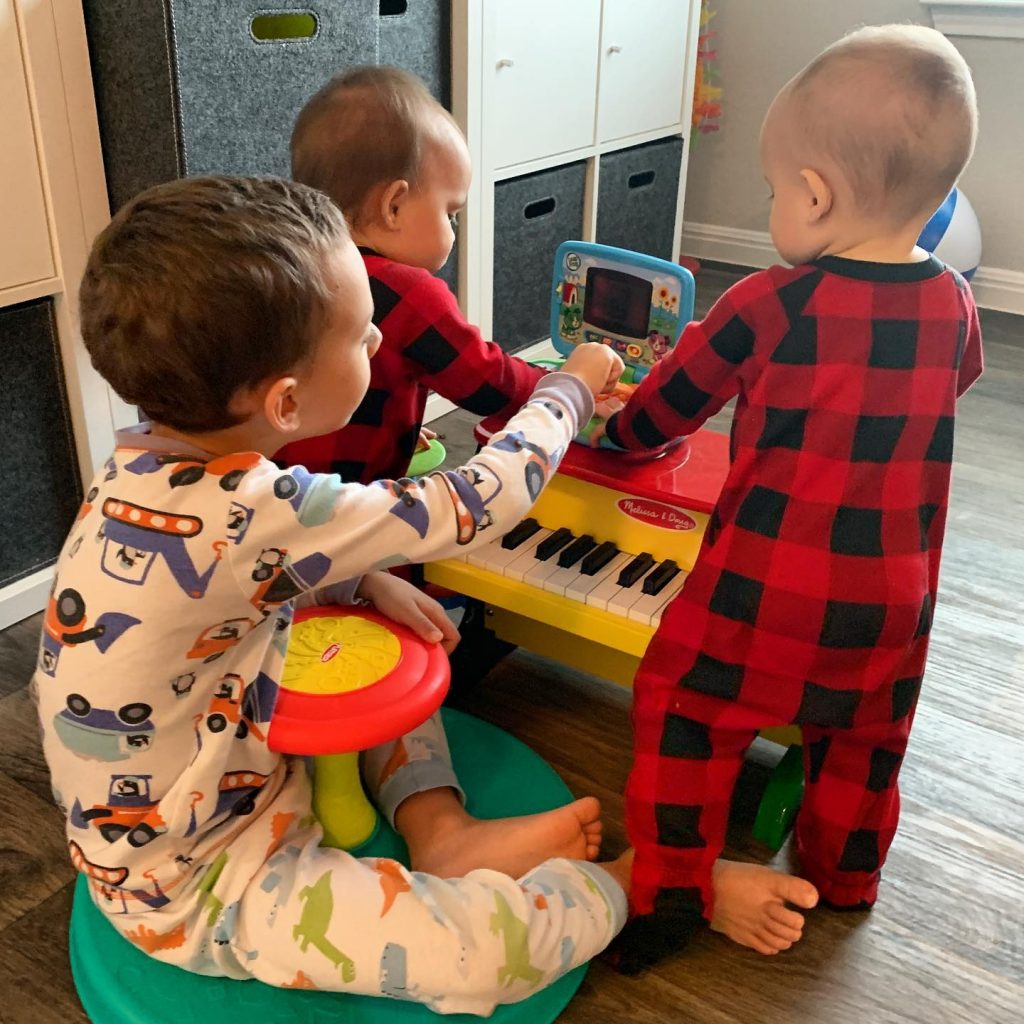 ---
I hope this roundup provides the inspiration you need next time you are shopping for your littles. If you discovery a new favorite from this list, please come back and tell me about your experience in the comments!