Christmas is just three weeks from today; let the countdown begin! (<– For those of us celebrating Advent, the official countdown began a few days ago!) Anybody out there still have Christmas shopping to do? If so, I have one final gift guide for you!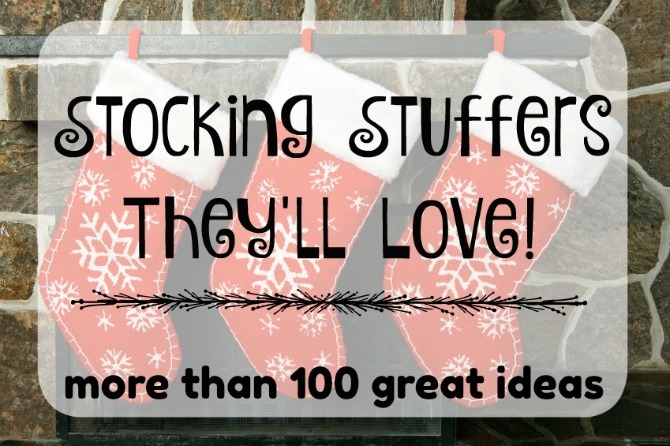 I'm a little ahead of my usual schedule this year and have already done most of my shopping, but I still have a few stocking stuffers to buy. And I don't mind, because stocking stuffers tend to be the most fun! If you have some stockings that could still use some filling, here are some great ideas for whoever you are shopping for! There are well over one hundred ideas listed here, from the expected to the surprising.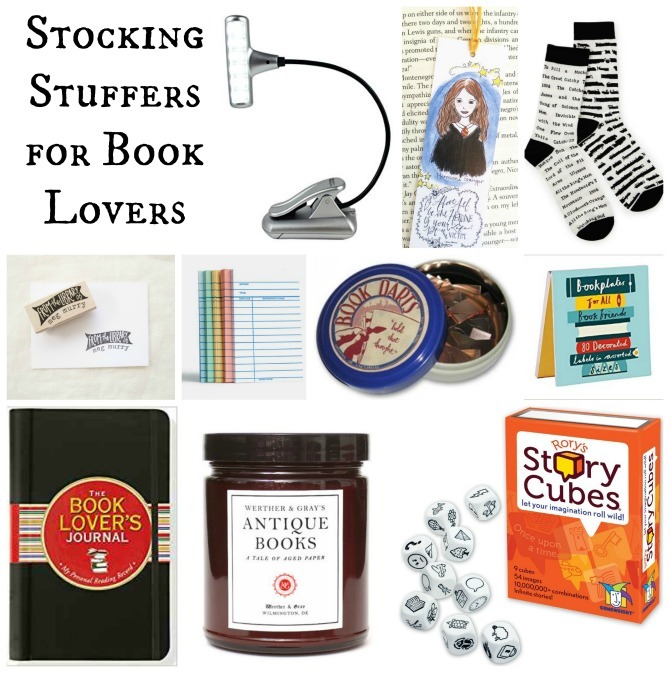 Mighty Bright Book Light // Literary Heroine Bookmarks // Banned Books Socks // Custom Bookplate Stamp // Assorted Library Cards // Book Darts // Book Plates // Book Lover's Journal // Antique Books Candle // Rory's Story Cubes
Other Gifts for Book Lovers (not pictured): Subscription to Book of the Month Club, Audible Subscription, Custom e-Reader Case, Page Anchor Bookmark, Weighted Bookmark, Magazine Subscription, Small Paperbacks
---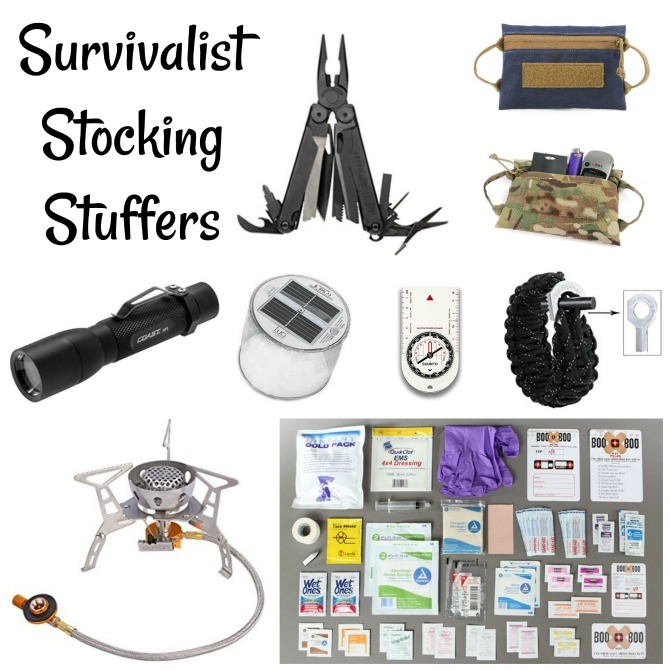 Leatherman Multitool // Canvas Zip Bag // Nylon Zip Bag // LED Flashlight // Inflatable Solar Light // Field Compass // Paracord Bracelet with Fire Starter // Foldable Backpacking Stove (we own this and it is awesome!) // Boo Boo Kit
Other Survivalist Stocking Stuffers: Emergency Blanket, Hand Warmers, Thermal Socks, Waterproof Matches, Emergency Whistle
---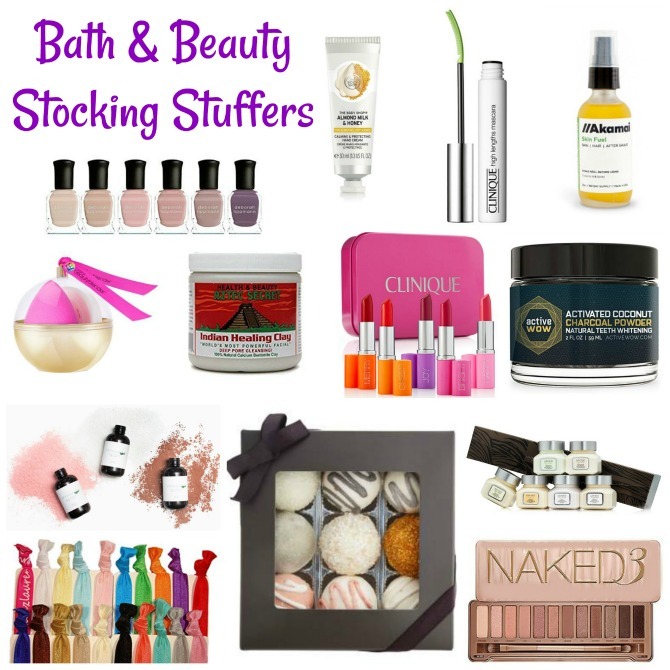 Almond Milk and Honey Hand Cream // Clinique High Lengths Mascara (this is hard to find, but it is my FAVORITE!) // Akami Skin Fuel (we love this stuff) // Nail Polish Set // Beauty Blender // Clay Face Mask // Liptstick Set // Charcoal Whitening Powder (another personal favorite) // Stranded Dry Shampoo // Hair Tie Ribbon Bands // Bath Truffles // Body Cream Set // Urban Decay Naked3 Palette
Other Bath & Beauty Stocking Stuffers: Glass Nail Files, Lip Gloss or Balm, Manicure Set, Bubble Bath, Cosmetics Case, Brushes Set, Perfume or Body Sprays
---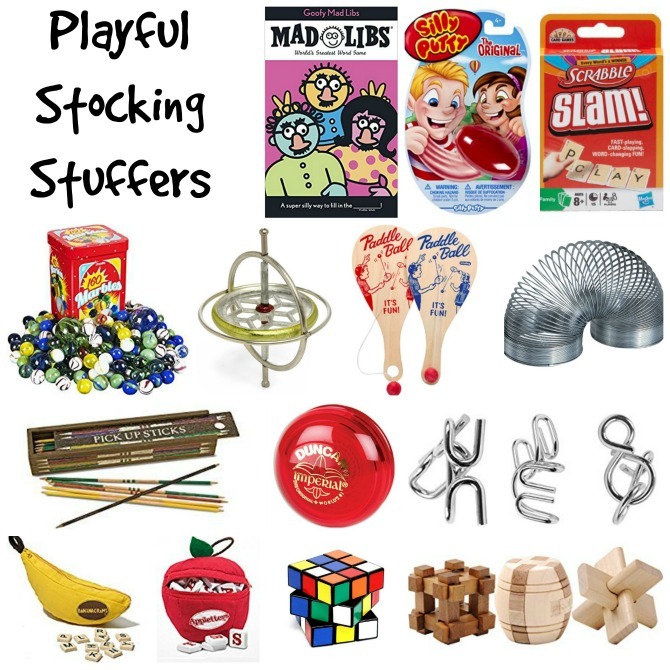 Mad Libs // Silly Putty // Scrabble Slam Card Game // Marbles // Gyroscope // Paddle Ball Set // Slinky // Pick Up Sticks // Yo Yo // Banana Grams and Appleletters // Rubiks Cube // Puzzle Brain Teasers
Other Playful Stocking Stuffers: Skip-Bo (or similar card games), Mini Etch-a-Sketch, Puzzle Books, Sidewalk Chalk, Mini Lego Sets, Mini Jigsaw Puzzles, Domino Set, Joke Book, Glow Sticks, Travel Chess Set, Mini Arcade Games, Sticker Books, Playing Cards, Coloring Books, Bubbles
---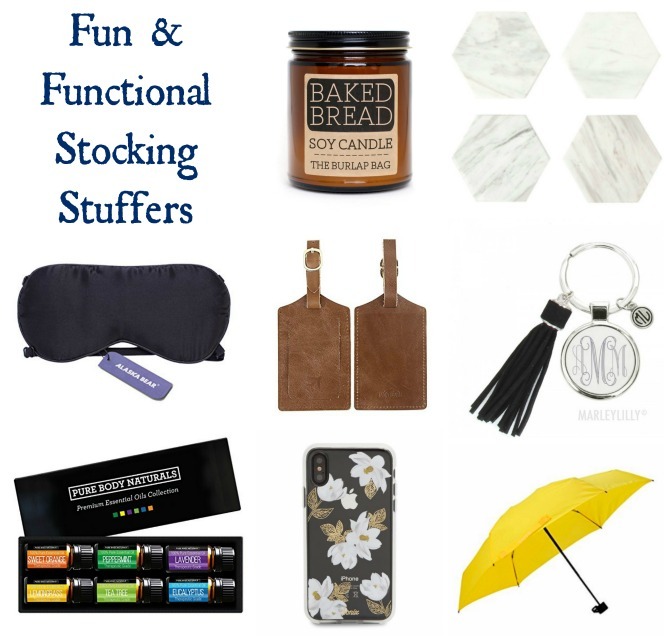 Burlap Bag Candles (my favorites) // Marble Stackable Coaster Set // Silk Sleep Mask // Luggage Tags // Monogrammed Tassel Keychain // Essential Oils // Oleander iPhone Case // Travel Umbrella
Other Fun & Practical Stocking Stuffers: Travel Toiletry Containers, Mini Sewing Kit, Page-a-Day Calendar, Compact Toiletry Bag, Bluetooth Headset, Seed Packets, Vintage Bud Vases
---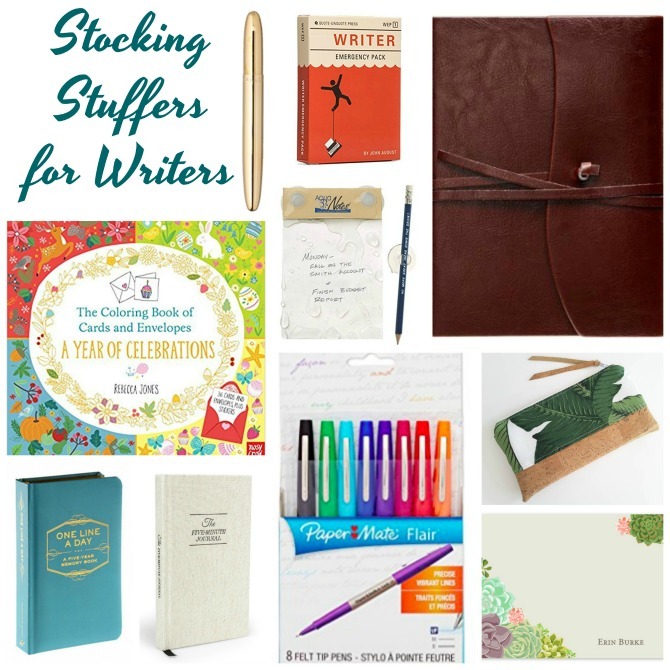 Fisher Space Pen // Writer Emergency Pack // Waterproof Note Pad // Leather Journal // Coloring Book of Cards // One Line a Day Journal // The Five Minute Journal // Paper Mate Felt Tip Pens // Pencil Case // Personalized Stationary (include postage stamps!)
Other Stocking Stuffers for Writers: Q&A a Day 5-Year Journal, Creative Journaling Bundle, Writers Prompts Books, Magnetic Poetry Kit, Experience Passport, Letters to My Future Self Cards
---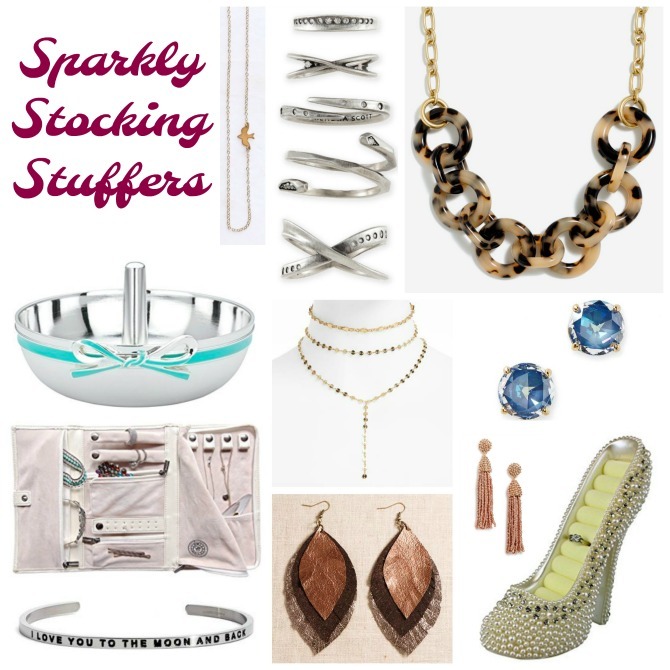 Romans 8:26 Necklace // Stackable Ring Set // Tortoise Shell Necklace // Kate Spade Ring Holder // BaubleBar Y-Choker // Stud Earrings // Leather Travel Jewelry Case // 'I Love You to the Moon and Back' Cuff // Metallic Leather Earrings // Tassel Earrings // Shoe Lover's Ring Holder
Other Sparkly Stocking Stuffers: Jewelry Subscription, Arrowstack Necklace, Pandora Bracelet or Charms, Wooden Watch, Home State Necklace, Giving Key Jewelry
---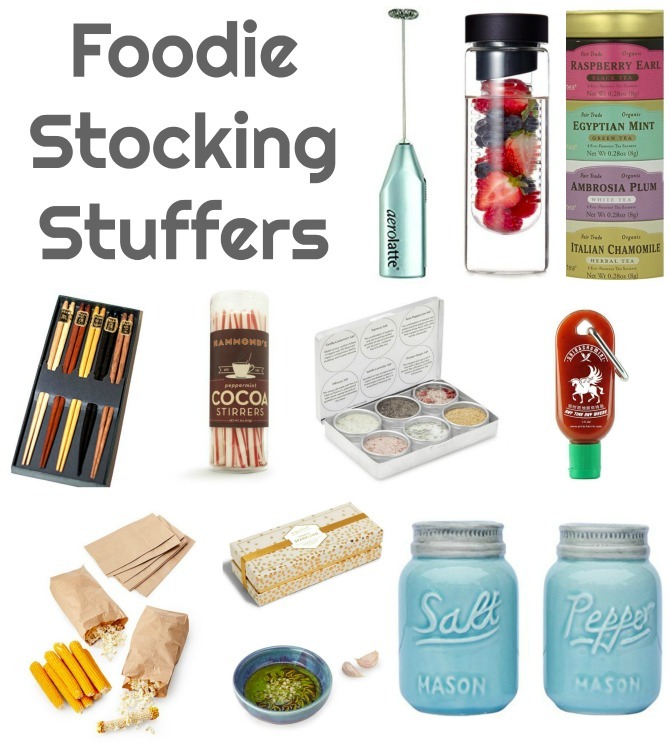 Milk Frother // Flavor Infuser Water Battle // Tea Variety Sampler // Luxury Wooden Chopsticks // Peppermint Cocoa Stirrers // Dessert and Baking Salts // Sriracha Keychain // Popcorn on the Cob // Candy Bento Box // Garlic Grater and Oil Dipping Dish // Mason Jar Salt and Pepper Shakers
Other Foodie Stocking Stuffers: Kitchen Timer, Individual Nut Butter Packets, Measuring Spoons Set, Hot Cocoa, Exotic Chocolate Bars, Coffee, Restaurant Gift Cards
---
No promises, but I *think* this is my final gift guide for the season. Wishing you fun and merriment (and lots of good deals) as you finish up your gift buying in the coming weeks!