I began seeing my first therapist when I was 15 years old. He was a small, fastidious man in his fifties with a gentle demeanor and a meticulous office. He began each session by sharpening two No. 2 pencils, used for taking copious session notes on a sheet of unlined computer paper—the only item on the desk that separated our two straight-backed office chairs. For four years, I spent at least an hour with him every week, and though I remember few of the specifics from our time together, I know he played a pivotal role in saving me from life-threatening anorexia. Those therapy sessions also ignited a lifelong passion for introspection and reflection.
Over the years I've been in and out of therapy, opening my heart and psyche up to no less than six therapists in my thirty-five years. At times my therapists have been a lifeline, saving me from self-destructive habits that I never could have resolved on my own. Even when seeing a therapist under less dire circumstances (as I am now), my time on the couch has resulted in countless emotional and psychological breakthroughs; improved my relationships; and molded me into a happier, healthier version of myself. (The leader in our small group for our marriage class recently commented that I'm the most self-aware person she's ever met; it's good to know those therapy dollars and self help books have paid off!)
My own experience has turned me into a huge advocate for talk therapy: I've often said that while not every person needs to be in therapy, nearly everyone could benefit from seeing a therapist. It has also led to my fascination with the concept and practice of therapy, to the point of wondering if I should (or even could) become a therapist myself. This passion meant that the decision to read Lori Gottlieb's Maybe You Should Talk to Someone was an instant YES!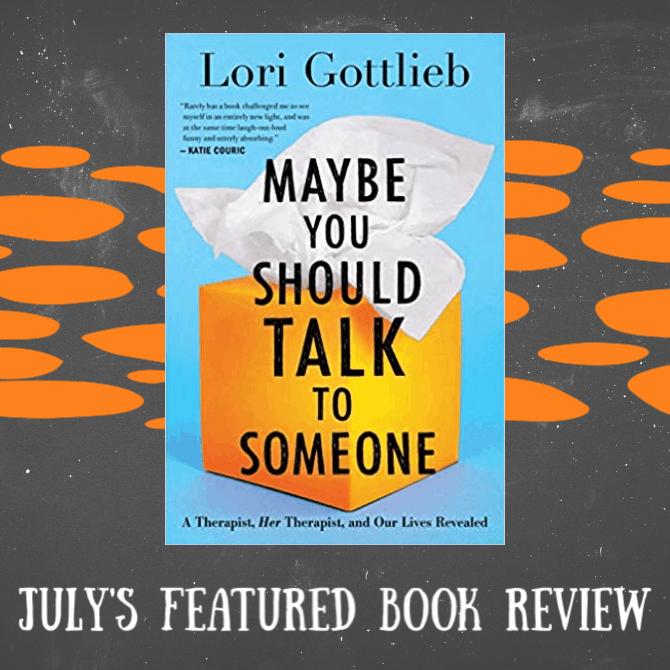 Lori Gottlieb was a latecomer to the field of psychology, pursuing the profession only after her careers as a television producer and a journalist (with a stint in medical school thrown in) turned out not to be the right fit. While still new in her profession, Gottlieb faced a personal crisis of her own that landed her on the couch of Wendell, a quirky but seasoned therapist whose methods were quite different from her own. During their sessions, Gottlieb was able to move past some of her personal hurdles while also receiving first-hand instruction on techniques that she could implement in her own therapy practice.
In Maybe You Should Talk to Someone, Gottlieb weaves her personal story with those of four of her patients: a narcissistic Hollywood producer; a newlywed in her thirties who has been diagnosed with terminal cancer; a suicidal elderly woman who believes life has passed her by; and an insecure twenty-something with addictions to alcohol and unhealthy relationships. As she helps each of these individuals wrestle through their unique problems, Gottlieb begins to recognize similarities to her own behaviors and thought patterns.
Through these real-life examples (Gottlieb's patients' and her own) we get a front-row seat to the process of identifying the false narratives we tell ourselves, the ways these scripts serve as a defense mechanism while also holding us prisoner, and how "talking with someone" can help us discover healthier ways to cope. Gottlieb and her patients explore regret, redemption, mortality, grief, and the quest for meaning and purpose. In their individual ways, Gottlieb and her own therapist are both compassionate guides and companions to their patients as they challenge, support, empathize, and empower the individuals who trust them with their hearts and their stories.
Gottlieb is an incredible writer who manages to convey the brokenness and humanity of each of her "characters" (including herself) while also evoking empathy. Their stories serve as a starting point for discussions about the human mind, psychological theory, and the history and practice of talk therapy. Don't be scared away by the heaviness of these topics: Gottlieb's narration is lighthearted, humorous, and filled with more plot twists than a domestic thriller (she did, after all, work in show business before becoming a therapist, and it shows in her knack for crafting a riveting storyline). The end result is a book that reads like a well-crafted novel but carries the insights of a self-help book and the scientific information of an encyclopedia entry.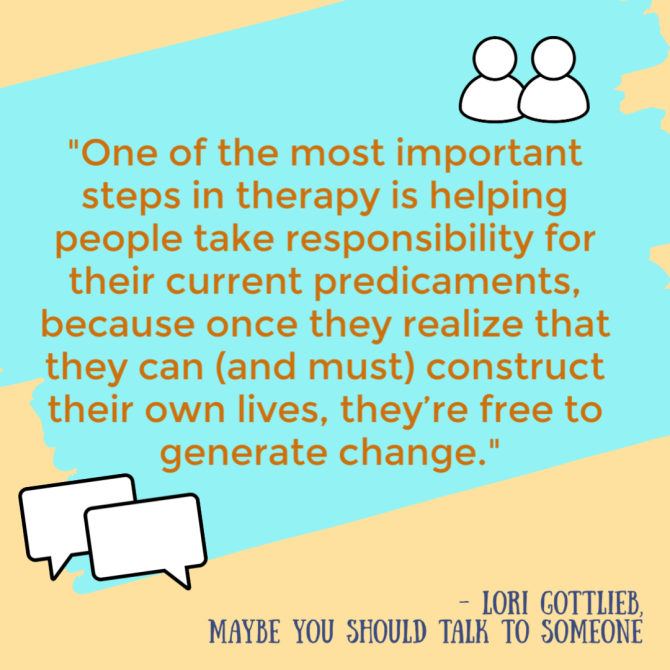 Though remarkable on many levels, it was the way this book led me to reflect on my own therapy experiences that had the biggest impact on me. I was intrigued by the dynamic between therapist and patient, the nuances in the relationship, and the ways that a therapist could be so deeply affected by her work—issues I'd never given much thought to in all my years with various therapists. Nearly every chapter left me wondering, "have my therapists thought those things about me? Am I doing my part to get the most out of my therapy sessions? How is my therapy experience similar to theirs, and how is it different?" It was helpful to discover the "why" behind various phrases and tactics my therapists have used with me, and I appreciated Gottlieb's explanation of various theories and terms that have come into play in my therapy sessions, but that I never fully understood.
Maybe You Should Talk to Someone gave me a deeper appreciation for the field of talk therapy and specifically for my own therapists, whom this book has shown me are much more intentional and insightful than I'd ever realized. The book equipped me to get more out of my therapy sessions and to take even greater care with how I approach my own emotions and cognitions. This is a must-read for everyone who has spent time in therapy and would like to understand their experience better, or for anyone who has never attended therapy and is curious to learn more. (I also pressed this book into my own therapist's hands, but haven't heard back on whether or not it is a good fit for readers within the field.) With its numerous opportunities for discussion, it would make an excellent book club pick!
My Rating: 5 Stars!