It's hard to believe that summer will soon be drawing to a close. I've been somewhat in denial that this glorious season will actually have to end, but I suppose it is inevitable. Until then, I'm making the most of these wonderful August days, relishing the summer heat and filling my free time with lots of reading and plenty of naps. (At this point I can no longer blame first-trimester fatigue for my rigorous napping regimen; I suppose I just really like to sleep!) Here are some of the books, movies, and moments that have captured my attention over the past month.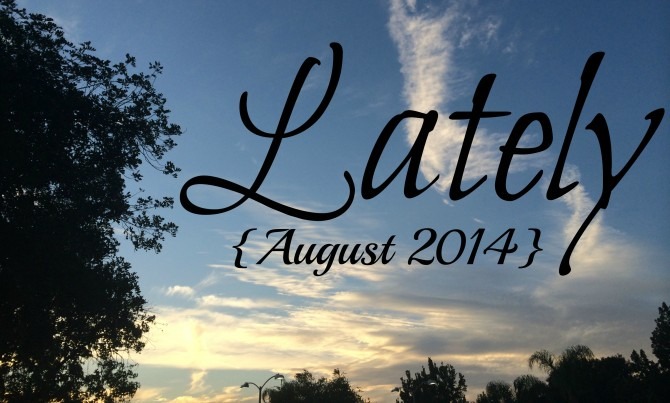 What I've Been Reading. . . .
I decided to break up a fairly long run of historical fiction with some books set in the present day. I caught up on the latest from two of my favorite authors – John Grisham and Harlan Coben – and discovered a book by new-to-me author Leila Cobo.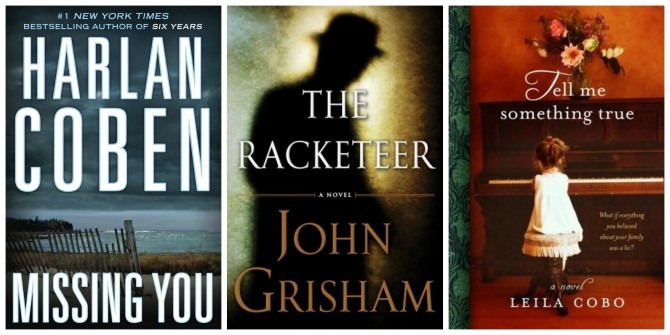 Missing You, by Harlan Coben: Kat Donovan is a middle-aged cop who has spent the last 18 years mourning the unresolved murder of her father and the break-up of her engagement. When a friend sets up an account for Kat on a dating website, she is confronted with pictures of her ex-fiancé and becomes involved in the investigation of an elaborate catfish scheme.
This is the first book I've read in a long time that I literally could not put down. The writing might not have been anything to write home about, but the plot was filled with twists and turns, and kept me on my toes to the very last page. Coben lived up to his reputation of being a keep-you-guessing-to-the-very-end with this one! As a side note, there was quite a bit of violence in this book, and some references to sex, but nothing explicitly sexual and almost no language! Refreshing for this genre! My Rating: 4 out of 5 stars.
The Racketeer, by John Grisham: Malcolm Bannister is a former lawyer who is serving a 10-year prison sentence for a crime he didn't commit. When a federal judge is murdered, Bannister sees his ticket out of jail: he will tell the Feds who committed the murder in exchange for a release from prison, a new identity, and entrance into the witness protection program. As the book progresses we discover that nothing is quite as it seems, and Bannister might not be as innocent as previously assumed.
This was the best Grisham book I've read in a while. There was no courtroom drama, but plenty of intrigue and plot twists. I ended up really disliking all of the characters, but a good story made up for their poor behavior. My Rating: 4 stars.

Tell Me Something True, by Leila Cobo Despite losing her mother in a tragic accident when she was only four, 21-year-old Gabriella has grown up secure in the love of her doting father in Hollywood and her mother's aristocratic family in Cali, Columbia. However, on an annual visit to Cali, Gabriella discovers her mother's journal, filled with secrets that indicate everything Gabriella thought she knew about her mother was a lie.
I found myself drawn to this book from page one: with its compelling story and intriguing insights into South American culture, it's definitely a book that I wanted to love. However, the lackluster writing and adolescent drama seemed better suited to a trashy YA novel than a book intended for adults. I was particularly unimpressed with Cobo's inability to maintain a consistent narrative voice, and was distracted by the constantly shifting tenses and points of view. Ultimately, I'm glad that I read this book but probably wouldn't recommend it to others. My Rating: 3 stars.
What I've Been Listening To . . . .
My audiobook docket continues to be filled with YA books as I prepare for the Jr. High literature class I'll be teaching this fall. This month I discovered two books I'll be happy to recommend to my students, and one that I'll advise them to steer clear of, at least until they're older.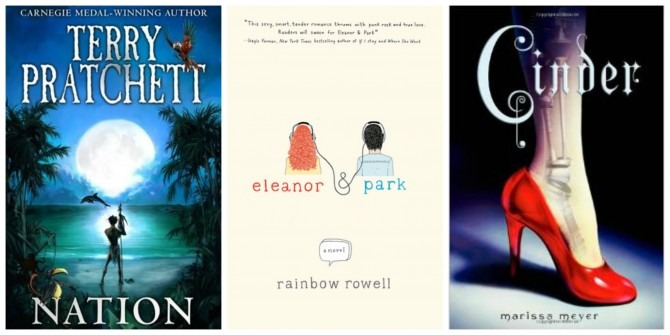 Nation, by Terry Pratchett: Nation's story takes place in the 1860s in a sort of parallel universe. Mau is the last surviving member of his island nation following a storm, and he must overcome his insecurities and theological questions in order to rebuild a new nation. He is accompanied by Daphne, the sole survivor of a wrecked British ship. The two become friends and work together to survive and revive their budding new nation.
The book encompasses interesting themes, such as nationhood, coming of age, and the division between science and faith. The story is humorous, but thought-provoking, and would be an excellent discussion-starter with students. Parts were a bit dry for me, but I could see kids really enjoying it. My Rating: 4 stars.
Eleanor & Park, by Rainbow Rowell:  I have heard nothing but amazing things about Eleanor & Park and couldn't wait to read it. The book is about Eleanor, an overweight redhead from an impoverished family, and Park, a middle-class half-Korean boy. When Eleanor becomes the bullied new kid on the school bus, Park is the one kid to stand up for her. The two soon form a unique friendship that blossoms into something more.
This is a sweet story, but I honestly don't know what all the hype is about. I did enjoy the characters, and their narration captured the emotions and experiences of a first love, but the story seemed drawn out and repetitive. I couldn't get over how much language was in this book, either. And the end was pretty depressing – though the author seems to be setting it up for a sequel. I think I would have liked this book more if it was marketed as an adult book that just happened to be about teens, but it was hard to accept it as the YA book that it is. Also hard to understand why so many people are in love with this (mediocre) book. My Rating: 3 stars.

Cinder, by Marissa Meyer: This interesting Cinderella tale is set in a futuristic China that is potentially under attack from a ruthless lunar people. Cinder is a mechanic who is part cyborg and part human. When her stepsister contracts a deadly illness, Cinder's once hard (but simple) life becomes complicated as she is forced to become a test subject and her path crosses that of the handsome Prince Kai.
I'm generally not a science fiction fan, and some of the sci-fi elements in this book were a bit much for me, but I have to admit that the premise is creative and ambitious. I would have appreciated more backstory and character development, but the (predictable) plot moved at a decent clip. I'm not jumping to read the rest of the books in the series, but I wouldn't be opposed to reading them either, and I can see these books satisfying a broad range of literary tastes among teen readers. My Rating: 3 stars.

What I've Been Watching . . . .
Luke and I are taking our sweet time working our way through past episodes of Psych and Boy Meets World. We're still enjoying both series, but it's definitely taking us a while to get through them! We did shake things up a bit this month with some Friday-night rentals from Redbox.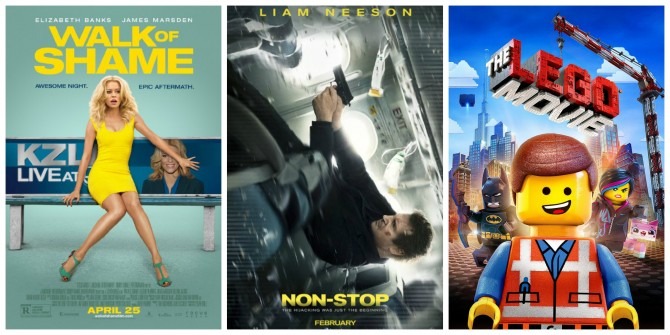 Walk of Shame: Meghan Miles is an LA television correspondent who might have a chance at her dream job with a network. Not knowing that she has an interview the following day, Meghan has a one night stand that leaves her stranded in a bad part of LA, unable to get to work. She spends the next several hours stealing bikes, sneaking onto buses, caught up with a group of druggies, and running from the police who think she is a hooker – all in an attempt to get to work on time with her squeaky clean image in tact.
This movie was lighthearted and fun, if totally far-fetched and a bit crude. I really liked Elizabeth Banks in this role, and though the ending was predictable, there were plenty of laughs along the way. My Rating: 4 stars.
Non-Stop: This is a movie that definitely lives up to its title! Bill Marks is a US Air Marshall who gets text messages from a terrorist sharing his plane. It soon becomes apparent that the texter is framing him as a hijacker, and Marks must try to save the plane despite everyone believing that he is the bad guy.
This was a very intense movie, but really good. It definitely kept me guessing until the end. The single set got a bit monotonous at times, and I would have liked a bit more character development, but that's probably too much to expect from an action movie on a plane! I love Liam Neesan and he was perfect in this role. It was fun seeing "Lady Mary Crawley" in a modern role as well. My Rating: 4 stars.
The Lego Movie: Luke has been nagging me to see this movie with him since before it came out, so I eventually caved. It was actually a lot better than I expected. The animation was incredibly creative, and there were some good messages and positive themes. I loved how the animation mixed with live action at the end of the film; up until the end I pretty much had written the movie off, but the mingling of mediums redeemed the film quite a bit. (It helps that I'm a big Will Ferrell fan.) Still, I couldn't get over a lot of the cheesiness, or the fact that I was watching a movie about Legos. Cool, but not really my thing. My Rating: 3.5 stars.
What I've Been Enjoying . . . .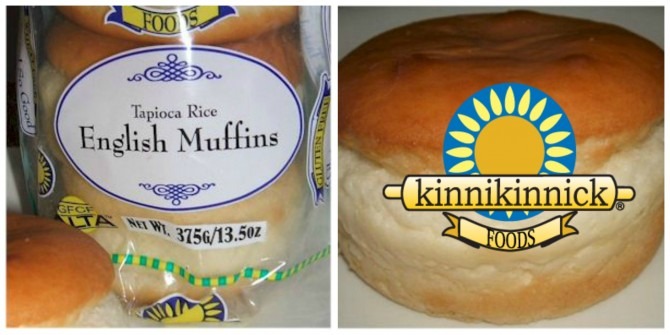 Snacking on Kinnikinnick English Muffins: Another month, another gluten-free bread find. I was never this into carbs before I got pregnant, so I am attributing my newfound identity as a carb-a-holic to the little bun in the oven (who apparently is very much his or her bread-loving father's child!). A few weeks ago I developed a strong craving for English muffins. The first brand of gluten-free English muffins I tried had the texture of a hockey puck and a taste that resembled sawdust, so I was hesitant to test out another brand. But I am so glad that I took a chance with these Kinnickinick tapioca rice English muffins. They are light and fluffy, and taste more like a biscuit than an English muffin. Pregnant or not (and honestly, gluten-free or not), these English muffins are amazing!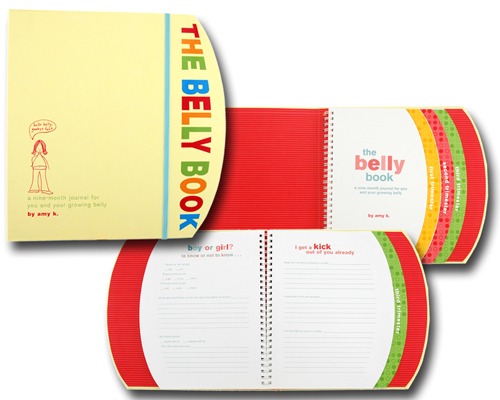 Documenting our Pregnancy in The Belly Book: Years ago, I came across The Belly Book pregnancy journal at a Barnes and Noble and thought it seemed cheesy and a bit crass. Flash forward several years, and I found myself in the market for a pregnancy journal of my own. I spent some time researching my options online and – surprise, surprise! – The Belly Book seemed to be exactly what I was looking for. I am so happy that I decided to make this purchase! Organized by trimester, The Belly Book has a designated page for notes and pictures from each week of pregnancy, as well as pages to record prenatal visits, thoughts on baby names and maternity clothes, and so much more. I have to admit that all this navel-gazing (pun intended!) feels a bit self-indulgent, but I know that in the long run we will be happy we recorded these memories. I can't wait to share this book one day with our future child!

Planning a Bridal Shower: My not-so-little brother is getting married next month, and my mom and I are throwing a bridal shower to celebrate my soon-to-be sister-in-law, Amairany. Neither of us has ever thrown a party like this, and it's been a really fun project to do together! We are going with a blue mason jar theme, and are incorporating mason jars into all of our prizes and decor. Some other fun touches are a custom sign we ordered from the talented Nicole of Jelly Bird Signs, and adorable mason-jar themed recipe cards, which were sent out with matching invitations. I'm excited to see it all come together this weekend, and am so happy for this opportunity to shower my new sister with love!

+          +          +          +          +          +
I'm linking up with Leigh Kramer to share what we've all been into in the month of August!