June was a fun but somewhat crazy month for our family, as we are still getting settled into our new home while attempting to fit "normal" summer activities into every nook and cranny of the day. We're all running on far too little sleep, but our productivity and extracurricular buckets are full. Here's a glimpse at some of the best the month had to offer.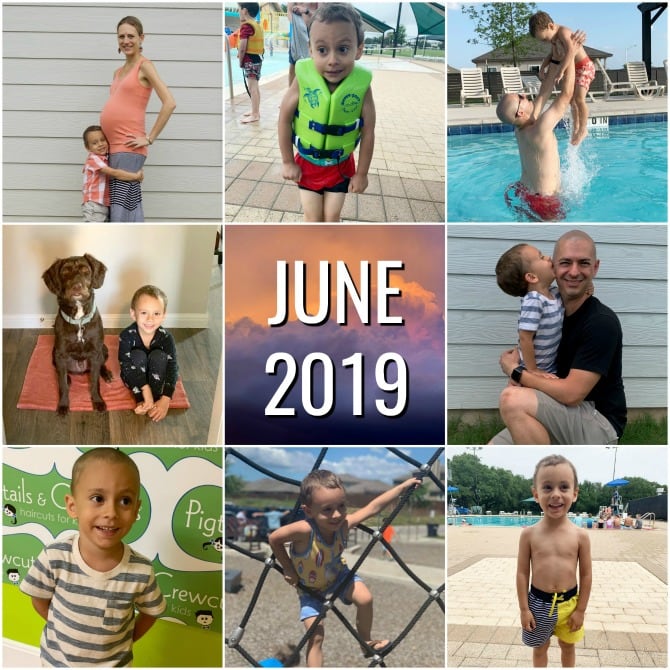 // READING LATELY //
I had a lot of success with my book choices this month. Standouts include this delightful Beauty and the Beast retelling; this creative novel that is probably the best audiobook I've ever listened to; and this beautiful piece of Christian fiction.
As for nonfiction, I learned a lot from this book about an alternative schooling method that intrigues me, and I really enjoyed this faith memoir. Favorite book of the month goes to this book, which is part memoir and part exploration of the history and practice of therapy. Fascinating! As always, I'll be rolling out reviews of these titles over the next few weeks.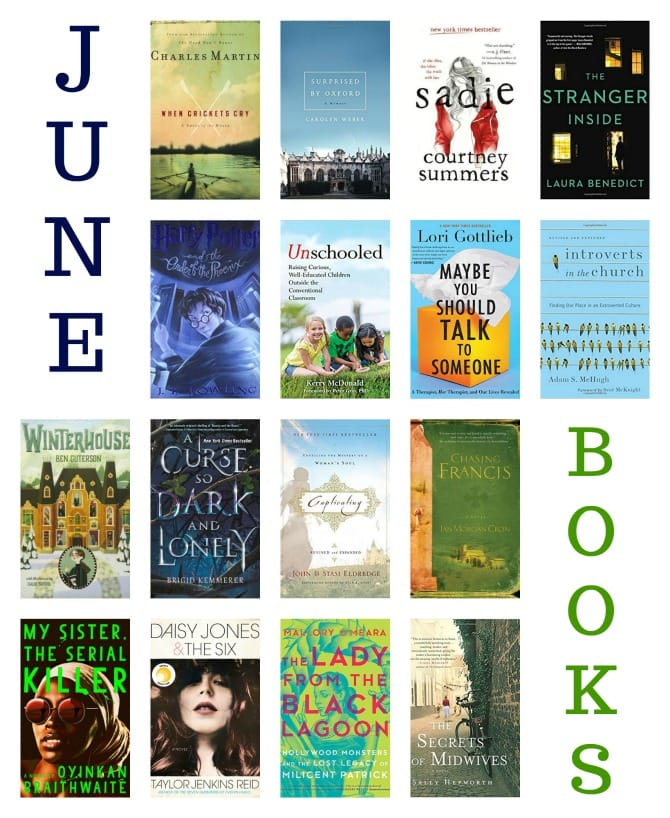 Charleston and I have both been participating in the reading program at our local library this summer. It's admittedly not the most exciting reading program: the prizes are just mediocre, and I don't love that you record your reading online rather than turning in sheets to the library—that was always so fun for me as a kid. And neither of us needs much motivation to read. However, I figure that we are already reading, so we might as well earn some prizes for it, and Charleston has enjoyed the challenge more than I thought he would. (In the picture below, he's hanging his sticker for reading his first 400 minutes. He's now at almost 700 for the month.)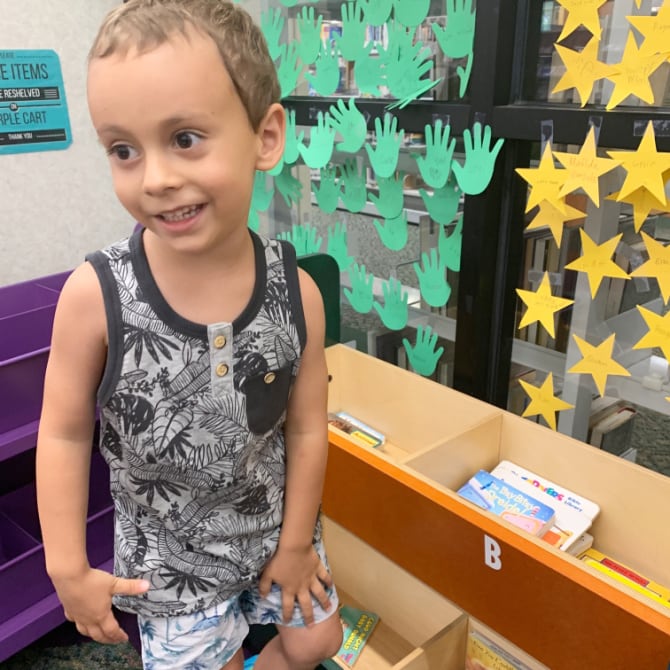 ---
// LISTENING LATELY //
I'm always on the lookout for great new music, and this month's musical discoveries have not disappointed.
Dawn Michele's Surrender ~ Luke introduced me to this music from the lead singer of FireFlight. The worship album has a fresh, rock-inspired sound and features powerful, Christ-focused lyrics. My favorite song is "How Great Thou Art", which is a beautifully haunting rendition of the classic hymn.
Russell Dickerson's Yours ~ I mentioned in last Thursday's post that I'm on a country music kick, and I'm loving the sound of Russell Dickerson, who I first learned about on this podcast. (It's always easier to like someone's music when they seem like a genuinely good person.) His music is light and upbeat and has a Country vibe without a touch of twang (which I appreciate; I am definitely not a fan of hard-core country). Clear winner for favorite song is "Yours", which is one of the most moving ballads I've heard in a long time. (I'm trying to convince Luke this should be "our song", but he is adamantly anti-country, so I don't think it's going to happen.)
Dan + Shay (Self-Titled Album) ~ This duo has been another fun country discovery. Great harmonies, meaningful lyrics, and a good balance between pop and country. My most-played songs on this album are "Tequila" (such a catchy tune and gorgeous music video) and "Keeping Score" (an awesome collaboration with Kelly Clarkson—love her!).
Kane Brown ~ Kane Brown doesn't look or sound like a typical country music artist, and I love that he's breaking stereotypes while also putting out great music. I'm enjoying both his debut album and his latest release, which feature songs ranging from edgy to heartwarming, all sung in Brown's utterly unique voice. I especially like "Heaven" and "Lose It."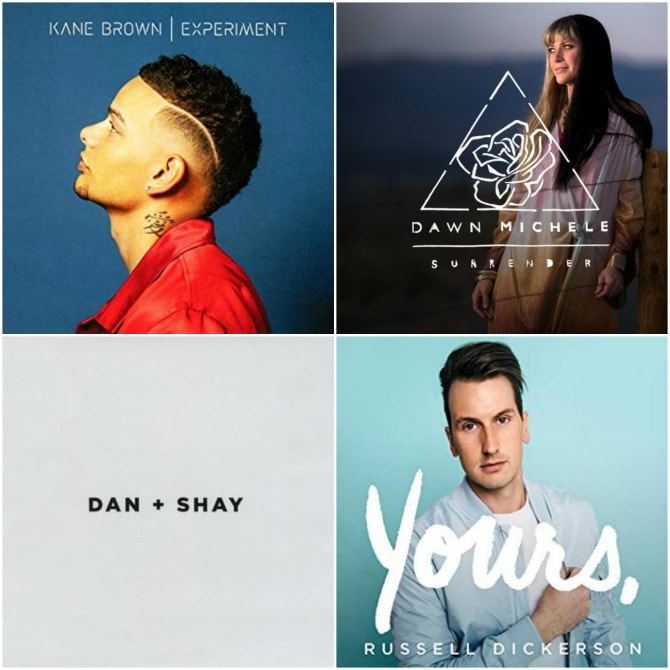 I'm in baby-prep mode, which has involved downloading a few preparatory podcasts:
Twin Talks ~ This podcast has been such a helpful resource for me as I look forward to life with twins. Each episode features a panel of twin moms who discuss everything from pregnancy-related issues to baby gear to parenting newborn or toddler twins. I enjoy hearing from a variety of parents on the show and have appreciated the helpful, upbeat tone of the podcast, which has made me less anxious about delivering and caring for two babies.
The Baby Name Podcast ~ To be honest, my baby name obsession would have compelled me to listen to this podcast at any time; it's just a convenient coincidence that I happened to learn about it while we are working on finding names for our two babies. The hosts are two sisters who discuss celebrity baby names, baby name trends, and names inspired by various topics (such as musicals or colors). I rarely agree with their opinions and assessments of specific names, but the discussions are a lot of fun.
The Pregnancy Podcast ~ This podcast features evidenced-based information on pregnancy and labor, and has been a good refresher of the information we learned in our prenatal classes five years ago. This is a single-host show, and the production quality isn't the greatest, but I'm learning a lot about pertinent topics such as fetal positioning, prenatal supplements, and potential pregnancy complications to be aware of. There are currently more than 150 published episodes, and I've been listening to back episodes that are most relevant to me. I would highly recommend this to all expectant women, especially first-time parents (or second-time parents like me who haven't given birth in quite a while).

---
// WATCHING LATELY //
Last Friday our family headed to the theaters to see Toy Story 4! All three of us are massive Pixar fans and have been looking forward to this movie's release for at least a year. I'll admit I was skeptical that a 4th Toy Story movie could live up to its predecessors, but once again Pixar exceeded my expectations with a film that is 100% worthy of a place in the Toy Story cannon.
The movie picks up where the previous film left off, with Woody and the other toys settling into life with their new kid, Bonnie. When Woody accompanies Bonnie to her Kindergarten orientation, he witness the creation of Forky, who becomes Bonnie's new favorite plaything. Woody takes it upon himself to welcome Forky into the fold and introduce him to life as a toy. Then the family heads out on a late summer road trip, the toys are separated, and Woody is unexpectedly reunited with his long lost love, Bo Peep. Woody must decide whether to return home with Bonnie, whom he loves, or join Bo in embracing the life of a lost toy.
All of our favorite characters are present, with the addition of some (hilarious) new ones. I could have done without the creepy ventriloquist dummies who serve as the "villains," but every other aspect of the movie is fun, funny, and heartfelt. I especially loved the development of Bo Peep, who is strong, wise, and adventurous yet still kind and sweet.
As I've come to expect from Pixar, the movie works on two levels: it's action packed and humorous enough to hold the attention of kids in the audience, with enough adult humor and complex subject matter to appease adults. The story delves into topics of loyalty, love, learning to listen to one's inner voice, and the bittersweetness of letting go. I definitely cried massive tears, but also laughed uproariously. Such a great film, and I'm happy to see it getting so much positive attention.
My Rating: 5 Stars.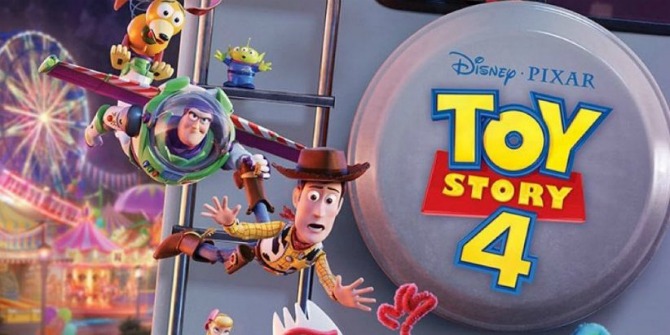 // EATING LATELY //
Now that my first-trimester nausea has subsided, I've been having a bit more fun with my diet again, and have enjoyed finding foods that satisfy both me AND these growing babies.
Tres Latin Foods Papusas ~ I have never had a traditional Salvadoran papusa, but I can't get enough of these tasty little pastries, which I discovered in the freezer section of my HEB. With their masa breading and savory fillings, they remind me of a healthier, gluten-free version of a hot pocket. While there are several varieties, I haven't branched out from the Black Bean & Sweet Corn and Green Chile & Cheese varieties—they are both so good, I haven't felt the need to sample the others. I like to eat these topped with a runny egg and a drizzle of hot sauce, served with a green salad and some fruit for a complete meal.
Sweet Potato Potapas ~ I'm not a fan of corn tortillas, and I haven't been able to find a gluten-free tortilla alternative that I love—until now. These tortillas (which are sold at Sprouts and can be found in the freezer section) have a nutty, slightly sweet flavor and great texture: moist and doughy, just like a freshly made flour tortilla. While they are too small to be used for a wrap or burrito, they have a strong enough flavor to be eaten on their own. I've enjoyed them as a bread alternative alongside a bowl of chili or soup.
Minute Maid Light Lemonade ~ Since Diet Dr. Pepper and Coke Zero are off the table for me now that I'm limiting my caffeine intake, this lemonade has become my beverage of choice (along with Fresca, my long-time pregnancy fave). It's so refreshing (perfect for a hot summer day) and has very little sugar. The canned variety is frequently out of stock at my HEB, so I stock up whenever they get a new shipment.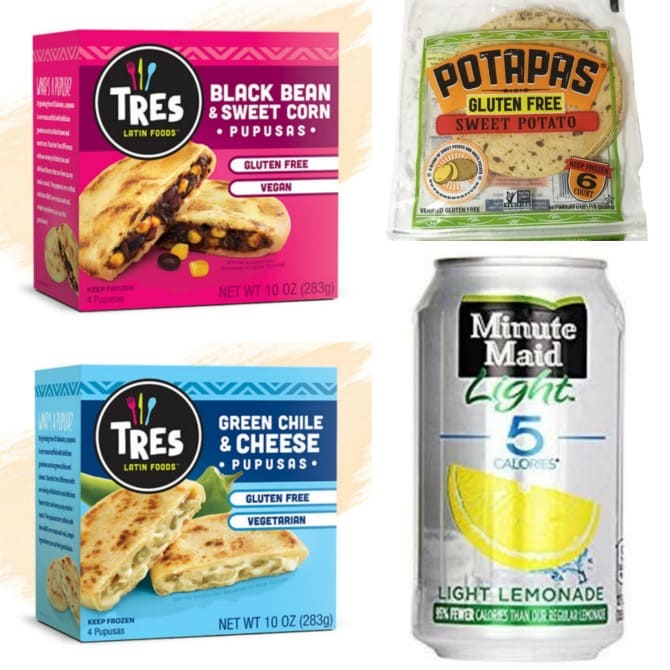 ---
// LOVING LATELY //
Target Drive-Up ~ While I still prefer doing my grocery shopping the old-fashioned way, I've succumbed to the lure of Target's FREE drive-up service. I rarely need more than a handful of items at Target, but that's one store where it can be easy for me to overspend. Shopping through the app has solved this problem. It's easy to hop onto the app and place my order (usually for toiletries or clothing items for Charleston) just before heading to the store. My orders have all been ready within minutes; I just text the store when I arrive, and a Target employee walks them out to my car. Because payment is done through the app, I simply sign for my purchases and can be on my way. I have no doubt this service will prove especially beneficial once the twins are born (because who wants to wake two sleeping babies for a five-minute errand?!). Way to go Target for developing such a seamless, hassle-free way to shop!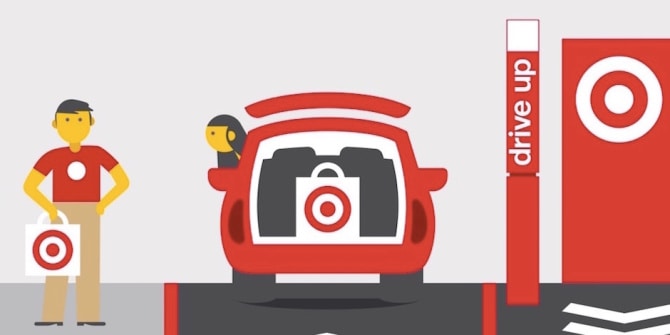 Shomico Backpack Purse ~ Three years ago I made the switch from a traditional handbag to a backpack purse, and I haven't looked back. While I loved my original backpack purse, I've been searching for a leather (or faux leather) replacement for at least two years, but hadn't found any affordable options. When I spotted our gym babysitter toting this Amazon find, I knew my search had finally come to an end. The faux leather purse is durable, nicely sized (not too big, not too small), and has several convenient pockets. And it was under $40!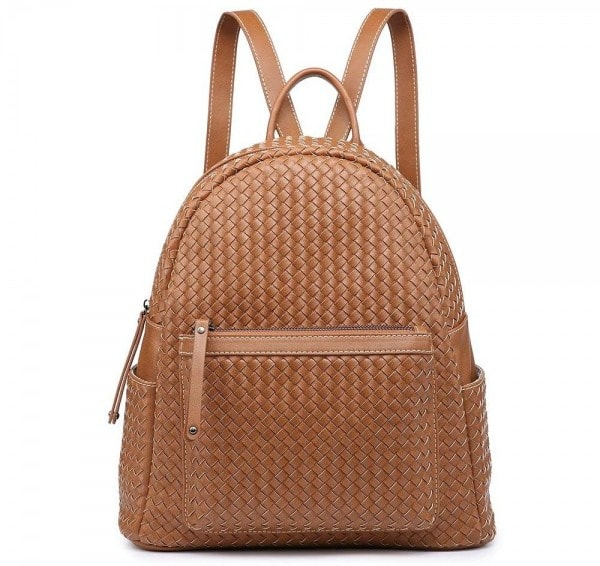 ---
// MONTHLY CHARLIE-ISMS //
I'm not sure whether it's thinking of him now as a big brother, or seeing him in a new environment (our new house), but Charleston has seemed SO much more grown-up to me lately. He'll be four-and-a-half in just a couple of weeks, and for once he actually seems his age. His quips this month have been charming as always.
+ On a day when I wasn't feeling well: "I'm sorry the babies are hurting your tummy. Being pregnant is a lot of hard work!"
+ "When I grow up, everyone's gonna be like, 'who is he?! Whoa!'
+ Charleston: "What city are we going to for our playdate tomorrow?" Me: "Leander." (The town just next to ours.) Charleston: "Are there volcanoes in Leander?" Me: "Nope, no volcanoes." Charleston: "Phew! Where are there volcanoes again?" Me: "Hawaii?" Charleston: "Oh yeah, that's right, Hawaii."
+ When a "dinosaur" showed up at a friend's birthday party, he came over to me and whispered conspiratorially, "I know it's not a real dinosaur because dinosaurs are extinct."
+ "I feel like we should go to Grandma and Grandpa's house on Father's Day. Because Grandpa is a dad too, so we should go see him."
+ "I really liked playing the hot sauce game in swim lessons today." It took me a bit, but I finally figured out he was referring to the game Hot Potato.
+ "Mom, you're the one with babies in your belly. So I think you should set up the nursery. . . but, I'll help you."
+ To Luke, thinking I couldn't hear him: "Since Mama's having the babies, I think she gets to take care of them."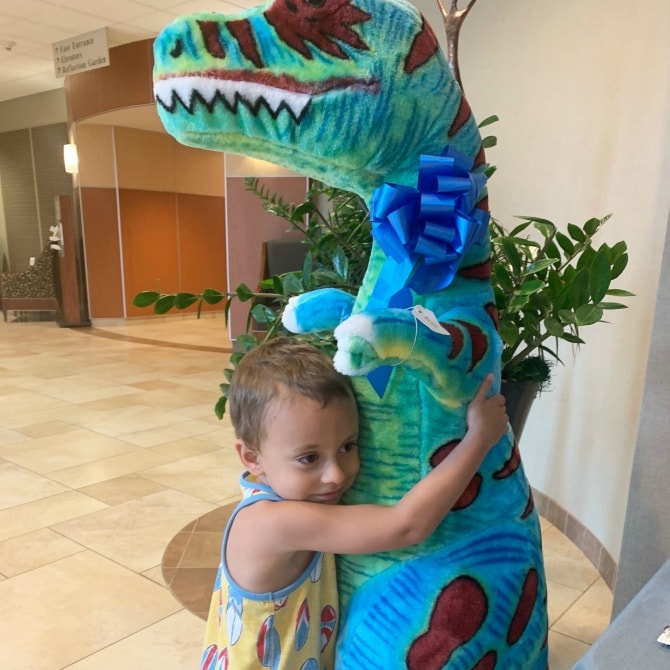 ---
// MONTHLY BUMP-DATE //
If you read my most recent What I Learned post, you know that this pregnancy hasn't been the easiest. First-trimester nausea and fatigue segued right into back pain, bloating, and swelling as soon as I hit trimester number two. Thankfully, despite my discomfort, the pregnancy has remained complication-free and the babies are doing great.
We had an appointment last week and chose to bring Charleston, who got his first on-screen glimpse of his brother and sister (whom he inexplicably wants to name Johnson and Leesha [Spoiler: I don't think we'll be going with his picks]). Both babies had nice, strong heartbeats in the 140-range and were in great positions. At 22 weeks, Baby Boy was measuring 1 pound 4 ounces (54th percentile) and Baby Girl was measuring 1 pound 2 ounces (38th percentile); those percentiles are compared with singleton fetuses, and our doctor said those are amazing sizes for twins! Charleston measured small my whole pregnancy, so those numbers are music to my ears. Although we're still fairly early in the game, everything is pointing to my being able to carry these babies full term, with high hopes for a vaginal delivery. And while October seems VERY far away right now, I will be happy for these twins to stay put as long as they need to.
We didn't get any good pics at our last sonogram, so in place of actual baby pictures, here is our most recent belly shot: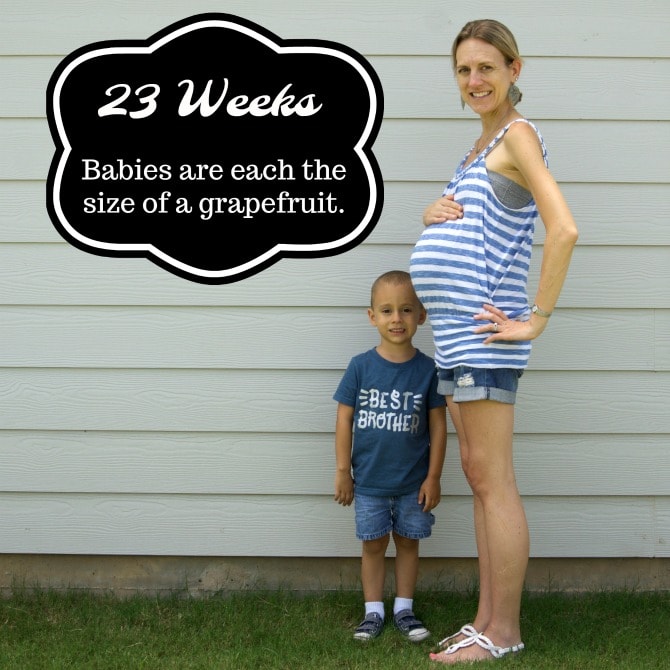 And this was just one week earlier—evidence of how rapidly this bump is growing!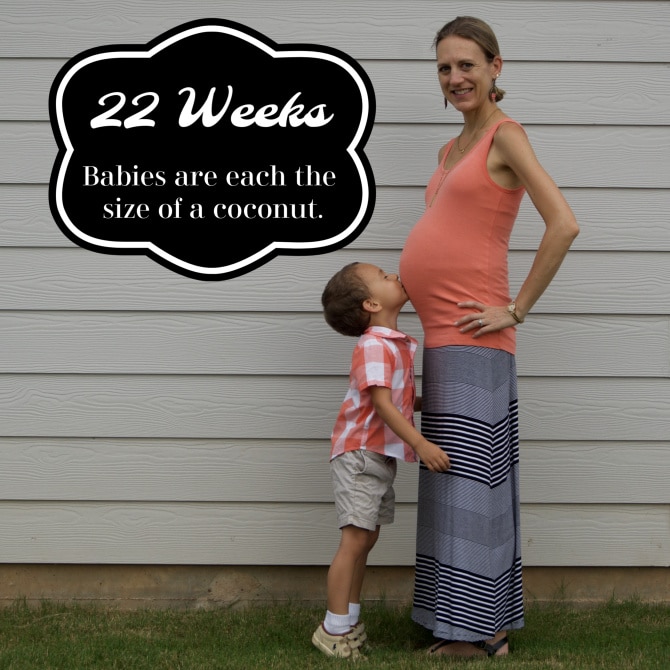 ---
// HAPPENINGS AND HIGHLIGHTS //
Luke was away on a men's retreat on the weekend of Father's Day, but he made it back in time to attend the late service at church (where they were serving barbecued bacon shish-kabobs). After church we came home for Luke to open his card and presents. This year I got smart and purchased all of his presents at HEB (a dozen varieties of dark chocolate and a Massage Envy gift card) which meant that our credit card statement didn't spoil the surprise; he just assumed I had had a very expensive grocery week, haha! That afternoon we went over to my in-laws' for an afternoon of barbecue and scootering. I missed getting to see my own dad on Father's Day, but was glad for the chance to celebrate three other dads in my life (Luke, my father-in-law, and my brother-in-law).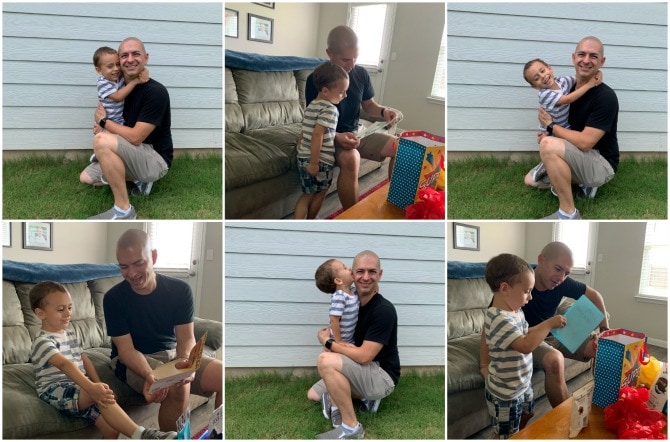 Last Thursday Charleston wrapped up two weeks of swim lessons. This was his FOURTH year of participating in our (former) city's swim program, and he had a blast. He eagerly joined in on every song, game, and drill even though he was younger and less experienced than most of his classmates. By the last day he was even participating in the "bobs" (dipping under water), despite hating his face getting wet. We had great weather all but one day, when class ended early due to thunder storms. Charleston was freezing but it was safety day, which meant he got to wear a life jacket and practice "saving" his classmates, so he was having too much fun to notice the cold and rain!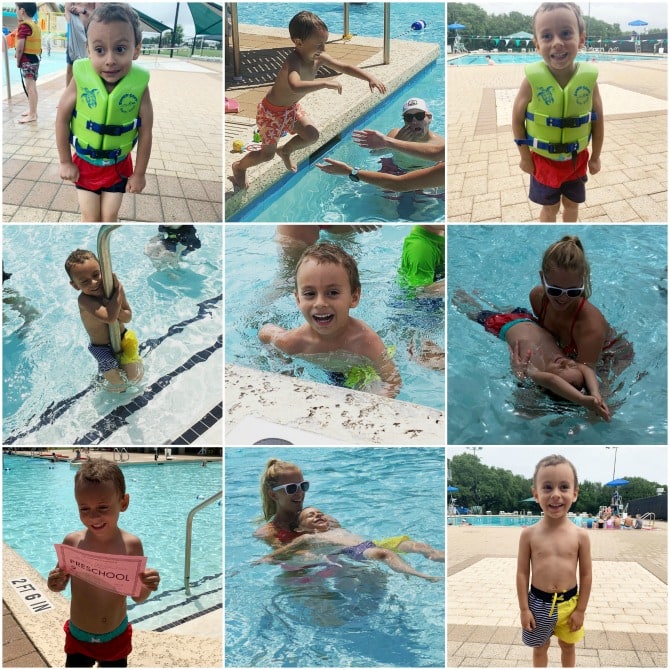 Last week Charleston spent his first full night in his bed by himself! This was a milestone I would have expected to cross years ago, but I've learned that children's sleep is a tricky issue, and to be honest we have zero regrets about allowing him to co-sleep for as long as he did. (Since some have asked: we did co-sleep with him from the beginning. When he got older, he would spend the first part of the night in his own crib—later bed—but would come into our bed fairly early in the evening and stay there until morning. Thankfully, he's always napped on his bassinet/swing/crib/bed.) With the twins coming soon, and with plans to co-sleep with them in the early months, we knew we needed to get Charleston into his own room.
A few months ago we told him that if he stayed in his bed for a whole night, he could earn a Lego airplane that he'd been eyeing. That airplane has been sitting on a high shelf in our closet for months, and Charleston has been enthusiastic about earning it, but somehow wound up back in our bed every night. Three weeks ago we tried something new: I decided to sleep with him in his bed for the whole night, to give him practice with staying in his bed for a full night but with some assistance. After two weeks of sharing his twin bed, he said he was ready to go for it on his own . . . and he did! He was up with the sun, but he had made it the whole night; he was so proud of himself, and Luke and I were thrilled! Unfortunately, the next night, when I asked if he was ready to stay the whole night in his bed again, he answered, "Why? I already earned my Lego plane." I guess we should have seen that one coming. . . . We put some additional incentives in place, and though he hasn't consistently spent the entire night in his bed, he's done it three times since (albeit with Luke or me needing to come into his room several times during the night to settle some ears.) We'll get there!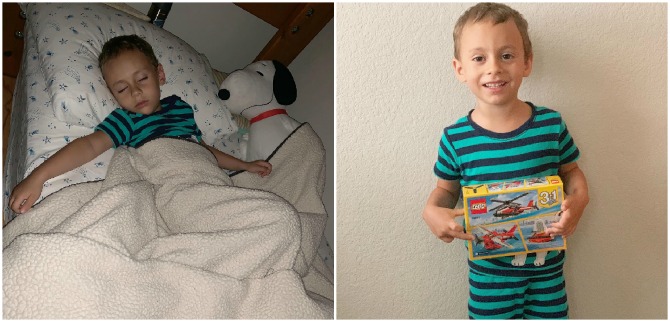 ---
Well, what I thought was going to be a brief monthly recap has somehow morphed into 3,000 words . . . but then, nobody ever accused me of being succinct. What was a highlight of your June?
I'll be taking the rest of the week off of blogging in recognition of the holiday weekend. Next week, I'll be returning to a Monday/Wednesday/Friday posting schedule. Until then, have a wonderful week and happy Independence Day!