October has historically been my favorite month. This year, October was rough: after a year of holding it together as a mom to three, I completely crashed and burned right around the twins' first birthday at the end of September. In addition to several other troubling symptoms (physical and emotional), I began experiencing severe anxiety and panic attacks that had me rushing to Urgent Care in search of relief. The good news is that nothing is wrong with my body; the bad news is that I seem to have landed myself in a hornet's nest of anxiety and depression that has been difficult to escape. I am fatigued to the point of barely being able to get out of bed. My mornings start off well, but by mid-day I feel disoriented and frazzled, with brain fog that makes the smallest tasks insurmountably daunting.
Luke has been a rock for me this month—even as he has been navigating a new job with many new responsibilities—and I don't know what I would do without him. He is helping me get more rest and serving as an accountability for me as I aim to improve my nutrition and practice as much mental self care as possible. But the days while he's busy working are hard; most afternoons find me curled under a blanket on the nursery floor, children climbing all over me as tears stream down my face and I beseech God to simply get us all to the end of the day in once piece.
I don't mean to sound overdramatic. I am okay, circumstances do seem to be improving, and I know that God will get me through this as He has gotten me through every other dark time in my life. But it wouldn't feel right to give the impression that everything is sunshine and unicorns over here. ALL of us have had a rough go of it in 2020, and while I don't see the value of wallowing in our crummy circumstances, I think that honesty is important for fostering empathy and solidarity.
That said, October wasn't a complete wash. There were some definite high points worth remembering.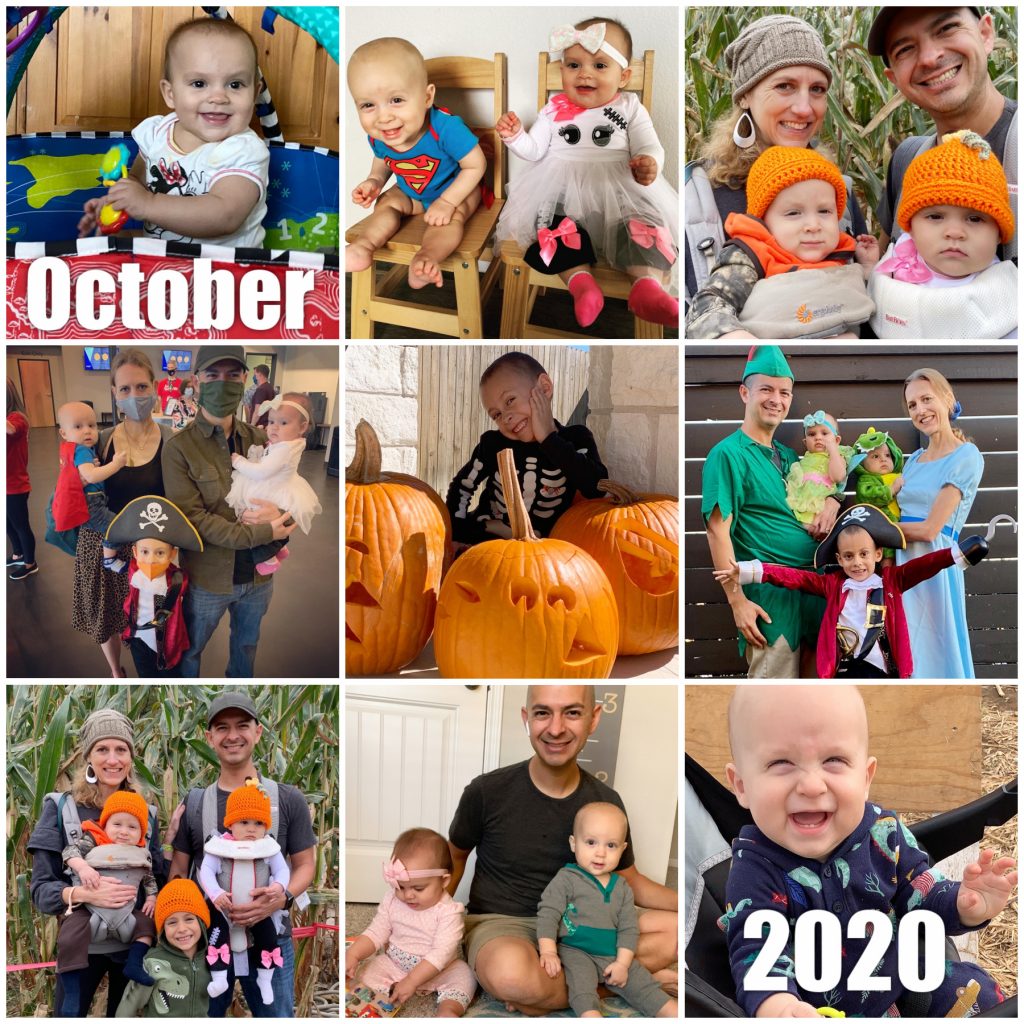 // READING LATELY //
This month's books included a few poignant spiritual books, including this fantastic reread and this excellent book that blends Christian principles into the Enneagram. While I had better luck with nonfiction than fiction this month, I really enjoyed this creepy thriller as well as this well-crafted mystery.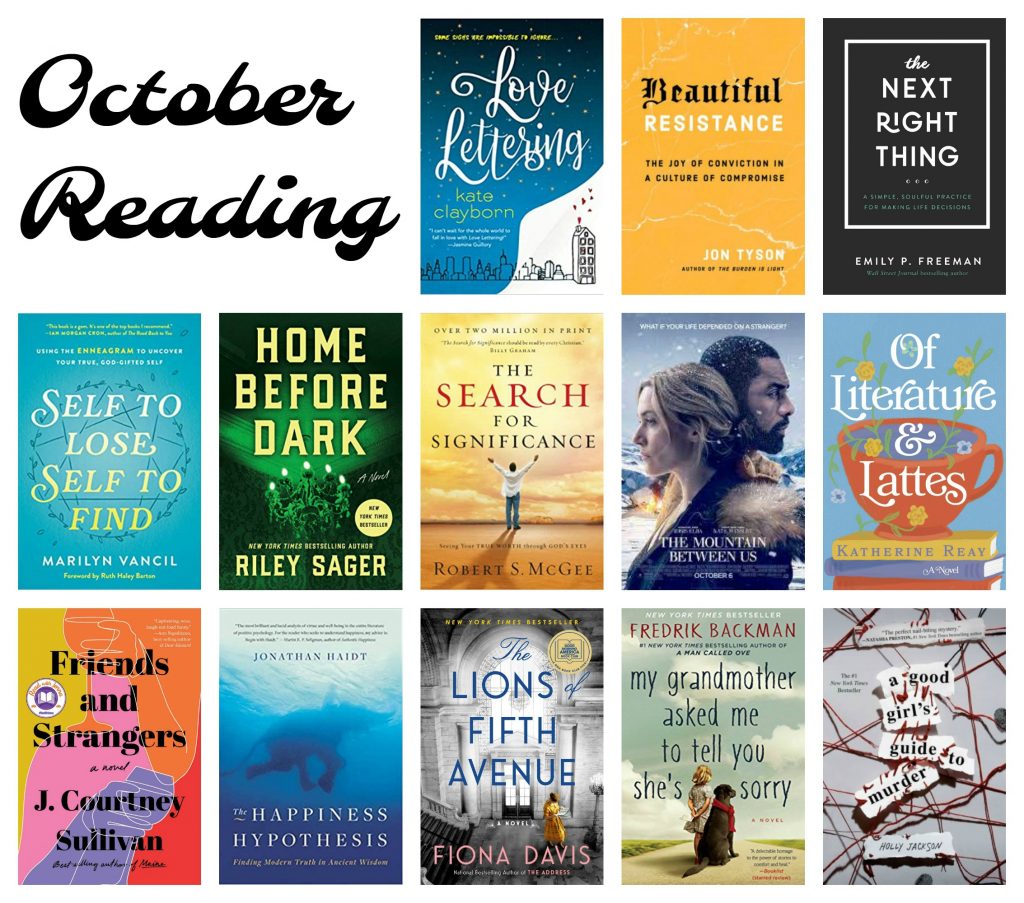 // MONTHLY CHARLIE-ISMS //
It's hard for me to believe that Charleston has been a big brother for over a year now. He seems so much older and more mature than when we brought the twins home thirteen months ago, and I love this little boy he has become. Also love the hilarious things he says!
+ "Halloween and Christmas are both one of my favorite holidays." Me: "Hmm, not national Chocolate Milk Day?" Charleston, thoughtfully: "Yeah, that tooooo."
+ "I love money. It's really one of my favorite things these days. It is very important, not as important as God, but you couldn't live without money. That's why you want to like God, 'cause he can give you the money."
+ "How did you get to be a teacher at church? Did you have to pay?" Me: "No, I didn't have to pay to help out at church." Charleston: "You mean you got to volunteer for free?"
+ In response to a church video, in which the hosts asked if they seemed trustworthy: "I trust them because they both are part of church. And people at church always trust God! It's important for people to trust me because otherwise it's a lie, and that's being on Satan's team."
+ "I bet in a year or maybe two weeks I'll be able to write a whole book by myself! I think I will just copy some of the books from the library and then we can give them to people when they come to our house."
+ Trying to convince me to go inside when he saw a spider on our porch and was afraid of it: "Mom, you've got your thing, snakes, and I've got mine, spiders." Me: "So you're okay with snakes?" Charleston: "Um, I'll share that with you." (We had a rattler on our porch recently so my fear is legitimate.)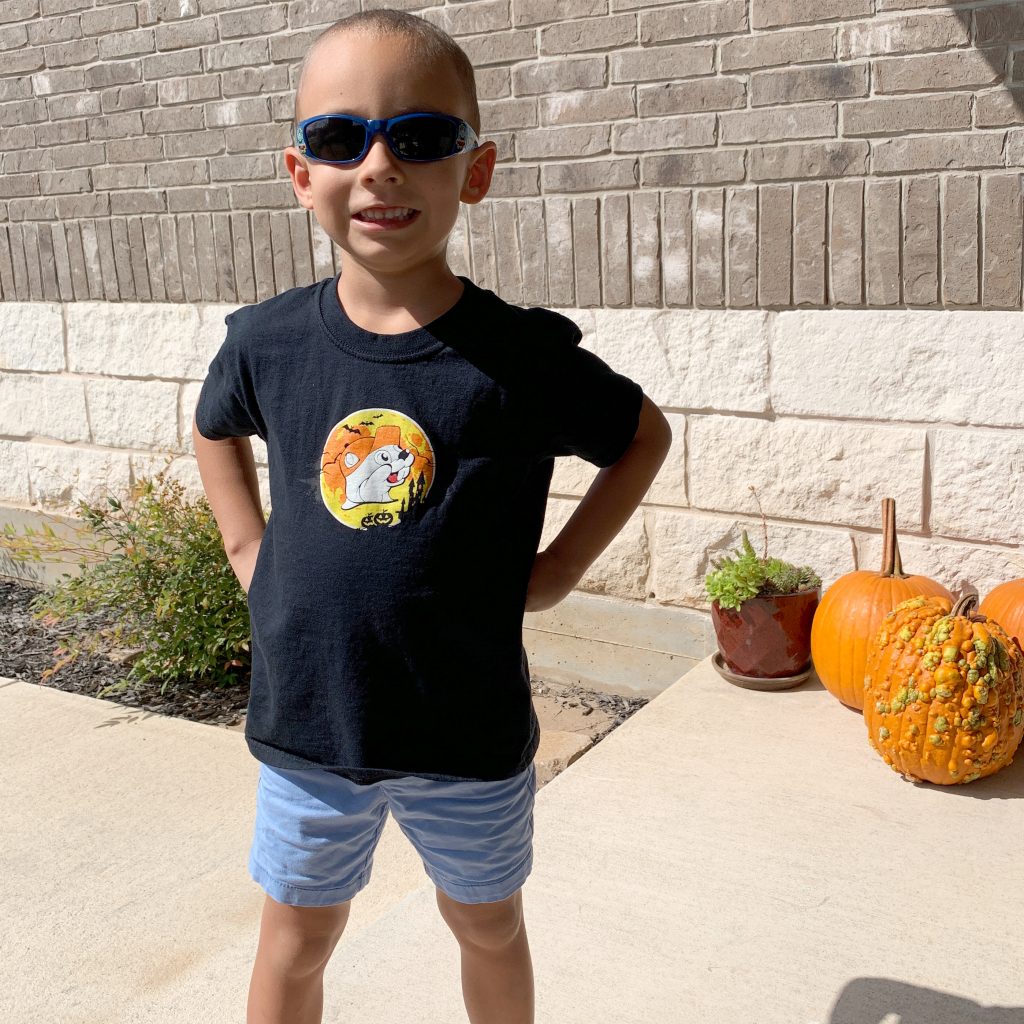 + "You know what makes me not like movies or shows? If there's no bad guy!"
+ "My job is to be a superhero and to be your child."
+ "Why don't they just call jackets hot shirts?"
+ Me, when he was learning to write the letter J: "That's an important letter for you to know because it's the start of our last name." Charleston: "So if we didn't have the letter J we couldn't have our last name? Would we have to have a different last name, like Toot?"
+ "If you're still sick when I grow up I will be a doctor for a little bit and take care of you and investigate what your sickness is. I've always wanted to be a doctor! I'm nice. And I just like to see all the cool stuff the doctor uses. I even want to be the scientist kind of doctor and make potions. It's pretty cool to be a doctor!"
+ "You know what makes Halloween one of the best times of the year? I was BORN for Halloween. (That's just something I heard on tv.)"
+ Me: "Who's your favorite character in the Bible?" Charleston: "Probably God. He's the most important. He can take all the bad guys and lock them up and put them in their good guy mind!"
---
// HAPPENINGS AND HIGHLIGHTS //
Of course, our adventures this month were dominated by all things Halloween. The kids and I attended our first pumpkin patch of the season along with some friends from MOPS. It was a smaller local patch, perfect for navigating on my own with the three kids. Charleston loved running around the hay bale maze, riding the train, and playing balloon sword fights with his friends, and the twins did surprisingly well in the stroller. I even managed to get a few pictures of all three of them amidst the pumpkins.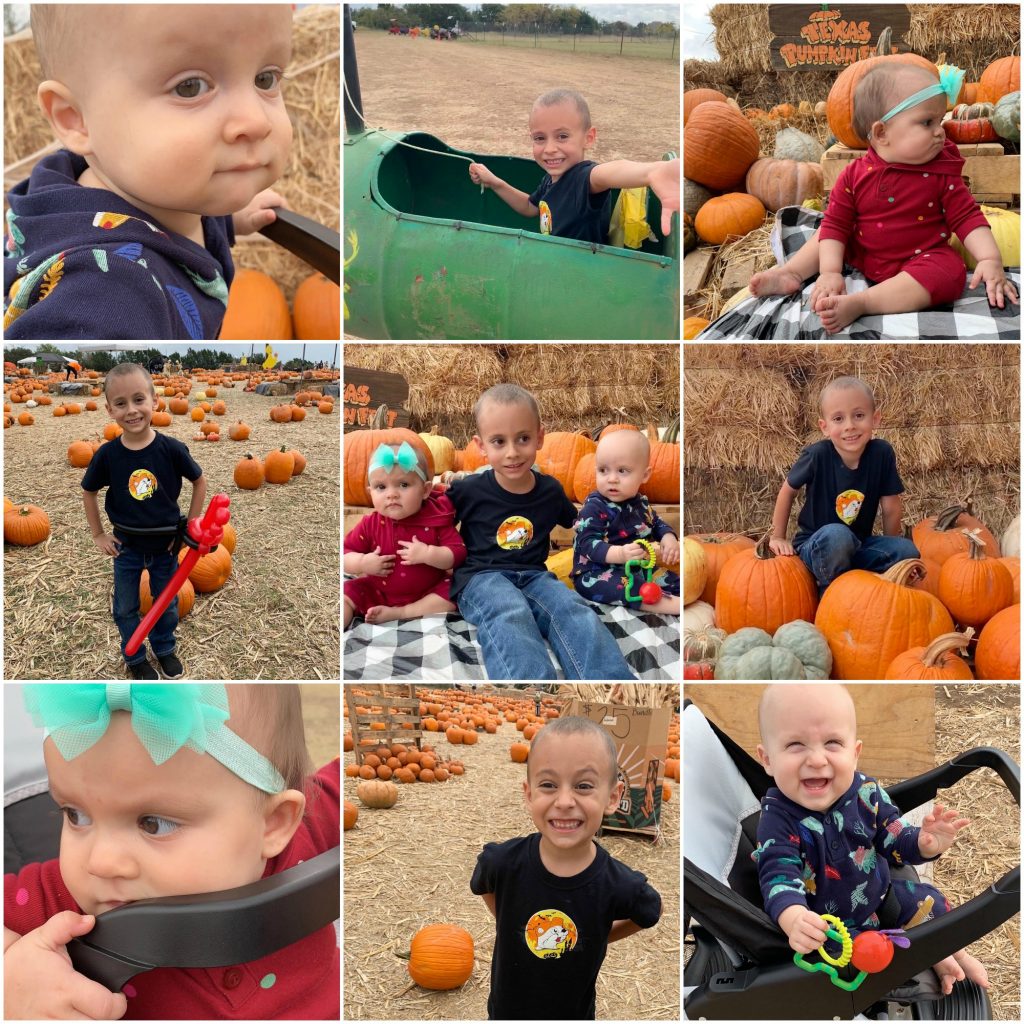 The following day our family joined my in-laws at Sweet Eats, a large new-to-us pumpkin patch/farm. It was a huge patch with lots to do, and we all had a blast! We pet animals, got lost (literally) in the corn maze, flung apple slingshots, and helped Charleston and his cousin Collin play on the slides and obstacle course. Charleston even got to go on his very first horse ride and loved it. We can't wait to go back!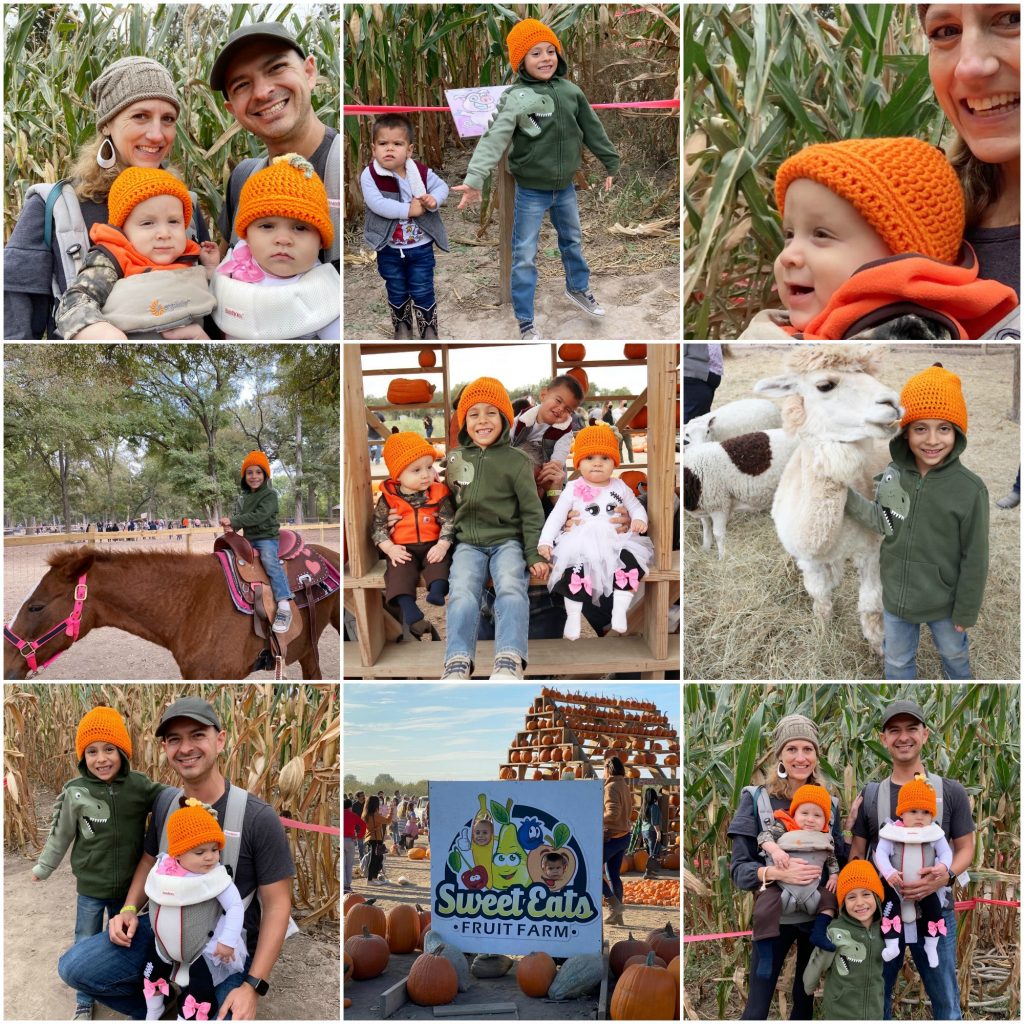 Our church is back to meeting in person for the first time since March, and it has been SO GOOD to worship together beyond the confines of our living room. Our first Sunday back was the Sunday before Halloween, so the kids got to wear costumes, which made it extra fun. It was a day of firsts for us: Charleston's first day in UpStreet (elementary school church) with the Kindergarteners, and the twins' first time in the nursery—and first time ever being watched outside our home and by someone other than grandparents. All three kids did well with the new routine, and Luke and I happily attended service sans kids for the first time in over a year. Even having to wear masks the whole service couldn't put a damper on our enthusiasm.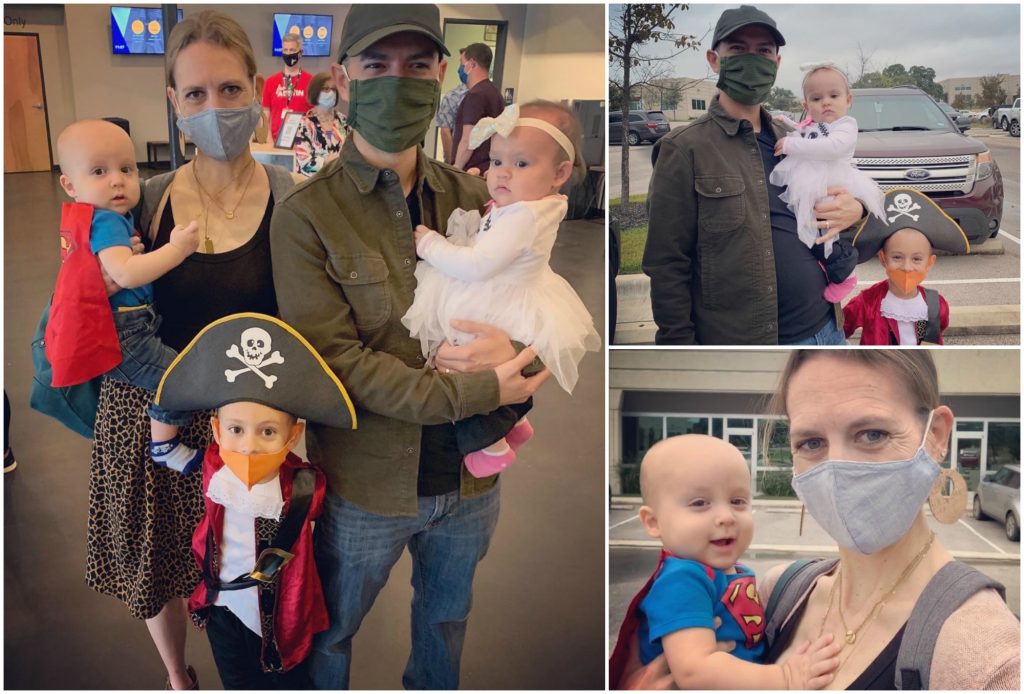 We had a great Halloween! On Saturday morning, Charleston told me that he was "born for Halloween," and all day long he proved that he just might be right. While the twins napped that morning, we carved Angry Bird-themed pumpkins while listening to a fun Halloween playlist on Spotify. Charleston was really into designing the pumpkins this year and liked helping scoop out the seeds. We also colored some holiday coloring sheets we had picked up at the library, and he wanted to use those to decorate our front porch. His enthusiasm was just the best.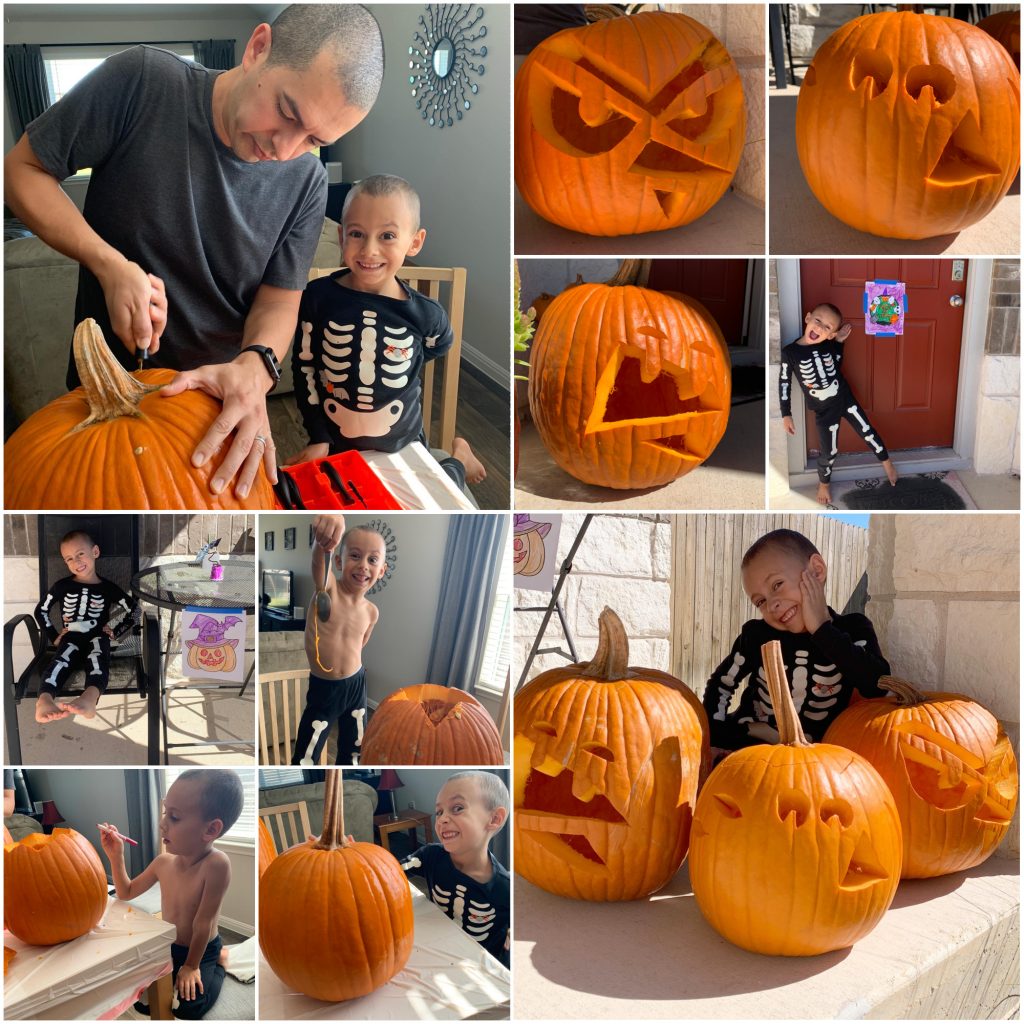 On Halloween evening we donned our Never Land costumes: Luke as Peter Pan, Charleston as Captain Hook, me as Wendy, Sully as the crocodile, and Kali as Tinker Bell. Charleston and I had a lot of fun coming up with the theme, and we were so happy with how it turned out.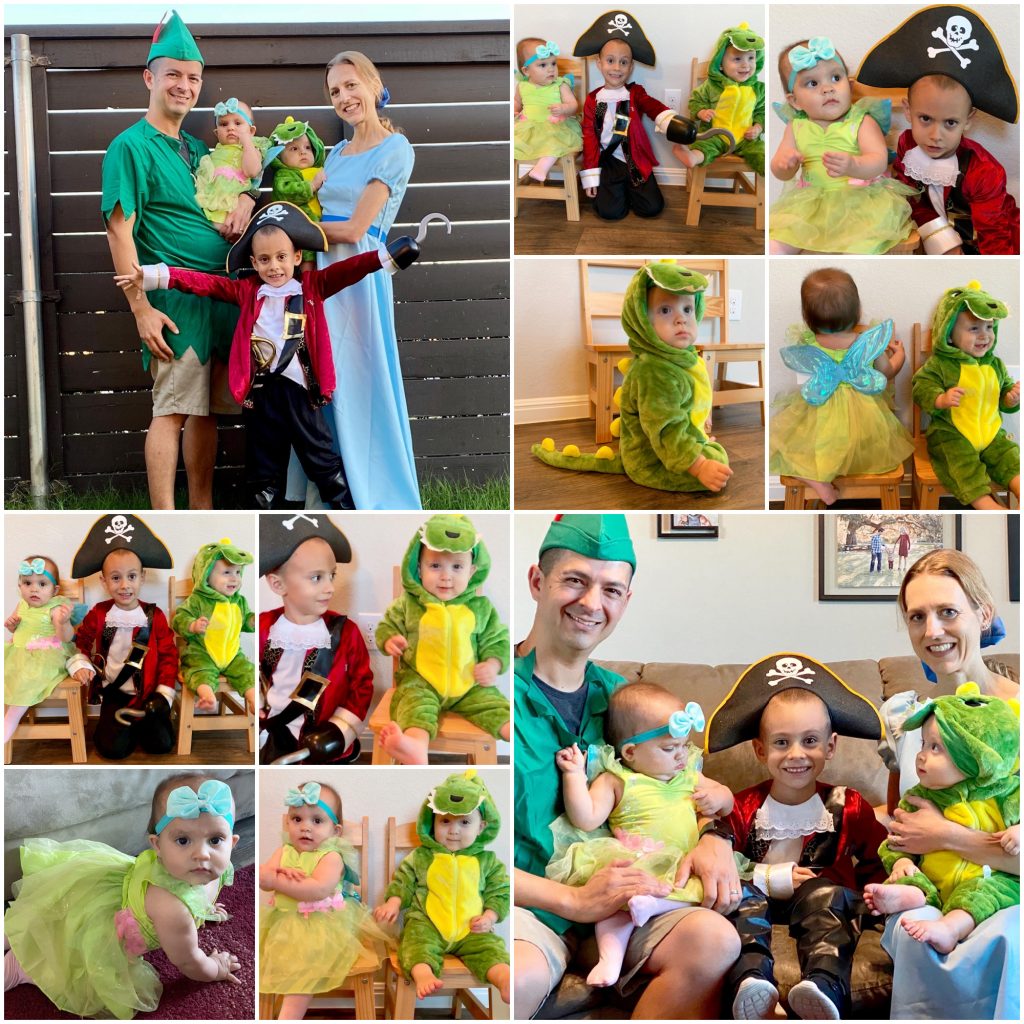 Unfortunately a lot of our usual Halloween festivities didn't happen this year, but trick-or-treating in our neighborhood was NOT canceled! In fact, there were more people on the streets than usual! Quite a few of the houses in our neighborhood were decorated, and we saw lots of great costumes. Most of the neighbors sat out in their driveways passing out candy, and many households passed out full goody bags, which meant that Charleston was able to fill his candy pumpkin to the brim. The twins are still too young for candy, but enjoyed coming along for the ride.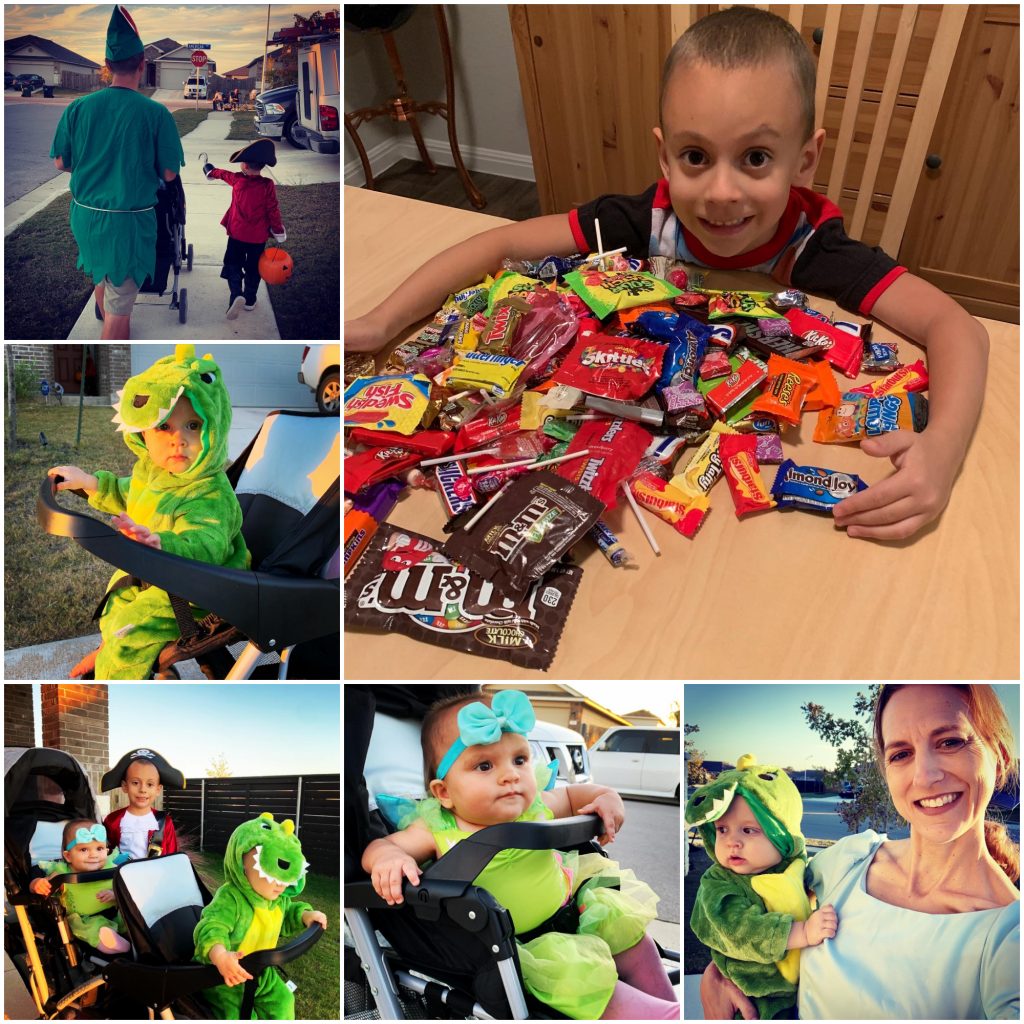 And just for fun, here's a look back at six years' worth of Halloween costumes: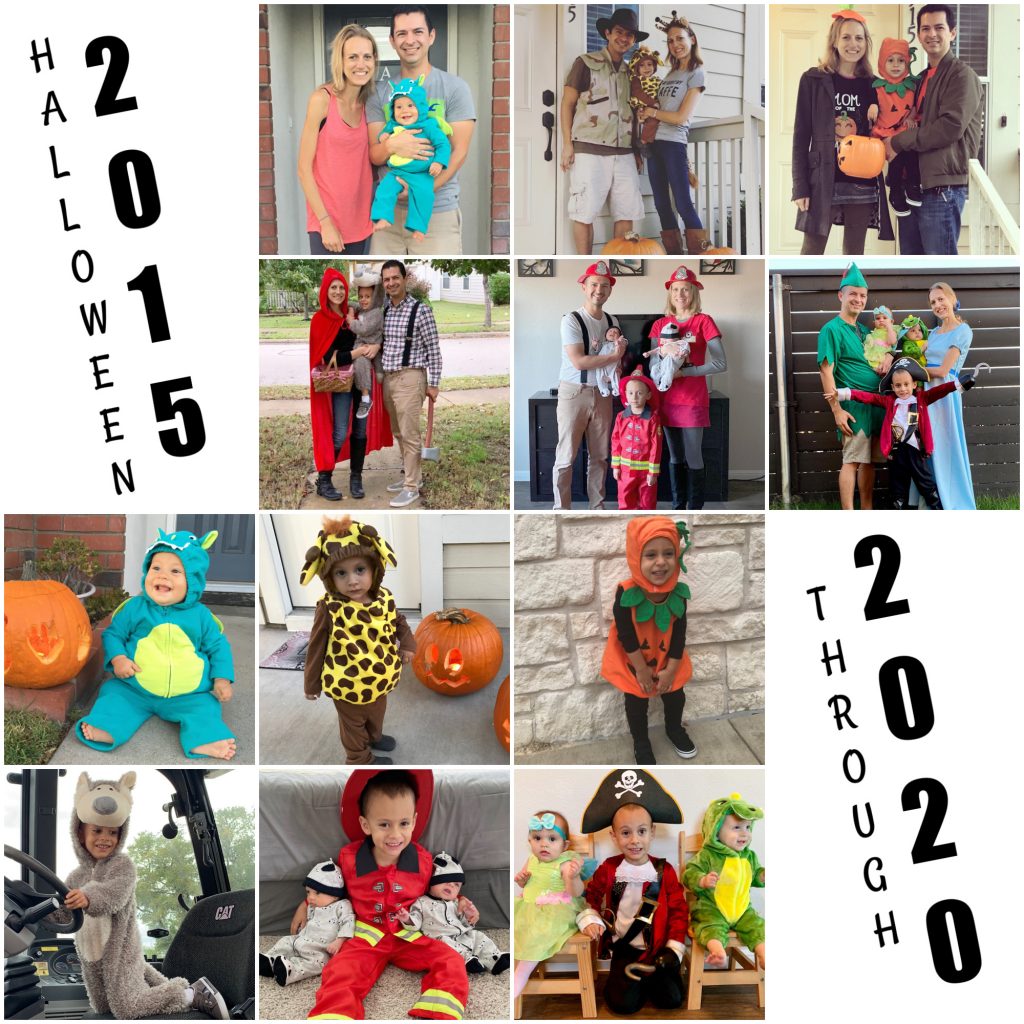 That's it for October! What was the best part of your month? What are you most looking forward to about November?