If this month had a theme, it would be "hurry up and wait." At the start of September I was convinced that I was going to go into labor early, so we spent a lot of time getting everything in order for the babies' arrival. Thankfully, these twinsies decided to stay put a little longer, so the past couple of weeks have been all about biding our time.
The timing of today's post actually falls under the "hurry up" umbrella. I'm scheduling it a few days before the end of the month . . . you know, just in case I'm too busy giving birth to write up a more timely month recap. Because I have a strong feeling that by the time we hit the end of September, I will be a mom to twins! (For more details, head to the "bump date" portion of this post.) In the meantime, here is a bit more of how I filled my time this September.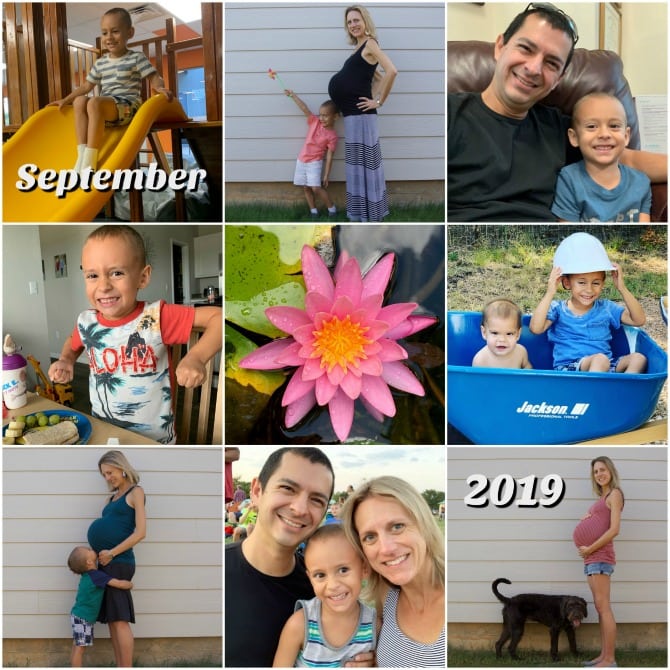 // READING LATELY //
I was in the mood for fiction this month! I read three bookish novels (this was by far my favorite), a few mysteries (I LOVED this one), and a number of more complex literary titles (this was an unexpected hit that went much deeper than its "romantic comedy" classification would suggest). I'll be sharing full reviews of all of this month's books next week!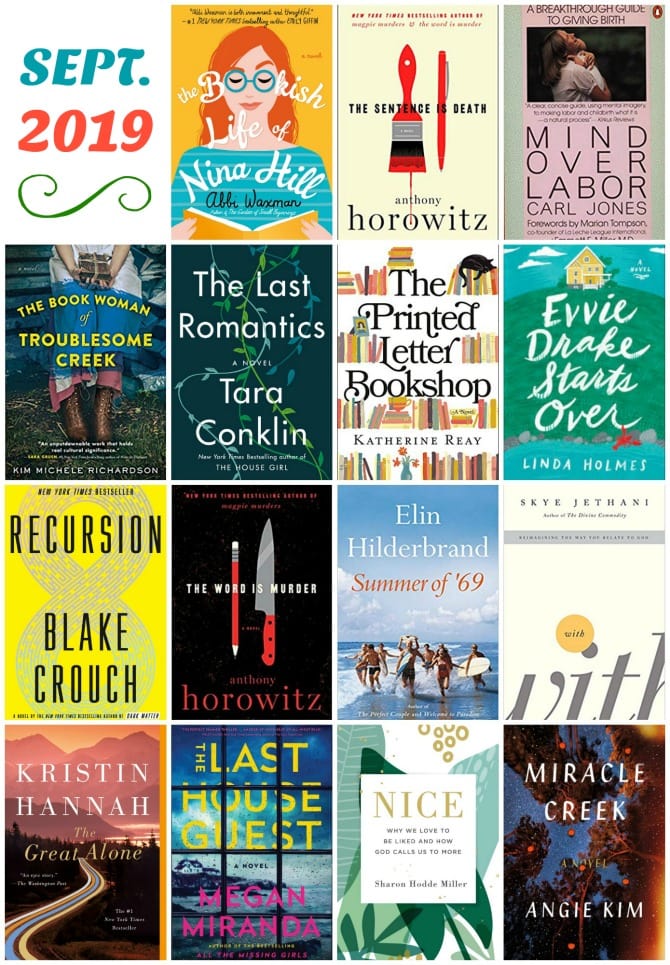 ---
// WATCHING LATELY //
Murder Mystery ~ I NEVER watch television by myself, but made an exception on an afternoon this month when Luke and Charleston were out and I was feeling the third trimester blues. I knew nothing about the movie going into it, but the title and cast caught my attention. I'm so glad I gave it a shot!
New York police officer Nick Spitz and his hairdresser wife, Audrey, are fifteen years overdue for their European honeymoon. An anniversary confrontation about this oversight leads Nick to book a last-minute flight to Europe. On the plane, they are befriended by billionaire Charles Cavendish who invites them to join him on his family yacht for the celebration of his elderly uncle's wedding to Charles' former fiancée. But the journey soon turns deadly, with many passengers winding up murdered and a French detective insisting that Nick and Audrey are responsible.
This film is a unique blend of slapstick humor and Agatha Christie-style suspense. Though the acting is not spectacular and the mystery is totally over-the-top, I found this to be a highly enjoyable viewing experience that kept me guessing until the very end. I loved the dynamic between Nick and Audrey, who bicker constantly yet clearly love each other, and the European setting was is quite enticing.
My Rating: 4 Stars.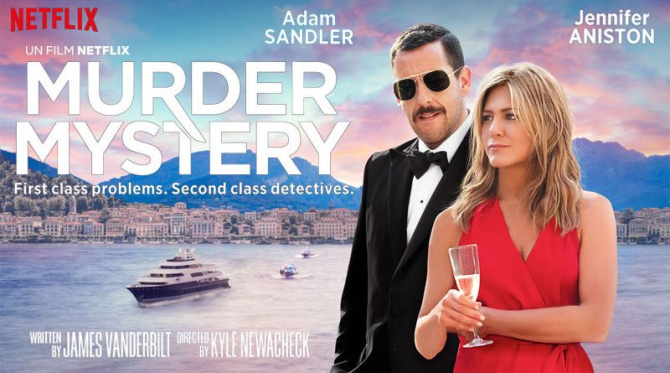 The Secret Life of Pets 2 ~ We saw this movie at our (former) city's September Movie in the Park. It was a double win, since Charleston has been dying to attend another movie in the park since his first one two years ago (the last several have been rained out), PLUS we all three had been excited to see this movie but missed it in the theaters.
The story picks up some time after the events of the first film with Max the Jack Russel Terrier's owner, Katie, getting married. Katie soon has a son whom Max at first resents but quickly grows to love, to the point where his overprotection leads to psychological issues that require a trip to a therapist and the wearing of a cone. We follow Max and his family on an eventful trip to a farm, and his pet friends get up to some exciting shenanigans while he is away.
As is so often the case with movies, nearly all of this one's best parts made an appearance in the trailers. The remainder of the film is moderately entertaining, but certainly not great. However, the premise is cute and there are a few scenes that had me chuckling (while Luke was practically howling with laughter). I also enjoyed the appearance of Harrison Ford as Rooster the curmudgeonly sheepdog. Final verdict: a decent kid's movie, but not as good as the original.
My Rating: 3.5 Stars.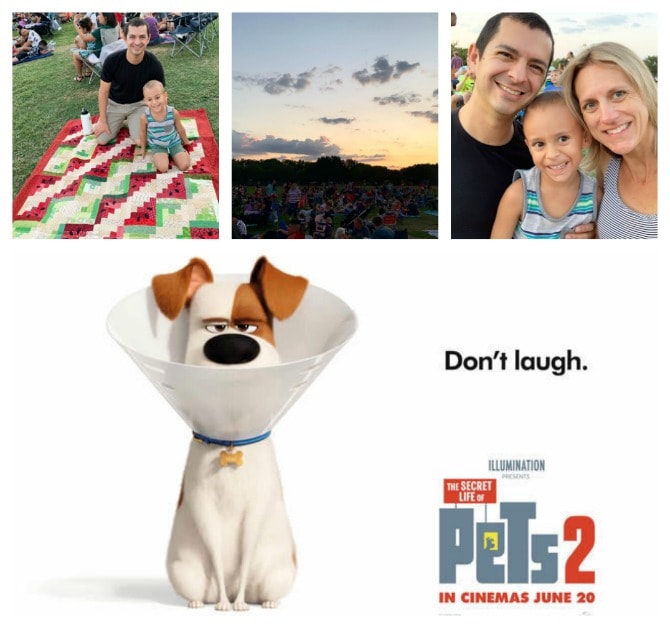 ---
// APPRECIATING LATELY //
I discovered two websites this month that proved incredibly useful. The first was Aeroflow Breastpumps, a website that takes all of the legwork out of getting a free breast pump through your insurance. After simply inputting your insurance information, the site provides you with a list of pumps that are covered; you make your selection and Aeroflow takes care of all the paperwork required (getting a doctor's prescription, verifying coverage, etc.) and sends you your pump. I received my Spectra pump within a few weeks, at no cost to me!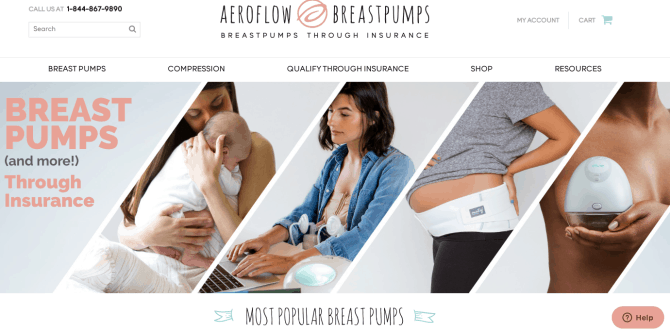 The second website discovery was Replacements.com. I was so disappointed when I dropped a soup bowl recently, reducing our set from four to three bowls. Unfortunately our dinnerware can no longer be found in stores, but I was able to find a replacement for a reasonable price on this website, which carries nearly half a million different china, dinnerware, glassware, and silverware patterns. I will definitely be bookmarking this site for future shattered-dish incidents!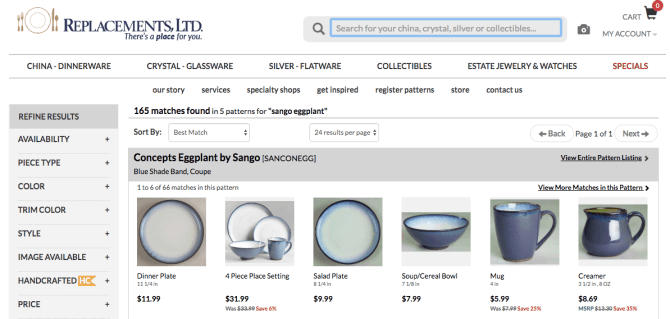 ---
// MONTHLY CHARLIE-ISMS //
It's hard to believe that in a few short days, my "baby" will be a big brother to two! He's already taking his role quite seriously, constantly kissing and talking to the babies in my belly and regularly referring to himself in the third person as "Big Brother". I'm thankful for the maturity he's demonstrated in recent weeks, and also for his adorable little quips that keep me on my toes.
+ "Mom, I need to do a time travel back inside your belly because I don't remember what it's like in there."
+ Me, at bedtime after a long day of one-on-one time: "Thanks for hanging out with me today." Charleston: "You're welcome. I could never live without someone to keep me company."
+ "What if my brother and sister don't like me?" This broke my heart!
+ After I put Lauren Daigle on the stereo when Charleston asked for "gentle" music. "This isn't gentle music! The instrument part is gentle, but her voice does not sound gentle." He wasn't wrong, Lauren's voice is pretty edgy!
+ When we showed up for library storytime and discovered the library was closed for a staff development day: "I like the world we live in. But I wish it could be better. I wish things were never closed. But it's still a pretty good world."
+ "Mom, if the police have to take our car away because we are driving too fast, I don't think we should walk, we should have somebody else drive us instead. Because walking just takes too long."
+ Learning how to shoot his first BB gun, and referring to his uncle who is a gun pro: "Tío Tommy is good, but I'm going to practice every day to be better."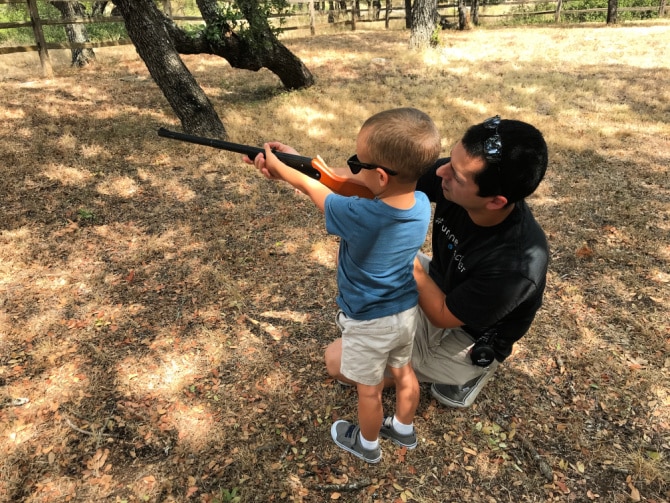 ---
// LEARNING LATELY //
I'm shaking things up this month and, instead of dedicating a full post to what I learned in September, documenting a few of my "learns" here.
1. "Mourning is acknowledging and accepting reality, and letting go of unmet expectations for the future." Though I can't recall the exact source, I loved this unconventional definition of mourning and have been thinking about its application to various seasons of grieving in my own life.
2. I am a strong Melancholic in the Four Temperaments model of personality. I've enjoyed learning about this model along with our community group; it's one I've heard about in the past, but never studied, and it's been fun to learn about my own type as well as those of our group members. If you're interested, you can learn your own type by taking this quick assessment.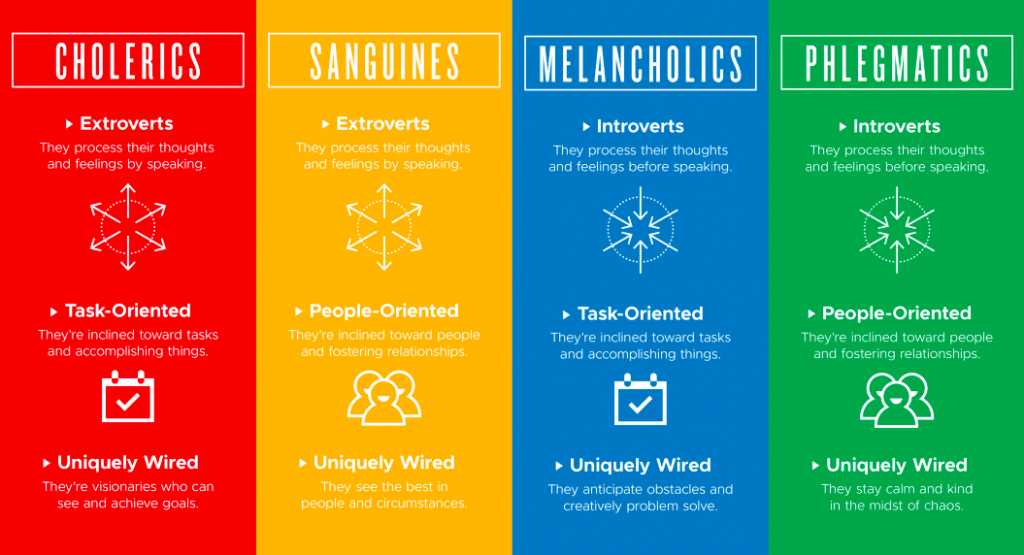 3. Storytelling is the editing of human experience. This from filmmaker Ken Burns, who went on to explain that storytelling is humanity's way of ensuring our immortality. Fascinating!
4. A philomath is a Greek term referring to someone who loves learning and studying. That's me!
5. The "French" in French Vanilla ice cream refers to the style of ice cream, not the type of vanilla bean. According to The Kitchn, "What makes French vanilla 'French' is that the base for the ice cream contains egg yolks, while the base for regular vanilla ice cream does not. The egg yolks lend a pale-yellow color to French vanilla ice cream and also gives it a richer, smoother consistency and mouthfeel."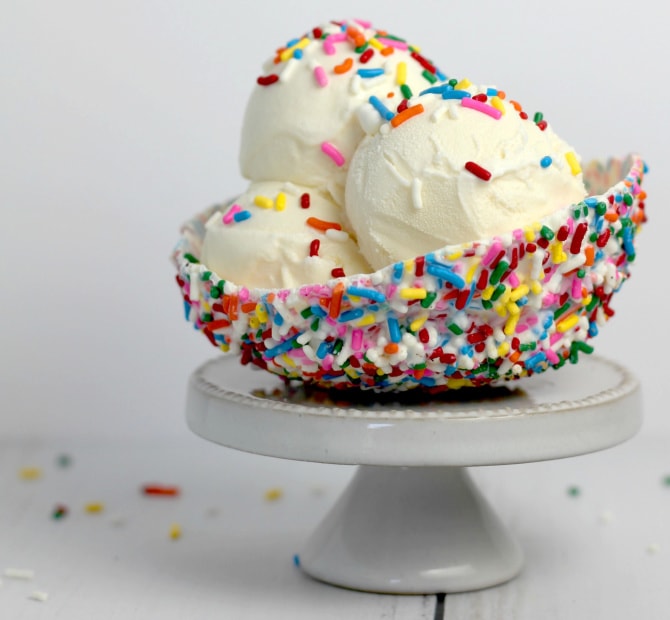 ---
// FINAL BUMP-DATE //
These past two weeks have been a roller coaster of emotion on the baby front. If you've been following along with us from the beginning of this journey, you know that besides losing our triplet at the six-week mark, this pregnancy has been blessedly complication-free. At my 34-week check up last week, both babies were looking healthy and it seemed like we might actually make it all the way to term (which is 38 weeks with twins). This news brought relief as well as a slight sense of dread, as I was already feeling pretty miserable at that point and wasn't sure how I would be able to hold out for three more weeks of pregnancy. My primary motivation to keep going was that both babies were still breech, and keeping them in a little longer would give us the best possible chance at one or both of them turning, allowing for a vaginal delivery. Still, at our doctor's recommendation, we went ahead and scheduled a c-section for 38 weeks (October 11).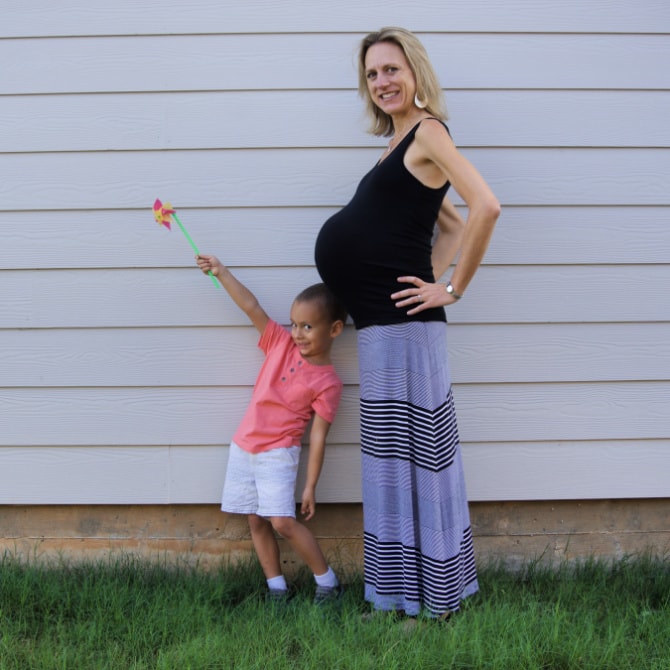 I spent the following week praying for the babies to flip while also growing increasingly miserable (physically). Overnight, my legs and feet swelled up like balloons (and have yet to return to their normal size), and I began to experience nearly constant back and round ligament pain and intense pelvic pressure. Needless to say, I wasn't too surprised when we showed up to my 35 week appointment on Monday to discover that I was dilated to a 3. My doctor put me on immediate bed rest, hoping to give these babies a few more days of growing time, but in all likelihood I will be delivering the babies within the next few days. And since they are both still breech, we have no choice but to deliver via c-section. This obviously isn't ideal, but I am slowly coming to terms with the fact that my dream birth just won't be happening.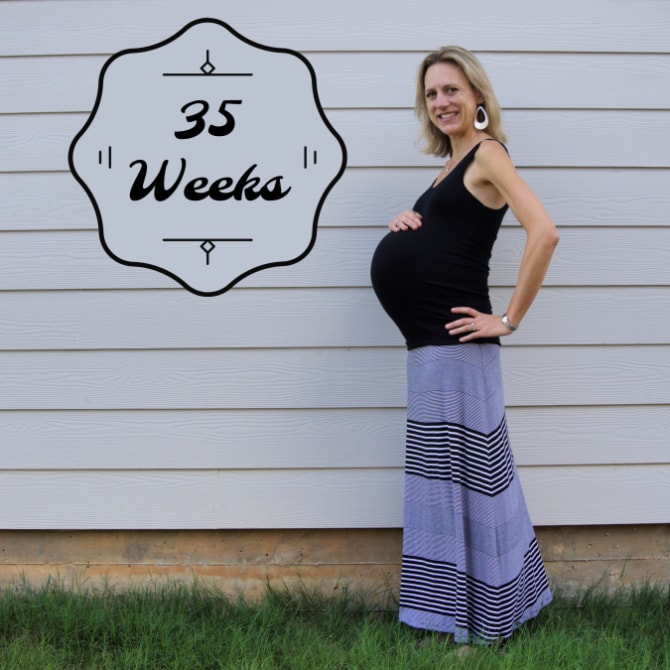 At this point, all I want is for the babies to be healthy, and it looks like they will be! Both babies are measuring around 5.5 pounds (the same size Charleston was at birth) and as far as we can tell through ultrasound, their lungs and other organs are all fully developed and they will be capable of thriving on the outside. Of course, I'd love to make it to 36 weeks (that's this Friday) or, even better, to October (I've always wanted an October baby, as it's my favorite month), but the timing of my babies' birth is totally up to the Lord and I am trusting him completely. That said, we would appreciate your prayers for perfect timing and a healthy delivery for both me and the babies!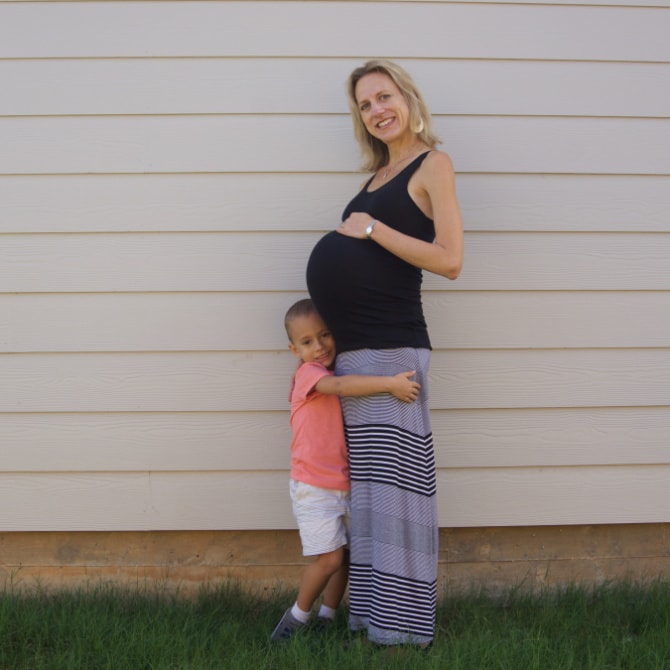 ---
// LOOKING AHEAD //
As I look ahead to the twins joining us soon, I wanted to fill you all in on my plans for this space. I have a few more posts lined up through next week, and after that I will be taking an extended maternity leave from blogging. I plan to pop in from time to time to share our birth story and other life updates, but I have no idea when I will return to regularly scheduled blogging content. It could be in a few weeks, or it might be a year or more before I feel ready to commit to writing on a more regular basis.
It's unlike me to step away from something—and into something else—without having a plan in place (even an unvoiced one). However, I simply don't know what life with three children will be like and I am placing zero expectations on myself for the coming months. I want to relieve myself from any pressure to continue blogging if it is not compatible with our new life as a family of five, but I also know that writing is incredibly life-giving for me and I can't imagine giving up this space altogether. Hence, the rather vague plans to step away but hopefully come back!
In the meantime, I can't thank you all enough for following me up to this point! This space has become so special to me, thanks in great part to the support I've received from my readers!