I have five four-star book reviews to share with you today, but their star ratings are just about all they have in common. A romance, a thriller, a middle-grade novel, and books on politics and marriage make up today's batch of reviews. Let's dive right in!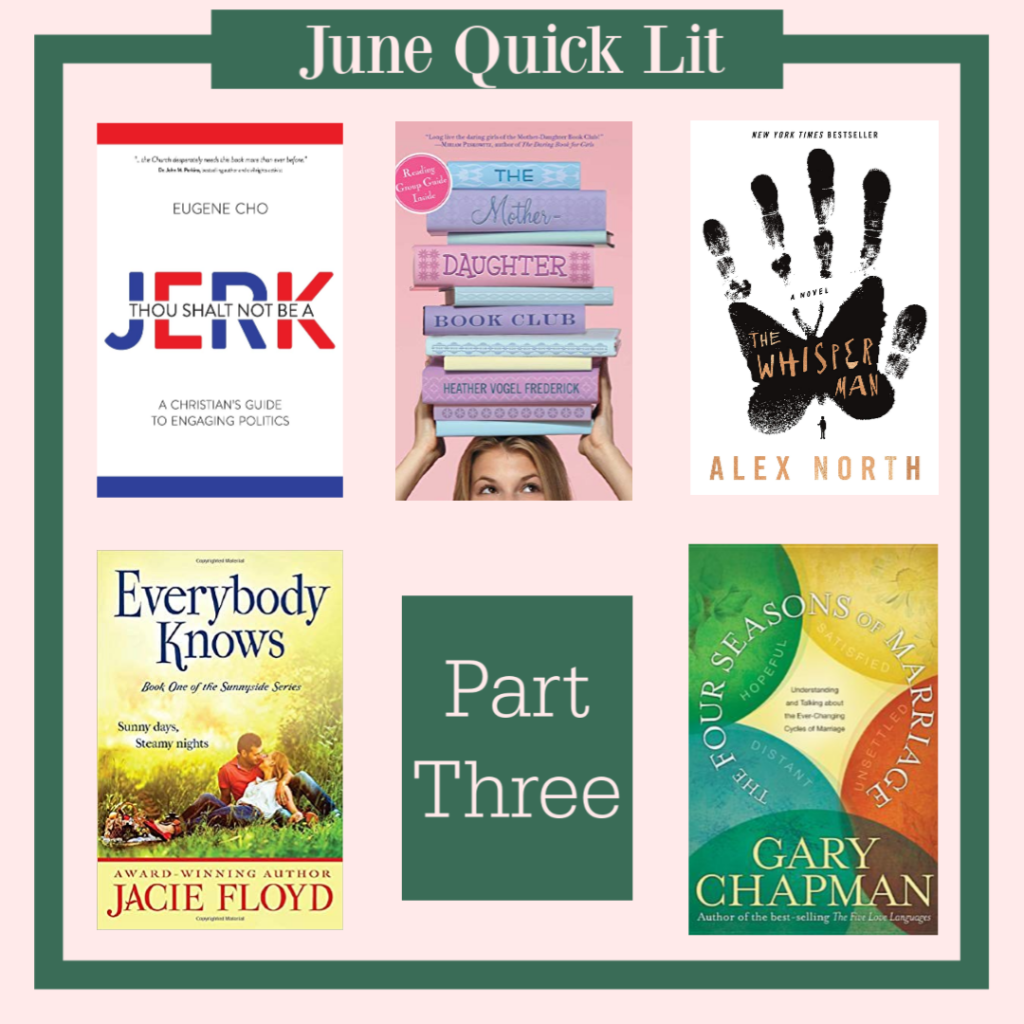 The Four Seasons of Marriage: Secrets to a Lasting Marriage, by Gary Chapman: We frequently talk about being in different seasons of life in general, and of parenthood or marriage specifically. But what do those seasons look like? In this book from the author of The Five Love Languages, Chapman offers us definitions for these seasons, describing the excitement of a young spring marriage, the comfortable and relaxed summer marriage, the fall of marriage marked by uncertainty, and the dissatisfaction of a marriage in winter. These seasons can be fluid, with couples moving in and out of various seasons over the course of their marriage, and Chapman offers concrete tools for helping couples get back into the spring and summer seasons in their relationships. His seven strategies include dealing with past failures, choosing a winning attitude, learning to speak your spouse's love language, learning how to listen empathetically, discovering the joy of helping your spouse succeed, maximizing your differences, and implementing the power of positive influence. These strategies are illustrated through the stories of real couples who have moved into happier seasons by putting these skills into practice.
There isn't a lot of original material in this book, but I loved the format and the presentation of marriage tools that I know about but am not great at implementing. It was helpful to get an understanding of the seasons Luke and I have experienced in the past, where we are currently, and where we hope to go in the future. I found Chapman's advice encouraging and very applicable, if at times overly simplistic. This book would be a great refresher for couples needing a little boost in their marriage, though I'm not sure how helpful it would be for a marriage that was deeply in trouble.
My Rating: 4 stars.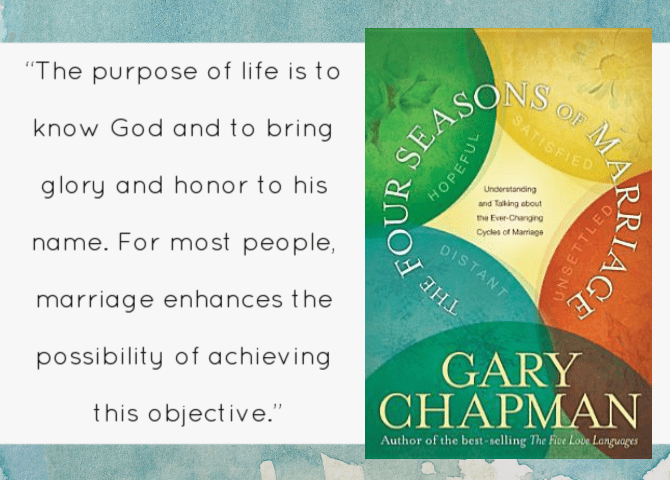 ---
Thou Shalt Not Be a Jerk: A Christian's Guide to Engaging Politics, by Eugene Cho: The political landscape in our nation seems to get worse by the day, and sadly Christians are doing nothing to help the situation. This phenomenon has bothered me for quite some time, so I was eager to find some answers from this book by pastor and justice advocate, Eugene Cho. In Thou Shalt Not Be a Jerk, Cho reminds Christians that our identity and hope cannot be found in politics, but in Christ. That's not to say that as Christians we shouldn't be politically involved, far from it. However, because of who Jesus is, and who He calls US to be, our political views and values should be firmly grounded in—and exclusively informed by—our Christian faith, not the other way around.
To help believers engage in values-driven politics, Cho outlines Ten Commandments for political engagement:
1. Thou shalt not go to bed with political parties.

2. Thou shalt not be a jerk.

3. Thou shalt listen and build bridges.

4. Thou shalt be about the Kingdom of God.

5. Thou shalt live out your convictions.

6. Thou shalt have perspective and depth.

7. Thou shalt not lie, get played, or be manipulated.

8. Thou shalt pray, vote, and raise your voice.

9. Thou shalt love God and love people.

10. Thou shalt believe Jesus remains King.
Cho models the manifestation of these commandments through stories from his own experiences and from the life of Jesus. Of course, these commandments are easy to list and harder to put into practice. I found myself deeply convicted about my lack of civic engagement (particularly in the realm of advocating for underprivileged individuals) and about the ways I have given into political ideologies rather than listening to God's views on certain subjects. Cho helped me see the extent to which I have forsaken loving God and others, and how I can begin to change.
This is a timely and necessary read for Christians on both sides of the political spectrum. Though Cho does lean more progressive, I appreciated his willingness to call out poor behavior from liberals AND conservatives, while also highlighting both Republicans and Democrats who are living out their faith-based political views in healthy and productive ways. It's difficult to imagine a world in which Christians set politics aside for the sake of the Kingdom, but Cho's message offers a practical starting point and provides hope that Christians can (and must) overcome our political divisiveness.
My Rating: 4 Stars.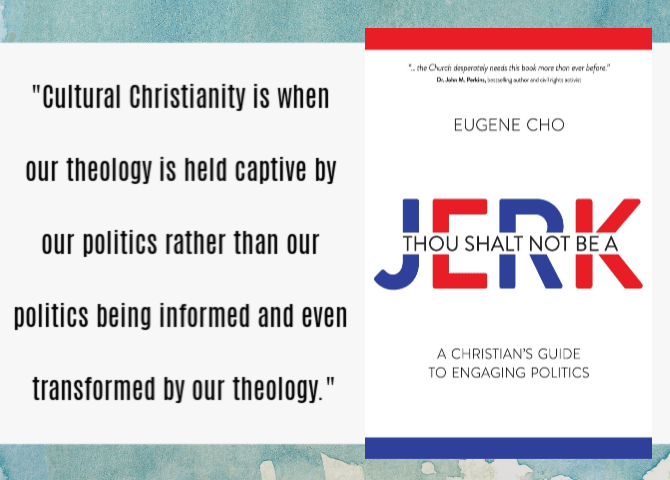 ---
Everybody Knows, by Jacie Floyd: After growing up in her mother's world of high fashion, international travel, and wealthy rock stars, librarian Harper Simmons is eager to embark on a new venture as the librarian of Sunnyside, Illinois. Sunnyside promises the quaint small town setting that Harper desires, but rather than being greeted with warmth or hospitality from the locals, Harper encounters aloofness and even hostility from nearly everyone she encounters. A major exception is the attractive town doctor, Zachary, who is is more than eager to help the stunning new librarian feel welcome. Sparks fly between Harper and Zach, but the town's reluctance to see their shining star matched with an outsider presents a seemingly insurmountable roadblock for the would-be couple.
This light romance is outside my usual genre preference, but I was excited to read it after becoming long-distance friends (through a random Words with Friends matching!) with the author. I'm so glad that the friendship led me to read this book that never would have been on my radar. It's a charming read with likable protagonists, an endearing setting, and a librarian element that of course appealed to me. The book's steaminess was beyond my comfort level, but I appreciated the comedic undertones and lightheartedness of the bedroom scenes (making them feel much less R-rated than they actually are) and there is plenty of story that takes place outside the bedroom to make up for the racier portions of the book that I chose to skim.
My connection to the author predisposed me to like Everybody Knows, but the humor, atmosphere, and sweet romance are enough to garner praise from any romance reader.
My Rating: 4 Stars.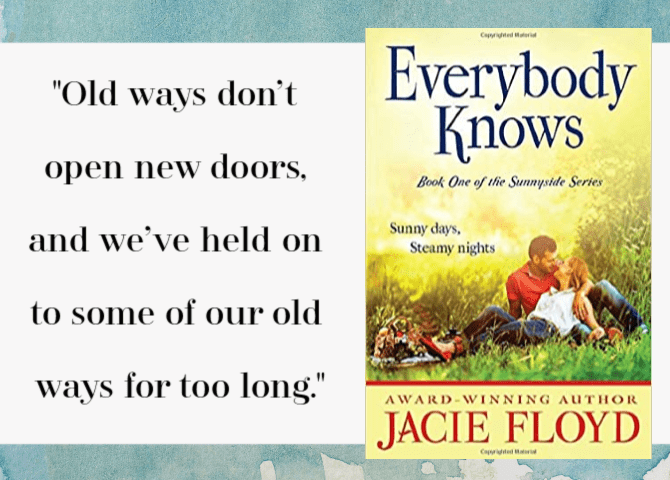 ---
The Mother Daughter Book Club, by Heather Vogel Frederick: Meagan, Cassidy, Jess, and Emma are four sixth-grade girls without much in common. Cassidy is a hockey-playing tomboy and the daughter of a newly widowed former supermodel. Emma is a poet and the daughter of a librarian. Emma's best friend Jess lives on an organic farm and is missing her mother, who recently left her family to pursue an acting career. And Megan is an aspiring fashion designer who has been "too cool" for Emma since her family came into money a few years ago. This unlikely quartet is brought together when their mothers begin a book club reading Little Women. Over the course of the school year, the girls work their way through the book while navigating crushes, school performances, schoolgirl pranks, and challenging family dynamics.
This book—the first in a series—is absolutely adorable. Straddling the line between Middle Grade and YA, it features believable characters experiencing relatable challenges and complex emotions. The girls and their mothers are multidimensional characters, and I enjoyed reading about the dynamics between the girls themselves and within each mother/daughter pairing. Their conversations about, and connections to, their book club selection of Little Women are heartwarming and insightful. I'm sure I'm not alone in feeling inspired by this book to start a Mother/Daughter book club of my own, though I might need to wait a few years for Kali to get on board with the idea. I hope she will agree to read this book with me when the time comes!
My Rating: 4 Stars.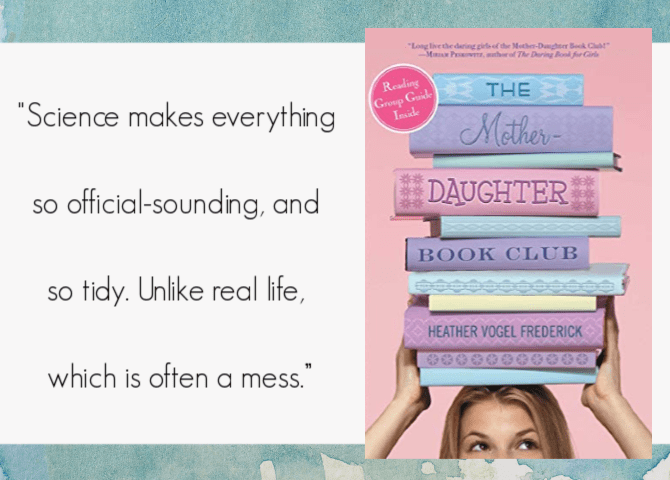 ---
The Whisper Man, by Alex North: Following the death of his wife, Tom Kennedy and his young son, Jake, move to the town of Featherbank in search of a fresh start. Unfortunately, the town has a dark past: twenty years ago, a serial killer known as "The Whisper Man" abducted and murdered five individuals whom he lured by whispering at their windows at night. The killer has been in prison for years, but now another serial killer is on the loose. In their investigation of one boy's disappearance, Detectives Pete Willis and Amanda Beck are drawn back into the Whisper Man's decades-old killing spree, which appears to be connected to the current case.
This is a deeply creepy, fast-paced psychological thriller/police procedural. With its complex themes, blending of genres, and flashbacks to previous events, The Whisper Man reminded me quite a bit of Long Bright River (another thriller I read recently that left a deep impression on me). There are several individual story threads running through the book, and I liked seeing them come together in the end. I also really appreciated the relational elements—including a romantic subplot, as well as some intriguing parent/child dynamics—that lifted this book out of black-and-white procedural territory and intensified the suspense. The resulting story is unnerving but also quite satisfying.
My Rating: 4 Stars.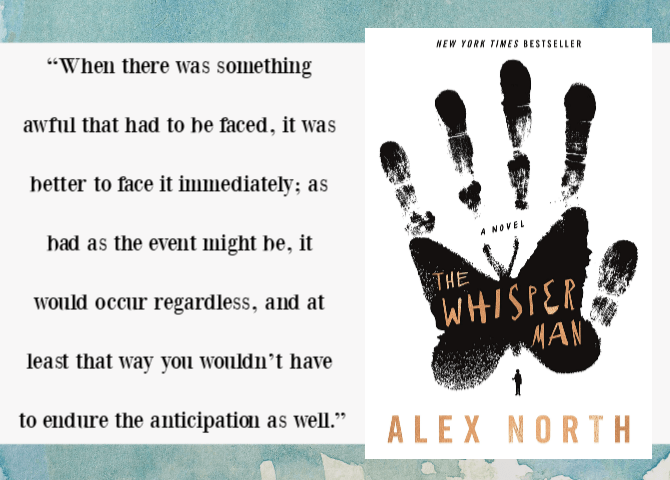 ---
That's it for book reviews until next month. What have you been reading lately? Any titles to recommend?