I hope you all are staying healthy and safe in these crazy times we find ourselves in. While it seems trite to move forward with my usual content in these uncertain times, I also know that maintaining as much normalcy as possible will be important for me and for my family in the coming weeks, and that translates to regular blogging about a variety of topics—including books. So it will be business as usual here for the foreseeable future.
Today's book reviews really run the gamut, from the delightful to dreadful. Let's dive right in!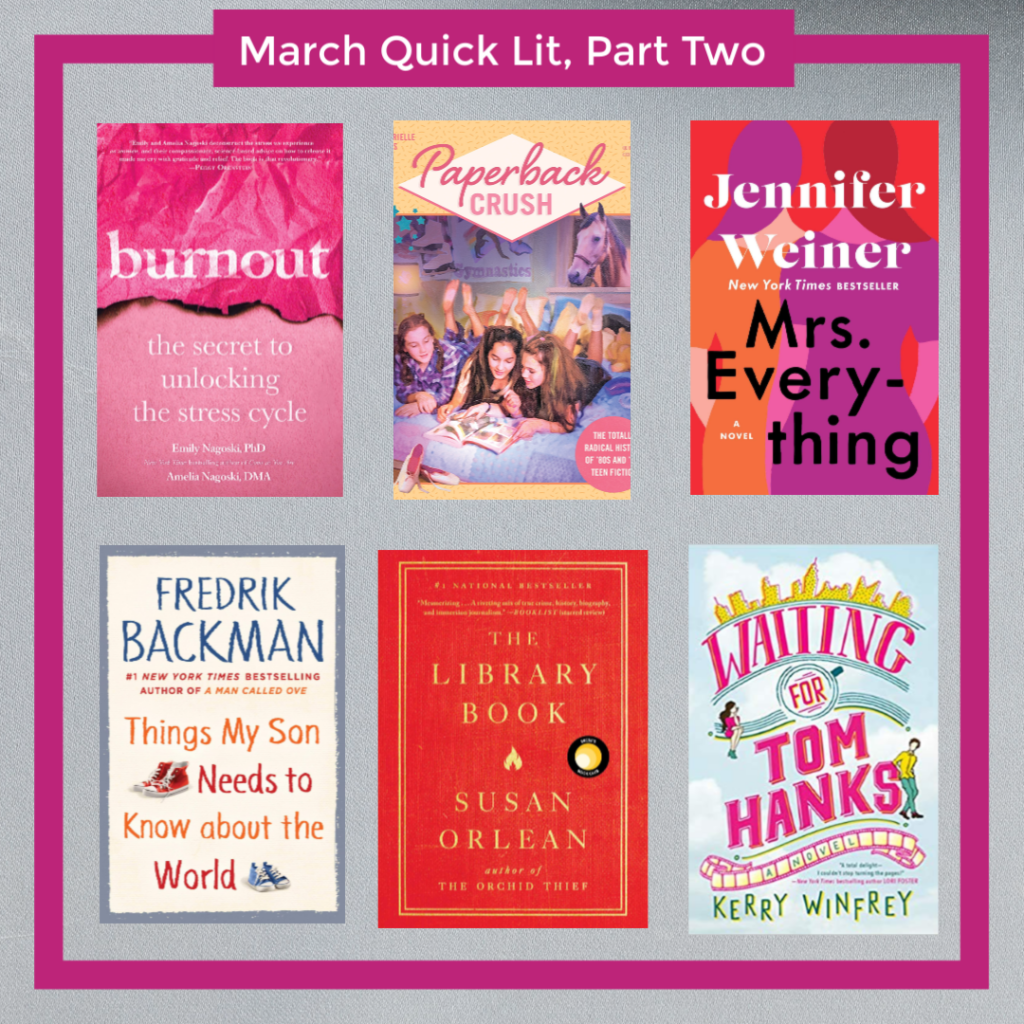 Things My Son Needs to Know About the World, by Fredrik Backman: Fredrik Backman is one of my favorite authors, and this humorous collection of essays written to his son solidifies Backman's place (in my opinion, at least) as one of the best writers of our generation. With their stream of consciousness style and laugh-out-loud stories, listening to this book felt like sitting through a smart, relatable, deeply enjoyable stand up comedy act.
While many of Backman's books center around elderly individuals, this one focuses on the opposite end of the spectrum as Backman relates his experiences as a first-time-father to a now one-year-old. Backman is candid about his own missteps as he shares his experiences with sleep deprivation, poop mishaps, inappropriate interactions with other parents at daycare, and frustration with having SO MUCH baby gear. He also gets philosophical, sharing wisdom and advice on everything from gender equality, God, learning to fit in, surviving trauma, and establishing friendships. Though his tone can be sarcastic bordering on irreverent, his love for his son and wife permeates every essay.
This collection features Backman's trademark poignancy, insight, and heartwarming reflections while also acknowledging the painful but beautiful realities of parenting littles. I adored this book and want every parent I know to read it, too.
My Rating: 5 stars.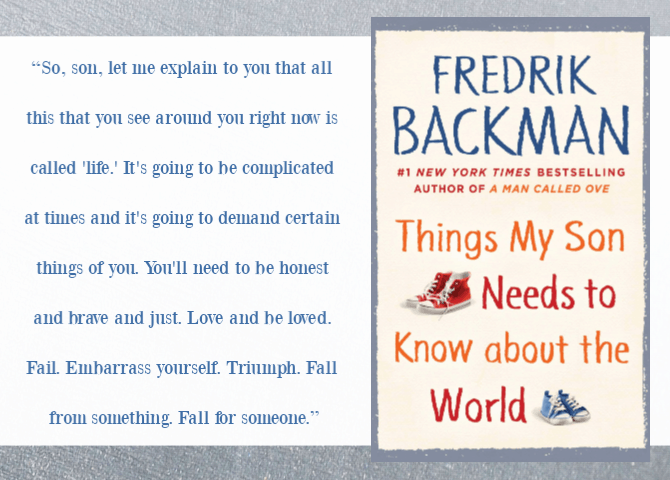 ---
Paperback Crush The Totally Radical History of '80s and '90s Teen Fiction, by Gabrielle Moss: Like so many reading women of my generation, I cut my bookworm teeth on paperback series. No, they weren't great literature, and they were nothing like the books I was assigned by my teachers (and that I would one day come to enjoy and read with my own students). But The Babysitter's Club, Nancy Drew, Boxcar Children, and Sweet Valley Twins cultivated in me a love for books. They provided me with fictional role models, shaped my ideas about friendship and life as a pre-teen, and have stuck with me decades later, to the point where I instinctively categorize new acquaintances according to their BSC archetypes (maybe this was the start of my love for personality frameworks?). When I came across this book centering on deep-dives of iconic series of the 1980s and 1990s, I couldn't download it fast enough!
It's hard to express how deeply let down I was by this one. Though ostensibly an in-depth exploration of YA books from my childhood, it is really more of an exhaustive book list of the many, MANY series published during the 80s and 90s (how were there so many series?!), accompanied by brief yet harsh critiques of each one. Moss does spend some time examining the history of YA books and how it evolved, but most of the commentary is dedicated to bemoaning the lack of diversity and heavy social themes in books from this time. Sure, some of those books were problematic, but Moss is unfairly analyzing books of 20-30 years ago through modern sensibilities. Today, representation of various cultures, sexual preferences, and socio-economic statuses are appreciated and expected in books for teen readers, but this was not the case in the era of light paperback series, and I think we need to hold them to a different standard, appreciate them for what they were (light, fun, reflective of the era) and acknowledge that, for better or worse, they continue to hold a prominent place in the hearts of Millennial readers.
I might have been more forgiving of Moss's critical tone if this book were engaging or humorous, as promised by the publisher's description. Instead it is dry and weighed down by WAY too many book titles, with mere paragraphs dedicated to the more familiar series that most people picking up a book called Paperback Crush would be hoping to see. Instead of getting fun nostalgia, I was given an obtuse list of books I never read as a child and now (due to lack of availability as well as the baggage that now accompanies them due to reading Moss's criticism) certainly never will. This might serve as a helpful textbook-style guide for someone researching YA history, but it is far from the fun read I was anticipating.
My Rating: 2 Stars.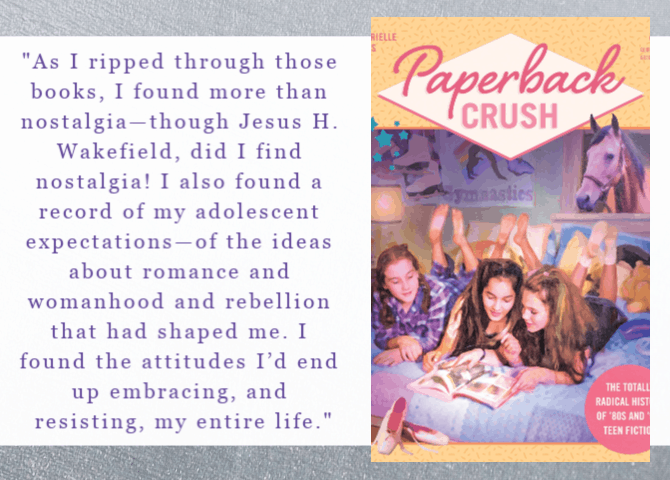 ---
Burnout: The Secret to Unlocking the Stress Cycle, by Amelia and Emily Nagoski: Luke saw this book sitting on my nightstand and asked if he needed to stage an intervention. The short answer: no, I'm not feeling burnt out on life (though I AM exhausted). However, numerous rave reviews of Burnout compelled me to check it out from the library. Coauthored by Emily Nagoski (who wrote the enlightening Come As You Are, a book I highly recommend for every woman) and her twin sister Amelia, Burnout explores the concept of stress experienced by modern-day women, from the personal and societal causes, to the steps we can take to work through it.
In Part I of the book, the authors explain: 1) the stress response cycle (including ways we can reduce the bodily damage caused by long-term stress); 2) "The Monitor" (our brains' method for assessing the progress we make towards achieving our goals); and 3) our intrinsic need to find meaning in our lives. Part II identifies the key societal cause of burnout—namely, the patriarchy. And Part III teaches us how to win the war against our "real enemies" through connection, rest, and self compassion.
I believe the premise behind this book is an important one. Today's women ARE burnt out, for a variety of reasons, and we lack the coping mechanisms to handle life's stressors in healthy, appropriate ways. Many times, we are unaware of the damage we are doing to ourselves because we neglect to invest in relationships, make time for rest, or view our circumstances from a solution-minded perspective. I loved the suggestions for healing through finding our purpose and investing in authentic relationship (concepts I've spent a lot of time studying through a Biblical perspective, though this book is very secular).
Sadly, this was not the amazing book that so many of its advocates proclaim it to be. There are few original ideas, and the presentation is repetitive and not very engaging. My biggest problem with the book was the victim mentality and endless criticism of "The Patriarchy". While I do agree with the authors that women face different stressors than men, I don't believe that sexism is the root cause of all of our problems, or that the life of a woman is truly that much more burdensome than that of a man. The authors have some very confused and contradictory ideas about feminism and gender identity which makes for a confusing and somewhat unreliable reading experience.
I can see why many women love this book, as it largely removes the burden of self care from women and and places the blame entirely on the shoulders of the unnamed, hard-to-identify "Patriarchy". Unfortunately, I fear that this messaging will ultimately be more harmful than helpful for both men AND women. While I appreciated a number of the mindset reframes (specifically the concept of redefining winning to create achievable goals; viewing difficulties as growth opportunities; and refusing to accept societal standards of beauty), this book wasn't a winner for me and I wouldn't feel comfortable recommending it to others.
My Rating: 2.5 Stars.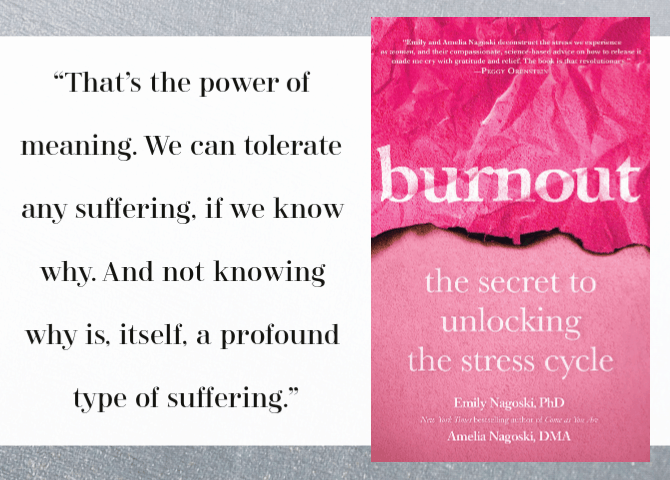 ---
The Library Book by Susan Orlean: In the spring of 1986, the Los Angeles Public Library went up in flames. By the time the fire had been extinguished, four hundred thousand books had been destroyed, and nearly twice that number had been damaged. More than thirty years later, officials still have no answer as to the cause of the fire. In The Library Book, journalist Susan Orlean presents the facts of the fire as well as a compelling portrait of the presumed arsonist. Woven into her account of the library fire is the rich history of the Los Angeles Public Library, an exploration of the science and history of arson, and the broader story of libraries and librarians through the generations. Orlean adds a personal element to her history with stories from her own background with books and libraries and her observations of libraries of today.
Orlean covers a lot of ground in this book, but she manages to maintain momentum from start to finish. Her writing is jam-packed with trivia and human interest stories, and Orlean flows seamlessly from one subject to the next. I'm not usually a fan of true crime, but found the arson investigation at the heart of this book riveting. And while I obviously AM a fan of public libraries, this book revealed how little I actually knew about their history, politics, and inner workings. I was fascinated by the stories from librarians about the people and events they encounter on a daily basis and the challenges that public librarians routinely face. My favorite part of the book was the recounting of questions that reference librarians of past and present have been expected to answer—from the complex to the humorous to the downright frightening.
The Library Book succeeds in reinforcing the importance of libraries within our culture. Even in our digital age, libraries maintain an irreplaceable component in the fabric of our nation, preserving parts of academia and community and history that even the worst of disasters cannot destroy.
My Rating: 4 Stars.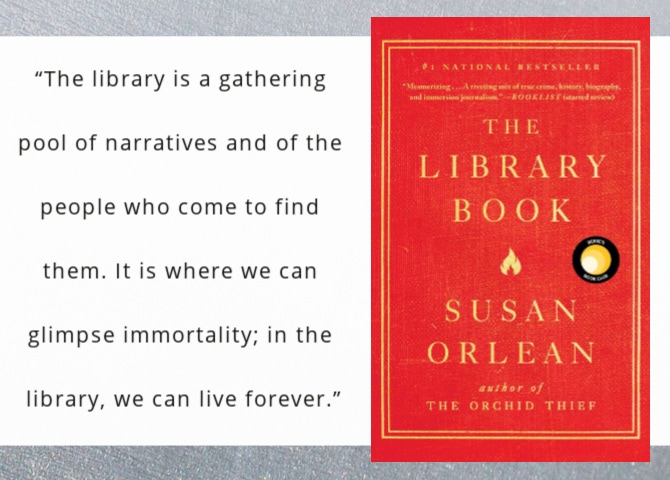 ---
Mrs. Everything, by Jennifer Weiner: Growing up in a Jewish household in 1950s Detroit, Bethie and Jo settled into stereotypical roles at an early age: Jo was the tomboyish rebel, Bethie the beautiful, people-pleasing good girl. After their family is struck by a series of tragedies, the girls eventually reverse roles, with Jo settling down to be a housewife while Bethie turns into a countercultural hippy. Neither woman is living the life she dreamed of, and both have reason to be deeply unhappy. Each woman blames the other for allowing circumstances to divide them.
I saw one reviewer refer to this book as "tragi-porn" and I can't think of a better descriptor. It is loaded with one catastrophe after another, with nearly every possible tragedy befalling these two sisters. (These include, but are not limited to: molestation, the loss of a parent, rape, closeted homosexuality, infidelity, and parental neglect.) Not only did this make for an entirely implausible read, it jaded my sympathies for the characters and made the book feel like it was trying WAY too hard to be culturally relevant. The patriarchy-hating, feminist themes are also pretty over the top, overshadowing what might have been well-developed characters and turning them into unrelatable conveyors of politically charged circumstances and agenda-pushing. There is also a great deal of graphic sexual content (mostly homosexual, but heterosexual as well) that I was not at all comfortable with. I really didn't enjoy anything about this book and honestly wished I'd quit it when the very first chapter gave me reason to think it might not be a good fit.
My Rating: 1.5 Stars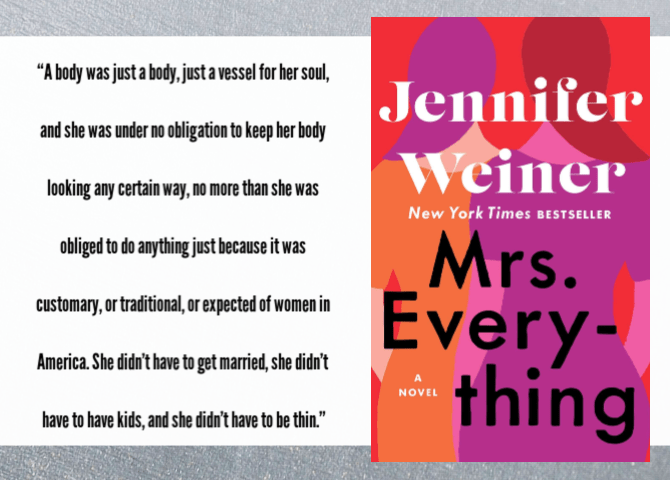 ---
Waiting for Tom Hanks, by Kerry Winfrey: Annie Cassidy is an aspiring screenwriter who grew up on Nora Ephron romcoms and dreams of one day meeting and falling in love with her own "Tom Hanks." When a movie begins filming in her neighborhood and Annie gets the opportunity to work on the set, it appears that her dreams may be coming true.—even though her first encounter with the film's lead actor, Drew Danforth, is far from picture-perfect. Unfortunately, this leading man is not the sweet, sensitive man she's been longing for, but a haughty prankster with seemingly few redeeming qualities. But as with any romantic comedy, love is destined to flourish. . . .
On paper, this is not at all a book for me. My mixed feelings towards romance novels are well documented, and I am not a fan of most cinematic romantic comedies, especially those staring Tom Hanks. (For the record, Tom Hanks is my favorite actor, I just don't care for any of the romcoms he is famous for.) However, a number of high-profile reviews of the book had my interest piqued. so when the book was recommended to me on Libby, I decided to download the audio copy. And I was pleasantly surprised! Waiting for Tom Hanks is far from great literature, and the storyline is pretty outlandish, but it's impulsively readable with a fun premise, witty dialogue, and endearing characters (the protagonist notwithstanding, as I actually found her a little annoying). The story is fairly predictable, but does take a few interesting turns and incorporates some intriguing lessons about love, false assumptions, and the blending of fact and fiction. I appreciated that the book was pretty PG-13, with little language and no open door bedroom scenes.
If you're looking for a lighthearted read that delivers a dose of movie nostalgia, you'll love this. Highly recommend the audio version!
My Rating: 3.5 Stars.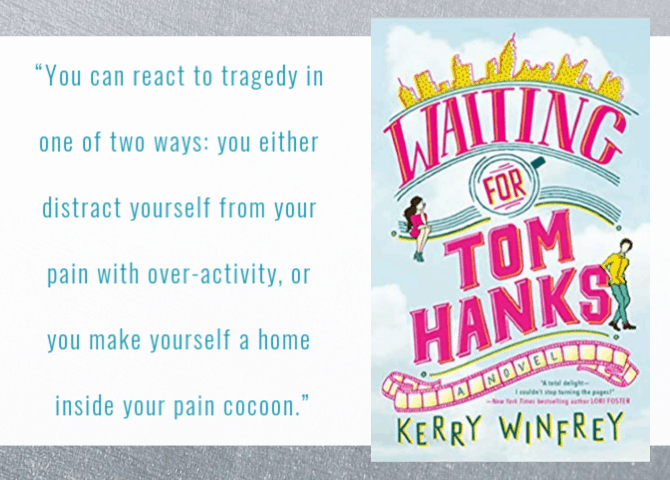 ---
With social distancing happening across the nation I have no doubt we are all doing more than the usual amount of reading. What is the best (or worst) book you've read this month? I'd love it if you shared your recent book experiences in the comments!