It's my final book review roundup for the month, and today's batch of books was a mixed bag. From a cute middle grade novel by a beloved author, to a steamy romance that was decidedly not for me, here's my take on five books I've read recently.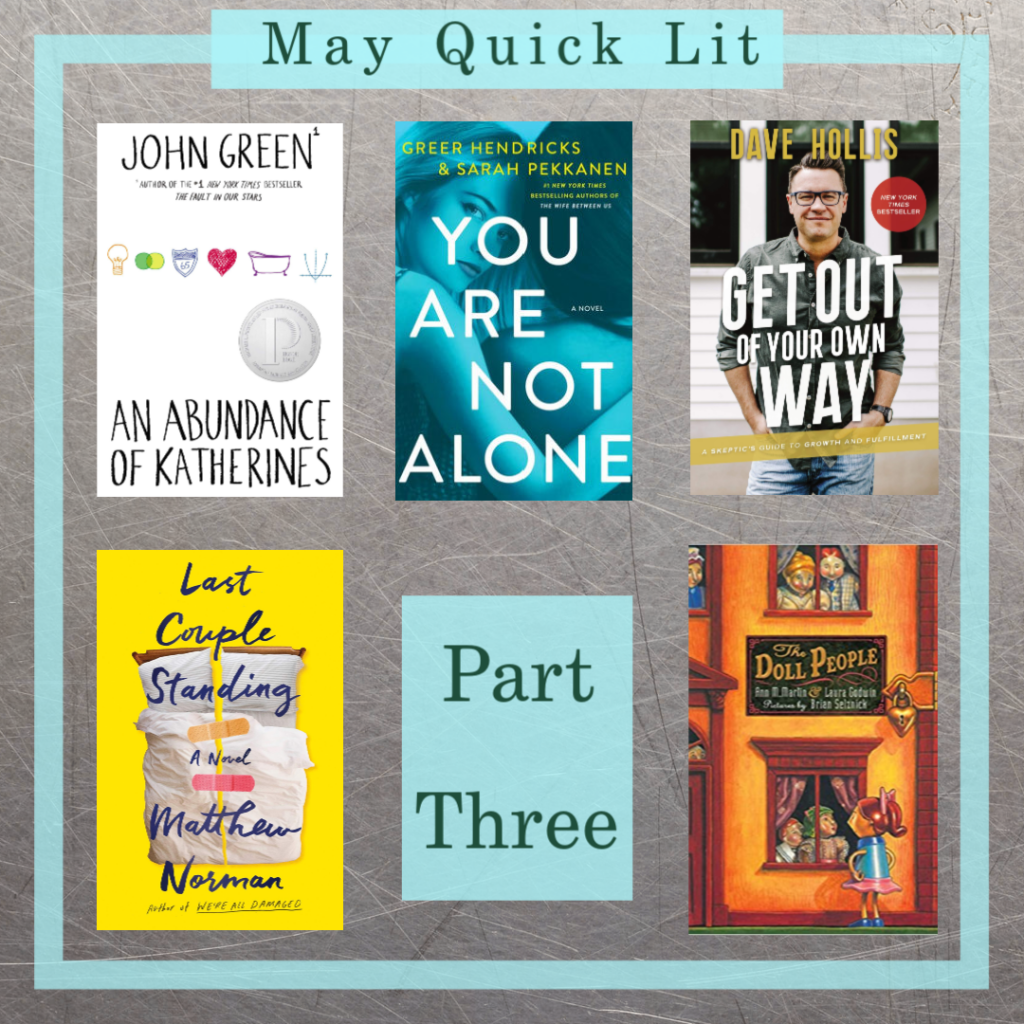 An Abundance of Katherines, by John Green: Colin Singleton is an anagram-loving former child prodigy who sort of has a thing for girls named Katherine. In fact, in his seventeen years, he has dated NINETEEN girls—all named Katherine. After graduating high school and being dumped by Katherine XIX, Colin agrees to go on a road trip with his best (only) friend, Hassan. Colin plans to make use of this time to find a theorem that will help him predict the future of his relationships and avoid future Katherine breakups. The trip brings Hassan and Colin to the rural Tennessee town of Gutshot, where they encounter an eccentric cast of characters and learn new lessons about life, love, friendship, and failure.
This somewhat bizarre book features the elements John Green is known for: witty dialogue, quirky characters, and intelligent-yet-angsty teen protagonists. While the quality of writing is there, I didn't enjoy this story as much as his others. There are some endearing moments, but the characters grated on me and the plot was too predictable for my taste. I enjoyed the anagrams, but the repeated use of slang terms by Hassan and Colin was just too much for me.
My Rating: 3 Stars.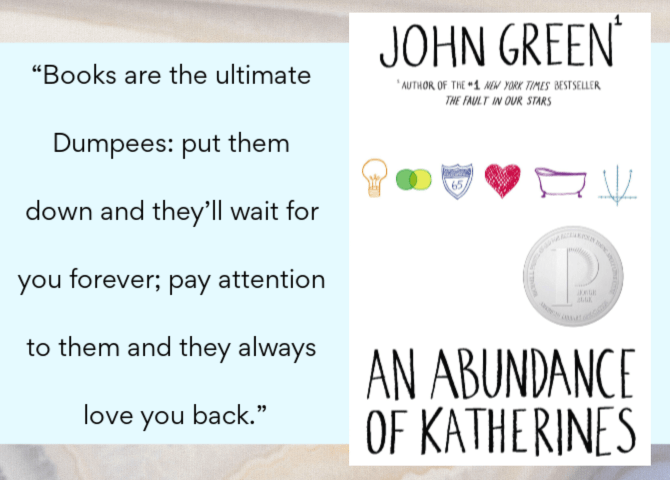 ---
You Are Not Alone, by Greer Hendricks and Sarah Pekkanan: Statistics-minded Shay Miller is living a dead-end life that no amount of analysis can pull her out of. When Shay witnesses a suicide on a subway terminal, she becomes consumed with learning more about the victim, a young nurse named Amanda. Shay's research leads her to Jane and Cassandra, two beautiful and successful sisters whose lives Shay admires. Shay jumps at the chance to become their newest friend, but it is quickly apparent that these women are not who they claim to be. What was their true connection to Amanda? And what are their motives behind befriending Shay and turning her into someone entirely different?
While I love books with a lot of plot twists and untrustworthy protagonists, this one was a little over the top for me. The reader is kept in the dark throughout a majority of the book and I didn't like having so few clues as to what was going on. While the conclusion was quite satisfying, I needed a few more breadcrumbs to keep my interest along the way. On a positive note, Shay's obsession with statistics makes for some fascinating factoids. I also appreciated the themes of identity, loyalty, and justice which are present though not prominent. Overall, I felt that the authors' previous book (The Wife Between Us) was a much stronger novel.
My Rating: 3.5 Stars.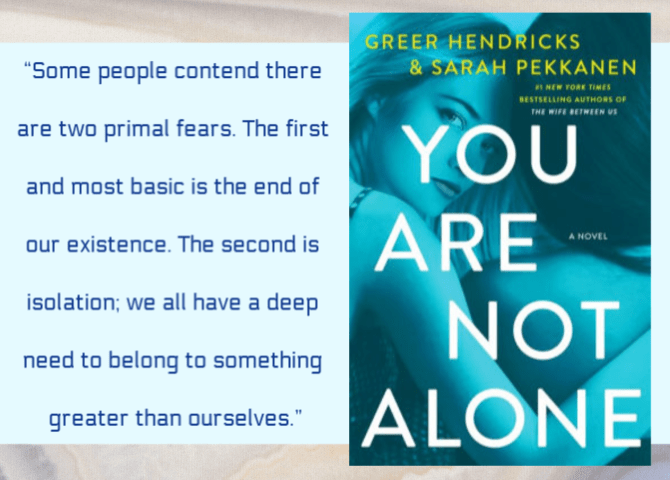 ---
Get Out Of Your Own Way: A Skeptic's Guide to Growth and Fulfillment, by Dave Hollis: I have very mixed feelings about Rachel Hollis. Without getting into those opinions here, I have to admit that back when I was mostly pro-Rachel and still listening to her podcasts, I grew to really like her husband, Dave, whom I found funny, honest, smart, and down-to-earth. And I was eager to read his first book, which is his own take on the messages Rachel Hollis has become so famous for preaching.
When Dave first read through Rachel's iconic Girl Wash Your Face (back before Rachel Hollis was RACHEL HOLLIS!), he was appalled by her transparency and humiliated by the ways in which her book cast him in a negative light. But rather than distancing himself from Rachel and her message, he decided to pursue change. He got on board with Rachel's self improvement movement, started counseling, and began to dismantle the untruths he had spent a lifetime believing. Following the same format of Rachel's now famous book, Get Out of Your Own Way details many of the lies Dave once believed about identity, masculinity, and his roles in his career, marriage, fatherhood. Dave shares candid stories of how he overcame these lies and how, through the process, he has become the happier, healthier, more fulfilled and more emotionally and professionally successful man he is today.
If I were to remove the fact that Dave is Rachel Hollis's husband, I would have loved this book. It is filled with true and important messages about letting go of habits and assumptions that are no longer serving us. Quite a few of these lessons will be familiar to those who have spent time in the self-help and psychology space, but they are clichés for a reason and it was helpful to see the ways Dave applied them to his own experiences. I found Dave to be humorous and authentic, a great story teller with an ability to convey difficult messages with both compassion and a touch of tough love.
One hangup I had with the book was the lack of references to his faith. Dave is a professing Christian and I wish he had written more about how God played into his self-improvement journey. My other big qualm was that it reads like propaganda for Rachel Hollis. While it's sweet to see how much he adores Rachel and was inspired by her journey, I grew weary of hearing him place Rachel on a pedestal while berating himself. This felt especially problematic as he is the CEO of a company for which Rachel is the figurehead, so his paycheck is tied into making her look good—and in doing this, I feel he went too far.
If you are fans of Dave and Rachel Hollis, you might not need to read this book because you are already familiar with their journey and, to be honest, this is really just Girl Wash Your Face in male form. However, if you are looking for some relevant inspiration on your own journey to self-improvement, you will find that here. Dave's path has been a rather unconventional one and I'm glad that he stepped out of his wife's shadow to share it with us.
My Rating: 3.5 Stars.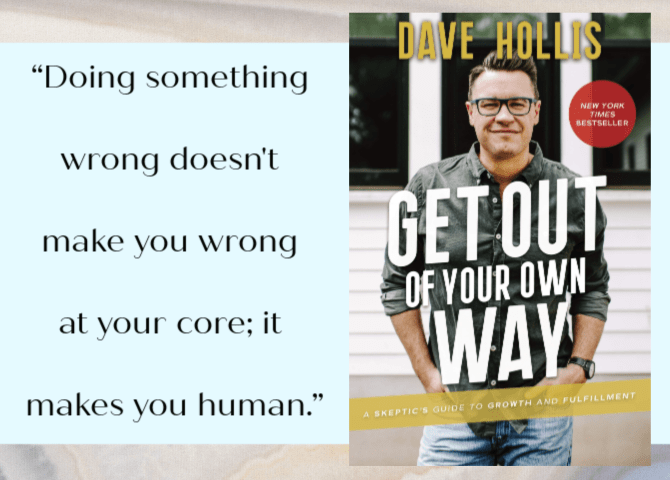 ---
The Doll People, by Ann M. Martin: I grew up with the Babysitters Club books, but haven't read much else from Ann Martin and wasn't even aware of this middle-grade title until coming across it in this book. The Doll People tells the story of Annabelle Doll, an 8-year-old doll whose life in the dollhouse has been mostly uneventful for the past 100 years. The only exception was the disappearance of Auntie Sarah 45 years ago. Inspired by the stories of Nancy Drew (favorites of the children in whose room the Doll Family's house is situated), Annabelle decides to investigate the mystery of Auntie Sarah's whereabouts. There is a lot at stake, most notably the risk of Permanent Doll state if she is discovered alive by any humans. Meanwhile, the Doll family is introduced to their first neighbors in 100 years when the Funcrafts (a real plastic family) move in next-door. While Annabelle finds immediate friendship with Tiffany Funcraft, the rest of the Dolls aren't so sure about their raucous, modern neighbors.
I would have loved this book as a child (though it wasn't published until I was a teen) and am happy to have read it as an adult. The premise is creative and I appreciated the mix of mystery and comedy. The book works well as a stand-alone story, but I enjoyed it enough to continue with the series. This is a rare book that would appeal to teachers and students alike and that I hope to introduce to my kids (or at least to my daughter) when they are older.
My Rating: 4 Stars.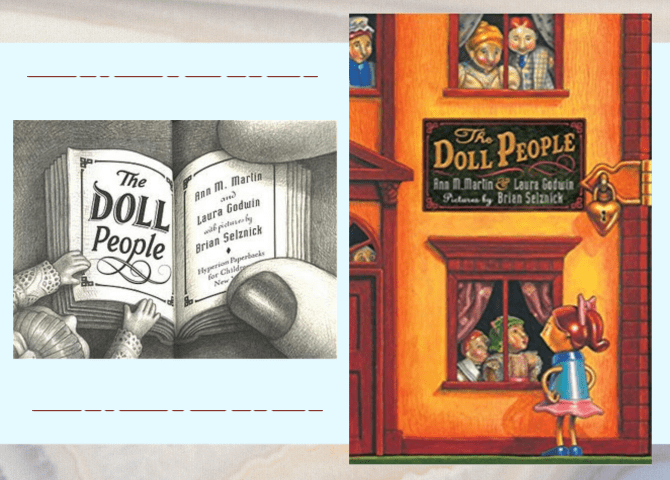 ---
Last Couple Standing, by Matthew Norman: Jessica and Mitch Butler are one fourth of The Core Four—four couples who met in college, got married and started having children around the same time, and have remained friends for the past two decades. But now, fifteen years into their marriage, the Butlers find themselves the only couple still holding onto their relationship. After getting a ringside view of their friends' prickly divorces, Mitch and Jessica will do just about anything to preserve their own marriage—even if that means looking outside each other for fulfillment. But what is intended to be a simple, marriage-saving plan quickly goes awry as Jessica and Mitch discover that love, sex, and relationships are a lot more complicated than they would seem.
The premise of this book reminded me quite a bit of I'm Fine and Neither Are You: both books begin with a couple several years into marriage who, witnessing the marital struggles of those around them, adopt extreme measures in order to preserve their relationships. But while the husband and wife in I'm Fine lean into each other, Jessica and Mitch do the opposite. While this is clearly intended to be a humorous decision, I found their choices cringeworthy and completely antithetical to everything I personally believe about marriage.
Though much more crass than I would have preferred, the book does have its humorous moments, particularly the witty banter between couples and the over-the-top (but relatable) parent/child dynamics. It also serves as a poignant commentary on relationships, and its ultimate messages are heartfelt and memorable. Unfortunately, the harsh language, illicit sex, inundation of superfluous characters and distracting subplots, and extreme selfishness and dislikability of the protagonists prevented this from being a recommendation-worthy read.
My Rating: 2 Stars.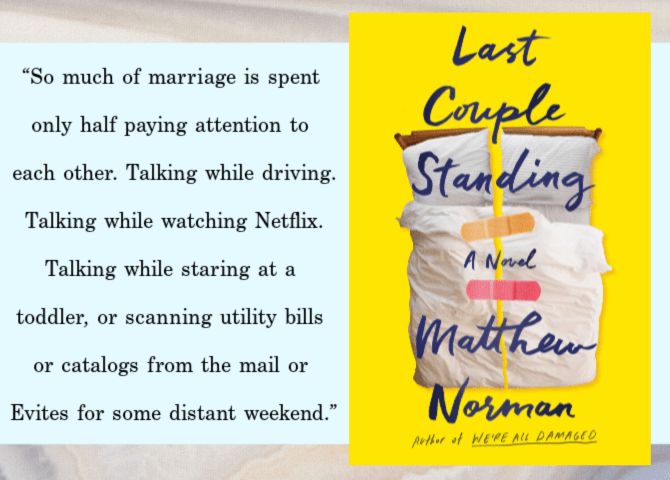 ---
Have you read any of these books? What did you think?