Welcome to Quick Lit, my monthly round up of (increasingly un-quick) book reviews. The books in today's post have very little in common, with a uniting theme of depth and heaviness. I mean that in the very best way: I love that all six of these titles are books of substance, sharing powerful stories and opening my mind to some challenging ideas.
Let's get to the reviews!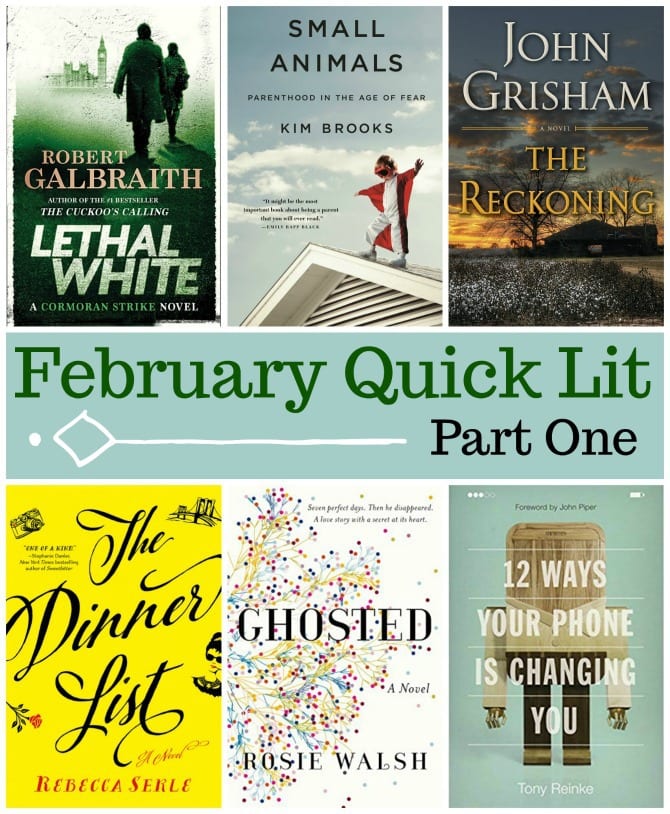 Small Animals: Parenting in the Age of Fear, by Kim Brooks: We parents have all been there: we have a quick errand to run, just into the store and right back out. But our child is sitting in his car seat in the back, and the last thing we want to do is drag him into the store with us. We consider leaving him, just this once. What could go wrong? Most of us have only contemplated leaving our child before eventually crawling into the back seat to unbuckle his car seat and lug him inside. This was not the case for Kim Brooks who, one morning, made the decision to let her 4-year-old son remain in the car with his iPad while she ran into Target. That split-second decision snowballed into a several-year nightmare when a stranger recorded the "abandonment" and reported this "negligent mother" to the police, resulting in a warrant being issued for Brooks' arrest.
The incident led Brooks, a fiction writer, to investigate parenting in America. In Small Animals, she examines the way that America's culture of fear plays into our parenting, creating helicopter parents who are quick to judge one another while holding our overprotective tendencies as the gold standard for good parenting. Brooks shows how various shifts in societal attitudes have resulted in overstressed parents and underserved children. She also points out the inconsistencies in our practices (for instance, we allow our children to ride in cars although this is infinitely riskier than letting them walk by themselves to the park) and highlights the ways these practices and laws discriminate against non-white, financially insecure individuals who cannot afford child care or whose cultures place a higher value on childhood independence. Brooks' own story provides the narrative drive for the book, with her opinions backed by statistics, sociological observations, and interviews with various parenting experts as she makes a case against the over-surveillance of our children and a return to a free-range style of parenting.
Much like Jennifer Senior's All Joy and No Fun, Small Animals stands out in a sea of parenting tutorials and media voices telling moms (and sometimes dads) that if we aren't killing ourselves for the sake of our children, we must be negligent parents. Do I believe that Brooks swung too far in her diatribe against today's standard parenting practices? Perhaps. I personally hold to an attachment style of parenting and, though Brooks claims such mothers don't exist, I am an (apparently rare) Stay-at-Home Mom who has chosen this path (not accidentally fallen into it) and has no regrets. I also wouldn't leave my child in the car unattended, even if it weren't against the law and I knew I couldn't get caught. . . (but for the record, I don't think it's an offense deserving of jail time).
While Brooks and I do not agree in our feelings towards our children and our roles as mothers, she makes some very valid points and prompted some good reflection for me about my own parenting practices and beliefs. She helped me to identify areas where fear (and especially fear of what others may think) has led me to make some ridiculous and even irrational decisions. And I appreciated (and needed) the reminder that parenting needn't be so "precious," that coddling my child can do more harm than good, and that it's okay to have a life and desires of my own outside of my mothering role. I wish more parents were having thoughtful discussions about these topics, rather than reverting to mom-shaming or personally berating ourselves for our parenting choices.
My biggest qualm with this book (and my reason for not giving it a higher rating) was Brooks' defensive attitude, which is prominent and distracting. She appears to have written the whole book as a way of defending her parenting methods, and she is condescending towards anyone who may disagree with her. This is such a heated issue, and the memoir component made the discussion much too one-sided. Brooks' bitter tone left me wanting to disagree with her, even in areas where we were on the same page.
My Rating; 3.5 stars.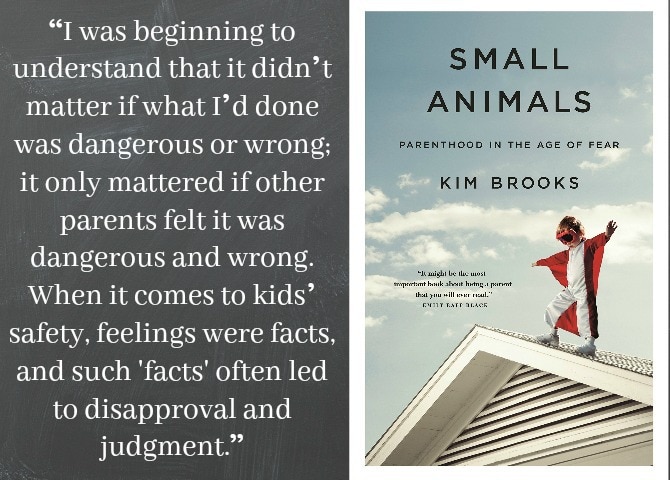 ---
Lethal White, by Robert Galbraith: Though I was disappointed by the previous book in this series, I've grown fond of private detective Cormoran Strike and his assistant Robin and was hoping Lethal White could redeem the series for me; at the very least, I wanted to know what was in store for Strike and Robin's relationship.
The novel begins one year after the events of the previous book, with Robin struggling through her first year of marriage to Matthew, and Strike learning how to operate as a Private Eye amid the fame elicited by his success in his last big case. Despite personal trials, not to mention undeniable romantic chemistry that both parties are trying to ignore, Strike and Robin continue to make a formidable detective team. When a mentally ill young man comes to Strike's office asking for help investigating a crime he believes he witnessed as a child, it leads Strike and Robin into scandal, blackmail, and all manner of hidden secrets among members of Parliament, political activists, and some of the country's most prominent families.
As far as detective thrillers go, this is a very well-written one, with layered storylines, complex characters, and heavy themes. I did not find the mystery itself compelling—not because the set-up is bad (it's actually a pretty good one) but because the book is entirely too long, without enough plot twists to fill the pages. I listened to this on audio, but if I'd been reading the print version there definitely would have been some skimming involved. What kept me reading was the exploration of Robin and Strike's personal lives as they navigate trauma, broken relationships, and identity crises. I'm sure I'll continue with the series just to see more of this dynamic duo, but I do wish Ms. Rowling (excuse me, Robert Galbraith) had some better editors to help her streamline her stories.
My Rating: 3.5 stars.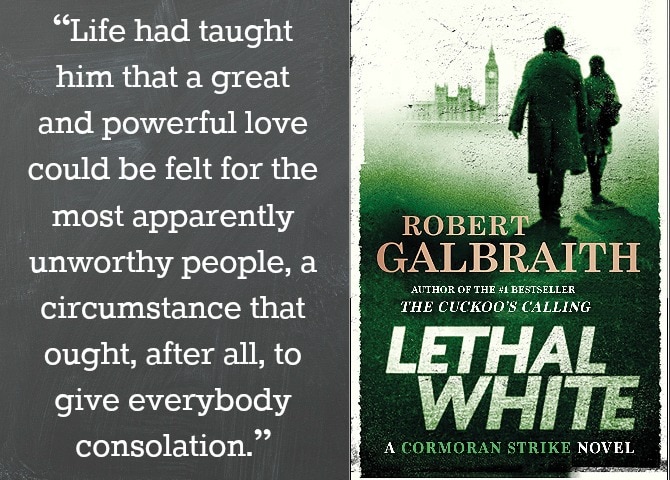 ---
The Reckoning, by John Grisham: Pete Banning is a decorated World War II hero, a beloved father and son, a wealthy farmer, and a respected citizen in his town of Clanton, Mississippi. Then, one October morning in 1946, he walks into the Methodist church where he is a faithful member and murders the pastor in cold blood. Pete refuses to make a statement to the sheriff or even his lawyers, leaving the jury with few choices regarding their treatment of Clanton's favorite son.
I'm a long time John Grisham fan and have read every book (or nearly every book) he's written, but his past few novels just haven't wowed me. With The Reckoning, Grisham proved he's still got what it takes to create a smart, plot-driven novel. The historical setting is different for Grisham, and he does well with it, creating characters and stories that fit their period but still feel relevant for modern-day readers.
A third of the book is built around an extended flashback to Banning's survival of the Bataan Death March during WWII. I didn't care for this part of the novel, which didn't contribute to the rest of the story and felt like an afterthought. (I was also predisposed to dislike this part of the book because I basically hate war novels, especially when they read like a history textbook, which this section did.) Thankfully, the riveting story told within the novel's bookends makes up for the misplaced history lesson at its center.
Within this main story, The Reckoning delivers everything I want from a Grisham novel: fast-paced courtroom scenes, a touch of mystery, some hard-hitting ethical questions, and shady behind-the-scenes legal maneuvering. I found the discussion of white privilege within the 1940s South especially compelling, and appreciated the themes of relational transparency, false assumptions, and the pursuit of justice.
My Rating: 4 stars.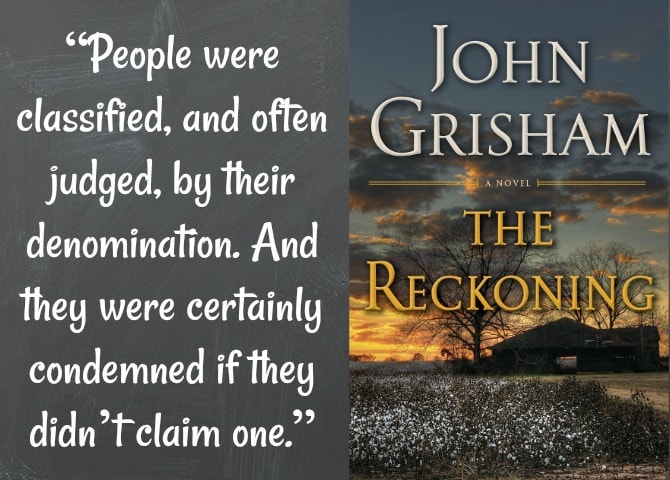 ---
12 Ways Your Phone Is Changing You, by Tony Reinke: Five years ago, I was still living with a flip phone and had no desire to carry the internet around in my pocket. Today, I feel lost without my phone: it holds all of my entertainment, life tools, and memories, and I can hardly remember what life was like without it. But I'll be the first to admit that my relationship with my phone is a complicated one. I see how it sucks up my time, taking me away from the world and rewiring my brain in some unfortunate ways.
In this book, Tony Reinke explores twelve specific ways our phones are changing us. Many of these are obvious (they are distracting, they fuel secret vices, they contribute to FOMO); others are less frequently discussed but just as significant (such as the impact they have on our literacy and the affect they have on our understanding of our time and place in history). Reinke comes at this topic from a Christian perspective, and while I was at first skeptical of this stance (wondering how phone usage could be a matter of faith), I appreciated the issues and ramifications he highlights as specifically Christian ones. Like it or not, our phones do play a part in our relationship with God and the impact we have in His Kingdom, and Reinke clearly demonstrates areas where our smartphones undermine our spiritual health.
Prior to reading, I was concerned this book might be a massive diatribe against smartphones, but thankfully I was wrong. Reinke is not a luddite: he acknowledges that smartphones are an indisputable part of our daily lives and even points out some of the benefits of this technology. However, the book effectively raises awareness around the problematic aspects of smartphones, pointing to the devastation they can cause within our minds and souls. Reinke did his research, and the book is filled with poignant statistics and convincing arguments for Christians to take a hard look at our smartphone addictions. He also shows how to combat the harmful aspects of smartphones by outlining specific spiritual practices that can boost our spiritual immunity. And he gives helpful suggestions for modifying our smartphone usage so that WE control our phones and not the other way around.
This is an important topic—one that is defining our generation and that we need to be concerned about. Reinke succeeded in convincing me to reevaluate my own relationship with my smartphone and begin making changes in my phone habits. (I actually listened to this book, on my phone. The irony is not lost on me.)
My Rating: 4 stars.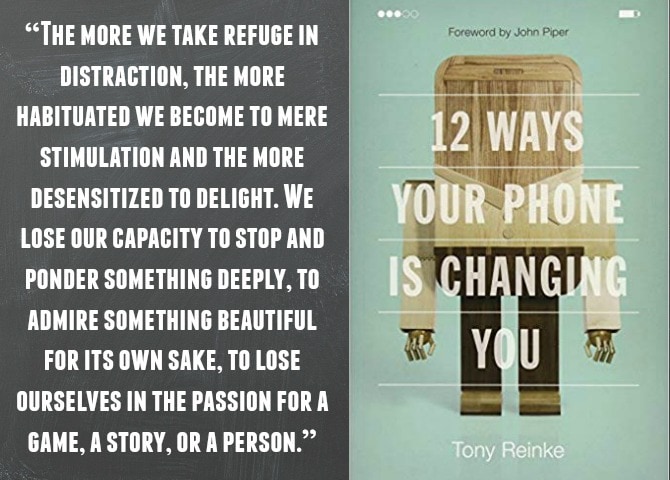 ---
The Dinner List, by Rebecca Serle: We've all played the game: "If you could have a dinner party with any five people, living or dead, who would you choose?" But how many of our dinner party dreams are ever realized? For New Yorker Sabrina, the dream becomes reality when she shows up for her thirtieth-birthday dinner to find the table filled with her Five People: her best friend Jessica; her deceased father; a beloved professor; the former love of her life; and the elegant, poised, and gracious Audrey Hepburn.
As the evening unfolds, Sabrina has the opportunity to unpack her relationship with each individual and examine the roles each has played in her life. Old wounds are reopened, but there is also healing and reconciliation. Within one evening Sabrina comes face to face with unmet expectations, buried grief, and unfulfilled dreams. She examines her own views of love and purpose, and learns how to navigate hope alongside sadness; joy touched with despair; and brokenness waiting for redemption.
This is a whimsical novel with a lot of heart and surprising amounts of philosophy and introspection. While the premise is fanciful, the dialogue and reflection read like a memoir, bringing this book of magical realism into the realm of possibility. I enjoyed the flashbacks that blend seamlessly into the dinner party setting, and though the book is bittersweet, I enjoyed the ending. The novel was too short to truly get a feel for the characters; I would have liked a little more character development, and of course would have loved more page time for Audrey Hepburn. Her inclusion was the oddest part of this book, but also my favorite.
My Rating: 4 stars.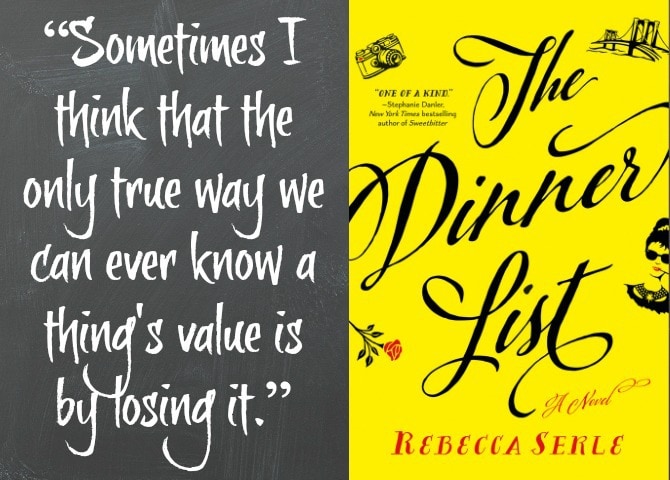 ---
Ghosted, by Rosie Walsh: Fresh off of a divorce and nearing forty, Sarah isn't looking for love. But when she meets Eddie, he immediately steals her heart. They spend seven glorious days together, and when Eddie leaves her for a booked vacation, she anticipates a rapid and exuberant reunion. But Eddie doesn't call, and Sarah's own attempts at connection go unanswered. Her friends tell her that he isn't worth her time, but Sarah's heart is broken. She is certain Eddie wouldn't intentionally abandon her without an explanation, and in her search for what has become of the man she loves, she uncovers a truth that cannot be unfound.
This book doesn't seem to be a hit with other reviewers. Many point out the incredibility of Sarah's heartbreak given the short amount of time she spent with Eddie (something that's especially hard for us as readers to understand because we are given very few specifics about their brief relationship, as most of the book's action takes place after Sarah has been ghosted). While I did find these story points a bit problematic, I enjoyed this book. It's a nice blend of mystery and romance, with neither too much gore nor steaminess. Walsh taps into the emotions we've all felt when faced with a confusing relationship or disappointment, and while Sarah's excessive pining made for tedious reading at points, it also revved up the suspense and paved the way for some intriguing plot twists.
The book tackles themes of grief and reconciliation, and the tension between attitudes and feelings we think we should have, and those we actually experience. The thoughtful treatment of these complex elements, combined with an enticing British setting and likable characters, made this a book I am glad to have read and feel comfortable recommending to others.
My Rating: 4 stars.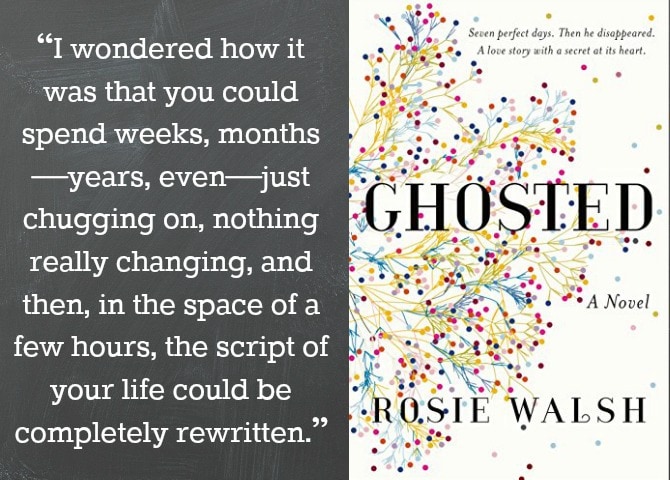 ---
I'll be sharing Part Two of this month's book reviews next Monday. What have you read lately? Tell us about it in the Comments!