This is a post of many genres: memoir, Bible teaching, YA, biography, and thriller—they're all represented in today's round of reviews. Let's get to them!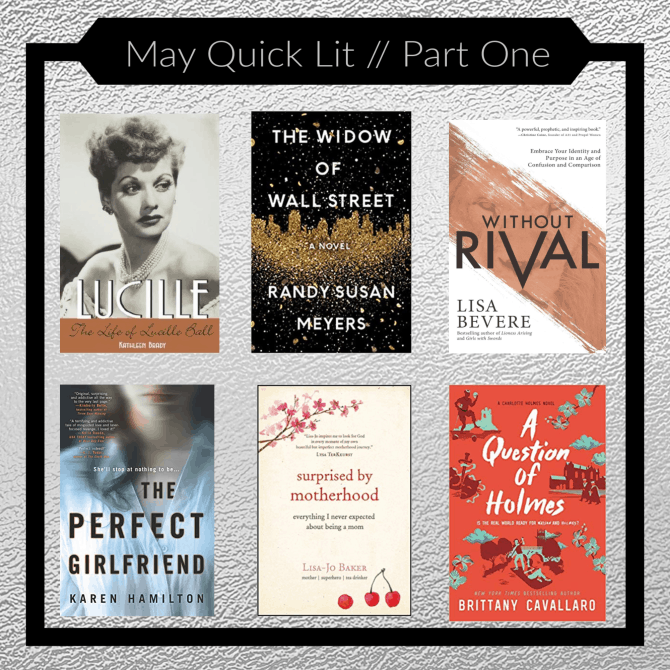 Surprised by Motherhood: Everything I Never Expected About Being a Mom, by Lisa Jo Baker: Lisa Jo Baker never wanted to be a mother. Having lost her own mother (with whom she had a complicated relationship) at an early age, she felt ill-prepared for all that motherhood would ask of her, and longed to be seen as more than a baby-producing machine. But several years into her marriage, Baker encountered other women—mothers—whose lives sparked a desire for children of her own.
Now a mother to three children, Baker has found every aspect of this journey surprising: from all that is demanded of her on a day-to-day basis, to the joy and fulfillment she finds in parenting her children, and the ways that mothering a daughter has helped her find healing for her own mother wound.
This story is very much Baker's own (particularly her remarkable descriptions of her native South Africa, and her work within the field of social justice), but it is also the story of every mother. With her lyrical descriptions and captivating stories, Baker captures the everyday challenges, incomparable joys, and momentous struggles of motherhood. And through her poignant and beautiful writing (her prose is truly spectacular!), Baker conveys the emotions and roadblocks we mothers have all experienced, but are often unable to articulate. I was particularly drawn to her descriptions of making peace with her challenging second child and of her heartbreaking journey through complicated grief after the loss of her mother when she was eighteen—two challenges I can't personally relate to, but that she describes with incredible emotion, compassion, and insight.
Unlike Lisa Jo Baker, I always wanted to be a mother, but I too have found this life unexpected in nearly every way. I so love reading words from other mothers who are walking along this path with me, even when their specific journeys are different from my own.
I listened to this book, and while part of me wishes I'd read it with my eyes so as to savor the most beautiful passages, I enjoyed having Baker read to me with her captivating South African accent!
My Rating: 4.5 Stars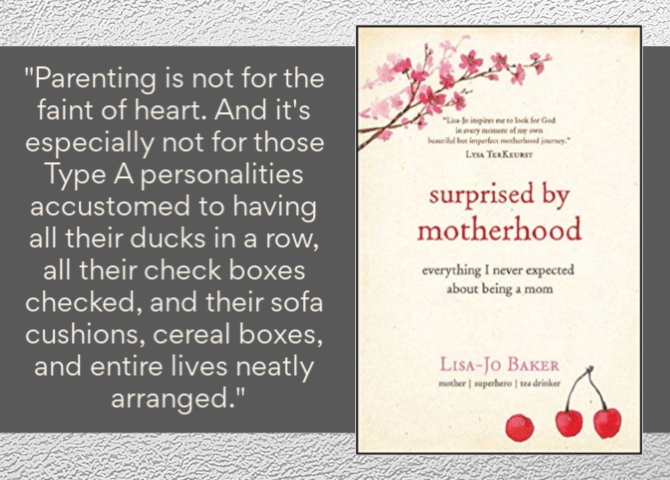 ---
Without Rival: Embrace Your Identity and Purpose in an Age of Confusion and Comparison, by Lisa Bevere: As women, we face a unique brand of challenges and limitations, but often our greatest enemies are ourselves. In Without Rival, inspirational Bible teacher Lisa Bevere calls women to fight against the enemy that is assaulting our minds, wills, and emotions and holding us back from our God-given passions and purposes. Through strong Biblical teaching and prophetic insights, Bevere leads women in finding connection and intimacy with our Creator, relinquishing gender stereotypes and sinful excuses that are holding us back, and letting go of our pasts so that we can pursue our Christ-ordained futures.
The teaching in Without Rival is powerful and timely. Bevere's discussions of the sin of comparison, and of the importance of women in ministry, are particularly compelling, and both are topics we in the church should be addressing. I appreciated the ways that Bevere wove Scripture and Biblical insights into her teaching on these hot button issues.
Because it is filled with so much great content, it pains me that I don't feel comfortable giving this book a higher rating. However, I struggled to get past the unimaginative narration and lackluster prose. The teaching is solid, but the book itself is quite dry. And while I admire Bevere's willingness to impart uncomfortable truths—especially in a culture that leans too heavily on grace and tends to backpedal when it comes to truth-telling—I didn't love her harsh (occasionally legalistic) tone and felt she at times veered too far away from the grace and beauty of the Gospel.
My Rating: 3.5 Stars.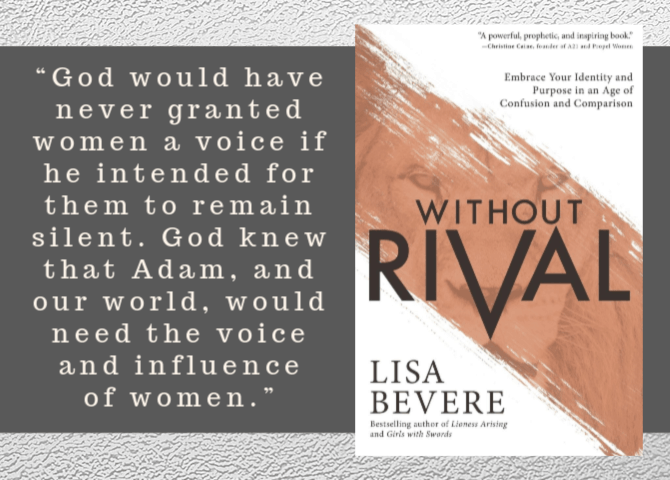 ---
Lucille: The Life of Lucille Ball, by Kathleen Brady: I Love Lucy is my favorite TV show of all time, but I knew little about the real-life Lucy prior to picking up this book. In this comprehensive and well-researched biography of Lucille Ball, Kathleen Brady paints a thorough, unflinching portrait of the actress, introducing readers to the complex and somewhat troubled woman behind the hilarious facade.
Lucille follows Lucille Ball from her difficult, sometimes neglectful childhood, through her remarkable show business career, and into her heartbreaking later years after the actress's star had faded. Through detailed anecdotes and interviews with friends, family members, and fellow celebrities, we get to know the hotheaded Lucille, who was passionate, loyal, occasionally kind-hearted, and deeply perfectionistic about her image and her craft. Much of the book focuses on her tumultuous marriage to Desi Arnaz, which was nothing like the marriage the couple portrayed on television. Lucille and Desi's relationship was one marked by passion, indiscretion, addiction, and heartbreak; though they obviously cared deeply for one another, their marriage was doomed from the start, and it's incredible that they were able to achieve such success within their partnership despite such fraught personal lives.
So much of this book was surprising to me. Though I'd known that the Ball/Arnaz marriage was not a perfect one, I'd had no idea of the disfunction within their relationship. I was intrigued and touched by Lucille's commitment to Desi, and her intense longing to bear him children; only after struggling with infertility for many years (a time during which she only continued acting in order to support Desi and hopefully fulfill their dream of having a family), was she able to give birth to her first child at age 39, just before filming began on I Love Lucy. (This was another surprising revelation; I'd assumed she was much younger when filming the show).
Lucille dedicates relatively little page time to I Love Lucy trivia, and I would have liked more of a behind-the-scenes look at this iconic show. However, given the relatively short time Lucille spent on the show compared with her long Hollywood career, the editorial decision made sense. After all, this is a biography of the actress, and not of Lucy Ricardo.
Other than the lack of I Love Lucy discussion, I found this biography engaging from start to finish. And while it saddened me to learn about the seedier aspects of Lucille's life, the biography deepened my appreciation for this exceptionally talented star and the joy she continues to bring to so many.
My Rating: 4 Stars.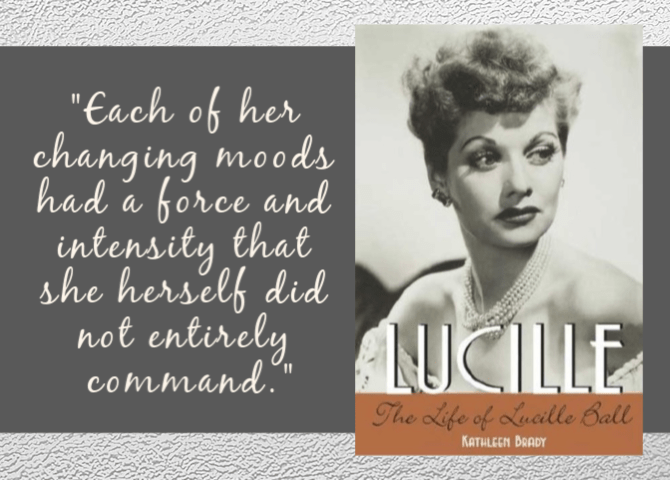 ---
A Question of Holmes, by Brittany Cavallaro: I have so enjoyed this series about the teenage descendants of Sherlock Holmes and Dr. Watson, and have eagerly anticipated this fourth and final book. Against all odds, Charlotte Holmes and Jamie Watson safely graduated from Sherringford and have moved to Oxford to participate in a summer theater program . . . and to engage in some light sleuthing on the side. The previous year, the program was plagued by a series of accidents, culminating in the disappearance of the program's star actress. The mystery remained unsolved, and when the accidents start anew, Watson and Holmes are determined to put a stop to the nonsense and discover who's behind it. Meanwhile, the two cautiously move from friendship to something more . . . but can these two baggage-laden partners set aside their tumultuous pasts and give in to the love they both feel?
As with the previous three books in the series, Watson and Holmes are once again the highlights of this book. Through Holmes' narration, we get a glimpse into the psyche of this brilliant former addict and rape victim who is seeking to uncover her true identity behind the layers imposed by family history, a harsh upbringing, and unimaginable trauma. Holmes is quirky and hard to relate to, but easy to love. We have fewer insights into Watson in this book, but his charm and tender heart shine through Holmes' narration, and he remains a calm and stabilizing presence for the troubled Holmes. I enjoyed watching both of them move beyond their high school years and attempt to figure out life as misfit young adults.
The mystery here is much lighter than in previous books, with fewer plot twists and less at stake. I didn't mind this, as my primary interest in the series has always been in the characters themselves. But at points, it felt like the plot was a bit of an afterthought; Cavallaro spends so much time showing us the inner life of Holmes that she nearly forgets to tell us what is happening, making parts of the story frustratingly difficult to follow. This, along with the somewhat inconclusive ending, left me slightly disappointed with this series conclusion. However, because of this open ending, I'm hopeful this won't really be the last we see of Charlotte Holmes and Jamie Watson.
If you're a fan of YA mysteries and spins on classic stories, you'll love this series. Make sure you begin with book one!
My Rating: 4 Stars.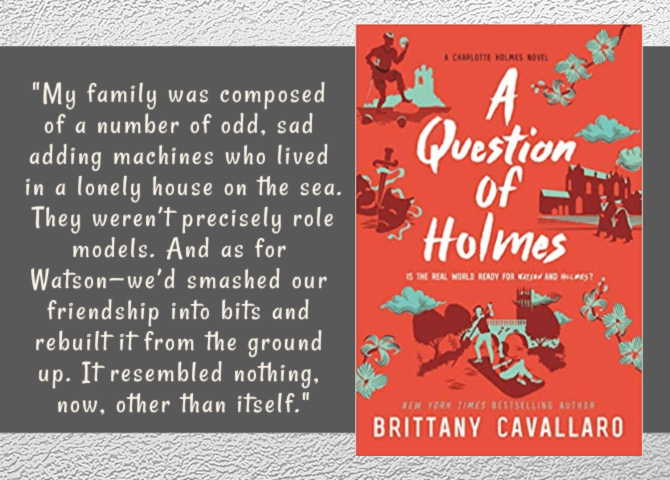 ---
The Perfect Girlfriend, by Karen Hamilton: If perfection in relationship is characterized by obsession and intense commitment, then Elizabeth/Lily (who now goes by her middle name, Juliette) is indeed the perfect girlfriend. Six months ago, Nate broke things off with Juliette and moved on with his life. Their relationship had not been a long one, and he had no reason to believe that Juliette would have any problem moving on as well. But Juliette does not take rejection lightly. As part of her complex plan to win back the man she loves, Juliette becomes a flight attendant and gains employment with the airline for which Nate is a pilot. From there, she slowly begins to work her way back into his life.
Juliette will stop at nothing to prove that she is the woman for Nate. As she engages in her pursuit of deathly obsession and manipulation, we are given flashbacks to Juliette's troubled past and begin to understand why this tortured woman is determined to seek revenge upon those whom she perceives have inflicted harm.
This is a definite page-turner with a compelling premise and unique setting (that I appreciated even more after reading that the author is a former flight attendant herself). It was interesting to get a glimpse into the mind and reasoning of a psychopath, and while I found Juliette terrifying and extremely unlikable, the author succeeds in evoking occasional sympathy for her protagonist, and I did feel invested in Juliette's plight. There are some jaw-dropping plot twists that I didn't expect, and time and again I was caught off guard by the level of Juliette's insanity and cruelty (both an allure and drawback of the story!). Sadly, the prose is somewhat unimaginative (I lost count of how many times the phrase "I was disorientated" was used), and I found the ending deeply disappointing.
My Rating: 3.5 Stars.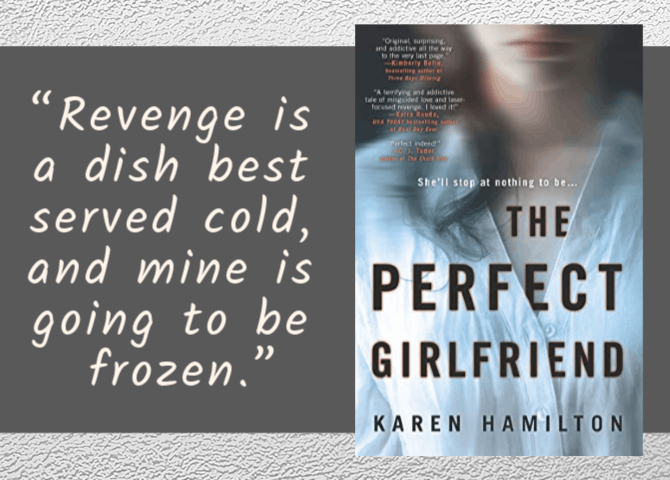 ---
The Widow of Wall Street, by Randy Susan Meyers: When Jake Pierce's financial dynasty is revealed as an elaborate Ponzi scheme, his wife Phoebe is just as shocked as the rest of the world. Many are baffled by her blind loyalty to her criminal husband, but as we flash back over their decades of marriage, we begin to understand Phoebe's reluctance to abandon a man she has loved since she was fifteen.
Phoebe was smitten with Jake from the moment they met as teenagers in 1960s Brooklyn. Despite early indiscretions by Phoebe, the two eventually marry and, thanks to what Phoebe assumes are Jake's shrewd financial maneuverings, they catapult their way to success. Life among New York's billionaires has its challenges, but Phoebe finds fulfillment in raising her children and founding her own charity organization—all with the backing of her philandering husband's stolen money. Once Jake's fraudulent behavior is revealed, Phoebe is forced to reconsider her loyalty to the man she has always loved but only thought she knew.
This is a riveting story of a complicated marriage between two rather unlikable individuals. Though I gradually grew to respect Phoebe, I could not condone her behavior; that said, Meyers does an excellent job of helping the reader understand why a wife would remain complicit in her husband's poor behavior, and how she could be deceived by him for so long.
I appreciated the scope of this novel: the story covers more than fifty years, and is told from both Jake's and Phoebe's perspectives, but the plot moves quickly, with years of marriage building to a breathtaking climax. The Widow of Wallstreet is heartbreakingly believable, a poignant exploration of the complexities of marriage and the dire consequences of deception and greed.
My Rating: 4 Stars.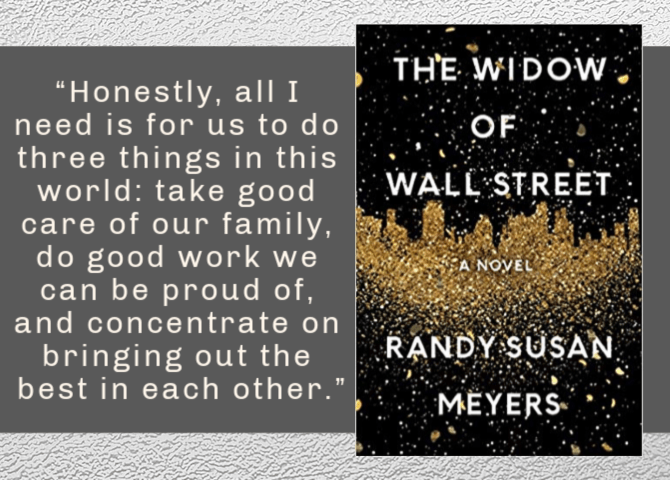 ---
Next Monday I'll have six more reviews for you, including at least two titles that are sure to make it onto my list of Best Books of 2019. I'm looking forward to sharing them with you. Until then, happy reading!