Today's book reviews include mystery, quirkiness, romance, and reality (sadly, not all in a single book—wouldn't that make for an interesting read!). Let's get right to the reviews!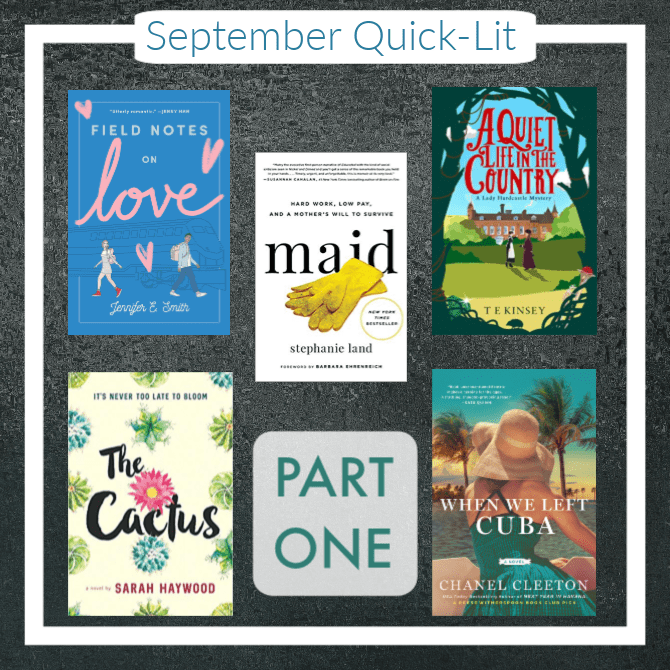 When We Left Cuba, by Chanel Cleeton: Sugar heiress Beatriz Perez is living in Palm Beach, Florida, where she and her family were forced to take refuge when the Cuban Revolution left them homeless and destitute. Desperate to avenge her twin brother's death and reclaim all her family has lost, Beatriz eagerly becomes an undercover agent for the CIA in their attempts to infiltrate Fidel Castro's inner circle. Things get complicated when she falls for an ambitious U.S. Senator—a match that would be political suicide for him, and would bring scandal upon Beatriz and her family.
When We Left Cuba is the standalone sequel to Next Year in Havana. Though I enjoyed that book more than this one, this is a thrilling historical read filled with drama, suspense, and plenty of romance. I wasn't invested in the romantic plot lines (I had an especially hard time with the infidelity component), but found Beatriz's story—particularly her cooperation with the CIA—fascinating. Throughout most of the novel, Beatriz is a strong but not particularly likable character who puts her own needs and desires over those of her loved ones. But she matures over time and I grew to respect her courage, intelligence, and even her motivations.
When We Left Cuba captures the tension of the Cold War, the realities of women and their expected roles during the 1960s, and the challenges many have faced when forced to choose between romance and love of country. Beatriz's story also highlights the importance of family loyalty within the Latino community, and I enjoyed the dynamic between Beatriz and her sister Elisa (whose story is told in Next Year in Havana), specifically the ways that the sisters chose vastly different life paths, though each woman was guided by her heart and her values.
While this is a historical novel, Cleeton's observations on humanity, family, political tensions, and patriotism are entirely relevant for a modern audience.
My Rating: 4 Stars.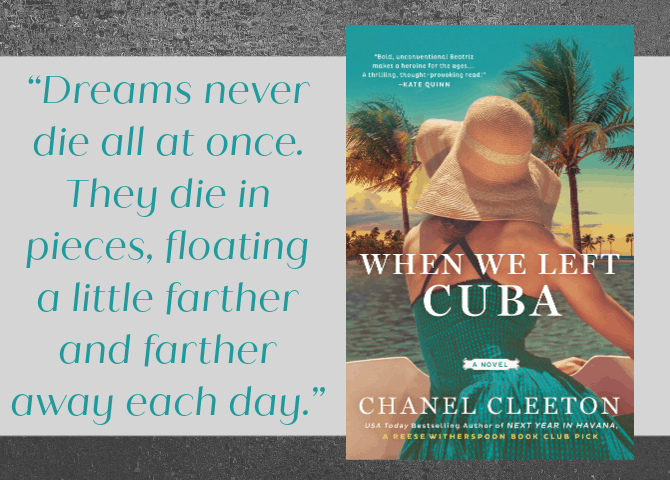 ---
The Cactus, by Sarah Haywood: At 45, Susan Green leads a simple yet orderly life that perfectly meets her exacting standards for logic, structure, and emotional restraint. She has a nonsense-free job, an amicable no-strings-attached romantic partnership, and a flat where she can retreat from the world and enjoy her home life in peaceful solitude. But Susan's world is turned upside down when she finds herself unexpectedly pregnant while also facing the loss of her own mother. To make matters worse, her mother's death has led to a legal dispute with her disreputable younger brother, Edward. Susan wants nothing to do with Edward or his suspicious friend Rob, but soon finds herself becoming more friendly with Rob than she would care to admit.
This book is being compared with Eleanor Oliphant is Completely Fine, and while I see the similarities, it reminded me more of The Opposite of Maybe (the two have nearly identical storylines). Thankfully I enjoyed The Cactus much more than either of those novels. Susan (whom I couldn't help but picture as Angela Martin from the office) is a quirky and rather prickly character, but I found her fastidiousness and social ineptitude endearing, and I enjoyed watching her character blossom as the book progressed.
While the plot is predictable, it is also insightful and heartwarming. Susan's narration is comically awkward yet believable, and she is surrounded by a unique cast of secondary characters who serve as a wonderful balance to the harsh, predictable protagonist. Susan's story offers an entertaining take on the power of flexibility, the importance of community, and the beauty of unplanned moments—all areas I personally struggle with. (Perhaps I found Susan so endearing because I saw so much of myself in her character, ha! We Enneagram 1s need to stick together!)
My Rating: 4 Stars.
---
A Quiet Life in the Country, by T.E. Kinsey: In 1908, Lady Emily Harcastle (an eccentric middle-aged widow) moves from London out to the country with her spunky maid/companion Flo Armstrong. After years of country-hopping and intrigue, the ladies are looking forward to a slower pace of life. But it isn't long before they stumble upon their next adventure in the form of a dead body found hanging in the woods, and Lady Hardcastle and Flo take it upon themselves to assist in the investigation. Before the case is solved, another murder takes place—one involving some of the village's wealthiest members—and once again the two women are on the case.
This is a fun little whodunit perfect for fans of Agatha Christie's Miss Marple, with a delightful Upstairs, Downstairs element. Lady Hardcastle and Flo are engaging characters, and their witty banter and unexpected camaraderie are a highlight of the novel. I was a bit overwhelmed by the sheer number of characters, few of whom are developed enough to truly latch onto, and I thought the pacing of the novel was too quick. But I enjoyed the twists and turns and the abundance of red herrings, which make for a true puzzler of a mystery. This is a solid debut novel and I look forward to reading more books in this series—and hopefully learning more of the intriguing backstories of our two protagonists.
My Rating: 4 Stars.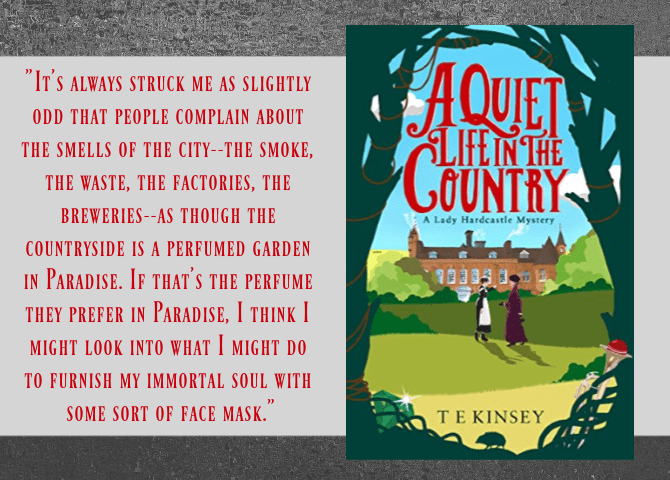 ---
Maid: Hard Work, Low Pay, and a Mother's Will to Survive, by Stephanie Land: At age 28, Stephanie Lands' plans to leave her hometown in the Pacific Northwest and attend college with the intent of becoming a writer were thwarted when she discovered she was pregnant as the result of a summer fling. Despite protestations from the baby's father and no support from her extended family, Land chose to keep the baby—a decision that resulted in years of poverty for the single mother. After a period of homelessness, Land began working as a housekeeper, suffering through grueling work in order to provide a meager living for herself and her daughter.
Maid chronicles Land's experiences of cleaning wealthy people's homes, her uphill battle to provide a healthy home for her daughter, and the challenges of single motherhood. She describes the shame of living on food stamps, the frustration of jumping through hoops to obtain government assistance, the loneliness and terror involved in solo parenting, and her unusual role as an invisible presence in her employers' homes as she works behind the scenes to bring cleanliness and order to their frequently disgusting private spaces.
This memoir offered an eye-opening look at a world I thankfully have never known, one of poverty and brutal work and attempting to care for a child without any support. I found Land's work ethic inspiring and was touched by her love for her daughter. I was also appalled yet fascinated by the nature of her work and her descriptions of her employers and their homes, and I know that I will never look at a member of the service industry in the same way again after hearing her stories. Land's desire for dignity and kindness are present throughout the book, and these are gifts we can—and should—offer freely to all, regardless of a person's line of work or income levels.
This next part of my review might not sit well with some of my audience, but I would feel dishonest in my critique if I neglected to admit that I had a hard time with many aspects of Stephanie Land's story. While she does come across as a loving mom and a hard worker, I was frustrated by her string of poor life choices. (To be fair, I've never been stuck in an impoverished lifestyle, so I suppose I can't say with certainty that I wouldn't make similar choices in her shoes . . . .) I also struggled with her attitude toward government assistance: I absolutely recognize the necessity of these programs, and don't disparage her for utilizing them, but her obvious sense of entitlement is exactly why recipients of such services have developed the stigma that Land speaks so adamantly against in her book. Her continual victim-playing and blaming of the welfare system for keeping her poor and stuck grew tiresome and made it hard for me to fully empathize with her plight.
Another frustration with the book is that much of the hardship, hoop-jumping, annoyance, and disrespect that Land experiences in her interactions with the government, and as a result of parenting a toddler, are experiences I've faced myself—in other words, they are simply a part of life, and not the result of her being a single mom or living below the poverty line. I am NOT saying that my life is anywhere as difficult as Stephanie Land's, I simply don't think that her circumstances/socio-economic status are to blame for all of her problems.
Though this book has some important takeaways, I can't say I disagree with the reviewers who have described it as one long pity party. These complaints, as well as the less-than-stellar writing and repetitiveness, kept this from being a book I can recommend, especially when there are so many better books about what it is like to live in poverty.
My Rating: 2.5 Stars.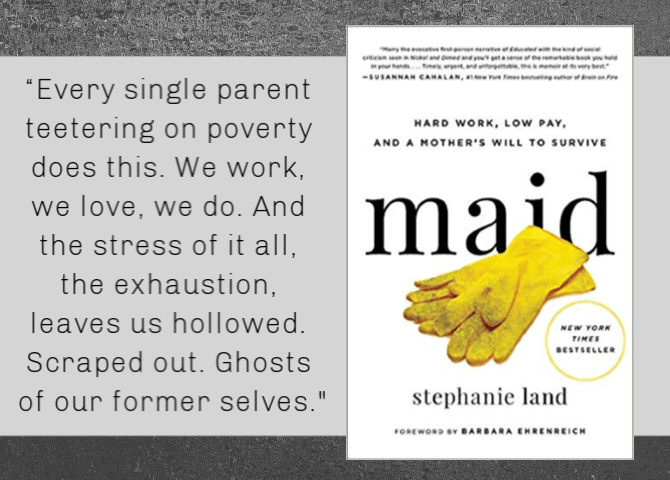 ---
Field Notes on Love, by Jennifer E. Smith: Hugo is a British teen about to embark on a cross-country train trip from New York to California with his girlfriend, Margaret, before they both head off to university. One week before they are set to leave, Margaret breaks up with Hugo, leaving him with the tickets for their trip—all booked under her name. Unable to transfer the tickets to anyone else, Hugo puts out an ad for ANOTHER Margret Campbell who would be willing to take the trip with him. Which is how he finds himself spending a week on a train with Margaret "Mae" Campbell, a recent high school graduate who is still reeling from being rejected by USC's film school. She is hopeful that the trip will give her the life experience she needs to improve her cinematography skills and eventually transfer to her dream school.
Though both from happy, loving homes, Hugo and Mae each have reasons for wanting to get away on this trip. Hugo, a sextuplet, is tired of living life as one-sixth of the famous "Surrey Six" and Mae, who was raised by two dads and an eccentric grandmother, is no stranger to life in an unconventional family.
Sparks fly when Mae and Hugo meet for the first time. Together, they explore the definition of love, the importance of pursuing a dream, and the value of knowing who we are—and letting others know us too.
I'm generally not a big fan of YA Romances, but was delighted by this one! It reminded me a great deal of The Christmas Train (one of my favorite books), with less mystery but just as much heart. I enjoyed the multicultural aspect to Hugo and Mae's relationship (not only is Hugo from Britain and Mae from New York, but Mae is white and Hugo is biracial), and I appreciated the refreshing innocence of their budding romance. I also loved the portrayal of two functional, loving families with parents who care about their kids and kids who respect and enjoy spending time with the adults in their lives. This was a great light summer read, and a rare YA romance that I would feel comfortable sharing with a younger teen.
My Rating: 4 Stars.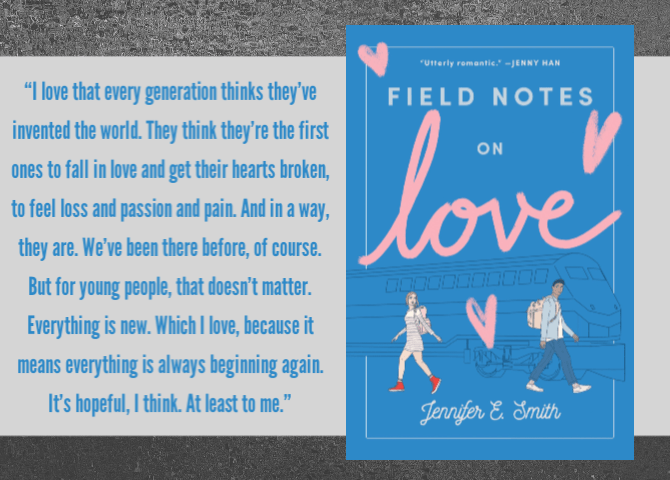 ---
Have you read any of these titles? I'd love to hear what you thought of them!