I'm rounding out this week of book reviews with five strong titles. A few of these books have gotten quite a bit of attention lately, so I'd love to know if you have read any of them, and what you thought!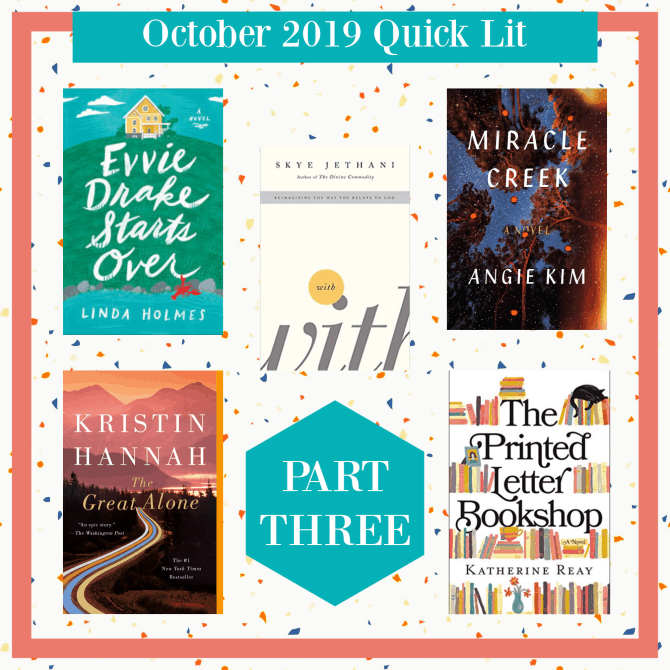 The Great Alone, by Kristin Hannah: In 1974, Leni Allbright is a 13-year-old girl living with her young mother, Cora, and her father Ernt, a former POW who returned from the Vietnam War a changed man. Cora assures Leni that Ernt was once a kind and loving husband and father, but Leni only knows him as the volatile man who can't hold down a job and whose family lives in fear of his abusive tendencies. When Ernt moves his family to Alaska to live off the grid, the trio thrives for a time among the fiercely independent community of strong, somewhat eccentric Alaskan locals. But as winter descends and the days grow darker and colder, Ernt's fragile mental state begins to deteriorate and Cora and Leni once again find themselves at the mercy of his turbulent moods. The Alaskan frontier can be brutal, but it's no match for the danger that lies within their own home.
The Great Alone is a powerful story of family, resilience, and survival. Through vivid prose, Hannah has painted a moving portrait of life on the Alaskan frontier and—more terrifying—life within an emotionally toxic family trapped in a cycle of smothering love and abuse. Within these tragedy-tainted pages is a story of love and loyalty that refuses to be derailed.
While I found this to be a gripping read, my overall opinion is an outlier amid a sea of readers singing its praises. My biggest issue lies with the book's inconsistent pacing: the first two thirds of the novel are slow and purposeful, while the ending is rushed and loaded with unbelievable and unnecessary drama. In the book's final chapters, the Allbright family is struck with one tragedy after another, to the point where I nearly stopped caring about their plight and just wanted the story to end. There are sweet moments of love and redemption, but these faint glimmers of hope are overpowered by the book's endless pain and hardship. I appreciate hard stories, but don't enjoy emotional manipulation from my books.
My Rating: 3.5 Stars.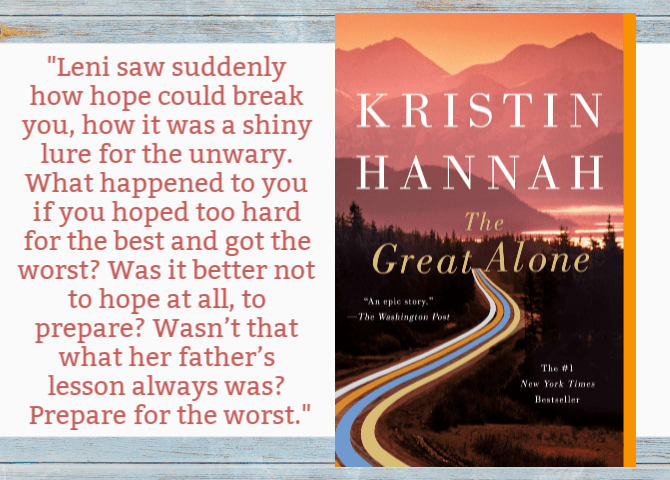 ---
Evvie Drake Starts Over, by Linda Holmes: Eveleth "Evvie" Drake lives by herself in a quiet seaside town in Maine, where she spends her days alone, working through her complicated feelings surrounding the death of her husband in a car accident the previous year. The reason for her mixed emotions: nobody knows that the young widow had been planning to leave her husband (the beloved town doctor) the very night he was killed. These days, the highlight of Evvie's weeks is her standing Saturday morning breakfast date with her best friend, Andy, whom she helped through a divorce a few years prior and whose young daughters have become surrogate nieces. When Andy's friend, Dean, moves to town from New York City following an abrupt end to his career as a Major League pitcher, Evvie agrees to take Dean in as a tenant.
As the months unfold, Evvie learns more about Dean's fall from fame after he suddenly developed a case of the "yips" and found himself unable to throw a baseball. And Evvie opens up to Dean about the abuse she experienced during her four-year marriage to the man everyone else seemed to adore. Together, Dean and Evvie work to repair the damage brought about by buried secrets and broken dreams . . . and along the way, they each see hope on the horizon as they reach for a second chance.
I loved this book SO MUCH MORE than I'd anticipated. I expected a lighthearted romantic comedy, and while there are humorous moments and an overarching love story, Evvie Drake Starts Over is so much more. This is a quiet yet poignant story of grief and redemption, with characters who are real and relatable, even if their specific circumstances are not. I loved the unconventional relationship dynamics that actually worked: a platonic friendship between Andy and Evvie, a father and an adult daughter who remain close despite all they've been through, a young widow who steps in as mother figure to two little girls. . . I've seen these types of relationships attempted in fiction, but this is a rare book where they are believable and inspiring. I especially appreciated Holmes' exploration of how these relationships change (and must sometimes be grieved) when new individuals enter the picture.
This is not a fast read, and there's not a lot of action. Entire chapters are dedicated to quiet, realistic conversations between characters sitting with/sorting through their emotions. Yet somehow I remained entirely engaged in the story, from start to finish. This is a charming, hopeful, and emotionally rich book, perfect for those who appreciate real, complicated love and want more than trashy bedroom scenes from their romance novels.
My Rating: 4.5 Stars.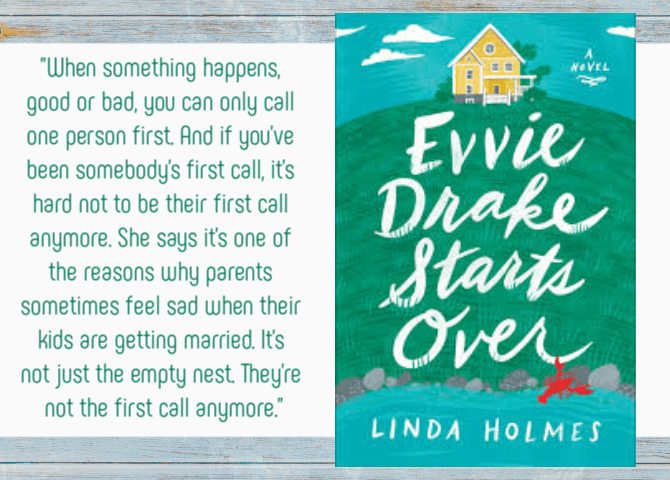 ---
With: Reimagining the Way You Relate to God, by Skye Jethani: As Christians, it's easy to get confused about what our relationship to God should look like. Some of us make it our goal to please and serve Him, others are more interested in what God can offer us than what we can offer God, and some of us tend to ignore God altogether and take life (and faith) into our own hands. In With, Skye Jethani unmasks four common postures that can masquerade as genuine relationship with God. The first posture is life UNDER God, which seeks God's blessings and gifts without demonstrating any interest in God Himself. The second posture is life OVER God, in which God is abandoned in favor of proven formulas and controllable outcomes. In the third posture, life FOR God, we are primarily concerned with how to serve God. And in the fourth posture, life UNDER God, our primary role is to determine what God approves and work to remain within those boundaries. While aspects of each of these postures may seem Biblical, they are all fear-based and stem from our desire for control.
Jethani spends time analyzing each of these false gospels, then presents the true posture of the Gospel: life WITH God. This posture is different because its goal is not to use God, its goal IS God. Life with God means treasuring Him above all else. This is the reason for living and it imbues our lives with faith, hope, and love, elevating our existence to sacred heights.
I was convicted and inspired by this book, which illuminated many false posturings I have fallen into and painted a clear picture of what my life as God's child can and should look like. Despite the headiness of the subject matter, Jethani's explanations are clearly presented, well organized, and made more approachable through stories from scripture, history, and his own observations. With has given me the language to describe unbiblical attitudes I've seen in the church (and in myself), and it has helped me understand why these postures are not part of God's true design for mankind
My Rating: 4.5 Stars.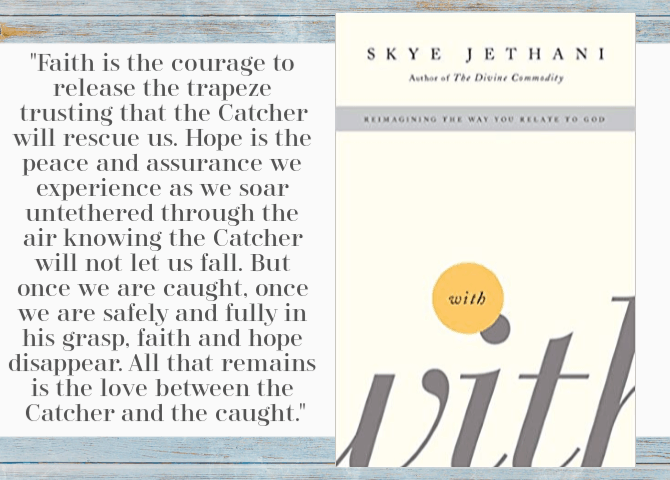 ---
Miracle Creek, by Angie Kim: In the Virginia town of Miracle Creek, a small group of people gather for daily sessions in a hyperbaric chamber thought to treat everything from infertility to autism. When an explosion takes the lives of a young child and a mother, and leaves several others permanently injured, it's apparent the explosion wasn't an accident. One year later, a woman sits on trial for causing the explosion in an effort to murder her autistic son. As the trial unfolds, we get a behind-the-scenes look into the lives of the various individuals involved: what they were doing the day of the explosion, the lies surrounding each of their testimonies, and how they have been affected by this devastating event.
This is a heart-wrenching read that not only involves the death of a child, but also explores the painful experiences of infertility, parenting special needs children, and holding onto family and cultural identity in an unfamiliar country. Kim (whose own experience as a Korean immigrant and special needs parent inspired the story) handles each individual's story with compassion without shying away from the characters' hardships and shortcomings.
Though largely character-driven, the mystery at the core of this book is engrossing and filled with twists as the truth of what happened the day of the explosion is slowly exposed. Brilliant courtroom interrogations (quite realistic, thanks to the author's background as a lawyer) move the plot forward, while insightful commentaries on the nature of life, parenthood, perseverance, and ethics keep the novel painfully but profoundly relatable. I was deeply impressed with Kim's unique knack for storytelling and ability to unite both redemption and just retribution, and I'm looking forward to reading more from her.
My Rating: 4 Stars.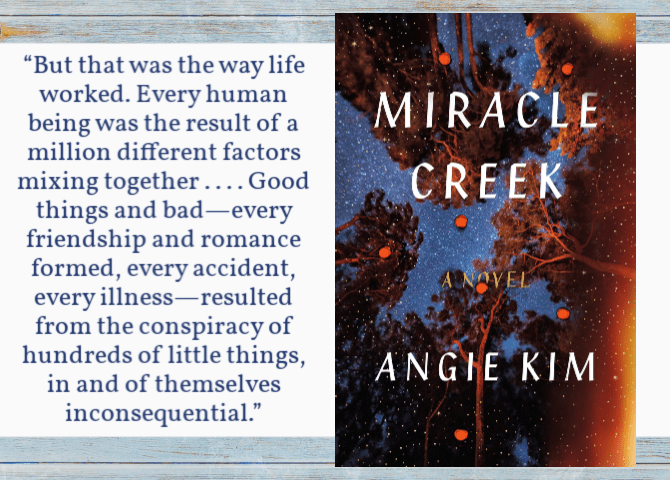 ---
The Printed Letter Bookshop, by Katherine Reay: I discovered Katherine Reay last year, and plowed through her backlist. She is easily one of my favorite contemporary authors and I've been eagerly anticipating her latest release: a bookish novel, set in a bookstore, by an author I adore . . . what could be better?!
The novel's three protagonists are brought together following the recent death of Maddie, a small town bookstore owner. Madeline Cullen is a successful young Chicago lawyer who couldn't be more surprised to discover she has inherited her estranged aunt's beloved bookshop. Madeline intends to sell the shop, but the store's two employees are not so keen on the idea. Janet is a hardened divorcée who faces hostility from her two adult children and takes her pain out on everyone around her. Claire, a middle-aged mother to two teenagers, is beginning to question her value as a stay-at-home-mom, and has come to love the bookshop for being the one place she feels truly seen. As we get to know these three women, we walk with them through life crises and everyday struggles. We witness the formation of friendships, the rekindling of love, quests for identity and purpose, and ultimately, redemption—all experiences and emotions that are helped along by the books recommended to them by the deceased Maddie, who seemed to know just what each woman needed to read.
This book was a surprisingly slow start for me and I began to wonder if Katherine Reay had lost her magical touch. I had an especially hard time with some of the stylistic choices (specifically, the voices of each protagonist each being in a different tense and delivered from a different point of view, though this is eventually explained within the story). But as the story unfolded, I warmed to the characters and was soon swept away by their experiences and profound insights. This is a quiet novel—much quieter than Reay's other books, but also more realistic, more intimate, and more heartfelt. There is a lot of real life going on within these pages, and Reay beautifully captures both the story and the emotion of her vibrant and deeply relatable characters whose interactions and personal journeys are marked by grace, forgiveness, and self-discovery.
The bookstore setting felt realistic, and despite highlighting the challenges of running a bookshop, The Printed Letter Bookshop only fueled my desire to one day run a bookstore of my own! I also enjoyed the numerous bookish references and was excited to have read nearly all of the titles mentioned! If you enjoy bookish novels, redemption stories, and sweet (but not spicy) romance, you will adore this one.
My Rating: 4 Stars.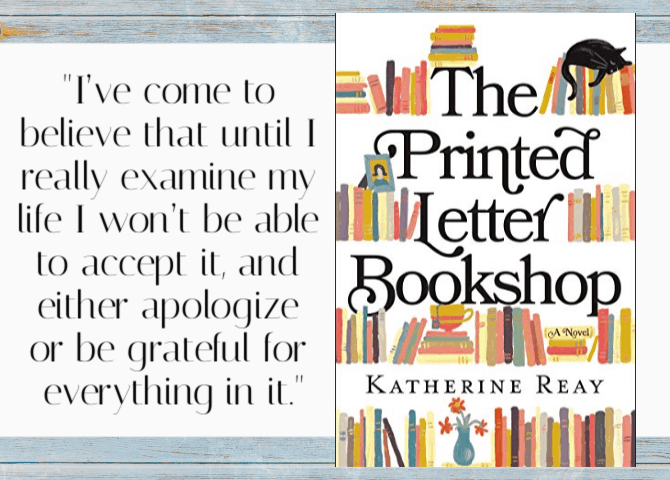 ---
I'm linking up with Modern Mrs. Darcy to share what we are reading this month. If you're here from the linkup, thanks for stopping by! You can read Part One of this month's book reviews here: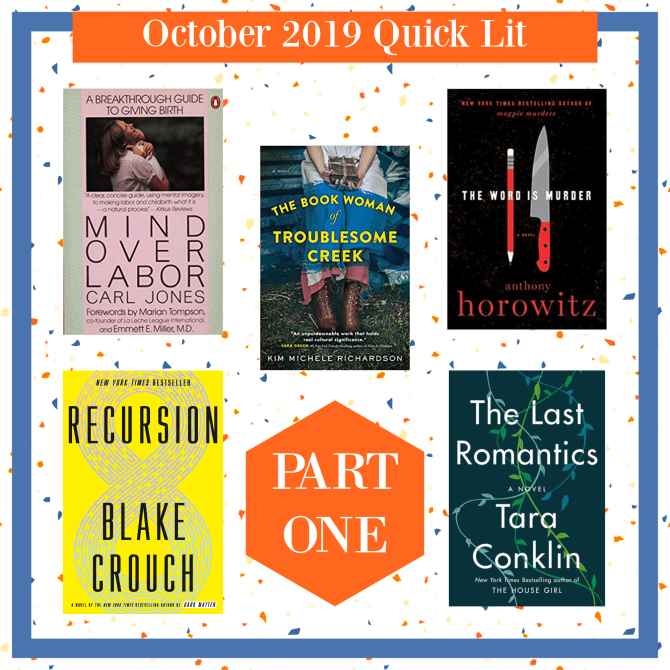 And you can find Part Two right here: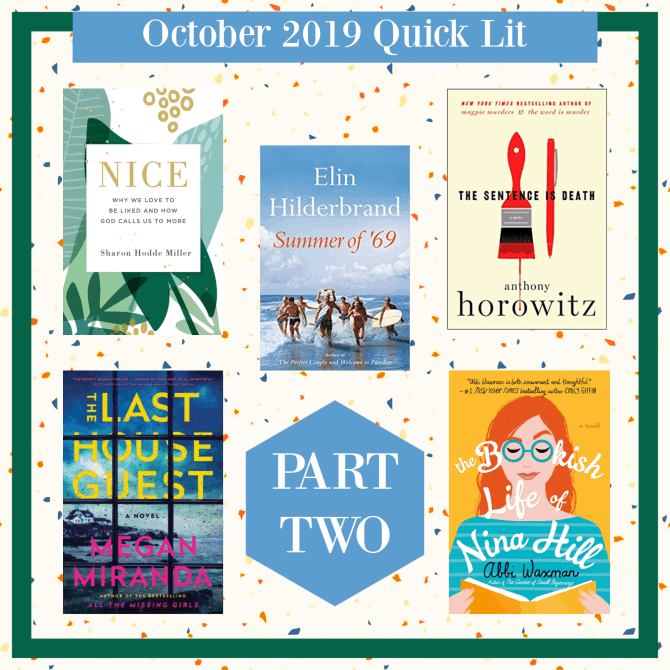 What was the best book you read in the past month? Any recommendations for me to tackle during late night feedings?!