The five books I'm reviewing today were all 4-star reads for me, but that's where the similarities end. A glitzy historical tale, an epistolary novel, a thriller, and two inspiring memoirs—all books I'm glad that I read and am happy to recommend. Let's get into the reviews!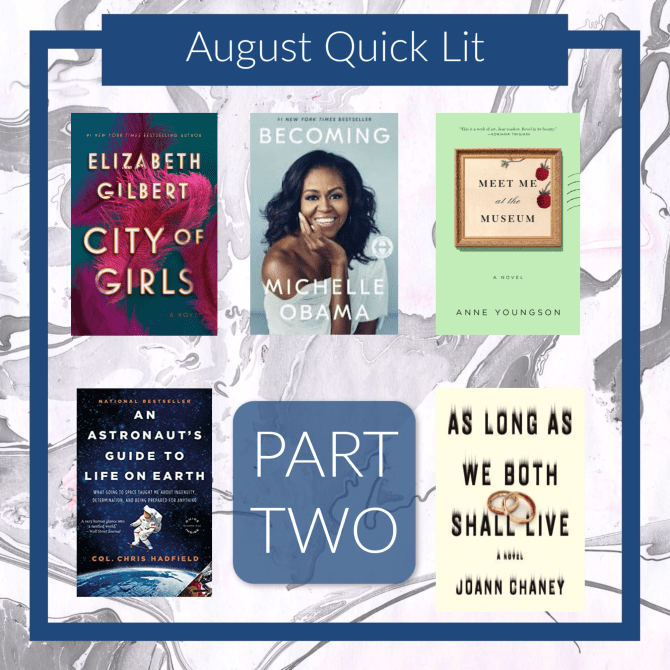 As Long as We Both Shall Live, by JoAnn Chaney: Matt and Marie have been married for twenty years, but the spark has long since left their marriage. Now that their daughters have left for college, they are tired of making it work. And when the couple takes an out-of-character hiking trip through the Colorado mountains, it quickly turns deadly. One might assume that Marie's fall off a cliff into the raging river below was an accident. But this isn't the first wife that Matt has lost under suspicious circumstances: more than twenty years earlier, Matt's first wife Janice was killed in an attack by a home invader—or was she? The deaths of two wives seems a little too convenient to be a coincidence. . . .
As detectives Spengler and Loren begin to investigate, they peel back layers of a very sick marriage. This relationship, which appeared so perfect on the outside, was marked by viciousness and shrouded in secrecy. It's easy to imagine why one or both parties would have done anything to bring this partnership to an end.
For a while it seemed like every domestic thriller was being acclaimed as "the next Gone Girl." I rarely agreed with the comparisons, but this is one book that lives up to the twists and turns of that precedent-setting book. Chaney has crafted a novel with more plot surprises than I could count; every time I thought I'd arrived at a solution, I was thrown another curveball. I LOVE being kept on toes in this way and was impressed by a story that was so much more than if first appeared.
In addition to a stellar plot, As Long As We Both Shall Live features compelling (if deeply unlikable) characters, smart prose, and some truly remarkable insights into life, relationships, and the way that our pasts can haunt us for decades. While Matt and Marie's marriage is the book's focal point, we also spend page time with the two detectives and explore their unusual histories. Within these subplots, there is quite a bit of discussion of male and female identities, our inconsistent expectations for each sex, and some intriguing thoughts on the feminist movement (particularly as it has played out in law enforcement).
This is a rough read that contains copious amounts of foul language, sexual jokes, and graphic crime scene descriptions. Definitely not recommended for highly sensitive readers (I did a fair amount of skimming), but if you are looking for a hot mystery that will keep you reading late into the night, make this your next book.
My Rating: 4 Stars.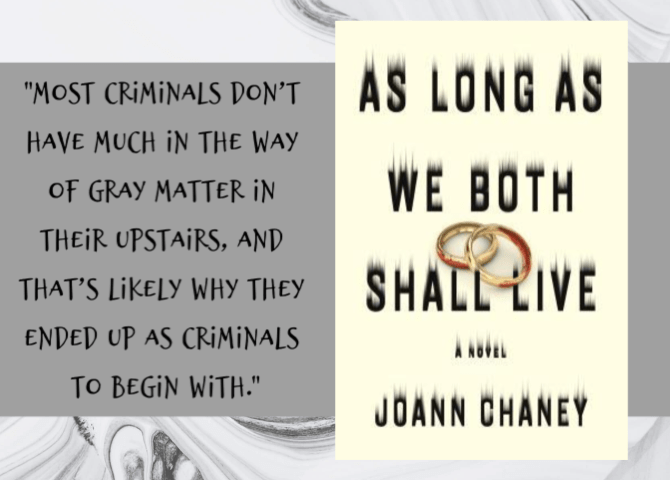 ---
City of Girls, by Elizabeth Gilbert: In this fun historical novel from Elizabeth Gilbert, Vivian Morris is a spunky 89-year-old who claims to have only ever been good at two things in life: sex and sewing. Vivian's unconventional life story is told in retrospect, beginning in 1940 when 19-year-old Vivian was kicked out of Vassar College as a result of her failing to show up to her classes her entire Freshman year. In their disappointment, Vivian's socialite parents send her to Manhattan to live with her eccentric Aunt Peg who owns a struggling theater called the Lily Playhouse.
While living with her aunt, Vivian is exposed to a colorful cast of characters and quickly becomes immersed in a life of partying and promiscuity. She is enamored with her new life, but it comes crashing to an unfortunate end when a poor decision results in scandal and lands her back in her childhood home. Then the War begins and Vivian must pave a new path for herself—one that is entirely unexpected, yet offers the fulfillment and freedom she has always craved.
City of Girls has much more R-rated content than I prefer. Vivian Morris a very sexual woman and though the descriptions of her encounters are mostly discreet, there is more onscreen sexy time than I was comfortable with. (Thankfully the lighthearted tone in which these scenes are described keeps them from feeling too steamy.) My other frustration with the book was that it was far too long, and the pacing didn't make sense to me, with a majority of the novel dedicated to a very short period of time in Vivian's life that was far less interesting to me than all that came afterwards for her.
Despite these disappointments, I enjoyed this book, particularly Vivian's colorful, self-aware narration. She makes no apologies for her vanity or promiscuity, but she is nevertheless a likable protagonist with a tender heart and a deceptively perceptive understanding of humanity. Her commentary on her own life and all she has observed is humorous, relatable, and insightful. Gilbert is a brilliant writer with a knack for memorable characters and lush prose that brings this novel to life.
I read this book just after reading The Gown (reviewed last week) which made for an excellent pairing: both novels are set around WWII, without being explicitly about the War, and both feature strong women with sartorial professions. But the two books take place on opposite sides of the Atlantic and are vastly different in tone and temperament. I liked both novels, but for very different reasons. City of Girls also reminded me a lot of The Red Address Book, but more dynamic and less sentimental.
I would recommend City of Girls for fans of historical fiction who aren't shy about a little sex and scandal in their novels, or for anyone who can't stay away from the magic of Elizabeth Gilbert's creativity.
My Rating: 4 Stars.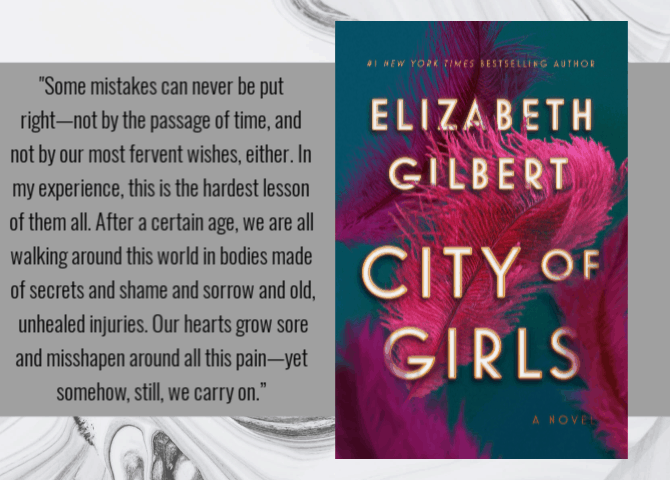 ---
An Astronaut's Guide to Life on Earth: What Going to Space Taught Me About Ingenuity, Determination, and Being Prepared for Anything, by Chris Hadfield: As a Canadian raised on a farm in Ontario, Chris Hadfield's chances at achieving his dream of becoming an astronaut were not great. But in 1992, after serving in the Canadian Armed Forces and learning to fly several types of aircraft, he was accepted into the Canadian astronaut program and eventually became the first Canadian to walk in space. During his twenty-year career as an astronaut, Hadfield logged nearly 4000 hours in space and became a social media sensation through his videos and tweets from space.
In this riveting memoir, Hadfield tells the story of his career as an astronaut: what it took to get there, how he managed to balance work and family life, and what it was really like in space. With humor and insight, Hadfield describes the daily life of an astronaut—both on land and in space—and the life lessons he learned through his career. His takeaways are as relevant to me as a stay-at-home mom as they were for him as an astronaut: lessons about the importance of paying attention to detail, the value of "sweating the small stuff," learning to accept criticism, preparing for worst-case scenarios (as opposed to relying on positive thinking as a plan of action), and valuing education as the ultimate goal and not simply a means to an end.
I've always been intrigued by life in space, and I found Hadfield's descriptions utterly compelling: from edge-of-your-seat stories (like the time a droplet of soap in his eyes nearly turned into a life-threatening emergency) to the quotidian moments on the space station, everything about his life in orbit makes for spellbinding reading. I was equally fascinated to learn about the intense training and preparation that takes place before a mission: an astronaut's days revolve around intense education, and I was amazed by how many skills an astronaut is expected to master before traveling into space!
The life of an astronaut is indeed captivating, but it is Chris Hadfield himself who makes this such an engaging book. Hadfield is driven yet humble, insightful and brilliant but always eager to learn more. I enjoyed reading about his interactions with his fellow astronauts and especially about his relationship with his wife Helene and their three children. I cannot imagine how difficult marriage to an astronaut must be, and I was amazed by Helene's loyalty to her husband, her encouragement of his dreams, and her ability to hold their family together during his extended periods away.
I read this book on Luke's recommendation, and enjoyed discussing favorite chapters and key takeaways with him. After reading, Luke believes he missed his calling as an astronaut, and I can't say that I blame him (though all that math and science isn't for me). We were both impressed with Hadfield's integrity, his heart for education, his mature attitude toward retirement, and his remarkable storytelling.
My Rating: 4 Stars.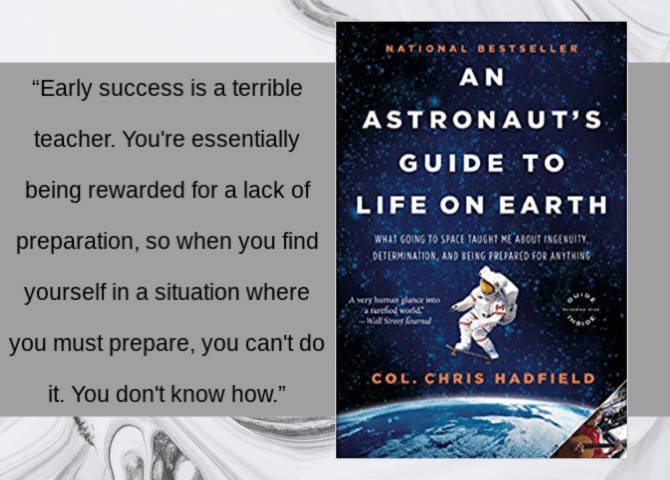 ---
Becoming, by Michelle Obama: Michelle Obama is one popular lady! As I'm not one to spend a lot of time following politics, I didn't know much about the popular First Lady prior to reading this book, but I've heard nothing but spectacular reviews of her memoir and was excited when my library hold (placed many months earlier) finally became available.
Becoming follows Michelle Obama's remarkable and unexpected life: from her childhood as part of a loving and hardworking family who could barely make ends meet; through her years of academic dedication that resulted in a successful career; and of course her marriage to Barak Obama, their early years as a family, their time on the campaign trail, and eventually their family's experience in the White House.
Throughout the book I was struck by Mrs. Obama's strong work ethic, her commitment to her values and especially her family, her intelligence, and her determination to live and lead with authenticity and grace. Her story would have been an inspiring one even if she didn't go on to become the First Lady: her experiences as a successful woman of color are unique, giving her insight into two disparate worlds. She demonstrates a heart for minorities and other disadvantaged individuals, while also recognizing her own current privilege.
I found Mrs. Obama's descriptions of life in the White House especially fascinating: she manages to convey both the wonder of living in such opulence as well as the challenges of attempting to raise a family under constant public scrutiny. I admire her ability to prioritize her daughters' needs while also supporting her husband and contributing to causes that were important to her.
For a memoir by a president's wife, Becoming is less political than I would have expected. In fact, I was shocked to read how opposed this future First Lady initially was to her husband's political career, and how she was reluctant to support him in his run for president. I was also struck by how frequently she seems to take criticism personally, as I view this as an unfortunate but expected aspect of politics. As the book progresses, Mrs. Obama does make some politically charged comments and offers quite a few unkind remarks about the Republican Party. She also gets quite defensive at times, which I suppose is inevitable in a book by someone who has endured public flagellation for an extended period of time and is finally given the opportunity to respond to the criticism.
Overall, Michelle Obama's well-written and thoughtful book (and her life) is one to be admired and appreciated from individuals across the political spectrum.
My Rating: 4 Stars.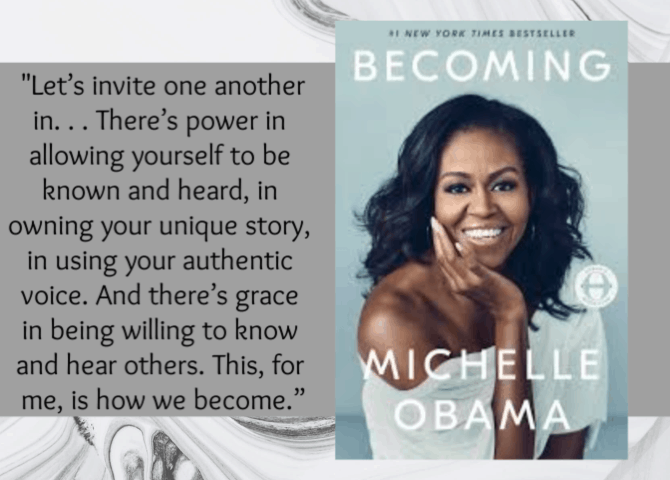 ---
Meet Me at the Museum, by Anne Youngson: When she was a young girl, Tina Hopgood learned about the Tollund Man, a mummified corpse from the Iron Age who is housed in a museum in Denmark. Tina always dreamed of visiting the Iron Man, but fifty years have passed and she somehow has let this dream go unfulfilled. She is now a wife, mother, and grandmother, and her life has been consumed with tending to her family and taking care of the farm on which they live. Looking back at her life, she begins to question her life's path and decides to write a letter to Professor Glob, whose book first exposed her to the Tollund Man.
Tina is surprised to receive a response from Professor Anders Larson, a widowed museum curator who informs her that Professor Glob is long since deceased but that Anders himself is happy to answer her questions. Soon, the two strangers strike up a flourishing correspondence. In increasingly heartfelt letters to one another, Tina and Anders share stories from their past and present and discover a shared interest in history, the natural world, and the meaning that can be extracted from the simplest objects and moments. As they bare their souls to one another through joyous and tearful stories, they unite in exploring questions of ethics, purpose, and fulfillment. Before long, neither can imagine life without the presence of the other's friendship, encouragement, and advice.
I have a soft spot for epistolary novels, and this one is especially lovely. Tina and Anders are both intriguing and likable characters, and I enjoyed viewing the world through their poetic, compassionate eyes. Anders' Danish heritage, contemplative nature, and fierce loyalty make him especially endearing and someone I would love to meet in real life. The questions raised by their unique experiences are important ones, ripe for thoughtful reflection, and the stories they share are both familiar and eye-opening. My only criticism relates to the ethicality of their relationship, given that Tina is a married woman (a subject that is explored more directly at the end of the book).
This is a quiet novel but a profound one, perfect for fans of Marilynne Robinson and Elizabeth Strout. With so many strong themes and potential discussion points, it would also make an excellent book club selection.
My Rating: 4 Stars.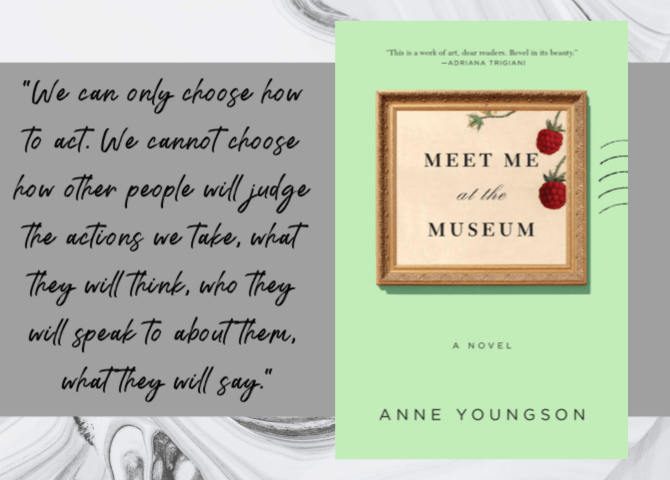 ---
I'm linking up with Modern Mrs. Darcy to share what we've been reading lately. If you're here from the link-up, thanks so much for stopping by. I hope you'll stick around for a while! You can begin by checking out Part One of this month's reviews right here.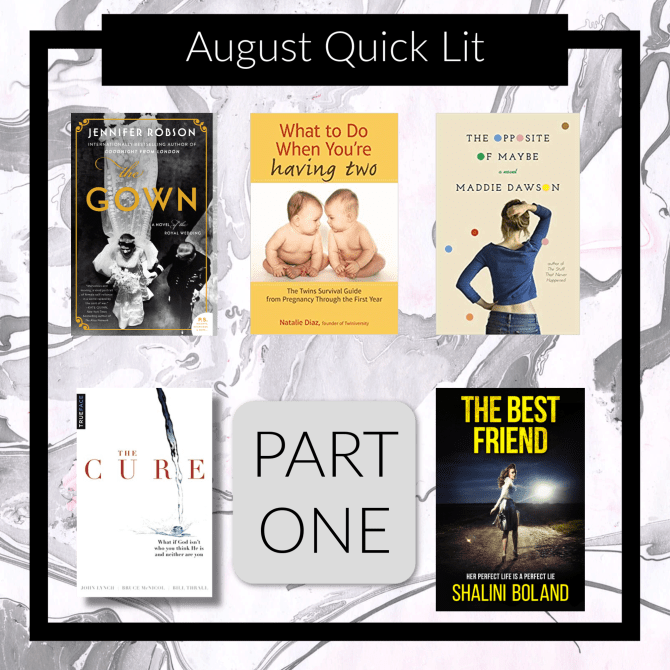 What books have been on your summer reading list? I'd love to hear about them!