And we're back for Round Two! This is an eclectic batch of reviews: three thrillers and three nonfiction books about topics that likely won't relate to your life (two of them didn't relate to mine), but are still worthwhile reads.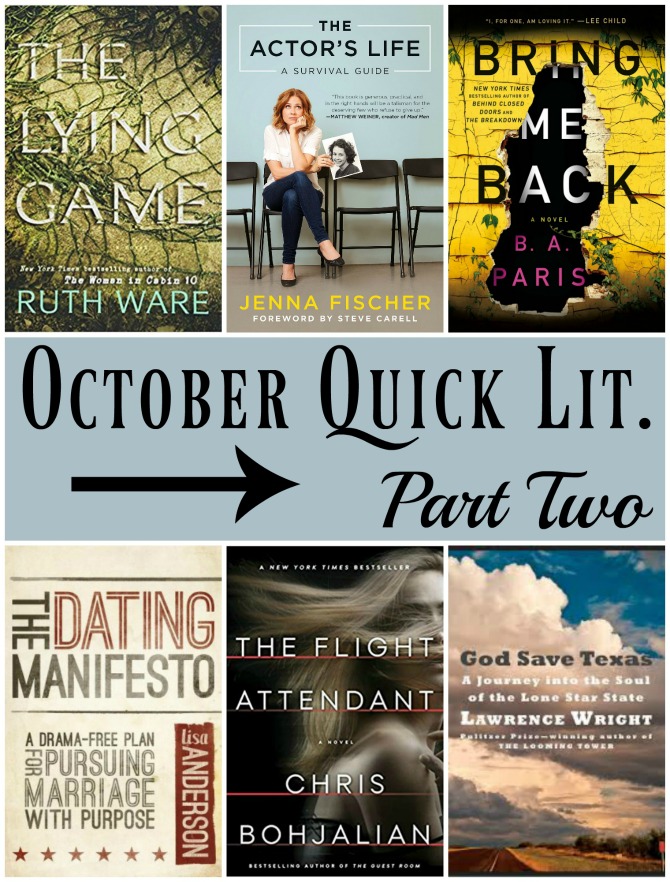 The Dating Manifesto: A Drama-Free Plan for Pursuing Marriage With Purpose, by Lisa Anderson: Since I've been happily married for nearly ten years, it may seem strange to see me reading a book about dating, so let me share some backstory: the author of this book is the host of Boundless, Focus on the Family's podcast for single adults. Boundless was the very first show Luke got me hooked on when he introduced me to the podcast world ten years ago, and nostalgia has kept me listening long after I aged out of the demographic. Boundless has changed a lot over the years, but host Lisa Anderson (a single woman now in her forties) has remained the show's constant, and after ten years of hearing her voice every week, she feels like a close friend. When Lisa Anderson released this book, I was eager to read it even though I'm not her intended audience, because I love Lisa and value her thoughts on just about anything—even a topic that doesn't pertain to me.
With her trademark humor and straightforward approach, Lisa shares her unfiltered but Gospel-centered views on dating, relationships, and marriage. She shows singles how their attitudes towards marriage (largely inherited from society's warped ideas about romance and relationship) have failed them, leaving them dateless and desperate despite a desire for companionship. Lisa then offers advice on how to conquer the dating world with courage and intentionality. Lisa also explores the concept of marriage and why it should be valued, but not held on a pedestal—she reminds singles to make the most of their present circumstances while remaining hopeful of finding a future mate. This was my favorite part of the book, because the stance of learning to be thankful in the present while trusting God for the future is one that many of us find ourselves in, regardless of our marital status.
Throughout the book, Lisa is honest about her own tumultuous dating life—from decades spent trying to "be one of the guys" and focusing solely on her career, to floundering in the online dating world (this portion of the book is filled with cringeworthy stories). It may seem odd that this guide to dating is written by someone who has admittedly had little success on this front, but having gotten to "know" Lisa through her years on Boundless, I recognize her as an ideal author of this book: though Lisa has had a drama-filled dating life, her experiences inform her writing and her advice, as have the countless interviews she's conducted through her work. I can imagine that a single person reading this would appreciate Lisa's solidarity—so much less patronizing than if it had been written by someone offering dating advice from the other side of their own Happily Ever After.
I agree with Lisa that dating has gotten a little wacky over the last few decades. With people delaying marriage and children, there is initially less pressure on finding a mate—until the clock starts ticking, at which point the dating pool has grown smaller, expectations for that elusive "perfect" spouse have ballooned, and the single has missed out on years of intentional interaction with members of the opposite sex. The world of online dating only complicates issues by contributing to the myth of "one soul mate" and making it harder to feel okay about settling with anyone less than the perfect match. And Christians who grew up in the I Kissed Dating Goodbye generation have extra hurdles to jump as they sort through a lifetime of mixed messages about the propriety of dating. My heart goes out to those singles who desire marriage and are unsure how to get there—I would love to give a copy of this book to every one of them. The Afterword, addressed to non-single Christians, was especially helpful for ME.
My Rating: 4.5 stars.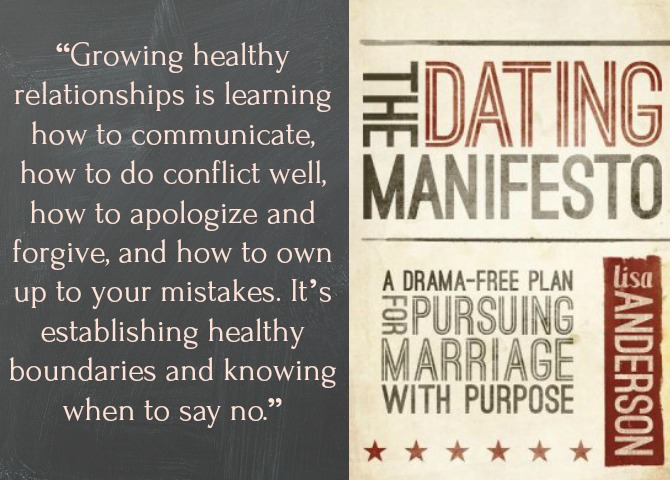 ---
The Flight Attendan, by Chris Bohjalian: Cassandra Bowden is a flight attendant for whom binge drinking and one night stands are a regular occurrence. So it's not so unusual for Cassie to wake up in bed with a man she hardly knows and no recollection of the night before. What is unusual is the fact that this time, the man in her Dubai hotel room is dead, and Cassie has no idea how he got that way. Worried that her hookup died at her own hand, Cassie flees the scene, and once the man's body is found, she proceeds to lie about her involvement with him. But her own questions remain: who was this man, really, and how did he die? Is she at fault? And—most importantly—why is she continuing in a life in which something like this could have happened to her?
Though not easy to root for, Cassie is a sympathetic character, and I was eager to see what would come of her in her predicament. Her internal wrestling was a high point of the book and added emotion and intellect to what is otherwise a fairly breezy thriller with mostly flat characters. The premise is strong and I found the ending very satisfying, but the first half of the book definitely dragged. I wasn't particularly drawn in by the chapters narrated by side characters, including Cassandra's adversary. But I did enjoy the behind-the-scenes look at the life of a flight attendant and I wish the author had explored this setting further.
My Rating: 3.5 stars.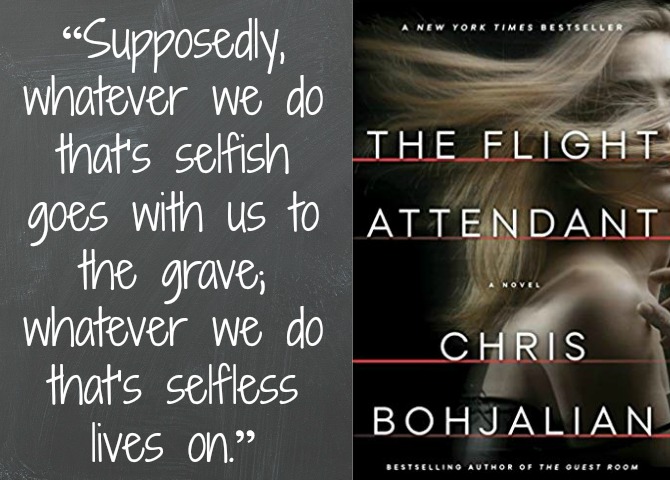 ---
The Actor's Life: A Survival Guide, by Jenna Fischer: Luke and I are HUGE fans of The Office, with the characters of Jim and Pam being our favorites (I mean, they're everyone's favorites, right?). I'm also a sucker for celebrity memoirs. So when I saw that Jenna Fischer had released a book, I immediately placed my library hold. I'd assumed it would be a collection of humorous autobiographical essays similar to those from Tina Fey, Mindy Kaling, or Amy Pohler. I didn't realize until a few chapters into the book that this is not a memoir, but a tutorial for aspiring actors. While I'm clearly not the target audience, I continued with the book and found it entertaining and insightful.
In the book, Pam . . . I mean, Jenna . . . draws from her experiences and those of her peers to offer guidance for acting newbies who would like to establish themselves in Hollywood. She goes into details about everything from getting the perfect headshots and incorporating the appropriate clauses in a contract, to the importance of steering clear of the gossip mill and how to nail the elusive callback. Through these instructive chapters we also learn of Jenna's circuitous rise to stardom, beginning with her Hollywood arrival at the age of 22 with nothing but a theater degree and a boatload of confidence.
Jenna's story is one marked by perseverance and a whole lot of legwork; her early years were not at all glamorous (to be expected), but neither is her work life now that she has "made it big" (a little less expected). I learned a lot about how much effort actors put into obtaining and keeping rolls, and how grueling but simultaneously boring the acting life can be.
The book reminded me a lot of La La Land and Lauren Graham's novel Someday, Someday, Maybe, except that it's real life—which is a little bit mind boggling! Jenna succeeded in grounding my own impressions of the acting life, showing me that actors aren't all that different from everyone else who is pursuing a passion; in fact, much of her advice could be applied to any other creative field. However, there is a lot of actor-specific information that I am sure would serve as a fantastic guide for those who want to follow in Jenna's footsteps. I can see this book being used in college acting courses. And also as book club fodder for members of The Office fan club—because there are plenty of behind-the-scenes stories about Jenna's time on that iconic show! (I adored the juicy details about the filming of Jim and Pam's first kiss!)
I really appreciated Jenna's tone in the book. She is a fantastic cheerleader, striking the perfect balance of motivational-but-not-patronizing. Jenna is straightforward about what she's done right, where she's messed up, and how a big part of her story is attributable to luck. She shares all of the ups and downs, and models the same perseverance she is encouraging in her readers. She doesn't sugarcoat the acting life, but she isn't cold or cynical towards it either. Her writing is warm, funny, and self-deprecating, with all of the common sense and charm of Pam Beesly.
Format Notes: I listened to the audio version because few things are better in the reading world than having a well known actor read their own book. I downloaded the ebook as well (to follow along and make highlights) and would actually recommend that version over the audiobook, as it includes numerous photos and additional inspirational quotes that didn't make it into the audio.
My Rating: 4 stars.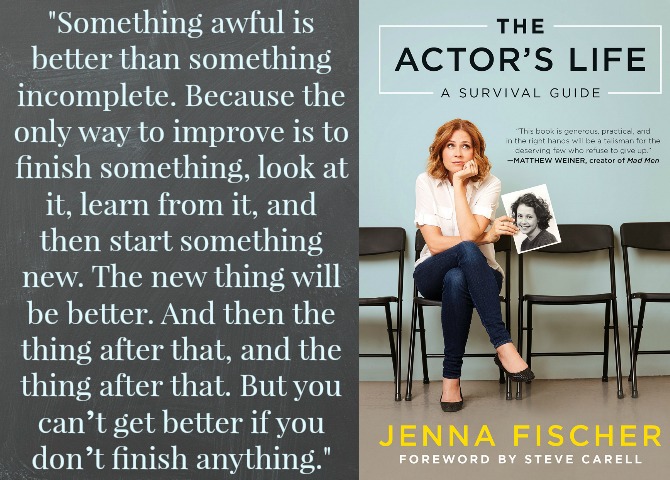 ---
Bring Me Back, by B.A. Paris: Ten years ago, Finn's girlfriend (almost-financé) Layla disappeared. Finn wasn't honest with the police about the circumstances surrounding her disappearance. But that story is far behind him—or so he thinks. Now he's engaged to Layla's sister, Ellen. But Finn has never managed to feel for Ellen the way he felt for her sister. Finn is initially skeptical, and then alarmed, when he begins to receive clues that Layla is still alive. What does she want? And how will this affect his relationship with Ellen?
This is the B. A. Paris's third novel, and I've been less impressed with each subsequent title. Like her other books, this one involves quite a bit of slow-burning suspense without much action, but this time I was less patient with the painfully slow buildup. It didn't help that the characters were flat and unlikable, with repetitive and predictable inner dialogue and actions that made little sense. And I'm not sure if I've been reading too many thrillers lately and can no longer be surprised, or if this one was just that poorly hidden, but I spotted the twist quite early. Not only was it obvious, but it was pretty outlandish (and something that's been done before). I can see others liking this book, but it wasn't a personal favorite.
My Rating: 2.5 stars.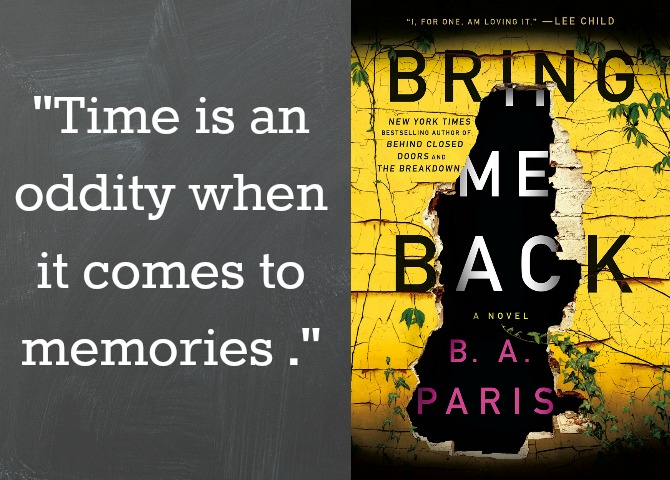 ---
The Lying Game, by Ruth Ware: Isa Wilde is in her early thirties and mom to a baby girl. Her school days—and the trouble she got into back then—are long behind her. But the past comes back to haunt her when she receives an ominous text message from one of the three women who know the secrets she has been concealing for years. Isa joins her friends Fatima and Thea in leaving her London home to reunite with Kate, the fourth member of their clique, at her house on the coast. At one time the four girls were inseparable, united in their infamous game of telling lies. But a tragedy occurred that separated the girls—and now, two decades later, they must deal with the ramifications of that tragedy and the many lies they have told to conceal it.
The Lying Game is an atmospheric mystery with a dark tone and deep, introspective prose. Isa is a compelling narrator and I was intrigued by her reflections on her past decisions and how they have shaped her. The fierce love she feels for her daughter, and her observations about life as a new mom, were a definite highlight for me. The other characters are also quite well drawn and build upon each other in disturbing but also suspenseful ways.
The story itself didn't really work for me. The premise is great, but Ware takes her time ambling tediously to the mystery, building up the suspense for a reveal that is extremely anticlimactic. We get some interesting character studies along the way, but I was hoping for more of the plot twists and excitement that made The Woman in Cabin 10 such a great read.
My Rating: 3 stars.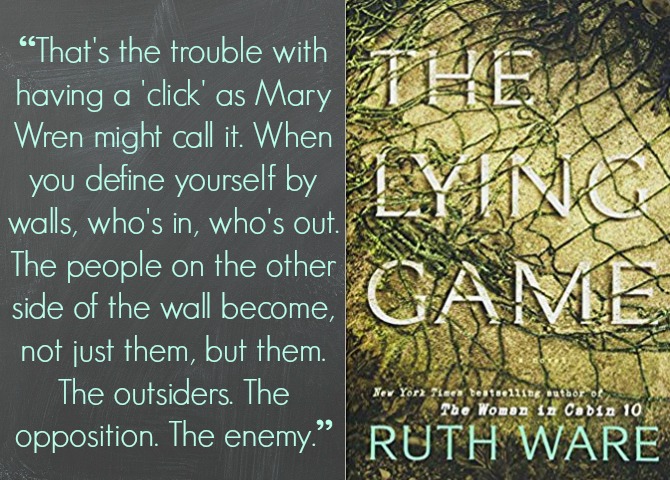 ---
God Save Texas: A Journey Into the Soul of the Lone Star State, by Lawrence Wright: I heard Lawrence Wright interviewed on the New York Times Book Review podcast a while back and was intrigued. He was a liberal Texan who spoke with great knowledge, disdain, and begrudging attachment to his home state; I wanted to know more and was eager to read his book.
God Bless Texas follows an interesting format: part autobiography, part history book, part political commentary. In assorted chapters about the "soul" of the Lone Star State, Wright takes readers on a journey through Texas history, landing in the contemporary political landscape. Wright demonstrates where Texas stereotypes have gone wrong, proving that the state is much more diverse and forward-thinking than Western films and Country songs would have us believe. Wright highlights the dichotomies within the state that leads the nation in oil AND technology exports, is a cultural melting pot yet resides in the heart of Trumpland, and espouses conservative viewpoints while heavily influencing forward-thinking culture in our nation. Wright spends quite a bit of time expounding upon the state's political evolution, specifically its key players (including, most intriguingly, the Bush family).
I found the factual portions of this book quite interesting: I have a lot to learn about this state which I now call home, and this book served to fill in quite a few of my knowledge gaps. It was also fun to spot specific places with which I am now quite familiar; Wright resides in Austin, so many of his references literally hit close to home.
I was less thrilled with Wright's commentary and perspective; he spends a majority of the book unleashing his complaints with the state—his biggest being that it doesn't align with his extremely liberal viewpoints. He portends to take a journalistic stance, but his thoughts on fiscal spending, gun rights, and religious liberties are overpowering. Wright claims a deep affection for his home state, but has almost nothing good to say about it. As his grievances compiled, I waited patiently for some redemptive conclusion, but it never came.
Since moving to Texas, I too have been struck by its idiosyncrasies. In many ways the state aligns with my own beliefs and culture, in other ways it is completely foreign. I understand many Texans' complaints that the state is being turned into "another California" because its similarities to my own home state are part of why I feel comfortable here. However, I love a lot of what makes Texas unique. In a way, I too have dichotomous feelings about Texas but for reasons very different from Lawrence Wright's.
My Rating: 3 stars.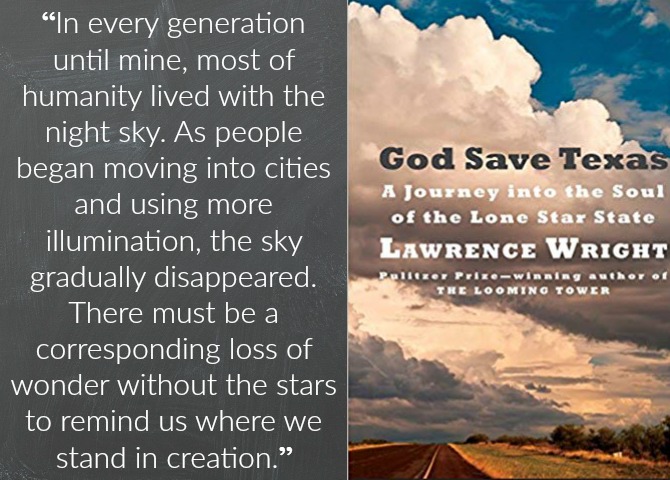 ---
Have you read any of these titles? Would you? I'd love to hear your thoughts!