It didn't feel like a banner reading month for me when I was in it, but looking over the titles I read in the last several weeks, I can see that my reading time was decently well spent. I read some great books, as well as some books that may be just right for you. I'll let you read my reviews to determine that for yourself.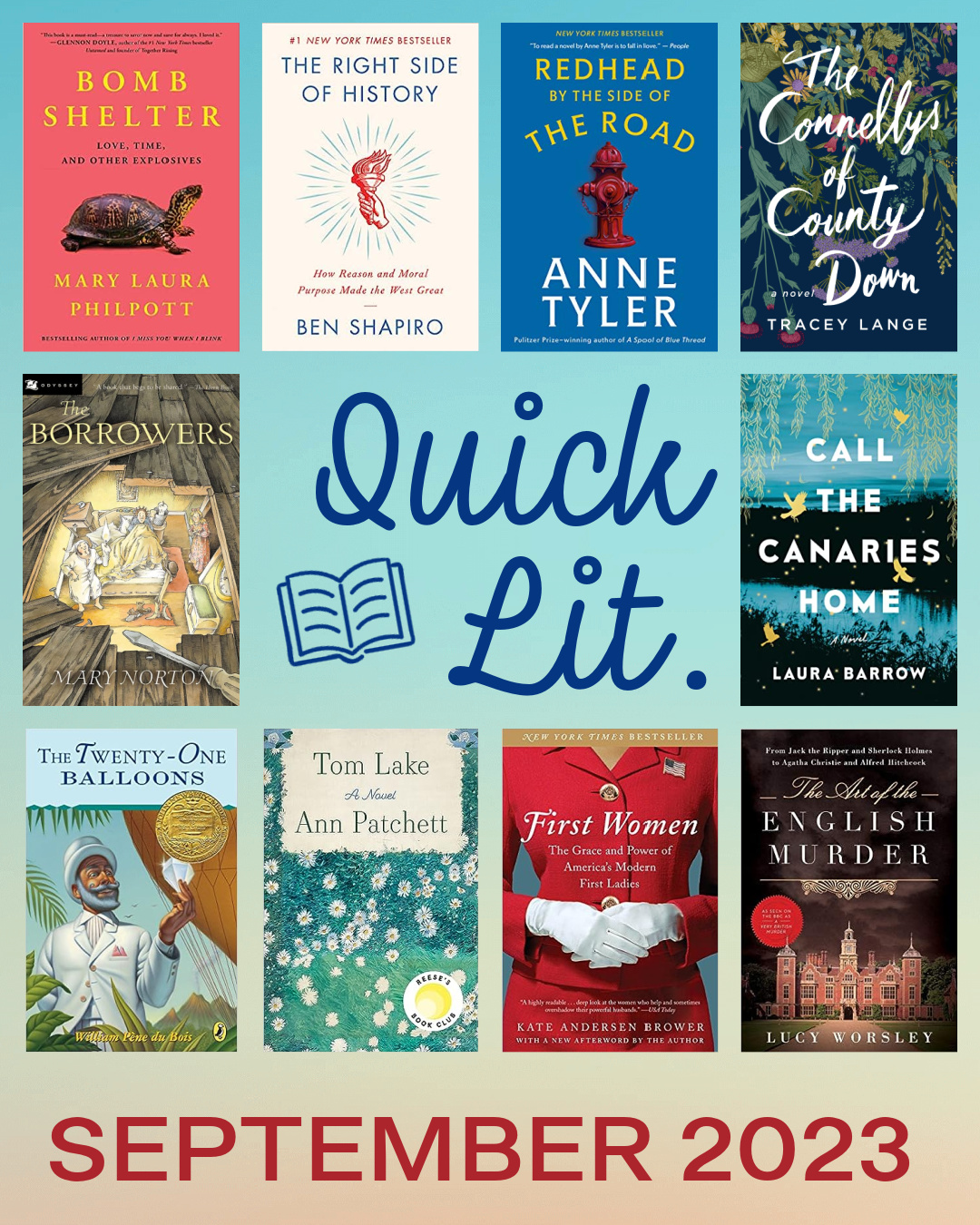 FICTION
Call the Canaries Home, by Laura Barrow: Twenty-five years ago, sisters Savannah, Rayanne, and Sue Ellen buried a time capsule in their backyard as a way of honoring their late mother and Savannah's identical twin sister, Georgia, who had gone missing when the girls were just four years old. Now the three sisters are in their thirties and have little to do with one another, but they have agreed to return to their Louisiana hometown to unearth the capsule and spend time with their extremely prickly grandmother, Meemaw.
While the oldest two sisters are eager to be done with the weekend and move on, Savannah is determined to reopen the investigation of her missing twin. In doing so, the sisters are forced to confront and grieve childhood grudges and hardships as they come face to face with the harsh realities of their youth and answer the question of whether or not family, as their grandmother insists, really is everything.
As much as I wanted to love this sweet story, it just didn't work for me, from the overwritten prose to the disjointed narrative. The mystery element—the book's biggest selling point—doesn't appear until nearly half way through the novel, and its resolution is not very satisfying. The story is told from the points of view of the four main characters (the three sisters and their grandmother), and their voices were impossible to distinguish from one another. The three sisters did not pull me in in any way, and I kept wishing they would just get over themselves and grow up; on the other hand, their grandmother is an interesting figure, but her behavior is too over the top to be believable. There are also many side characters whose names bled together and whose appearance did not add to the reading experience.
It's rare for me to go into a book blindly, as I did this one, downloading it for free as an Amazon Prime deal. I was anxious to "discover" an under-the-radar gem but what I found was underwhelming. Not an entire waste of time, as I did appreciate the themes of forgiveness and redemption and was glad for the lack of gratuitous sex or swearing, but far from a standout read, and one that left me far more sad than hopeful.
My Rating: 3.25 Stars (Rounded to 3 stars on Goodreads) // Book Format: Kindle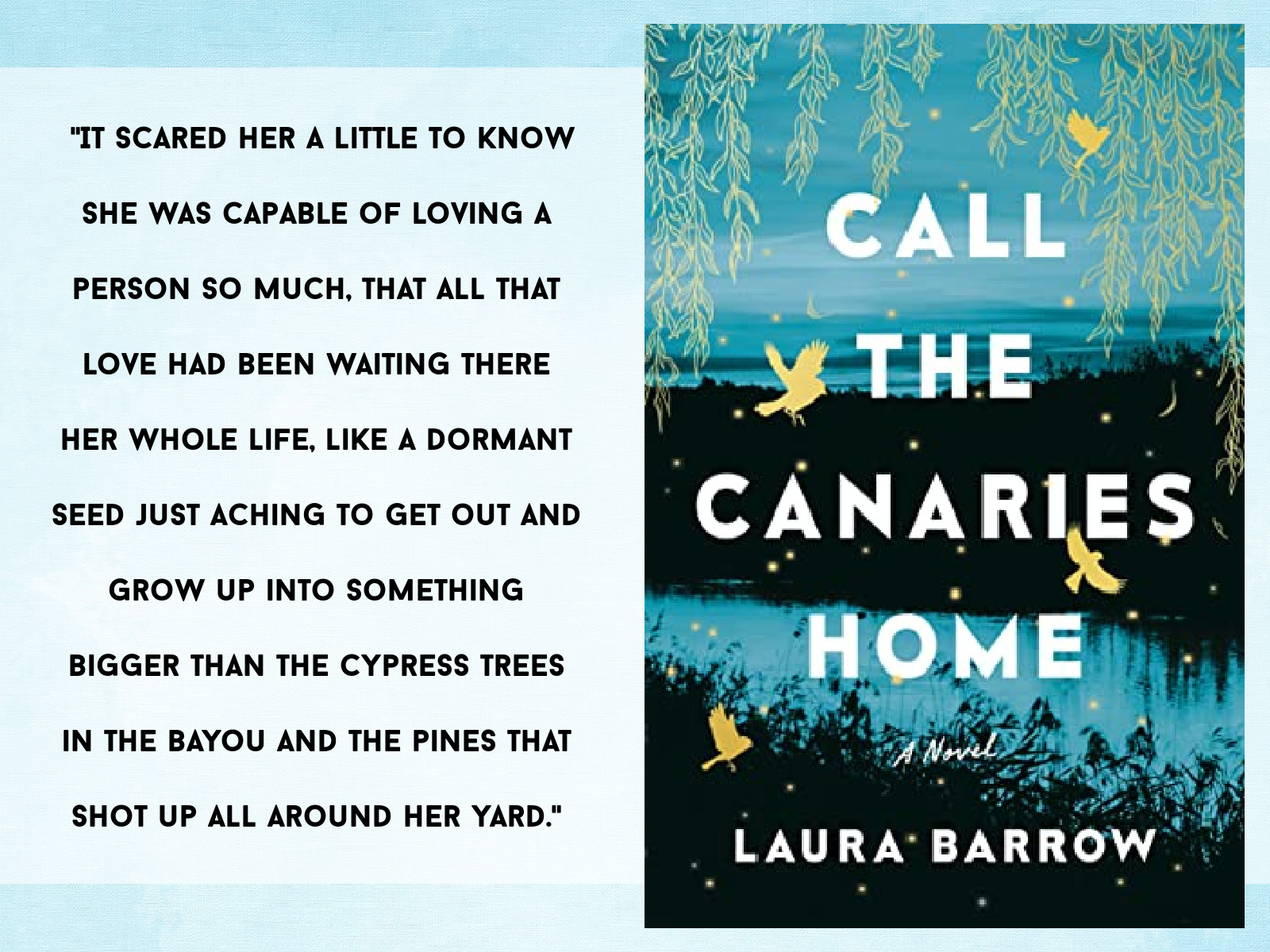 ---
The Twenty-One Balloons, by William Pene DuBois: This childhood classic is on my list of all-time favorites, and I've been itching to read it with kids of my own in the decades since I first read through it with a group of students in my tutoring days. It was our first read-aloud of the school year and was a total hit with the kids, and fun to return to myself!
Published in 1947, The Twenty-One Balloons tells the story of a professor who decides to spend his retirement floating above the sky in a hot air balloon. His trip is cut short when his balloon crashes in the middle of the ocean, on the island of Krakatoa—which happens to be inhabited by twenty families who have discovered fortune on the island and established their own utopia, replete with fantastic inventions, international cuisine, and an orderly and welcoming community. We know from the beginning that Professor Sherman's time on the island ended in disaster. . . this is the story of what occurred to that fated island.
This book is delightful in every way! With charming illustrations, a quirky premise, tongue-in-cheek narration, and a setting every child (and adult) would LOVE to make their home, it is a feast for the imagination. I have to admit that the book gets off to a slow start and has some sections that are a little tedious (all the scientific/mathematical explanations of balloon travel are not exactly riveting), but it is still every bit as wonderful as I remembered it. Charleston and the twins also really liked this, and with all the geographical, historical, and mathematical references, it provided some excellent interdisciplinary learning opportunities.
I cannot believe this was never made into a film; it's been less than a century since it was published, I'm still holding out hope for a remake!
My Rating: 5 Stars // Charleston's Rating: 4.75 Stars // Book Format: Print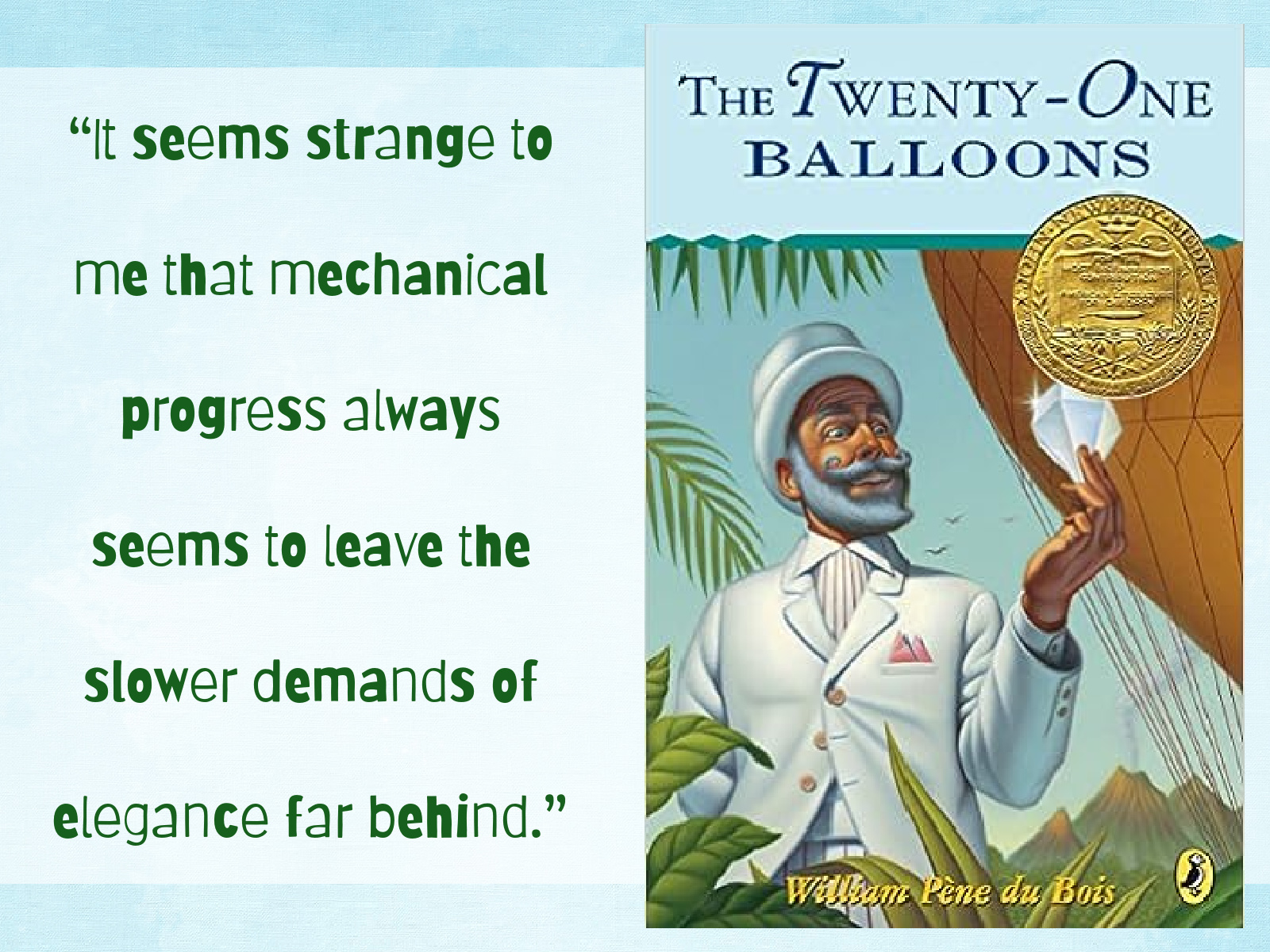 ---
The Connellys of County Down, by Tracey Lange: Prospects don't look great for Tara Connelly, who has just been released from prison after serving eighteen months for drug trafficking. She is returning to the childhood home she shares with her high-strung older sister (Geraldine); her brother (Eddie), who suffers from the aftermath of a traumatic brain injury; and Eddie's son (Conor) whom Tara adores, and whose mom is not in the picture. Tensions are high between these siblings, who have seen each other through one too many tragedies and may not recover from this one. But when Brian, the police officer responsible for Tara's conviction, shows up at the prison on the day of her release, Tara finds herself in a new story that could go well, or horribly wrong.
I enjoyed Lange's debut and was really excited about this sophomore novel, but it was a letdown. I liked these characters, whose story is unexpected and whose evolving dynamic is intriguing, but the writing style is disjointed and the plot relies too heavily on bizarre and unbelievable coincidences. Many plot threads rely on failure-to-communicate, which is something I loathe in fiction. (Can't we all just agree to tell each other the truth?)
This book does have a couple of things going for it that set it apart from similar books: I really loved the dynamic between Tara and her nephew, and between Brian and his aunt, which offer a fresh and inspiring view of pseudo-parenting, and I enjoyed reading about Tara's artwork. Tara's prison experience was eye-opening for me, as I haven't read much about female incarceration and life on parole. And Eddie's experience with a traumatic brain injury was interesting to read about, and not something I've seen in other books. Another presumably unique theme in this book is hoarding; weirdly, though, I've read about hoarders in at least three other novels this year—talk about a strange publishing trend.
I can see I'm in the minority in not loving this book that has great reviews, and if you are a fan of messy family stories with a romance at their center and a touch of mystery woven through, you might like this. If I had gone in with lower expectations, it might have worked better for me.
My Rating: 2.75 Stars // Book Format: Kindle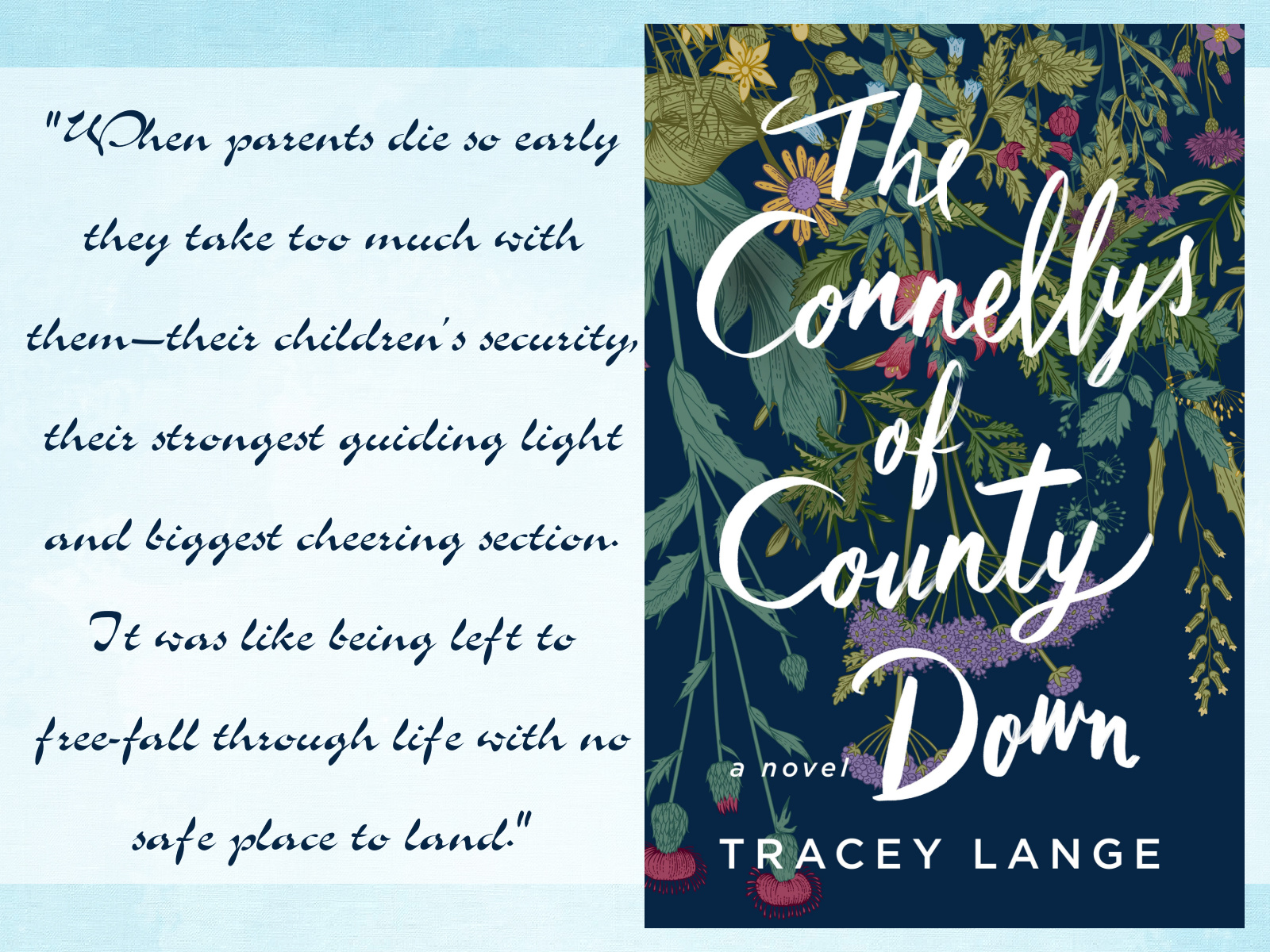 ---
The Borrowers, by Mary Norton: Homily and Pod Clock, and their teenage daughter Arrietty, are not like other families. For one thing, they have no extended family or friends, as all moved away long ago. For another, they spend their days foraging for food, furniture, and anything else they need from the house beneath whose walls they have made their home. And then, of course, is the fact that they are tiny people, hardly larger than mice. Homily and Pod are comfortable with their way of life, but Arrietty longs for more, and when the family is discovered by the "human beans" off of whom they live, they have no choice but make some changes.
This is a book I've known about since I was a child, but had never read, and I was excited to read it aloud with the kids. It was a little less fantastical/imaginative than I expected: of course it is fantasy, but some of the themes are pretty deep—themes of unfulfilled dreams, the meaning of family and home, the place we hold in this world and how we relate to those who are different from us, and the timeless challenges inherent in the parent-teen dynamic. I liked the chance to explore these issues within the context of a sweet adventure story.
The prose here is fairly old-fashioned, which the kids didn't love, but mostly we really liked this one (but probably not enough to continue with the series).
My Rating: 4 Stars // Charleston's Rating: 4 Stars // Book Format: Print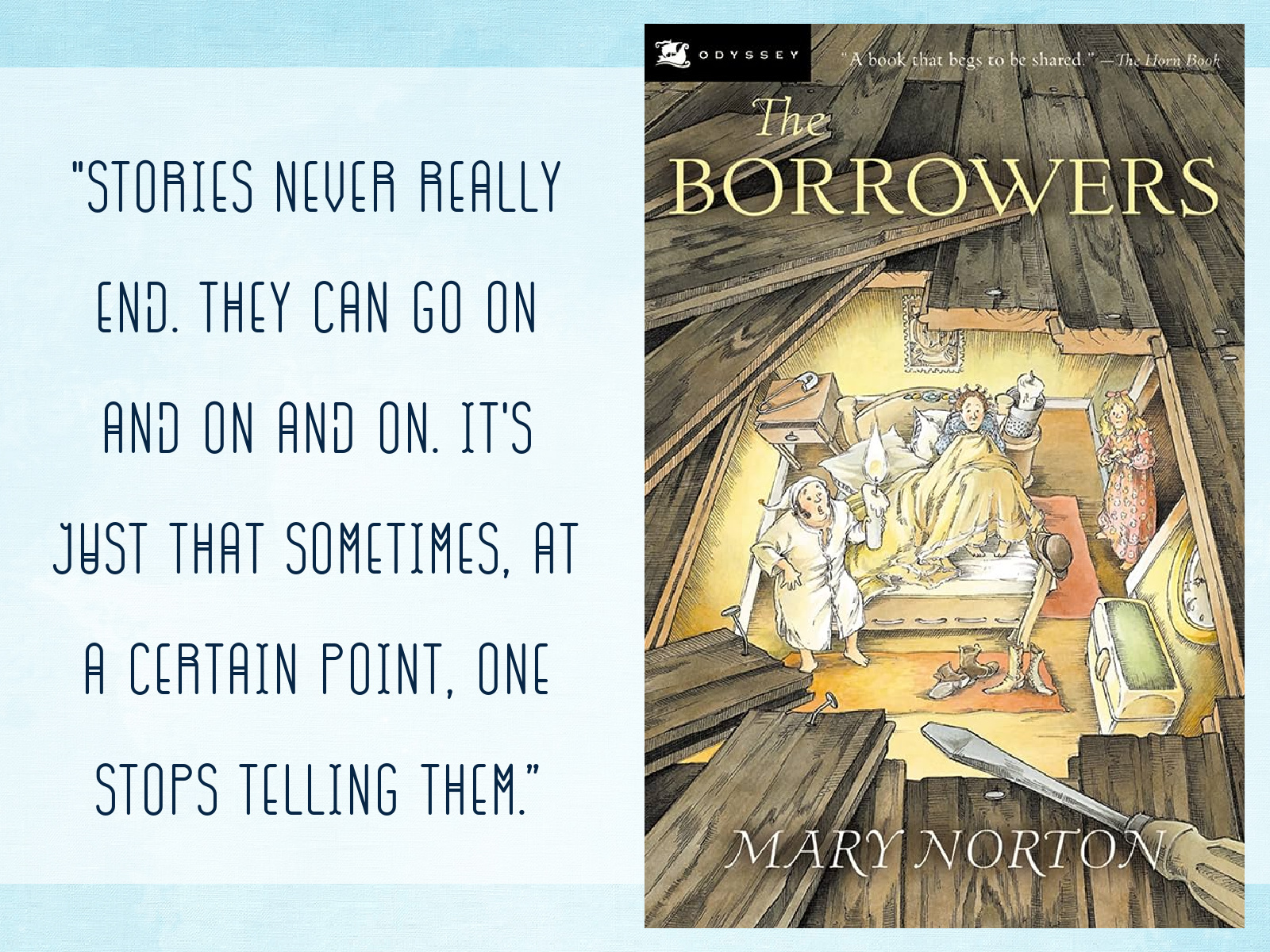 ---
Tom Lake, by Ann Patchett: In the spring of 2020, Lara's three young-adult daughters have returned home to the family's cherry orchard in Northern Michigan. During long days spent picking cherries, Lara recounts her love story with Peter Duke, a famous actor with whom she shared a stage three decades earlier—long before he became a household name. The backdrop for Lara and Peter's summer affair was a Michigan theater company called Tom Lake, and Lara's story transports her daughters to that simpler time that would go on to change the trajectory of her life. The weeks of storytelling and cherry-picking and quarantining mark a new era in this family as the girls come to see Lara in a new light, and Lara must reckon with past decisions and present realities.
This novel was somewhat of a slow start, but once I caught on to the narrative I fell HARD. I was utterly mesmerized by the bucolic setting(s) that felt cozy, comfortable, and even idyllic despite the hard circumstances and emotions being shared. I can't quite explain why a "COVID novel" felt like a comfort read, but something about the simple family rhythms, the intimate farm and beguiling camp, the elegiac prose—it tapped into my own nostalgic centers in the most inexplicable yet very welcome ways. I did not want this book to end! I adored this family, who felt so real to me, and found myself grateful for their chance to rediscover one another through the timeless art of storytelling.
Lara's backstory is equally interesting and enchantingly told. Though I have zero familiarity with Our Town (the play at the center of the novel that features heavily into much of the narrative), I was drawn to the theater aspects of this story and the interplay between "fact" (as presented in the novel) and fiction. With the summer theater elements and Hollywood connection, this reminded me quite a bit of Good Company (which is interesting because The Nest, also by Cynthia D'Aprix Sweeney, reminded me a great deal of Patchett's Commonwealth).
There are a few aspects of the story that I could have done without (to say more would give away crucial plot points, but they relate to a Leftist agenda) but mostly I loved this endearing family story that is thought-provoking, insightful, and oddly hopeful. I haven't stopped thinking about it, or chasing after that feeling I had while reading, since I finished three weeks ago. (And also. . . I will probably never eat another cherry without thinking back fondly to this book.)
My Rating: 4.75 Stars (Could be convinced to round it to 5 stars after sitting with it a little longer.) // Book Format: Print (I've heard great things about the audiobook read by Meryl Streep.)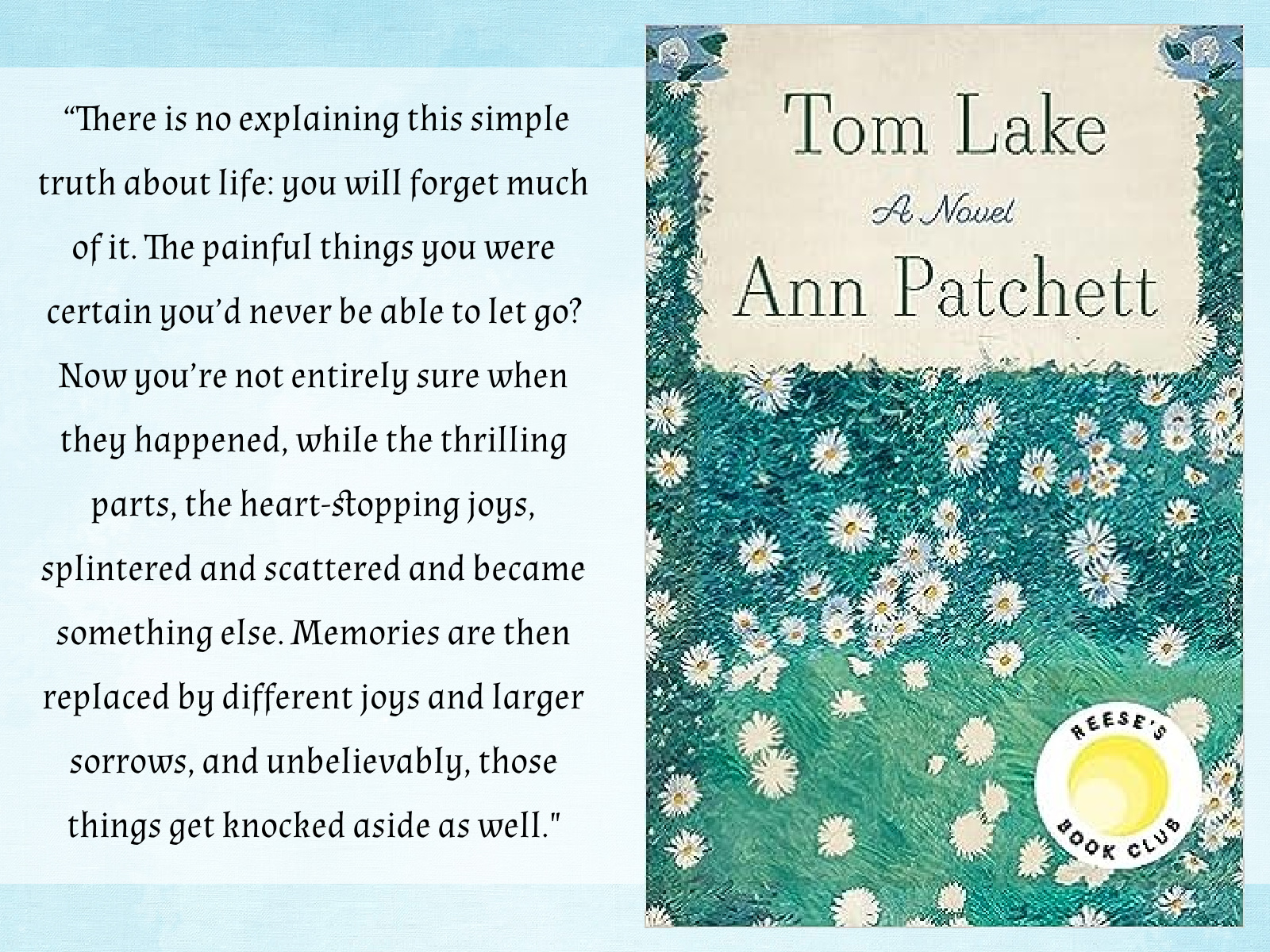 ---
The Redhead by the Side of the Road, by Anne Tyler: Micah Mortimer leads an extraordinarily ordinary life—and he likes it that way. He's not exactly happy, but he has no reason to complain about any of it: his neat-as-a-pin apartment, his daily morning run, his self-employment as a tech guru and side work as superintendent of his apartment building, his comfortable relationship with his Cass, his "woman friend" (NOT girlfriend—they're middle aged, after all, and far too old for such terms). . . . Micah's predictable routine gets a shake-up when Cass is faced with eviction, then a preppy teenager shows up claiming to be Micah's son. The changes, though small at their surface, force Micah to reevaluate his routines, his history, and himself. Is there something more to life than leaving the smallest possible footprint? Is he capable of desiring—let alone attaining—something more?
I had no idea what to expect from this title, but having some previous familiarity with Anne Tyler I suppose I should have known what was in store: rich character development, huge life shifts hinging on tiny moments, aspects of found family, eccentric (but very believable) side characters, taut prose . . . . There's little in the way of plot, yet I really loved this commentary on how we perceive our worlds and are perceived by others, the way we take things for granted, and how the little things matter. The older I get, it seems the quieter and more literary I like my novels; no surprise, then, that this one was totally up my alley. The story and its protagonist are a little quirky, but in ways I found almost uncomfortably relatable. (This is very much the story of an Enneagram 1 considering a bigger life, apart from the predictability and order—something I know a lot about!) The wry humor and heartwarming love story at the book's center are the stars of this novel, and at under 200 pages it is a quick and intensely satisfying read.
My Rating: 4.5 Stars (Rounded to 4 Stars on Goodreads) // Book Format: Print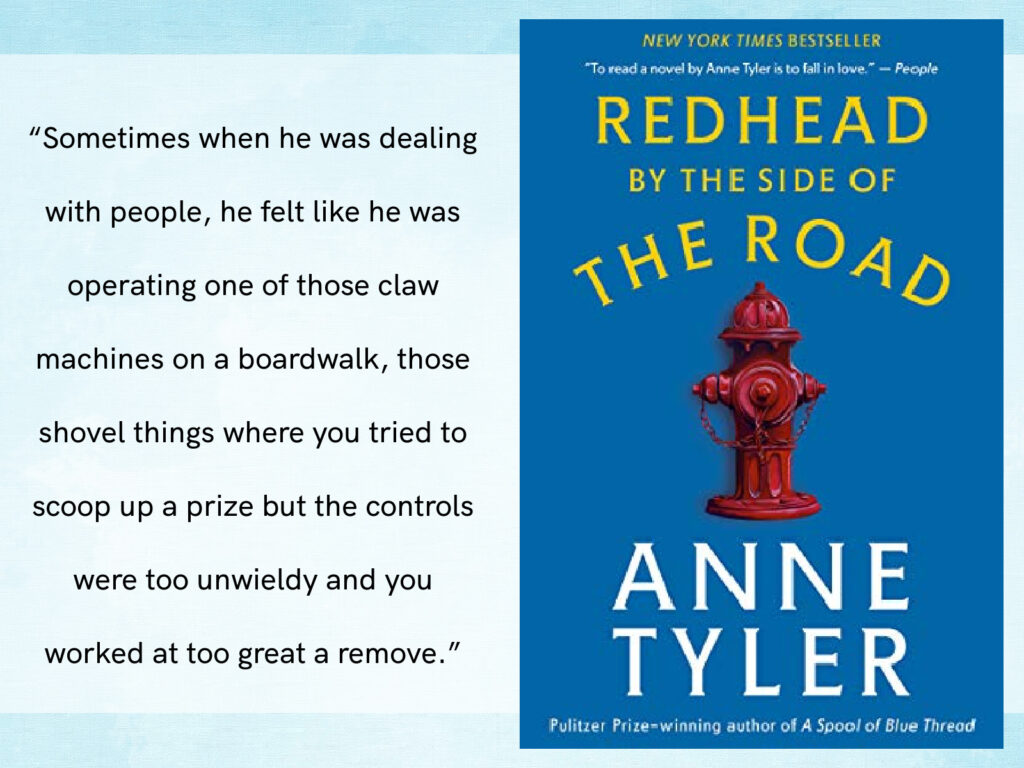 ---
NONFICTION
First Women: The Grace and Power of America's Modern First Ladies, by Kate Andersen Brower: Every sitting president of the United States has been accompanied by a First Lady. (Even when the President was unmarried or widowed, a female relative was chosen to fill the position.) However, while the President is always in the spotlight, the First Lady often goes unacknowledged and under appreciated. In this book, a former White House correspondent pulls the curtain back to reveal the inner lives of the modern First Ladies. Drawing from interviews with White House staff, political advisors, secretaries and friends, Brower gives us the inside scoop on these women: their challenges, struggles and joys; their relationships with their husbands, children, the American population, and one another; and the ways each woman has defined this role for herself.
Before reading, I somehow missed that this book focuses only on the modern First Women, from Jackie Kennedy through Michelle Obama. I would have liked to learn about previous First Women as well, specifically how the title and role have changed throughout history. I also wanted more depth: the tone of this book is gossipy and the facts are interesting, but mostly frivolous. We are given little insight into the First Women's experiences beyond what others say about them, and while I liked the newsy bits, I wanted depth.
I was most interested in the relationships among the First Ladies—the friendships between some and animosity between others (not always along party lines, which I found interesting); I would have expected a stronger sisterhood among these women and was saddened by the pettiness displayed by many of them. The personality variances in the women also surprised me (though I guess it shouldn't have, given how different each of our presidents has been!), as did their wildly disparate feelings towards life in the White House.
The author clearly has her favorites, and is unafraid to portray some of the First Women in an unflattering light. Michelle Obama—who apparently despised her time as First Lady—is given particularly harsh treatment, whereas Lady Bird Johnson, Betty Ford, and Jackie Kennedy are placed on a pedestal. There is little page time given to Laura and Barbara Bush, and Nancy Reagan is portrayed as very unlikable.
I like the premise of a book about the First Women more than the book itself, which was too long, too repetitive, and too poorly organized (by theme rather than chronologically). However, after listening I do feel I have some insight into the challenges of White House life and a greater appreciation for each of these women.
My Rating: 3 Stars // Book Format: Audiobook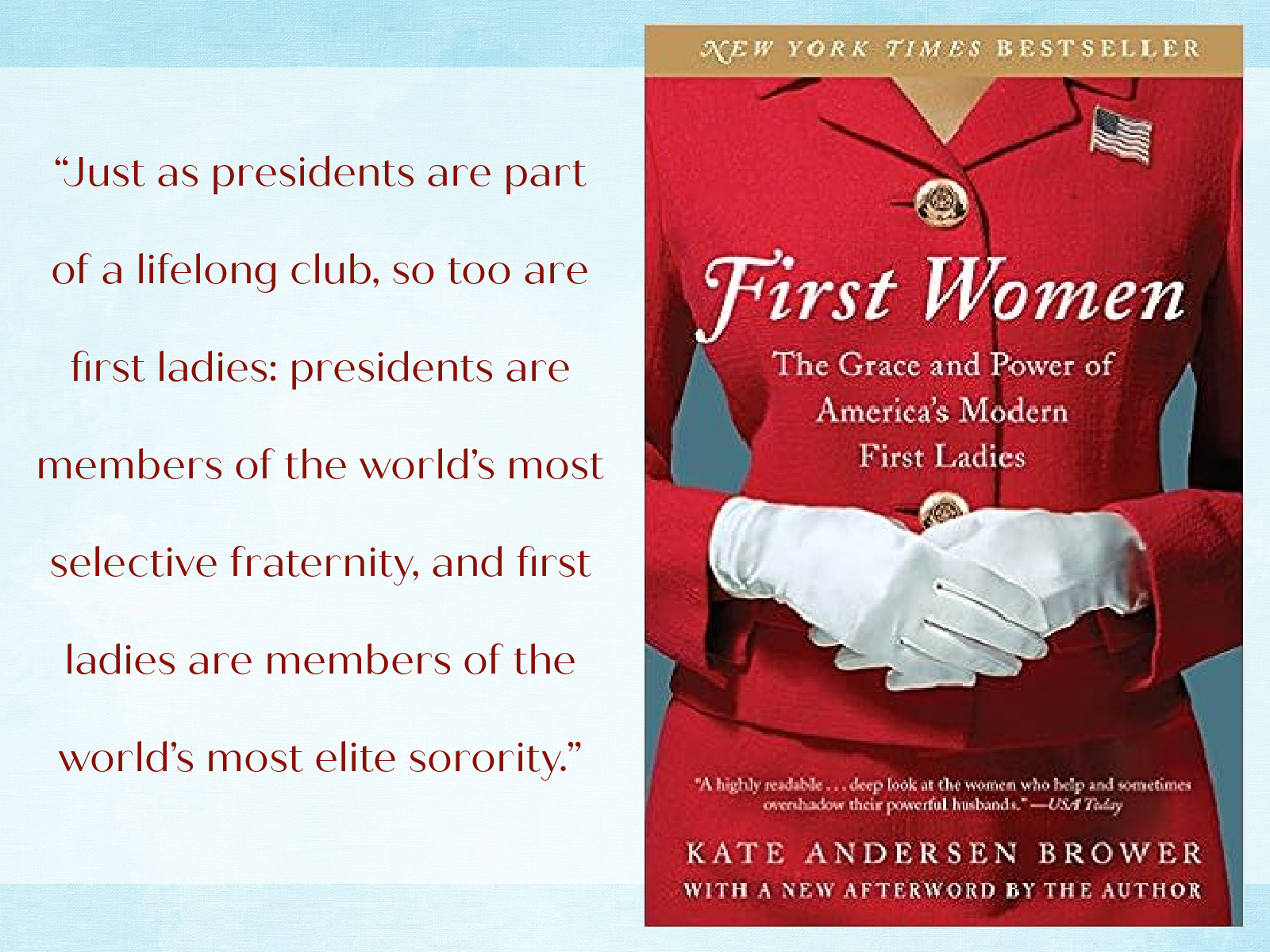 ---
Bomb Shelter: Love, Time, and Other Explosives, by Mary Laura Philpott: Even as a child, Mary Laura Philpott carried an ongoing sense of foreboding, yet she was also a perpetual optimist—she assumed that somehow, that undercurrent of anxiety would keep those she loved afloat. Then her greatest fear become a reality when she found her teenaged son seizing on the bathroom floor in the middle of the night. Her son survived, but his new diagnosis and the inevitable changes it meant for their family brought a lifetime of fears to the surface. The pivotal experience with her son led her to wonder how, in her years of worrying, she hadn't predicted what would happen? How might she continue to cope in the future, releasing her unrealistic desires to protect her her loved ones? Philpott explores these emotions and disasters (real and hypothetical) in the midst of the COVID pandemic, when everything is out of her control—exactly where she has tried, all her life, NOT to be.
This poignant memoir in essays is earnest, subtly comedic, and heartstoppingly relatable. I share Mary Laura's controlling tendencies and saw much of myself in these pages. Her writing about motherhood is some of the most beautiful I've read; I wept through her candid reflections on the fleeting nature of motherhood and how, despite the incomprehensibly enormous love we hold for our children, we cannot protect them or hold on to them or predict their futures. I also appreciated her thoughts  "middle age" as I am just a few years behind her and was encouraged by the ways she has been able to make peace with  the unglamorous aspects of aging.
Mary Laura Philpott is not (to my knowledge) a Christian, and as I read about her worrying and anxiety, I felt sad that she has not experienced the same hope that I find through my faith in Christ. I relate to her writing and her brain wiring, but our approaches to life and our views on the world are extremely different, and I found myself wishing she could experience the peace I've found.
I'm not usually one to give strong content warnings, but I will here because the depiction of Mary Laura's son's seizure is one of the most terrifying things I have ever read (especially since I witnessed a nearly identical incident with a close family member when I was young). I am personally glad that I read this, but if you have a hard time reading about occurrences like the one with Mary Laura's son, or if you tend to be excessively worry-prone regarding your own children, you may need to skip this book.
My Rating: 4.25 Stars // Book Format: Audiobook (Read by the author, though I don't know if she was the best choice for narrator. I would have enjoyed this more on Kindle or Print.)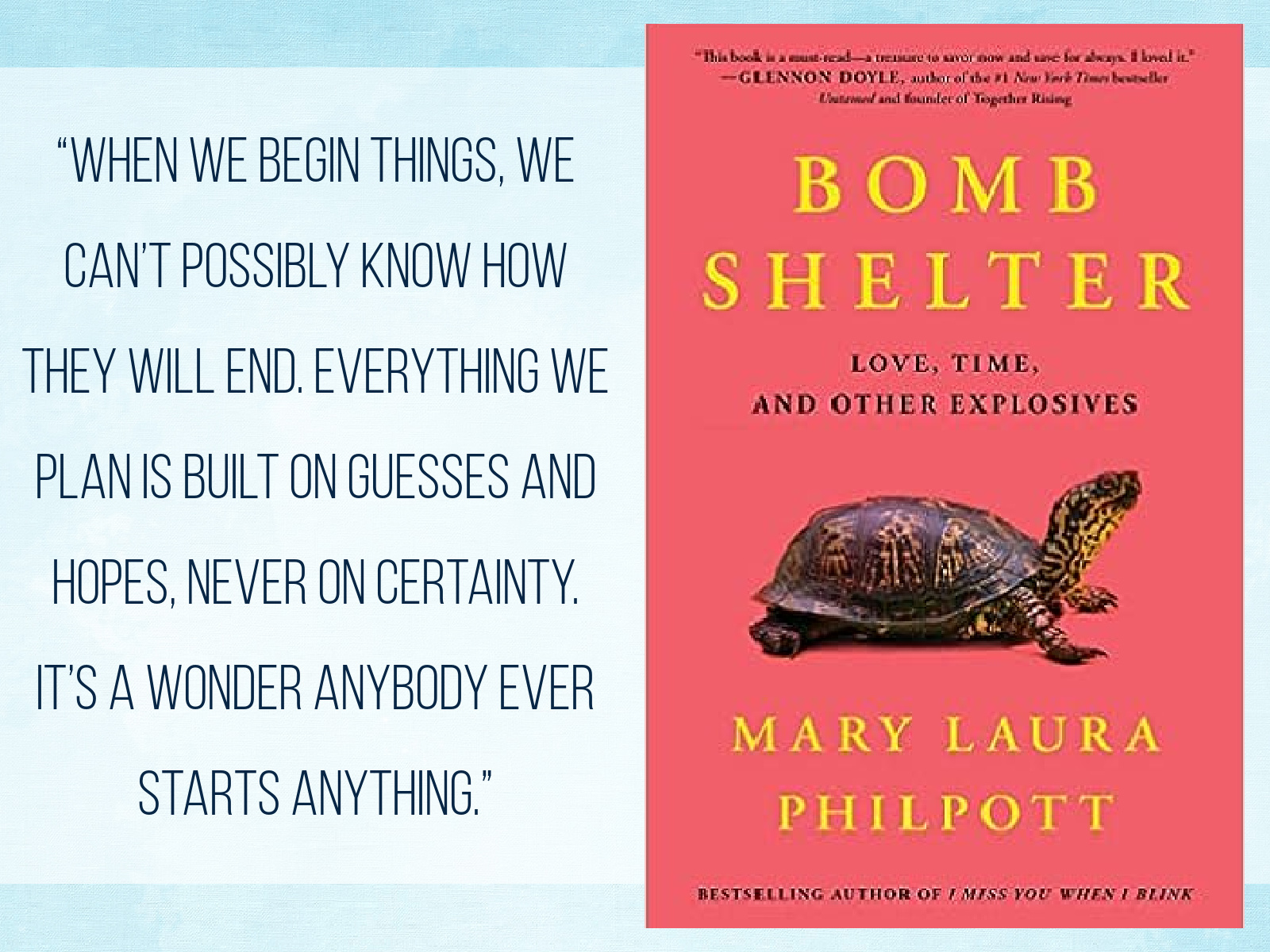 ---
The Right Side of History: How Reason and Moral Purpose Made the West Great, by Ben Shapiro: In observing the world (and American politics and culture in particular) more closely in recent years, I've gradually become aware of how our societal flourishing is built upon Judeo-Christian ideals. These principles and values are our foundation, yet they have largely gone out of vogue—but those who would do away with these cornerstones seem oblivious to the reality that without this foundation, the benefits too will vanish. When I picked up this book (which Luke had read and recommended), I had no idea that its very premise was this same concept I have been pondering, and I was glad for Shapiro's astute insight.
I can't do better than this publisher's blurb to describe the book: "In The Right Side of History, Shapiro sprints through more than 3,500 years, dozens of philosophers, and the thicket of modern politics to show how our freedoms are built upon the twin notions that every human being is made in God's image and that human beings were created with reason capable of exploring God's world." Shapiro (who is Jewish) shows how Biblical understanding of happiness and purpose, combined with Ancient Greek philosophy and reasoning, united to inform the American framework that takes into consideration communal AND individual purpose and capacity.
This answers the first mystery presented in the book (why are things so good?). Shapiro answers the second mystery (why are we blowing it?) through an examination of how foundational principles are being replaced by tribalism, hedonism, strident individualism, and moral subjectivism. Though demoralizing, the book ends on a high note with suggestions for how we can begin to rebuild what has been lost.
This book is DEEP and covers a lot of ground at a rapid pace (would we expect any less from Ben Shapiro?). I began on audio but quickly started over on Kindle so that I could track with the intricate history (specifically the many philosophers and their espoused ideas). Though it's heady material, Shapiro does an excellent job of consolidating and elucidating complex ideas. Nuance is not Shapiro's forte, and some of the principles are over-simplified, but I appreciated the hand-holding, as many of these names and philosophies were new to me.
I would need to reread this a few times to absorb more of its specifics, but even this initial reading gave me a more robust understanding of what is going on with culture and why things have gotten off track. Sadly, this book feels even more relevant four years after it was first published (2019). Though I don't always agree with Ben Shapiro's stance or approach, he is right on target with this book.
My Rating: 4.5 Stars (Rounded to 5 Stars on Goodreads) // Book Format: Kindle (Would NOT recommend attempting it an audiobook, unless you're willing to slow down your speed to maybe .75.)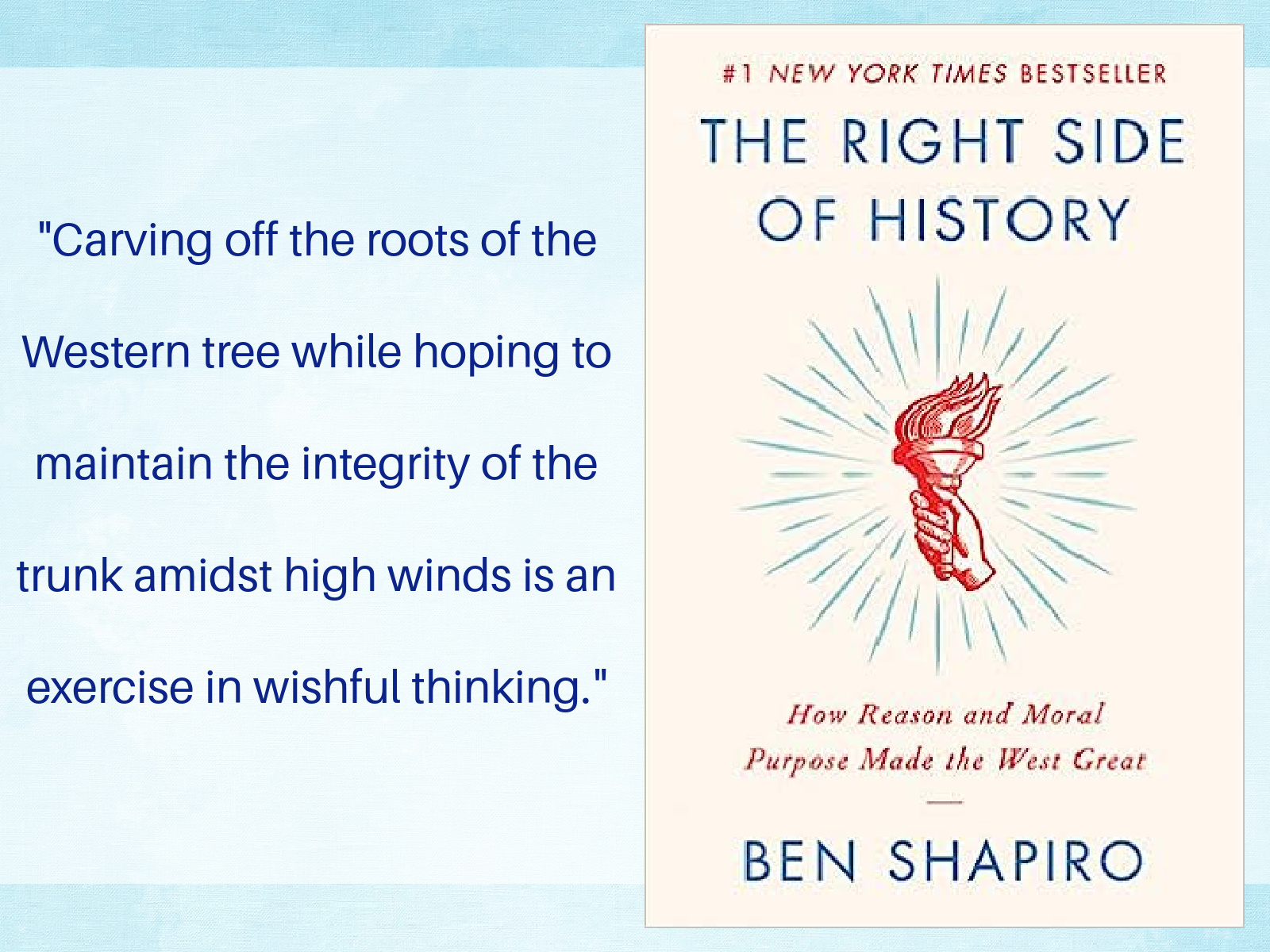 ---
The Art of the English Murder, by Lucy Worsley: Having cut my literary teeth on Agatha Christie novels, I've always taken the entertainment value of a murder mystery for granted. But crime and death have not always held such intrigue. In this look back at English history over the last couple of centuries, historian Lucy Worsley traces the English fixation on fictionalized crime back to its true crime origins. As Worsley states in her introduction, "this isn't really a book about real-life murders, or the history of crime — although that's certainly part of the story. Instead, it's an exploration of how the British enjoyed and consumed the idea of murder, a phenomenon that dates from the beginning of the nineteenth century and continues to the present day."
Worsley examines some real crimes that took place in nineteenth-century England and shows how these true stories worked their way into the works of Agatha Christie, Dorothy Sayers, and other iconic British crime novelists. She also postulates the ways in which fictional crimes reflect our deepest societal fears back to us as readers, and what that says about our habits, our psyches, and our interpretations of the world.
This is such a great subject matter, and aspects of this were really interesting. I especially enjoyed the biographical glimpses into authors I love. But something about this book didn't pull me in like I wanted it to. Perhaps the author was attempting to cover too much ground in too few pages; maybe it was the dry audio narration that zapped my attention; or maybe I would have just rather have been reading one of the great classic mysteries than reading ABOUT them. Regardless, this wasn't a huge hit for me but I'm glad that I read it and really has given me a deeper understanding of crime fiction and especially British mystery novels.
My Rating: 3.5 Stars (Rounded to 3 on Goodreads) // Print format: Audiobook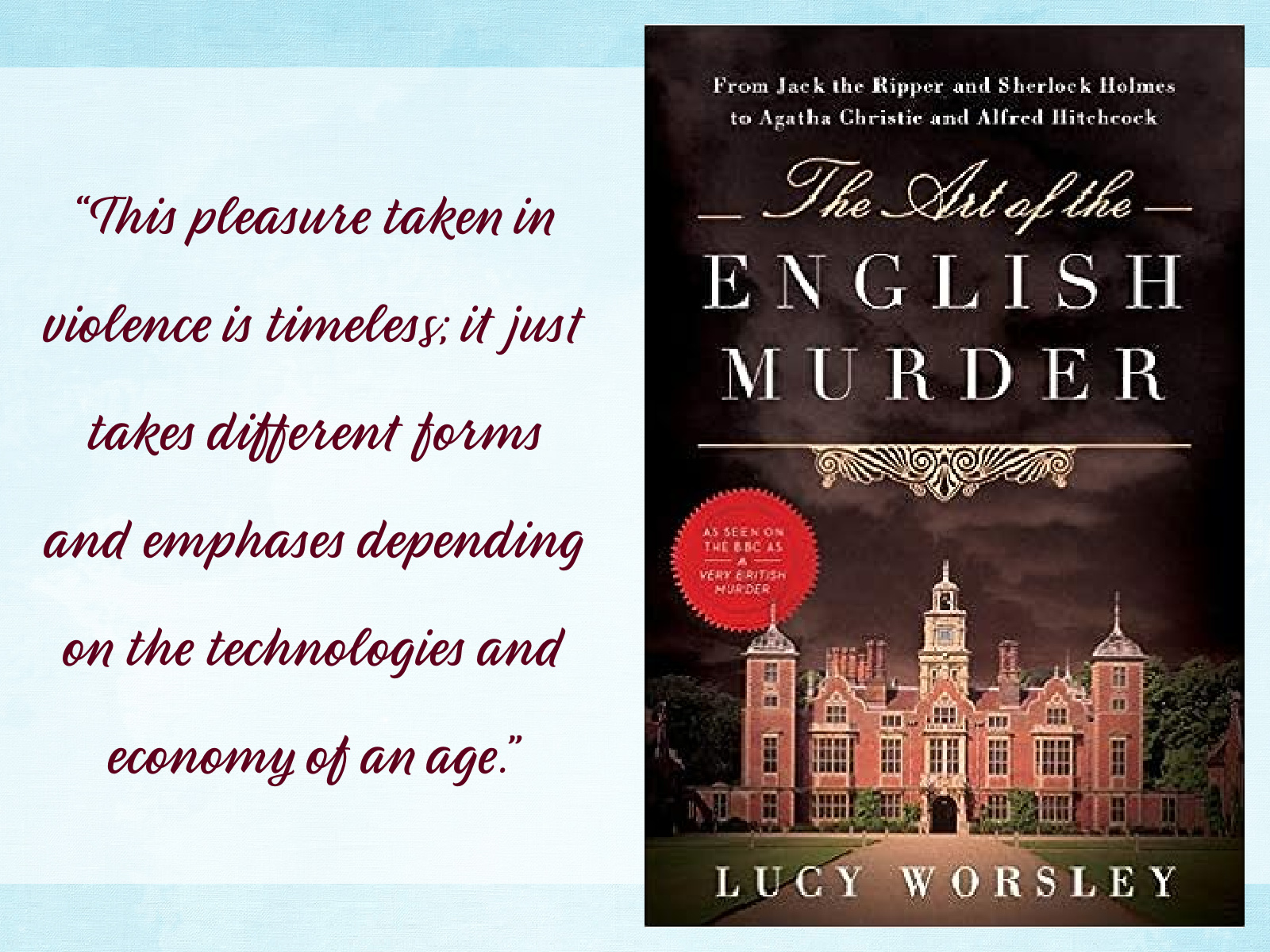 ---
Have you read any of these books? If so, I'm eager to hear what you thought!