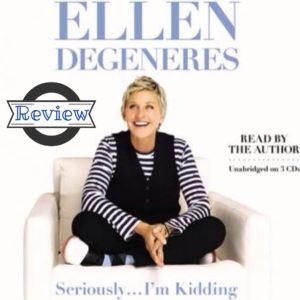 I am a huge fan of audiobooks.  I'll listen to almost any type of book, but some of my favorite reads (listens?) have been celebrity memoirs.  The biggest draw with this brand of audiobooks is that celebrities tend to be very engaging readers.  From Tina Fey's Bossypants to Betty White's If You Ask Me: (And of Course You Won't), I've enjoyed a good number of audiobooks from this genre; so much so that I've gotten to the point where I will listen to the memoir of almost any celebrity, even if I don't really know much about them.
Which leads me to Ellen Degeneres.  Prior to reading Ellen's latest book, I knew exactly three things about the actress: 1) She was the voice of Dory in Finding Nemo; 2) She is married to Lindsay from Arrested Development (aka Portia de Rossi); and 3) She was a judge on American Idol (a show I have yet to watch).  I think I had heard something about Ellen having a daytime talk show, but I wasn't sure.  Anyway, after listening to Seriously . . . I'm Kidding, I don't really know much more about Ellen Degeneres.  But I was definitely entertained!
For readers hoping to get a peek into the life and person of Ellen Degeneres, this book is sure to disappoint: Seriously. . . I'm Kidding contains very little autobiographical information beyond brief references to the actress's career highlights.  However, if you're looking for the book version of stand-up comedy routine, this audiobook is for you.  Not many books have me laughing at the Acknowledgment  section, but this one did.  And Ellen's quirkiness and wit kept me chuckling up to the final page.  With entire chapters dedicated to topics like the Swiffer, and other (briefer) chapters written in the form of a Haiku or a Tweet, Ellen never takes herself too seriously.  She does get a bit soapbox-y a few times, but even then, it is done in such a humorous manner that it isn't obnoxious.
One of the aspects I most appreciated about this book was the family friendly factor: there isn't a single curse word in the book, and there are some very positive messages about inner beauty and true happiness.  The accompanying PDF even includes coloring pages for her younger readers!  Speaking of the PDF – this audiobook was clearly produced for a listening audience, with Ellen making many references to her "listeners" and even performing some random sounds (possibly channeling Dory's whale speak). I haven't checked out the print version, but I'm sure that physically reading this book as opposed to listening to it would result in a very different experience.
If Ellen's intent in writing and narrating this book was to put a smile on her listeners' faces, she certainly succeeded.  I, for one, definitely came away feeling a bit more like everything was right with the world.  I do wish I had learned more about this funny and talented author/celebrity, but I guess I'll just have to check out Ellen's talk show for that.  Perhaps that was Ellen's true intention all along.
My rating: 4 out of 5 stars.