It's a bit crazy to think that twelve years ago, I had no idea what a podcast was, let alone the enormous impact the medium would one day have on my life. Other than books (my first and primary true love), podcasts are my favorite source of entertainment and information. I turn to podcasts to stay mentally stimulated during busywork, to open my mind to new ideas, and to delve deeper into subjects and people that fascinate me.
While most of my favorite podcasts follow a weekly publishing schedule, with little connection between episodes, I've listened to a few podcasts in the past couple of years that I would consider "binge-worthy." These podcasts feature a limited number of episodes that are united by a longer story arc. Some of these shows dropped all of their episodes at once, others released an episode at a time with the understanding that future listeners would likely binge the entire series. A couple of these podcasts are still ongoing, with a theme that will conclude in the near future. (You might want to wait until these podcasts wrap to begin your binge!)
Here, ordered from oldest to most recent, are six podcasts perfectly suited for your next podcast binge. Whether you're headed out on a road trip, or simply need some diversion while you tackle mountains of dishes or piles of laundry, these podcasts are sure to keep you glued to your earbuds from start to finish.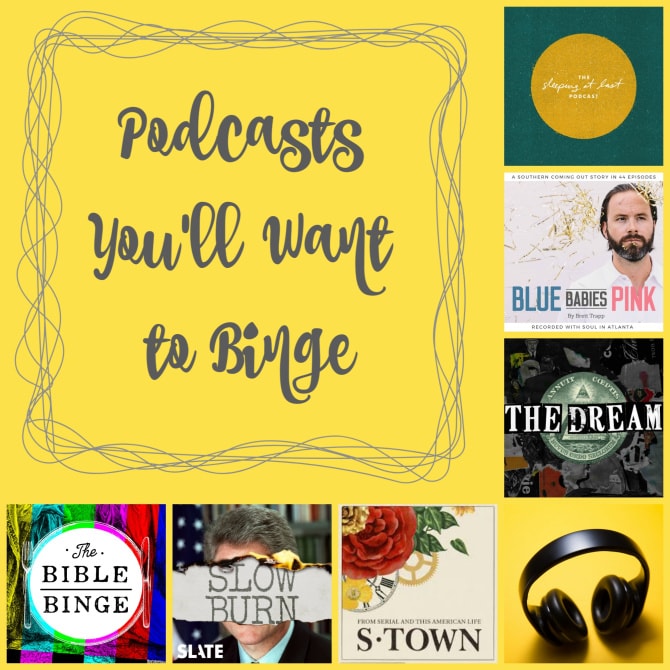 Given my own conservative views regarding homosexuality, I was hesitant to give this podcast a listen. However, after hearing recommendations from a number of trusted (Christian) sources, I decided to set my opinions aside and binged the entire 44 episodes in a single weekend. Brett's storytelling is of the highest caliber, and listening to his incredible story felt like tuning in to the audio version of a (very well-written) memoir.
iTunes Podcast Description: "For nearly a decade, Brett Trapp kept a secret journal of thoughts on being gay and Christian, knowing one day he'd shout the story he feared most. On a Wednesday morning in late 2016, he logged on to Facebook and began shouting… He started by publishing a Gossip Guide to his sexuality—a cheeky way to let friends know his secret. He then began sharing the vivid details of his story through a 44-episode memoir, published as one episode per day. He called the story Blue Babies Pink. Within days, Blue Babies Pink began to spread through social media. Thousands of readers tuned in, eagerly waiting for the daily installment to be released. Readers resonated deeply with Brett's struggle with faith, loneliness, shame, singleness, workaholism, and uncertainty. Called 'the Netflix of blogs,' more than 100,000 people have read Blue Babies Pink to date."
Kendra's Take: Blue Babies Pink is honest, vulnerable, and humorous, and while parts of Brett's journey are palpably painful, the overall tone of the podcast is encouraging and positve. Brett's story stands out among other coming-out journeys in that Brett is open about his disagreements with traditional views of homosexuality, while still affirming Christians and the Church. Although I do not agree theologically with Brett's ultimate decisions and lifestyle choices, I admire him for bravely sharing his story, and for helping to bridge the gap between the homosexual and Christian communities. There is so much power in this sort of soul-bearing narrative, which reminds us that we all have our own personal struggles, but none of us is alone if we are willing to honestly share our true selves.
Tune In If. . . You are a Christian looking to gain a deeper understanding and empathy for LGBTQ individuals. This is a must-listen if you are struggling to graciously and lovingly respond to a friend or family member who has recently come out.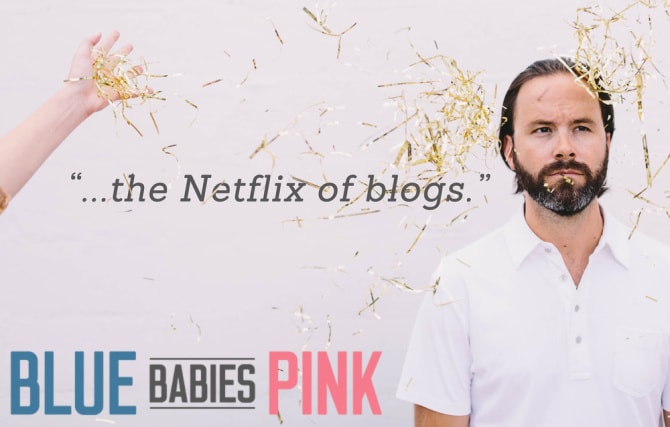 ---
Given that S-Town was downloaded 10 million times in the first WEEK after it released, you've likely already listened to this. If you haven't, prepare for a compelling and fantastically produced story that is almost too incredible to be true.
iTunes Podcast Description: "S-Town is a new podcast from Serial and This American Life, hosted by Brian Reed, about a man named John who despises his Alabama town and decides to do something about it. He asks Brian to investigate the son of a wealthy family who's allegedly been bragging that he got away with murder. But when someone else ends up dead, the search for the truth leads to a nasty feud, a hunt for hidden treasure, and an unearthing of the mysteries of one man's life."
Kendra's Take: While I can't deny that S-Town is a truly remarkable piece of art, I did have a few qualms with this podcast. I struggle with the idea of this sort of voyeuristic journalism being used for entertainment. And part of me is skeptical about the many coincidences that had to take place to make the show what it is; I don't doubt that certain events did transpire, but editing can be a tricky thing, transforming fact into something that more closely resembles fiction. I also didn't care for the conclusion, which did not wrap things up very satisfyingly; I was left with a lot of questions. That said, I don't regret listening because it offers a fascinating look at humanity. I was equal parts intrigued and revolted by the behavior and comments from many of the town members: their attitudes were very clearly in line with many stereotypes we have of the South, which I honestly did not believe still existed in America today. I hate that this is something I needed to be made aware of—it's painful to dip my toes outside my own little bubble—but I also believe it's important to learn about people whose lives and views are vastly different from my own. My biggest takeaway from the show was that people are complicated, our stories are all pretty messy, and even in art, answers aren't always easy to come by.
Tune In If. . . You enjoy mystery-based podcasts, or shows that explore small towns, eccentric individuals, and the darker side of humanity. (If you are squeamish about foul language or disturbing content, this show isn't for you.) If you've already listened to S-Town and want to learn more, check out this deep dive from the team at Sorta Awesome, as well as this Longform interview with Brian Reed, the host of S-Town.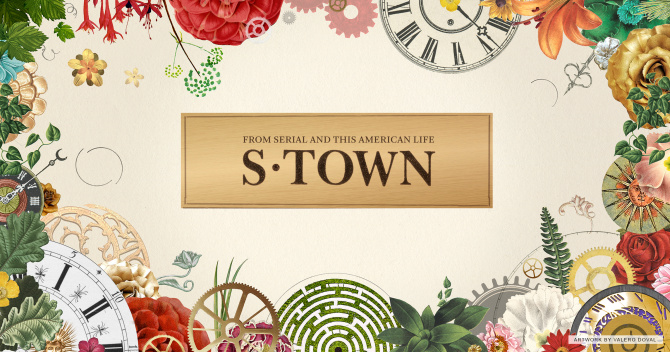 ---
I still haven't gotten a chance to listen to Season One of Slow Burn, which explores the Watergate Scandal. If it's anywhere near as shocking as Season Two, it will be worth the listen.
iTunes Podcast Description: "Leon Neyfakh excavates the strange subplots and forgotten characters of recent political history—and finds surprising parallels to the present. Season 1 of Slow Burn captured what it felt like to live through Watergate; Season 2 does the same with the saga of Bill Clinton's impeachment."
Kendra's Take: This look at the Bill Clinton impeachment is utterly fascinating. I was a young teen when the scandal occurred and didn't follow it closely, so much of the information revealed in this podcast was totally new to me. I'd had no idea how many players were involved in the scandal, and wasn't aware of all that was at stake. At the time, I—like much of America—viewed Clinton's actions as deplorable, while also considering Monica Lewinsky largely to blame. After listening to this podcast, my views are a little more nuanced. It was interesting to view those events through the lens of the current #MeToo movement and to consider how Lewinsky might have been the victim of both the president and various political groups who needed to paint her as their scapegoat. I came away from the podcast with conflicting thoughts and more questions than answers, but it was certainly a compelling listen and one I'd like to discuss with others. I listened to this shorty after reading Young Jane Young, and it was interesting to draw parallels between the Clinton scandal and Zevin's fictional account of a congressional intern involved in an affair.
Tune In If. . . You're interested in politics and appreciate a nuanced view of historical events.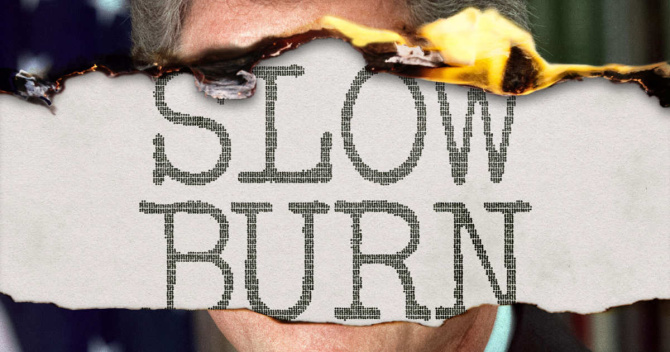 ---
My own experiences with multi-level marketing businesses haven't been positive ones, so when I learned about this podcast exploring the seedier side of MLM's, I couldn't wait to hear more!
iTunes Podcast Description: "What if we told you that with zero experience and only a few hundred dollars down, this podcast could change your life? Well, we'd be lying. This season on The Dream, Jane Marie dives into the world of pyramid schemes, multi-level marketing, and all the other businesses that require their members to recruit their nearest and dearest in hopes of a commission. Join us as we trace the path of get-rich schemes from Jane's roots in rural Michigan all the way to the White House."
Kendra's Take: Luke and I were the "victims" of an Amway recruitment a few years ago (though we were several weeks into the process before the word Amway was reluctantly given to us), and the experience left me with a very negative impression of MLM's. The information in this podcast helped me understand why the model/recruitment process didn't sit right with me—from the emotional manipulation to the reluctance to share specific numbers and details and, most concerning, the cultish vibe of it all. I have friends who have had good luck with their own MLM's, and the podcast definitely paints them in a harsher light than necessary (I especially struggled with the show's disparaging remarks on Christians and their connections to MLM's, and I felt the podcast unfairly blamed the Republican party for the continued prevalence of MLM's), but the show was enlightening and something I wish had been available to me a few years ago.
Tune In If. . . You are curious about MLM's, have ever fallen prey to their hype, or are involved in an MLM yourself and have wondered why not everyone is so enthusiastic about your new venture.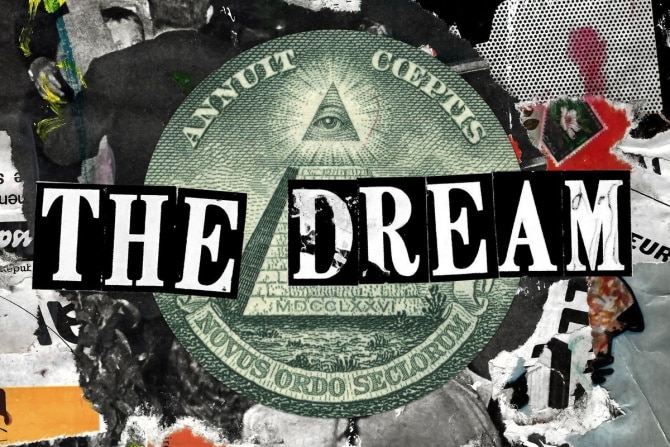 ---
I welcome any chance to dig deeper into the Enneagram model of personality. Not every episode in this podcast is Enneagram-focused, but a majority the show's most recent episodes have focused on songs that are part of Ryan O'Neal's project Atlas: Year Two, which dedicates one song to each of the nine Enneagram types.
iTunes Podcast Description: "Welcome to The Sleeping At Last Podcast! My name's Ryan O'Neal, I make music under the name "Sleeping At Last." Nice to meet you! This podcast is an evolution of my ongoing series of "How It Was Made" blog posts, in which I dissect and explain how my songs take shape, one song at a time. In this podcast, I'll be talking about my creative process, the intention and thought behind my songs – what they mean to me and why I did what I did. I'll also debut some new songs on here! That's the plan, but I'm brand new to this whole Podcast planet, so who knows! In any case, if you're curious about how my music gets made, I'd be so honored for you to take a listen. Love, Ryan"
Kendra's Take: The songs in this project are musically gorgeous, and Ryan O'Neil's podcast has helped me appreciate them for the incredible masterpieces they are. Each song incorporates lyrics and musical styles that embody the title number's personality traits. O'Neil has been working with Enneagram expert Christopher Hueretz to fully tap into each number, and he invites individuals who identify with each number to contribute as artists in each song. The resulting pieces are some of the most thoughtful, creative, eye-opening songs I've ever heard, and I've loved hearing all the behind-the-scenes details for each one on the podcast. I was moved to tears by the ways in which "One" captured my own personality; I felt seen, understood, and completely validated. We are still waiting for the release of "Nine," but of the first eight songs, I would be hard-pressed to choose a favorite; each one has helped me understand and appreciate those around me at a much deeper level.

Tune In If. . . You are an Enneagram enthusiast looking to learn more, or a music-lover who enjoys learning about how songs are created.

---
Although I'm a longtime fan of Knox and Jamie's original show, The Popcast, I was skeptical about their latest endeavor. I needn't have worried. This show, which contains several bingeable seasons, is a pure delight.
iTunes Podcast Description: "Talking about Bible stories is often fraught with scholarly nerd alerts about ancient linguistics and inaccessible theological discussions centered around hermeneutics. But what if there was a way to use your pop culture literacy to enhance your biblical literacy. What if you could recap the Bible like you recapped your favorite TV show? Welcome to the Bible Binge hosted by Knox McCoy and Jamie Golden of The Popcast."
Kendra's Take: I love the ways that Knox and Jamie have infused humor and pop culture into well-known Bible stories, bringing Scripture to life in creative and totally unexpected ways. I expected to be entertained by this show; I did not anticipated how much I would learn! In addition to adding their own snarky commentary to each story, Knox and Jamie bring fresh insights about the Bible and update Biblical truths for a 21st-century, media-obsessed audience. Though lighthearted, this show is not at all sacrilegious as I had feared. However, Knox and Jamie's cautious stance on some of the more prickly issues—and their willingness to ask hard questions—make this an excellent starting point for those looking to make peace with the Bible. Every series is worth listening to, but the Advent series (Episodes 20-23) was my favorite.
Tune In If. . . You are a Christian looking for a fresh take on familiar Biblical stories, or you're new to the Bible and would like an introduction to Scripture that you can understand and relate to.

---
Have you listened to any of these binge-worthy podcasts? I'd love to hear your thoughts! What are your favorite podcast binges?