For some time now, Throwback Thursday has been a trend on Facebook and Instagram. Usually Throwback Thursday entails posting a retro photo, with little commentary. I recently discovered The Mom Creative blog, where bloggers are participating in a weekly link up called Throwback Thursday Stories. Bloggers are encouraged to post an old photo and share the story behind it. I love the idea, and thought this week that I'd join in the fun!
Six years ago, I joined my parents and brother on a two-week vacation in the British Isles. From the time I was 15 years old, and every year afterward, our family had taken an annual cruise: from Alaskan glaciers and the Statue of Liberty, to Roman ruins and the banks of the Rhine River, we had experienced quite a bit of the world together. Our cruise through the British Isles in the summer of 2008 would be our tenth and final family adventure before I got married. It was an awesome vacation, but it felt different from our others because we knew it would be our last trip with just the four of us. On the first day of our vacation, I began my daily journal entry with these words: "This bittersweet day has come at last: the first day of our last vacation together as a family.  It is incredibly difficult to believe that this marks our tenth family cruise.  We have made so many wonderful memories together. . ."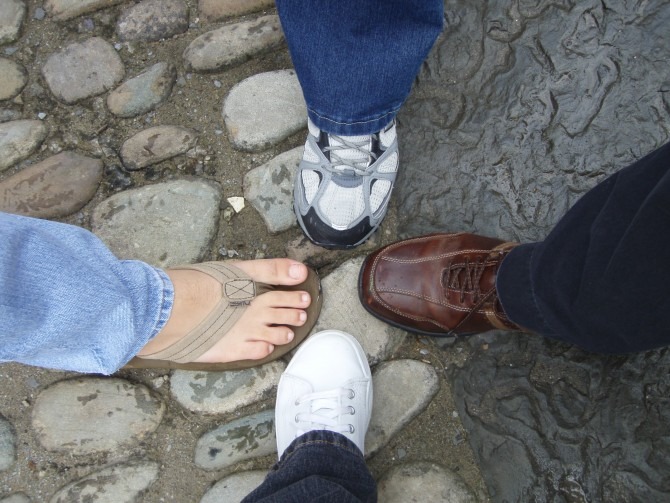 This picture was taken on the grounds of an 18th-century mansion in Killarney, Ireland. We were midway through our trip and I realized that, though we'd captured several wonderful pictures of our surroundings, we didn't have any photos of the four of us. This was in the days before selfies (or at least before I knew about selfies), and since there was nobody around to snap a picture of us, I had my parents and brother join their feet with mine for a photo. I love so much about this picture, from the weathered stone walkway beneath our feet, to the fact that my brother is wearing flip-flops when it was 50 degrees and raining. Most of all, I love that this is a picture of our little family of four, exploring a beautiful country and making memories that would last a lifetime.
We took many other pictures that vacation, and on the last night of our cruise we even got a formal picture of the four of us together. But that spontaneous snapshot of four travelers' feet is one of the best family photos we ever took.

Head on over to The Mom Creative to read other bloggers' Throwback Thursday stories, or to share one of your own!