I've had so much fun this year sharing some of our family's favorite items. It's fitting, I think, that we are rounding out this series with items related to the defining members of my year—our twins!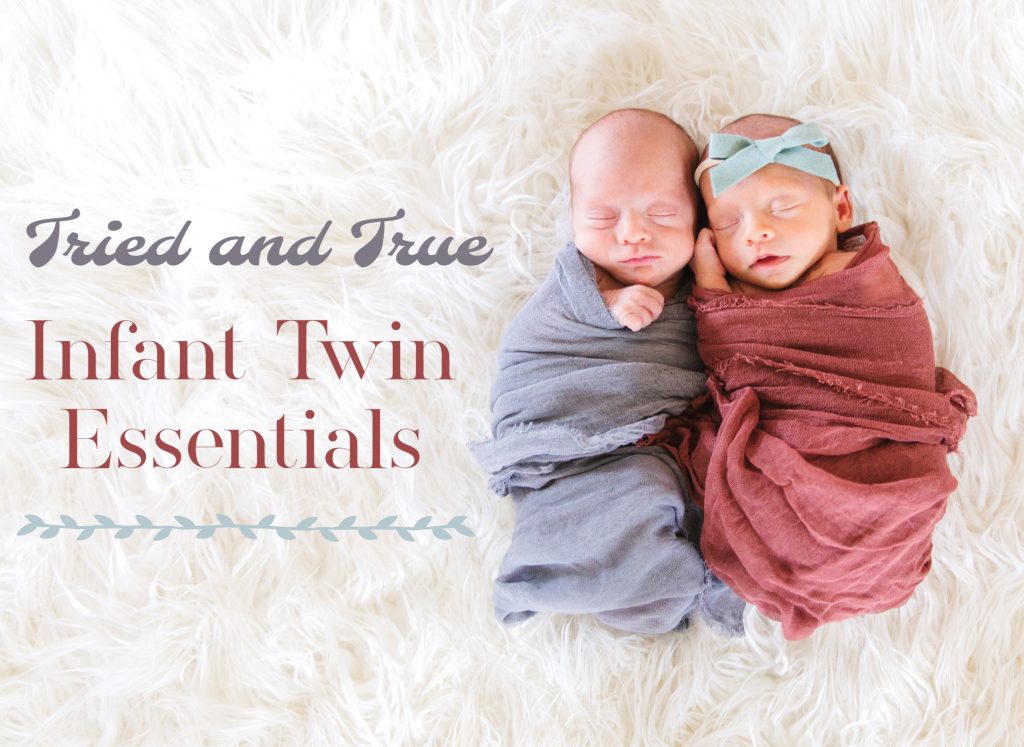 Leading up to the twins' birth, our goal was to buy as few new items as possible. We had kept nearly all of Charleston's baby clothes and gear, so we hoped only to buy items we would need doubles of (like carseats and a double stroller) and items that we loved (i.e., used) so much the first time 'round that they needed to be replaced. For the most part, we've stuck to this plan, although I have made a few baby-related splurges that weren't entirely necessary, such as a new diaper bag (I really wanted to upgrade to a backpack style), some girly items for Kali so that she isn't always wearing Charleston's hand-me-down boy clothes, and some preemie clothing since the twins were born smaller than anticipated. We've also had to purchase quite a few feeding-related items, as I've been doing more pumping and bottle-feeding with the twins than we ever did with Charleston.
The items I'm sharing here today have all been in regular use in our home since the twins were born. Most items are new, but some are on their second life (a couple of these items showed up in my first post on tried and true items for babies), and a few are currently on loan to us from friends. The one commonality is that we love every item on this list and would wholeheartedly recommend each one, whether you are having twins yourself (or even a singleton, as most items or not twin-specific) or are looking for gift ideas for another new mom.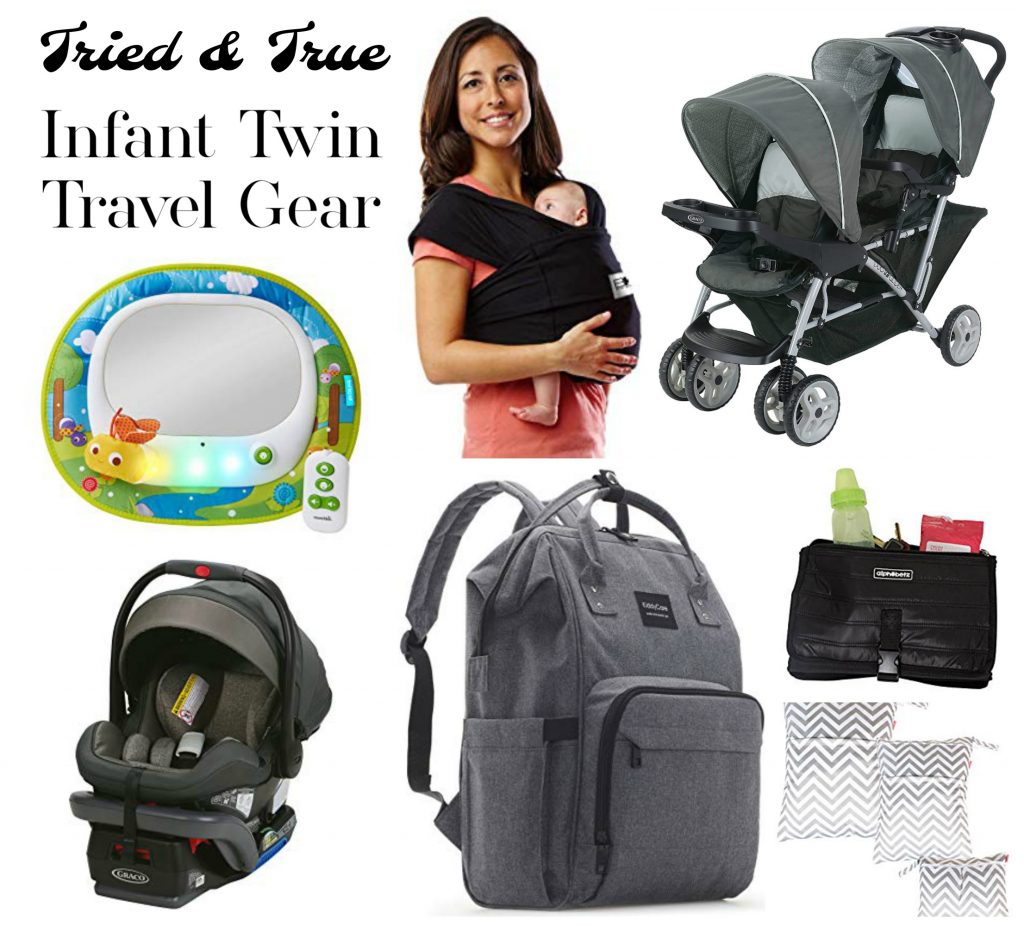 Munchkin Brica Firefly Baby in-Sight Car Mirror – I received one of these mirrors as a baby shower gift before Charleston was born, and it was a true sanity-saver during car rides with him, so there was no question that we'd be purchasing a second one to use with the twins. The mirrors allow me to see the babies' faces in their rear-facing car seats, and though they're still a little young to appreciate the lights and soothing music, I know from our experience with Charleston that these will become much-appreciated features in a few months. The mirror comes with a remote that allows me to control the sound and light features from the driver's seat, although Charleston—whose car seat is in between the twins' seats in the back of the car—likes to take on the job of mirror monitor, so I usually pass the remotes to him.
Baby K'tan Original Baby Wrap Carrier – I've tried numerous wraps, and this is my favorite. It's comfortable, easy to put on, and compact enough to keep in my purse or diaper bag. With twins, there is always at least one baby who is wanting to be held, so I take turns wearing them when I do housework, blog, or even when I'm changing the other baby's diaper. Kali especially is not a fan of being out of full-body contact with another human, so our walks frequently find me pushing Sully in the double stroller (we no longer have a singleton stroller) while snuggling her in this wrap.
Graco DuoGlider Double Stroller – There aren't a lot of budget-friendly options for double strollers that will hold an infant car seat, so we went with what we could find and have been quite happy with it. The stroller is easy to navigate and a breeze to collapse and lift into the back of my car, and it's very easy to snap the twins' car seats in and out of the stroller base. I especially appreciate the stroller's cupholder and large basket underneath. This stroller can be configured many ways, which means we will be able to continue using it when the twins are out of their infant car seats.
Graco SnugRide SnugLock 35 Platinum XT Infant Car Seat – Since our car has a relatively narrow backseat, we were in the market for infant seats with a very small footprint so that we could fit all three kids' carseats in a row. These lightweight carseats are very easy to get in and out of our car, and I love the large canopies and mom-friendly adjustable straps.
Alphabetz Portable Baby Changing Pad Diaper Bag Mat & Foldable Travel Changing Station – This changing pad has it all! The collapsable pad fits nicely into our diaper bag, and it features a large changing mat that can accommodate both twins, as well as plenty of storage space for diapers and wipes.
KiddyCare Diaper Bag Backpack – With twins, I knew that I needed to replace our traditional diaper bag with a backpack style so that I would have both hands free for carrying babies. This backpack is stylish and has fifteen well-placed inner and outer pockets that keep our travel essentials organized and easy to find. The bag is durable and waterproof, and the straps are very comfortable. Because it doesn't look like a diaper bag, this could easily be used well beyond the baby years.
Damero 3pcs Travel Wet and Dry Bag Organizer – I use these bags to organize the twins' extra clothing and other miscellaneous items in our diaper bag. They are water resistant and machine washable, so I reserve one of the three bags for clothing items that get soiled when we're out and about—when I get home, I simply dump the bag and its contents into the washing machine.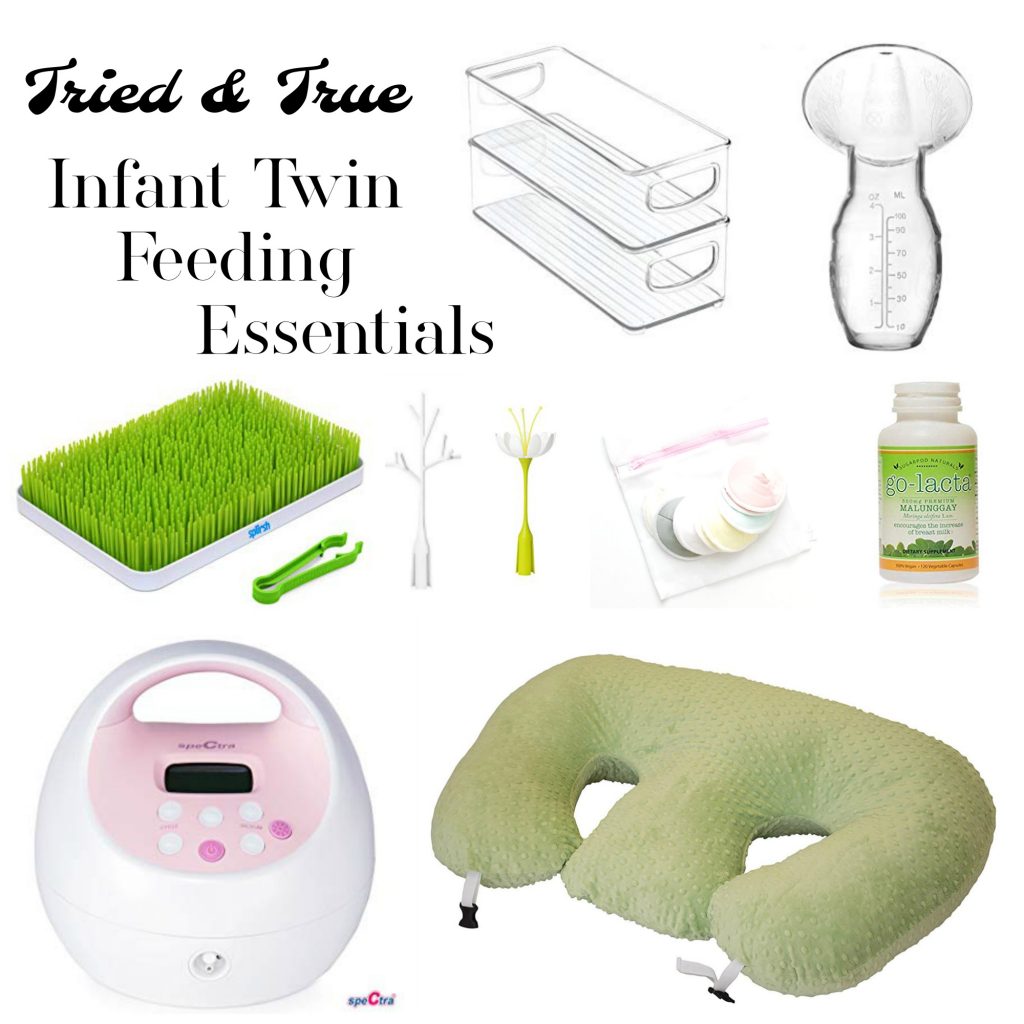 mDesign Baby Food Storage Organizer Bin – These stackable bins are perfect for consolidating bottles of breastmilk so they don't end up taking over our fridge. I originally bought them for fridge organization, but liked them so much I bought another set for organizing the twins' dresser drawers.
Haakaa Manual Breast Pump – This amazing item uses suction to express breastmilk, making it MUCH more comfortable—and convenient—than an electric breast pump. I regularly use this to catch the milk that leaks from the opposite breast when I'm feeding one twin, allowing me to save and later use milk that otherwise would have been lost to a breast pad. It's small enough to carry in my purse when I'm out without the twins and feeling engorged; I just carry an extra storage bottle with me so that I don't have to pump and dump.
Baby Bottle Drying Rack – This rack acommodates all of our bottles and breast pump pieces, and looks attractive sitting out on our countertop. The seller recommends hand washing, but we have put ours through the dishwasher multiple times and haven't had any problems.
Boon Twig Lawn Drying Rack White Accessory – This cute little rack conveniently holds our bottle nipples and rings and sits nicely on our drying rack.
Boon Stem Drying Rack Accessory – Another cute drying rack that is part of our bottle-washing garden. I wouldn't have purchased these myself, but I'm so glad that my sister-in-law insisted we borrow hers, they are quite convenient.
BabyBliss Reusable Bamboo Nursing Pads – I'm not a fan of disposable nursing pads, which I have found to be itchy, uncomfortable, and too large for me. These reusable ones come in multiple sizes and are both soft and highly absorbent. The pretty colors add a bit of much-needed whimsy to the one aspect of breastfeeding (leaking) that I like the least.
Go-Lacta Premium Malunggay Breastfeeding Supplement – Per my lactation consultant's recommendation, I began taking this supplement when I was 34 weeks pregnant to help boost my milk supply. I can't know for sure whether this supplement was beneficial or not, but I have had excellent milk supply from day one, so I plan to continue taking this throughout my breastfeeding journey and would recommend it to other moms who might be worried about making enough milk for their babies.
Spectra Baby USA – S2 Plus Premier Electric Breast Pump – I got a free breast pump through my insurance (I used this website and they did all the work for me!) and when I polled my friends about which one to choose, every one of them highly recommended the Spectra. This pump is quieter, more attractive, and less painful to use than the Madela I used when Charleston was a baby, and the strong suction and adjustable settings allow me to pump up to ten ounces in just a few minutes. Many of my mom friends mentioned how much they appreciate the nightlight feature, which allows them to pump at night without having to turn on extra lights.
Twin Z Pillow – Though pricey, this pillow is a MUST for moms planning to breastfeed twins. The pillow wraps around my body, holding the twins in football position on either side of me as they nurse. The pillow also serves as a comfortable, safe place for the twins to hang out when I can't hold them, and it would work well for propping two babies while tandem feeding bottles. Now that the twins are bigger and have better neck support, I'm able to nurse them both without this pillow, but the pillow allows for the most comfortable feeing position for all three of us.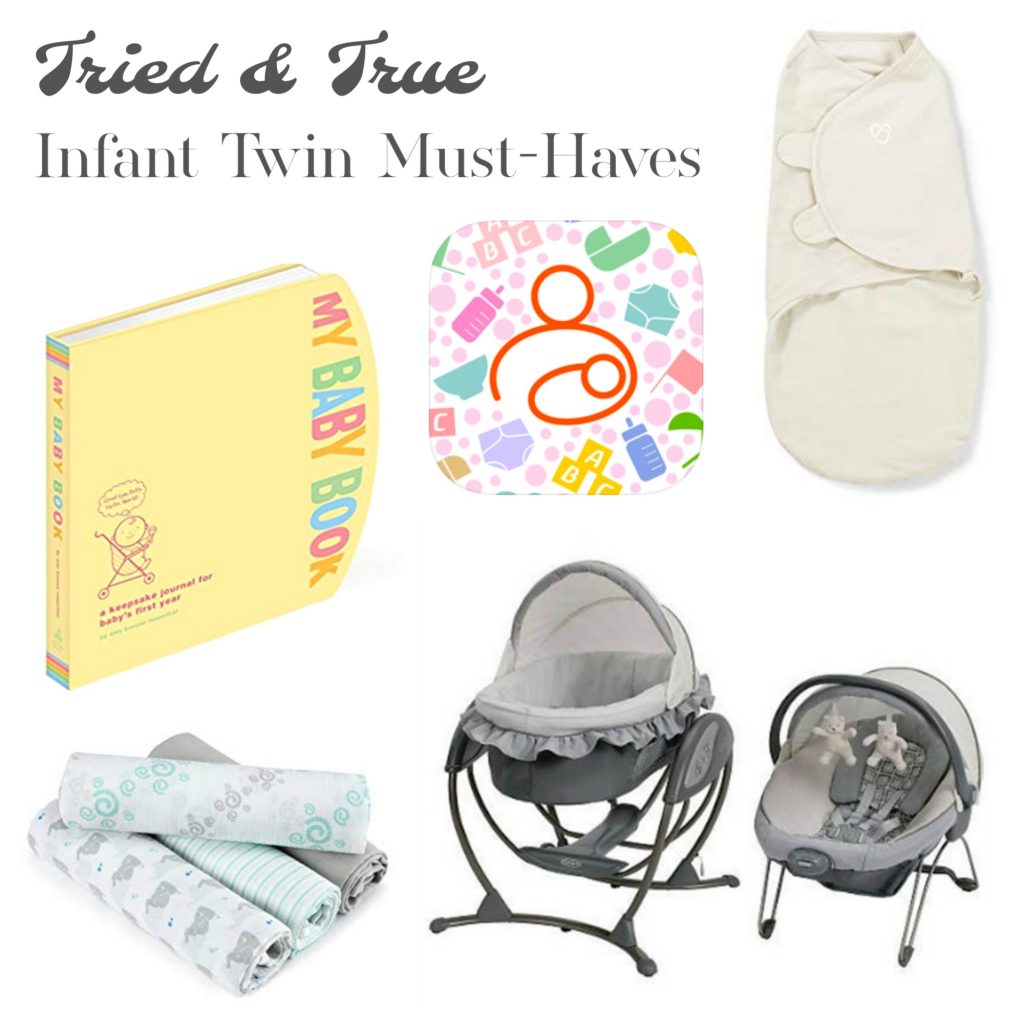 My Baby Book: Keepsake Journal First Year – Forgoing baby books wasn't an option for me, but with two babies' memories to keep track of, I needed hassle-free books. This one takes all the guesswork out of memory keeping, with space to record milestones and monthly updates, and several pages for baby-related memorabilia and extra pictures. I used the Belly Book from this company to document both of my pregnancies, and all four books line up very nicely on my bookshelf. This would make a great baby shower gift.
Baby Tracker – Newborn Log App – Keeping track of two babies' feedings, diaper changes, growth, vaccines, sleep, and milestones is a challenge. This app keeps all of these records in one place, and it allows you to track multiple children—a feature I didn't find in other baby tracking apps. The app syncs across multiple devices, which allows Luke and me to both input information from our phones. I imagine this feature would be especially appreciated by families who use a nanny or multiple babysitters.
SwaddleMe Original Swaddle – All three of my babies have loved being swaddled, and these velcro swaddles are incredibly easy to use and make it difficult for little hands to escape. We kept all of our velcro swaddles from when Charleston was a baby, but I bought a few Preemie-sized swaddles to use when we brought the twins home. My one caveat with these is that they stick to EVERYTHING in the washing machine, so be sure to wash them separately from other items.
aden + anais Swaddle Baby Blanket – I'm not sure how we made it through Charleston's infancy without these convenient blankets. They are soft, attractive, and a great size for swaddling, using on the floor for tummy time, or tucking into the twins' carseats on a cold day.
Graco Soothing System Gliding Baby Swing – Next to the Baby K'Tan wrap, this was our most-used item with Charleston; in fact, he slept in the swing until he was over a year old! Unfortunately the base of his broke, but we kept the bassinet and seat attachments. We purchased a whole new system for the twins, so now we own one base and TWO bassinets and seats, and we use them all: The twins are still small enough to cosleep in the gliding bassinet, and we keep the second bassinet on the floor of the office for when Luke wants to keep them with him while he's working. Soon the twins will be big enough to sit in the accompanying bouncing seats, which can be used on the ground or in the glider. I can't imagine attempting to care for two newborns without this ingenious system!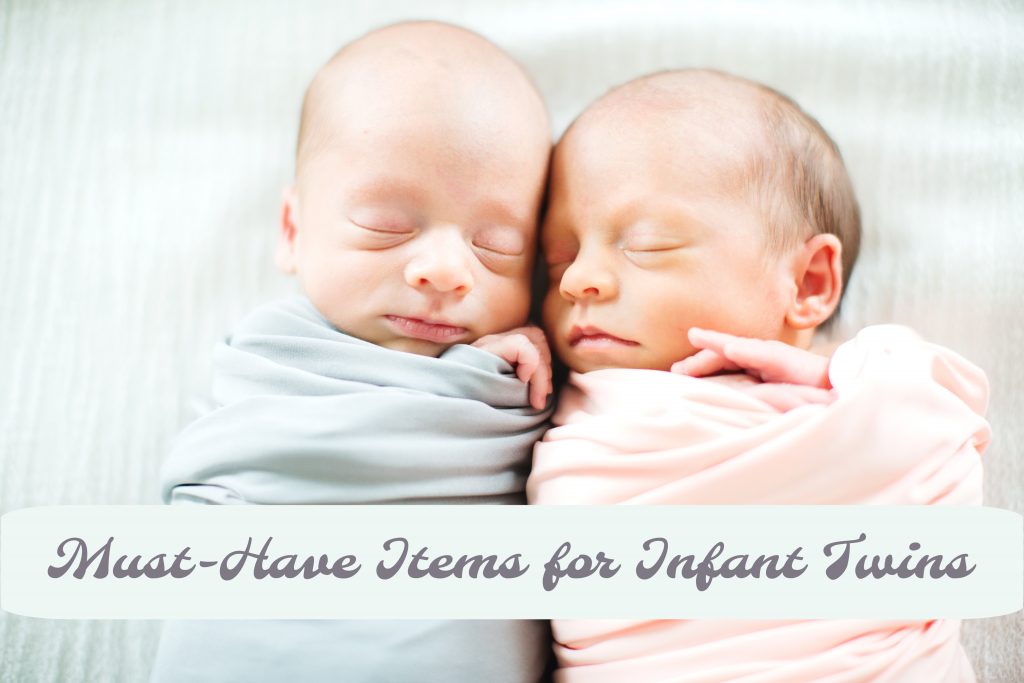 If you are a parent—especially if you are a parent to twins—what were some of your favorite newborn essentials? Do you see any items on this list that you would want to try?