My literary journey through history is inching ever closer to the 21st century, and this month I visited (through books) the 1970s. Though this decade is closer than all the previous ones to my own life experience (obviously), I feel like it's the decade I know the least about. When I turn my brain to the '70s, the only things that come to mind are disco and images from my parents' wedding album. Clearly, it was time for some research. I began with History.com, which describes the 1970s as a turbulent time:
"In some ways, the decade was a continuation of the 1960s. Women, African Americans, Native Americans, gays and lesbians and other marginalized people continued their fight for equality, and many Americans joined the protest against the ongoing war in Vietnam. In other ways, however, the decade was a repudiation of the 1960s. A 'New Right' mobilized in defense of political conservatism and traditional family roles, and the behavior of President Richard Nixon undermined many people's faith in the good intentions of the federal government."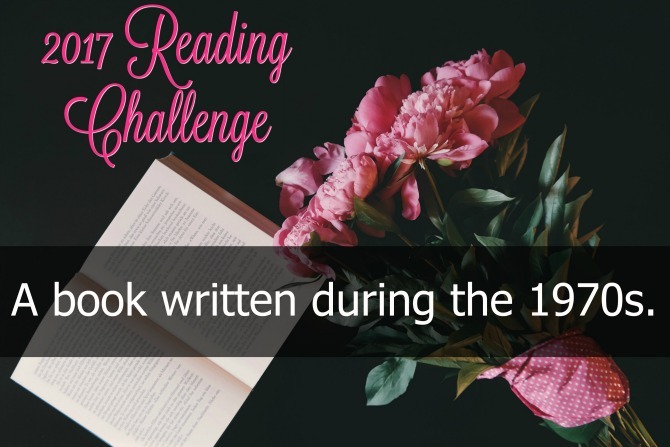 Many of these political and subversive themes can be found in books of the decade, especially in nonfiction. A number of nonfiction books focused on the Watergate scandal, and the exposé become a popular bestseller tool. Even the domestic genres became less tame, with self-help and diet books replacing the cookbooks and household manuals that previously lined bookstore shelves.
Racism and feminism were key subjects of literature in the 1970s, and irreverence and satire were common literary elements. The experimentally offensive subject matter of the 1960s gave way to the return of old-fashioned story-telling, and there was a proliferation of historical fiction that incorporated elaborate family sagas. The horror genre emerged, with Steven King becoming one of the most prominent authors in America, and the rising cost of hardcover books led to a rapid rise in the popularity of genre fiction.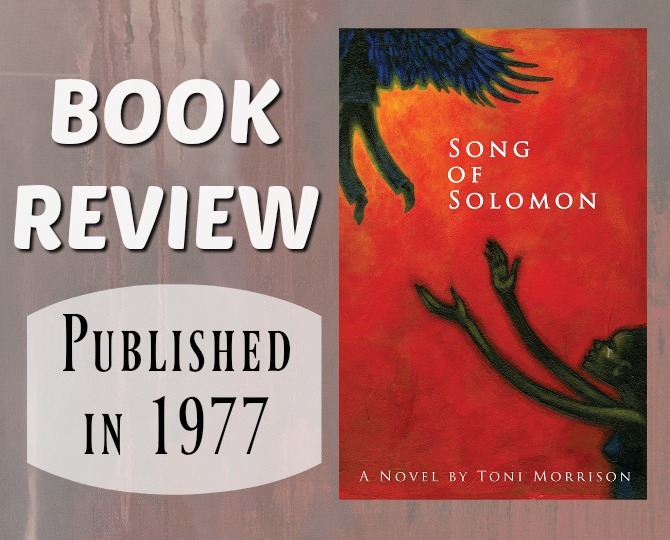 Though the book's events take place much earlier (the 1930s through the early 1960s), Toni Morrison's Song of Solomon—with its themes of racism and family, and a focus on storytelling—was very much a book of its time, and a great selection to represent the decade. The novel follows the life of Macon "Milkman" Dead III whose nickname comes from the fact that he was breastfed well into his childhood. Milkman, who is raised in Michigan, is the son of Macon Dead Jr., an upper-class black businessman who has spent his life trying to overcome his Southern, working-class roots. Milkman has a sheltered and highly privileged upbringing and grows into an arrogant and entitled young man.
Milkman's life is a stark contrast to that of his father's mystical, Bohemian sister Pilate and her offspring. Milkman's complicated relationships with these women eventually leads him on a physical and spiritual journey to discover truths about his family, himself, and a world that is much harsher than he ever imagined. As Milkman uncovers his identity, he is forced to reexamine his life, his priorities, his history, and his purpose.
Though Milkman is the central protagonist of this book, the plot spirals into the past to examine the lives of other key characters. I found these stories—and the unique ways that Morrison tells them—even more interesting than the primary plot and appreciated the depth they added to the story. With so much backstory, Song of Solomon could easily have spawned a series of related books similar to Marilynne Robinson's Gilead series.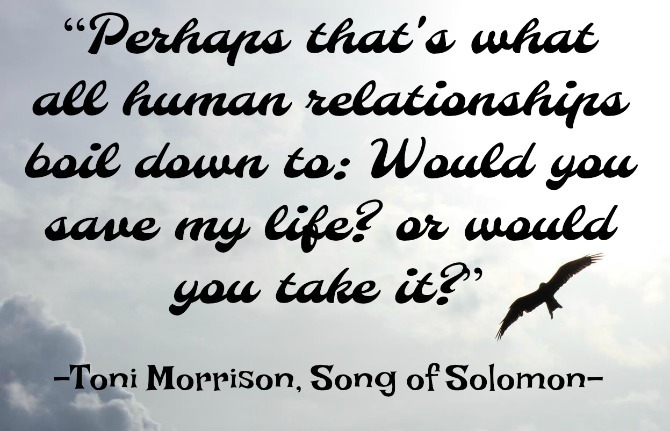 I had no idea what to expect from this book, and reading it left me speechless. Morrison opened my eyes to worlds far different from my own; never have I felt so culturally tone deaf as I did when reading Song of Solomon. But even while the characters' circumstances looked nothing like mine, I still resonated with their emotions, found beauty in their redemption, and mourned the depravity that Morrison clearly shows as an unescapable part of the human condition. The book made me cry, it made me cringe, and it made me long for my own healing and wholeness.
Toni Morrison is truly a brilliant wordsmith. Her writing is poetic and nuanced, beautiful in form and exploding with significance. Each word is selected with care and intentionality, woven into sentences and story that are filled with seemingly endless layers of meaning. The novel is highly literary, blending fable, symbolism, and political commentary into one deeply complex story. While I enjoyed piecing out the metaphors, I quickly realized that I was missing a lot of the cultural references and subtext. I began following up each chapter by reading the Sparknotes explanations, and this definitely enhanced my reading experience. It's been a while since I read such an artistic novel and I enjoyed feeling like I was back in school! The plot was a bit slow for me, but I mostly didn't mind because the pace forced me to take my time and truly reflect on what I was reading.
Though written nearly forty years ago, the racial themes and tensions at the heart of Song of Solomon are (sadly) quite relevant within today's racially heightened climate. Books like this one are hard to read, but they are important in helping us understand current events and discover empathy for "the other side." Sometimes, I read to learn and other times—as happened with Song of Solomon—I read to discover how much I do not yet know.
My Rating: 4 stars.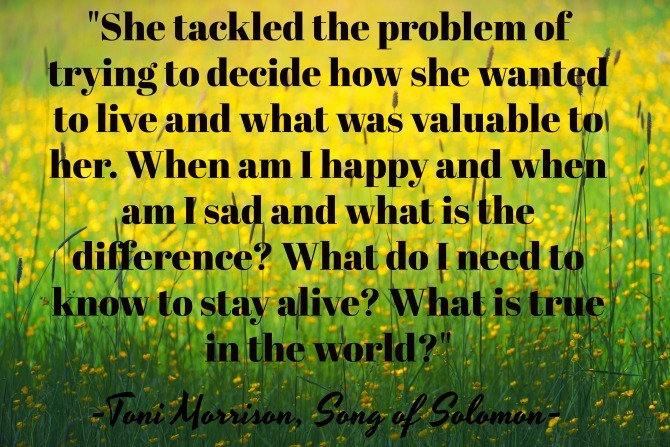 ---
Other Books Written During the 1970s
The Hiding Place, by Corrie ten Boom (published in 1971)
Watership Down, by Richard Adams (published in 1972)
All Creatures Great and Small, by James Herriot (published in 1972)
The Princess Bride, by William Goldman (published in 1973)
Tinker Tailor Soldier Spy, by John le Carré (published in 1974)
Tuck Everlasting, by Natalie Babbitt (published in 1975)
The Thorn Birds, by Colleen McCullough (published in 1977)
The Westing Game, by Ellen Raskin (published in 1978)
Sophie's Choice, by William Styron (published in 1979)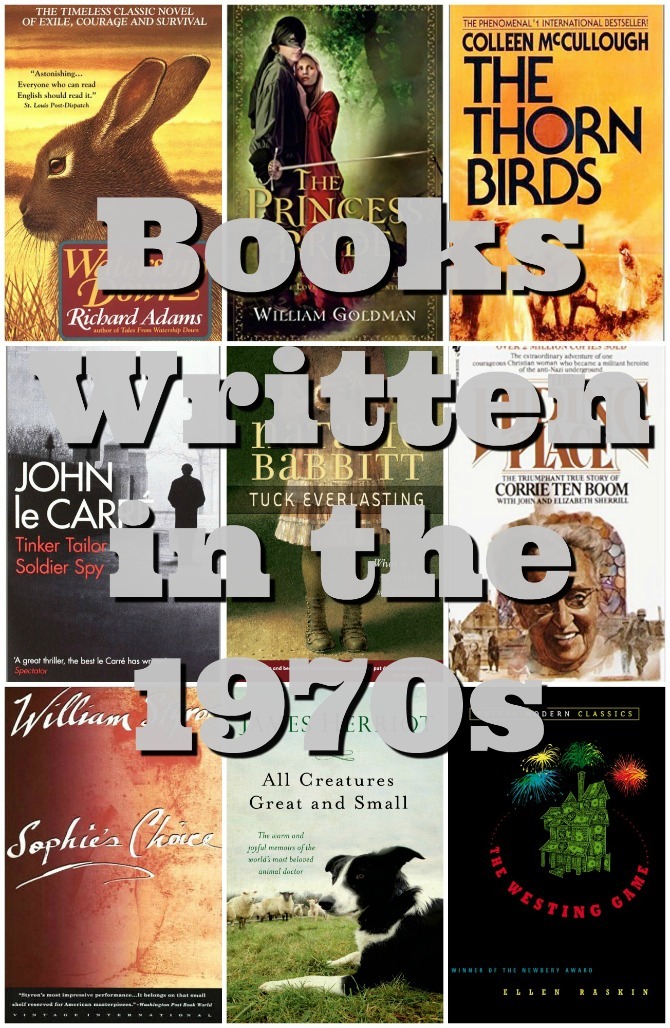 Have you read Song of Solomon or any other works from Toni Morrison? What did you think? What book would you choose to read from this decade?