It's the dilemma of every bookworm: too many books to read, and never the time to read each one. I suppose it's a good problem to have, but it pains me to think of how many stories and ideas and lovely passages of prose will eventually go unread by me. Even if I continue to read 150 books every year, and live until I am 90 years old, that will only be a little over 8,000 more books that I will read in my lifetime. That seems like a large number, yet I could probably compile a list that long of books I currently want read—and that doesn't take into consideration the books that will be published during the next 55 years. (Apparently there are between 600,000 and 1 million books published each year in the United States alone!) With limited reading hours, I try to take care with the books I choose to read, but I'm not immune to haphazard book choices. That's where this Reading Challenge is helpful, adding extra intention to my reading life.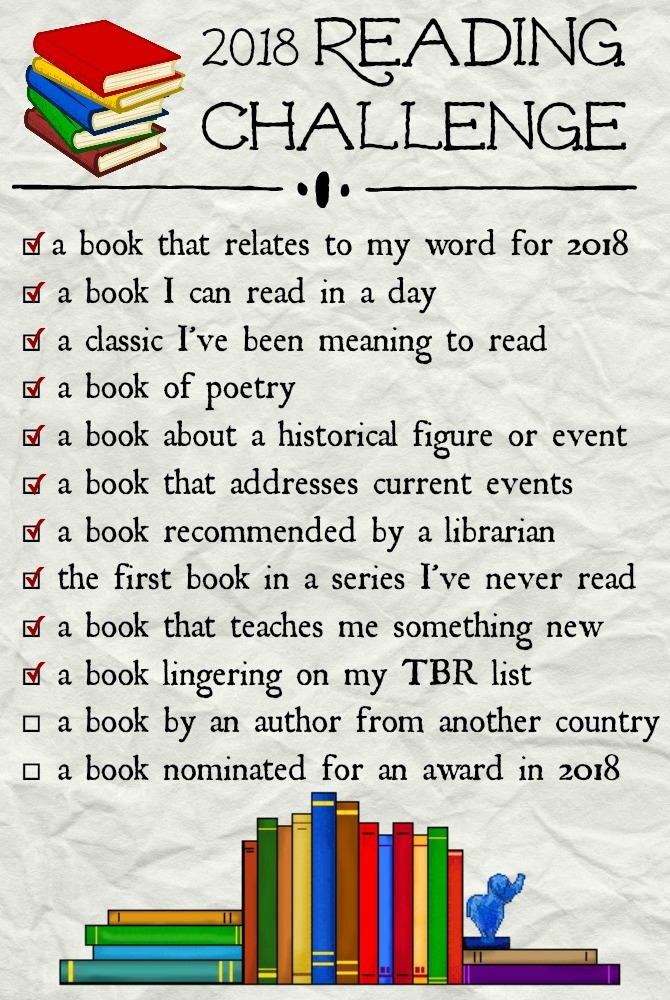 Every invested reader knows that book recommendations are endless. New titles are constantly crossing my path, either through personal book suggestions or indirect ones. (These days, podcasts and book blogs are my primary reading enablers.) I consider myself a (fairly) easy-to-please reader with broad reading interests, so titles are constantly being added to my mental To Be Read list. Books that stand out in some significant way, and that I want to be sure that I read, get added to my To Read list on Goodreads. That list is currently at around 450 books—in other words, those titles could keep me reading for the next few years.
I'm always a little surprised at how few of the books that I actually read are pulled from my list. This is largely due to convenience: I tend to read books that I've recently gotten on Kindle for a steal, or that are currently available at my library. I also like to read books that are hot off the press—books that I start reading before they ever make it onto a TBR list. It's rare for me to seek out a book hiding within the depths of my TBR. Hence, my inclusion of "a book lingering on my TBR list" as this month's Reading Challenge category. The goal was to pick out a book I've been waiting years to read, but needed a little prompting to finally pick up. I settled on Peace Like a River, a book that's been regularly recommended to me since it was published in 2001. According to Goodreads, it officially made it onto my TBR in August of 2014 and I know that I'd been meaning to read it for much longer. Now was my time.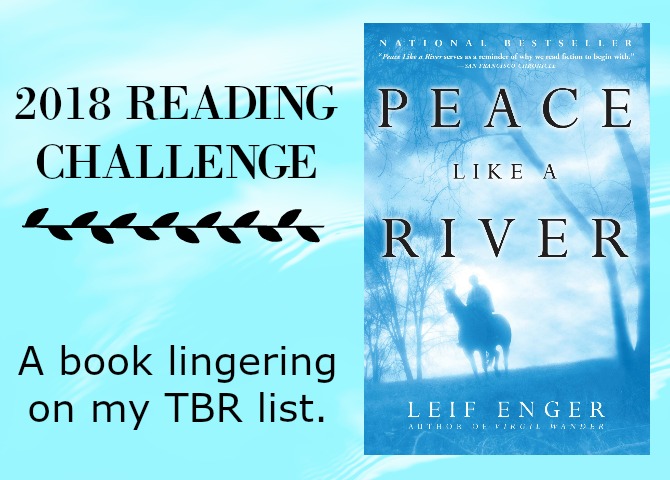 Peace Like a River is narrated by Reuban Land as he reflects back to the early 1960s when he was an 11-year-old asthmatic boy living in Minnesota with his older brother, Davy; his precocious younger sister, Swede; and his father, Jeremiah, a man of integrity and quiet faith. At birth, Reuban remain dead for ten minutes before his father revived him, and Jeremiah's miracles continued to be a common occurrence throughout Reuban's lifetime. Though Reuban's mother left them when he was young, the family has maintained a calm and peaceful existence until the night when Davy is jailed for murdering two teens in his own home.
While awaiting his conviction, Davy escapes from jail and Reuban, Swede, and Jeremiah embark on a frigid journey into the snowy Badlands of North Dakota in search of the teen outlaw. Along the way they are met with kindness from strangers, threats from an FBI agent who is also pursuing Davy, and more hardship—but also more miracles—than they could have imagined. Their story is wrapped in faith and family love, in sacrifice and endurance, and plenty of Old West references (which enter the narrative by way of Swede's adventurous ballads about a swashbuckling outlaw not unlike her oldest brother).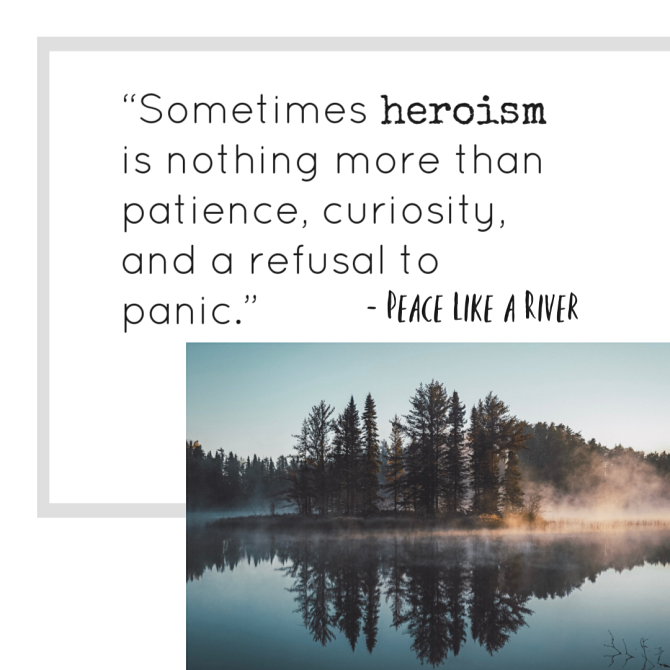 I entered this book expecting something much different from what I found: the tone is not somber, as the book cover and many reviews had implied; rather, it's personable, jovial, and witty. Adult Reuban is a delightful narrator whose removal from the action of the novel lends insight and empathy to the events he is describing, while maintaining the innocence and vibrancy of the preteen we see in our story. There is quite a bit of philosophizing (something I look for in a good book) and some very challenging themes, yet this book does not feel hard or heavy, but hopeful and whimsical. I did not know a book about a fractured family undergoing violence, false accusations, and severe illness could be so lighthearted—and not in a way that feels cheap or diminishes the pain being described, but marked by a sense of divine peace.
The characters in Peace Like a River are remarkable. Reuban is fragile yet strong, curious and skeptical but cautiously optimistic, the epitome of a middle child, which makes him the ideal narrator—in on the action, while not dominating it. His sister Swede is spunky and brilliant; I laughed at her antics, was inspired by her boldness, and was awed by her literary prowess. She is the least believable of the book's characters (I don't know many 9-year-olds with her impeccable poetry skills), but serves as a wonderful companion and sounding board for Reuban. And then there's Jeremiah, an Atticus Finch-like character who grabbed my attention within the book's first pages and continued to win my heart right up to the book's surprise ending. He is a man of quiet convictions and profound faith; he wrestles with God yet stays obedient to the Lord's call, while remaining strong, steady, and endlessly loyal to his family. This is not an explicitly Christian book, but I've rarely encountered such a Christlike character in literature, and his actions infuse the story of the Gospel into every part of the novel.
To Kill a Mockingbird is my favorite book of all time, and Peace Like a River is the closest thing I've read to that great classic. The Atticus/Jeremiah resemblance is what first led me to that comparison, but it can also be seen in the dynamic between Reuban and Swede (not too unlike Jem and Scout); in the themes of integrity and justice; and in the strong sense of time and place. The story in Peace Like a River didn't capture me in quite the same way as TKAM, but even without an especially engrossing plot, this a powerful and beautiful book. I can see why it is loved by so many and am glad it made its way off my TBR and onto my list of favorite books of the year.
My Rating: 4.5 Stars.
---
OTHER BOOKS I CONSIDERED FOR THIS CATEGORY
Every one of these books has been on my TBR for at least three years—some for far longer. In fact, three of these books are titles I've been meaning to read since I was in my teens.
Helen of Pasadena, by Lian Dolan: Lian Dolan is one of the cohosts of The Satellite Sisters podcast, of which I'm a longtime listener. Via her show, I walked with Lian through the writing of this book and have been meaning to read it since it was published in 2010.
Pillars of the Earth, by Ken Follett: Both of my parents cite this as one of their favorite books, and they've been encouraging me to pick it up for as long as I've been a reader.
Kingdom Woman: Embracing Your Courage, Power, and Possibilities, by Tony Evans and Chrystal Evans Hurst: I remember hearing the authors discuss the release of their "new" book back in 2013. In the past year I've become a huge fan of Chrystal Evans Hurst (even more so since meeting her this month) and am eager to read this, her first book.
The Ragamuffin Gospel: Good News for the Bedraggled, Beat-Up, and Burnt Out, by Brennan Manning: I've heard many respected Christians claim this as a beloved title, and it has found its way into many sermons I've heard through the years. Our pastor read an excerpt from it just last month, reminding me that this is a book I really do need to read.
Gone With the Wind, by Margaret Mitchell: Like Pillars of the Earth, this is one my mom has been wanting me to read for years. I'm intimidated by the length but love the movie, and have heard the book is even better.
The Secret Keeper, by Kate Morton: The Lake House is the only book I've read by Kate Morton; it was one of the best books I read in 2016 so I'm not quite sure why it's taken me so long to read another of her books; I hear this is the best one.
Strong Women, Soft Hearts: A Woman's Guide to Cultivating a Wise Heart and a Passionate Life, by Patricia Rinehart: A spiritual mentor insisted I read this book that changed the trajectory of her life. I'm skeptical it can live up to such high praise, but the title certainly intrigues me.
The Thirteen Tale, by Diane Setterfield: A gothic mystery about books? It doesn't get much better than that. I think I need to move this title onto my immediate TBR, it seems like a great fall read.
The Hobbit, by J.R.R. Tolkien: Full Disclosure: I haven't read any Tolkien because I'm fairly certain I won't like it. Harry Potter is about as fantasy as I go. BUT this is a classic, and I know I should read before I judge. To be fair, I did like the Lord of the Rings movies, so the books might actually be to my liking too.
A Little Life, by Hanya Yanagihara: Everyone raved about this book when it came out a couple of years ago. I hear the subject matter is hard, but worth the effort. Side note: I had assumed this book was written by a man until this very minute, as I saw the author bio when compiling this list!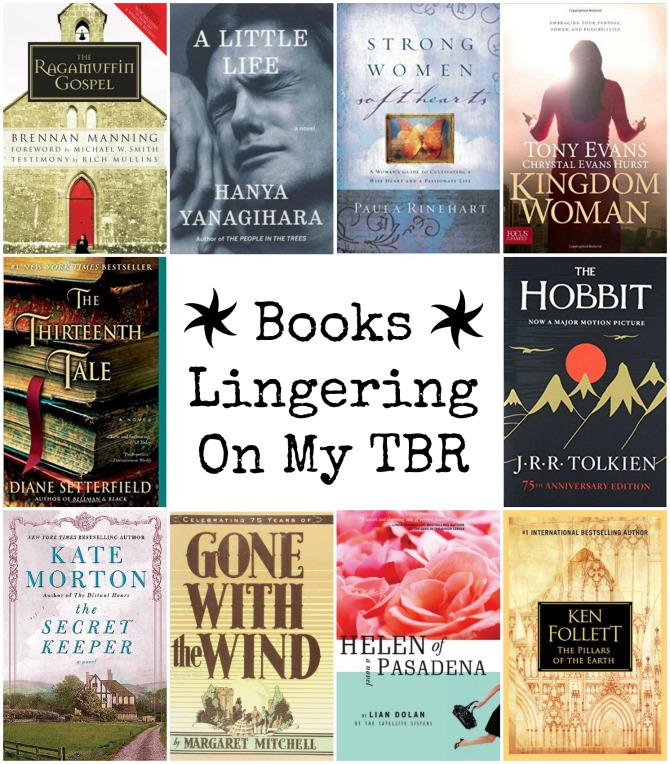 What titles have been lingering on your TBR that are ready to be read? Have you read any of the books on my list above? Any thoughts on whether or not they need to remain on my TBR?