A lot has changed for me this past year, but one thing that has remained constant is the large role books have played in my life. Over the last twelve months I read or listened to 110 books from a wide variety of genres. Twelve of these books were read as a part of my 2016 Reading Challenge, which I'm happy to say was a huge success! I loved that the challenge prompted me to read slightly out of my comfort zone without confining me to specific titles (a mistake I made when setting my reading goals in 2015). I also benefited from the accountability of sharing my challenge books here on the blog. I'm already making plans for a new Reading Challenge in 2017 and am looking forward to sharing the details with you in a few weeks!
More than two-thirds of the books I "read" this year took the form of audiobooks. I generally enjoy the books I read more than those I've listened to, but the convenience of audiobooks works so much better in my current life stage that I won't be giving them up any time soon. However, one of my goals for next year is to physically read a greater percentage of my books, even if this means having a lower total book count.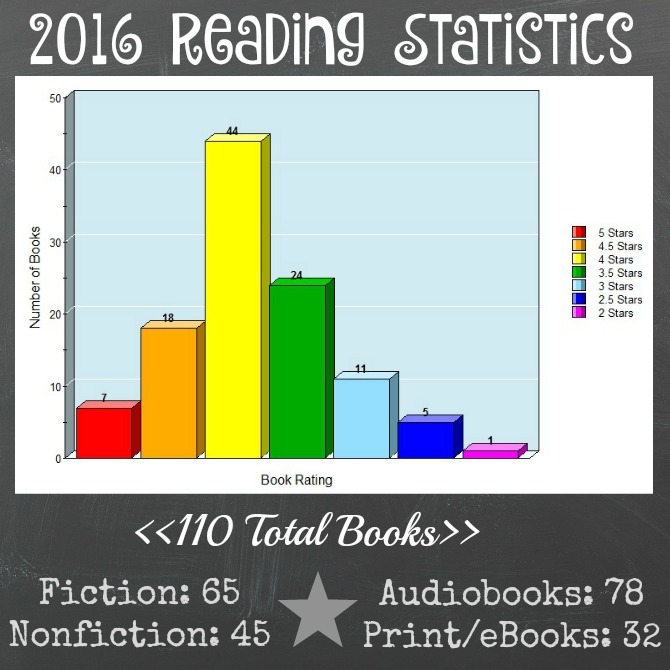 Narrowing down this year's books to just twenty favorites was extremely difficult because I genuinely enjoyed nearly all of the books that I read this year. I had particularly good luck with fiction: I returned to a few old favorites, discovered several new authors, and read at least three novels that I immediately added to my list of all-time-favorites. On the nonfiction front, I explored some new and challenging topics and encountered some truly amazing writing (which doesn't always happen outside of fiction).
In compiling this list of favorites, I made my task slightly easier by ommitting books that I'd read at least once prior to this year. (Had I chosen to include rereads, my list of 2016 favorites would have also included Harry Potter and the Sorcerer's Stone, All I Really Need to Know I Learned in Kindergarten, and All the Light We Cannot See.) I also kept this list to those books that left the deepest impression on me, and not necessarily those that I rated most highly just after reading them.
All twenty titles on this list are books I truly loved and would eagerly recommend. Here they are, divided into nonfiction and fiction and listed in the order in which I read them.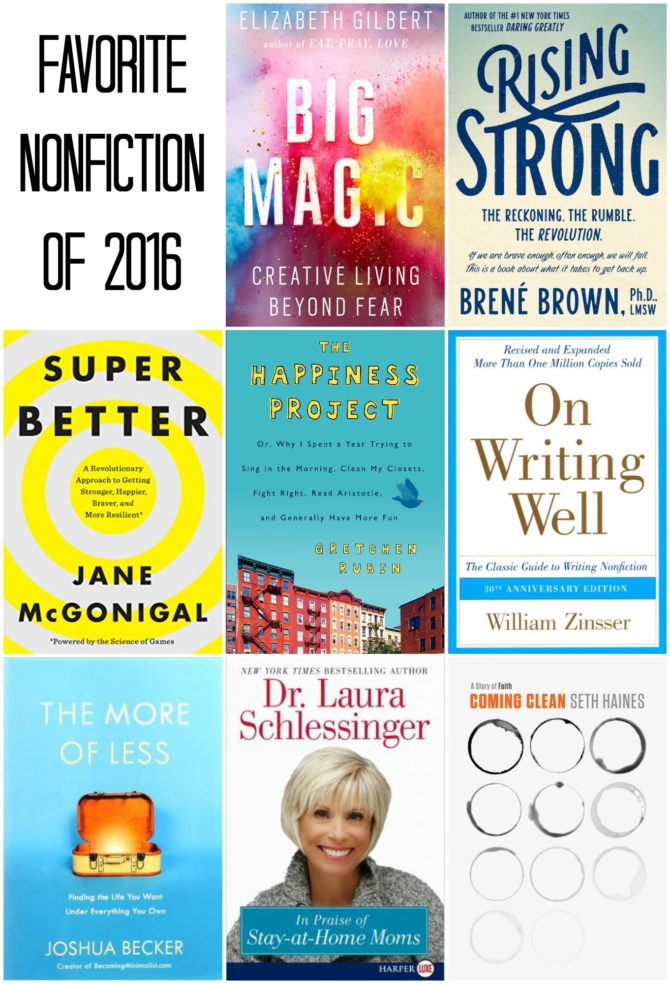 Big Magic: Creative Living Beyond Fear, by Elizabeth Gilbert: This book prompted me to think about the creative process in a whole new way. Gilbert defines creativity as a life driven more strongly by curiosity than fear, and she encourages readers to embrace failure and relinquish perfectionism as we pursue our most creative lives. (Original Review can be found here. // This book also inspired this post.)
Rising Strong: The Reckoning, The Rumble, The Revolution, by Brené Brown: Over the last year or so, I have become a huge fan of Brené Brown: her thoughts on vulnerability and shame have transformed my thinking on these issues, and I can't stop recommending her books. In Rising Strong, Brené offers guidance in coming to terms with our own stories so that we can pick ourselves up after a fall. My biggest takeaway from the book was this quote: "Integrity is choosing courage over comfort; choosing what is right over what is fun, fast, or easy; and choosing to practice our values rather than simply professing them." (Original Review)
SuperBetter: A Revolutionary Approach to Getting Stronger, Happier, Braver and More Resilient–Powered by the Science of Games, by Jane McGonigal: I read a lot of self help books, but I've never encountered anything quite like this one. Jane McGonigal explains how she used video games to heal her brain after a concussion, and she offers a detailed program for using gamification principles to improve mental health. Her research if fascinating and her strategies are unique and fun. (Original Review)
The Happiness Project: Or, Why I Spent a Year Trying to Sing in the Morning, Clean My Closets, Fight Right, Read Aristotle, and Generally Have More Fun, by Gretchen Rubin: I was late to the party with this book but am glad I finally got around to reading it. This is probably my favorite of all the self-experiment memoirs I've read; I enjoyed reading about Gretchen's process of finding happiness, and I learned a lot from her personal insights and takeaways. (Original Review)
On Writing Well, by William Zinsser: There is a reason this book is one of the most highly recommended guides for writers. Zinsser is a helpful teacher, leading writers through nearly every aspect of the writing process while providing an exquisite model of expository prose. (Original Review)
The More of Less: Finding the Life You Want Under Everything You Own, by Joshua Becker: This book is the Christian version of The Life-Changing Magic of Tidying Up. The minimalist principles in this book are nothing new, but I appreciated Becker's take on the subject, particularly his explanation of how living with less is an extension of his faith. (Original Review)
In Praise of Stay-at-Home Moms, by Laura Schlessinger: This is an example of a book that came to me at just the right time. I'd been questioning my personal worth as a SAHM, but Dr. Laura reminded me that being Charlie's mom is an important and worthwhile job. This book is a must-read for every mom who has chosen to stay home to raise her kids. (Original Review)
Coming Clean: A Story of Faith, by Seth Haines: Seth Haines' account of his first ninety days of sobriety is one of the most vulnerable things I've ever read. Though Seth's struggle is with alcohol, this book has something to offer for anyone who has questioned their faith, battled a personal struggle, or is simply seeking to understand those who have. (Original Review)
Honorable Mention: All Joy and No Fun: The Paradox of Modern Parenthood by Jennifer Senior (Original Review) // Nutrition Diva's Secrets for a Healthy Diet by Monica Reinagel (Original Review) // For the Love by Jen Hatmaker (Original Review)
---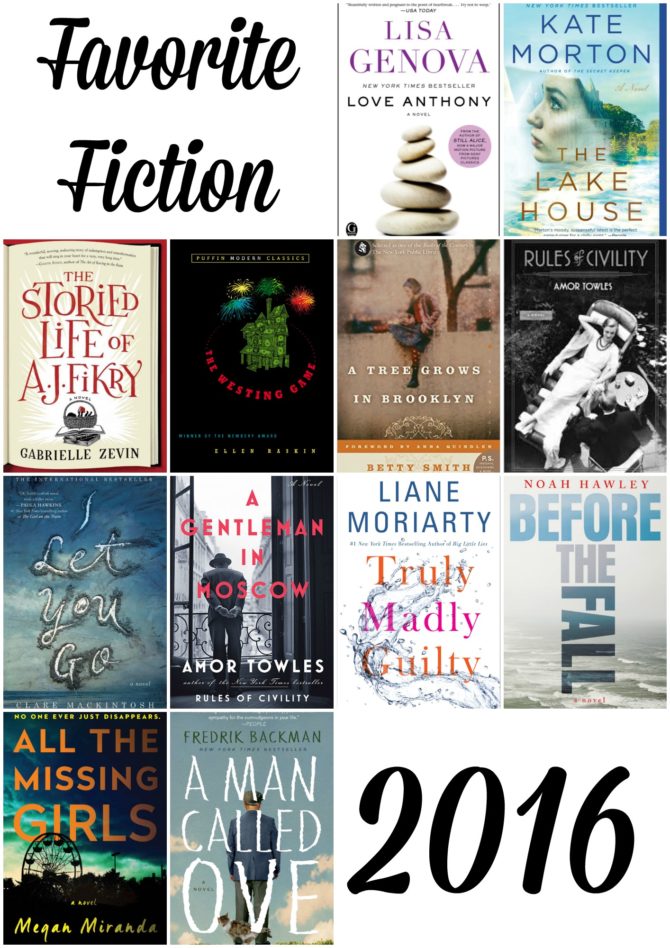 Love Anthony, by Lisa Genova: Lisa Genova is so good at making challenging topics accessible through beautiful and profound storytelling. Love Anthony is a heartbreaking novel that explores the subject of autism with insight and compassion. (Original Review)
The Lake House, by Kate Morton: This intricately plotted mystery revolves around decades-old secrets that are brought to light when a troubled London detective stumbles upon an abandoned English estate. The Lake House is a stunning page turner that satisfied my insatiable cravings for mystery and historical fiction. (Original Review)
The Storied Life of A.J. Fikry, by Gabrielle Zevin: This heartwarming novel about a quirky bookseller hits all the right notes: funny, tender, and a little mysterious, with heaps of literary references . . . this was tied for my very favorite book of 2016. (Original Review)
The Westing Game, by Ellen Raskin: The Westing Game has been a staple on YA booklists for years, and I'm sad that it took me so long to discover this delightful mystery. This book is And Then There Were None for a younger audience, and it's almost as good! (Original Review)
A Tree Grows in Brooklyn, by Betty Smith: This coming-of-age novel set in the years leading up to World War I is another classic I somehow missed until this year. Betty Smith examines universal experiences while beautifully capturing an intriguing time in history. (Original Review)
Rules of Civility, by Amor Towles: This brilliant novel follows one eventful year in the life of an unassuming twenty-something in 1930s New York. Towles dazzled me with his enchanting storytelling and sophisticated themes. (Original Review)
I Let You Go, by Clare Mackintosh: Few novels manage to catch me off guard quite like this one did. What begins as a devastating story about a woman losing a child morphs into a fast-paced thriller with twists I never saw coming. (Original Review)
A Gentleman in Moscow, by Amor Towles: After blowing me away with his first novel, I was skeptical that Amor Towles could replicate his own success, but this novel about a Russian aristocrat sentenced to house arrest in a luxury hotel shattered my expectations. This is historical fiction of the highest caliber and probably my most-recommended book of the year. (Original Review)
Truly Madly Guilty, by Liane Moriarty: Many readers cite Liane Moriarty as their "guilty pleasure" author but her books take Chick-Lit to such a higher level that I feel zero guilt about reading her books. Part mystery, part social satire, Truly Madly Guilty is dark, witty, and thoroughly binge-worthy. (Original Review)
Before the Fall, by Noah Hawley: This book about a mysterious plane crash is not the thriller I expected, but I was impressed with Hawley's narration and thought-provoking insights into the lives of some complicated characters. This would be an excellent book club pick. (Original Review)
All the Missing Girls, by Megan Miranda: This recounting of two disappearances, a decade apart, puts a unique spin on the popular theme of the unreliable narrator. The unusual plotting of this book (which is told in reverse chronological order) both frustrated and fascinated me, but what might have felt gimicky in the hands of a less talented author served to further the suspense and kept me riveted to the very end. (Original Review)
A Man Called Ove, by Fredrik Backman: This is a quiet, heartwarming tale about a curmudgeonly gentleman, his unexpected love story, and the power of neighborly kindness. I listened to this one, and the narrator's spot-on presentation made it my favorite audiobook of the year. (Review to come in my next reading round up!)
Honorable Mention: Be Frank With Me by Julia Claiborne Johnson (Original Review) // The Madwoman Upstairs by Catherine Lowell (Original Review) // The Wonder by Emma Donoghue (Original Review)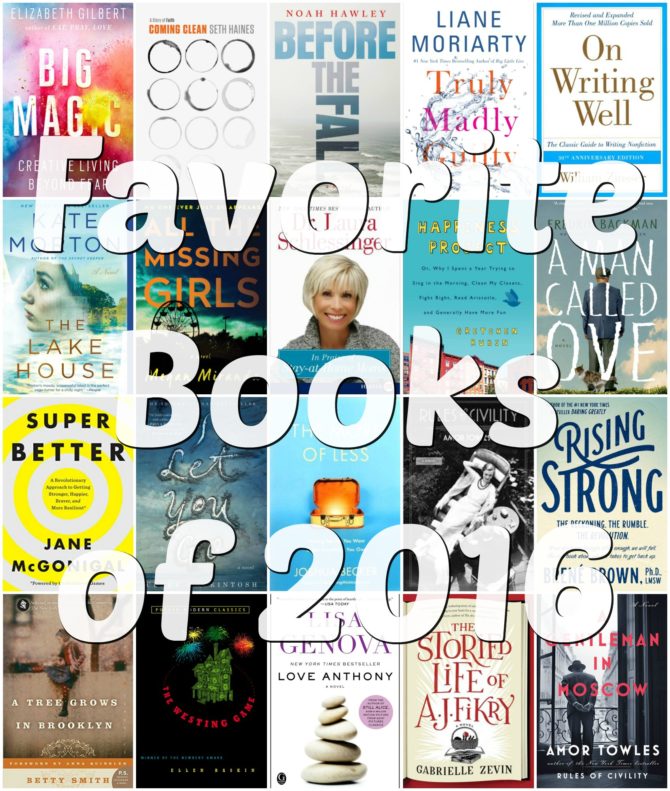 What did your reading life look like this year? Did you meet all of your reading goals? What were your favorite books of the year? Most importantly: what books should be on my TBR list for 2017?
Save
Save
Save
Save
Save
Save
Save
Save
Save
Save
Save
Save
Save
Save
Save
Save
Save