In just a few short days we will all be fully immersed in the Holiday Season! (Yes, I know many of you have already been knee-deep in the Holiday Season for weeks now. I would have been, too, if not for my traditionalist husband who keeps me honest and maintains strict not-until-after-Thanksgiving protocol in our home.) Christmas is my favorite, and I eagerly anticipate this time of year from January through November. This year, to ensure that I make the most of this joyful, too-short season, I am creating a bucket list of everything I hope to see, do, make, experience, and otherwise accomplish in the month ahead.
A seasonal bucket list is not new for me, but writing it all down (and documenting it on the blog) is. This list is comprised of many cherished family traditions as well as a few new activities we are trying out this year. Check it out; maybe you'll spot an idea or two to add to your own family's Christmas bucket list this year!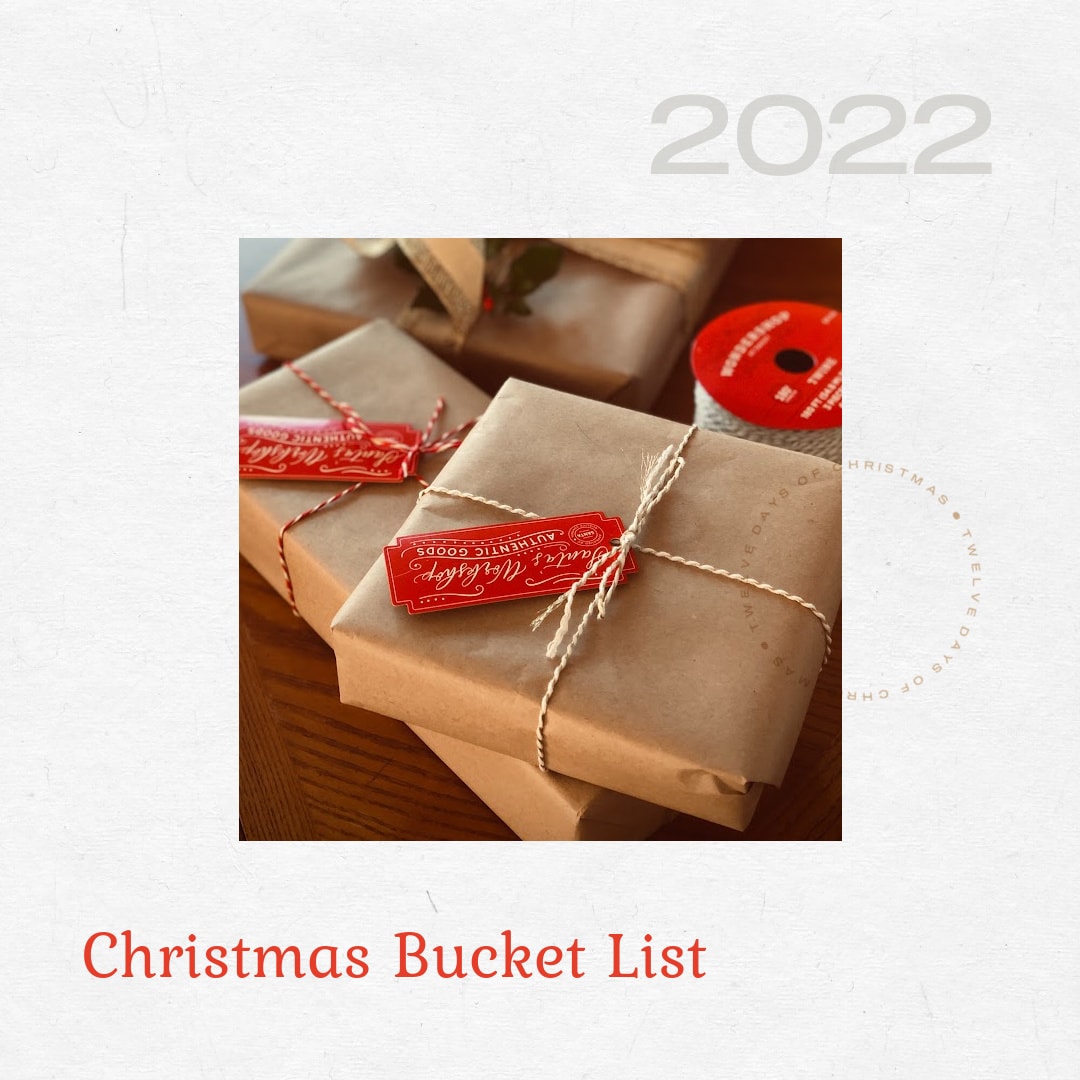 1) Complete Christmas gift shopping and wrapping by Thanksgiving (including family gifts that fit Want, Need, Wear, & Read categories, with each family member's gifts wrapped in a unique paper).
2) Gift each of the kids Christmas pajamas and a Christmas book on the day after Thanksgiving. (We've done this on Christmas Eve in the past but are trying something new this year!)
3) Make and send out Christmas cards, and frame one to add to our collection of family Christmas cards displayed each year.
4) Create a Christmas cards display (with cards received from family and friends) on our playroom wall.
5) Add a 2022 ornament to our collection of dated family ornaments. (We'd hoped to a garden-themed ornament this year in honor of our foray into gardening, but couldn't find any we liked; instead we are adding a Harry Potter ornament since the series was significant for us in 2022.)
6) Visit a tree farm to pick out a live tree; spend an evening decorating it as a family, documenting the process with time-lapsed photos and spending some time sharing stories behind each ornament with the kids.
7) Celebrate Advent with the kids through various traditions: lighting a candle in our Advent wreath every Sunday; following along with Annie F. Downs' Advent Series; and reading the book that coincides with our Advent blocks.
8) Do a Christmas countdown with our Ornament Magnet Tree and a Lego Advent Calendar.
9) On my own, read through an Advent book (I'm so excited about this one) and journal about it each morning during my quiet time with God.
10) Attend at least one community tree lighting.
11) Attend the Liberty Hill Christmas festival.
12) Attend a live nativity event in Georgetown or Burnet.
13) Visit Santa at Bass Pro and frame a picture to add to our annual Santa Picture display.
14) Drive around looking at Christmas lights (including the Austin Trail of Lights) and complete a Christmas Lights Scavenger Hunt.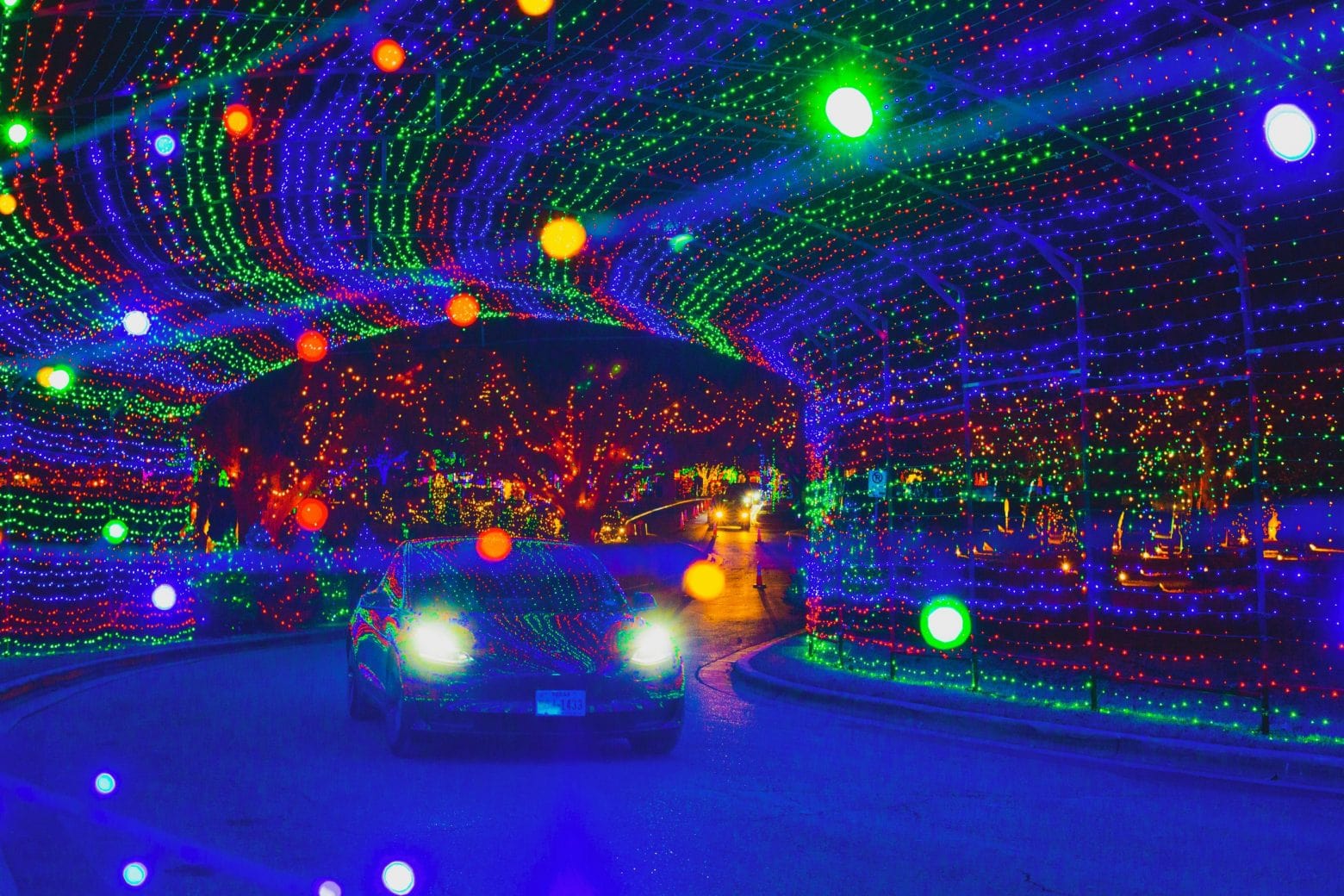 15) Listen to ALL of our cherished Christmas songs and make a playlist of our top ten.
16) Watch all of our Christmas DVDs (including, but not limited to, Elf, It's a Wonderful Life, White Christmas, The Star, The Santa Clause, Jack Frost, Miracle on 34th Street, The Grinch, and Family Man) and watch one or two new ones (I'm excited to check out Spirited and A Holiday Spectacular); create a tournament bracket to determine our family's favorite one.
17) As a family, decide on a Christmas craft or ornament to make together.
18) Have a family sleepover in the living room in front of the Christmas tree.
19) Read all of the books in our collection of Christmas picture books and at least one Christmas chapter book (either this or this or this), and participate in Christmas School readings and book club activities through Read Aloud Revival..
20) Participate in a family service project.
21) Learn about Christmas foods and traditions from around the world and choose one or two new traditions and recipes to try as a family.
22) Assemble Christmas goody bags to pass out to neighbors.
23) Memorize 'Twas the Night Before Christmas with Charleston
24) Get together with friends for a Christmas social and book or White Elephant gift exchange.
25) Have a family Christmas pageant reenacting the first Christmas.
26) Decorate a gingerbread house on Christmas Eve.
27) Attend a Christmas Eve service at church.
28) Bake cookies for Santa; put out cookies and milk for Santa, a letter to Santa, and carrots for the reindeer on Christmas Eve.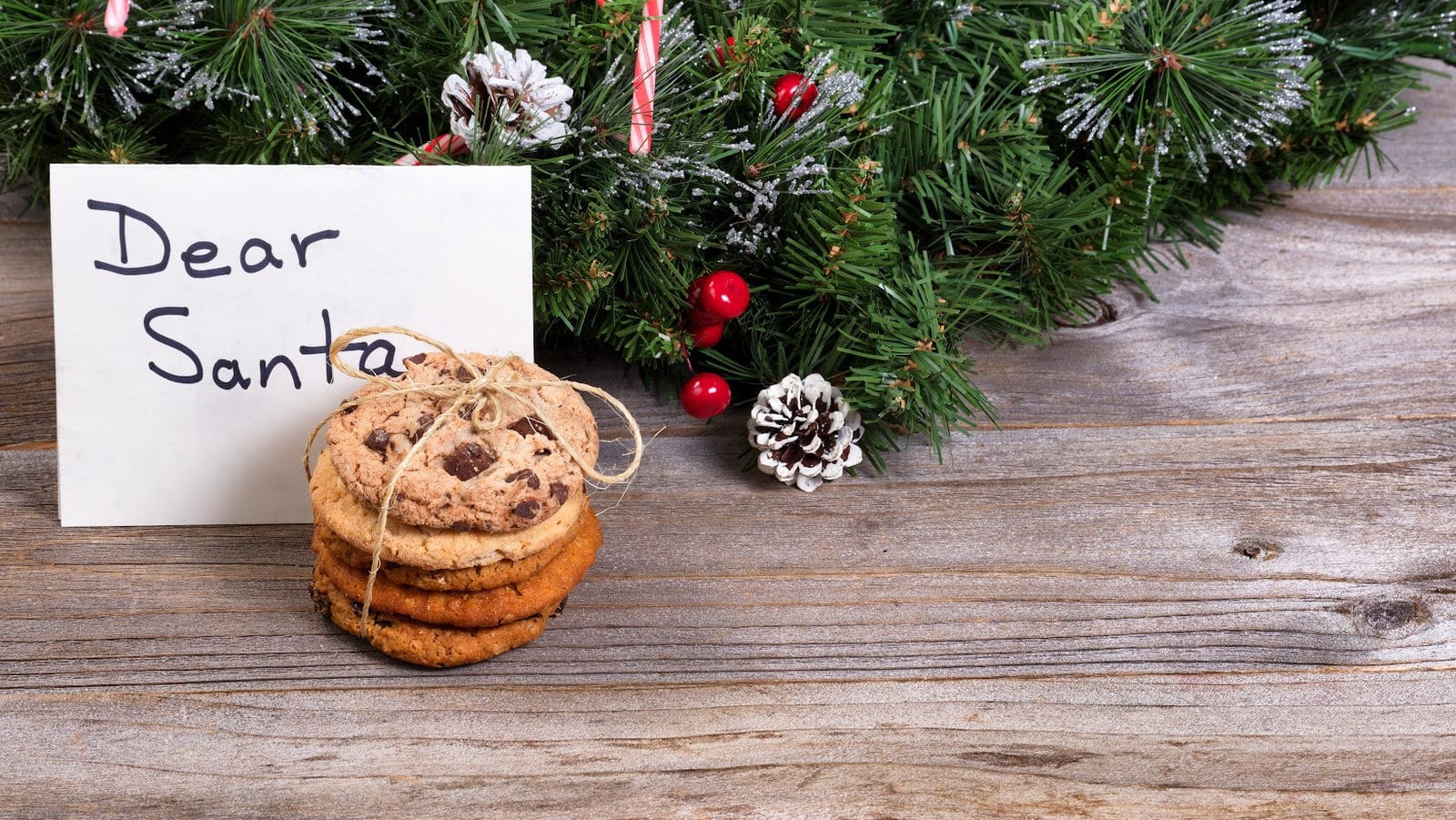 BONUS ITEMS ON MY END-OF-YEAR BUCKET LIST
1) Reflect on highlights from 2022 and what I learned this year (personally, and in blog posts).
2) Reflect on reading in 2022; put together a blog post of favorite books of the year.
3) Select a Word for 2023; begin to think about how I will pursue that Word next year.
4) Have a family powwow on New Year's Eve reminiscing about 2022 and looking forward to 2023.
5) Ring in the "New Year" (a few hours early for the kids) with a game night, a countdown, and sparkling cider.
---
What are some family traditions you are hoping to get to this Christmas season? I'm excited to hear about some of your favorites!