Easter is just over a week away (how did that happen?!) so this week I'm sharing some creative ideas for non-candy Easter Basket fillers. On Wednesday I shared some Easter books, as well as gifts for the musical child and some alternative basket ideas. Today we've got several more Easter gift ideas—some fun, others functional, and all perfectly suited for basket-filling!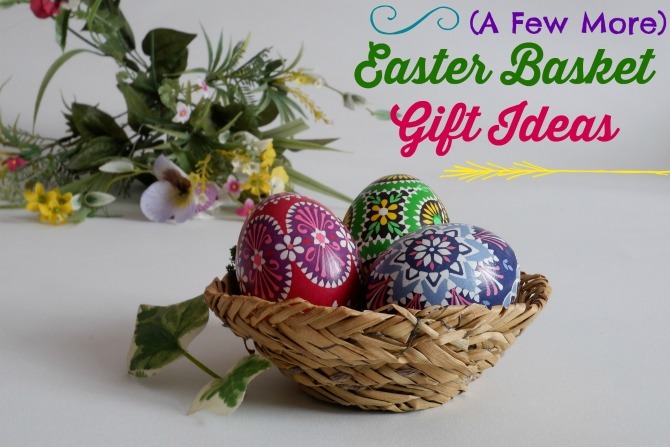 I haven't met a kid who doesn't love arts and crafts, at least to some extent. Crayons, paints, markers, stickers, and coloring books all make fantastic Easter Basket fillers that are sure to get a lot of love. The ideas below are all crafty and a little more unique.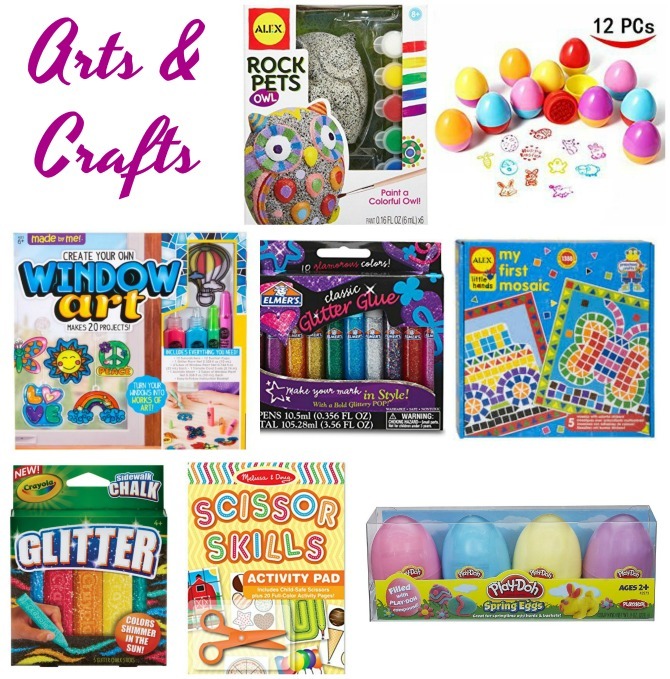 Rock Pets Owl Craft // Easter Egg Stamper Set // Create Your Own Window Art // Glitter Glue Pens // Little Hands Picture Mosaic // Glitter Sidewalk Chalk // Scissors Skills Activity Book // Play-Doh Spring Eggs
---
Since Easter takes place at the beginning of spring, just when the weather is finally starting to get nice, it's the perfect time for some fun outdoor toys. I've included a few favorites from my own childhood in this batch of gift ideas.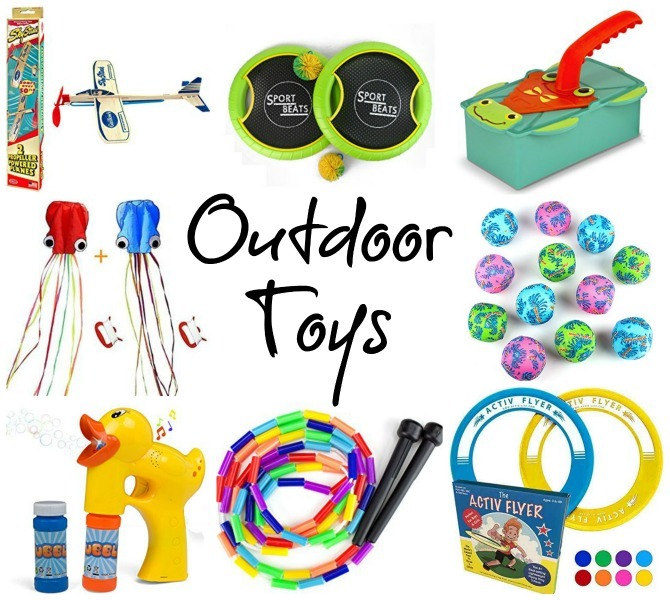 Rubber Band Powered Glider Planes // Paddle Ball Game Set // Sand Mold and Trowel // Octopus Kites // Water Splash Bomb Soaking Balls // Musical Bubble Gun // Plastic Beaded Jump Rope // Frisbee Rings
---
If spring is the rainy season where you live, perhaps some indoor toys will are more appropriate for Easter gifts. Here are some good ones!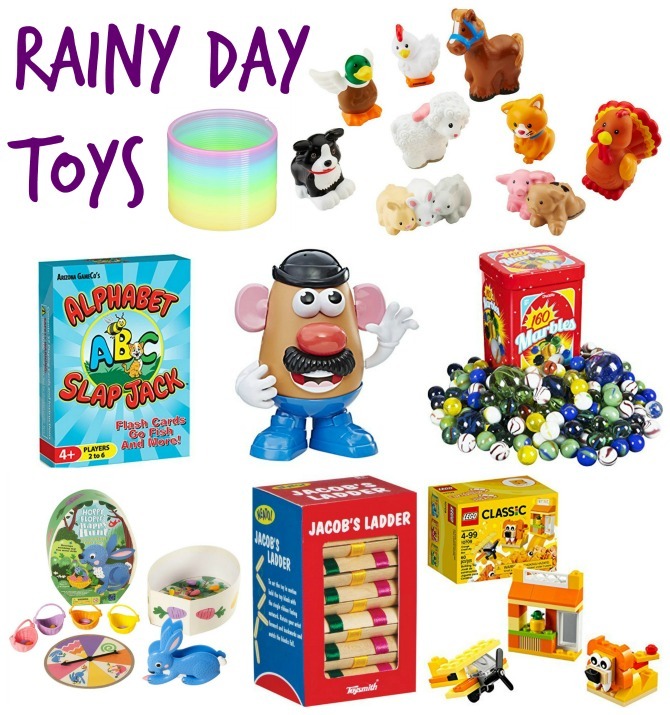 Glow In The Dark Slinky // Little People Figurines // Alphabet Card Game // Mr. Potato Head // Marbles // Hoppy Floppy's Happy Hunt Game // Jacob's Ladder // Lego Creativity Box Building Kit
---
What are your thoughts on gifting practical items? Personally, I'm a big fan. I enjoy receiving practical gifts myself, and they're great for kids: gifting items you would have bought for them anyway saves money, and it increases their own appreciation for the items. The trick is to give practical gifts that are just a step above the expected generic items; in other words: underwear with cartoon characters on them? Perfect! Plain old tighty whities? Maybe not. Here are a few practical gift ideas to get you started.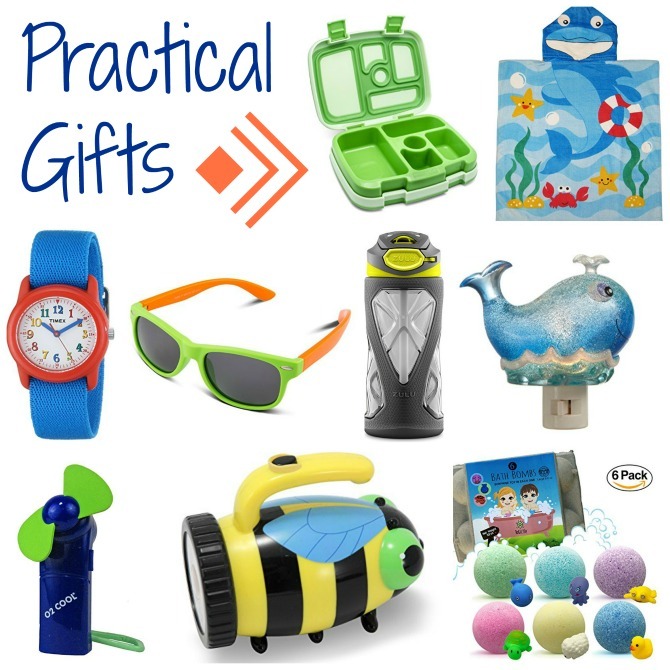 Bento Lunch Box // Ponch Style Towel // Timex Analog Watch // Polarized Rubber Sunglasses // Water Bottle // Night Light // Pocket Fan // Flashlight // Natural Kids Bath Bombs
---
Last, but certainly not least, we have some Easter-themed whimsical items to round out your kids' Easter baskets. These are the the opposite of practical, and to be honest, they might not get much playtime once Easter is over, but they sure are adorable! There's just something about Eastery items that makes them incredibly cute!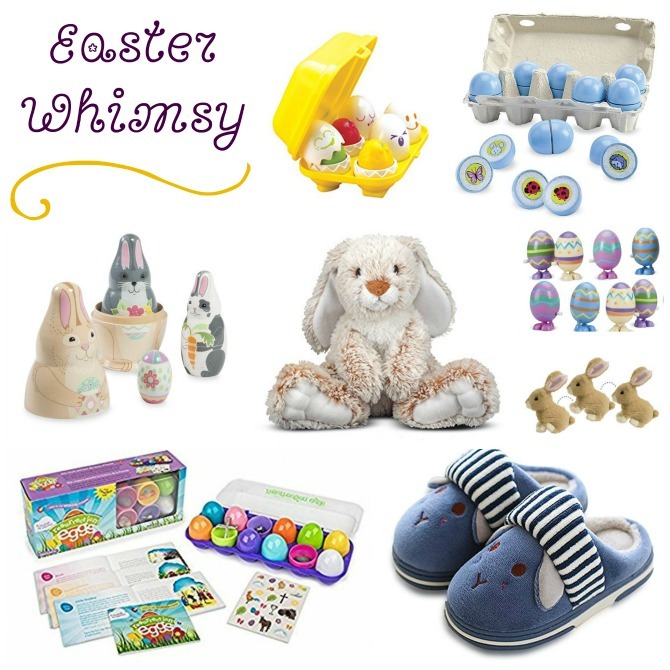 Hide N Squeak Eggs // Eggsact Match Game // Bunny Nesting Set // Stuffed Bunny Rabbit (I firmly believe a child can never have too many stuffed animals, as long as they are this cute!) // Wind-Up Hopping Eggs // Hopping Bunny // Resurrection Eggs (these are fantastic!) // Bunny Slippers
---
There you have it: enough Easter Basket filler ideas to keep your kids' baskets filled for at least the next few Easters. What will your kids be receiving in their baskets this year? I'd love to hear about it (especially if it's Cadbury Eggs and they want to share!).