It's ironic that I spend months looking ahead to, and planning for, the other big holidays like Halloween and Christmas, but Easter always seems to sneak up on me. That's especially the case when Easter falls earlier in the spring, as it does this year. I had a slight moment of panic last week when I realized that Easter was fast approaching, and I had made few plans. I immediately began gathering ideas for Charleston's Easter basket, and since I came across a lot of great ideas, I thought I'd share some here in case you, too, are looking for creative fillers for your kids' Easter baskets.
I've always prioritized books and toys over edible treats in Charleston's Easter basket. Now that he's three, he's old enough for a goody or two, but I'd still rather not make candy the main event. You probably don't need any help finding cute candy to include in your kids' baskets! The ideas I'm sharing here will provide your kids with plenty of entertainment and none of the sugar high. Most of these ideas are geared towards preschool-aged kids, though many would work for younger or older kids as well.
Before we get started, my requisite Christian disclaimer: I realize that Easter is about SO MUCH more than bunnies and candy and treat-filled baskets. In our home, we make it a point to emphasize the true meaning of Easter, but I'm not above mixing a little secular in with the sacred. I have no qualms about celebrating Easter morning with a church service AND an egg hunt. I firmly believe that when Jesus is the focus of our everyday lives, and not just our holidays, there's plenty of room for both the Resurrection story and the Easter Bunny.
Okay, no that we've cleared up that little matter of business, let's get to some Easter fun!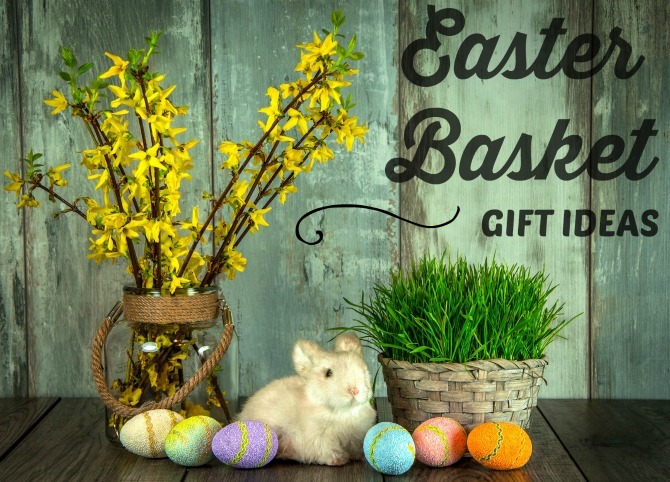 Fillers are the fun part, but first we need a basket! There's no shame in picking up a plastic pail from the Target Dollar bin (that's what I always do!), but if you're looking for something fancier, or even a basket you can make yourself, there are some great options!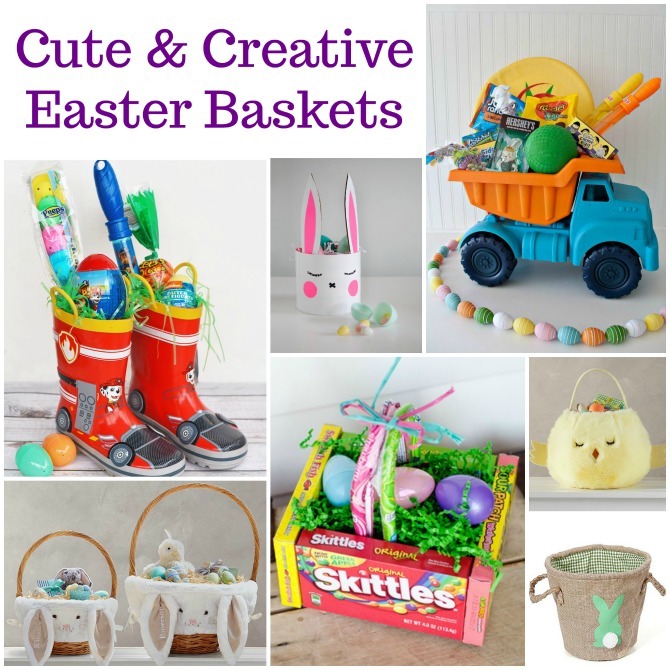 Rain Boot Easter Basket (this might be my favorite of these ideas) // DIY Duct Tape Bunny Basket // Dump Truck Basket // Taupe Bunny Basket Liners // DIY Edible Easter Candy Basket // Yellow Chick Puffy Easter Basket // Easter Bunny Basket
---
To absolutely nobody's surprise, my go-to Easter gift is books! Charleston receives at least one Easter book in his basket each year; he's developing quite the collection! Here are a few great Easter books you might consider gifting this year. I haven't read any of these personally (with one exception), but they all have good reviews; I've included a portion of the Amazon description for each book.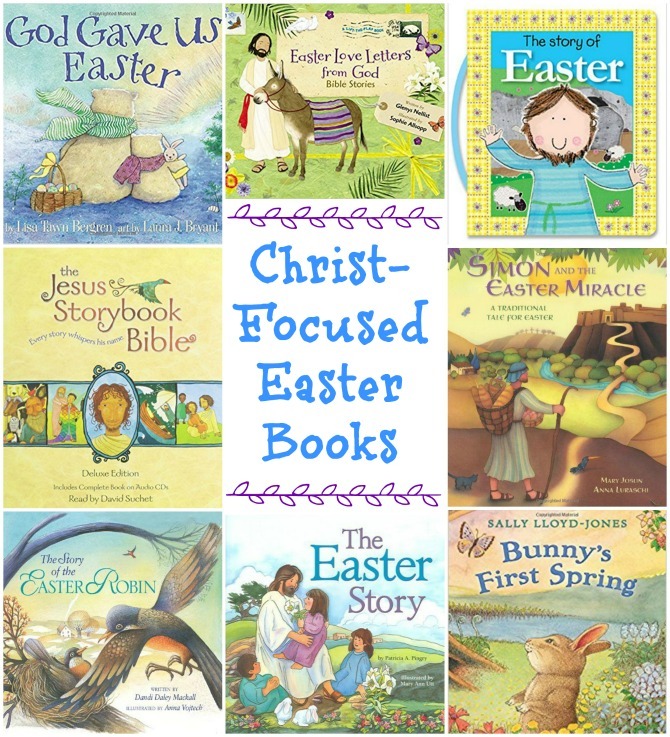 God Gave Us Easter, by Lisa Tawn Bergren: "A delightful illustrated picture book for readers ages 3 and up, God Gave Us Easter features the adorable polar bear Little Cub, talking with her father and learning about God's design for the Easter season and what it really means."
Easter Love Letters From God, by Glenys Nellist: "Easter Love Letters from God guides children and families through Holy Week with seven beautifully illustrated Bible stories. Following each story the child will find his or her own letter from God. Children will love the excitement of opening the letters and parents will love how the letters elaborate on the Bible stories being told. Each message gives the child a sense of wonder as they discover what happened leading up to Jesus' resurrection on Easter Sunday."
The Story of Easter, by Thomas Nelson: "This board book is a wonderful way to introduce young hearts to the miraculous story of the first Easter. Sweet text and adorable illustrations will engage kids as they read along with parents and grandparents. A padded board book is a soft but durable selection for little ones, and kids will enjoy the 'carry-me' handle as they take their book on-the-go." Kendra Note: Charleston received this two Easters ago, and it's still a favorite!
The Jesus Storybook Bible Deluxe Edition, by Sally Lloyd-Jone: "Every Story Whispers His Name. The award-winning Jesus Storybook Bible invites children to discover—through full-color illustrations and three read-along CDs—that Jesus is at the center of God's great story of salvation. . . and at the center of their story, too. This beautifully crafted deluxe edition, with ribbon marker and audio CDs, is a wonderful gift and sure to become a family treasure."
Simon and the Easter Miracle, by Mary Joslin: "Both thought-provoking and engaging, this is the story of Simon of Cyrene —'a man coming in from the country,' as the Gospels refer to him—who was ordered to carry Jesus' cross. Over the centuries, his story has been woven into Polish folklore; when Simon the farmer brings his wares to market, little does he expect how he will be involved in the events of that very special day, nor how his produce—of bread, eggs, and wine—will become important symbols of Jesus' passion and resurrection, remembered throughout the ages."
The Story of the Easter Robin, by Dandi Daley Mackall: "Two stories fold into one as this contemporary tale reaches back to the first Easter. . . . Drawing from Pennsylvania Dutch tradition, this warm story incorporates intergenerational affection, religious faith, and the appeal of legends. Sturdy artwork brings all the elements together."
The Easter Story, by Patricia A. Pingry: "This boardbook tells the story of Jesus's entry into Jerusalem, the Lord's Supper, and the crucifixion and resurrection. Illustrations show Jesus as a friend to children while the story, based on the Gospels, simply and gently explains Jesus' death as the means of salvation for mankind."
Bunny's First Spring, by Sally Lloyd-Jones: "When a bunny is born in spring, he sees the world as green and new and full of hope. But as the seasons change, the bunny worries that the earth may be dying. In bestselling author's Sally Lloyd-Jones' latest picture book celebrating the Easter season and rebirth, nature speaks to the bunny, assuring him of something more."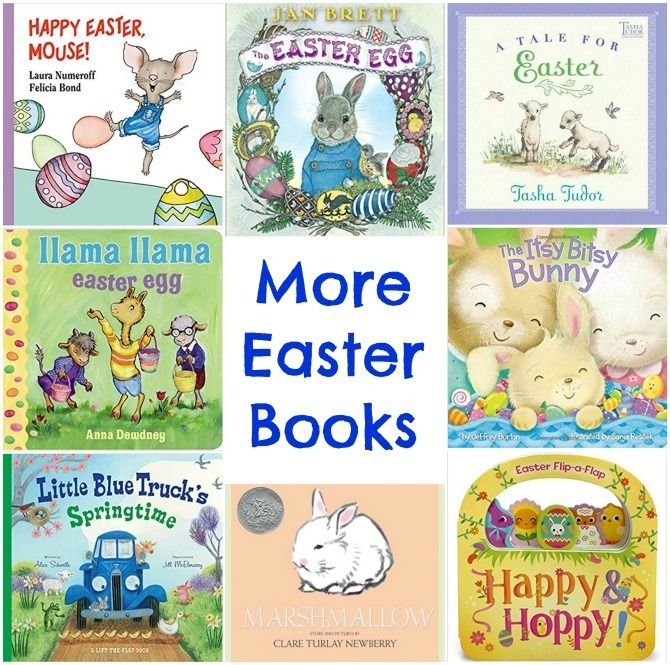 Happy Easter, Mouse!, by Laura Numeroff: "Join Mouse from If You Give a Mouse a Cookie as he goes on an Easter egg hunt! Who is hiding eggs in Mouse's house? This adorable board book combines an engaging Easter theme with a story about colors!"
The Easter Egg, by Jan Brett: "Jan Brett's lovable bunny hero, Hoppi, and her remarkable Easter Rabbit will enchant readers as they pore over illustrations filled with dazzling eggs made by Flora Bunny, Aunt Sassyfrass and others."
Tale for Easter, by Tasha Tudor: Beloved artist Tasha Tudor looks through the eyes of a child at a favorite springtime holiday. With her trademark delicate watercolors and honey-sweet text, Tudor revisits her childhood memories and dreams of Easter. This 1941 classic pays tribute to the celebration of renewal while transporting readers to a gentle, joyful era.
Llama Llama Easter Egg, by Anna Dewdney: "In Llama Llama Easter Egg, the Easter Bunny brings lots of treats for Llama Llama: jelly beans, colorful eggs, and a fluffy surprise!"
The Itsy Bitsy Bunny, by Jeffrey Burton: "This Itsy Bitsy Bunny must hop at top speed so he can get all of his eggs hidden in time for the big holiday! Little ones will love this fresh springtime spin on a classic nursery rhyme."
Little Blue Truck's Springtime, by Alice Schertle: "Celebrate the beauty of springtime with Little Blue Truck! Young fans will love finding all sorts of baby animals beneath the flaps in this delightful novelty board book. Beep! Beep! Peep!"
Marshmallow, by Claire Turlay Newberry: "Oliver is a tabby cat who is always the center of attention. Marshmallow is a baby rabbit who moves into Oliver's home. At first Oliver does not welcome Marshmallow, but the little bunny's charms are impossible to resist. This is the true story of how Oliver and Marshmallow become friends. Clare Turlay Newberry's lifelong passions for cats and for drawing come together in this elegantly illustrated book, winner of the 1943 Caldecott Honor."
Happy & Hoppy: Easter Basket Flip-a-Flap Board Book, by R.I Redd: "This whimsical, Easter basket–shaped, lift-a-flap board book lets your preschooler search, match, count, and compare colors, shapes, and patterns. The Easter holiday is brought to life through the bright and cheerful illustrations of bunnies, chicks, Easter eggs, and parades."
---
If your child has in interest in music, a small instrument or other musical gift is the perfect Easter Basket filler! I'm especially digging those musical box sets!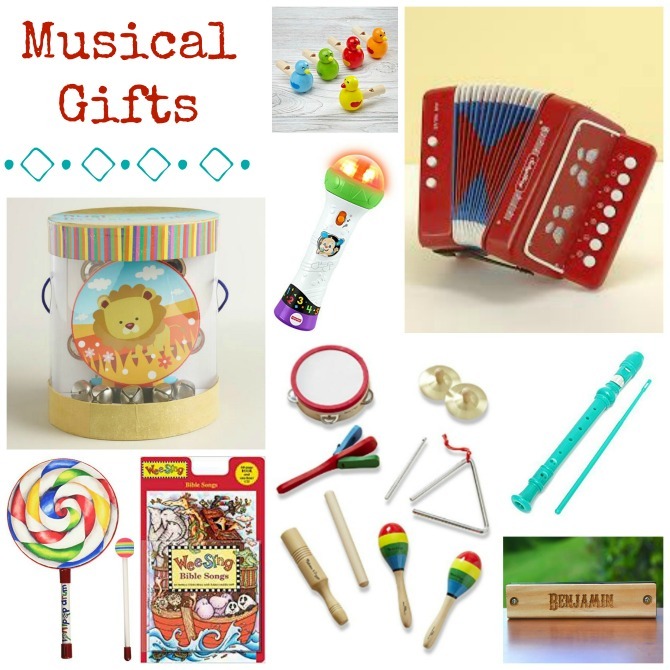 Wooden Bird Whistles // Accordion // Musical Instrument Set (this is SO cute!) // Rock & Record Microphone // Recorder (I LOVED mine as a kid) // Lollipop Drum // Wee Sing Bible Songs (or any Wee Sing CDs; they're Charleston's favorites!) // Band-In-A-Box // Personalized Harmonica
---
I might have gotten a little carried away with my "research" because this is just a taste of the great Easter Basket fillers ideas I discovered. Part Two of this round-up is headed your way this Friday!