My reading this month was less extensive and less diverse than usual. Still, there are some standout reads in this roundup as well as some books that you may love even though they weren't personal favorites. Let's dive into the reviews!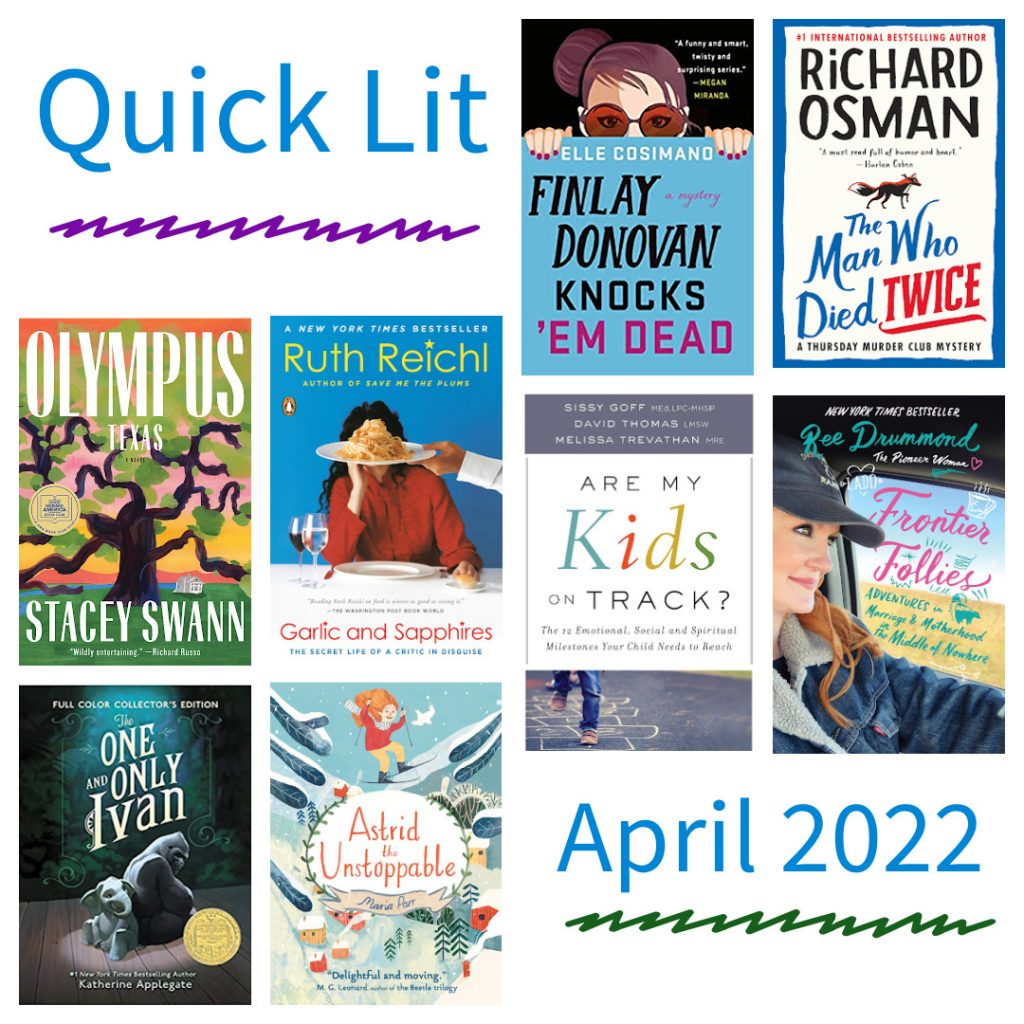 NONFICTION
Frontier Follies: Adventures in Marriage and Motherhood in the Middle of Nowhere, by Ree Drummond: Pioneer Woman was one of the first blogs I followed (back when blogs were actually cool), and though I don't watch her cooking show or check in with her site as regularly as I once did, I own a number of her cookbooks and continue to be a Ree Drummond cheerleader (from afar). I didn't know about this most recent collection of essays (released in 2020), so when I stumbled upon the audiobook in Hoopla I couldn't press download fast enough! The book contains Ree's laugh-out-loud musings on ranch life, marriage, motherhood, her cooking show, and what it's like to be a velveeta-loving, dog-whispering, true-crime obsessed redhead with a penchant for pranks. Some stories go back to Ree's earliest year on the Ranch and the beginnings of her public life, while other essays are recent reflections on her daughters going away to college, surviving quarantine, and making a spectacle of herself on her cooking show.
This book won't win any literary awards, but it's awfully funny, quite warm-hearted, and down-to-earth (everything we all love most about Ree Drummond). We learn what it's really like to live on a cattle farm (hard work and profanity-laden, but rewarding and fun); how Ree genuinely feels about her family members (she adores them, both the four- and two-legged ones); and Ree's bizarre food-adjacent phobia. There are a few too many body shaming moments, and fewer references to her faith than I expected, but I appreciated the upbeat and positive tone that feels authentic without getting weirdly intimate.
Ree Drummond explored brand new territory when she began posting pictures of her young kids on their ranch and sharing her quirky and comedic commentary; she's more mainstream now, but still lovable and still flowing with engaging stories. I'm not sure this would be of interest to those not already familiar with Ree and all things PW, but I loved it. This is wonderful on audio.
My Rating: 4 Stars // Book Format: Audiobook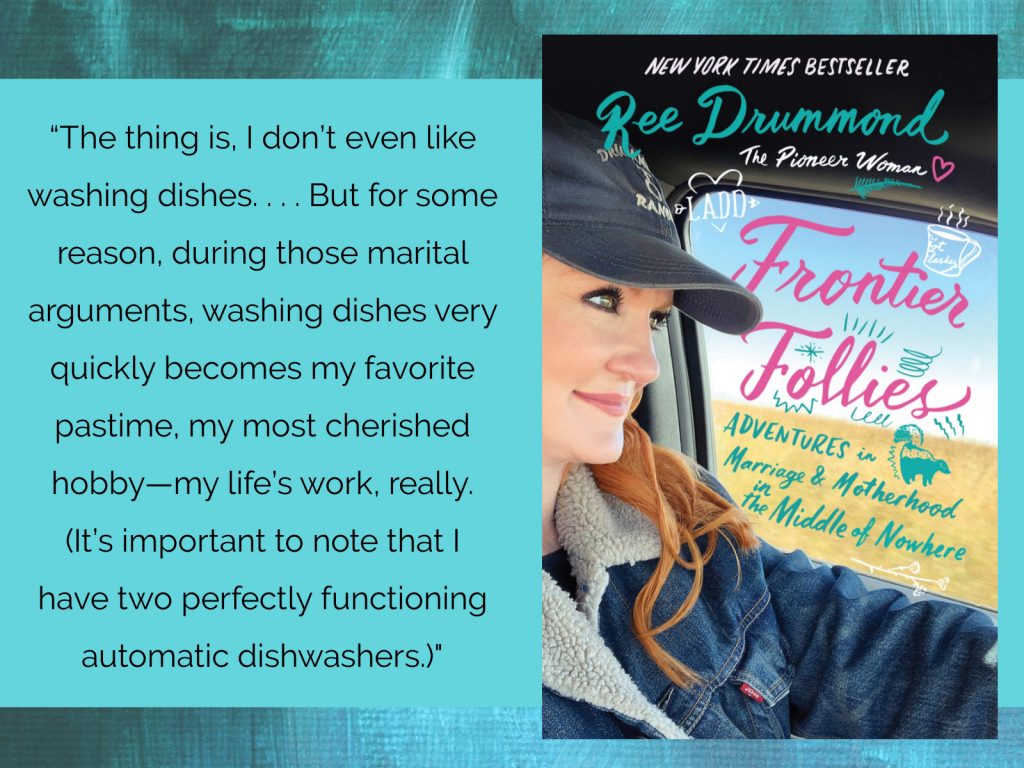 ---
Are My Kids on Track? The 12 Emotional, Social, and Spiritual Milestones Your Child Needs to Reach, by Sissy Goff, David Thomas, and Melissa Travathan: From the moment of their conception, we begin tracking our kids: are they growing? Are their lungs developing? Are their body parts proportional? Once they're born the tracking continues and intensifies as we monitor verbal and kinesthetic milestones, physical development, and academic prowess. We keep up with the monitoring out of curiosity and also because it's necessary for identifying where they might need some extra support; it's important to be sure that our kids aren't slipping through the cracks, that they aren't falling behind. Unfortunately, for all the monitoring we do, there is one area of our children's development we often neglect: their hearts. But our kids' social, spiritual, and emotional development is every bit as important for their overall health and well-being, and skills in these areas need to be monitored and nurtured.
In Are My Kids On Track, three Christian therapists/childhood experts identify twelve milestones our kids need to reach. Section One focuses on Emotional milestones that provide the foundation for development: emotional vocabulary, perspective, empathy, and resourcefulness. Section Two identifies the Social milestones of awareness, reciprocity, ownership, and boundaries. And Section Three explores Spiritual milestones of foundation, identity, mercy, and meaning. Each chapter unpacks the definition and significance of the milestone, followed by male- and female-specific stumbling blocks parents might anticipate and building blocks they can embrace for the milestone.
This counseling/author team has become my most trusted parenting resource: I love their podcast, and everything I've read from them has been golden. This book is no exception: it is a fantastic resource for parents of all kids—from newborns through young adults. (In fact, I learned a lot about myself and my own emotional/spiritual/social development from this book, so I would even recommend it to childless adults wanting to revisit some milestones they might have missed in their younger years!) The advice is backed by Scripture and science, and it strikes the perfect balance of practical and informative. There is no psychobabble or over-the-top emphasis on emotionality or sentimentality, but it also isn't rooted in tough, no-nonsense ideology. Children and parents are honored and dignified in each page, with an overarching aim of helping families achieve wholistic health.
This book provided me with the knowledge and skills I need to help my children develop into confident, courageous, intelligent, and kind adults who live out their faith, appropriately manage their emotions, and interact well with others. Every single chapter was helpful for me, but the section on boundaries (which included a healthy dose of skepticism about the idea of boundaries—something I've been longing to read from psychology experts for years!) was probably my favorite, and the practical ideas for building empathy and ownership were the sections I was most eager to read.
My Rating: 5 Stars // Book Format: Audiobook (Purchased the paperback after reading for future reference and to lend to friends!)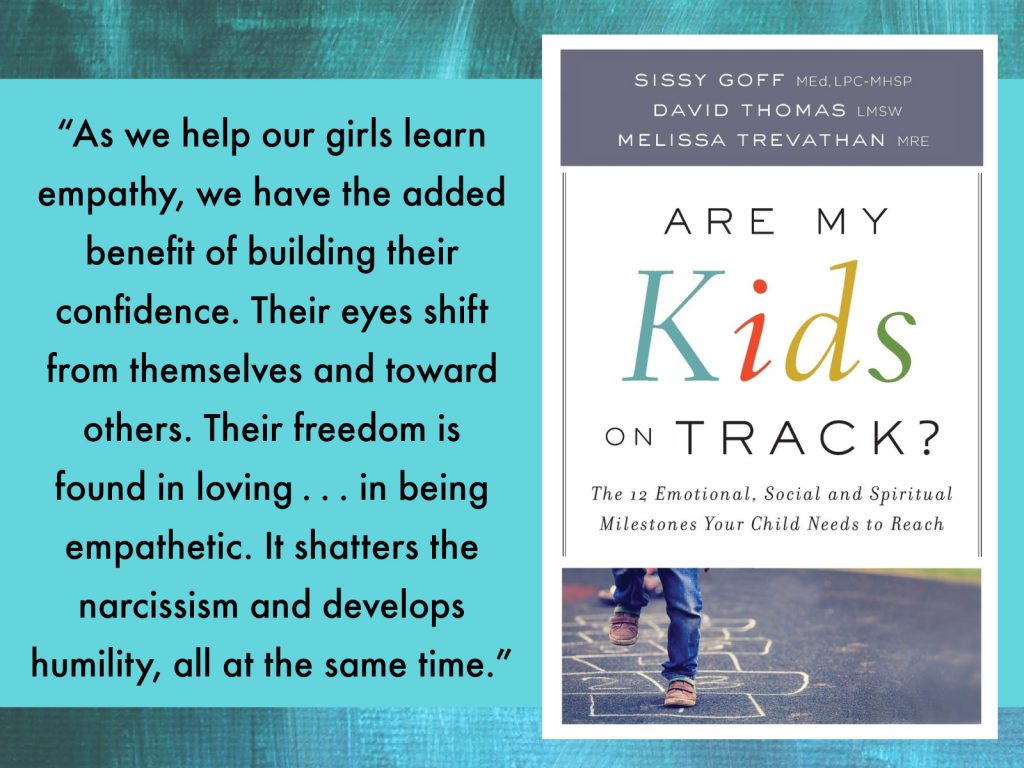 ---
Garlic and Sapphires: The Secret Life of a Critic in Disguise, by Ruth Reichl: When renowned food critic Ruth Reichl accepts a job with the New York Times, she knows a change in appearance is in order. Her notoriety prevents her from dining in the city's finest eating establishments as herself (at least if she hopes for her reviews to hold any credibility), so Ruth begins dining in disguise. The critic takes her personas to the next level, changing not just her hair and clothing but adopting entirely new names, personalities, and backstories for herself. The experience turns into a lesson in the city's greatest food but also herself as each adopted persona reveals a part of Ruth that she hadn't realized existed. Through her work Ruth gets to know her kinder, gentler self while also growing exposed to the harsh and cynical woman she would rather keep hidden.
I am not a foodie, and Chick-fil-A is my idea of fine dining (they do have flowers on the table, after all), but I delighted in Ruth's mouthwatering food descriptions that took me on an unexpected journey of the tastebuds and left me craving foods I hadn't known existed. I was intrigued by the insights into the restaurant world, something I know little about, and I was surprised to learn what a cutthroat industry it can be. For those who enjoy eating out and are interested in gourmet cuisine, this is an absolute must-read.
For me, the book's greatest draw is in the psychology. Ruth's characters were so interesting to me and I was fascinated by the ways she was able to settle into her roles, easily embracing alter egos in ways that affected her perceptions and experiences of her restaurant visits. Her roleplaying reveals to Ruth (and her readers) how much people react to appearance and how we, in turn, react to others' reactions. I was interested in seeing the changes taking place in Ruth, and the changes that she prompted in the restaurant/reviewing worlds through reviews that took the "common man" into consideration for the first time in NY Times history.
This is a little longer than it needed to be and I struggled to get through the final chapters, but overall I found this to be engaging and insightful memoir that reads like fiction. I'm glad I took the chance to visit this backlist title, and can't help but wonder how different this book would be if it were written today, in this age when every diner is a reviewer, the "elite" have fallen out of favor, and anonymity no longer exists.
My Rating: 4 Stars // Book Format: Audiobook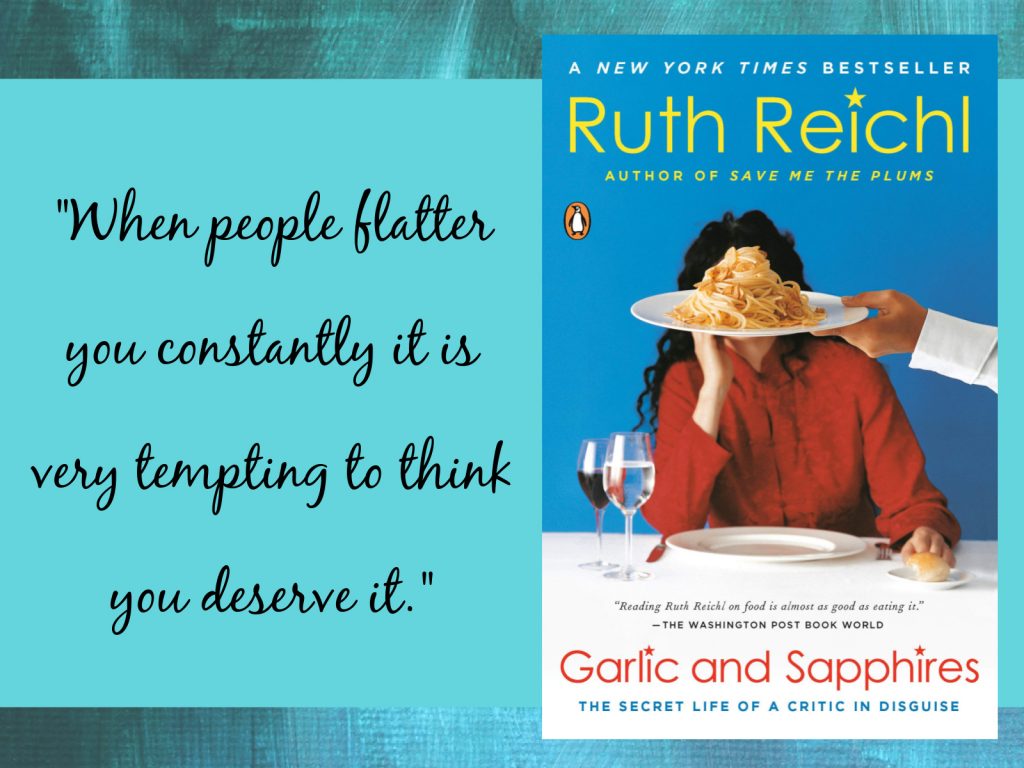 ---
MIDDLE GRADE
The One and Only Ivan, by Katherine Applegate: Ivan is a captive gorilla who has spent the past twenty-seven years in a glass enclosure in a shopping mall. He spends his days painting, watching television, and conversing with his friends Stella (an elephant) and Bob (a dog). Ivan's little life begins to expand when a young elephant joins the collection of animals at the mall. Through Ruby's naive eyes, Ivan begins to see his "home" in a new light: for the first time, he begins to wonder if there might be something different—better—waiting for him outside those glass walls.
Charleston and I listened to this audiobook together: he needed an audiobook to check off a library challenge Bingo square, and I needed a book that was made into a film—The One and Only Ivan on audio managed to satisfy both categories. The audio is very well done, though I think I might have liked this even more if we'd read it together in print (for some reason I don't tend to enjoy Middle Grade novels on audio). Despite not loving the format, I was drawn to this endearing story for its beloved characters and deep insights. I love that Ivan is the narrator, giving us access to the gorilla's range of thoughts and emotions and offering an intriguing look at what captivity may be like for an animal. Ivan's straightforward observations and concrete perspective is humorous (though this higher level humor went over Charleston's head) and poignant, without being emotionally manipulative which may have been the case if the story had been told in the third person. The animal's take on what it means to be a human is fascinating and lends itself to some great discussion points.
There are animal rights issues at the core of this story, but it in no way feels preachy or pointed. It is simply a sweet story of some friends (who happen to be furry) experiencing a difficult life that they hope to make better.
My Rating: 4 Stars // Charleston's Rating: 4 Stars // Book Format: Audiobook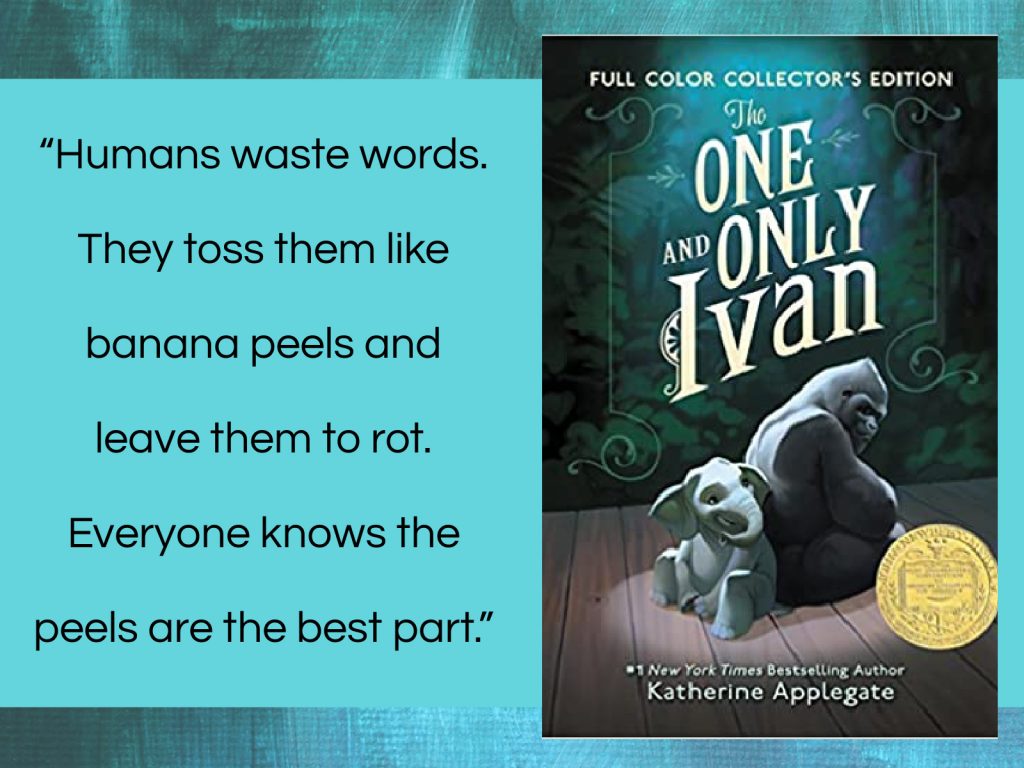 ---
Astrid the Unstoppable, by Maria Parr: Astrid is the only child growing up in the mountain village of Glimmerdale, and though this red-headed daredevil wishes for a few local peers, she is content in her role as the town dynamo and in her relationship with her best friend, a grouchy septuagenarian named Gunvald. Astrid's days consist of skiing the slopes and running into mischief with a few of the locals, but her life is mostly tame. When a mysterious visitor arrives in town, Astrid discovers that everything she thought she knew about those closest to her was built on a lie. As she struggles to make sense of these discoveries, more pieces of the past are revealed to Astrid and to us, her readers, who are treated to plenty adorable Astrid-isms, quaint Scandinavian culture, and funny moments along the way.
This is the second book we have read from this author, and after our love for Adventures with Waffles we entered with high expectations that were fully met. Astrid is a lovable protagonist with spunk kids will admire and kind-heartedness and wit adults will appreciate. I have a soft spot for unlikely friendships, and the dynamic between Astrid and Gunvald is absolutely the sweetest. Parr doesn't shy away from difficult subject matter, from absent parents to childhood behavior issues, but the cute dialogue and snappy pace keep the story lighthearted. And the redemptive ending is wonderful. Such a fun and totally discussable read. I think I probably enjoyed Adventures with Waffles slightly more, but both are easily 5-star read-alouds and had I read this book first I might have felt differently.
My Rating: 5 Stars // Charleston's Rating: 4.5 Stars // Book Format: Print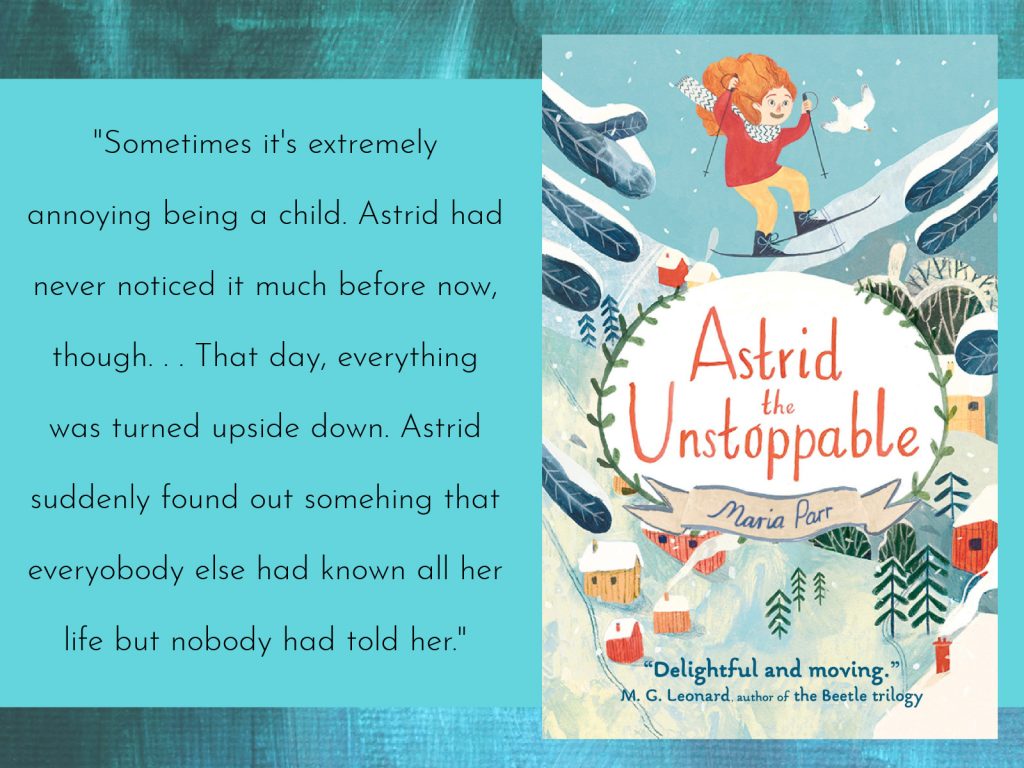 ---
GENERAL FICTION
Finaly Donovan Knocks 'Em Dead, by Elle Cosimano: One month after the conclusion of the first Finlay Donovan escapades, Finlay is barely keeping it together: between life as a single mom to two young kids, a pending book deadline, and an exciting new love interest, she has a lot going on. But all of that gets set on the back burner when Finlay discovers someone is set upon killing her ex-husband, and saving Steven's life becomes Priority Number One. True, Steven is a scumbag, but he is her kids' dad and she needs him to stay alive. Unfortunately, Finlay's past shady dealings make it impossible for her to simply bring the problem to the police. Instead, Finlay must take it upon herself to save Steven, even if it means leaving a few casualties in her wake.
Thankfully Finlay isn't tackling it all alone: she is helped along by her trusted young nanny, Vero. But it seems Vero might have a few secrets of her own. Then there's the handsome Detective Nick Anthony who appears to be interested in more than just helping out a friend. From the madness of motherhood to the confusion of her love life, the stress of her career, and the deadliness of just about all of it, Finlay is juggling quite a lot. . . and that "a lot" makes for one unputdownable read.
I LOVED the first book of this series and had extremely high hopes for Book Two. Sadly, this one suffers from a bit of a sophomore slump: the plot is not nearly as strong and is so ridiculous at times that I wanted to toss the book across the room because I NEEDED Finlay to start making better choices (or at least for the storyline to be a little less convoluted). One of my biggest pet peeves in fiction is characters who unnecessarily lie or conceal the truth, and most of the plot here revolves around this very thing. And yet. . . this really was a book I couldn't put down, partly because I was dying to find some resolution, but also because the writing is just so absurdly funny. While this doesn't entirely succeed as a mystery (though to be fair, there were lots of twists I didn't anticipate), it excels as a dark comedy and I loved the zany characters, frothy narration, and smart banter between Finlay and Vero. Their escapades are outlandish, but their friendship is a highlight of the series, as is the love triangle—not something I always enjoy in a novel, but this one has me interested.
If this were the first book in the series I doubt I would have been impressed enough to continue; but having loved Book One so much, I believe Cosimano has it in her to offer a stronger read in Book Three and I'm looking forward to it. There is a decent amount of resolution here but a lot of open story threads too, and I'm eager to see how they play out.
Oh, and I should note that you absolutely do not want to read this without having read Finlay Donovan Is Killing It—not just because that book is much better written and more entertaining, but also because huge portions of this book hinge on the first book's storylines (not to mention that the entire mystery of that book is revealed here in story recaps).
My Rating: 3.5 Stars (Rounded down to 3 Stars on Goodreads) // Book Format: Kindle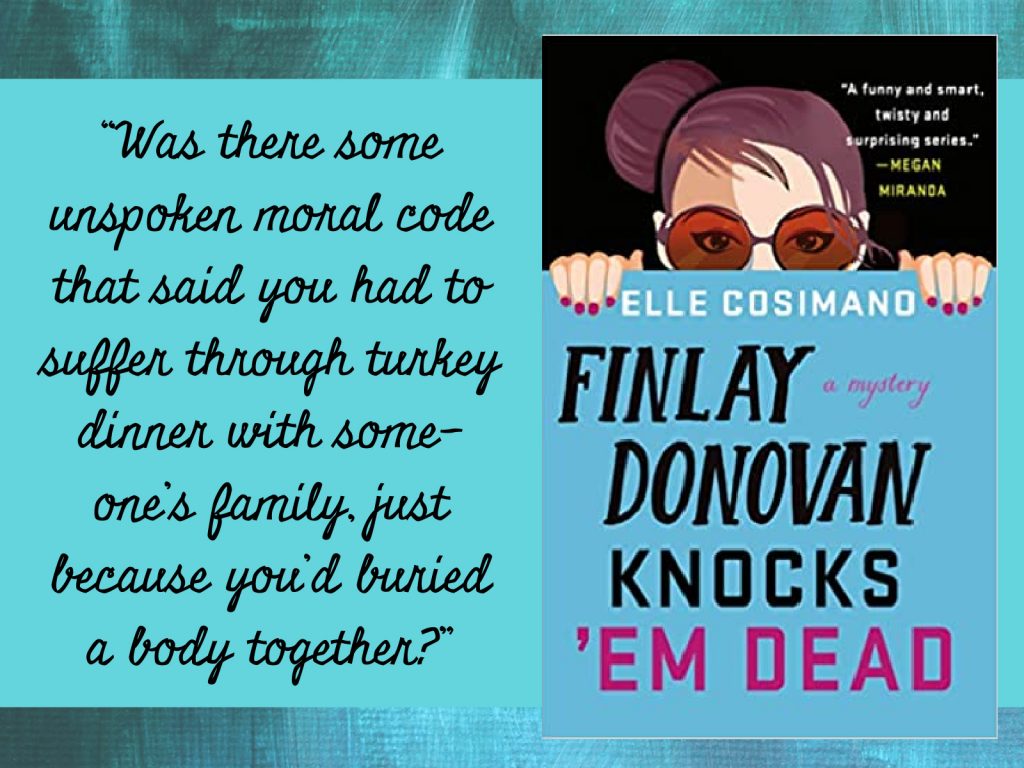 ---
The Man Who Died Twice, by Richard Osman: In this HIGHLY anticipated sequel to one of my favorite books of 2021, our four senior friends of the Thursday Murder Club are back at their sleuthing game. When a familiar face from Elizabeth's spy days shows up on the scene having been accused of stealing diamonds worth millions, the foursome must decide whether or not he can be trusted and what role they should play in protecting him from men who would like to see him dead. Meanwhile, Ibraham is brutally assaulted and his friends are set on seeing the perpetrator convicted of his crimes—an undertaking they must handle themselves as the authorities' hands are tied. Between run-ins with the mafia, dangerous drug dealers, and undercover spies, Elizabeth, Joyce, Ibrahim, and Ron confront mortality—of those around them, and potentially their own. But they aren't going down without a fight, and they are sure to have some fun (and stir up plenty of trouble) while they're at it.
I was a little nervous heading into this book because of how much I enjoyed Book One. (The disappointment I felt after reading the sequel to Finaly Donovan had me especially hesitant to follow that book up with another sequel.) I needn't have been concerned; this sequel is every bit as delightful as its predecessor—possibly more so! This is the perfect balance of character-and plot-driven. The story is very complex and absolutely kept me on my toes, but it comes together beautifully with a final chapter that couldn't have been better. And this page-turning story is boosted by characters I adore. Like another of my favorite authors, Fredrik Backman, Osman excels at writing realistic elderly characters who are navigating the challenges of old age but still sound of mind and living exciting, vivacious lives. I am a particular fan of Joyce, a former nurse with surprising observation skills but a knack for chasing rabbit trails that makes for some hilarious journal entries. The portions of the book told from her perspective are the funniest and the most endearing (though the whole book is pretty darn funny and oh so endearing).
It might seem strange to call a murder mystery (with a pretty high body count) warm-hearted. Yes, the story involves crime and murder and plenty of double-crossing. But for a crime novel this is as tame as they come. The romantic elements are very PG (and involve some insanely sweet love matches!) and there is little to no gore in the murder descriptions. There is also zero profanity, though I did have to look up quite a few British words and phrases. (Fun fact: I learned that the word "squash" means "juice" through reading Astrid the Unstoppable with Charleston, the same week that the word showed up here!).
This technically could stand alone, but I would recommend reading Book One first for a better understanding of the characters and their backstories. (Also, parts of that book are spoiled in this one.) But both books in this series are outstanding and I'm itching to get my hands on Book Three as soon as it releases!
My Rating: 5 Stars // Book Format: Print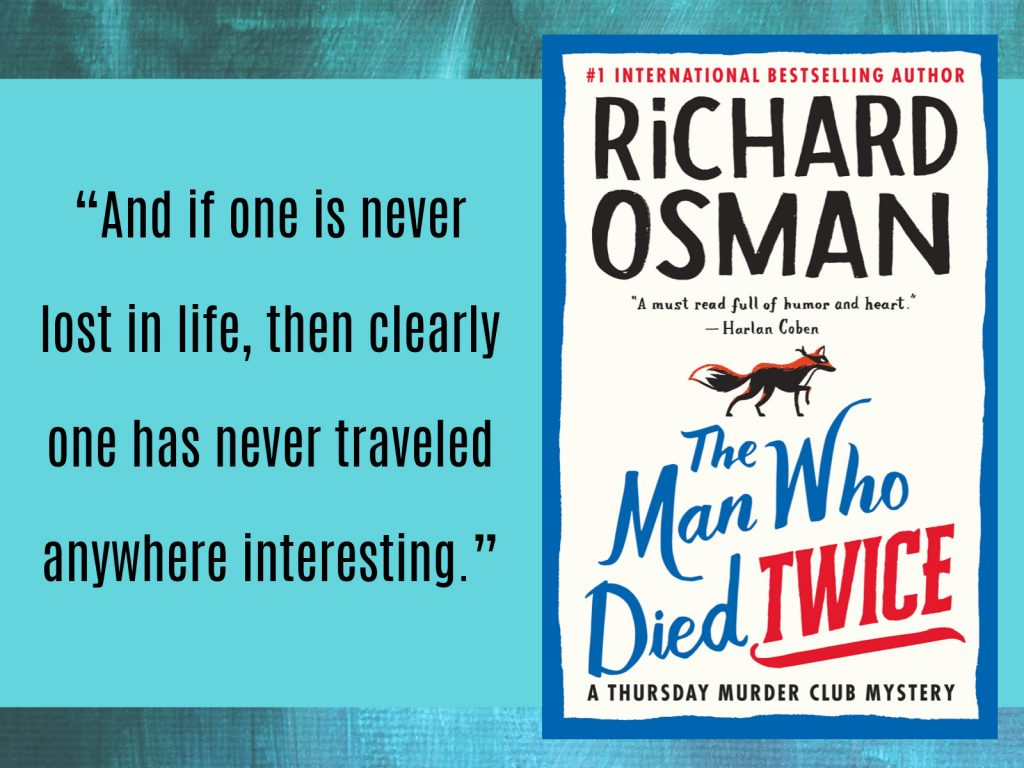 ---
Olympus, Texas, by Stacey Swann: The Briscoe Family has never lacked for private drama or public scrutiny in their small East Texas town. When March, the youngest son of Juno and Peter, returns to town two years after being caught in an affair with his brother Heb's wife, Vera, the family is once again the talk of the town. None of March's family members are particularly excited about his return: Heb once again feels threatened, Vera seems too eager to rekindle their forbidden romance, and June resents her philandering son whose womanizing recalls her own husband's unfaithfulness.
Also back in town is Peter's illegitimate son Arlo, whose twin sister Artie is anxious about introducing her boyfriend to the twin who long held top billing in her life. The reunion quickly shifts from awkward to tragic, and soon even the most stable Briscoe family relationships are tearing at the seams.
This modern family saga builds upon classical mythology to retell stories of love and betrayal that are as old as time. Though I've always been intrigued by Greek and Roman mythology, I'm not as familiar with the various deities and their stories as I'd like to be and my mid-level knowledge of mythology did me a disservice in reading this book: I knew enough to recognize the parallels, but not enough to fully appreciate their significance and I kept being pulled out of the story to research various gods and myths. Perhaps if I hadn't known this was a mythology retelling I would not have been so distracted, but the characters and storylines here are so outlandish that I don't know if they would could stand on their own; there are too many throwbacks and references for this to be a straightforward contemporary read.
The despicable characters and dysfunctional behavior in this book prevented me from really enjoying it, but I have to credit Stacey Swann for her literary brilliance. Not only is her premise intriguing and her prose spectacular, but she deftly explores the most complicated of family dynamics and human behaviors in ways I could relate to (even when I wish I couldn't). I nearly gave up on the book a number of times but am glad I saw it through to the end, which does have a touch of redemption (though not nearly enough for my taste).
This book checked my Bingo category for a book set in Texas and it exudes Texas grandiosity. In fact, this setting really was the perfect stand-in for the larger-than-life occupants of Olympus!
I would have loved to read this with a book club or even in a literature class. There are so many fascinating themes and parallels that deserve deeper analysis than I felt capable of committing to on my own.
My Rating: 3.5 Stars (Rounded down to 3 stars on Goodreads) // Book Format: Kindle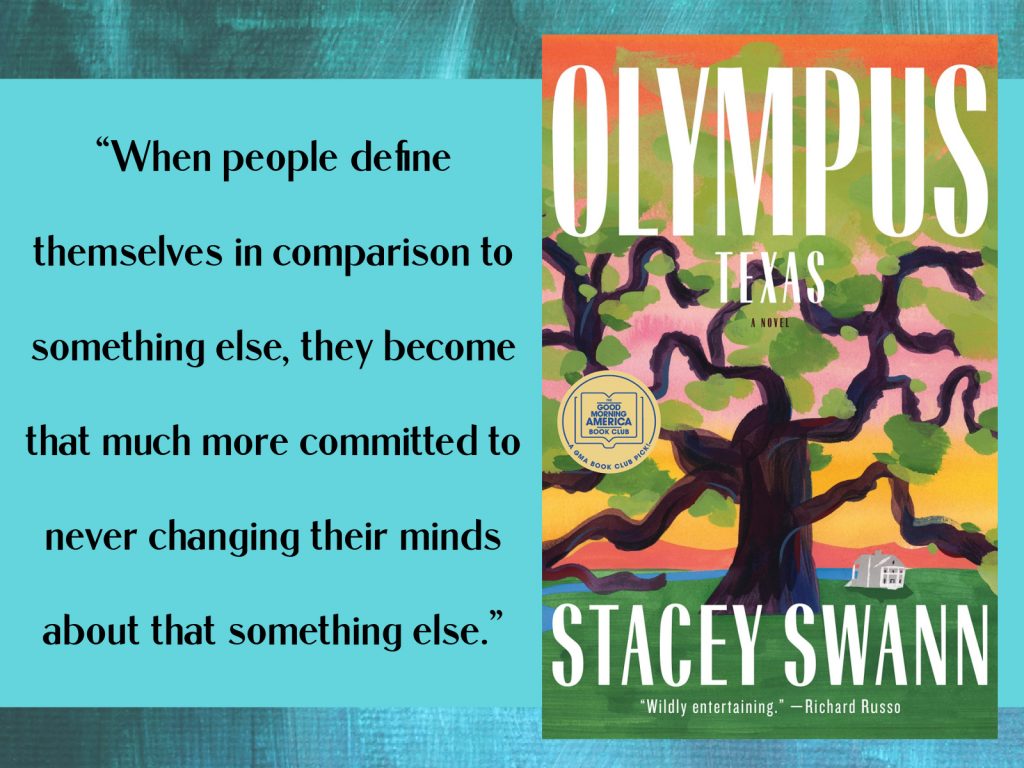 ---
Have you read any of these books? If so, I would love to hear your thoughts!