I've heard it said that the best way to learn about a country is through its food.  If this is true, Sasha Martin of Global Table Adventure will soon be intimately acquainted with every country in the world, because in just six weeks she will have cooked her way through all 196 countries!
Sasha's culinary adventure began nearly four years ago, when this former world traveler found herself "temporarily grounded. . . in the middle of middle America" and wanting to expose her seven-month-old daughter to a world beyond their hometown of Tulsa, Oklahoma.  Lacking the resources needed for physical travel, Sasha decided that her family would explore the world from their kitchen table.  She committed to cooking one meal from every country in the world, beginning with Afghanistan and ending with Zimbabwe.  Fortunately for us, she started a blog on which to document her family's journey.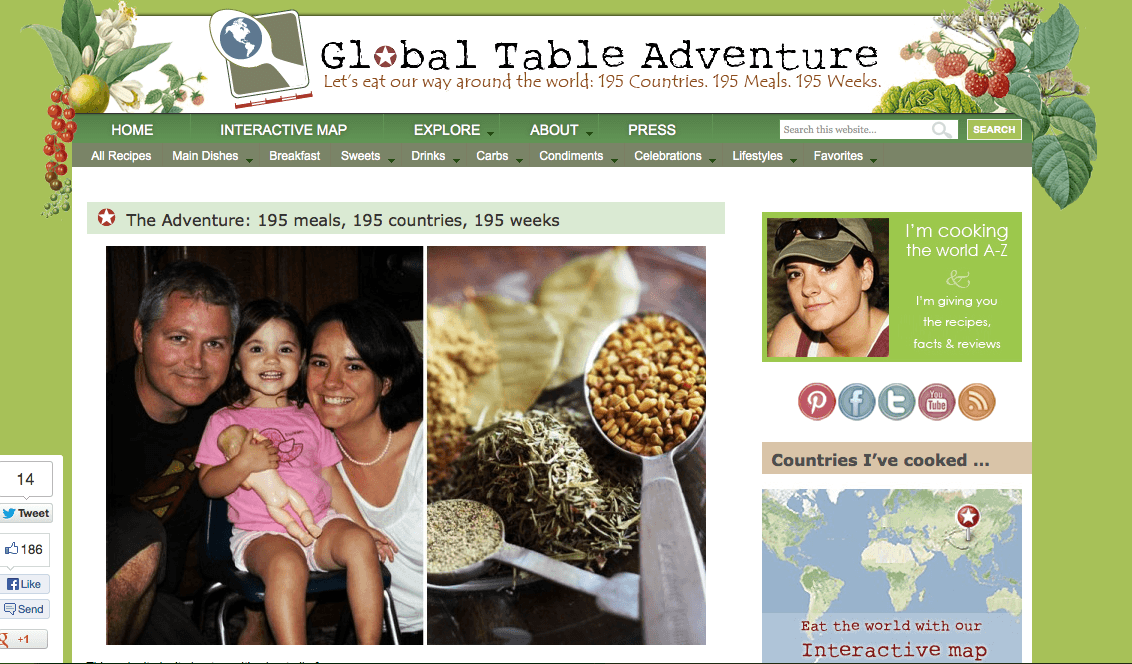 Here is how Sasha's Adventure works: Each Tuesday, Sasha introduces her readers to the cuisine of a new country.  On Wednesday, she shares the specific menu she will be cooking, with recipes for these dishes featured on Thursday and Friday.  Sasha wraps up each country with her Monday Meal Review, in which she reviews each recipe and shares pictures and videos of her family enjoying the meal.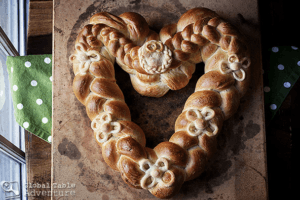 While the weekly structure of Sasha's blog does not change, there is great variety in the types of recipes she prepares: some, like the Uruguayan hotdog, are quite basic, while others, such as the braided heart bread from Slovenia, are very elaborate.  The meal presentation varies as well: sometimes, the meal is part of a large celebration, and other times it is a simple meal enjoyed by Sasha's immediate family.  Regardless of the specific recipes and the form that the meal takes, Sasha manages to preserve the authenticity of every country she cooks.
Global Table Adventure is a rare blog in that it excels on a number of levels.  The blog's premise is creative, and the website is attractive and user-friendly.  The photography is superb, and the content is both informative and inspiring.  Sasha is an outstanding writer, and her passions for food, family, and adventure are evident in every post.  Sasha also has an excellent rapport with her readers, responding to their comments and incorporating their suggestions into her Adventure.
This week, Sasha is cooking Vatican City, which means that her stovetop travels are nearly complete.  I have thoroughly enjoyed experiencing the world's cuisines through Sasha's blog and hope that she will continue cooking – and blogging – long after her Global Table Adventure has concluded.