If 2020 has taught us anything, it is that life is unpredictable—often in ways that are uncomfortable and even catastrophic.
As someone who thrives on structure and predictability, it's tempting for me to conclude that unpredictable circumstances such as those we are experiencing this year are the antithesis to joy. But I know from Scripture that this is not true. It was no coincidence that God would place the word JOY on my heart for the most volatile year of our generation, and I have spent the past several months clinging to joy in the midst of these trials.
As part of my pursuit of joy in 2020, I have been seeking to understand and define this ephemeral quality. A core component of this education has been reading one joy-themed book for every season this year. These books (as well as life events) have taught me that that joy is independent of circumstance. In fact, joy is often cultivated in moments of great trial and turbulence. Kay Warren showed me that joy is a choice to trust God in the midst of all circumstances. Margaret Feinberg provided an example of someone who pursued joy even when her life was on the line. And Max Lucado outlined ten Biblical principles that lead to genuine joy and happiness.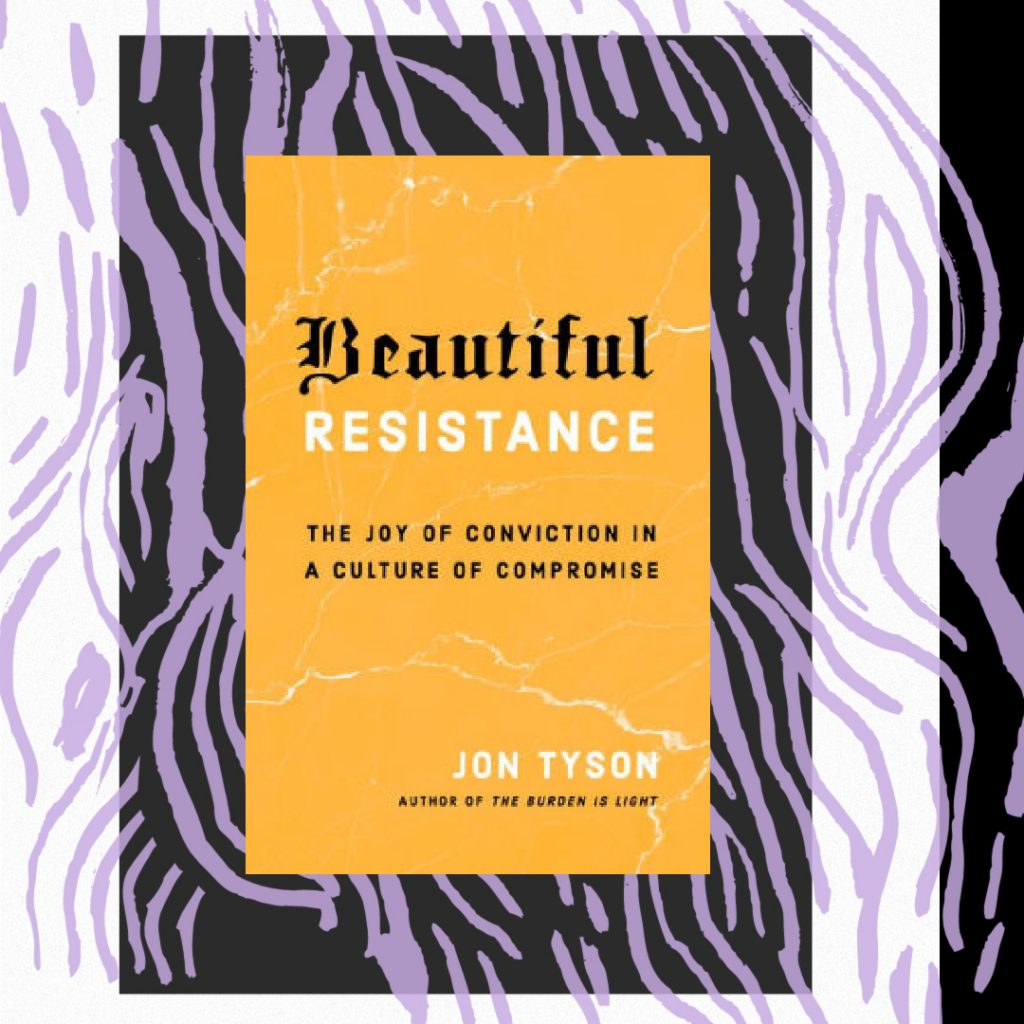 In his book Beautiful Resistance: The Joy of Conviction in a Culture of Compromise, pastor Jon Tyson offers another take on joy as he explores the joy that can be found in resisting cultural norms. Tyson writes, "the joy and satisfaction that come from being faithful to Christ will always be richer than the mere ease that comes from drifting along the cultural currents."
Such resistance is not easy. Tyson points out that "in many areas our culture is almost unrecognizable compared with a generation ago." Our world has experienced massive shifts in sexuality, ethics, technology, secular ideologies, religion, and globalization, and the church has failed to respond to the spiritual devastation that has resulted from such cultural change. It is not too late, though, for Christians to live with devotion and conviction, standing up to compromise in an act of beautiful resistance.
In this journey back to conviction, Tyson takes his cue from Dietrich Bonhoeffer, a pastor and theologian who was troubled by the compromise he saw in the German church during World War II. Bonhoeffer sought renewal and revival for the church and culture of his day, just as Tyson desires resurrection for today's declining generation. With Beautiful Resistance, Tyson seeks to show readers "the joys and challenges that come when resistance rises in your heart and formation begins to happen."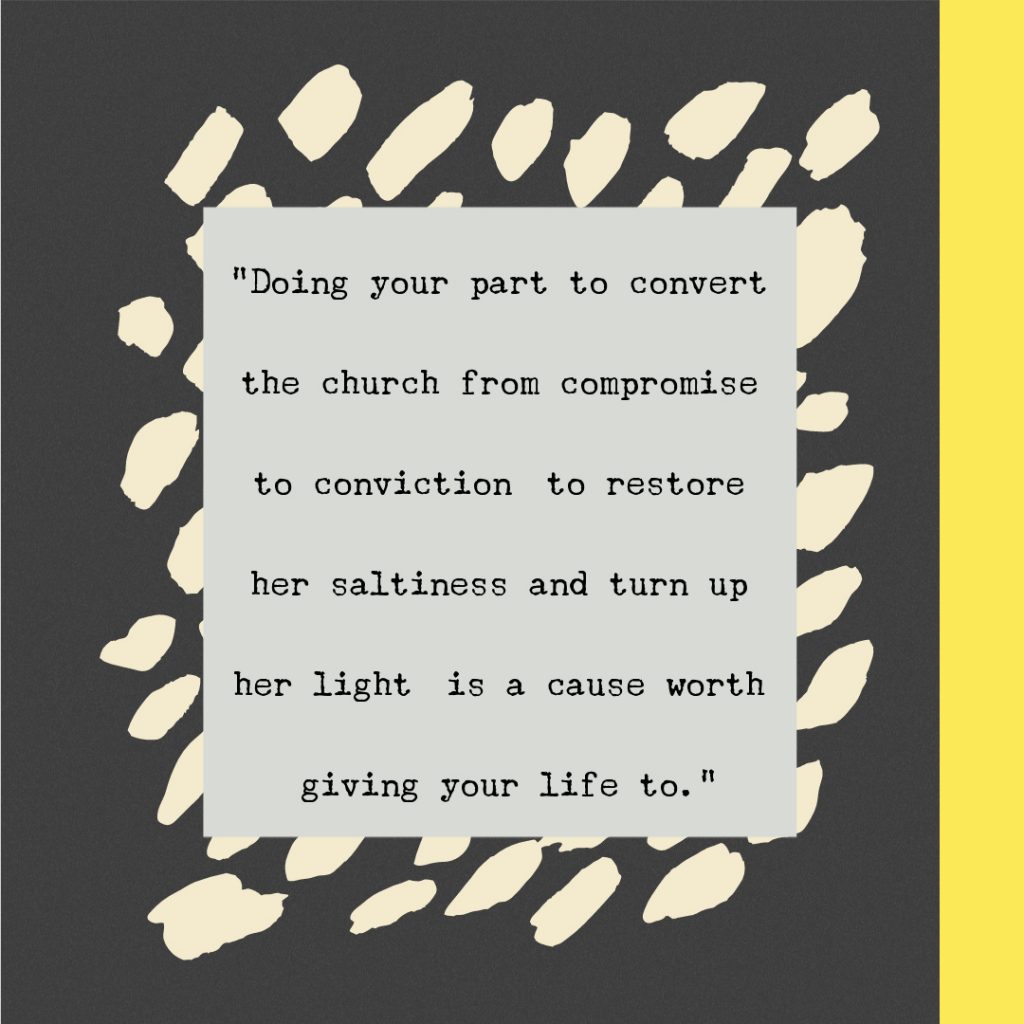 Tyson outlines several key areas of brokenness, making a case for why these issues are detrimental, and how Christians have been complicit. He then then prescribes an antidote for each issue, advocating for: worship that resists idolatry, rest that resists exhaustion, hunger that resists apathy, hospitality that resists fear, honor that resists contempt, love that resists hate, sacrifice that resists privilege, and celebration that resists cynicism.
I was convicted by nearly every chapter in this book, but two sections particularly stood out to me. The first was the chapter on how rest must resist exhaustion. Tyson explains that "when we rest, we enable our whole beings to recover and reset the central pieces of our hearts and lives." My own heart has been out of alignment in recent weeks, and this book helped me recognize that my resistance to rest is birthed from fear and a need for control. When I acknowledge my need for spiritual, physical, emotional, intellectual, and social rest, I move from anxiety to peace, trusting in God's goodness and provision while resisting the cultural idols of busyness and workaholism. Giving in to rest allows God to bring about restoration and helps me to remember that me my true value and identity can be found in Christ alone and not in how much I can accomplish.
The other section that I found most pertinent in this stage of my life was the chapter on celebration resisting cynicism. In times like ours, it's easy to grow cynical about the possibility of things changing for the better. Tyson advocates for celebration resisting cynicism because celebration "is explicit. It's defiant. Not only does it recognize who God is and what he is doing, but it also calls for a response. Celebration is godly defiance in a culture of doubt." Even when life is difficult, God offers plenty for us to celebrate, and science has proven that "celebration strengthens the joy center, which transforms our entire outlook." Scripture advocates for frequent celebration, and we can build our own rhythms of celebration that declare God's goodness to ourselves and to others who are also being killed by cynicism and are in need of the joy and peace that defiant celebration can bring.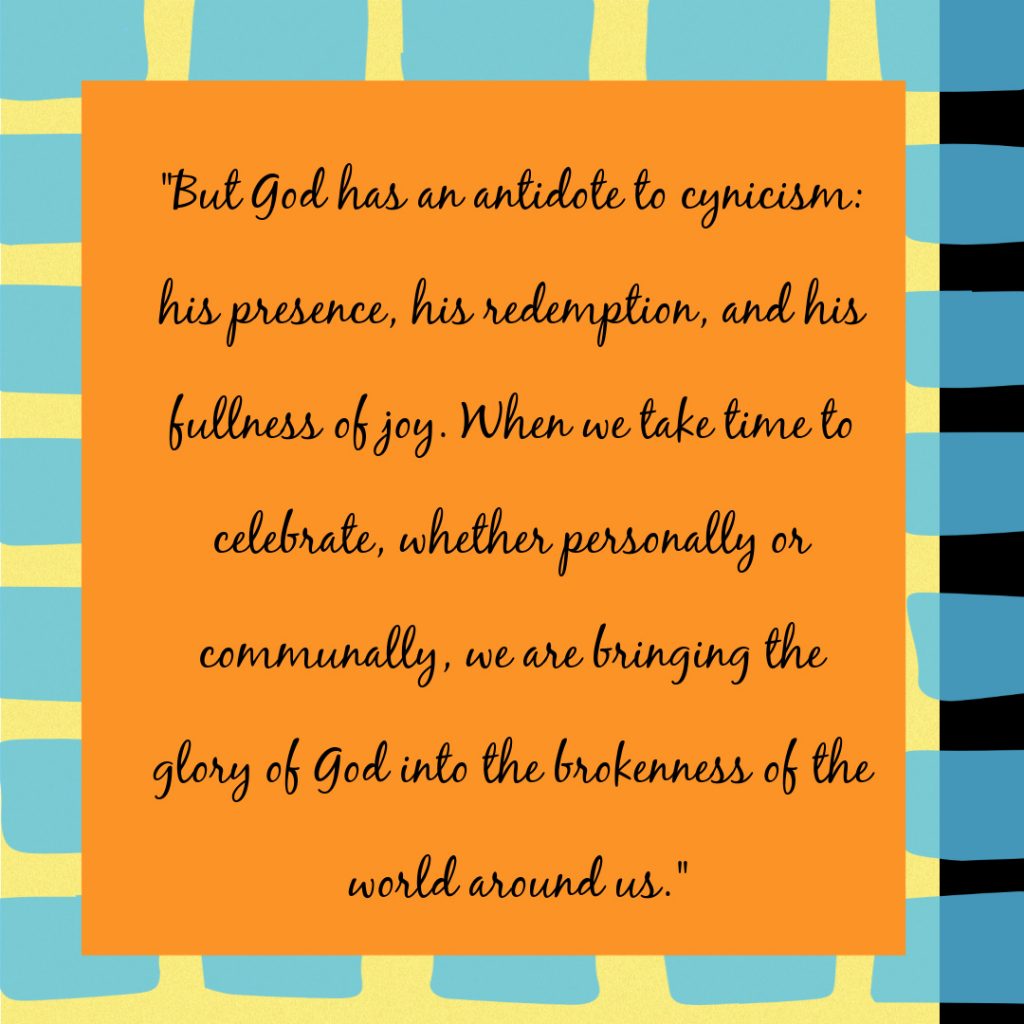 In a year where joy has felt particularly elusive, I am thankful for this book and for Jon Tyson's reminders that "God can use the tension and angst [we] feel for good. For reform, for restoration, and for hope."