Back in May, I shared sixteen of Charlie's favorite things as our little way of celebrating his 16-month "golden birthday." That seems so long ago! We now have a big 18-month-old, and though he still has many of the same favorites, he has added a whole slew of favorite new toys. If you are looking for a toy for a toddler, each of these items has received Charlie's stamp of approval.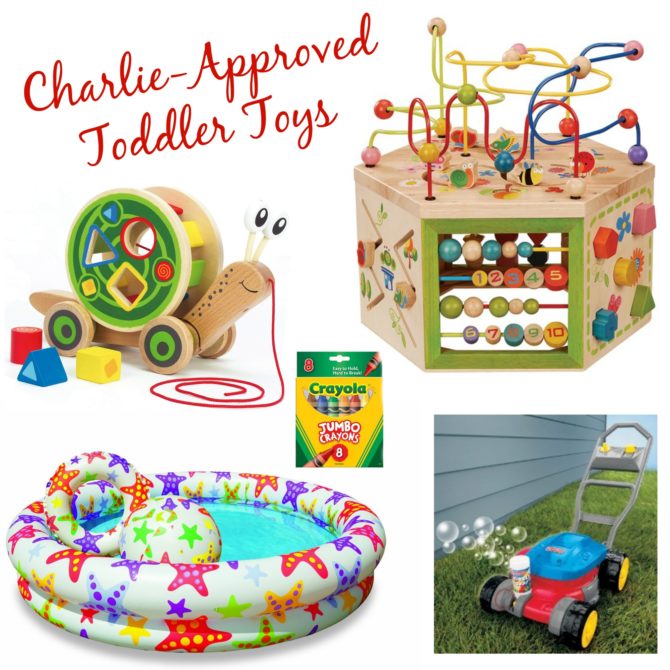 Walk-A-Long Snail Wood Pull-Toy: It's hilarious to watch Charlie toddle around with a pull-toy trailing behind him. He has a few fun pull-toys, but he particularly likes this one for the removable shape-sorting puzzle that doubles as the cute little snail's back.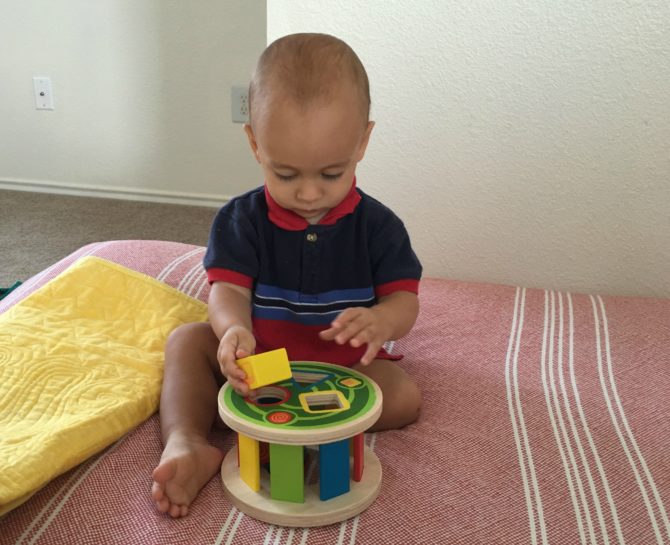 Crayola Jumbo Crayons: I think every kid likes to color, and lately it is Charlie's most-requested activity. He especially likes dumping the crayons out of the box, then putting them back in one by one. He's just starting to understand the concept of actually coloring with the crayons, and since he has trouble keeping his marks confined to a coloring book, I give him an old cardboard box and let him use that as his coloring surface. (The frog Charlie is using as a chair in the picture below is another of his favorite pull-toys. The train and table set in the background are two other favorites that I featured in my Sweet 16 post.)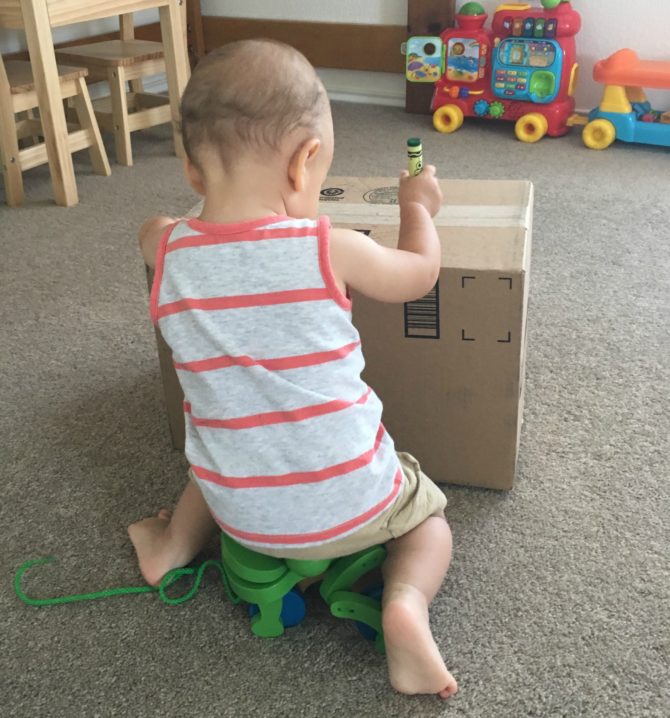 7-in-1 Garden Activity Cube: Charlie received this activity cube as a Christmas gift, but it wasn't until recently that he really started showing much interest in it. This is a pricier toy, but hopefully one that will grow with him, thanks to its durability and multiple activity options.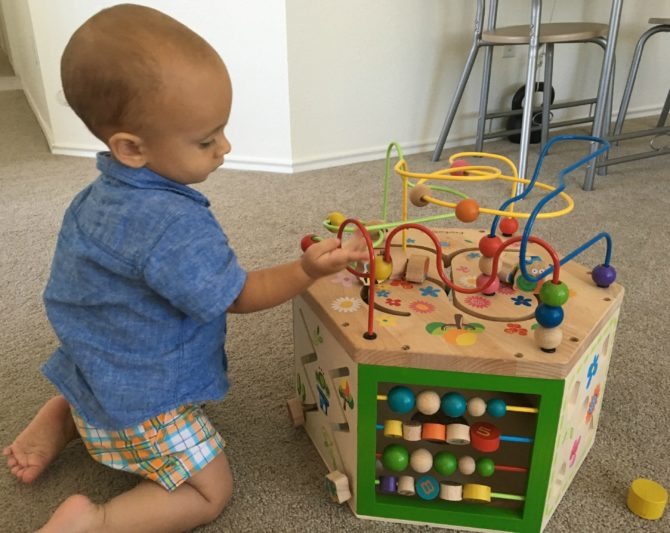 Inflatable Pool Set: We have a pool down the street, but sometimes it's just easier to head to the backyard for our water time. Charlie really loves the inflatable ring and ball that came with the pool. At under $10, this pool is a definite steal! (The pool we have—pictured below—is the same as the one I've linked to, even though the pattern is different.)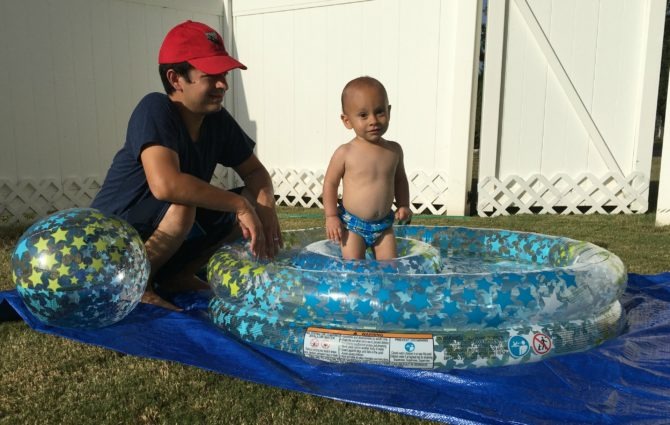 Fisher-Price Bubble Mower: My in-laws sent Charlie this mower since he is obsessed with watching his daddy mow the lawn. He absolutely adores this toy, and we haven't even tested out the bubble feature yet! (He is having so much fun with it inside that we haven't wanted to move it outdoors.) Charlie follows me around with his mower while I vacuum; he's such a good little helper.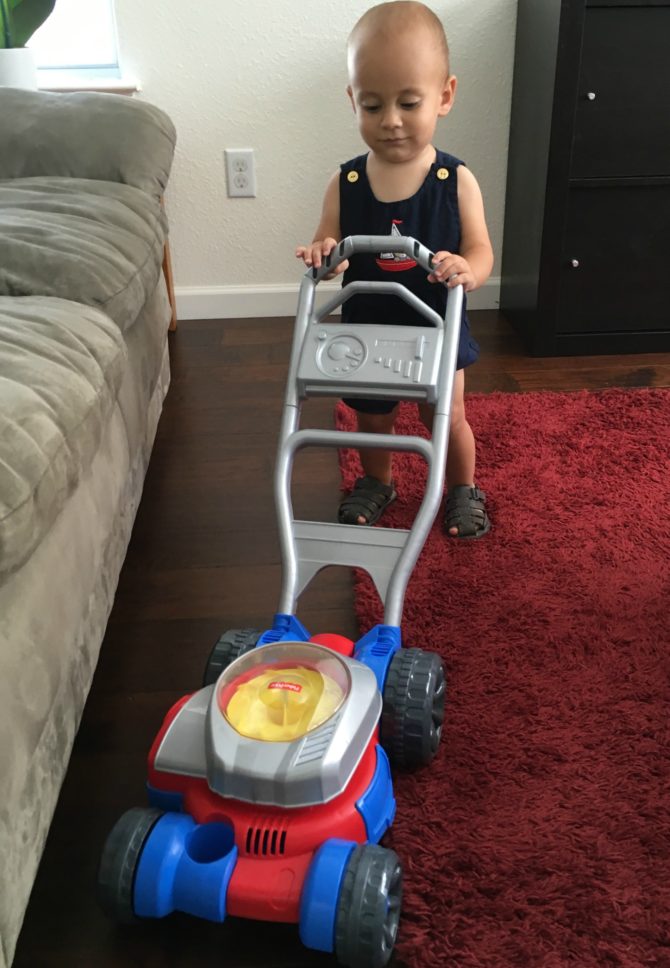 Of course, some of Charlie's favorite "toys" are not toys at all: he loves the Swiffer duster, our cork coasters (they are so fun to throw and spin!), and any bottle or box he can get his hands on. Then there are his favorite stuffed animals, books, and phone apps—but I'll have to leave all of those top picks for another post!
Save
Save
Save