Last week I kicked off my Kitchen Favorites series by sharing five of my favorite basic kitchen tools. Today we're going a bit more high-tech as I share my favorite small kitchen appliances. None of these appliances is a necessity, but they each make my job in the kitchen a lot easier.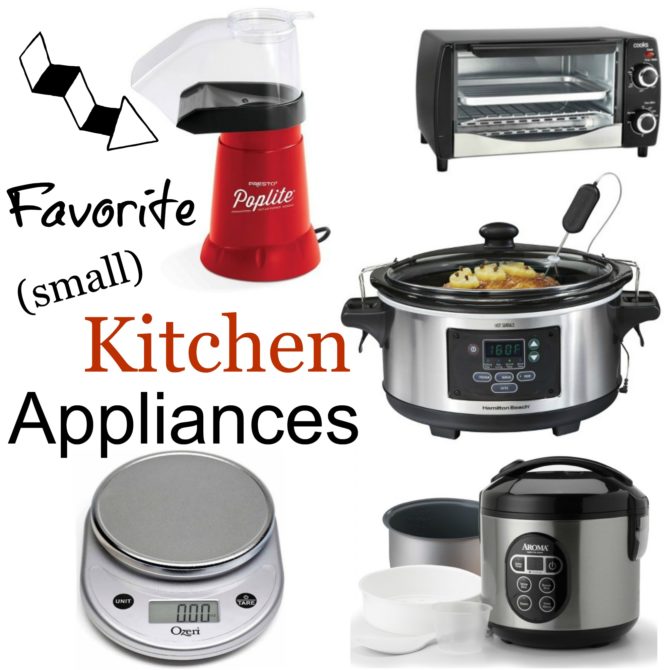 Popcorn Maker: I'm sure most people wouldn't consider a popcorn maker to be a must-have item, but popcorn is a daily snack in our house so our Presto Poplite Air Popper gets more use than almost any other item in our kitchen. I shared about my love for our popcorn maker a couple of years ago, and the love affair is still going strong. (Despite a 9-month hiatus when I was pregnant and couldn't stomach the smell of popcorn.) Air-popped popcorn is cheaper, healthier, and tastier than the microwaveable stuff, and this popper pops popcorn even more quickly than the microwave. What's not to love?!
Toaster Oven: Our family doesn't eat much toast, but I love having a toaster oven for those times when I don't want to heat up the house by turning on the whole oven. There's nothing special about the Cooks Toaster Oven we own, but it's compact and reliable and meets all of my veggie-roasting and leftover-reheating needs.

Slow Cooker: I received my first Hamilton Beach Programmable 6 Quart Slow Cooker as a wedding gift, and it served me well for more than seven years. Two months ago, my trusty slow cooker had a run-in with a glass jar of salad dressing—the dressing survived, but sadly the stoneware crock was shattered. I immediately replaced the cooker with the same model. I've never seen a slow cooker I like more! This one has three cooking options (program, probe, or manual) and a secure lid with a tight seal that makes it travel-friendly. The large size makes it convenient for cooking for a crowd, and when I'm cooking just for our family, it makes enough for me to freeze plenty of leftovers.

Digital Food Scale: A kitchen scale is usually associated with strict dieting, and while I do use my Ozeri Digital Kitchen Scale for portioning out my food (bad habit, I know. . . ) I also find it incredibly useful for accurately measuring ingredients in all of my cooking and baking. I rarely use measuring cups because my scale gives me more accurate measurements, and saves me from cleaning extra dishes.
Rice Cooker: For years, I resisted buying a rice cooker because it seemed like an unnecessary appliance when I could easily cook rice on the stove. I eventually caved and bought my Aroma 8 cup Rice Cooker so that I could steam vegetables for Charlie. Now that we have it, I regret waiting so long to add a rice cooker to my cooking arsenal. It cooks my rice perfectly every time, and I often use it to cook smaller batches of stews and casseroles when I don't want to use my giant slow cooker.
---
Now it's your turn: I'm dying to know what small kitchen appliances you use most, and which you find less than essential!
Save
Save