Oh, smart phones . . . where do we begin? You have us wrapped around your nonexistent digital fingers, destroying our posture, our social skills, our sleeping habits, and possibly our brain power as our eyeballs stay glued to your beguiling screens for unmentionable portions of our days. And yet, we couldn't live without the convenience and diversion you bring into our digitally enhanced lives. You open us to the world in ways previous generations—and even our previous selves—could never have fathomed. We simply can't imagine life without you!
I'll be the first to admit to having a probably-unhealthy love connection with my iPhone. Five years ago, I laughed at Luke when he insisted I needed one, and now? Well, let's just say that we are inseparable. I'm sure I'm not alone in saying that I use my phone for everything under the sun, and while many of my apps are little more than a time suck (I'm looking at you, Facebook!) I also have those apps that preserve my sanity by making life SO much easier. Here's a look at five of my favorites.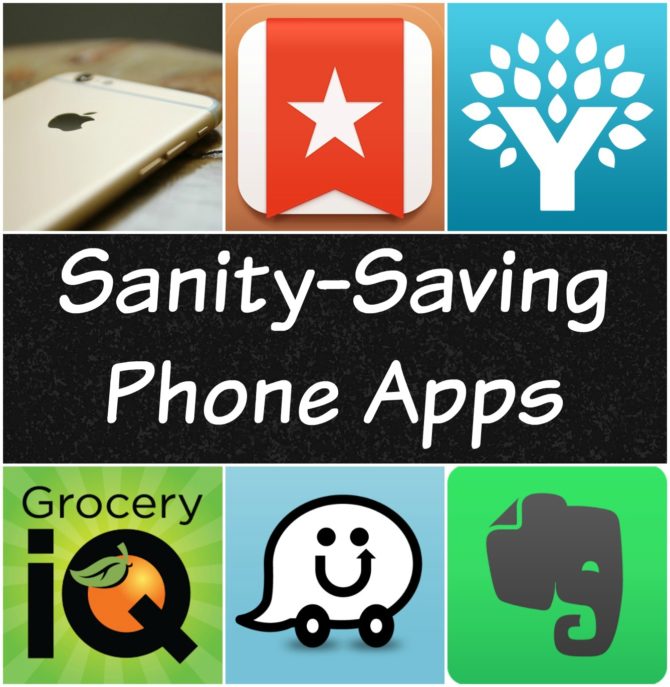 1. Wunderlist <for list making>
To-Do List apps are a dime a dozen, and finding the right fit is highly personal, but Wunderlist has proven perfect for my list-making needs. It's easy to use, supports recurring items and notifications, and allows for multiple lists, subtasks, and notes. My primary reason for using this list app over other options is the syncing feature, which allows Luke and I to collaborate on shared lists.
2. YNAB <for budgeting>
YNAB stands for You Need a Budget, and it's the companion app to a budgeting system that we've used for years. Getting on a budget was one of the best decisions we made for our marriage, and YNAB makes it so easy for us to stay on track. We do most of our budgeting on the desktop version, but you can't beat the convenience of the phone app, which allows us to check our budget and track our expenses at any time.
3. Grocery IQ <for grocery list making>
You probably already have this popular app on your phone, but if not, you should download it ASAP. I like that the app categorizes my lists by aisle, and that I can have specific lists for different stores. My favorite feature is that I can scan item barcodes to add them to my list: as soon as I use up an item in my pantry or fridge, I immediately scan it and add it to my list to pick up next time I'm at the store.
4. Waze <for road directions>
I have a few different navigation apps on my phone, but I keep coming back to Waze. Waze is community-based, meaning that its alerts and routes are based on real-time traffic information reported by other users. Waze has taken me on some pretty crazy routes, but it always gets me to where I need to go in record time. Luke has a tendency to disregard the recommended directions, and we laugh at how he is always left saying "I should have listened to Waze!"
5. Evernote <for staying on top of EVERYTHING!>
If there is one app I couldn't live without, it's this one. Evernote is my digital brain, helping me stay organized with all of my information and projects. I use Evernote to take notes (which are categorized by topic), write blog posts, store screenshots of important documents, and clip articles and any other useful information I find online. The search feature allows me to easily find buried information, even words in scanned documents and handwritten notes. Evernote has truly been a game-changer for me.
---
And there you have it: five apps that save my sanity on a daily basis and help my phone earn its keep! I'd love to hear about your favorite phone apps—which are your guilty pleasure apps, which would you like to delete but can't, and which apps could you simply not live without?
Save
Save
Save
Save
Save
Save
Save
Save