I'm not usually one for tell-all, shock-value type memoirs, which is what I assumed this book would be. But Educated has received so much attention over the last year that I fell prey to Reader's FOMO and added my name to the very long waitlist for my library's digital copy. Reading it was truly an educational experience.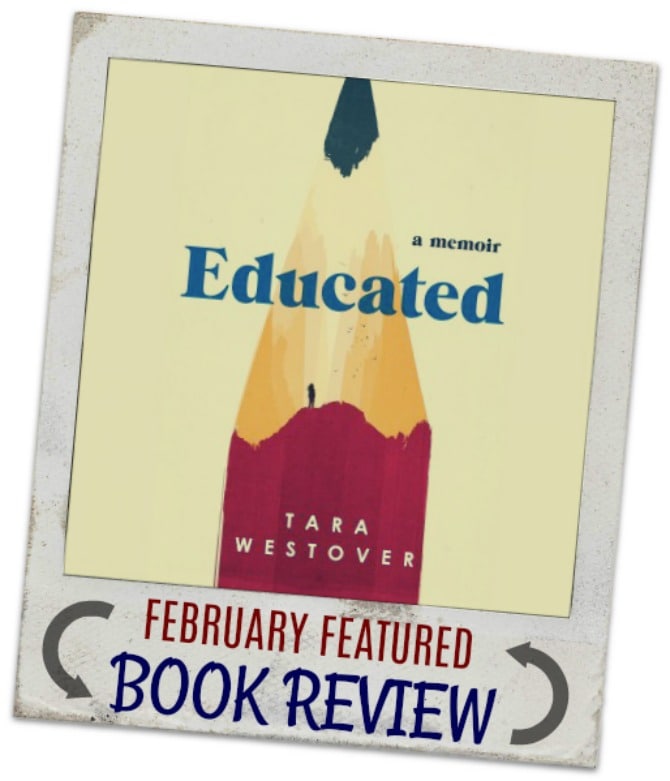 Tara Westover was one of seven children born to Mormon survivalists in the mountains of Idaho. Tara's father suffered from extreme paranoia and distrust of the medical establishment and government, so Tara was not issued a birth certificate when she was born and never set foot in a classroom or doctor's office throughout her entire childhood and adolescence. Tara and her siblings spent their days stockpiling resources for the end of the world (which their father insisted was coming), helping their mother create tinctures for her midwifery patients, and salvaging metal in their father's junkyard. Tara's only interactions with the outside world came through church, where she worshipped alongside Mormons whom her father privately deemed "heathens" because they did not adhere to his fundamentalist beliefs.
Because Tara's father forbade medical interventions, the family's injuries—including burns from severe explosions, gashes incurred in vehicle accidents, and brain injuries caused by near-fatal falls—were treated by her mother's herbal remedies. Her father's mental illness and mother's codependency also blinded them to the cruel abuse inflicted on Tara by her older brother.
Though she still held to most of her parents' beliefs, when Tara was a teenager she began educating herself at home and earned a scholarship to Birmingham Young University. As a student there, Tara's room mates modeled for her the importance of regular bathing and general housekeeping. And in the classroom, Tara learned of the Holocaust and many other historical events for the very first time. Transformed by her education, Tara found herself no longer able to condone her own upbringing. The growing disparity between Tara's behaviors and beliefs and those of her family left her wondering if she would ever be able to return home.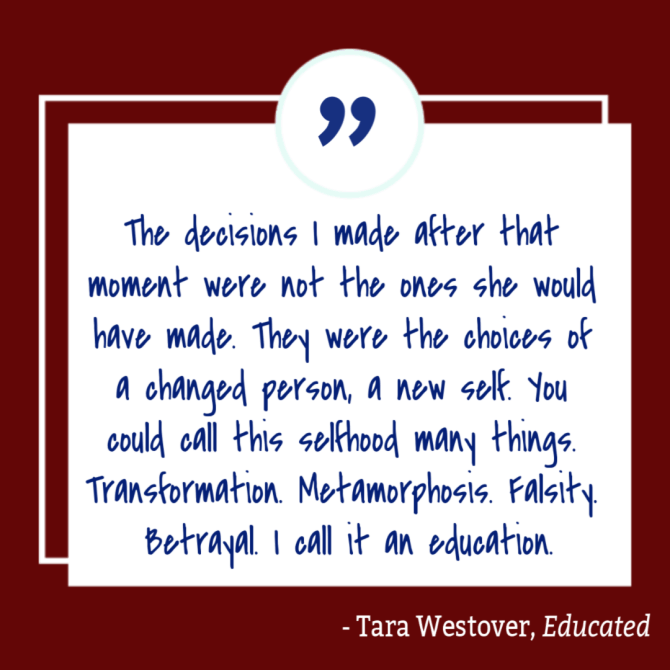 Having read this, I completely understand the hype. The writing here is of the highest caliber: captivating story, vividly drawn characters, and a healthy balance of sentimentality and fact. Of course, it's the details of Tara's story that stand out the most: her upbringing is so bizarre and countercultural, it doesn't even seem possible that this was her reality—and not in the distant past, but in the present day (Tara was born in 1986, two years after me). It's no surprise that her story has garnered so much rubbernecking and prompted so many shocked conversations.
I believe there's more to this book's success than just the schadenfreude factor. While Tara's story is shocking and appalling, the biggest surprise—miracle!—of it all is that Tara seems to have emerged largely unscathed. It's incredible that a girl who had never read through a textbook could find herself in a college classroom and, within just a few years, go on to earn a doctorate degree. From a reader's perspective, she appears to have grown into a well-adjusted adult with a healthy perspective on her own upbringing and a balanced view of life. Her trajectory is remarkable, inspiring, and truly unforgettable.
Another draw of this memoir is that in some ways, I believe we can all sympathize with aspects of Tara's personal evolution. Of course most of us have not suffered through a childhood as traumatic as Tara's, but like Tara, each of us can relate to the discomfort of outgrowing our own pasts. As we come of age, we each develop a new set of eyes through which we look back on our youth and begin to view things differently. Our maturity informs the experiences we lived, but at the time did not understand; some questions are answered, new ones arise. We evaluate belief systems that were handed to us, and we decide whether or not to embrace them for ourselves. Wherever we land, we must choose how we will feel about our earliest years, and how we will allow them to shape who we are today. In Educated, Tara Westover offers a sharp and textured view of her own trajectory, reminding us that this is a journey we have all taken, or one day will.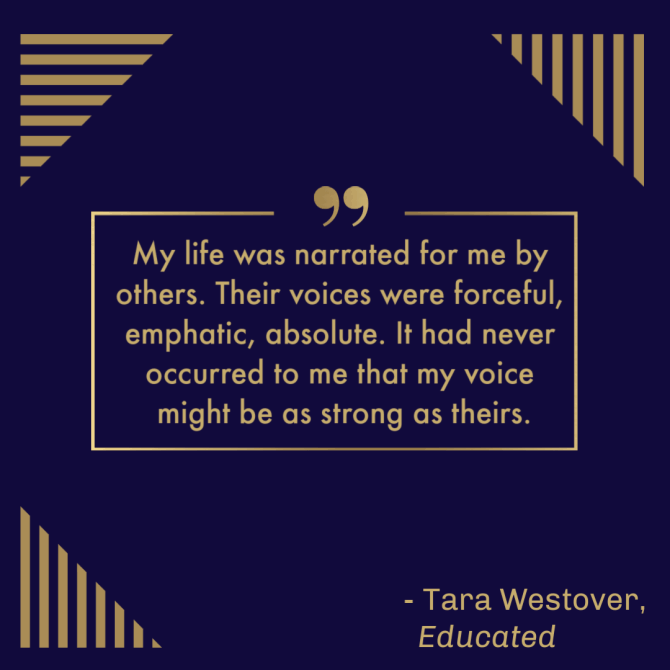 Though so many aspects of this memoir stood out to me, one question that plagued me throughout the book was, "what must the people observing Tara and her family have thought?" The Westovers lived a largely isolated life, but they did have contact with other people, and I couldn't help but wonder if those bystanders were aware of their family dynamics and beliefs. As I pondered this, I considered how little I know about the lives of people in my own community. Educated reminded me of the danger in making assumptions, and how we never fully know or understand another person's history.
Memoirs like this one still are not my favorite. But they help me come to terms with the very small place I hold in this world, and how vastly different each of our experiences (and our impressions of them) can be.
My Rating: 4 stars.
---
Have you read Educated? If so, I would LOVE to hear your thoughts!