As I mentioned in last month's kickoff to this new series, my purpose in creating these monthly lists of favorites is to fill you in on a few things our family loves and would wholeheartedly recommend. These lists can serve as useful gift guides for birthdays and other celebrations, and I'll be sure to include a master list of links to each Tried and True post when Gift Giving Season rolls around. But the items I'm sharing in this series are so great, you may want to purchase them for yourself too!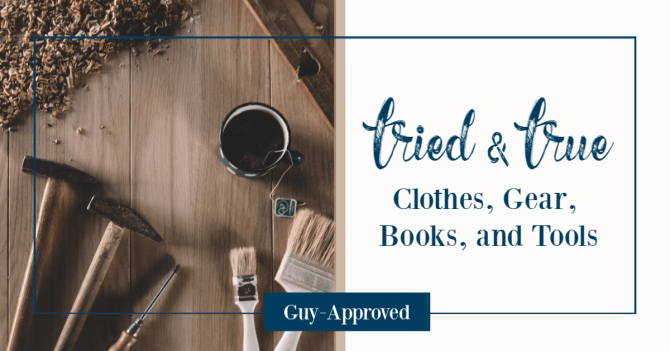 Last month I kicked off our Tried and True series with a roundup of our favorite gear, toys, and books for littles. This month (Luke's birthday month!) I'm featuring all of Luke's favorite items: from clothes and tech gear, to tools, coffee paraphernalia, and books. Luke owns and loves every one of these items and would highly recommend them to you (if you're a guy reading this) or to the men in your life. Whether you're looking for gift ideas or are simply interested in the types of items in one man's everyday arsenal, this list is for you. While some of these items are male-specific, most of them aren't. So to my female readers (which I'm sure is most of you), there's plenty here for you, too!
A quick note before we dive in: Luke is what we lovingly like to call a "product snob." He does his research before buying something or requesting a gift, and he isn't at all afraid to return items that aren't working for him. He values quality and durability, and rarely settles for something that doesn't perfectly suit his needs. Keep that in mind as you look through this list; each item has Luke's hard-earned stamp of approval and is something he knows others will love, too.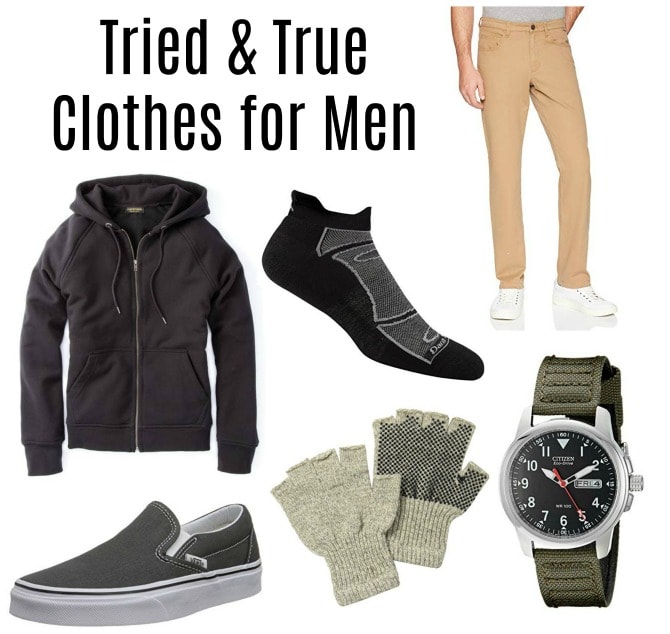 Like most guys, Luke has a fairly minimal wardrobe. Each item in his closet needs to earn its keep, and every one of the pieces I'm sharing here fully delivers.
Flint and Tinder 10-Year Hoodie ~ This is not your standard hoodie. It's soft, thick, and durable—a definite closet staple. Luke has owned and regularly worn his for a few years, and it still looks brand new.
Vans Slip-Ons ~ Luke has nothing but amazing things to say about these shoes, that are comfortable and versatile. They come in several colors, but he likes his grey pair because they stay looking clean and are understated enough for him to wear to work (where his dress code is business casual).
Goodthreads Slim-Fit Chino Pants ~ Luke has spent the last couple of years searching for the perfect pants, and he finally found them! These are well-made for the price and fit him to a T (Luke is 5'8″ with shorter legs and a small/medium build). Luke owns several pairs in different colors and they are easy to dress up or down. Just a head's up, the sizing is inconsistent: Luke has had to do quite a few returns to find the right fit, and he currently owns the same pants in multiple sizes, all of which fit him the same despite different numbers on the tag. However, he's been willing to put up with the hassle of finding the right-sized pair because of the low price point and his love of the pants themselves.
Darn Tough Wool No-Show Socks ~ These socks are comfortable and durable and the wool fabric wicks away sweat in the summer and keeps feet warm in the winter. I have a few pairs of Darn Tough socks myself and can attest to their great quality. At $16 per pair, they aren't cheap, but they come with an unconditional lifetime guarantee!
Fox River Fingerless Gloves ~ Luke's hands are always cold, so he often wears these in the office to keep his hands warm while leaving his fingers free to type.
Citizen Watch ~ Luke doesn't wear this much anymore since getting his Apple Watch, but we both still love this attractive, water-resistant time piece. Luke likes the neutral nylon band it comes with it, but it can also be changed out for something nicer.
---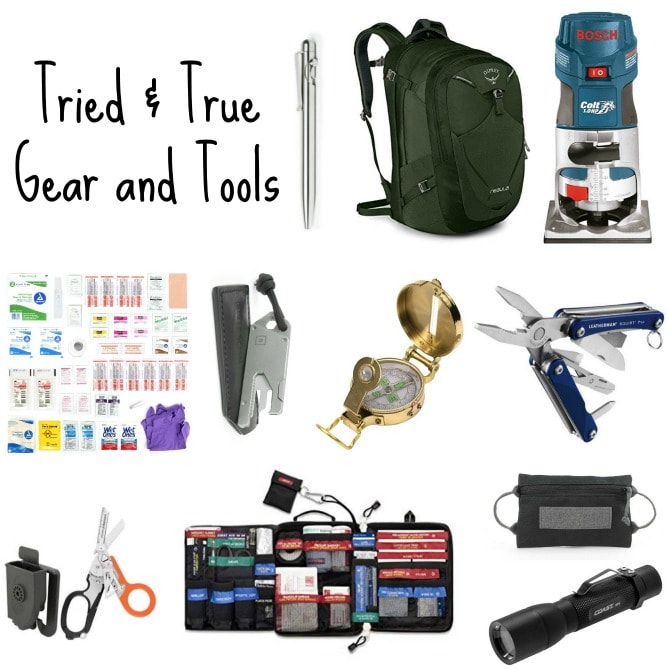 Tactile Turn Titanium Glider Pen ~ Luke carries this tough, lightweight pen in his pocket at all times. The quality is fantastic and it's a dream to write with.
Osprey Nebula Daypack ~ A nice-sized, incredibly durable backpack. I'm amazed at how much Luke can fit in this thing.
Bosch Palm Router ~ I know absolutely nothing about power tools, but Luke tells me that this is convenient and reliable, and a must for any workshop. He only wishes he had a proper woodworking space so that he could use it more often.
ITS Boo Boo First Aid Kit ~ Luke is very big on emergency preparedness (it's the Eagle Scout in him). He keeps this compact kit in his work bag, and it's come in quite handy on several occasions.
Titanium Pocket Tool ~ This tiny tool has an amazing number of functions, and easily slides into Luke's pocket right next to his wallet. This would make a great gift for almost anyone, regardless of gender.
Trailblazer Heritage Lensatic Compass ~ I bought this for Luke last Christmas. We don't do much hiking or camping, so I don't know how often he'll get to use it, but it's very attractive, sturdy, and easy to use. It will be fun for him to use with Charleston when they begin taking father/son backpacking trips.
Leatherman Multitool ~ Luke and I both own this hard-working little pocket knife (mine is pink and hangs from my keychain). It's nicely designed and includes nine separate tools.
Leatherman Raptor Sheers ~ This is another tool I don't entirely understand, but Luke likes having it on hand for emergency situations. While I may not totally get the tool itself, I can appreciate the adorable little holster it comes with!
Survival Traveller First Aid Kit ~ Another emergency preparedness item. This kit is larger and contains more than the ITS Boo Boo kit. We have one for each of our cars. We really like the sturdy mesh case, which even has a convenient handle.
ITS Zip Bags ~ These sturdy little bags are awesome, perfect for storing and transporting various small items. Luke owns them in several sizes and colors, in both canvas and nylon; he uses one for his mini first aid kit, one for all of his power cables, and a few for miscellaneous items that he keeps at his office workspace (since his desk doesn't have drawers).
Fenix Lumens Flashlight ~ This handy flashlight is lightweight, compact, and very bright. This is another item Luke has on his person at all times.
---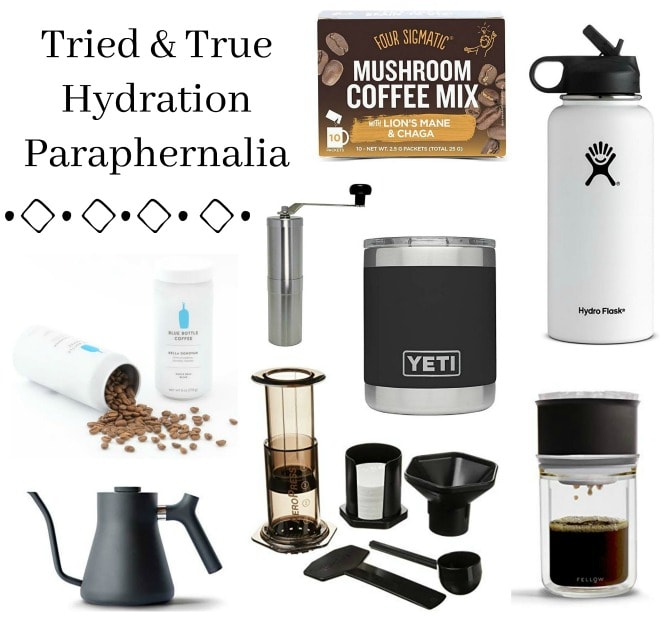 Luke loves his coffee, and over the past few years has really gotten into making his own. The items here are the various tools involved in his coffee making ritual, as well as a few other hydration-related favorites.
Blue Bottle Coffee ~ After conducting a thorough search for the perfect coffee, Luke has settled on Blue Bottle, which is roasted to order and shipped within 48 hours. I'm not a coffee fan myself, but even I can't get over how amazing this fresh coffee smells right out of the bag. Luke gets a whole bean subscription, which includes a changing selection of blends delivered every two weeks. We both enjoy reading the creative origin stories and coffee profiles included with each bag.
Porlex Stainless Steel Coffee Grinder ~ This item isn't cheap, but it's less expensive than an electric coffee grinder. It's sleek-looking and built to last, and Luke assures me that it's worth every penny. Charleston enjoys helping Daddy use this to grind his coffee.
AeroPress Coffee Maker ~ Luke uses this when he is short on time and is just making a quick cup of coffee. He uses this sealing filter to prevent dripping.
Fellow Stagg Pour-Over Brewing Set ~ This is Luke's preferred method for making coffee. It takes more time than using the Aeropress, but he says the rich flavor can't be topped. (I'll take his word for it!)
Fellow Stagg Pour Over Kettle ~ Such a classy looking kettle with a precision pour spout and a built in thermometer that highlights the correct temperature range for brewing coffee.
Four Sigmatic Mushroom Coffee Mix ~ Luke drinks this when he doesn't have time to make his own coffee, and in the afternoon because he tries to limit his caffeine later in the day (each packet contains half the caffeine of a normal cup of coffee). Made from Chaga mushroom powder, the mix has powerful health benefits and a taste that Luke loves.
YETI Rambler ~ The gold standard for stainless steel coffee mugs. The vacuum insulation keeps Luke's coffee hot and it doesn't sweat, which means no drink rings on my coffee table! He has this in two sizes.
Hydro Flask Water Bottle ~ I've been seeing these everywhere lately! Luke has had his for years and carries it with him at all times. It's huge, which is good for Luke since he's a water guzzler. He loves the straw lid because it makes it easy for him to share with Charleston (who shares his dad's love of ice cold water).
---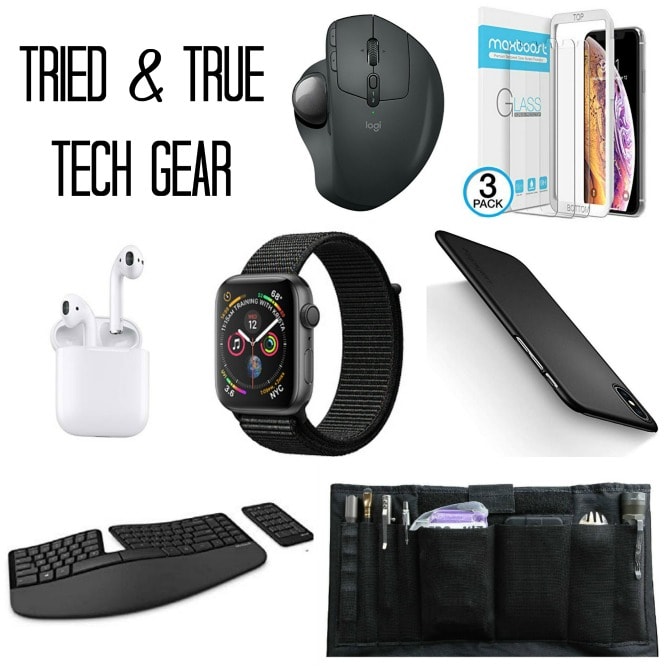 Microsoft Sculpt Ergonomic Keyboard ~ Luke spends 12+ hours at his computer every day, so an ergonomic keyboard is a must. He's had great success with this one.
Logitech Ergo Wireless Trackball Mouse ~ I had no idea a mouse could have so many features! Luke is obsessed with this mouse; he keeps it at his office and always complains when he is working from home and has to settle for his backup mouse.
ITS Tech Sleeve ~ This convenient sleeve fits nicely into Luke's messenger bag and helps him keep his various odds and ends organized.
Apple AirPods ~ Great sound, and a convenient compact case. Luke has nothing but great things to say about these.
Apple Watch ~ We are big Apple fans in the Jernejcic household, so I was surprised Luke put off getting this watch for as long he did. It was his Father's Day gift last year, and he has raved about it to me nearly every day since. He owns the Series 4 and loves everything about it. After trying out a few different bands, has decided that the black sport band is his favorite.
Spigen Thin Fit iPhone Case ~ Luke love's this case's slim fit and easy-to-grip coated exterior. I personally need a sturdier case since I'm notorious for dropping my phone, but Luke is much less of a butterfingers than me, so this minimal case works well for him, especially since he carries his phone in his pocket and wants as little bulk as possible.
Maxboost Tempered Glass Screen Protectors ~ Luke always puts these protectors on our phone screens the minute we receive new ones, and we have them to thank for scratch- (and fingerprint) free screens.
Luke loves to read, and while he doesn't have as much time to read as he'd like, he's recently gotten into audiobooks and listens to a few books each month. I asked him to compile a list of his favorite ten books, and this is what he came up with. There are a lot of business books here, but also a few great fiction picks. I've included a brief portion of the publisher's synopsis for each book.
Bad Blood: Secrets and Lies in a Silicon Valley Startup, by John Carryrou: "The full inside story of the breathtaking rise and shocking collapse of Theranos, the multibillion-dollar biotech startup, by the prize-winning journalist who first broke the story and pursued it to the end, despite pressure from its charismatic CEO and threats by her lawyers." I bought this audiobook for Luke for Christmas and he LOVED it. He found himself driving the long way home from work, or doing extra chores around the house, just to fit in more listening time.
This Is Marketing: You Can't Be Seen Unless You Learn to See, by Seth Godin: "Godin offers the core of his marketing wisdom in one compact, accessible, timeless package. This is Marketing shows you how to do work you're proud of, whether you're a tech startup founder, a small business owner, or part of a large corporation."
Space Trilogy, by C. S. Lewis: This series, which combines theology with unique science fiction elements and Lewis's incredible storytelling, was right up Luke's alley.
Lone Survivor: The Eyewitness Account of Operation Redwing and the Lost Heroes of SEAL Team 10, by Marcus Luttrell: "A Navy SEAL's firsthand account of American heroism during a secret military operation in Afghanistan."
Profit First: Transform Your Business from a Cash-Eating Monster to a Money-Making Machine, by Mike Michalowicz: "Author of cult classics The Pumpkin Plan and The Toilet Paper Entrepreneur offers a simple, counterintuitive cash management solution that will help small businesses break out of the doom spiral and achieve instant profitability."
Building a Story Brand: Clarify Your Message So Customers Will Listen, by Donald Miller: "New York Times bestselling author Donald Miller uses the seven universal elements of powerful stories to teach readers how to dramatically improve how they connect with customers and grow their businesses."
This Present Darkness, by Frank E. Peretti:"This Present Darkness is a gripping story that brings keen insight into spiritual warfare and the necessity of prayer." Luke and I both love all of Peretti's books, and this is Luke's favorite. A must-read for every Christian!
Gates of Fire, by Steven Pressfield: Of this book, Nelson Demille says, "An incredibly gripping, moving, and literate work of art, rarely does an author manage to re-create a moment in history with such mastery, authority, and psychological insight."
The Art of War, by Sun Tzu: "The Art of War is an ancient Chinese military treatise attributed to Sun Tzu, a high-ranking military general, strategist and tactician . . . It has had an influence on Eastern and Western military thinking, business tactics, legal strategy and beyond."
Never Split the Difference: Negotiating As If Your Life Depends On It, by Chris Voss: "A former international hostage negotiator for the FBI offers a new, field-tested approach to high-stakes negotiations—whether in the boardroom or at home." Luke just read this on my recommendation; we both found it fascinating and useful.
Like me, Luke isn't the best at fun or relaxation, so he laughed when I asked him to share a few of his favorite "fun" items. Most of these are activities he enjoys doing with Charleston.
Force Flyers Building Block Drone ~ Luke and Charleston had fun building this together, and they now have a blast flying this up and down our hallways.
Razor Lux Scooter ~ This was Luke's birthday gift last year, but I think I have ridden it more than he has and it is SO MUCH FUN! Built for taller riders (i.e., adults), it's much more comfortable to ride than a standard Razor scooter. Its big wheels don't get caught on sidewalk cracks and make for a smooth ride. The brakes and kickstand work well, and it comes entirely assembled, which was a huge bonus for us.
Classic Nintendo ~ Luke's parents bought him this for Christmas, and he's had fun introducing Charleston to the video games he grew up with.
Eagles Nest Outfitters ~ This is a must for camping trips. It's big enough to fit our whole family (though the three of us are rather compact, so keep that in mind!). We only wish we had big trees in our yard so we could use this more often.
Lego City Passenger Train ~ This was Charleston's Santa gift this past year, and I can't decide which of my boys has more fun with it! It was relatively easy to assemble, and has provided hours of father/son entertainment.
---
I hope you've found this list useful or, at the very least, entertaining! If you have any questions about any of these items, please feel free to ask! And if you decided to add one these Tried & True Favorites to your own household, I'd love to hear about it!