I thought the field of podcasting was pretty saturated at the start of 2020; then COVID and quarantine hit, and suddenly the podcasting world was more flooded than ever before. With even the most unexpected voices jumping onto the podcasting bandwagon, I'm sure that not every new show is a good one, but in the past few months I've found MANY new shows to love. (So many, in fact, that I have had to ditch a few previous favorites in order to make room in my listening life for these shows that give me more value for my time investment.) Today I'm sharing seven of those new (or new-to-me) shows that I think you might enjoy, too.
There is no single commonality between these seven shows, though there are some parallel threads. Two of the shows offer deep-dives into one of my very favorite topics, The Enneagram. Two of the podcasts focus on social justice, something that is on everyone's radar a little more these days. And the last two are relationship-focused interview shows (one from the perspective of a mom and wife, the other hosted by two dads.) Whether you are brand new to the podcasting world or, like me, have been listening for more than a decade, I hope you spot something here today that you might consider giving a listen.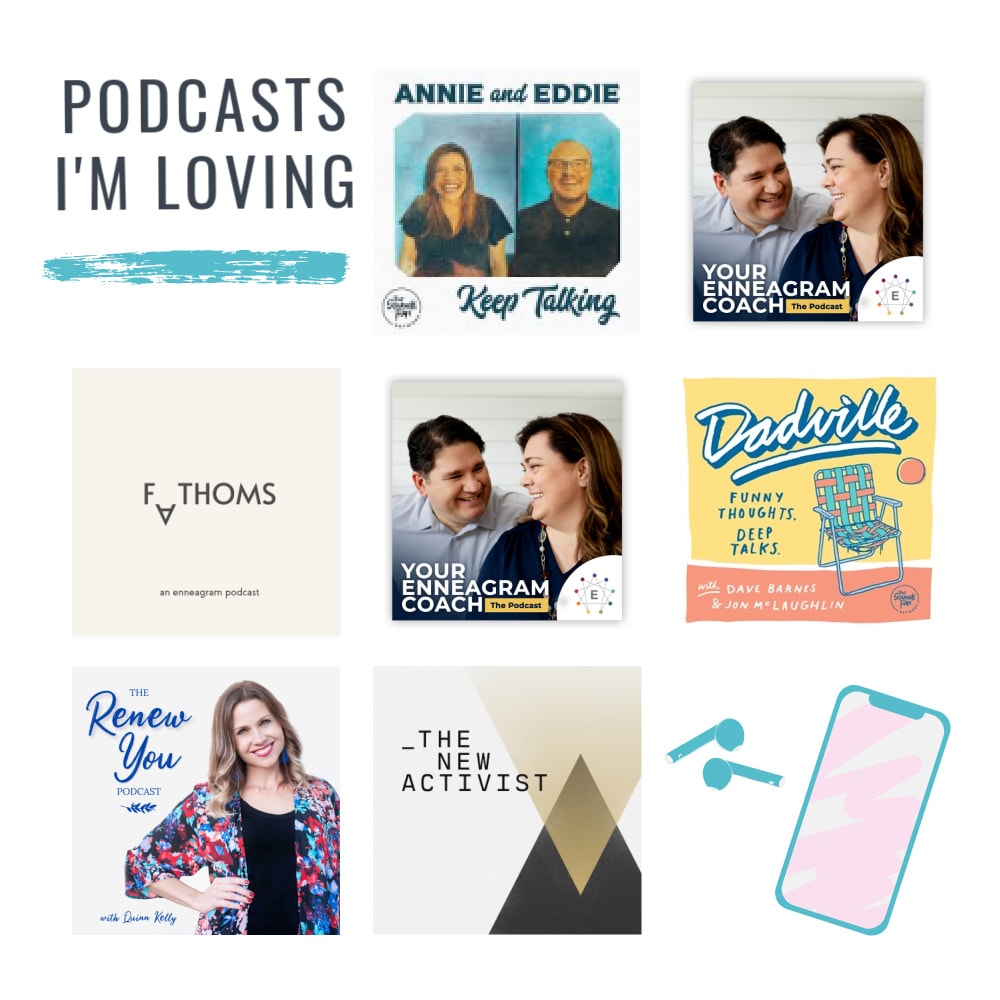 Podcast Description: "Birthed from the weird-unprecedented-trying times being sheltered in place during COVID 19 and the need to stay connected, friends and podcasters Annie F. Downs and Eddie Kaufholz host a 30ish minute show, releasing Tuesdays and Fridays. It's a show that promises laughs, random topical deep dives and rabbit trails…all the things that seem to happen when Annie and Eddie keep talking."
Why I Listen: I'm a longtime listener of Annie's original show, That Sounds Fun, and began listening to Annie and Eddie's daily conversations when Annie entered into strict lockdown a few weeks before the rest of the world went into quarantine. Listening to their candid, faith-infused conversations soon became a highlight of my days during those first few months of COVID Times, so when strict lockdown came to an end, I was excited by Annie and Eddie's commitment to keep these chats going on an all-new biweekly show. Annie and Eddie are both professional podcasters who are fantastic in their primary roles as thoughtful interviewers, so it's fun to see them both loosen up a bit on this show.
Tune in if. . . you enjoy listening in on honest, humorous, and somewhat random conversations between friends. Be prepared for discussions about everything from setting up single friends to thoughts on baptism.
Episode to get you started: Annie and Eddie often discuss current events, so I think it's best to listen to the trailer and then jump in with the most recent episode.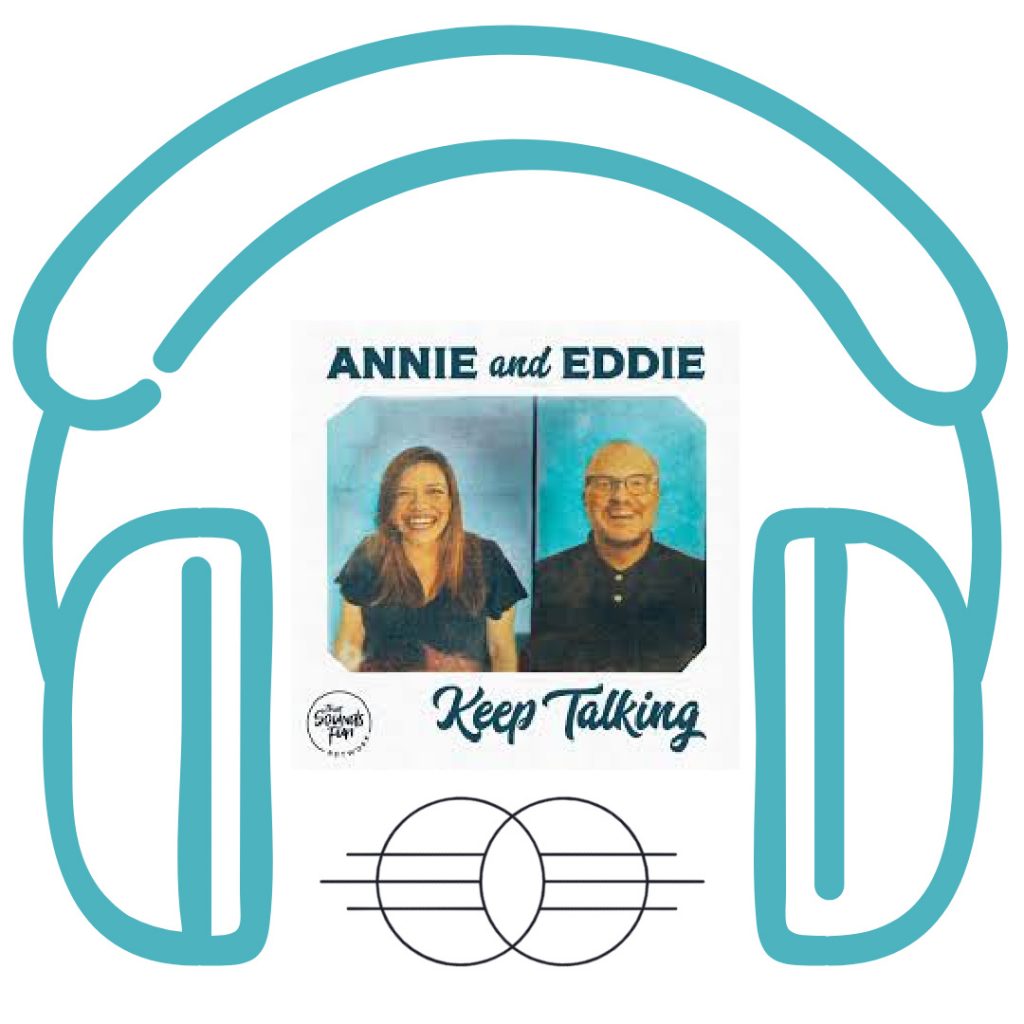 ---
Podcast Description: "Dave Barnes and Jon McLaughlin are best known for their individual and very successful careers as musicians and songwriters. But when their work day is done, when the tour bus parks back in Nashville, when the song is written (or even when it's not), they have another life- Dad life. They may reside in Nashville, but they come home to Dadville. The stories these two have about parenting, and life in general, are (almost) unbelievably funny. The guests that come on the show share their own dad stories and life experiences, and this is the kind of show that every man (and woman) will listen to, enjoy, and feel encouraged by. And laugh. Everyone will laugh."
Why I Listen: This is one of a handful of recent releases from the newly formed That Sounds Fun network. I'm obviously not a dad, but I've enjoyed getting the insider scoop on parenting from the male perspective. Dave and Jon are hilarious together and tend to be more silly than serious, but their passion for their families shines through each interview.
Tune in if. . . you're a dad who takes his role seriously and wants to hear from like-minded fathers, or you're someone (a mom maybe?) who would benefit from hearing fathers of young kids share their perspective.
Episode to get you started: Guitars, Drugstores & Ford Pintos — Christ Tomlin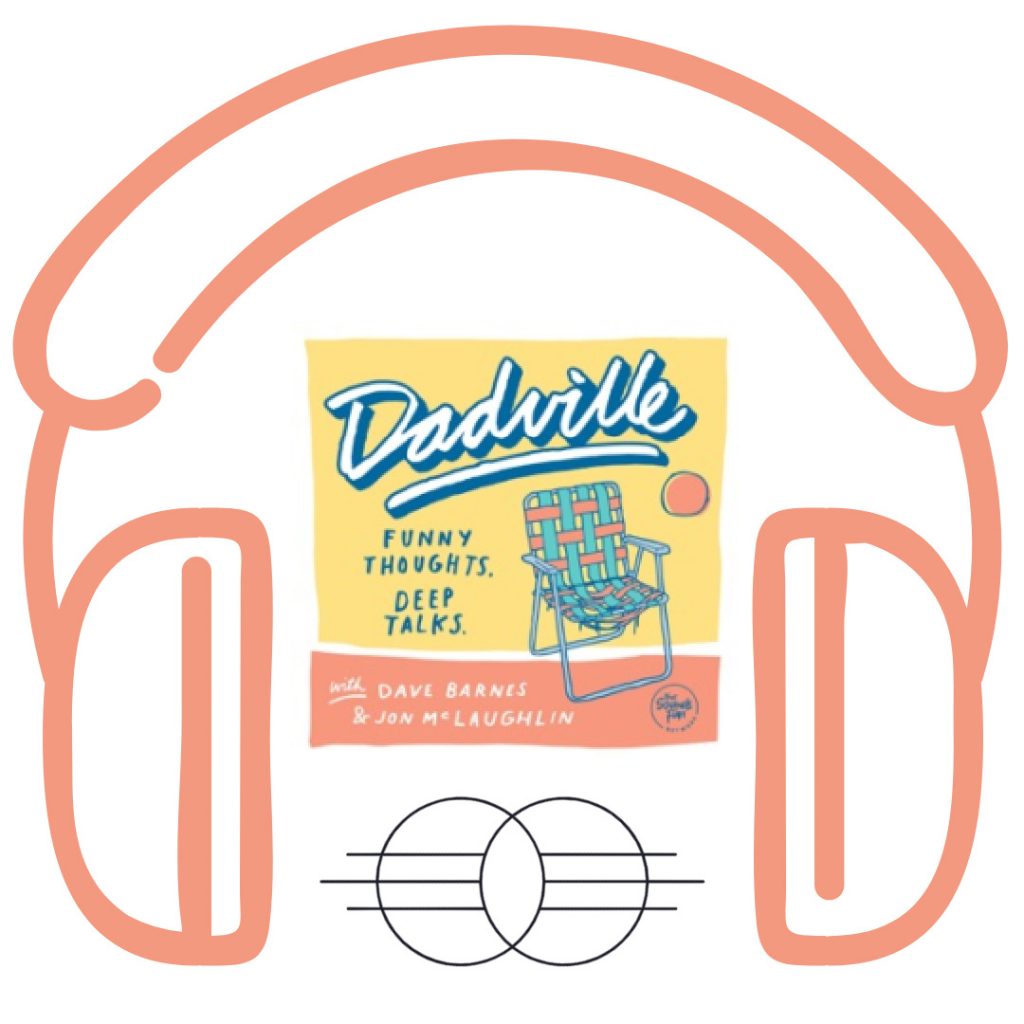 ---
Podcast Description: "Latasha Morrison is a best-selling and award winning author, bridge-builder, reconciler, and a compelling voice in the fight for racial justice. In 2016, she founded Be the Bridge, a non-profit organization equipping more than 1,000 sub-groups across five countries to serve as ambassadors of racial reconciliation. This podcast is another step is cultivating conversations that will hopefully lead to real change."
Why I Listen: Latasha is the author of my favorite book on racial reconciliation, and she has become one of my most respected and trusted voices in this work. Latasha's faith is at the center of her desire for racial healing, and she approaches the topic with grace and a commitment to heart change. Be the Bridge is also part of the new crop of shows coming from the That Sounds Fun network.
Tune in if. . . you are looking to learn more about racism and how to fight it, and desire to learn from a black leader with a solutions-focused mindset.
Episode to get you started: Be the Bridge 201 – How It All Began! (Part 1)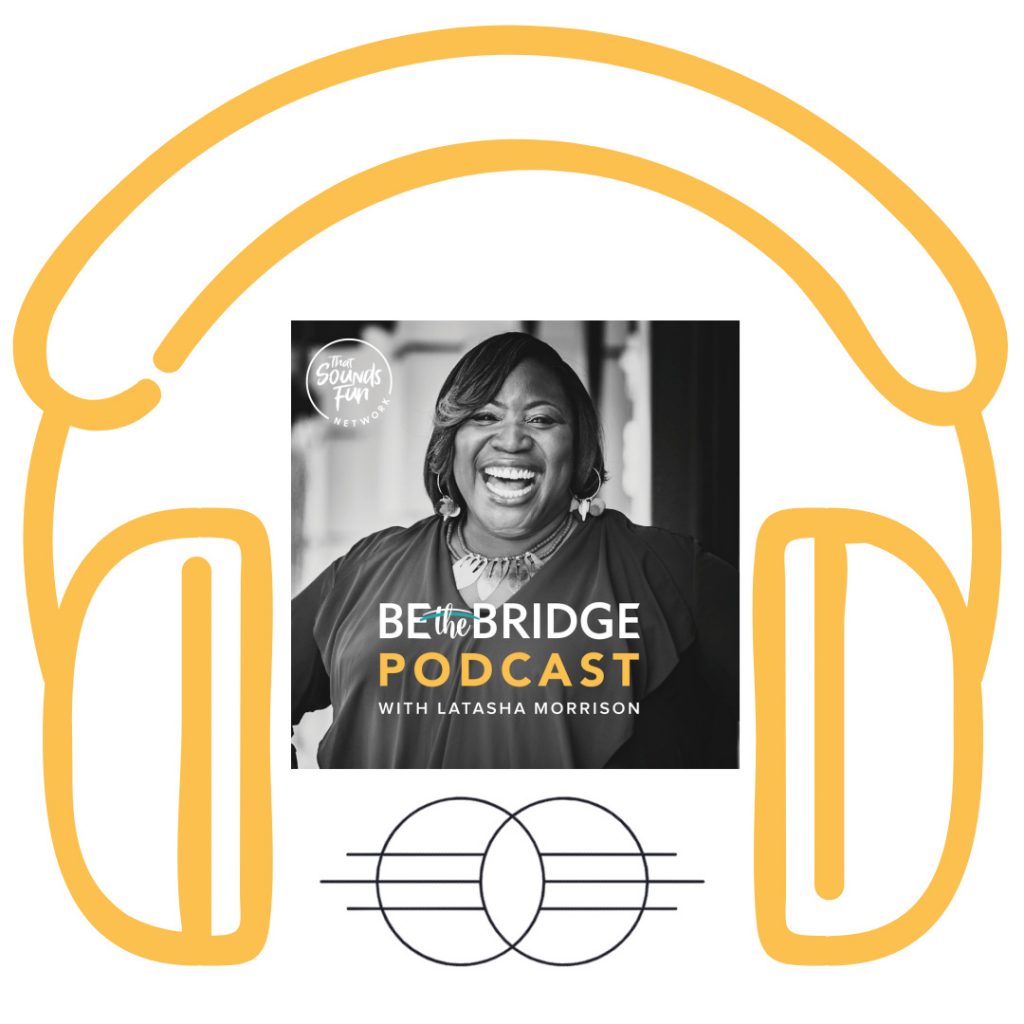 ---
Podcast Description: "The New Activist is presented by International Justice Mission. This show features conversations with activists and leaders who are tackling some of the world's biggest humanitarian issues from the frontlines of the war against injustice. In every episode we'll discover what makes that person tick, what's beautiful/hard about the work they're engaging in, and how we can take a step – a little or big one – in pursuing our own activism journey."
Why I Listen: This podcast has been around for a while, but I began listening after getting to know host Eddie Kaufholz on Annie and Eddie Keep Talking. (If you are sensing an Annie theme among each of these podcasts, you would be correct! Annie F. Downs has quickly become my very own Podcast Whisperer.) This show has opened my eyes to various humanitarian issues rarely addressed by the Church, and it has pointed me towards tangible ways to make a difference.
Tune in if. . . you are interested in a range of social justice issues and seeking a trusted, faith-based source for information.
Episode to get you started: Kay Coles James, President of The Heritage Foundation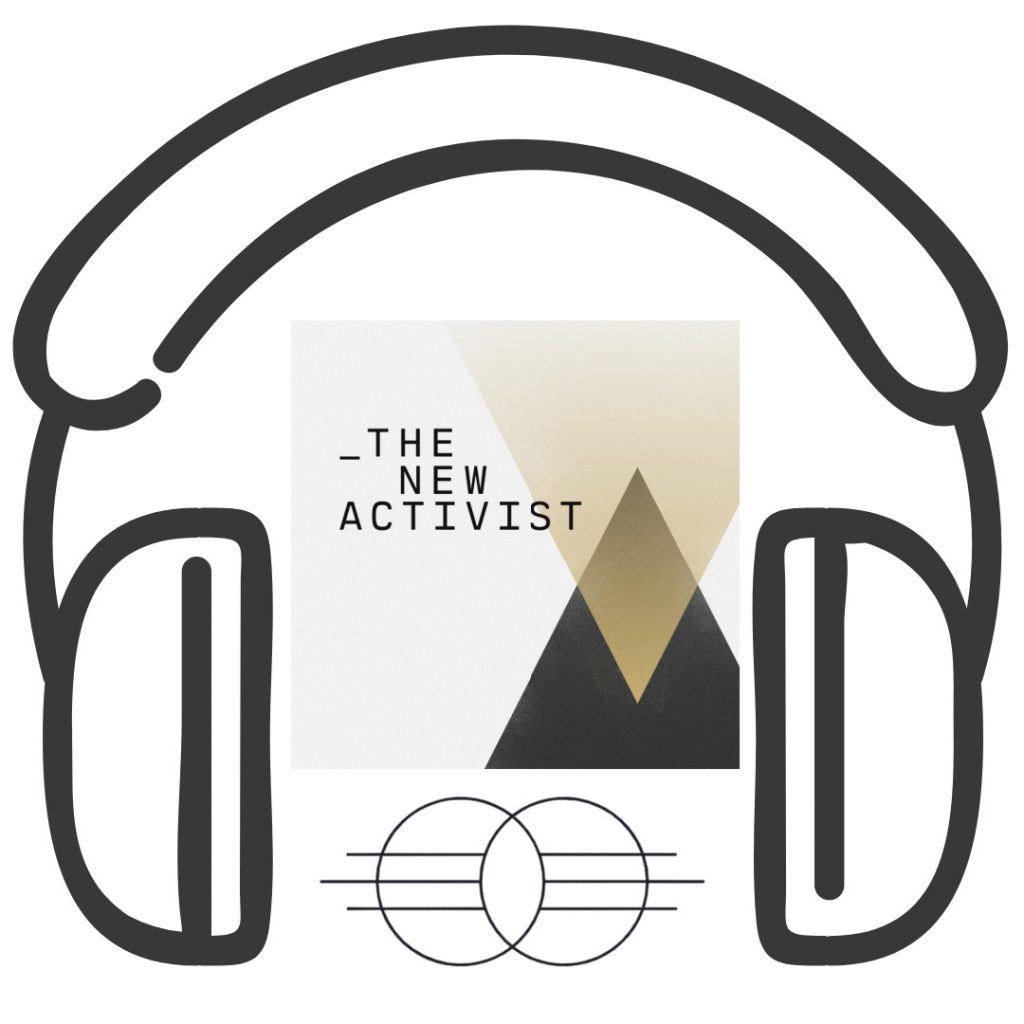 ---
Podcast Description: "The mission of the podcast is to help individuals and couples dive deeper into the Enneagram from a Biblical perspective. Leading the way in teaching the Gospel-centered Enneagram, Hosts Beth and Jeff McCord want to make personal awareness and growth accessible to everyone, everywhere so they can experience freedom in every area of their lives. This resource will help you take Enneagram information and apply it for real transformation. Throughout each episode, Beth and Jeff will point you to Christ, because while the Enneagram is an amazing tool, the Gospel is what brings lasting change!"
Why I Listen: I'm a sucker for anything related to the Enneagram, especially when it is is approached through the lens of the Gospel. I've especially enjoyed learning about the model from a husband/wife team who have been in Christian ministry for the entirety of their marriage. Jeff and Beth are great at breaking down Enneagram principles into practical, actionable steps while continually pointing their listeners back to Christ, our true source of hope and change.
Tune in if. . . you would like to learn how to put the tools of the Enneagram to use in your parenting, financial decisions, approach to racism, and everyday decisions.
Episode to get you started: Episode 04: Parenting Through the Lens of Each Type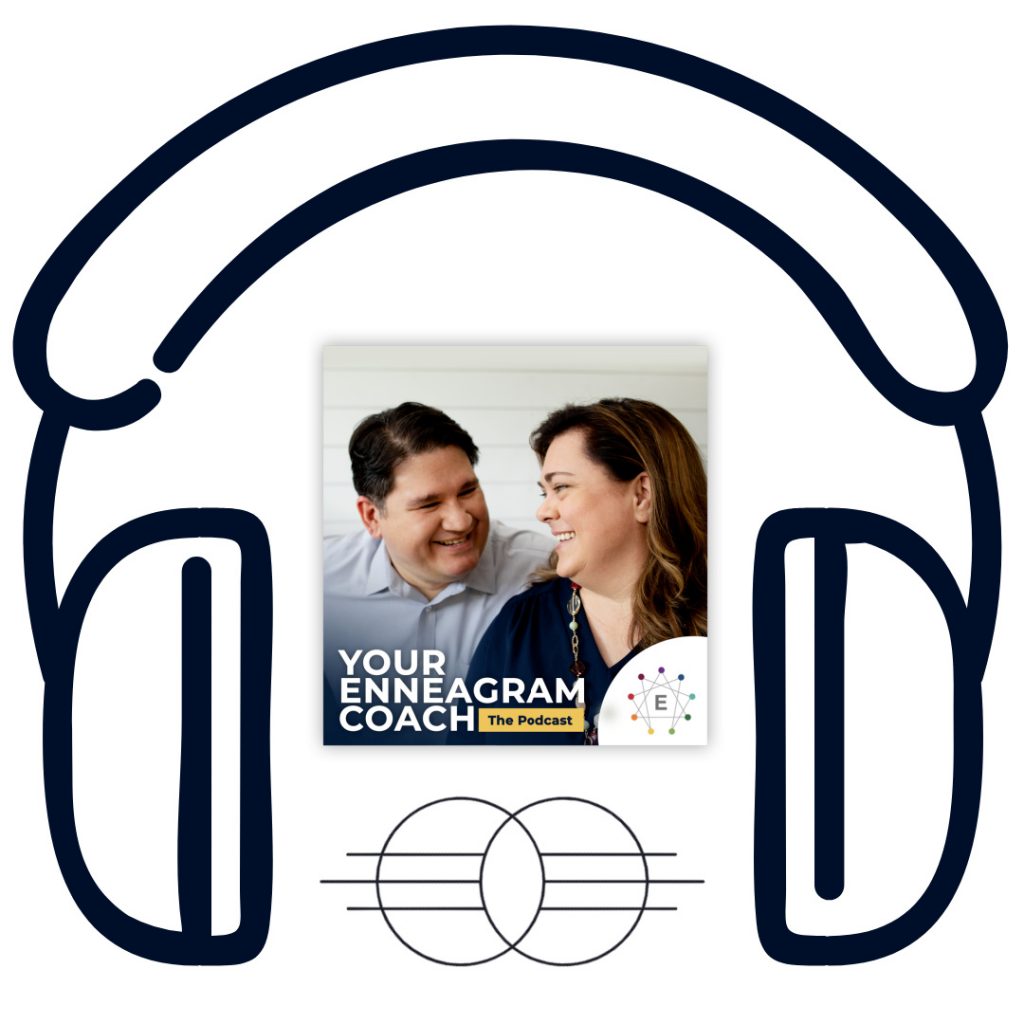 ---
Podcast Description: Fathoms is "a series of conversations about the depths of the enneagram. Hosted by enneagram teachers Seth Abram, Seth Creekmore, and Drew Moser, this podcast explores the depth and complexity of our inner landscapes, one fathom at a time. Be on the lookout for conversations, interviews, & meditations."
Why I Listen: After years of study, I'm fairly well-versed in the basics of the Enneagram and had been looking for a source that would take me a little deeper. Fathoms goes beyond basic typing and memes to explore more esoteric aspects of the framework. I've enjoyed learning Enneagram history and other aspects that are less frequently discussed (such as arrows, wings, conflict styles, triads, shadow types, and more).
Tune in if. . . you are a hard-core Enneagram nerd who is eager to dive in deep with the framework.
Episode to get you started: Fathom 15 | Lines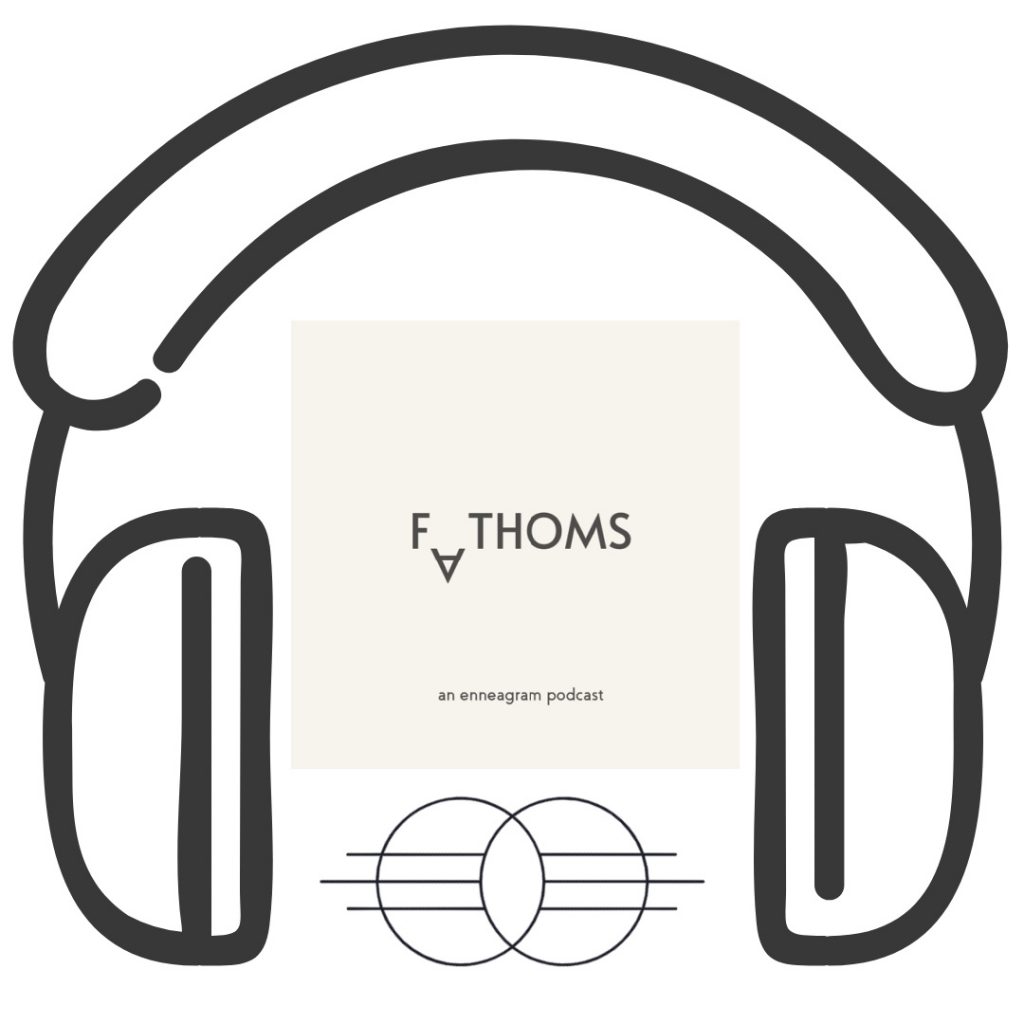 ---
Podcast Description: "The RENEW YOU Podcast is all about honestly and authentically exploring what renewed faith looks like in every area of your life from the perspective of a Jesus-loving wife, mom and marriage and family therapist. From marriage to parenting to friendships to diving into the Bible and everything in between, the RENEW YOU podcast will give you something to think about in a renewed way each week! Our Mission is to help listeners turn from the world and discover 'renewed' ways of approaching relationships and day-to-day life in a practical and fresh way through the thoughtful and genuine application of God's word interwoven with helpful therapeutic strategies. Whether through Quinn's teaching to interviews, we pray that each episode will help 'Renew YOU.'"
Why I Listen: Faith-based interview podcasts are my favorite, and this one is exceptional. Host Quinn is an excellent interviewer and I've loved her variety of guests. I find myself jotting down notes in almost every episode, and always come away with useful takeaways on how to bring my beliefs into my relationships.
Tune in if. . . you want to learn from faith leaders and dive into Biblical application outside of Sunday morning sermons.
Episodes to get you started: Episode 43: The Fight to Flourish with Jennie Lusko // Episode 37: How to Find Joy in All Circumstances with Tara Leigh Cobble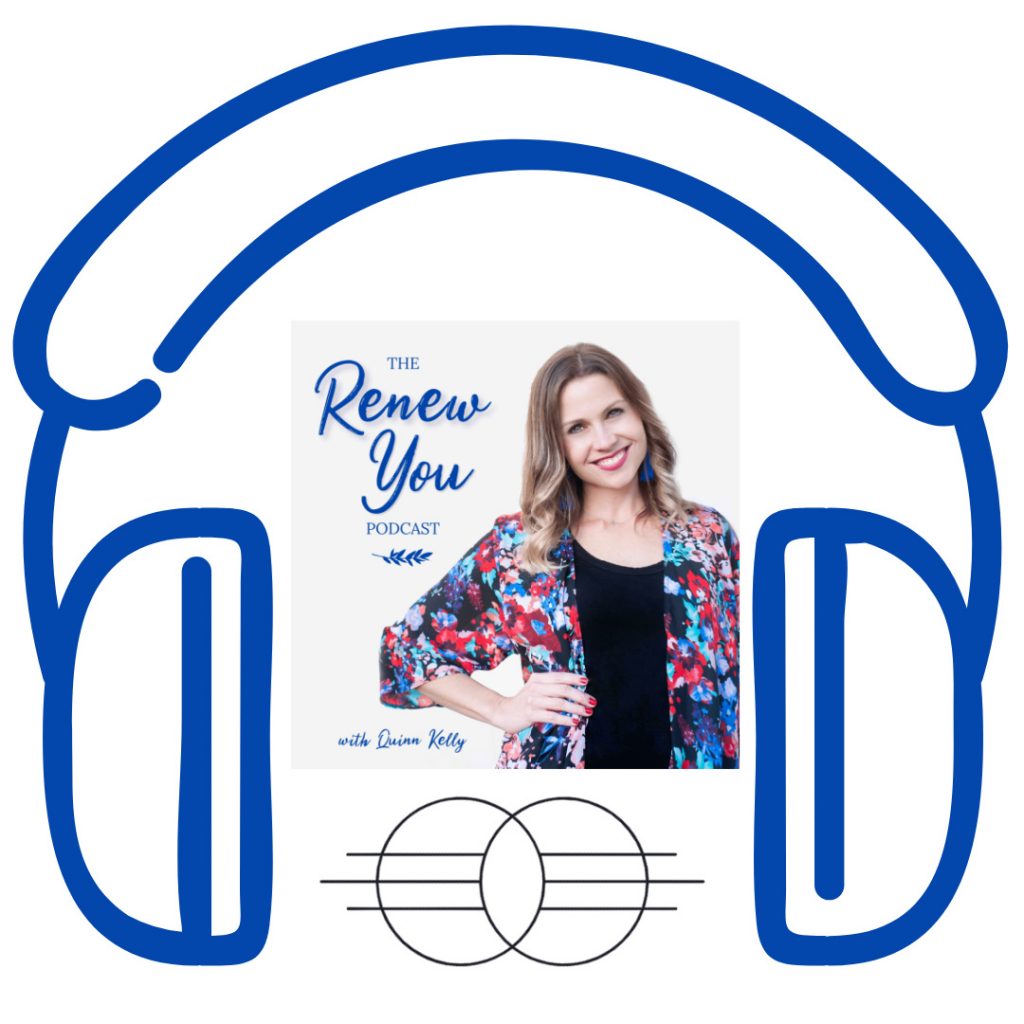 ---
Have you discovered any new podcasts lately that you are eager to recommend? I'd love to hear about them!