Last week, Luke and I attended the ninth and final session of a marriage class we had been participating in through our church.  As a lover of anything that resembles school, I was prepared to enjoy the class, but I had no idea how transformative the material would be – for me as an individual, and for the two of us in our marriage.
The course was taught by a married couple with extensive experience in counseling and life coaching, and each week they showed us practical tools for improving our lives and our marriages.  On the first night of class, our instructors helped us to identify our core values, an exercise that would enable us to lead lives in which our behaviors are in line with our passions.  In subsequent weeks, our lessons focused on other crucial issues such as forgiveness, communication, and the power that our belief systems can have on our reactions to life events.  Every lesson was informative and applicable, and Luke and I left each session with some great strategies to implement in our relationship.
One of the most powerful lessons of the class was about the value of crafting a vision.  Our instructors defined a vision as "an expectation, a belief, a mind set," and they were quick to point out that the purpose of having a vision has nothing to do with the Law of Attraction: simply articulating our hopes for the future will not lead to their fruition.  The power in casting a vision lies not in its ability to change our circumstances, but in its capacity to change ourselves.  When we articulate a vision, we begin to live in a way that will facilitate the end result.  Our vision provides direction, promotes self confidence, and increases awareness of the things in our lives that will support our vision.  A vision offers a road map for our lives and a framework for our prayers.
The culminating project of the class was to create a vision for our marriages.  Each class member was asked to independently write a detailed vision outlining our hopes and dreams for the next several years with our spouse.  On the final night of class, we would share our visions with our spouses as well as the rest of the class.  This assignment was met with mixed reactions: some of our classmates were intimidated by the prospect of envisioning the future, while others couldn't wait to get started.  Luke and I fell somewhere in the middle: eager to put to paper our desires for the future, but somewhat nervous that our dream scenarios would not align with each other.
On the evening of our vision sharing, any lingering misgivings completely evaporated. The experience of reading and listening to one another's visions was touching and inspirational. Despite having written our visions independently, the similarities in each couple's pair of visions were uncanny. Luke and I were deeply encouraged to learn that we have nearly identical visions for how we hope our future together will play out (though we did have to laugh at the not-so-minor discrepancy between the number of children we envision ourselves raising).  Having voiced our goals and dreams, we now have a sense of purpose and direction that will help frame our future prayers and decisions.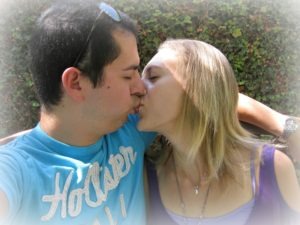 I am so thankful for the opportunity that Luke and I had to take this marriage class together. I am blessed to be married to an incredible man, and this class has made me more excited than ever about our future together. I would encourage any couple – regardless of how long you have been married, or how you are doing in your relationship – to consider enriching your marriage through a marriage-building class.  It is an investment that will be paying rewards for years to come.