Hello, my reading friends. I have good news and bad news for you: the good news is that I have some pretty great books to share with you today! The bad news is that not all of the books I'm sharing were amazing. More bad news: many of the books in today's roundup are Christmas reads (since most of these books were read in December). I chose to include those reviews here anyway in the off chance that you are looking to read a Christmas-themed book out of season. . . or perhaps you can bookmark these titles for next December!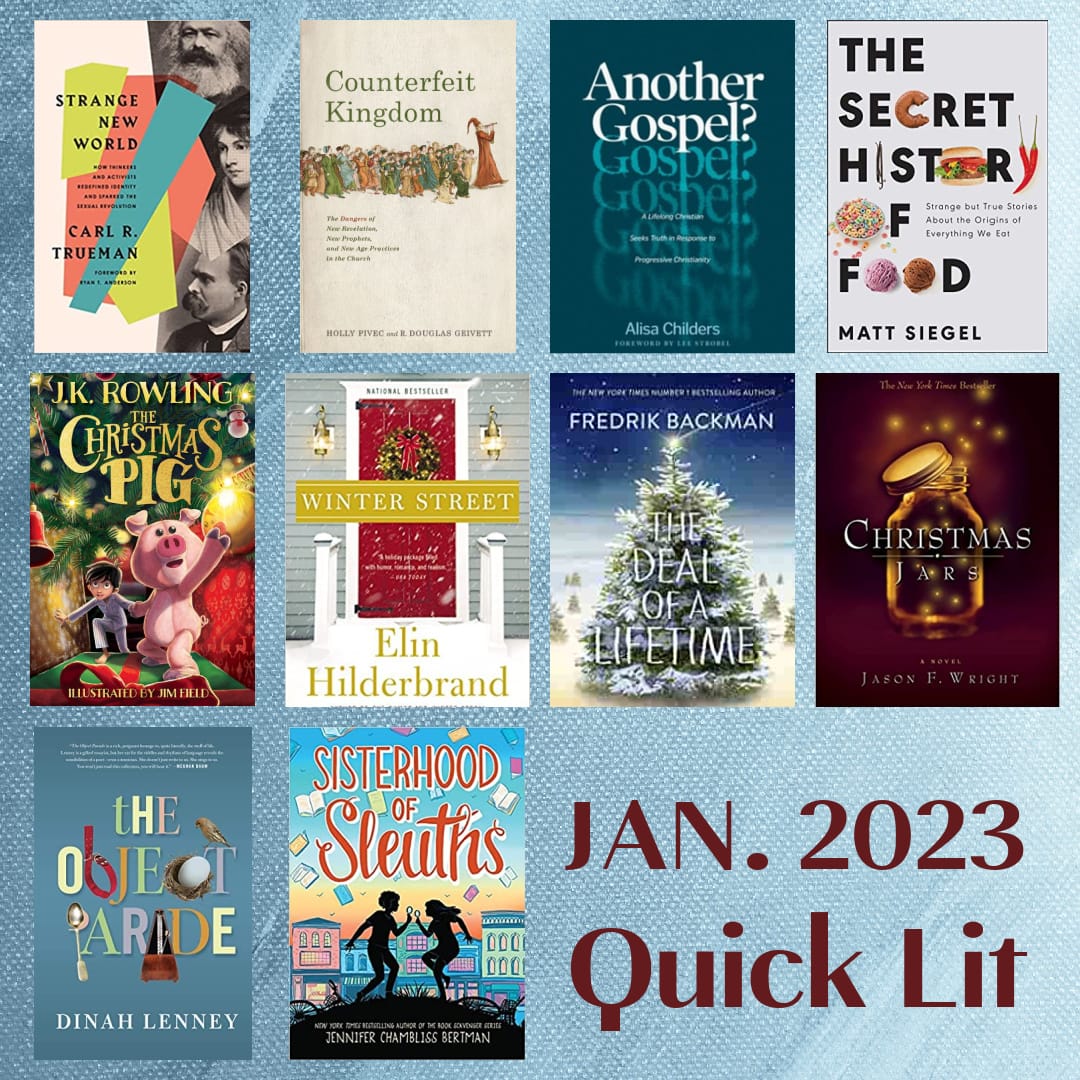 NONFICTION
Another Gospel?: A Lifelong Christian Seeks Truth in Response to Progressive Christianity, by Alisa Childers: I've been on an apologetics/theology kick lately. Exploring the deeper, more intellectual aspects of my faith has led to a spiritual flourishing; it's the missing piece I hadn't known I needed, and I just can't get enough. It's not that I didn't explore these topics before, but I am coming to them now with more fervor and a thirst for deeper understanding. Alisa Childers has been a trusted guide in this study, and I'm surprised it took me as long as it did to get to this, her first book that is a look into progressive Christianity and her own experience (and ultimately rejection) of it.
Childers grew up in church and had always had an active personal faith. She witnessed God at work in her own life and in the lives of those around her in her years leading worship as part of the band Zoegirl. But Alisa was forced to reexamine her beliefs when she was invited to attend a group led by a progressive pastor who self-identified as a "hopeful agnostic." This pastor questioned the relevancy and inerrancy of Scripture, the existence of hell, the need for Christ's atonement, and other doctrines Alissa had always taken for granted. Whereas many might have walked away from God altogether as a result of such an experience, Alisa refused to give up the Christianity of her youth. Instead, a faith crisis led her back to the basics, exploring not just the stories she had been taught, but the what and how and why of her faith. 
In Another Gospel, Alisa exposes the deceptions and logical fallacies of progressive Christianity and offers sound counterpoints to arguments against faith. Her writing is heartfelt but unemotional and well-reasoned. Alisa is not afraid to concede some of her opponents' points, acknowledging areas where traditional Christianity has gotten things wrong, but she does not back down from the truth, even (especially) truths that are unpopular. I love that Alisa doesn't water down her content, using big words and terms that we Christians should know but many don't, and referencing historians and key points in church history. I also appreciated the ways in which Alisa incorporates her own story into the narrative without making the book entirely about her. 
I worried that this would-be a repeat of Natasha Crain's Faithfully Different; it is a great companion, but not at all the same book. I would recommend this as a first step for individuals experiencing a faith deconstruction; then move on to Faithfully Different as well as Alisa Childers' more recent book: all are excellent resources and useful guides in the path to establishing a more robust theological understanding, with the end goal of truly knowing Who God is, what His Word says, and why we should follow Him. 
My Rating: 5 Stars // Book Format: Audiobook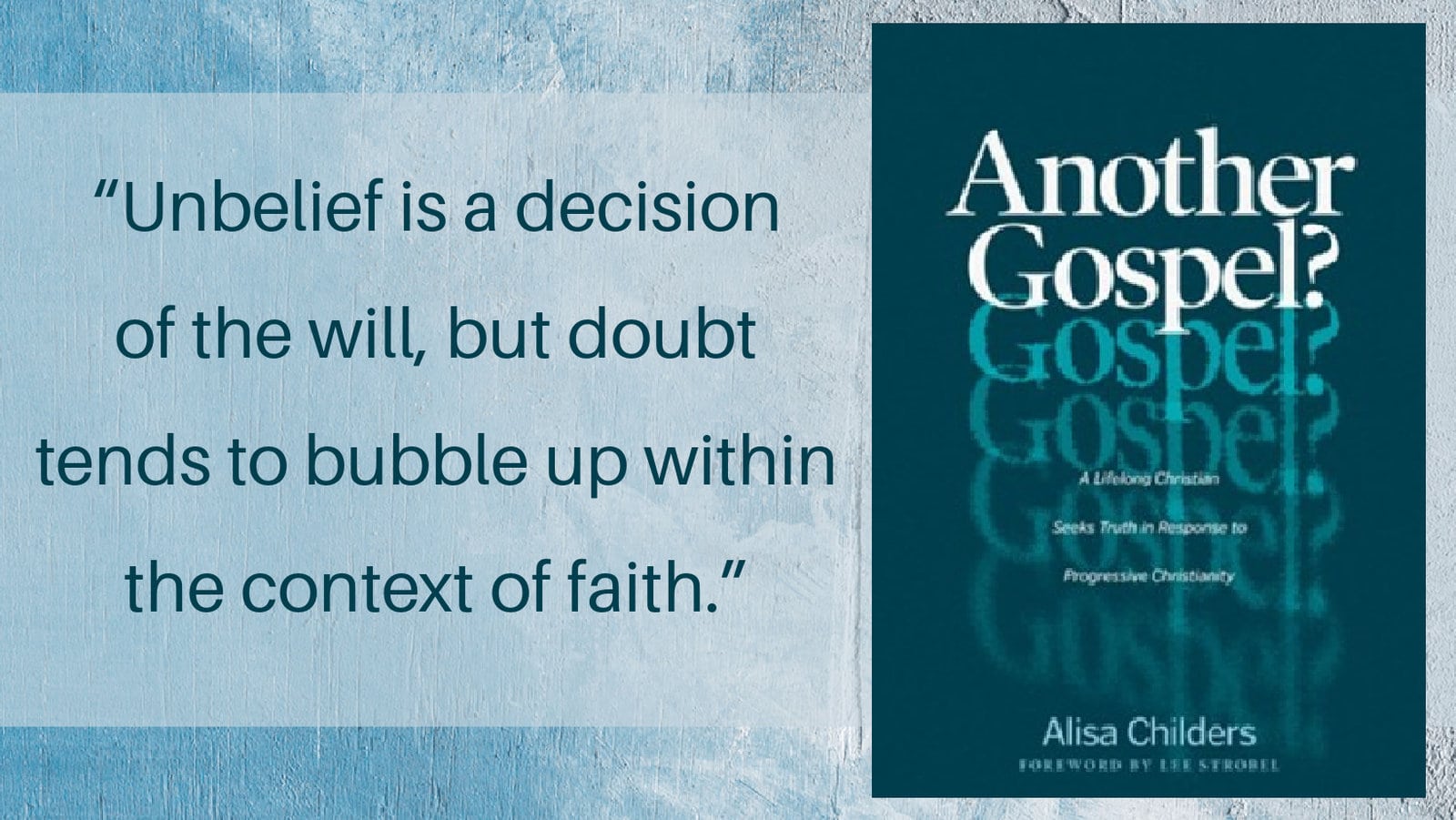 ---
The Object Parade, by Dinah Lenney: I think we have all, at some time or another, taken a look at the objects around us and marveled at the stories each item could tell—about ourselves, our histories, our dreams (languishing or fulfilled), or our relationships. In this collection of interconnected essays, character actress Dinah Lenney transfers her "object reflections" to the page. Each essay is titled after one object (some remarkable but most rather mundane) that serves a conveyer of stories from the actress's storied life. Through Lenney's things, we visit memories of her time in New York, her move to Los Angeles, her troubled relationship with her mother, and her devotion to her children. Lenney ages with the book, in years as well as wisdom, with essays growing increasingly insightful and nuanced.
The essays here can be read individually, but together they form a poignant memoir spanning every emotion, every type of relationship, and nearly every life stage. I found the portions related to motherhood especially moving, and I marveled at Lenney's transparency regarding less-than-admirable character tendencies and flaws. This is an honest and imminently relatable memoir, told through lovely prose that can be read at multiple levels. The metaphors are heavy, at times heavy-handed and occasionally too opaque for me to fully comprehend, but I was drawn to Lenney's reflective style and complex ways of viewing her world and her experiences.
It was the premise of this collection that caught my attention, and I think it would make a great journal prompt for any aspiring writer or introspective soul. In fact, I'm liking the idea of doing something similar this on the blog. Stay tuned! 
My Rating: 4.25 Stars // Book Format: Kindle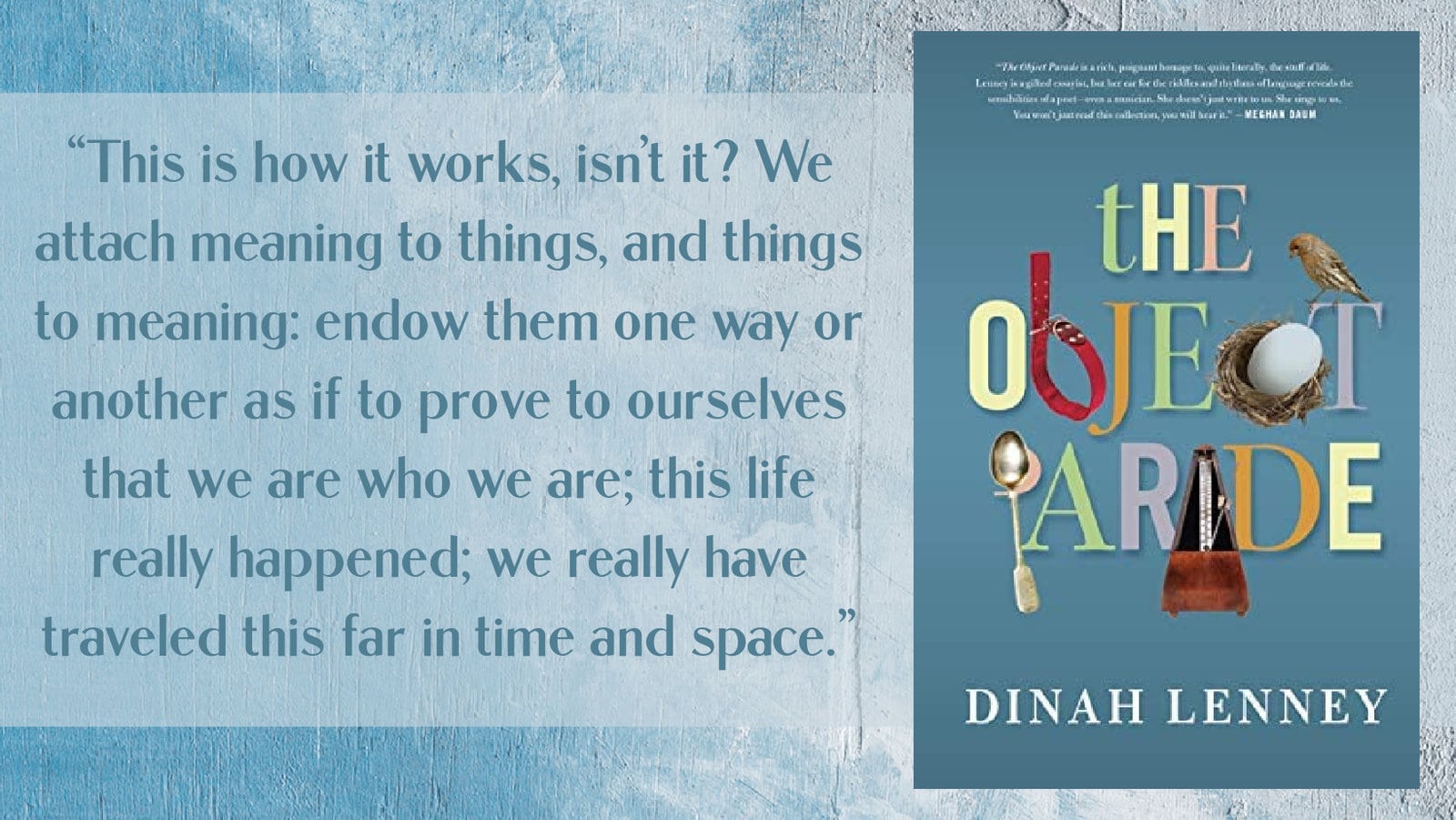 ---
Counterfeit Kingdom: The Dangers of New Revelation, New Prophets, and New Age Practices in the Church, by Holly Pivec and R. Douglas Geivett: I first learned of the NAR (New Apostolic Reformation) movement through Alisa Childers (who has become one of my most trusted guides in all matters of theology and apologetics, see above review!). Having been active in church my whole life, it's rare to learn about some entirely new church movement or "alternative view",  yet I knew nothing about NAR despite a familiarity with Bethel and other NAR-influenced worship groups. But when Alissa and her podcast guests sounded he alarm on this movement, my ears perked up and I rushed to read the book to learn more. 
NAR is a movement—largely based out of Bethel Church in Redding, California—made up of professing Christians whose ministry emphasizes healing, miracles, and prophesy, and who rely on new revelations granted to modern-day apostles and prophets who are given authority within the church. On its surface this movement seems legitimate, but digging deeper, it is apparent that NAR is rooted in false teaching that distorts the Gospel and leads followers into cult-like practices and unBiblical beliefs. And the movement is much more widespread than it would first appear, largely through popular worship songs but also in various ministries, Christian literature, and churches across the world.
This book was a wake-up call I needed; it helped me to identify some heresies I'd accepted, and it offered clear guidance on how to identify non-scriptural teachings and practices in the future. Much of what I learned seemed too bizarre to be believed (I had no idea churches were involved in things such as necromancy, instruction on how to prophesy, and prophetic prayer practices); the NAR influence on worship songs and especially their involvement in The Passion Translation of the Bible were less shocking but more alarming, as my own faith life has been deeply influenced by these extensions of NAR. I will certainly be more wary of putting my trust in these sources in the future! 
As appreciative as I am for this book and its information, it did feel overly alarmist, exaggerating the harmfulness of this movement's heretical teachings and influence. While much of what is described is indeed concerning, not all of what is coming from this movement is bad or wrong, and many of the accusations here are painted with a rather broad brush. I'm also not convinced that NAR teachings are as pervasive as described; nearly all of the examples come from a handful of individuals and churches/ministries. So, while I believe that Christians need to call out heresies as we see them, I don't want to jump right in on a heresy witch-hunt either. I trust the intentions of these authors but don't know if I can agree with every one of their conclusions or warnings. 
My biggest takeaway from the book, as with many books of this variety, is that I must always remain discerning—even when it comes to trusting Christian pastors and movements. And the only way to determine whether or not a teacher or teaching is true is to KNOW MY BIBLE! This will be a theme for me as I pursue faithfulness in 2023. I'll also be seeking out more information on the NAR movement as I attempt to get a better understanding of it and other popular Christian movements that may ore may not be as they seem.
My Rating: 3.5 (Rounded up to 4 Stars on Goodreads) // Book Format: Audiobook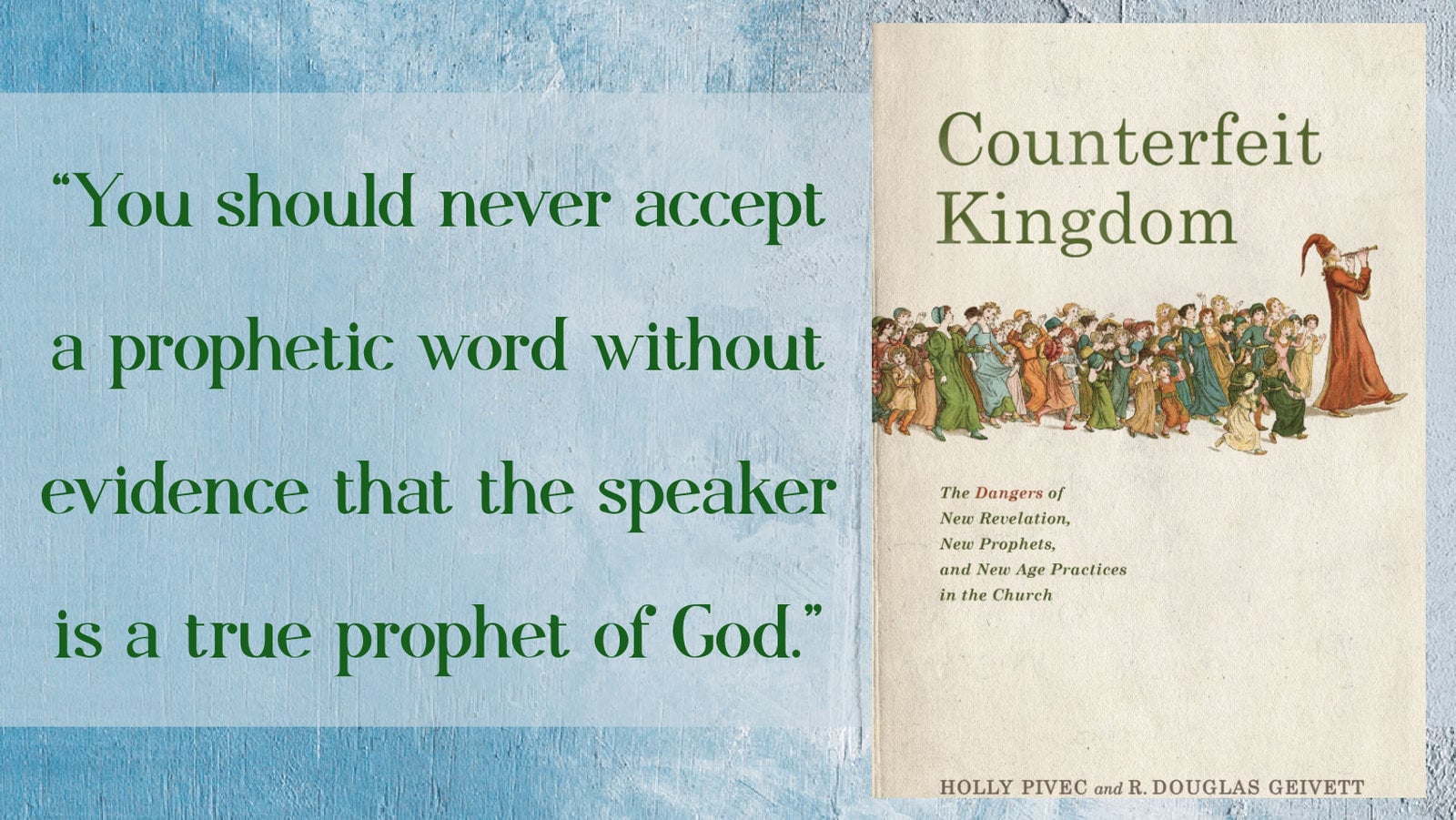 ---
The Secret History of Food: Strange but True Stories About the Origins of Everything We Eat, by Matt Siegel: Not many of us spend much time thinking about where our food comes from; even fewer of us know the historical origins of our foods—from how we got them to the evolutionary and sociological and marketing reasons behind why we eat them. In this history that is both humorous and also quite well researched, we are offered an enlightening and very entertaining glimpse into more than we ever wanted to know about our food. With stories and factoids about a broad range of edibles and cuisines, from honey and corn to cereal, chili peppers, and potatoes, Siegel offers deep dives into the names of various foods, the reasons for their narrow or broad appeal, and indictments against the abuses of the food industry.
I'm not a foodie, but I do love learning obscure trivia and history (Wikipedia is my BFF), so the title of this book immediately drew me in. I certainly learned a lot and won't think of breakfast cereal or Oreos or grocery store produce the same way again! Despite the seemingly jovial tone of the book, the messaging is rather negative, with very few good things to say about modern food production and trends. I also wish the book contained less profanity and fewer sexual references and innuendos. The book would also have benefited from better structure and a more cohesive narrative.
True to its intentions, this book really did whet my appetite (pun intended) for more behind-the-scenes info about foods, and I'd love to read more about this subject in the future. 
My Rating: 3.5 Stars (Rounded Down to 3 Stars on Goodreads) // Book Format: Audiobook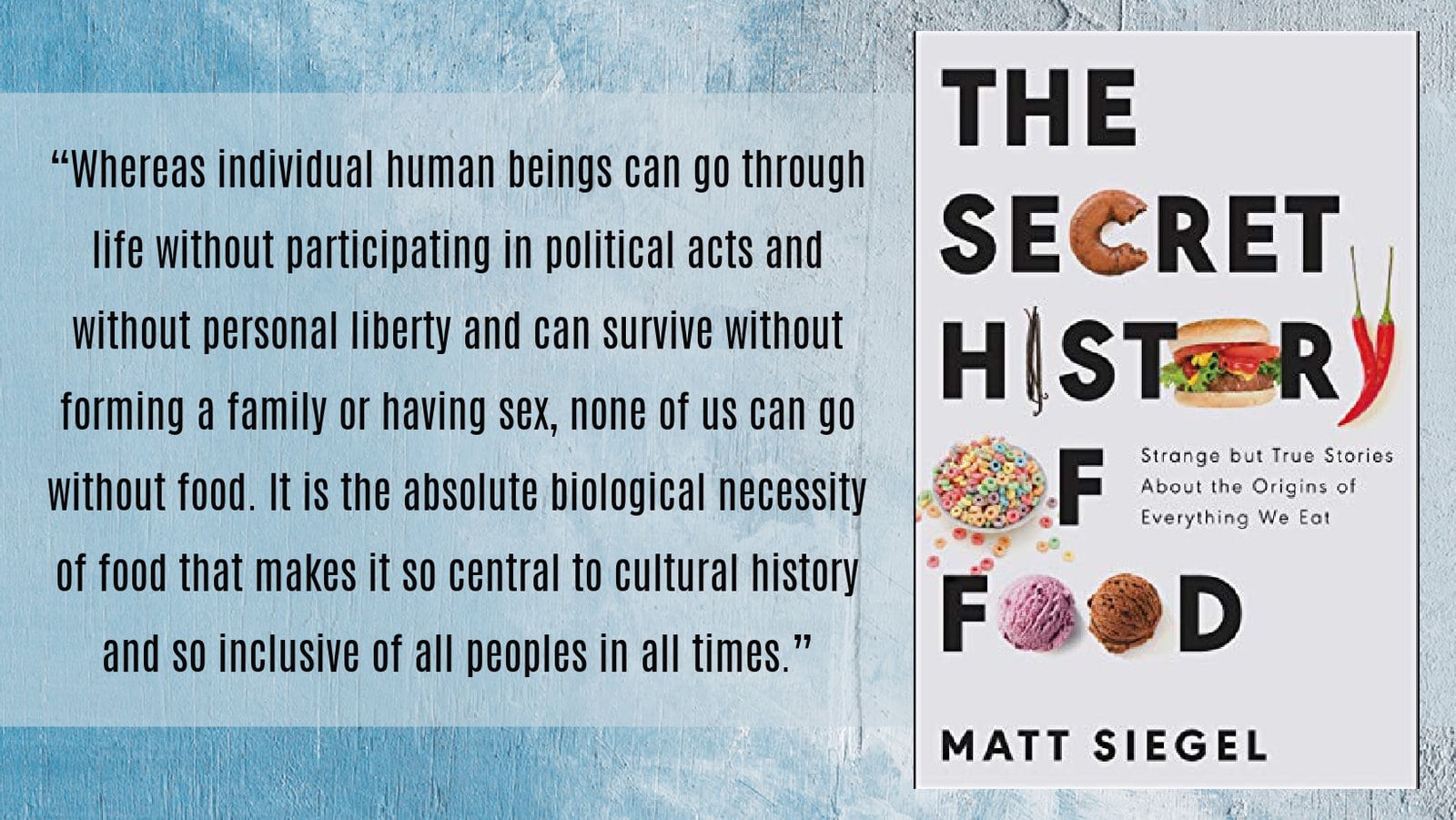 ---
Strange New World: How Thinkers and Activists Redefined Identity and Sparked the Sexual Revolution, by Carl R. Trueman: In his 2020 book The Rise and Triumph of the Modern Self, historian and theology professor Carl R. Trueman offered an expansive analysis of current cultural trends relating to sexual identity, cancel culture, and individual rights. That book was excellent and went a long way in helping me understand much of what we are witnessing in the US and across the world today. But at nearly 500 pages, and packed with references to historical documents and complicated philosophical ideologies, Rise and Triumph wasn't exactly an accessible read, and certainly not one I was quick to recommend to others. Many shared my reservations, and Trueman has responded to a desire for something a little less foreboding with Strange New World, which gives an overview of the same concepts, but much more succinctly.
In this book, which is equally brilliant but infinitely more approachable, Trueman takes us back to the centuries-old roots of the obsession with individuality and selfhood. Drawing from the work of intellectuals, artists, poets, and politicians, along with an examination of how technological developments have led us to believe we are masters of our own destinies, Trueman shows how psychology came to be sexualized, and how sexuality in turn became politicized. He also traces the timeline of events and prevailing ideas that has led to increasing acceptance of gender nonconformity, a prioritization of felt authenticity over verifiable reality, and the bleeding together of old understandings with new priorities that has led to where we are today.
Though shorter than Rise and Triumph, this is still very heady, but I would argue it is an absolute must-read for contemporary readers who are baffled by modern culture. The picture Trueman paints is not a hopeful one, but his analysis goes a long way in helping Christians understand (and hopefully have compassion for) those who disagree with us, while remaining committed to Biblical convictions. While Trueman has no solutions to offer, he does provide useful ideas for how Christians and conservatives can find a place for ourselves in this strange new world.
My Rating: 5 Stars // Book Format: Audiobook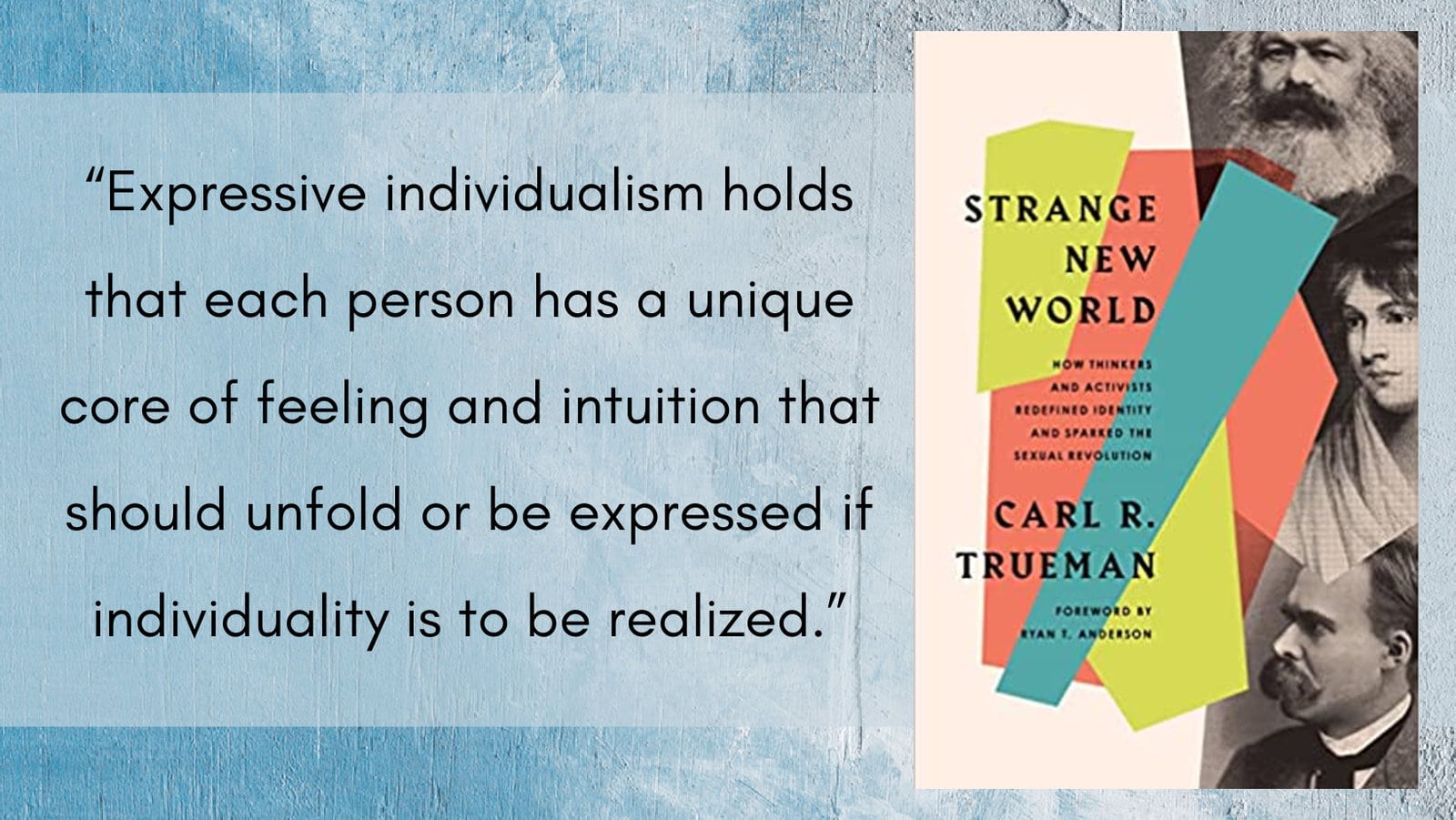 ---
FICTION
The Deal of a Lifetime, by Fredrik Backman: On Christmas Eve, a father and his adult son are reconnecting after a long separation. The father has a confession to make: he has taken a life, and what follows is his explanation. The father looks back over the course of his life, acknowledging his shortcomings as a father and a human, and identifying many near brushes with death through the years. The memories lead to a fateful interaction with a five-year-old girl in a hospital cancer ward who changes everything.
This trim story—barely long enough to be called a novella—is heartfelt and heartbreaking, personal and moving, an It's a Wonderful Life read-alike with a twist. While I would have loved to spend more time with these characters and this story, Backman manages to convey every dynamic and sentiment with brevity and potency in a way that only he can, offering the reader with much to reflect on about the meaning and impact of a life, the nature of death, and how to make peace with it all. 
The only thing keeping this from being a full 5-star read for me were some odd turns of phrase, which I'm assuming might have been problems with the translation more than the original work itself. Still, these were jarring/confusing enough to pull me out of the story that I wanted to simply absorb.
Though ostensibly a Christmas story, this can be read at any time. Just be sure to have tissues close by.
My Rating: 4.5 Stars (Rounded up to 5 stars on Goodreads) // Book Format: Kindle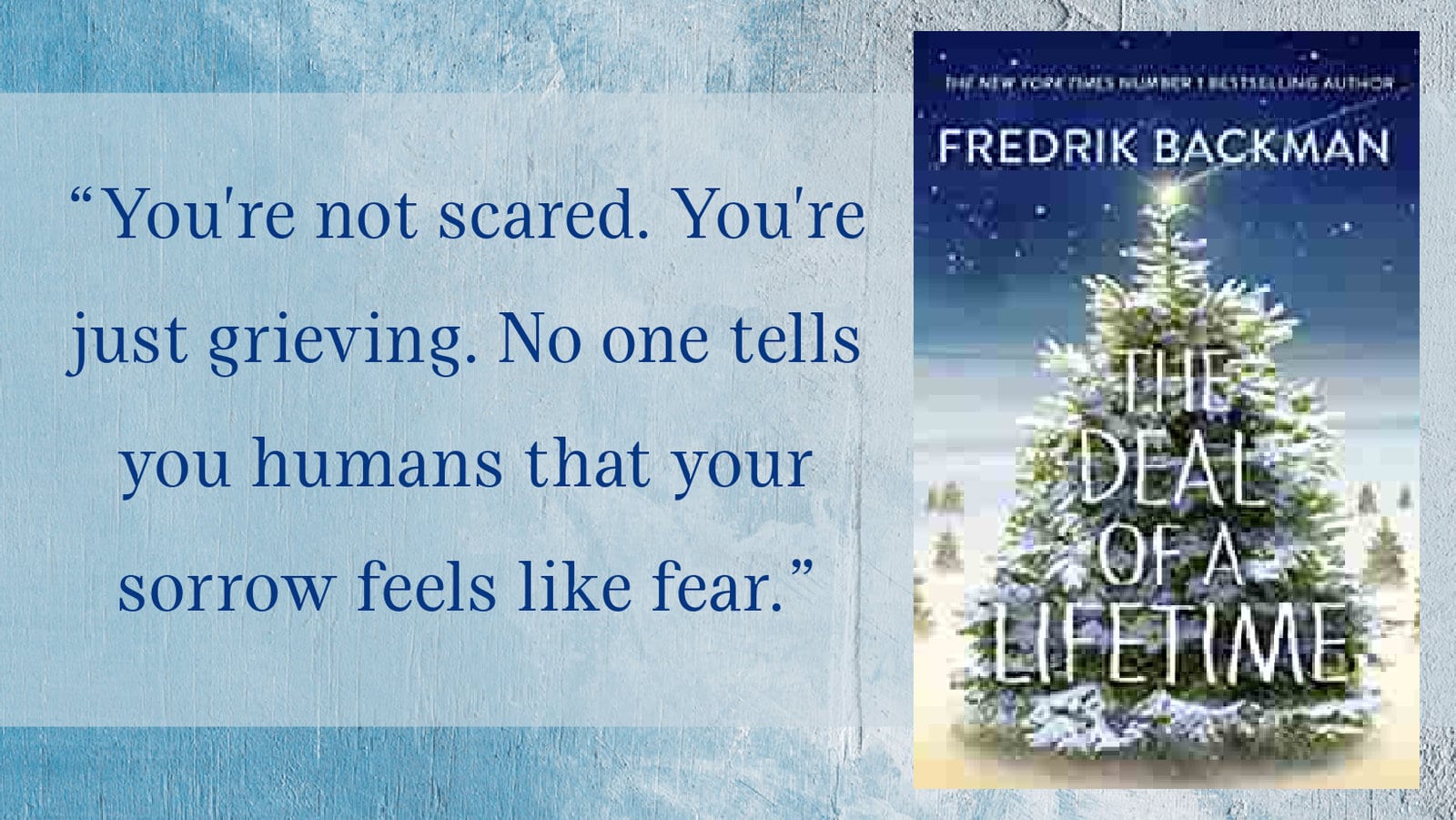 ---
The Sisterhood of Sleuths, by Jennifer Chambliss Bertman: Maizy is a fairly typical middle-schooler who loves creating movies with her best friend Izzy and helping her mom out at her thrift store. Change is on the horizon for Maizy, though, with her big brother heading off to college and Izzy (now wanting to be called "Isabella") no longer interested in the things the two of them used to do. When a box of vintage Nancy Drew books is dropped off at her mom's store, Maizy is ready and eager for the diversion. Not only are these books pretty great, but the box came with a mystery: inside was a picture of Maizy's grandmother, Jacuzzi—but Jacuzzi denies knowledge of the pictured women and claims no responsibility for the box of books.
Maizy is joined by two unexpected sidekicks as they look into the mystery of where the books came from, and how they tie into Maizy's family history. And when the trio begin researching the author of the Nancy Drew series for a school project, they discover there is much more to these books and this series than meets the eye.
As a longtime Nancy Drew fan, the premise of this charming middle grade novel immediately appealed to me, and I could not have been more delighted by the story itself. The primary mystery is a breezy but fun one, with all the "whodunit" elements of a Nancy Drew novel (but a tad more believable). I liked seeing the multigenerational stories come together, and I was intrigued by the Carolyn Keene history lessons that are threaded into the story. I learned a lot and came away with an even deeper appreciation for the series (despite a few disappointing revelations about the books' origins).
Maizy is a wonderful protagonist: smart, intelligent, and unafraid of forging her own way in the world, while still remaining loyal to her friends and true to her convictions. She navigates typical pre-adolescent issues such as feeling pressure to grow up when she isn't ready and growing into and out of friendships, and these themes fit nicely within the story, coming to some important lessons without feeling preachy or pedantic. I was impressed with the author's t treatment of the various side characters, who are believable and add to the story rather than simply standing in as fillers. 
Middle grade readers of all ages will enjoy this book, which will be nostalgic for existing Nancy Drew fans and will likely serve as a fun introduction to Nancy Drew mysteries for those yet to be initiated into the young sleuth's fan club.
My Rating: 5 Stars // Book Format: Print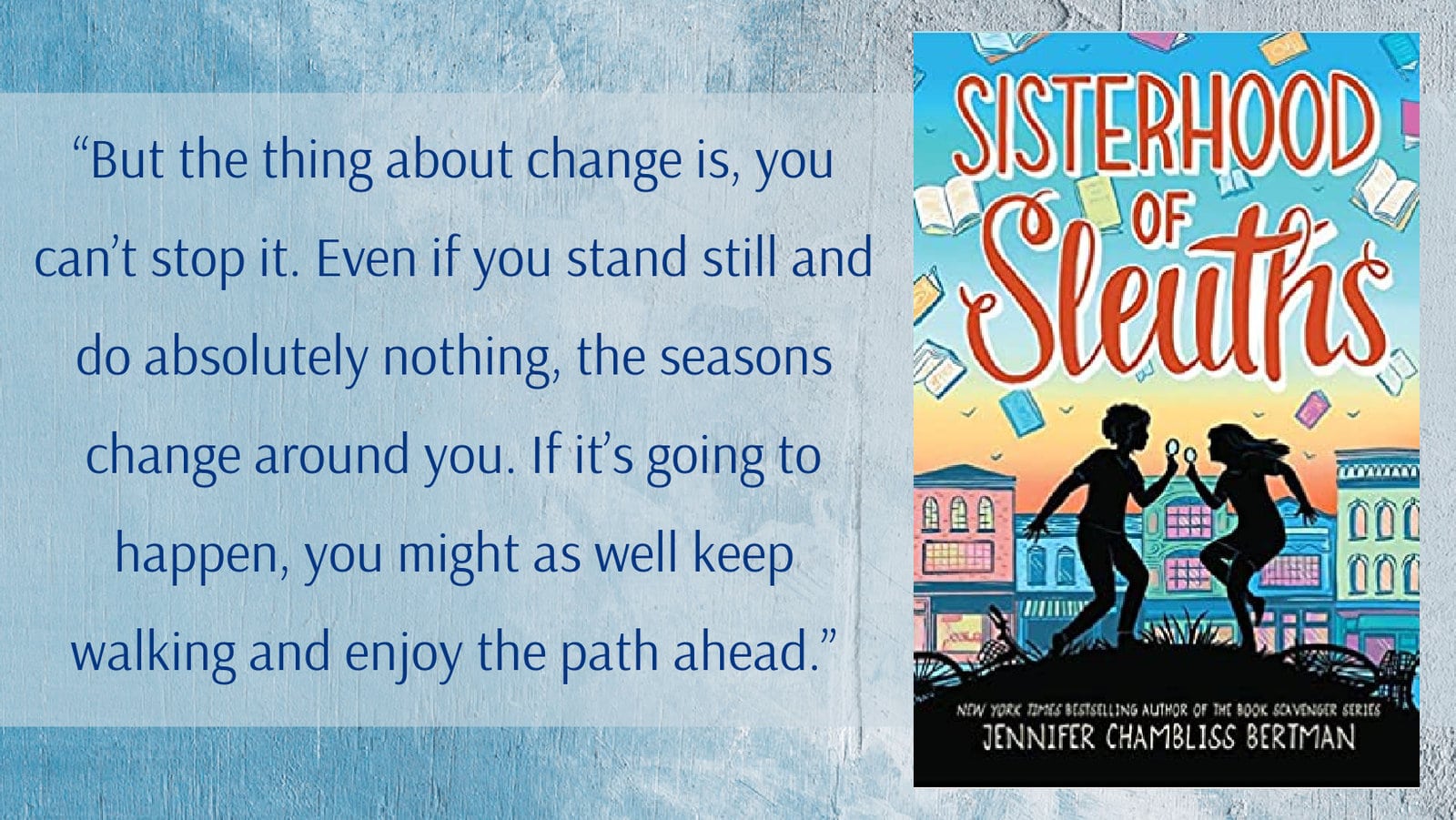 ---
Winter Street, by Elin Hilderbrand: In this light family drama, an eclectic family comes together for Christmas at the family's Nantucket inn, despite drama happening in and around them all: patriarch Kelley's wife, Mitzi, has just left him for Santa (really!); son Patrick's wife and kids have deserted him as he faces imprisonment for investment fraud; his brother, Kevin, is hiding a romance and surprise pregnancy with the inn's French maid; and their sister, Ava,  is resenting her Christmas alone as the boyfriend she'd hoped would propose this holiday has returned home to his high school sweetheart. When Kelly's ex-wife Margaret (a celebrity news anchor living in New York) receives bad news about Kelley and Mitzi's son, Bart (who is serving in the military oversees), sparks fly. . . but not where we might think! 
Wow, that is a lot of craziness and drama for one family. This book is in many ways over-the-top, but I found the family members endearing and loved the Christmas spirit of it all. I also greatly appreciated the lack of on-page sex and profanity, so refreshing in this genre. Though the story wasn't especially memorable, and I don't feel the need to read the following three books in the series, this was a fun holiday read.
My Rating: 3.5 Stars (Rounded up to 4 stars on Goodreads) // Book Format: Kindle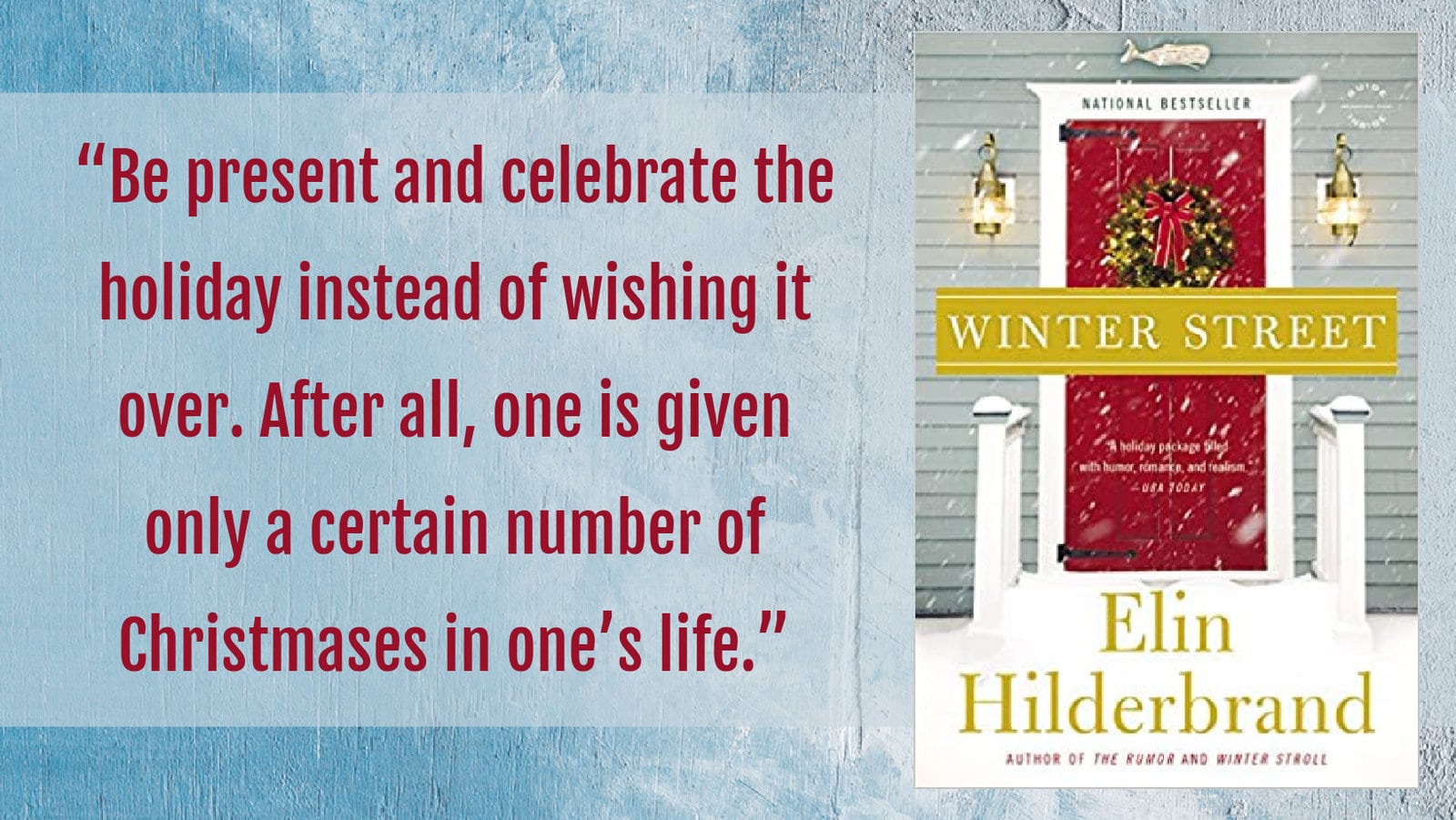 ---
The Christmas Pig, by J.K. Rowling: Jack is heartbroken when his cherished stuffed animal, DP (Der Pig), is lost on Christmas Eve. And he wants nothing to do with the Christmas Pig that has been offered as DP's replacement. But Christmas Eve is a night of miracles when all things come to life, and the Christmas Pig has a great idea: he and Jack will journey together to the land of lost things in search of DP. After shrinking to less than a foot tall, Jack joins the Christmas Pig as they disappear beneath the Christmas tree and into a labyrinth of sorted toys within the Land of the Lost. Together they encounter all manner of lost things, from toys and treasures to lost habits, ideas, and skills. Time is of the essence, and their adversaries are numerous, but together they push towards hope for a happy reunion. Of course, they discover more than just a lost pig along the way as Christmas Pig teaches Jack some important lessons about friendship, sacrifice, and the awakening power of love.
I fully admit I came to this book for the author, and Rowling's signature storytelling, imaginative world building, and sentimentality fill these pages. This story that is a bit of a mash-up between Toy Story and The Phantom Tollbooth is creative and genuinely magical. Though fantastic aspects of the story were a little bizarre for my taste, I appreciated the novel's ingenuity. And I just adored the heartwarming story at the center of the book. This is a feel-good story with great messages that are shown rather than told; it is hardly preachy, yet kindness, courage, and sacrifice are just a few of the excellent qualities showcased within the pages of this book. I'm glad Charleston and I read this together this Christmas season.
My Rating: 4 Stars // Charleston's Rating: 5+ Stars // Book Format: Print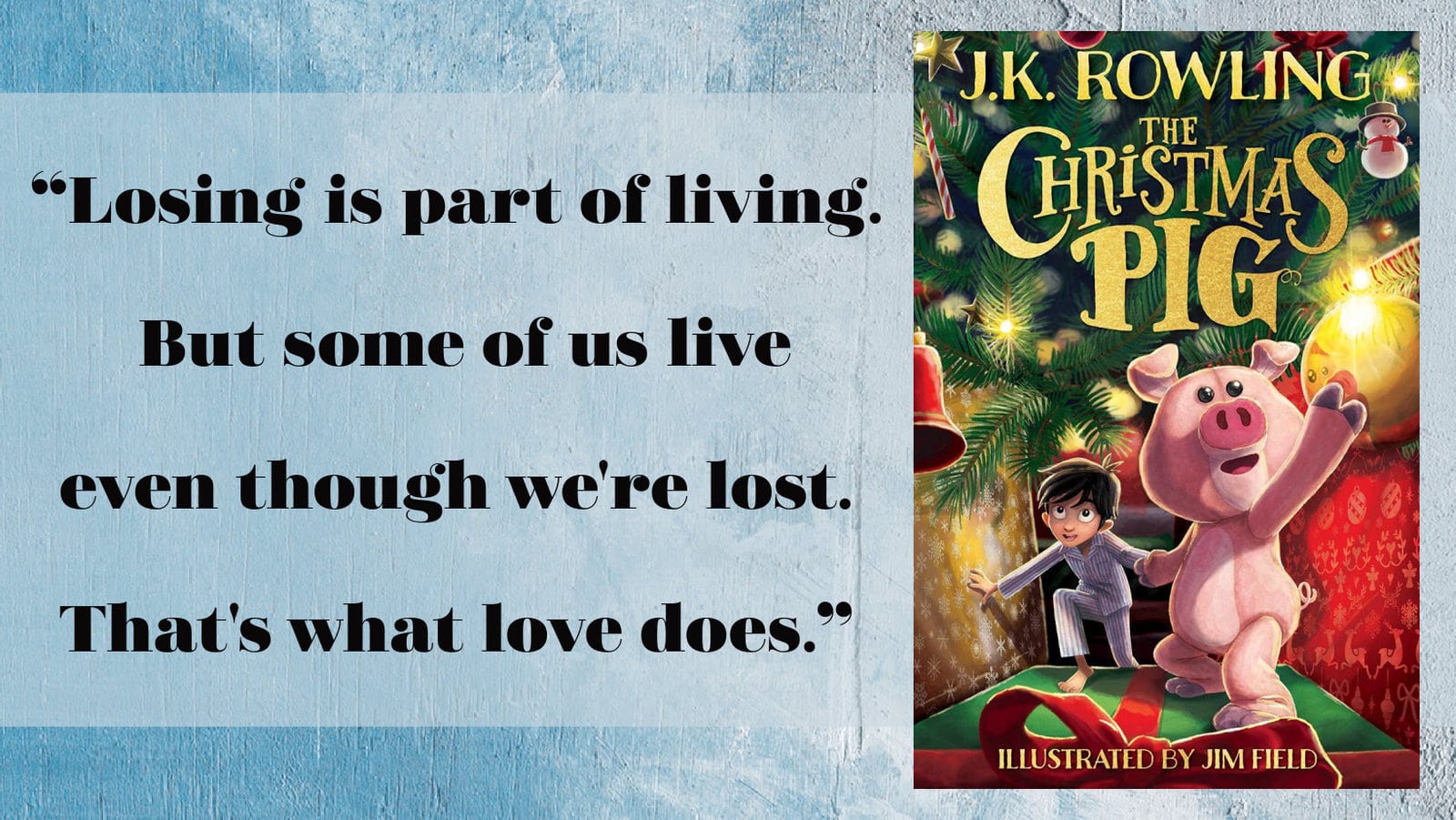 ---
Christmas Jars, by Jason F. Wright: Aspiring journalist Hope Jenson is facing a particularly difficult Christmas when she becomes the recipient of a surprising act of kindness: just after her apartment has been burgled, a jar overflowing with change appears on her doorstep. In her eagerness to identify the anonymous gift-giver (and possibly uncover an inspiring human interest story fit for her newspaper's front page), Hope begins to investigate. Her sleuthing leads her to an amazing family with a story more beautiful than she could have imagined.
A friend recommended this last Christmas and it sat on my shelf, waiting to be read this December. I was thankful for the recommendation! This is a feel-good story with great messages of generosity and found family. Don't go in expecting much of the writing, which is amateur and screams Hallmark movie with its unimaginative characters and convenient storylines. But if you are looking for a little holiday inspiration sure to bring a tear to your eye and a warmth to your heart, this book is for you. I'd love to know how many families have begun their own Christmas jar traditions after reading this book—I know we sure plan to!
My Rating: 4 Stars // Book Format: Print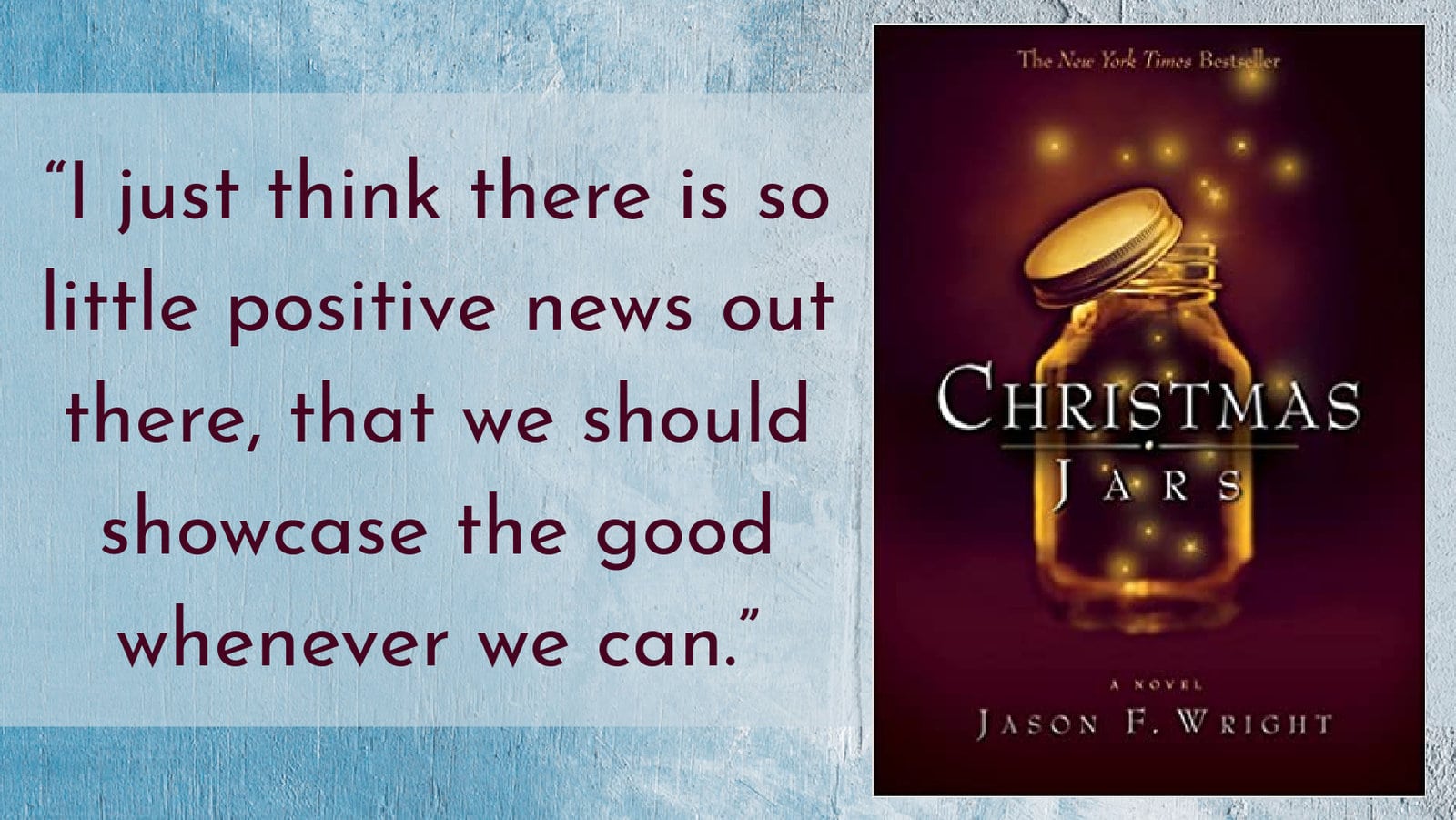 ---
I hope your year is off to a strong bookish start. What have you been reading lately?