Back today with the second round of this month's book reviews, all fiction this time. I have really appreciated hearing from many of you about how much you look forward to these reviews; I am honored that you trust my opinions, and I value your feedback as well. (Both agreement AND disagreement are welcome, as are your ideas on what books you would like to see me review in the future.)
There are admittedly quite a few thrillers in this roundup (sorry/not sorry), with just two other genres making an appearance. Enjoy the reviews!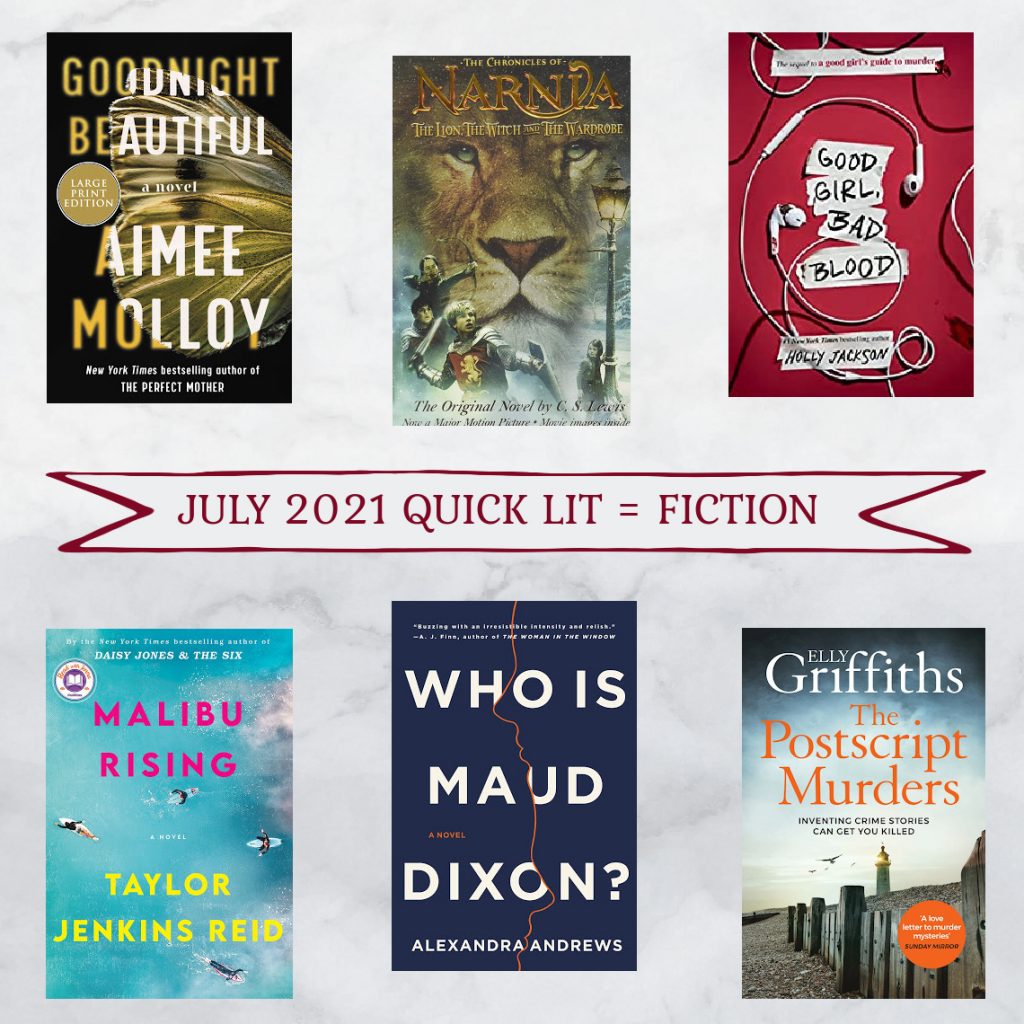 Who Is Maud Dixon, by Alexandra Andres: Florence Darrow is a low-level publishing assistant and aspiring novelist who feels destined for greatness. Unfortunately, the universe doesn't seem to agree, and Florence has spent years trying to make a name for herself. Her fortunes finally seem to turn when she lands a job as assistant to Helen Wilcox, the celebrated author who writes under the pseudonym Maude Dixon. Florence jumps at the chance to move in with the eccentric writer, and eagerly agrees to accompany Helen on a research trip to Morocco.
Just days into their trip, Florence wakes up from a car crash with little memory of what has happened. Helen is missing, and when the authorities assume it is Florence who has died—and that she, Florence, is the real Helen Wilcox—Florence has a decision not make. Will she disclose the truth? Or will she jump at this chance to step into the Maud Dixon name and achieve the glory she has always yearned for?
Wow, this book is wild! The first half moves slowly as we get to know Florence and her motivations, while also getting a behind-the-scenes look at the publishing world and the enigmatic life of an anonymous writer. I enjoyed this slow build and would happily have settled for a character-driven novel that went no further. Andrews' sharp prose and witty dialogue kept me engaged, and though the character of Florence is deplorable, I was mesmerized by her cunning, her single-minded persistence, and her desperate perspective of the world and her place within it; there is an ominousness about Florence that kept me guessing, even before any suspicious happenings take place. And then right around the novel's midway point, this character study turns into something else entirely, when we hit the dramatic twist hinted at on the jacket copy (and in the novel's preface); the story takes off, careening towards an astonishing and masterful conclusion.
Andrews plays off of some common tropes in crafting this unique exploration of identity, success, and female ambition. The genre-bending book is unexpectedly clever and creepy, perfect for those looking for an outside-the-box thriller set in the (harrowing?) world of publishing.
My Rating: 4.5 Stars (Rounded up to 5 Stars on Goodreads.)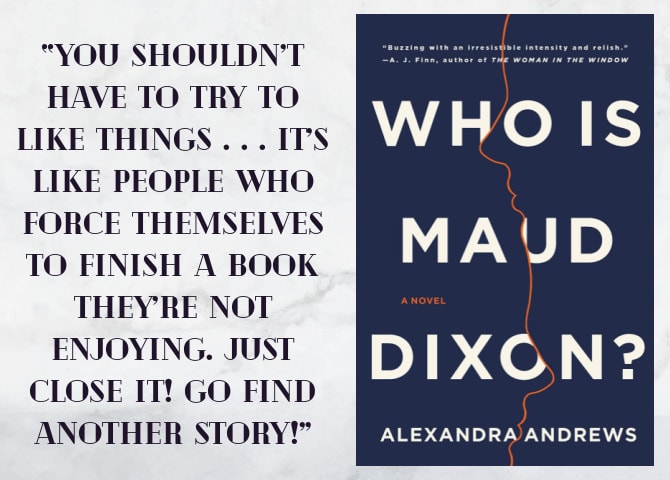 ---
The Postscript Murders, by Elly Griffiths: Peggy Smith's death was hardly suspicious: she was ninety years old when she passed, and by all appearances she went peacefully in her sleep. But Peggy's caretaker, Natalka, has reason to suspect foul play. Natalka brings her suspicions to their mutual friends Benedict (a former priest who runs the local coffee shack) and Edwin (Peggy's elderly neighbor). Together, along with sharp young detective Harbinder Kaur, they discover Peggy's connection to a number of crime novelists and learn of the pivotal role Peggy played in their work.
When Peggy's death becomes just the first in a string of more murders and mayhem, the amateur sleuths embark on a road trip across the the continent to discover how these pieces fit together. Friendship and potential romance ensue as a mystery more layered than Peggy's own murderful creations unfolds, and Harbinder, Benedict, Natalka, and Edwin discover that sometimes fact is even wilder than fiction.
I read and enjoyed Griffiths' The Stranger Diaries, which also features Detective Habinder (though the books do not need to be read in order), and I had high expectations for this book. I was delighted by the quirky characters, intriguing premise, and fun literary connections, with plenty of inside scoops into the crime-fiction publishing world. The ending of this book left me a little disappointed, though: this was the most recent in a string of mysteries that had a great setup and sort of unraveled towards a too-far-fetched conclusion. The red herrings and surprises grew tedious by the final few chapters, and though I tend to love these sorts of twists, I would have liked a more straightforward resolution. Fortunately the lovable characters and subtle humor kept this from being a book I regret reading. This book reads very similar to The Thursday Murder Club, which I liked much more (though I might have felt differently had I read this book first).
My Rating: 3.5 Stars (Rounded Up to 4 Stars on Goodreads.)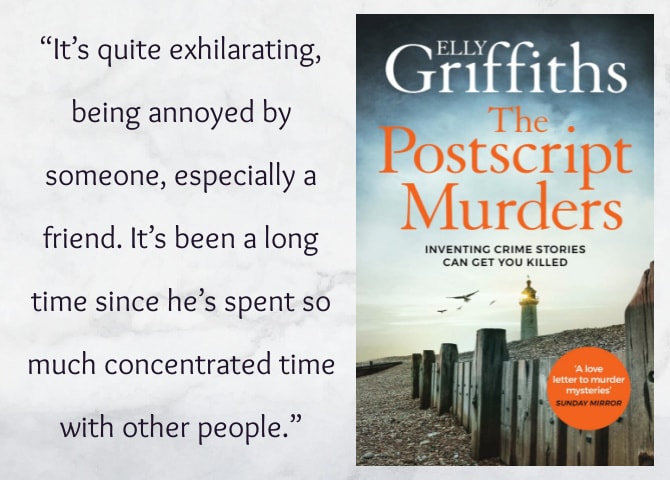 ---
Good Girl, Bad Blood, by Holly Jackson: Last year, Pip made a name for herself as a teen detective with her murder investigation that went on to become a viral podcast. Now Pip is eager to leave her sleuthing days behind her, but when her good friend's older brother goes missing and the police refuse to get involved, Pip agrees to help with the search. In looking for Jamie Reynolds, Pip and her boyfriend Ravi uncover a host of secrets about the troubled young man and even about their town, and once again Pip realizes that the search for truth and justice can be downright deadly.
This is a fantastic follow-up to A Good Girl's Guide to Murder, making this a rare YA series I officially love. In Pip, we have a modern-day Nancy Drew who shows courage, compassion, and intelligence and is mature but still believable as a teen sleuth and protagonist. The story mostly stands alone but ties back to Book One in the series (definitely don't read them out of order), expanding on previous characters and adding in some intriguing new ones. I loved the various plot twists and the unique format that mixes prose with articles and podcast interviews. This is perfect on audio. I can't wait to read Book 3 when it releases this fall!
My Rating: 4 Stars.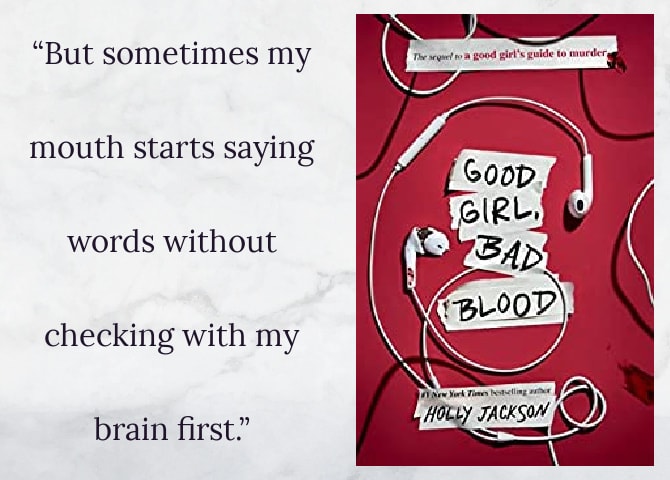 ---
The Lion, the Witch, and the Wardrobe, by C. S. Lewis: I first read this classic in sixth grade. It was part of our public school curriculum, and prior to reading I was completely unfamiliar with Narnia and its creator. Imagine my surprise and amazement when I came to the chapter of Aslan's sacrifice and immediately recognized the Gospel parallels; I was delighted to see "Jesus" in school, and thus was the beginning of my love for all things C.S. Lewis. I have since read the whole Narnia series and in my teaching days read through this particular book with more than one group of students. Luke and I have both looked forward to the day when we would get to introduce Charleston to Narnia, and last month Luke decided it was time.
It was a treat for both Charleston and me to have Luke read aloud to us at bedtime, and we all enjoyed the reading experience just as much as the book itself. I was surprised by how much Charleston (whom I had thought might still be too young to appreciate this series) liked the story and was able to understand the Biblical metaphors. I, too, remained delighted by this story that shines on so many levels. What a remarkable book that can speak to so many generations, reaching into the hearts of children and adults alike.
My Rating: 4.5 Stars (Rounded up to 5 Stars on Goodreads.)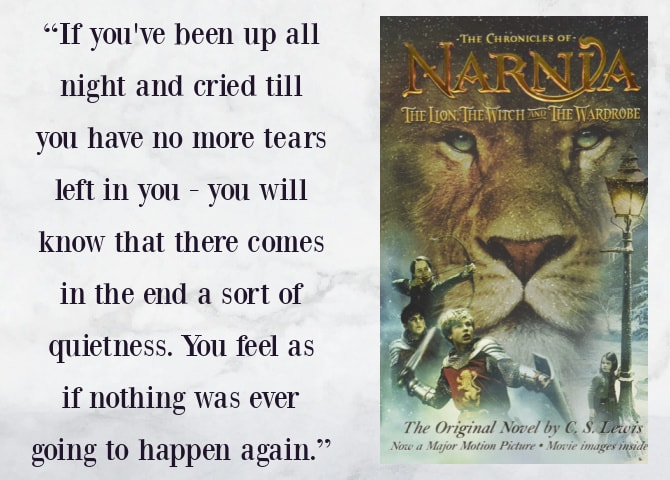 ---
Goodnight Beautiful, by Aimee Molloy: Newlyweds Sam and Annie have moved back to Sam's hometown in upstate New York where Sam, a therapist, sees patients in the downstairs office of an established mansion. Unbeknownst to Sam and his attractive female clients, every word of their sessions is overheard through a vent that leads to the bedrooms above. Soon the marriage that was built on secrets is met with tragedy when Sam goes missing, casting Annie in a negative light.
I won't say much more about the plot for fear of giving something away, and I'd recommend going into this one knowing as little as possible. I will say that this story caught me completely off guard more than once. Personally, I love a huge twist—even when I feel the author is being a bit tricky with the narration, as is the case here (many other reviewers cited this as a frustration with the story)—and I loved having my assumptions disproved again and then again. I also enjoyed the psychological component, specifically how Sam's work and his background tie into the primary mystery. Parts of the book reminded me quite a bit of Maybe You Should Talk to Someone, and these two books would make a fantastic book pairing.
After the suspenseful first half of the novel, the story unraveled for me. I found the end of the book both implausible and predictable and didn't care for the narrative style or the trajectory of the primary characters. I was a huge fan of Molloy's last novel and was disappointed that I didn't like this one more. However, if you're looking for a psychological thriller with a dynamic twist, you may love this.
My Rating: 3.5 Stars (Rounded down to 3 stars on Goodreads.)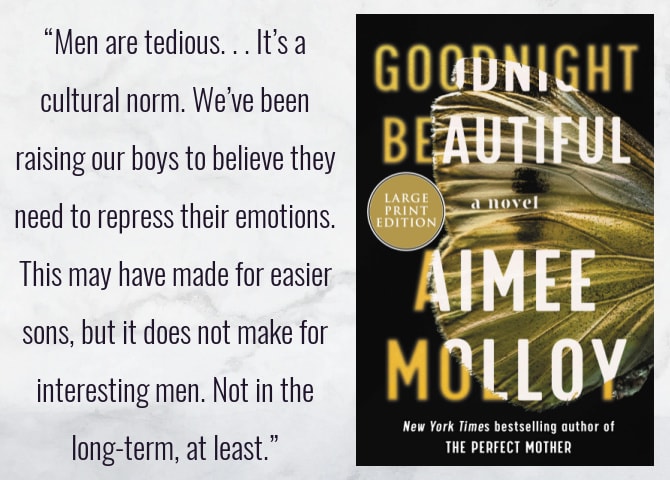 ---
Malibu Rising, by Taylor Jenkins Reid: In August of 1983, supermodel Nina Riva is preparing to host the party of the year in the Malibu home she shared with the tennis pro husband who has just left her for another woman. Nina's cohosts for the party are her three younger siblings, Kit, Hud, and Jay. The four Rivas all share a father (the acclaimed musician Mic Rivera, who has been absent from their lives for decades) and a love for surfing, and while they are close, they are also about as different as four siblings can be.
Through one August day and night, we get an hour-by-hour play-by-play of the four siblings and their party guests as they get ready for and then participate in one incredible party that we know, from the beginning, will end in the type of destructive fire that is all too common along the cliffs of Malibu. As the book progresses, suspense builds while we wait to discover how this fire got started and what it will mean for those present.
The book follows a dual timeline format, with the first half of the book alternating between the day of the party and the history of the Riva family, beginning in the 1950s. It was this history that captivated me the most. I loved reading the tragic love story between Mick and June Riva, how their four children came into the family, and how the kids blossomed into the young adults they are in 1983. I grew to care about the Riva kids, ached for them in their hardship and their conflicts, and celebrated their development. Their family story is one filled with sadness, but there is also hope, integrity, loyalty, and resilience. All four of the Riva children are flawed but lovable, and Nina Riva in particular is one of the most intriguing and most admirable characters I've read in quite a while; I won't soon forget her or what she taught me about caring and sacrificing for those we love, and also how to care for ourselves.
The party portions of the book were less interesting to me: there is lots of sex, lots of language, lots of drugs, and plenty other poor behavior that got to be a little much. There is also an abundance of side characters who appear as party guests and whose stories are told in small vignettes. I didn't care for these sub stories at first because I was trying to fit them all together and keep them straight; once I gave in to appreciating them for what they are—snapshots into the lives of an eclectic group that offer insight into the world of early 80s California—I was able to enjoy these asides as much as the primary story. (This would have been very difficult to appreciate or follow on audio, and I was glad I read this with my eyes and not my ears, despite how much I have loved TJR's last book on audio.)
I didn't know I wanted to read a book about the crazy world of celebrities in the 1980s, but I wasn't about to pass up the chance to read one of the buzziest books of the summer by an author who has become one of my favorites—and I'm so glad I gave this book a shot. Taylor Jenkins Reid definitely knows how to share a riveting story while also making the reader think all the thoughts and feel all the feels. This is an excellent summer read with some substance thrown in. Be sure to catch the author's Acknowledgements, which include the sweetest tribute to her family that reframed my perception of the entire book.
My Rating: 4 Stars.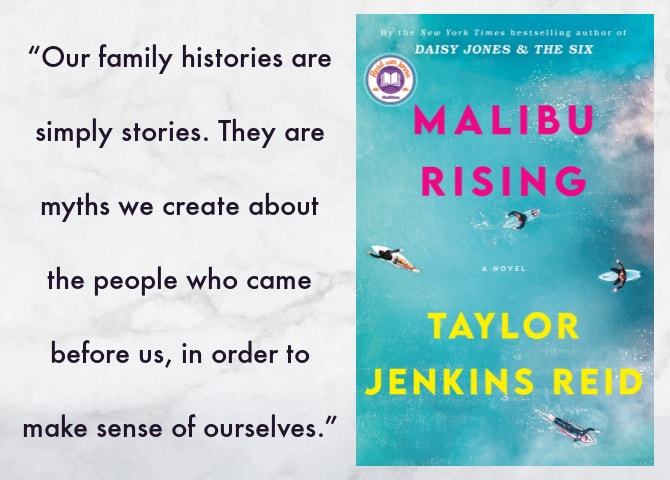 ---
And in case you missed it, here's the link to last week's nonfiction reviews.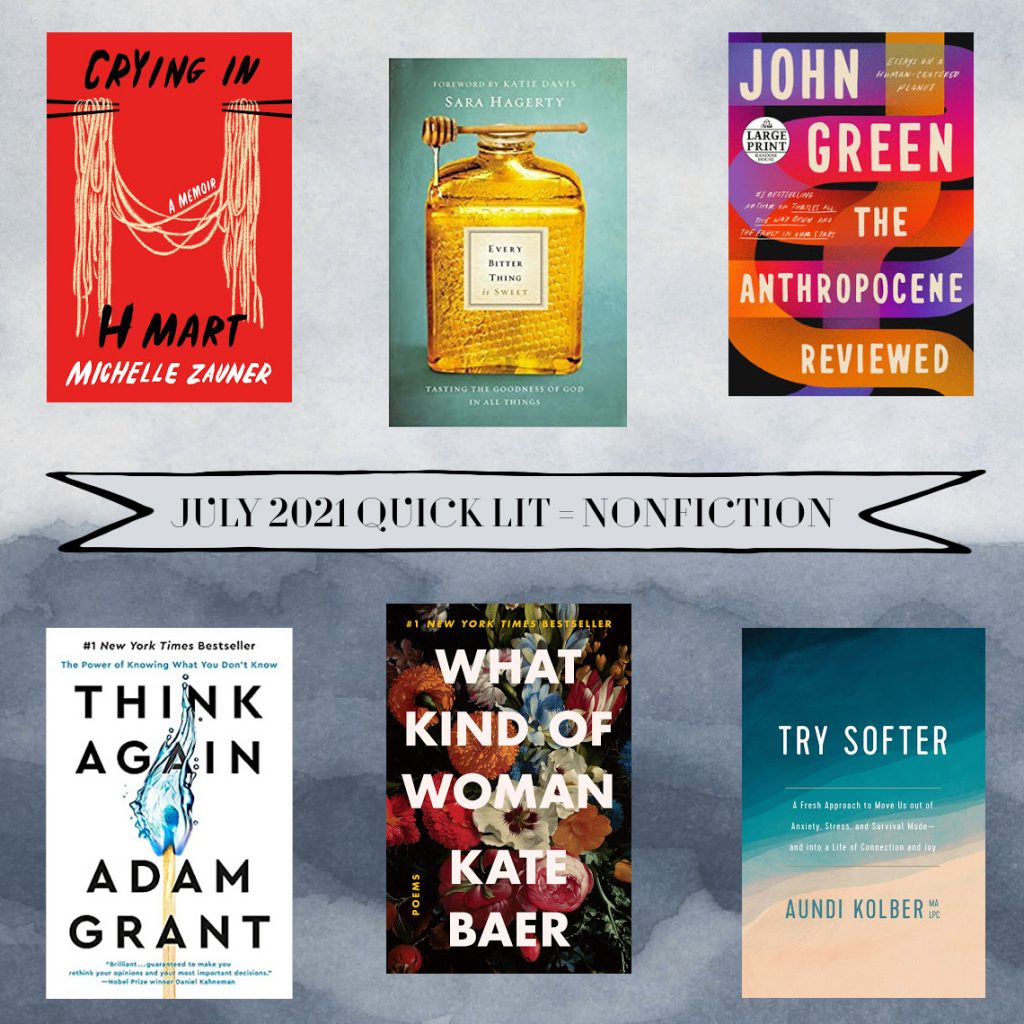 And if you are looking for more great book reviews, I'd love to point you to this post from one of my favorite book bloggers who gathered favorite books from twenty reading buddies. Head here to find which book I chose to share!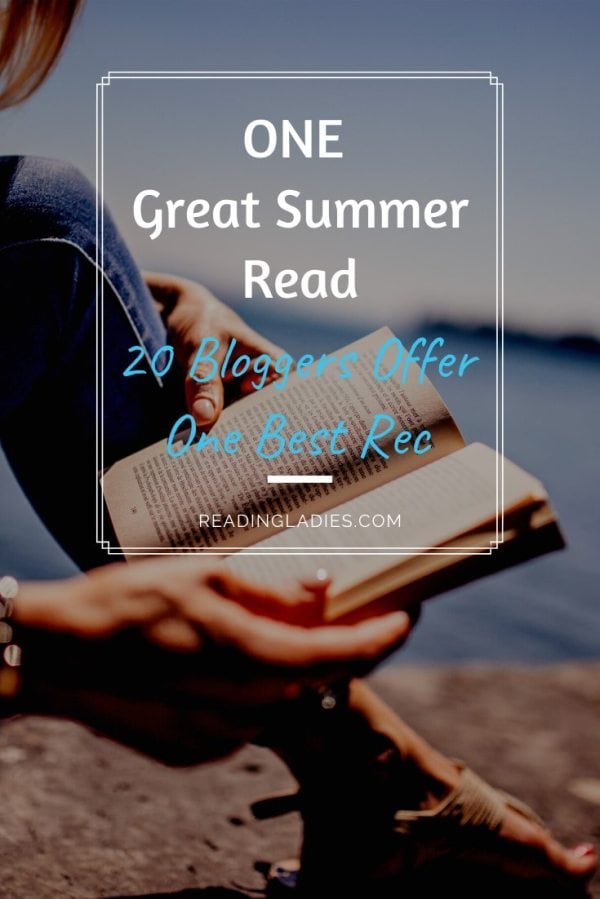 Of course I would love to hear from you: what have YOU been reading lately?