One of my favorite aspects of reading is getting to share the reading experience with others, whether that's in real-life book conversations with bookish friends, or through reading and writing book reviews. In my own home, I have many opportunities to share reading experiences with Charleston, who loves to read just as much as his mom.

We've been dipping our toes into the exciting waters of chapter books lately (he's really digging the Magic Treehouse books), but picture books still make up the bulk of our reading materials. We've discovered some delightful picture books in recent months that Charleston and I have both enjoyed and want to recommend. Some of these have been library books, a couple were gifts, and two are books I purchased for our home library. Every one of these books receives a stamp of approval from both Charleston and mom.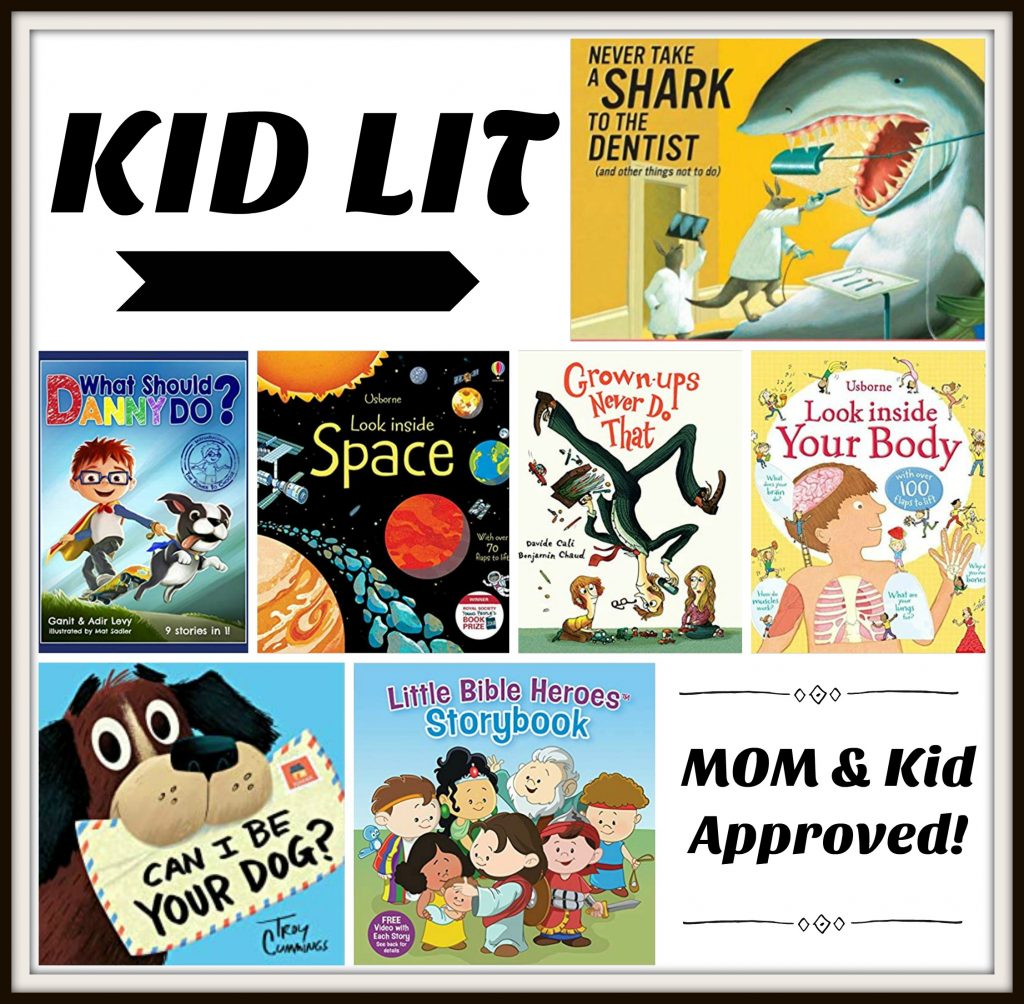 Can I Be Your Dog?: This epistolary story of a dog writing to various houses in a neighborhood searching for owners to love him is sure to pull on your heartstrings! Kids will love the colorful, sometimes silly pictures, and parents will appreciate the important lessons about love and belonging. Be prepared for a true tearjerker of a conclusion. This book is perfect for the family who plans to adopt a pet!
Grown-Ups Never Do That: Charleston and I both found this book hilarious, but probably not for the same reasons. Each page features a detailed illustration of an adult misbehaving (interrupting, wasting time on a screen, etc.) accompanied by an ironic caption citing a behavior that grown-ups "never" do. While the book might be a little convicting for parent readers, it sets the stage for some good discussions about appropriate behavior and how kids and adults all have areas that can use a little work.
Little Bible Heroes Storybook: We own a number of Bibles and Bible story compilations, and there is always room for more. This one contains sixteen stories told from the perspective of various Biblical heroes. The short, simple stories and illustrations are an excellent way to introduce children as young as two or three to the Bible. As a parent, I appreciate the Parent Connections at the end of each story, which feature the corresponding Biblical references, a verse to memorize, and a couple of discussion questions. Charleston loves that each chapter contains a QR code linking to an animated video of the story—great for reinforcing what we've just read.
Look Inside Space: Usborne's Look Inside books are so much fun, and this one fits right in with Charleston's current space obsession. The book is colorful, sturdy, well-organized, and packed full of interesting outer space trivia. Many of the space books we've read focus mostly on the planets, but this one goes beyond parts of the solar system to cover a range of topics, from the history of space travel to Space Station trivia to details about life as an astronaut.
Look Inside Your Body: This is another Usborne book that Charleston and I both enjoy. Like most kids, he asks a lot of questions about the human body, and this book provides answers that satisfy his curiosity (and mine!). While the content is fairly complex, I've been impressed with how much of it Charleston has been able to understand and relate back to me. I love that these books appeal to a broad age range: I imagine the flaps of this book would hold the interest of much younger readers, and I have no doubt this book will continue to hold Charleston's interest for a few more years.
Never Take a Shark to the Dentist: This book had both Charleston and me giggling up a storm! While the writing and illustrations are simple, the words and pictures play off each other to share some silly things you simply should never do. For instance: shoe shopping with a centipede? Now that would be complicated! This would make a delightful read-aloud for preschool or Kindergarten. The teacher in me really likes the idea of using this premise as a template for a class (or family) book with each child writing and illustrating other silly no-no's.
What Should Danny Do? This ingenious series features "Choose Your Own Adventure" books, each with nine possible stories in one book. The books' protagonist is Danny, a self-proclaimed Superhero-in-Training, who faces a number of difficult scenarios throughout the day. Young readers can help Danny utilize his "super power" of making good choices to direct how his day will go. Charleston (who is very into super heroes these days) adores these books, and I've been amazed to see him transferring the lessons of agency and consequences to his own decision making. We own two of the books in this series, and not only does Charleston enjoy reading them again and again, but they have done wonders for his behavior!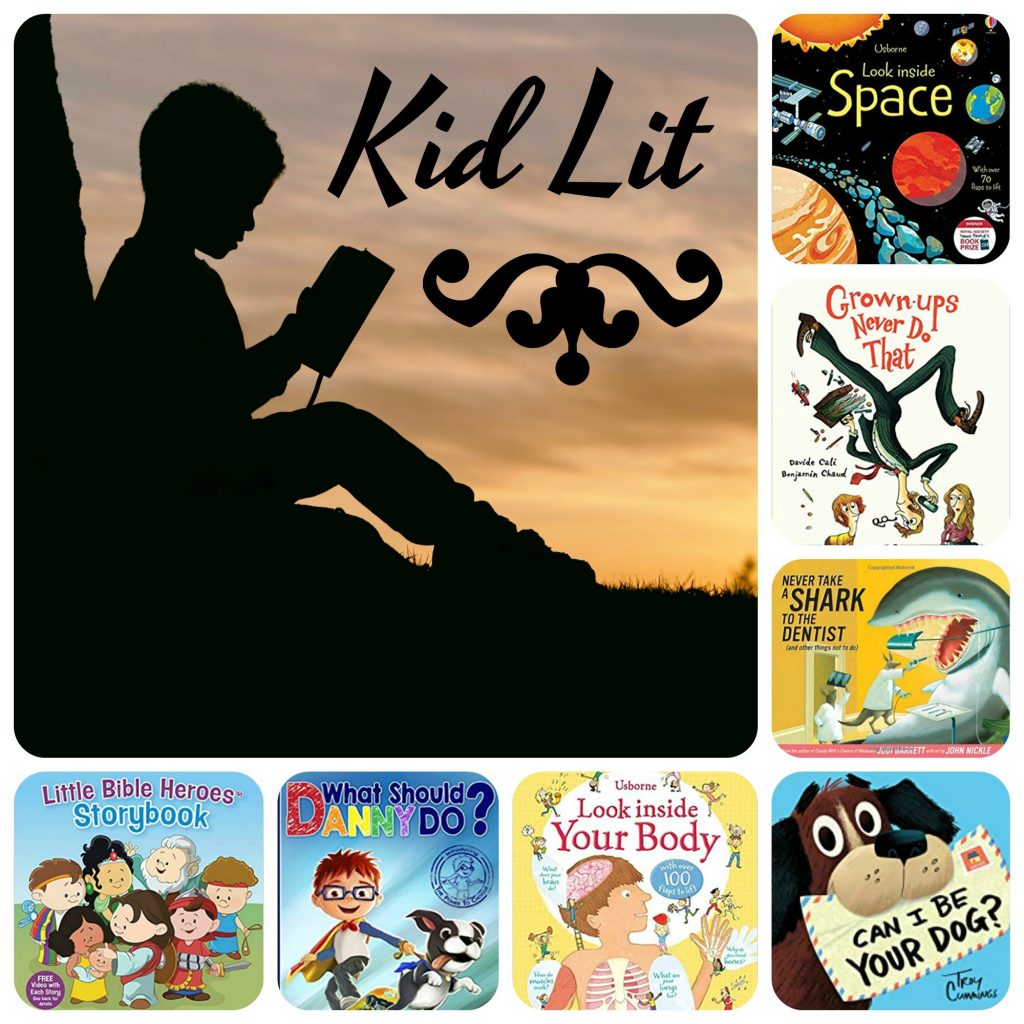 We're all spending more time at home these days (understatement!), and that makes for some wonderful opportunities to connect with our kids through books. Do you enjoy reading with your children? What have been some of your favorite books to read together?