August is such a bittersweet month. This summer was a wonderful one, filled with lots of mother/son adventures, plenty of rest and playtime at home, and a fun family vacation. I'm sad to see the summer end. But I'm looking forward to the start of fall, my other favorite season. The weather here in Austin will be warm for quite a while still, but the days will be getting shorter (a good thing now that I have a young child!) and my various church and mom's groups are starting back up. I enjoyed the summer break and am also looking forward to getting back into a regular rhythm. But first, I'll celebrate August and all of the sweetness it had to offer!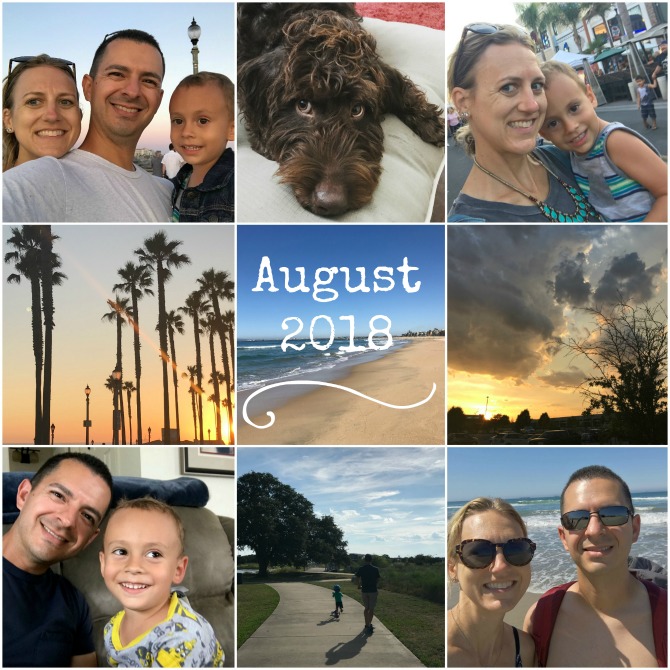 // READING LATELY //
Our vacation at the start of August left me with a little less reading time this month, but I still knocked out quite a few books. I've had especially good luck with nonfiction lately; this call to action from Chrystal Evans Hurst was particularly amazing, and I really loved this one from Annie Downs. On the fiction front, I enjoyed this sweet-but-quirky family story and found the writing of this book about four musicians to be quite remarkable. This book was my favorite from Katherine Reay to date (and I've read all five of them) and the audio version of this thriller (read by the author) kept me glued to my headphones from start to finish! Not all of this month's books were good ones; I also suffered through the most terrible book I've read in years, as well as this extremely disappointing end to a trilogy I'd enjoyed through book 2.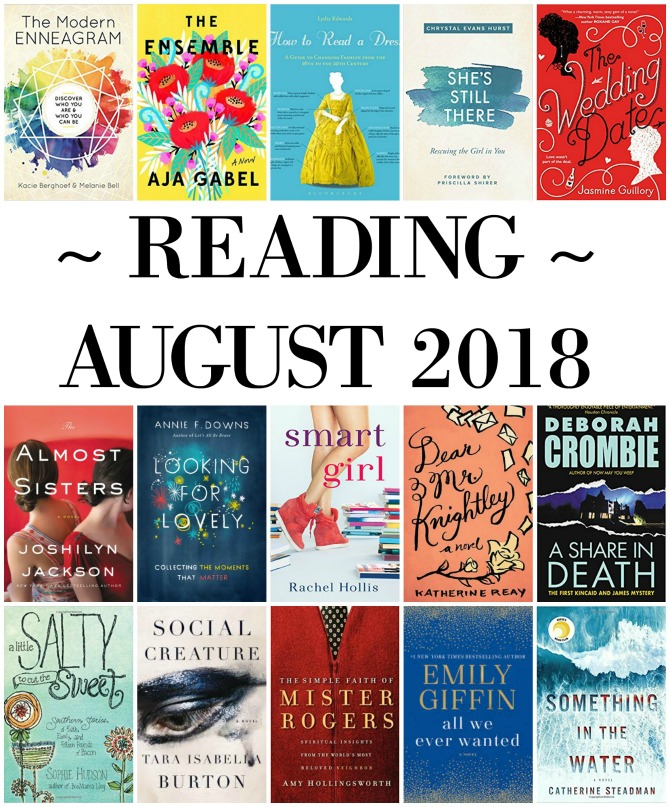 I'll be posting full reviews of all of these books in next month's Quick Lit posts. Also stay tuned for my most outside-the-box Reading Challenge post yet; the topic is "a book that teaches me something new" and this book taught me a LOT about a subject I'd never even considered reading about!
---
// WATCHING LATELY //
Jane the Virgin, Season 4: Jane the Virgin has been one of my favorite TV finds over the last couple of years. The telenovela-style show has it all: humor, drama, mystery, romance, Latin culture, a colorful Miami setting, strong female characters, great themes of family loyalty and resilience, and a hilarious "Latin Lover" narrator who positively wins the show. Luke and I started binging the latest season (if you can call watching 18 episodes over two months "binging") the minute it came to Netflix.
This season was my least favorite of the four. There are some great plot lines and I enjoyed seeing the characters mature, but there is a lot more uncomfortable sexual content than previous seasons, and a few episodes that simply stalled—the season would have been better if it were a few episodes shorter. In total telenevola style, the series ends on a massive cliffhanger. I am DYING to know what will happen and wish I'd held off on watching this season so I wouldn't have such a long wait for the next one.
My Rating: 4 stars.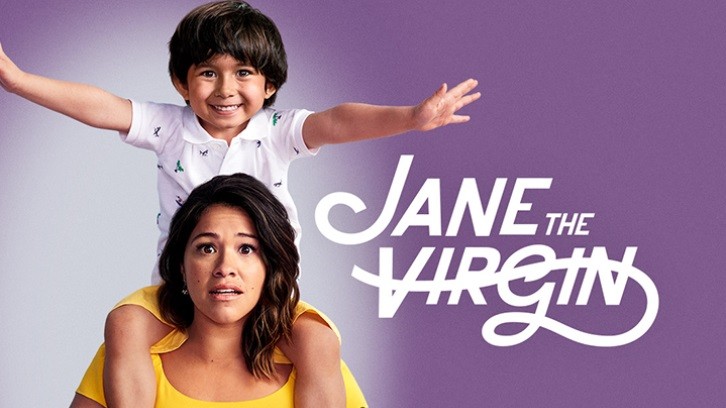 ---
// MONTHLY CHARLIE-ISMS //
Charleston kept me rolling in laughter with his funny quips this month. Here's a sampling! (Yes, I realize this list is long, but I couldn't not include any of these!)
Quirky Commentary:
+ Hearing Luke's grandparents speak Spanish to each other during our visit with them: "I didn't know they know how to say words that we don't know!"
+ "I LOVE this shirt! I've been wanting to wear this shirt for ten years. Wait, how much is ten?"
+ Coming into the room to find me listening to a podcast, he asked what it was about and I told him it was about how people's minds work. His response: "My mind works pretty cool. And how it works is I have magic gas in me!"
+ Looking at the ice cream cakes at Menchie's: "Those cakes are for your birthday." Me: "Do you think you can eat them at other times too?" Charleston: "Yes! Like if you're sad or mad or happy!"
Spiritual Matters:
+ "I was naughty at church today because of course it's impossible to be good."
+ "But I just don't remember when God and Jesus created me."
+ "At church we learned about a man that did hard things, and God helped him. Some day I'm gonna do hard stuff too. Like flying and climbing bunk beds. I mean, real ones that have pillows and blankets."
+ Every night since he was born, Luke and I say a blessing over Charleston before bedtime. The blessing is always the same (Numbers 6:24-26) but Charleston has never commented on it until this month. The passage ends with "the Lord turn his face toward you and give you peace," and Charleston asked, "Give me a piece of what?"
+ Charleston was "helping" me do my daily devotions/journal writing and asked me to dictate the following letter (he added his own drawing of a playground):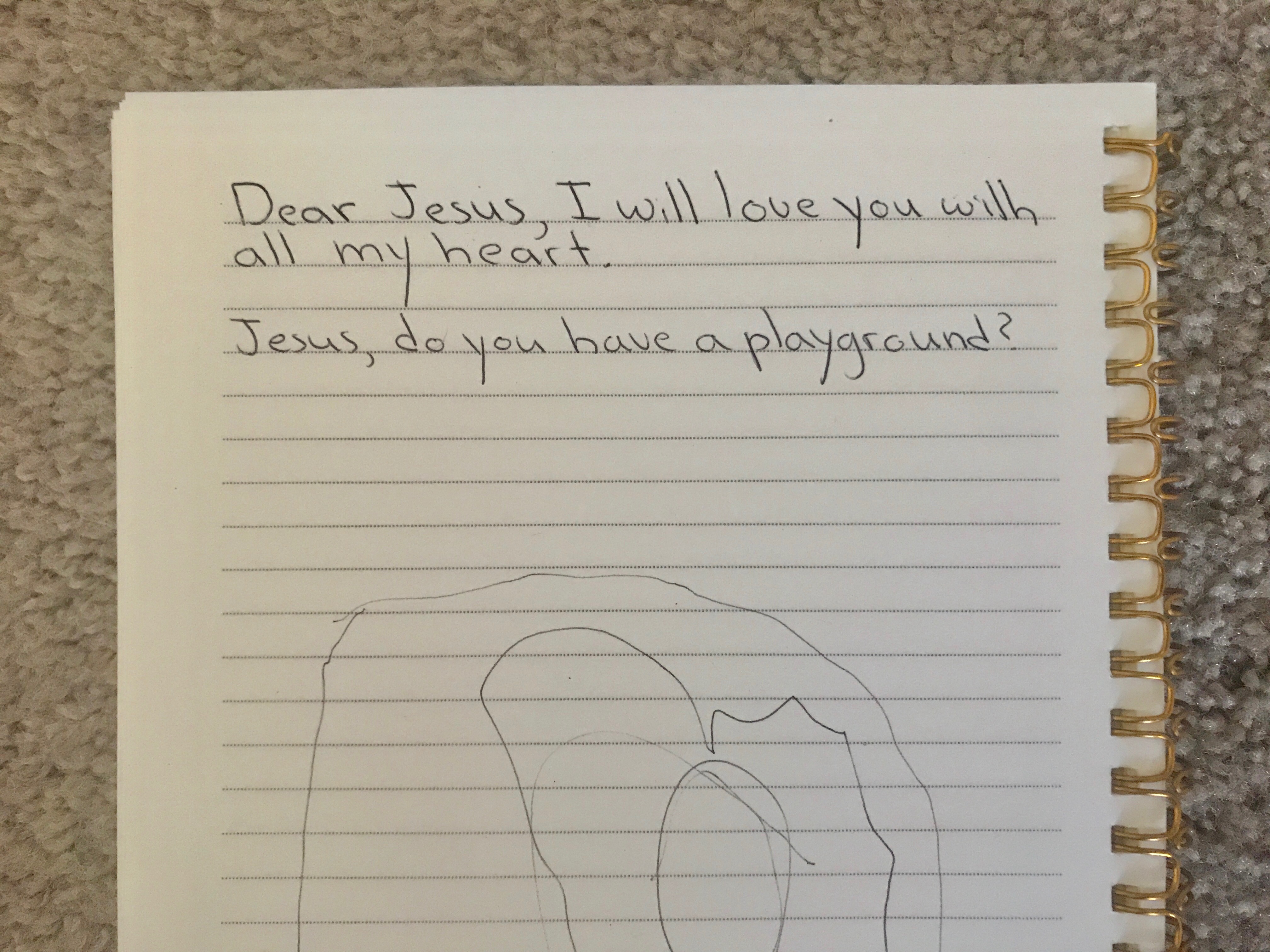 Inside His Little Mind:
+ "Mom, can we get a bunny?" Me: "No, I don't think so, because I'm allergic to bunnies. They make me sneeze." Charleston: "Bunnies make me sneeze too. But I just like to sneeze."
+ After playing hide-and-seek, when I'd pretended to look for him in the dresser, Charleston peeked into the dresser himself and announced: "The dresser doesn't actually have a place for me to hide, so you don't need to look for me in there next time."
+ Randomly on a Wednesday: "Is the microwave working today? Because I'm going to eat Elmo pancakes on Saturday so I will need it." (For the record, our microwave has never had any problems. . . .)
+ "I found a dandelion and I wished for a trampoline." Me: "But you already have a trampoline." Charleston (with a sigh of exasperation): "An ORANGE one, not a blue one."
+ Me: "What's the opposite of cold?" Charleston: "Just right." (My heat-loving boy! Takes after his mama!)
Too Stinkin' Sweet:
+ "I love you, Mom. You're the prettiest girl in the whole world. And the most beautiful."
+ Taking my face in his hands: "I love Arlo's face and your face because you're both so cute. I just love you." Followed by a kiss, of course.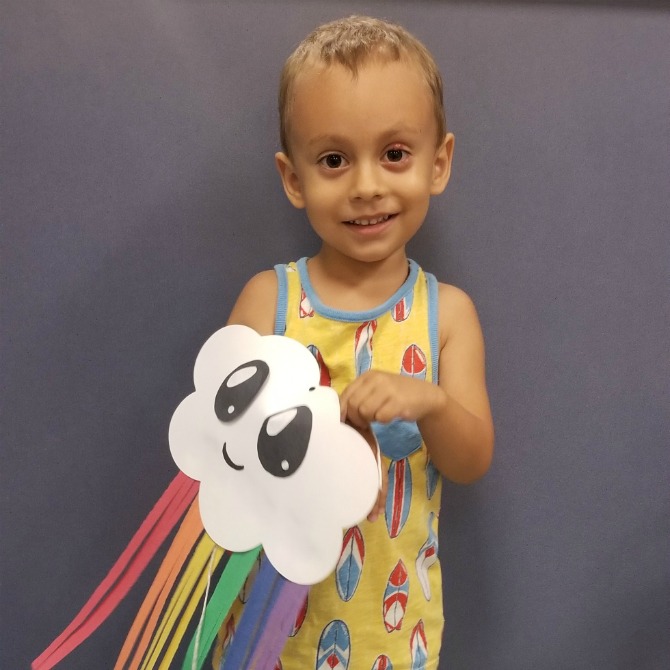 ---
// MONTHLY PUP-DATE //
Our first four months with Arlo were pretty tough (or is it ruff?). The initial puppy days were killer and once we'd finally gotten into an easier groove with Arlo, we had him neutered, which was followed by weeks of subsequent sickness and infection that required him to wear a cone for MUCH longer than anticipated and made him hard to live with. He was still sporting the cone of shame when we left for vacation, but had recovered by the time we returned. (He caught kennel cough and a stomach bug while we were gone, but that's another story.) I must say that the break from Arlo was good for all of us. We realized how much we missed him and what an important part of our lives he has become. He also returned home much mellower and more obedient. Now that he has his cone off, we are starting over with training and regular walks. It's a slow process, but each day is a little easier. I will say, though, that walking a puppy and a 3-year-old in 100-degree heat is quite the challenge!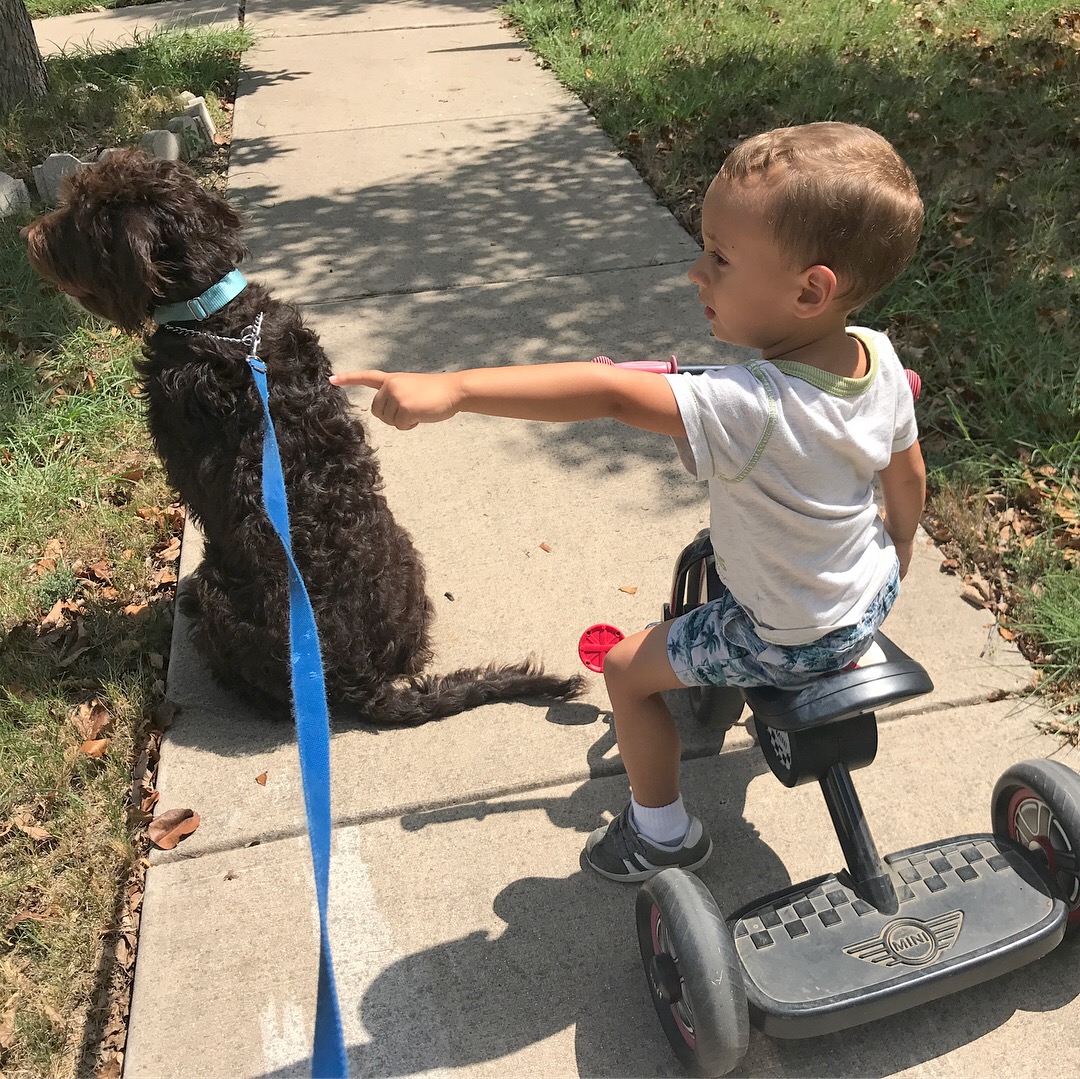 // HAPPENINGS AND HIGHLIGHTS //
Our big highlight for the month was a weeklong trip out to California to visit family. Since moving to Texas over two years ago, we've made it a goal to visit home twice every year (once in summer and once at Thanksgiving or Christmas), and so far we've succeeded in making it happen. We always drive (it's about 24 hours in the car, so we make the trip over two days), and this time the drives there and back were pretty uneventful with the exception of a huge lightening storm on our drive home. Thankfully Luke loves driving in the rain; I sure was glad I wasn't at the wheel! There isn't too much to see between Austin and Huntington Beach, but those huge stretches of nothingness sure can be pretty.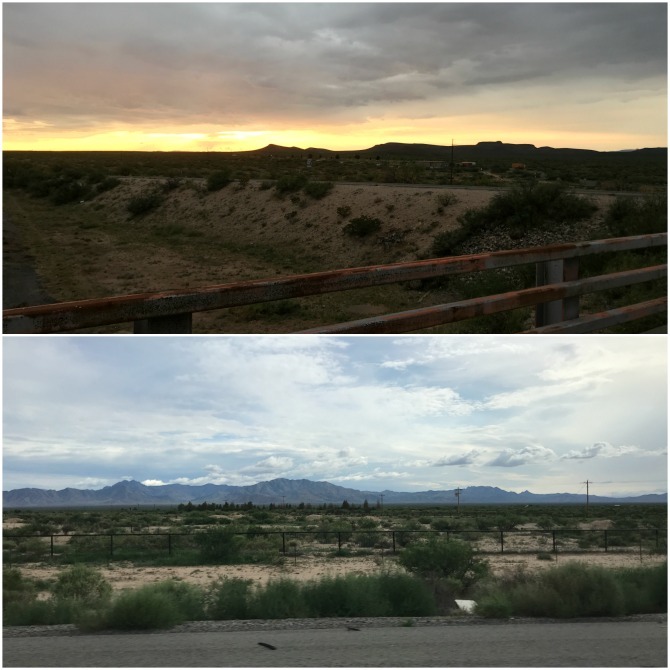 Charleston is a great road-tripper. It was our first long road trip since potty training and we had no accidents (and required very few extra stops); I was pretty proud of him! These long drives to California are the only times he gets to play with our iPad, so we loaded it up with a couple of movies and some new games (this alphabet app, this math one, and these interactive fairy tales are all huge hits) and we barely heard a peep from him the whole way.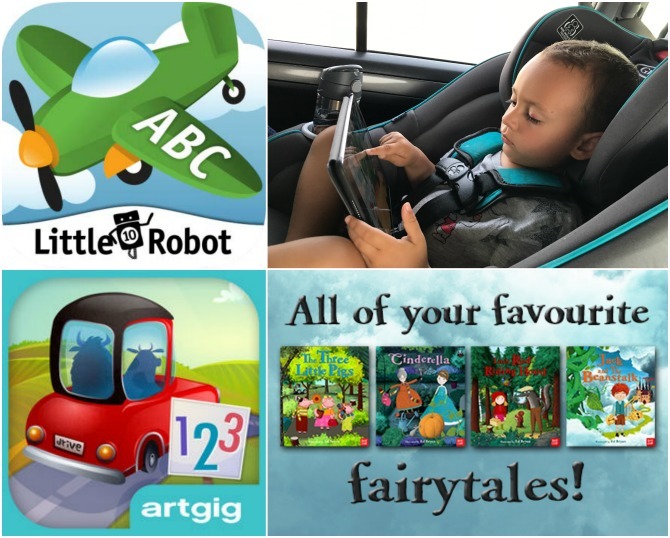 Since we only had four full days in California, we weren't able to spend time with a lot of friends or extended family, but we did get to visit all of the grandparents (Luke's paternal grandfather, his maternal grandparents, and my Oma). I am thankful that Charleston is getting to know all of his great grandparents, even though we don't get to see them often. He also had fun spending time with Grandma Leos's adorable grey cat, Donny, whom I was tempted to smuggle home with us!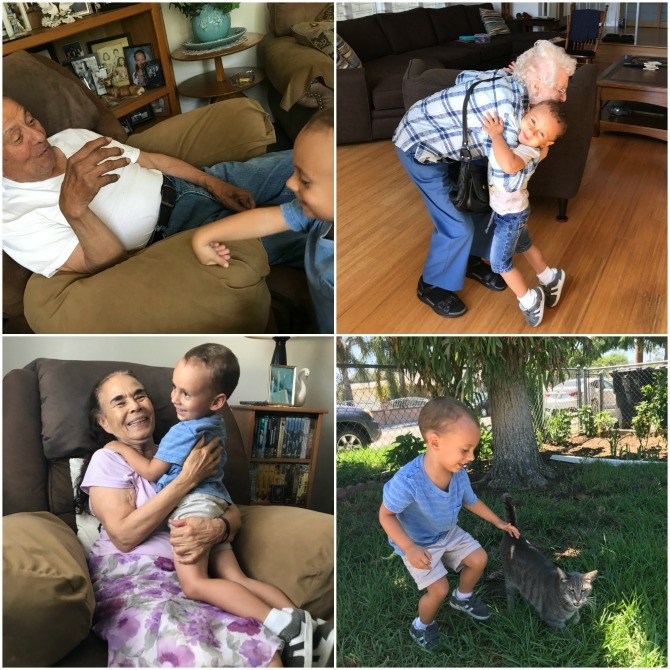 We stayed with my parents at their house on Huntington Harbor. They moved into this house full-time nearly two years ago, but this was the first time that our visit overlapped with weather warm enough for us to fully enjoy beach life. And boy, did we make the most of it! We made numerous trips (by wagon and scooter) to the playgrounds around my parents' community, and we went out for a harbor cruise on the neighbor's Duffy (Charleston had fun serving as Opa's co-captain while the rest of us drooled over the amazing homes along the water and chuckled at the creative names of the harbor's yachts). We also kayaked in the lagoon that doubles as my parents' backyard: kayaking proved to be more fun and also more difficult than I'd anticipated. I still can't quite get over the fact that these are everyday activities for my parents—they are truly living their dream right there on the beach.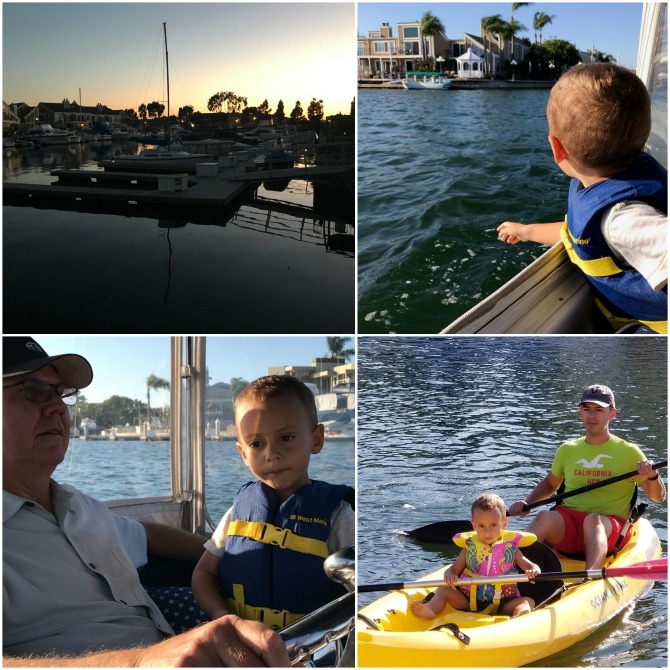 We spent two of our mornings at two different beaches (which, as I mentioned Wednesday, was actually pretty great). The first day at Huntington's City Beach with my mom and brother was all about digging in the sand, splashing in the water, and playing on a brand new playground (which has a great pirate theme). Despite stiflingly hot weather inland, that morning was cooler and cloudy on the water, but not cold enough to deter us from having fun. I've never experienced such warm water in Southern California beaches—I'm a huge wimp when it comes to the cold, but even I was able to go into the ocean past my knees.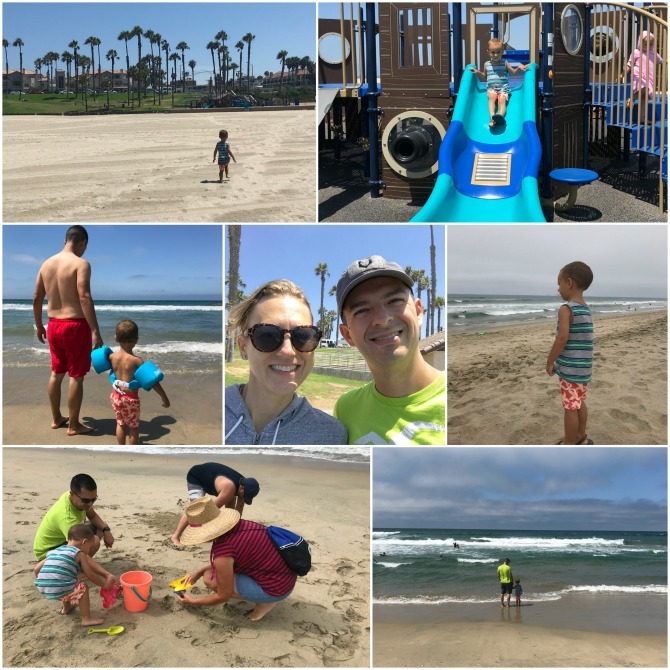 Our second beach day with my mom and dad was much warmer (we all got pretty burnt). We headed to a private little spot my mom calls Shell Beach because it's literally covered in shells. Without even trying, we found nearly a hundred of the most perfect shells including muscles, scallops, and even a few sand dollars. (I had an embarrassingly great time washing and sorting those shells that afternoon—such satisfying work!) This beach is a little bit harder to get to, which means that we practically had it to ourselves—almost unheard of for a SoCal beach on a hot summer day! Charleston had a blast running along the shore, digging in the sand, and helping us add to our shell collection. I can't imagine a more perfect beach experience.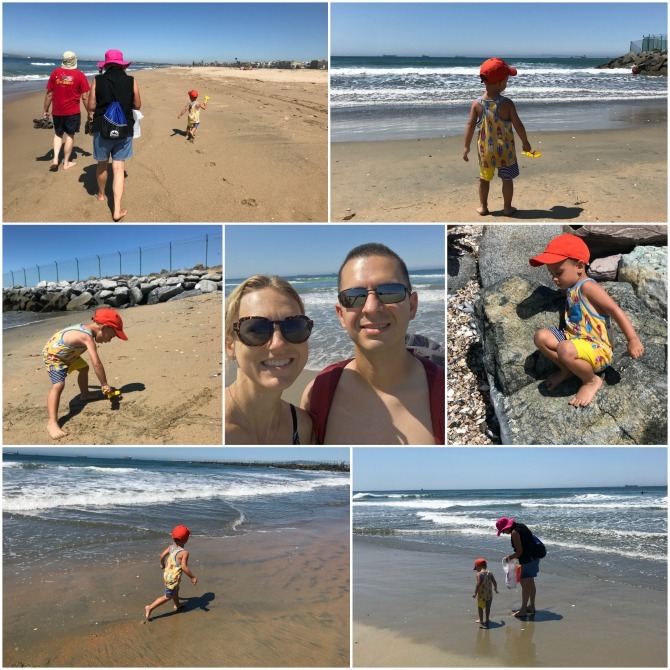 We attended the weekly Huntington street fair, a festive event replete with live music, a farmer's market, and plenty of entertaining people-watching opportunities. Then we walked down the pier for dinner at Ruby's Diner. We timed it perfectly, with sunset views as we headed down the pier, followed by a late meal (which meant a shorter wait time for a table). Luke and I had our second date at Ruby's nearly eleven years ago, and we ate there on the day we got engaged, so it's always a nostalgic place for me.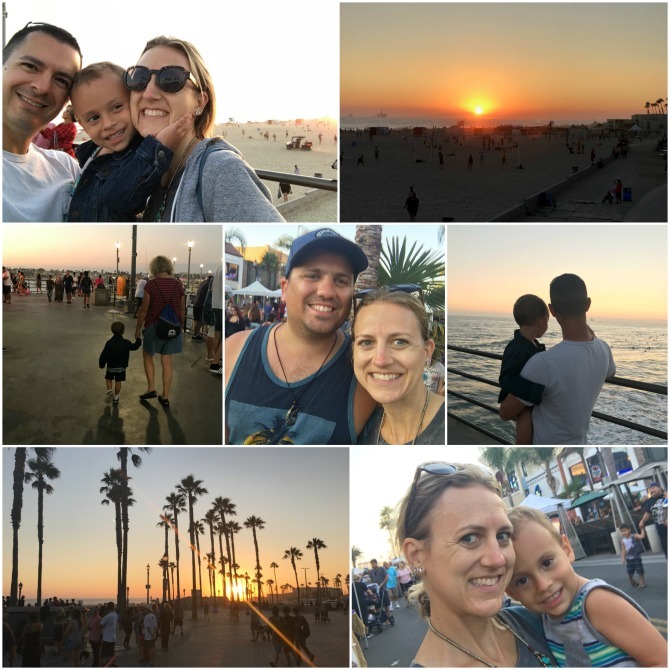 Though we didn't go to Disneyland this trip, we did spend an afternoon at Downtown Disney and it was enough to scratch Charleston's Disney itch. He loved playing at the Lego store and seeing so many familiar "friends" at the Disney store, where my parents bought him a stuffed animal souvenir (he surprised us all by going with Lady [from Lady and the Tramp], and she's been a faithful companion ever since). Charleston and Luke also shared a Nemo-themed candy apple that was nearly as big as his face! I was surprised by all the changes going on at Downtown Disney (including the closing of numerous stores and restaurants, the saddest being Rainforest Cafe, the site of Luke's and my first date), but with so much closed, Downtown Disney was the least crowded I've ever seen it.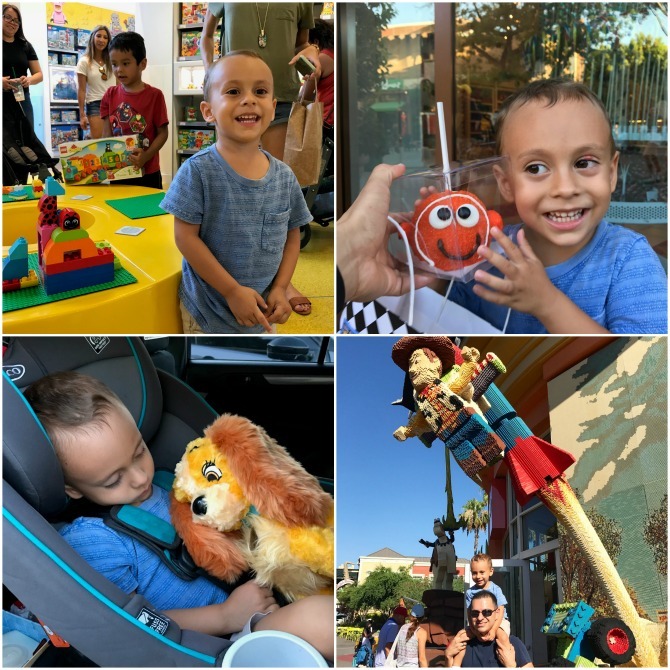 The highlight of the trip was getting to spend plenty of quality time with my parents and brother (as well as Olson, Austin's best friend [now room mate] who we consider our "emergency backup brother"). They treated us to meals from all my favorite spots (Flame Broiler, L&L Hawaiian BBQ, Wahoo's, and their local fish joint) and introduced us to Chronic Tacos (so good!), and they spoiled Charleston with beach toys, playtime on the patio, and all the yummy cereal he could eat. I (of course) loved the time with my parents for myself, and I can't even put into words how happy it made me to watch them continue to develop their own unique relationships with Charleston; there is something incredibly special about the child/grandparent bond. Charleston doesn't get to see his Oma and Opa often, but he is completely smitten with them and I know it's mutual. It's always so hard to say goodbye to family when we leave, but I'm thankful that we have these amazing memories to keep us going until our next visit.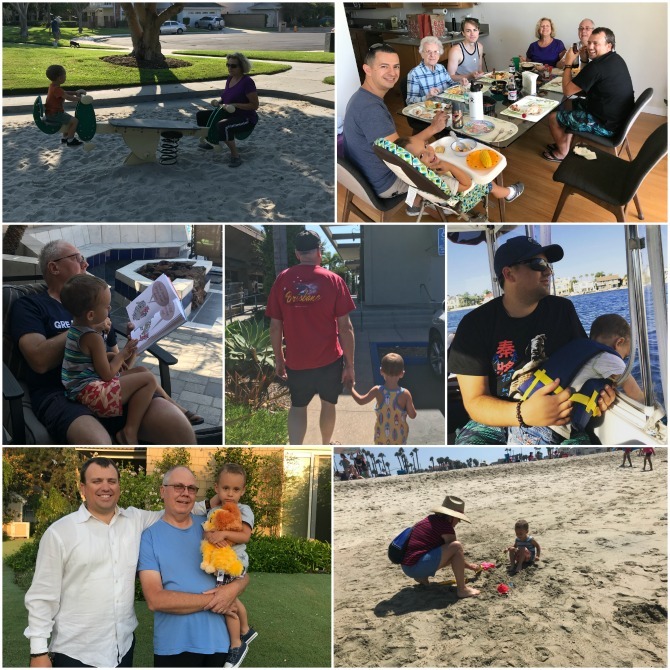 Our big milestone of the summer was that this week we turned Charleston's carseat to be rear facing! We had held off for quite a long time, knowing that rear facing is generally considered safer. Charleston was getting a bit cramped in his rear-facing position, but didn't complain. However, a friend who is a chiropractor saw his positioning and said we could be doing long-term damage to Charleston's hips; that was the nudge we needed to finally make the big switch. Charleston LOVES his new position and being able to see out the front windows. He feels like such a big boy! I'm not a fan of the little feet now kicking the back of my chair as I drive, but it's been fun to experience his excitement and enthusiasm for a view we generally take for granted.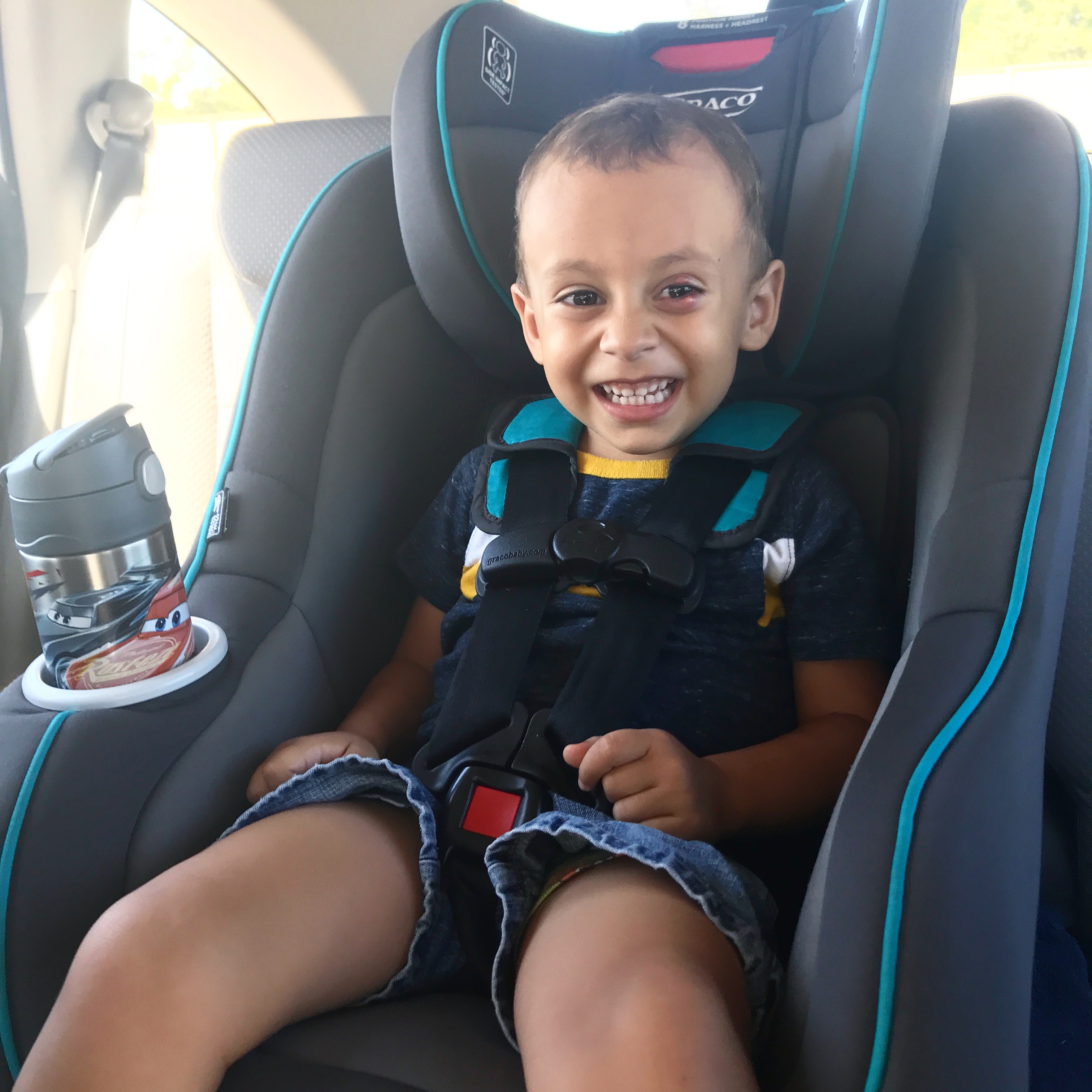 The rest of this month has been all about soaking up the last bits of summer. I've enjoyed the library visits, scooter rides, trips to the pool and splash pad and playgrounds, and daily reading sessions and rounds of hide-and-seek even more than I can put into words. Life as a mom is the best; there are plenty of really hard moments, but they pale in comparison to how ridiculously blessed I feel to be able to make it my full-time job. I know that sounds sappy, but it's these everyday memories that I want to hold onto and cherish above all.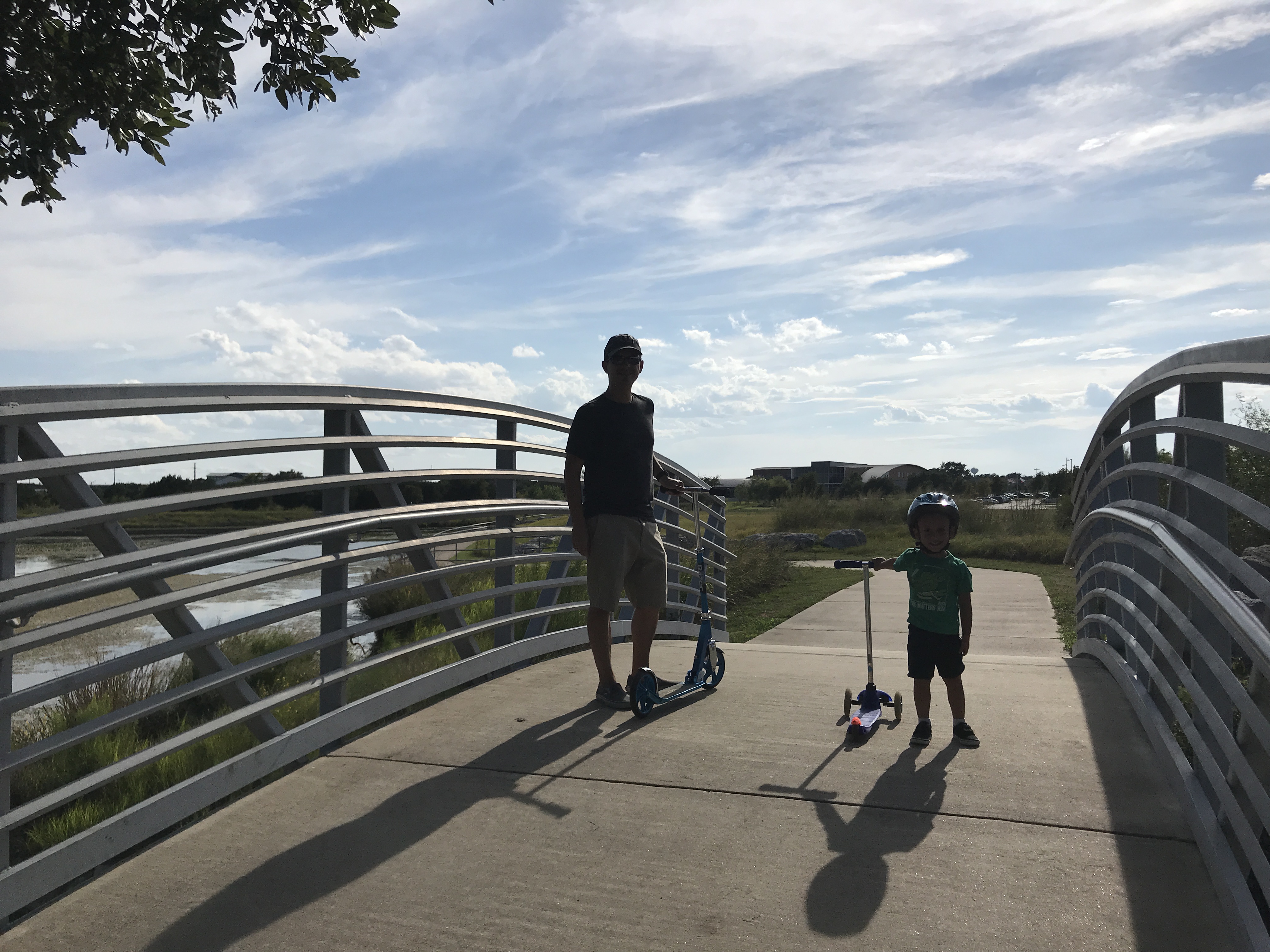 I'm linking up with Leigh Kramer to share what we're into this month. How was your August?