Every year, once the craziness of the Holidays subsides, I breathe a sigh of relief that we are entering into a season of calm. But that calm almost never comes . . . at least not for a few more months. If this January is any indication of what the rest of 2019 is going to be like, I'm in for a wild ride! This month was filled with fun family and social events, some big milestones, a few disappointments, but even more exciting surprises. Here's a snapshot of some of the best this month had to offer!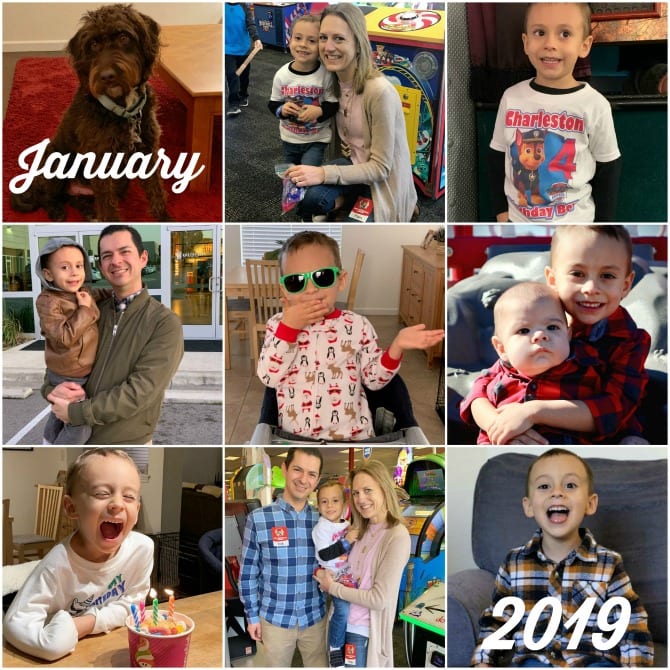 // READING LATELY //
My reading this month has been all over the map, in terms of both content and my impressions of what I've read. Unsurprisingly, I consumed a handful of parenting books, each very different: this was the most helpful for my daily parenting life, and this one gave me a lot to think about regarding attitudes and behaviors of today's youth and what we can do as a society to teach rationality and perspective to the next generation.
Beyond the realm of parenting, I found this bestselling memoir terrifying and inspiring. And on the other end of the levity spectrum, this memoir from one of my favorite podcasters was hilarious and so relatable.
As a whole, I had more luck with nonfiction than fiction this month, but I loved this bookish mystery; I know it's quite early in the game to be calling out 2019 favorites, but I'm almost certain The Thirteenth Tale will be on that list. This book from Lisa Scottoline was a great page turner, even if I was less than impressed with the quality of the writing, and John Grisham won me back into his fan club with his latest historical novel.
As always, I'll be sharing full reviews of each of these titles in upcoming book review posts.
---
// LISTENING LATELY //
After December's abundance of musical riches, I found myself in a bit of a music slump this month. I haven't felt excited by most of my old favorites and have resorted to listening to the Hamilton soundtrack on repeat. (But let's be real, as far as musical ruts go, I could be doing a lot worse than a bastard, orphan, son of a whore . . . and yikes!, as I write out those lyrics, I'm wondering if maybe I should stop listening to this with my son in the car?!)
Hamilton aside, one fun music addition this month has been a Sing Scripture CD that my friend Cara gave me for Christmas. The songs are lifted straight from the Bible and are designed to help listeners memorize Scripture. Unlike a lot of other songs within this "genre," these feature excellent music that I actually want to listen to; in fact, if I didn't know better, I wouldn't even realize I was listening to Bible verses being sung! The songs are upbeat and catchy and through them I've already memorized nearly all of the verses on the album!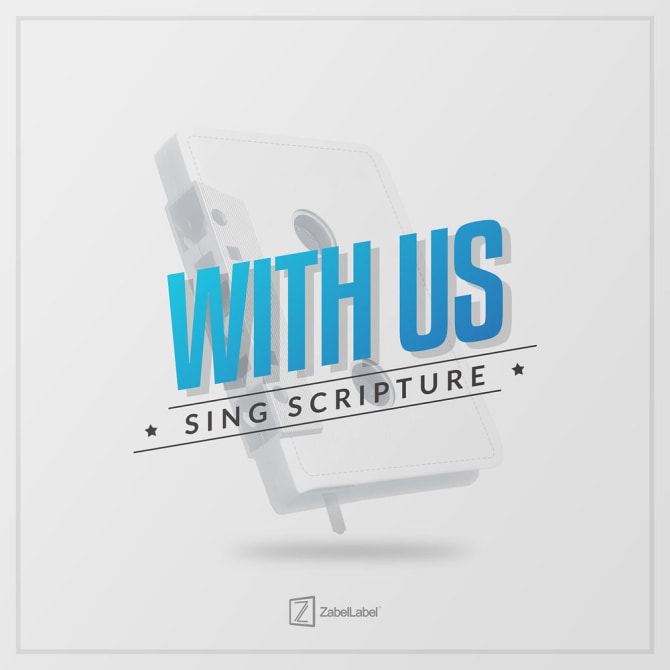 ---
// WATCHING LATELY //
Mary Poppins Returns: The original Mary Poppins was one of my favorite movies growing up, and I had been downright giddy about the release of this sequel. I was so excited that I dragged Luke with me to see it in the theaters on our anniversary. (It wasn't too hard to convince him; he loves the original too).
In this sequel, which takes place in Depression-era London, Michael and Jane Banks have grown up, and Michael is a widower who still lives in their childhood home with his three children. The family has faced hard times since the death of Michael's wife, and their house is on the verge of being repossessed by the bank where Michael works. Just when the family is unraveling, Mary Poppins sweeps in to work her magic and help the family rediscover the joy that has been missing from their lives.
This movie was all I hoped it would be, and more. Emily Blunt completely blew me away with her impeccable performance as Mary Poppins, and the rest of the cast was also quite exceptional. (I especially enjoyed cameos from Dick Van Dyke and Angela Lansbury.) The story is whimsical and heartwarming without shying away from some challenging themes, and the musical numbers (especially the choreography) are all amazing. I loved that this wasn't a remake of the original, but a continuation of that story, with plenty of visual and musical nods to the Mary Poppins we all grew up with; Mary Poppins Returns adds to that first story rather than trying to replace it (which it never could). I can't wait to watch this again with Charleston!
My Rating: 5 stars!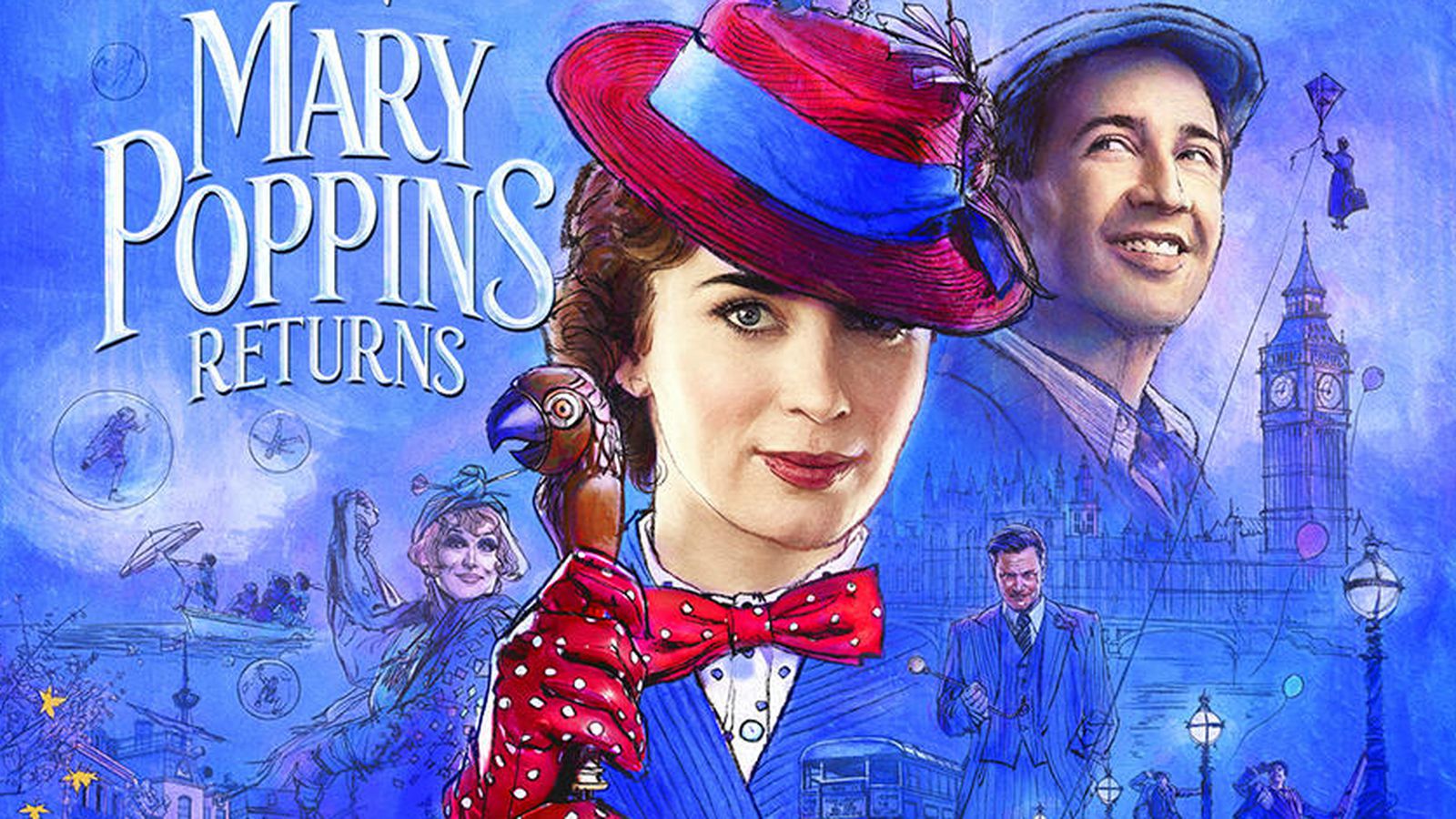 ---
Ralph Breaks the Internet: We ended up going to see three movies within a month; I think that's some sort of record for our family! (We usually don't see more than one per year!) Charleston and Luke have been watching the trailer for Ralph Breaks the Internet for what seems like ages, so I wasn't surprised when Charleston picked going to the theater to see it as his birthday activity. Bonus points for going on a mid-week afternoon: we had the theater to ourselves and scored the best seats in the house, not to mention cheap matinee tickets!
The story picks up a few years after the last one ended, with Ralph and Vanellope settling into a comfortable rhythm in life and in their friendship. Then Vanellope's game breaks, and the two venture into the scary world of the Internet to find and purchase the game's broken piece and restore Vanellope to her happy place. On their hunt, they discover the wonders and dangers that exist Online and realize they may never be able to return to their old life in the arcade.
This movie wins ALL the points for creativity. The internet jokes are off the charts and ridiculously clever. I especially loved the Disney Princess scenes (and wished there were more of them). The movie was about an hour too long and I didn't care for the ending at all (though Charleston said that was the only part he liked), but overall I was impressed and liked it even more than the original. Visually it isn't all that appealing, but it does fit with the Video Game aesthetic. I appreciated the deeper themes of friendship, loyalty, and sacrifice. There are a number of social commentaries that I'm sure would go over the kids' heads and that I found fantastic.
My Rating: 4 stars.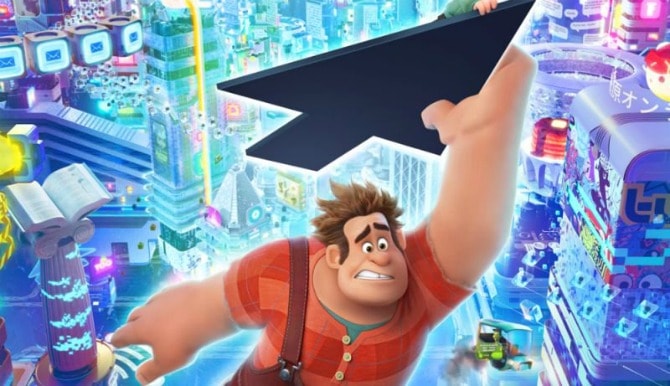 ---
// LOVING LATELY //
A New Journal: I'm a lifelong journaler and currently write in a number of journals (all with different purposes), but was happy to add one more into the mix at the start of this year. For Christmas, Luke got me the Q&A a Day for Moms journal, which I'd been eying for years (and had actually gifted a few other moms, but not bought for myself!). Each day has a quick prompt that just takes a minute to answer—which (hopefully) means I shouldn't have much trouble committing to it for the 5-Year life of the journal. I've loved the unique questions and am looking forward to seeing how my answers change over the next five years as Charleston grows up! Most of my journaling is done digitally, so it's been hard to let go of my insecurities about my own handwriting, but I'm choosing to see it as a good exercise in relinquishing perfectionism for the sake of a greater outcome.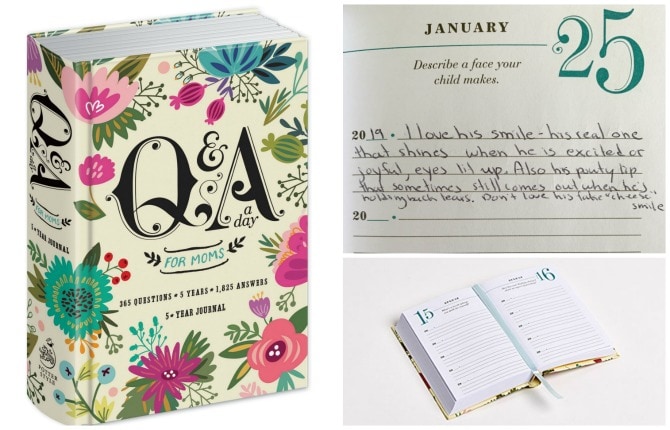 Printable Mazes: Charleston is OBSESSED with mazes lately! Nearly every time I pick him up from church, Bible study, or the gym, he's carrying a stack of mazes that he's somehow convinced a babysitter to give him, and he daily asks me to print him some extra mazes at home. I was happy to discover this site where I can download and print them off for free! There are hundreds of mazes to choose from, and I love that they are arranged by level. Charleston can do the Easy mazes on his own. With the Intermediate mazes, we do them together: one of us starts at the beginning, the other at the end, and we meet in the middle. It makes for a fun cognitive exercise that we both enjoy!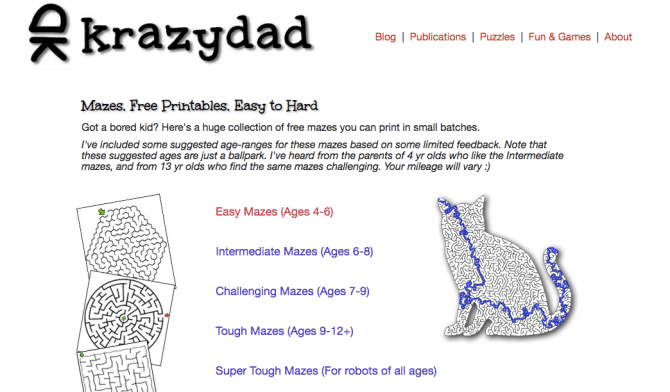 ---
// ABIDING IN 2019 //
One month into 2019, I'm still going strong with my word for the year. I've been spending more time listening and talking to God, and have been consistent with my daily Bible reading (more on that this Friday). It's been helpful to have accountability with my word, and I love some of the creative ways my friends have supported me. My friend Cara got me a necklace with Abide written on it, and my friend Deanna sent me a custom-made Abide sign. Each time I wear my necklace or look at my sign, I'm reminded to stop for a moment to connect with God.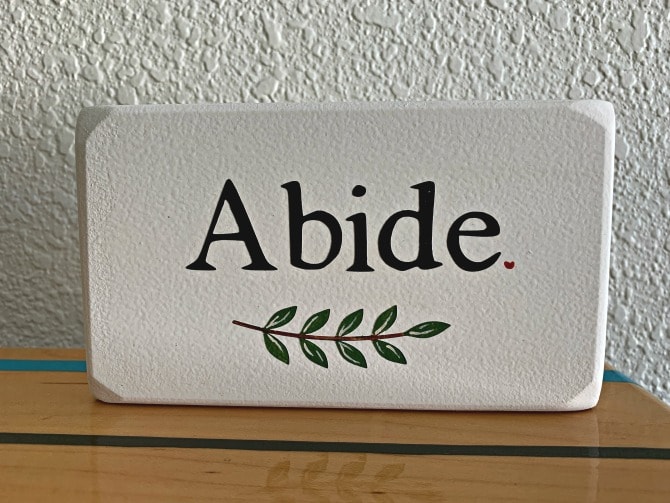 ---
// MONTHLY PUP-DATE //
Our puppy turned one year old on Monday! And he's been part of our family for a full ten months! Last week at church, I was talking to a recently married twenty-something about her decision to wait a few years to have children. She told me, "I'm a terrible dog mom! I don't think I could handle kids!" And I assured her that performance as a Dog Mom is not at all related to performance as a Kid Mom. Arlo's birthday is a perfect example: while we went ALL out with Charleston's birthday (see below for evidence), for Arlo we just wrapped up some bones in birthday paper, let Charleston unwrap them for him, and called it a day. My poor "neglected" second child. . . .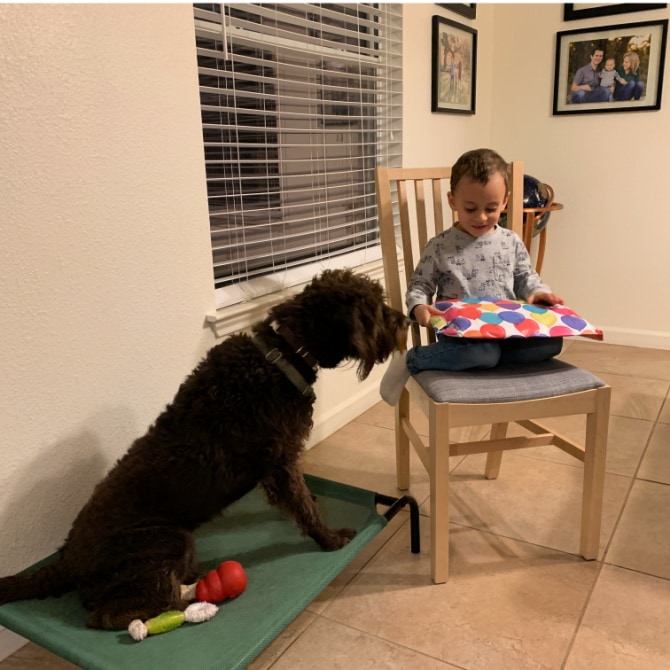 Even though I'm not nearly as good of a mom to Arlo as I am to Charleston (better than the other way around!), I really do love having him as part of our family. His behavior continues to improve as he moves past the puppy stage, and while he's still quite playful and still an incorrigible counter surfer, he's mellowed out a lot. He loves to go for walks, hang out on his pillow in the "forbidden" living room, and run around Luke's parents' yard with his German Shepherd "Aunt" Gretl on their weekend visits. He's incredibly sweet, affectionate, and eager to please, and he does well with dogs and people (once he gets over his initial I-Must-Jump-On-You excitement). He and Charleston have an intense love/hate brother relationship, and seeing them together in their best moments makes all of the challenges and messiness of dog ownership completely worth it.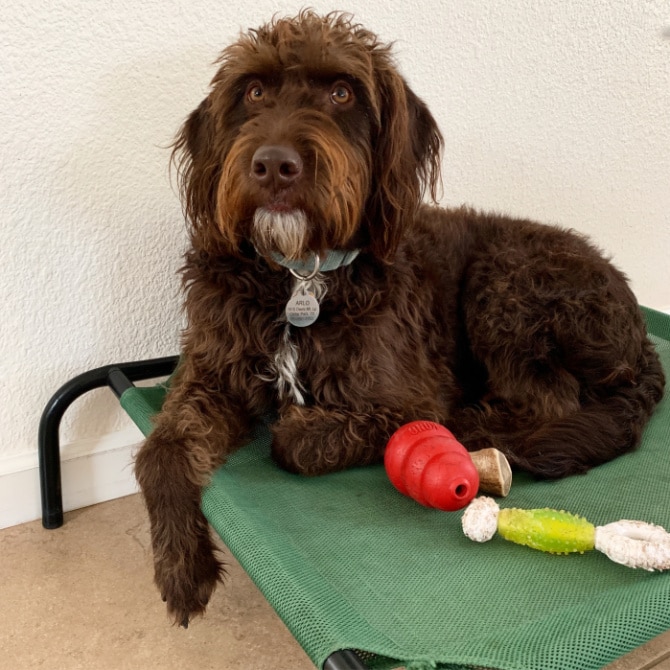 ---
// LATEST CHARLIE-ISMS //
I still haven't fully come to terms with the fact that Charleston is FOUR! We had his Four Year Well Check last Friday, and the doctor confirmed that he is a healthy, thriving kid. He's still small: 2nd percentile (29 pounds) for weight, and 8th percentile (38 inches) for height, which is actually ahead of where he's been in the past! But what he lacks in size, he more than makes up for in personality!
This was a fantastic month with him. I don't want to jinx ourselves, but I have a feeling that four is going to be one of my favorite ages. Here is just a small taste of some of the sweet and hilarious things Charleston has said lately, split into categories because the Charlie-isms were abundant this month.
HILARIOUS OBSERVATIONS:
+ "I have something to tell you. There was a LOVELY smell in the bathroom when I went in there before bath time. I really loved it." (Said without sarcasm.)
+ Me: "You're a cutie, you know that?" Charleston: "EVERY kid knows that!" He has a point.
+ "Sometimes the coldness makes you not hot and sweaty anymore. That's why God makes it cold some days."

+ "You know, sugar is my favorite food. Because sugar is candy." (While eating ice cream.)
+ "Did you know a banana is shaped like the moon?" It took me a second to figure that one out!
BIRTHDAY RELATED:
+ Groggily, after waking up from a nap (one week before his birthday): "I know something that's really, really true. When I turn four I am going to sleep WAY longer at nap times. Because that's what big kids do."

+ Me, referring to his upcoming birthday: "Next week I am going to need to find myself a new favorite 3-year-old." Charleston: "You should just have a baby and when she grows up SHE can be your favorite 3-year-old."
+ On the drive to HEB to pick up his birthday cake: "But why do we have to pick my cake up if we ordered it? I thought the mail man was going to deliver it." That's when I realized that to Charleston, order=mail.
+ The night before his birthday: "I can't WAIT for my birthday tomorrow. I'm wondering if I'm gonna see myself grow! I wonder if my voice is gonna sound different."
+ And then, the next day: "But I still look like I'm three!"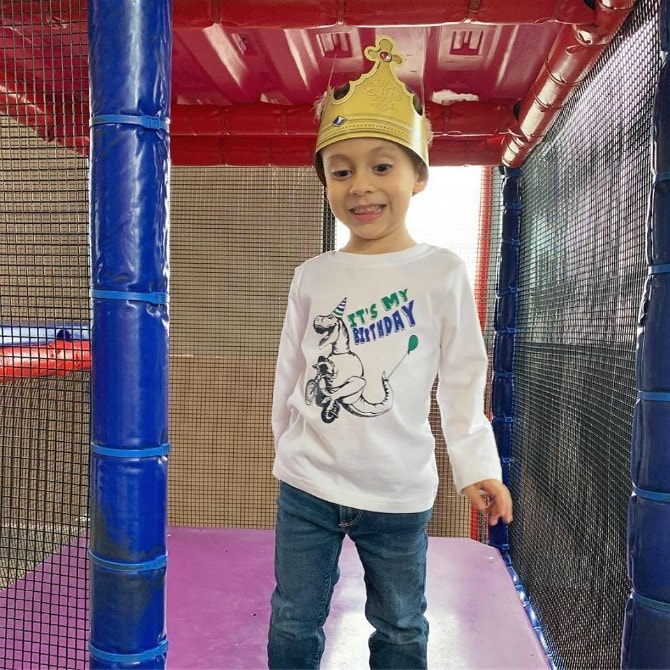 CUTE MISUNDERSTANDINGS:
+ Looking at prices listed at the grocery store: "That's so silly! They got their numbers wrong. It's supposed to go 1, 2, 3, 4, 5."
+ "What's that movie about the lady who meets boyfriends?" We eventually determined that he was talking about The Wizard of Oz.
+ "Mama! You can't put the hot sauce in the fridgerator! It has to be hot!"
+ Removing a book jacket from a book: "We can take the book's jacket off. It's not cold right now."

+ "Toy Story 4 is coming out in summer?! I thought the movie was coming out in Zip-tober!"
JUST PLAIN SILLY:
+ Randomly one day: "Mom, what is it like to be a cow?" Should I be offended that he thinks I have first-hand knowledge of this?
+ "Mom, when are you going to turn twenty? When you turn that number you are going to be too big for our house. Maybe why you go to Heaven is because you are too big for a single house."
+ "We have to pray really hard for a baby girl." Me: "But what if God decided to give us a baby boy?" Charleston, after some thought, and said with a resigned sigh: "Well. . . I don't mind. Anything he gives us."
+ "I would never kiss a princess if I was a prince because I might be allergic to princesses."
---
// HAPPENINGS AND HIGHLIGHTS //
A lot of this month was about settling back into our non-Holiday routines: my MOPS group and Bible studies are back in session, Charleston has returned to gymnastics class, and we started him in a fun new performing arts program that we're really excited about. Beyond those everyday activities, we had a number of bigger highlights this month:
On December 28th (obviously not January, but since my last update post), Luke and I celebrated our tenth wedding anniversary! My in-laws watched Charleston so we could go on a rare date (the second of two we took in all of 2018). We started with a matinee showing of Mary Poppins Returns, followed by lunch at a local restaurant. Over lunch we reflected on our highs and lows from the last decade, and dreamed about where we see ourselves ten years from now. After lunch, we came home to open presents (my favorite was the sweet card Luke made me). I also took some time to write my annual anniversary update in the couple journal I started when we were dating. It was a wonderful day with my favorite guy!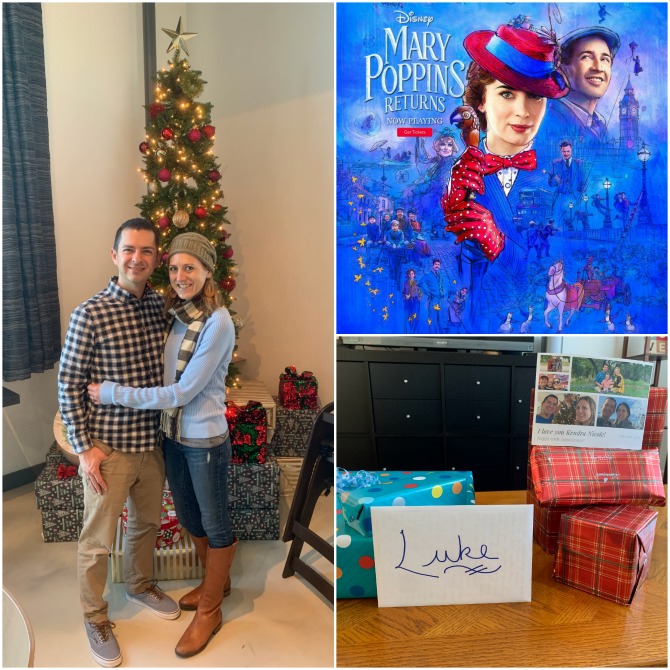 Our NYE was a quiet one, which is just how we like it. We counted down to 8:00, then toasted with sparkling cider in sippy cups. Not sure it gets much better than that! Then I tucked my boys into bed by 9:30 and rang in the New Year with a mug of hot chocolate in my hand, my Bible in my lap, and the puppy at my feet. Arlo wasn't a fan of all the fireworks going off at midnight, but other than that slight disturbance it was a pretty great start to a new year.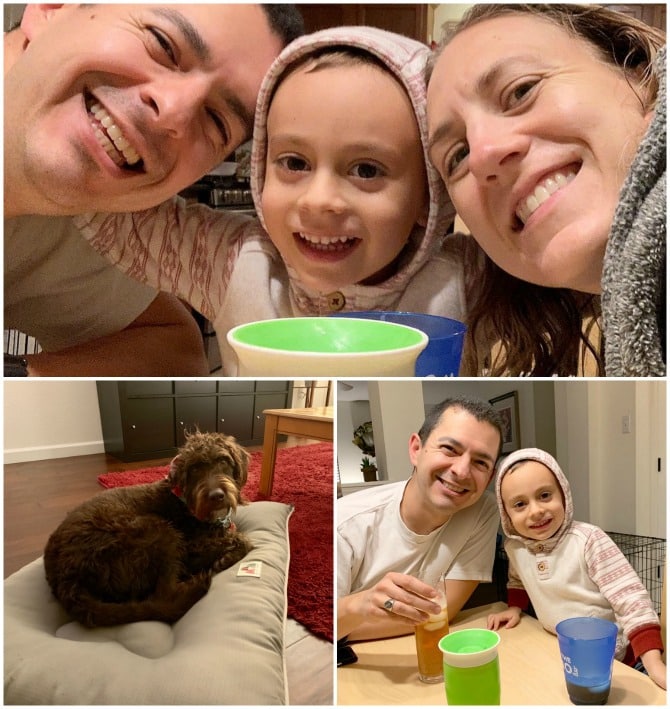 Much of the month revolved around Charleston's birthday, which was on the 16th. On the night before his birthday, I decorated the loft (i.e., his playroom) with Paw Patrol streamers and a birthday sign. The next morning he walked out of our bedroom and was in total awe of the decorations. When I asked him what he saw, he said "It's a birthday!"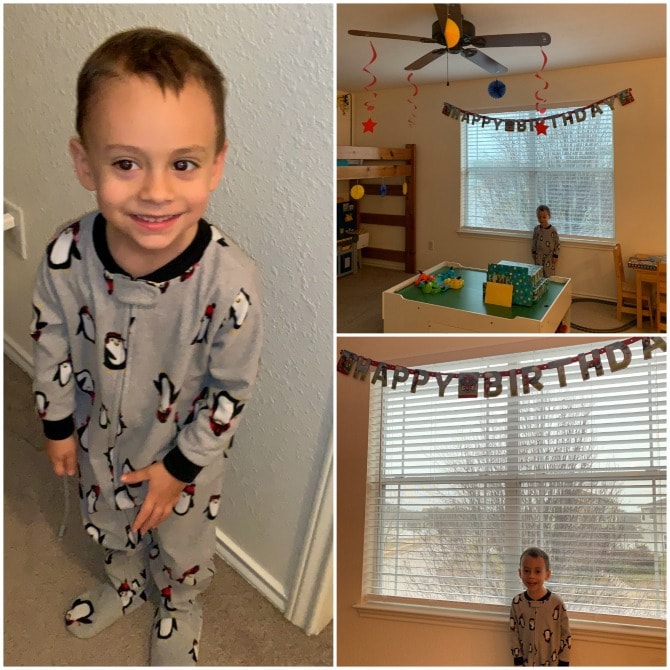 His whole day was filled with fun. He got to wear a birthday shirt (a hand-me-down I've been waiting for three years for him to fit into!) and I took him to breakfast at Burger King. We drive by the restaurant every week on our way to gymnastics, and he asks to go every time, so having breakfast there was a dream come true for him. He loved it even more than I'd anticipated! He enjoyed a pancake and sausage breakfast, got to wear a crown, and played for THREE hours on the playground with some friends he made while we were there.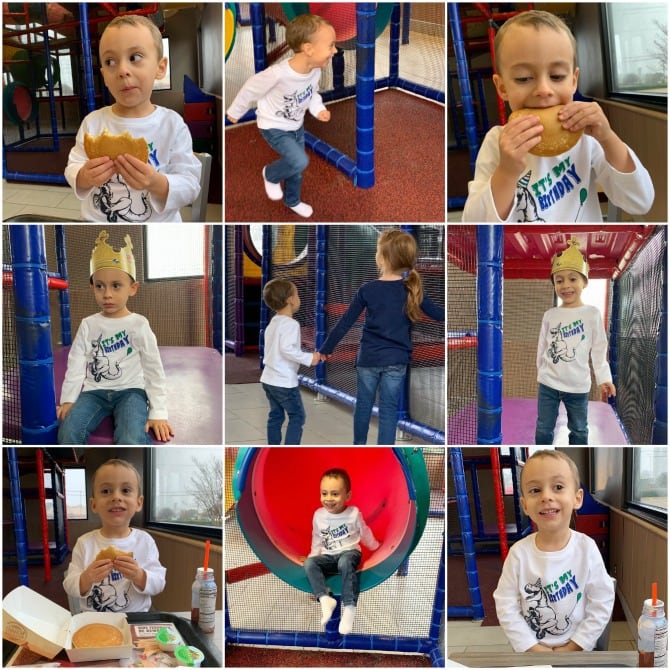 That afternoon, when Luke got home from work, Charleston got to open his birthday gifts. His reactions were just the best. We got him a few books, a marble run, and some blocks, and he got more excited with each gift and thanked me profusely for each one. I couldn't have asked for more enthusiasm!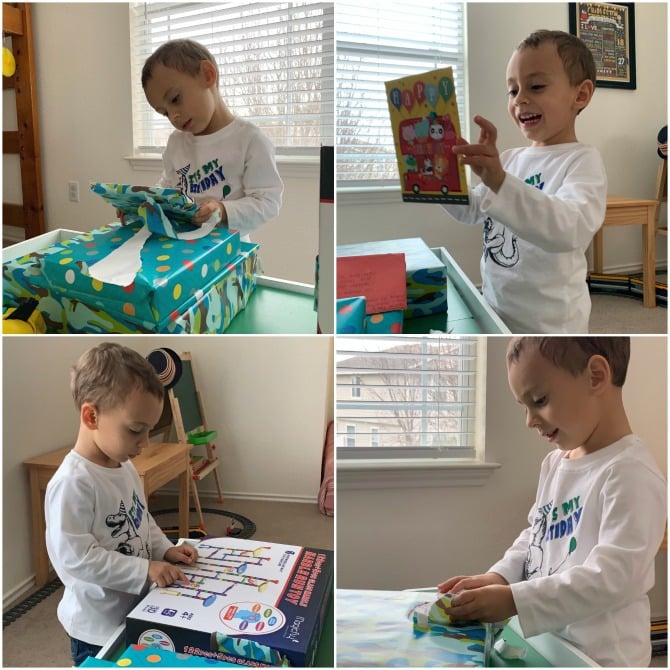 Following gifts, we went to see Ralph Breaks the Internet, which was his activity of choice for the afternoon. Afterwards he told me he didn't like it very much, but he was well behaved throughout the movie, and in the weeks since he's talked about it constantly, so I think he enjoyed it more than he let on.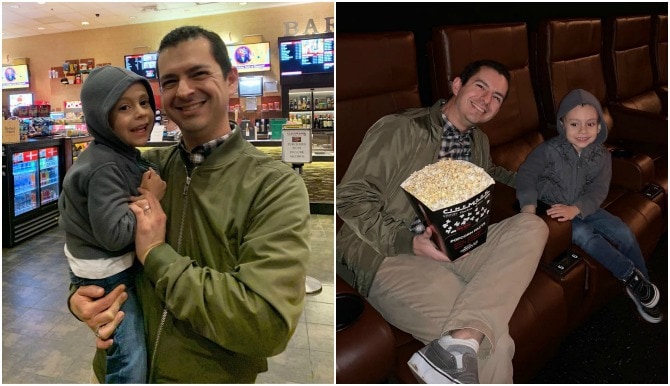 That night we sang Happy Birthday and had birthday frozen yogurt, a family tradition that Luke and I have held for years. We gave Charleston the option of Menchie's, cupcakes, or cake for his candle-blowing treat, and I was shocked (and proud) that he went with the Menchie's. It was extra special because I said he could get as many toppings as he wanted, and he took full advantage of that offer. It was the perfect ending to his best birthday yet! (And I know it was his best birthday ever because he told me. MANY times!)
We rounded out Charleston's birthday week with a party at Chuck E. Cheese's. For the last couple of years I've gotten away with not throwing him a big party, but he has been fantasizing about a party since his last birthday, and I couldn't quite bring myself to crush his dreams. Last summer we attended a birthday party at Chuck E. Cheese's, and ever since then he's been telling me that that's where he wanted his party to be, so Chuck E. Cheese's it was. To be honest, it probably wouldn't have been my first pick, but I have to admit it worked out well. As far as birthday parties go, CEC is pretty affordable and they really take care of everything for you.
In addition to the Chuck E. Cheese's setting, Charleston wanted the party to be Paw Patrol themed, so we added a few details of our own. I ordered him a personalized Paw Patrol birthday shirt and we sent out Paw Patrol invites (paper, because I'm totally Old School). We got a Paw Patrol cake at HEB and had planned to get matching balloons, but couldn't due to a helium shortage (I didn't even know that was a thing!). We also took care of our own party favors, and since that was the only area in which I got to exercise my party creativity, I went a little overboard: each kid got a gift bag with basically everything Paw Patrol I could find (stickers, a coloring book, a rubber bracelet, a stamp, a Little Golden book, a Pez Dispenser, and gummy bears) and a bag of Puppy Chow Chex mix that Charleston helped me make. (I suppose now would be a good time to admit that I've never actually seen an episode of Paw Patrol: we don't have TV, and it isn't on Netflix, so Charleston has only seen parts of it on the TV at the gym—but it's popular, so he loves it, and I'll admit the characters are pretty cute, so I was happy to go with the theme.)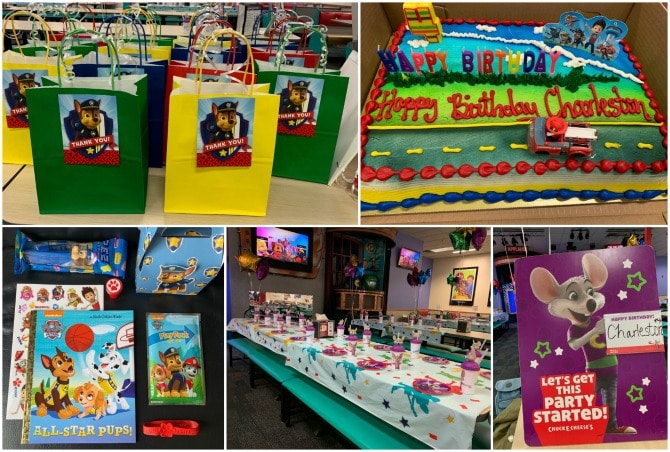 Here's a tip: if you ever do a party at Chuck E. Cheese's, book the first party of the day. Ours started at 10:00 which was awesome because we practically had the place to ourselves. We got there a little early to set up and go over details with our party coordinator, who was assigned to just our party and remained with us throughout our two hours there. As our friends came in it was easy to find and greet them and give them their Game Pass cards so they could go play. As the Birthday Boy, Charleston got a special Game Bracelet and loved running around using it to start games—even games he didn't end up playing. We had about a dozen friends come, as well as family, and it was so wonderful to have so many people from our various social groups in one place. The kids had a great time playing, and I think the adults had fun too. I was reminded of what incredible friends I have: so many of them went out of their way to help with the party details and take pictures so I could enjoy myself; because of them, I even made it into a few pictures myself which, if you follow my blog at all, you know is quite rare. They're the best!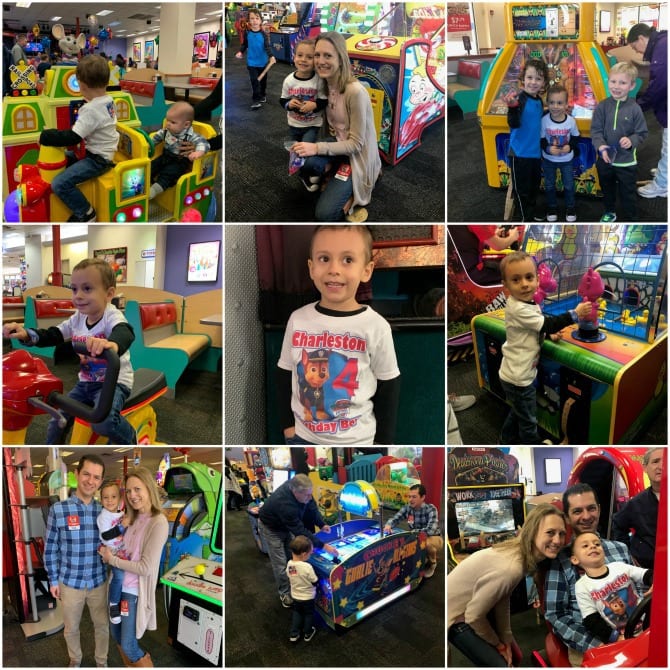 After some play time, we were served pizza and drinks, then Chuck E. came out and did a birthday dance with the birthday kids (which was just Charleston and one other boy). I wasn't sure how Charleston would do, but he totally rocked it! He danced through the whole song and did every move. It helps that he's in love with Chuck E. and wanted to spend every minute he could with him. After the song, we sang Happy Birthday and Charleston—who was a total ham during his time in the spotlight—blew out his candles. Then we all got some pictures and one-on-one time with Chuck E. before Charleston and Luke headed into the Ticket Blaster. Again, I was worried he wouldn't want to do this, but he thought it was so much fun! The kids enjoyed cake and ice cream, and right afterwards Charleston somehow convinced his grandpa to buy him a popsicle (but hey, you only turn four once, so props to Charleston for knowing how to milk it!). After two hours, we said goodbye to our guests and Charleston got to cash in his tickets. He won almost 800 of them, but was overwhelmed by the prize options and settled for a small ball, a sucker, and a whistle.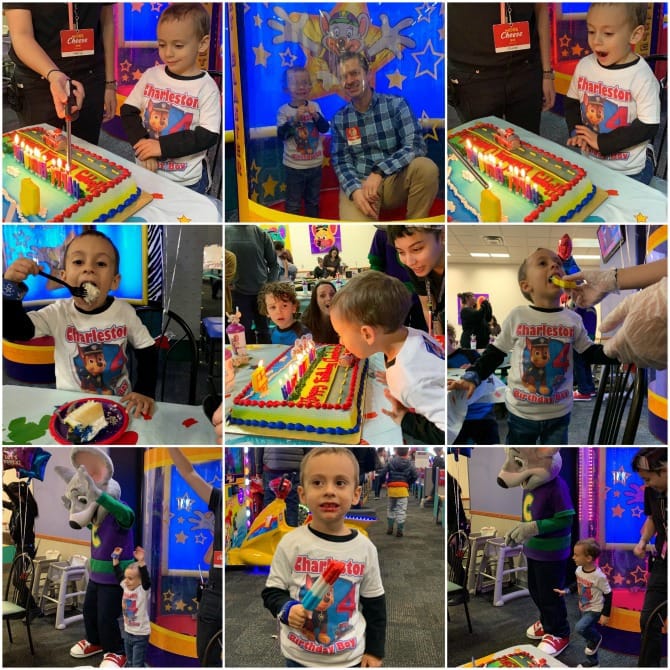 Like I said, this probably wasn't the party I would have chosen for Charleston but we all had a total blast and it was nice to have most of the party taken care of for me so I could focus on spending time with our guests and celebrating Charleston—which isn't possible with a DIY party. It was such a great way to kick off his Fourth Year. . . and now he's already making plans for his NEXT birthday party!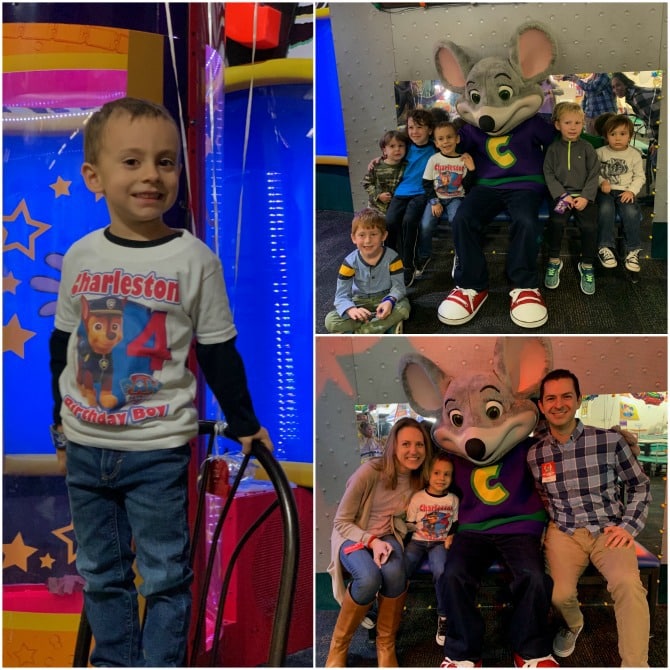 ---
What an awesome month we had—and a month in which I'm so glad that I blog and have all of these memories fully documented in one spot. Thanks for joining me in a bit of monthly review and celebration!
What was the highlight of your January?