November is just about finished, and what a month it has been! We kicked off the month with one family trip, and ended with another (much longer) one—it felt like we were gone more than we were home this month. Between trips, we started making Christmas preparations, I finished up the fall semester of my Women's Bible study, and Charleston and I were both knocked out of commission due to a week of sickness. Overall, the month was filled with far more highs than lows; here's a look at some of our family's highlights.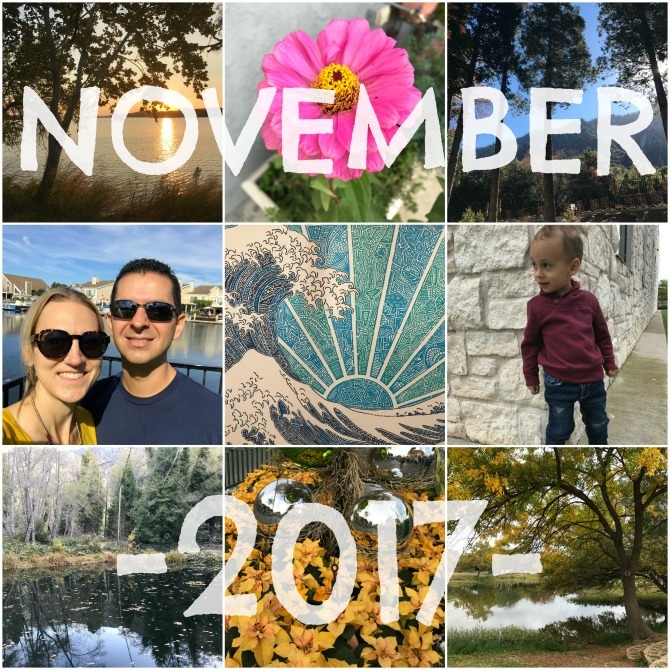 ---
// READING LATELY //
I read TWO of Brené Brown's books this month; needless to say, it's inspired a lot of self reflection. I listened to the audio versions of Tom Hanks' recent story collection (who knew he could write, too?!) and the latest from John Grisham (it wasn't his best). I also read two romances—one for teens and one for adults—and was reminded why I don't read more of this genre. Celeste Ng's powerfully-written novel was a much better fit with my tastes, as was this sweet To Kill a Mockingbird read-alike. I am currently reading this unexpected but seasonally appropriate novel for the final book in this year's Reading Challenge.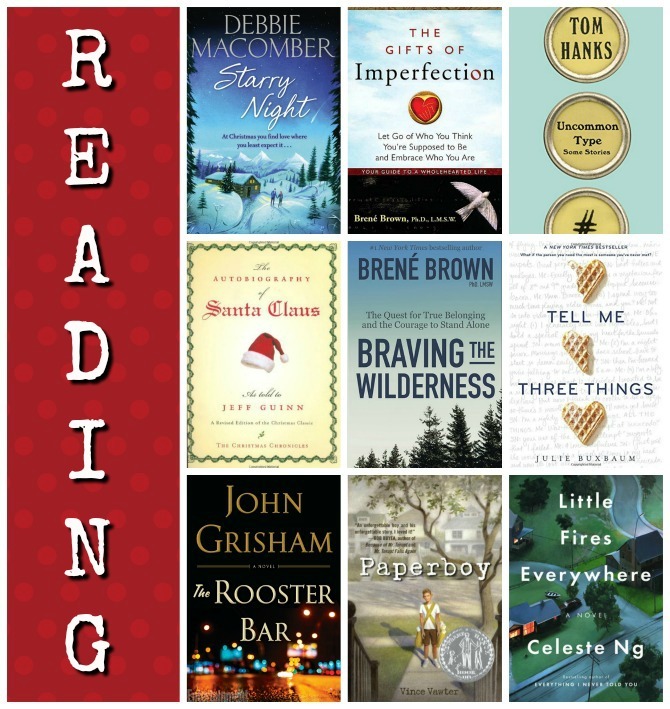 ---
// LISTENING LATELY //
Jessa Anderson and her husband Jordan were the worship leaders at our camp last weekend. They were some of the best musicians I've seen in my many years of camp, so I was excited to be able to continue listening to Jessa's music through her CDs even after camp was over. Jessa writes her own music and the lyrics are authentic but also quite positive. I like that they are worshipful without being too cheesy. She has an upbeat sound and an awesome voice, and it's fun hearing her music and being able to picture her after seeing her perform in person.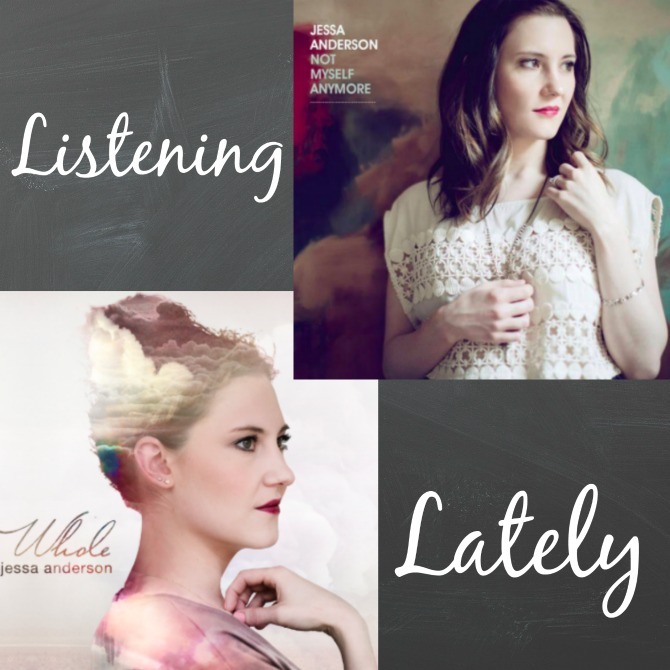 ---
// FUNNY CHARLESTON MOMENTS //
This rambunctious boy of mine sure does keep me on my toes, but he also keeps me laughing. Some funny things he has said this month . . .
+ While it was raining: "We need to go to the car wash right now to wash off the rain."
+ Luke and I had been talking about the wife of a friend of his and Charleston asked, "Daddy, what is your wife like?" Luke answered that I was his wife and Charleston looked at me in amazement and said, "Mama, are you REALLY a wife?!"
+ At my parents' house, he saw a cordless phone and asked, "what's that remote for? What's it doing in here?" (We don't have a landline at home so his only phone experience is with cell phones.)
+ On our road trip, we stopped at a hotel for the night and he said, "let's check into our hotel room and watch La La Land!" (Last time we were in a hotel, La La Land was on; he has no experience with non-Netflix TV and didn't understand why we couldn't pick what we were going to watch.)
+ "I was born in January and before that I was in your tummy. But then I came out of your tummy, so now I get to talk to you. . . because YOU are my FAVORITE!"
+ After helping me wrap a package: "Good job, Mama. It's surprisingly good. . . but not that good."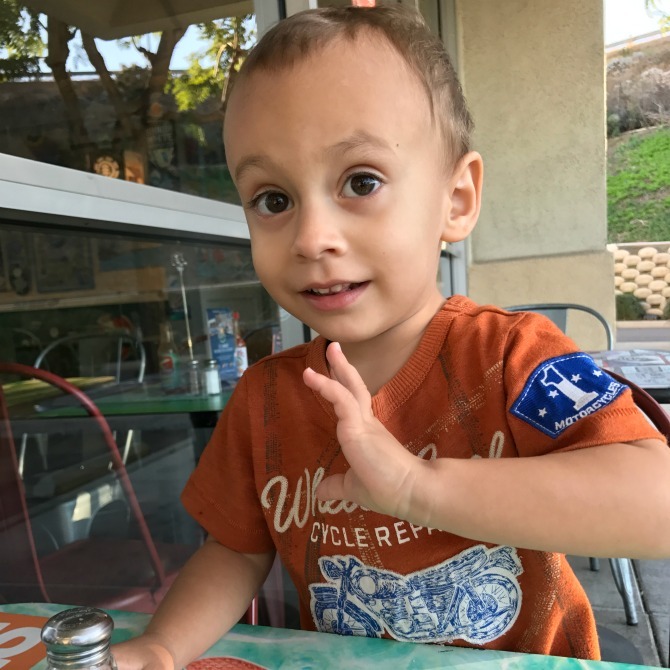 ---
// LOVE CHALLENGE UPDATE //
My biggest takeaway related to the challenge this month was that my ability and capacity to effectively love others is inversely related to the amount of margin in my life. November was a busy month, and though we got to have a lot of fun, I spent much of the month in stress mode. This led me to act less than lovingly to the people in my life, and it prevented me from going out of my way to do loving acts for others. This month highlighted the importance of knowing my core values and fighting to keep them a priority in my life. Too much activity is only a good thing if it is life-giving; once those activities—or, more importantly, my attitudes related to those activities—start taking the place of what I truly believe is important, it's time to reevaluate how I spend my time and energies. I don't think this necessarily requires cutting back, but it DOES require me to relinquish my perfectionism related to the things going on in my life. Not only will this result in a much happier, healthier Kendra, but it will also free me up to spread more love.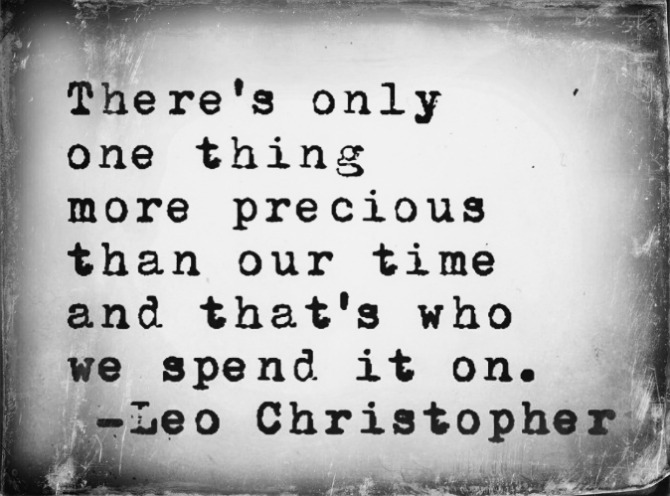 ---
// MONTHLY HIGHLIGHTS //
This month we went tent camping for the first time as a family. We went with two other families and camped at Inks Lake, which is about an hour from our home. We couldn't have picked a more perfect weekend: despite very cold/rainy days in the weeks before and after our trip, the weekend we were there was sunny with highs in the mid-80s. The warm weather combined with the all the fall colors made my heart SO happy—two of my favorite things that rarely happen at the same time! We were able to get campsites right on the lake, which was gorgeous and so peaceful.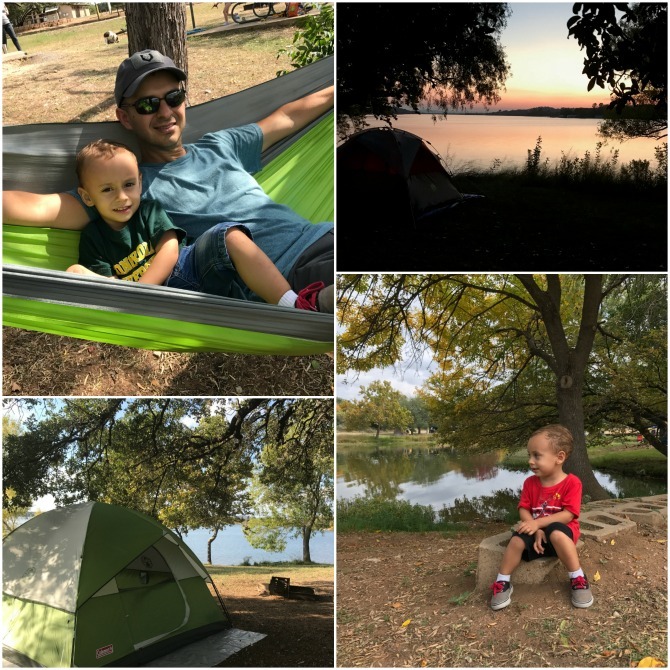 I was nervous about the logistics of camping but we ended up having a fantastic time. Charleston thought it was so cool that we were sleeping in a tent, and that we could walk to the lake or playground to play at any time. It was so nice to have some quiet, unstructured time with friends and as a family.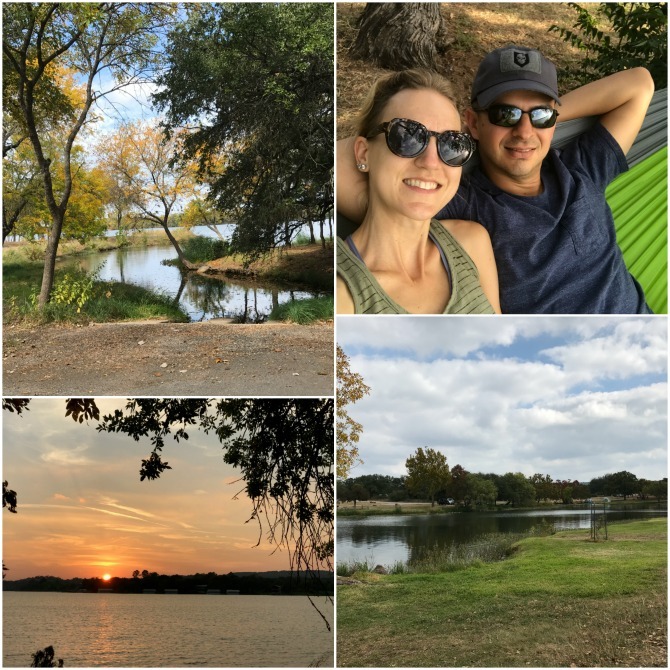 We took another trip out to California! We were just there in September, and it felt a little too soon to be making such a long road trip once again. To top it off, Charleston and I were both still recovering from a week of being sick, so the drive out wasn't an easy one, BUT the time with family and getting to be back in our home state made it completely worthwhile. On our first day we drove sixteen hours from Austin to Phoenix, then stopped for the night. We were able to meet Luke's brother Tommy for breakfast; he lives in Phoenix but is a pilot and is rarely home, so it was a lucky coincidence that were were both in town at the same time.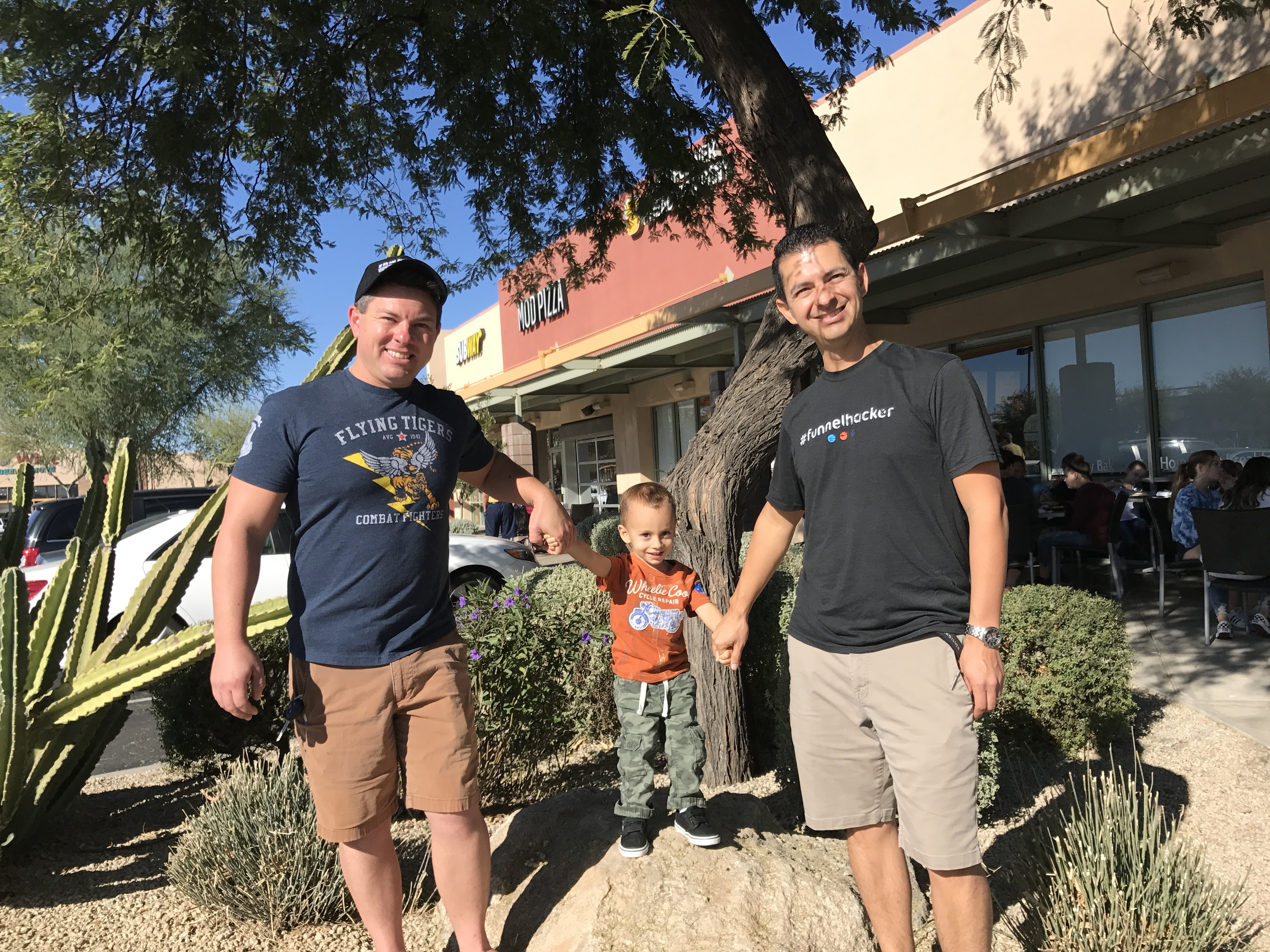 We spent a week with my parents and brother at their home in Huntington Beach. The weather all week was amazing, even sunnier and warmer than when we were there in September. Traveling with a toddler makes it hard to do a lot of extra activities, but we enjoyed relaxing at their house, getting takeout for dinner, hanging out on their patio (you can't beat their waterfront view), and walking to the park. We also took day trips to visit Luke's maternal grandparents and paternal grandfather.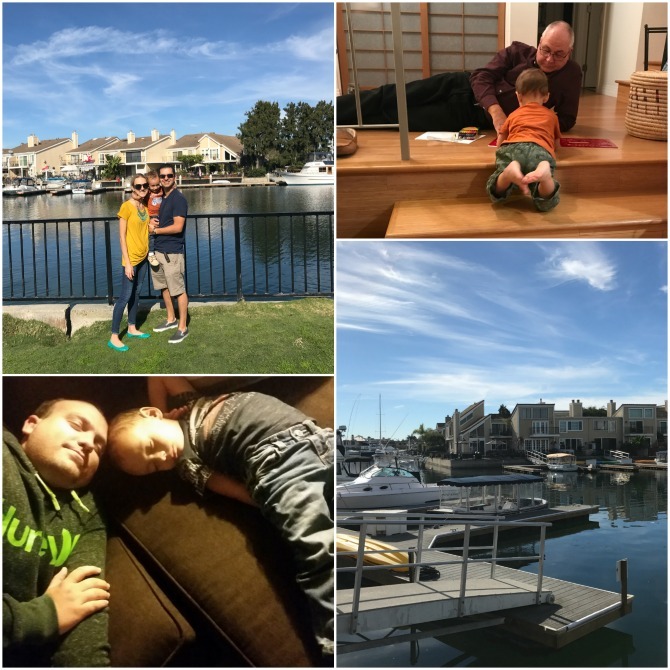 We wanted to take Charleston to Downtown Disney to experience the Christmas lights—all the Disney fun without the cost of a Disneyland ticket! We enjoyed the festive decorations and music, and we got to eat at Rainforest Café where Luke and I had our first date ten years ago!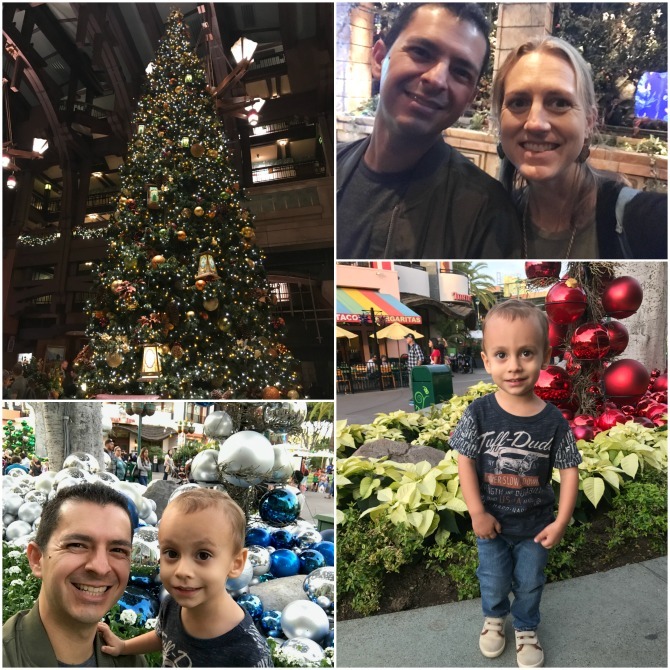 We went to the Aquarium of the Pacific in Long Beach with my mom and brother. I lived in California for 31 years, but somehow this was my very first time visiting. I wasn't sure I would like it because I'm not really a fish person, but the displays really were spectacular. Charleston is a big Finding Nemo fan so he got a kick out of seeing real-life versions of his marine friends. Favorite displays included the jellyfish, penguins, sting rays, and sea otters. Some of the corals and other creatures we saw were almost too bizarre to be believed. God sure is creative!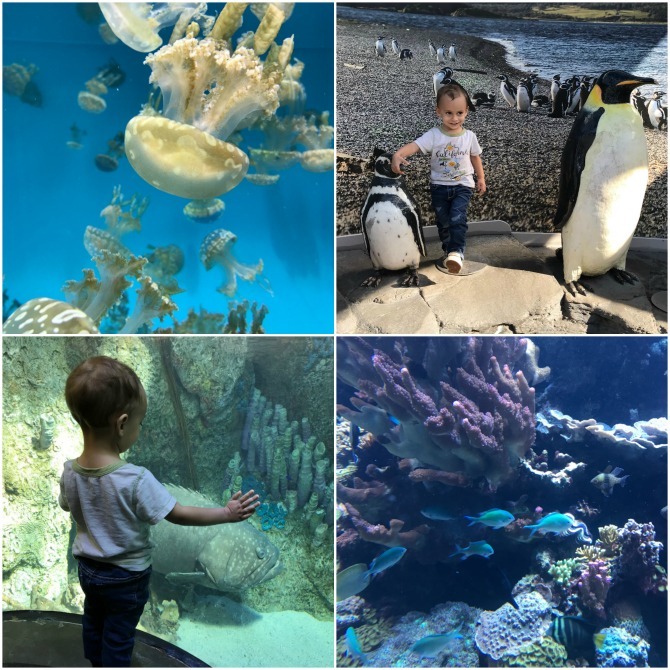 We celebrated Thanksgiving with my family a day early. My 92-year-old grandmother came to my parents' house, which was such a treat. Our meal was mostly traditional, except that my thoughtful mom kindly made everything gluten free for me (the gluten free stuffing and pumpkin pie were actually really good!) and we had chicken instead of turkey (my dad is allergic to both, but he is less allergic to chicken than turkey). I busted out my gratitude journal (a tradition we started last year) and everyone present wrote what they were thankful for. I was quite thankful for family who was willing to join me in my sentimentality. 😉
On Thanksgiving day we headed to Luke's aunt's house for Thanksgiving with his extended family. (His parents and sister were having a separate celebration in Texas.) It was great to spend time with everyone, some of whom we haven't seen since we moved to Texas almost two years ago. Charleston had a the best time playing with his cousins, and it was kind of amazing that he was able to play independently with them while we had time with the other adults.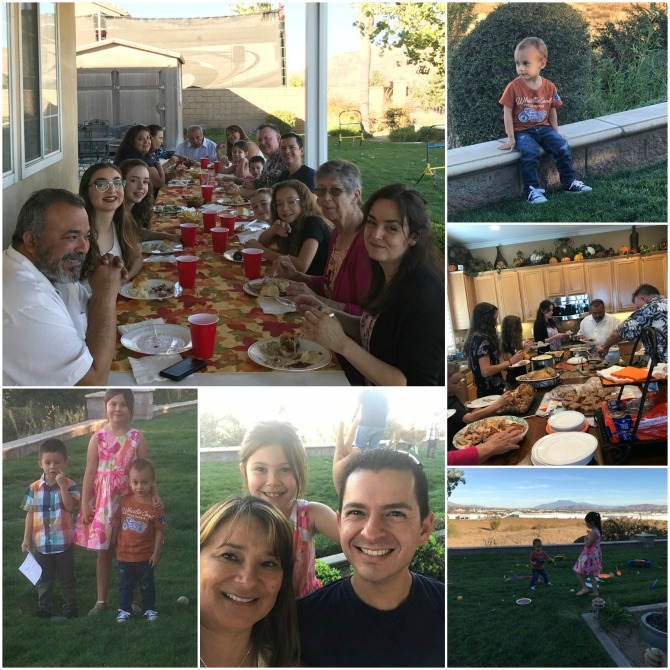 On Black Friday we headed to Forest Home Christian Camp for the Home for the Holidays family retreat. I've been going to Forest Home since I was in elementary school and it is one of my very favorite places. We had the most incredible weekend! Last time we were at camp, Charleston was just a baby, so this was his first time experiencing it as a true camper and he had a blast. One of the best parts about this camp is that they have separate activities for the kids, which meant that he had fun with other kids his age while Luke, my parents, and I got to enjoy the excellent Bible teaching, fantastic worship, and even some free time activities entirely kid-free. Talk about a win for everyone! We even had a babysitter who came to our cabin to watch Charleston in the evenings; we all fell in love with her (the first words Charleston uttered the morning after meeting her were, "today I am going to have fun with Emily!!!") and wished we could take her home with us.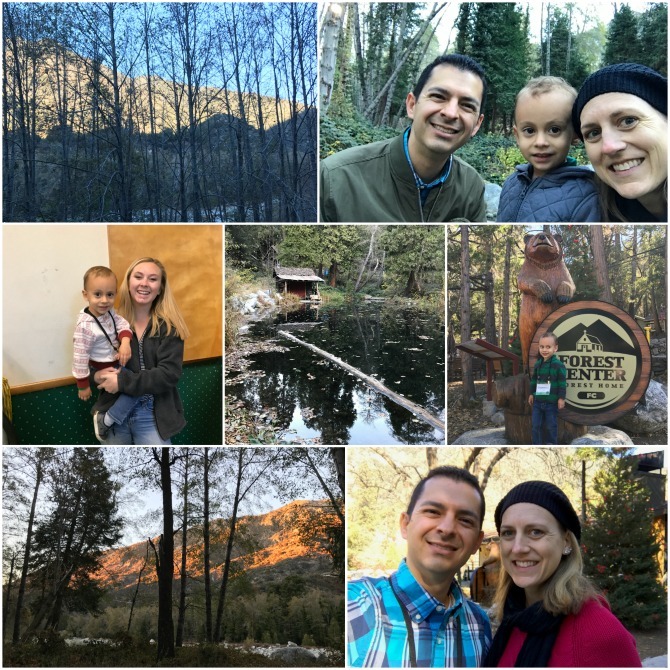 We were prepared for cold weather in the mountains, but it was sunny and relatively warm (highs in the low 60s)—perfect for enjoying some hiking through the woods. Walking along those rocky trails, surrounded by majestic peeks and trickling waterfalls, with the sound of the wind rustling the leaves in the trees. . . I was truly in my happy place, experiencing God's presence more palpably than anywhere else on earth. The weekend was exactly what my soul needed, and the perfect way to peacefully inaugurate the Holiday season.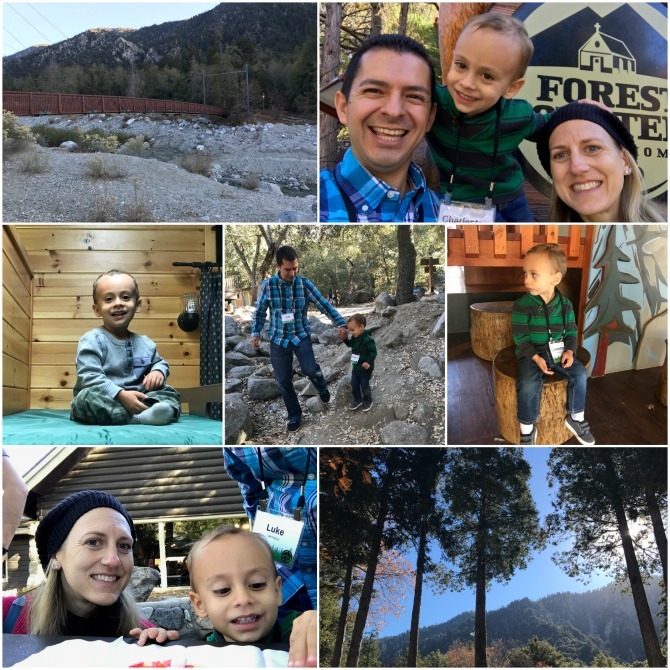 It was hard to say goodbye to my parents at the end of camp, especially since we don't have another trip back to California lined up yet. But we sure did make some good memories during our week together. From camp, we hit the road and headed back to Texas. (We literally won the award [a chocolate chip shake from the snack shack] for traveling the furthest to make it to camp for the weekend!) We got back home yesterday, and while California will always have my heart, it does feel good to be home. This weekend we will be diving into December by decorating our house for Christmas. I can't wait!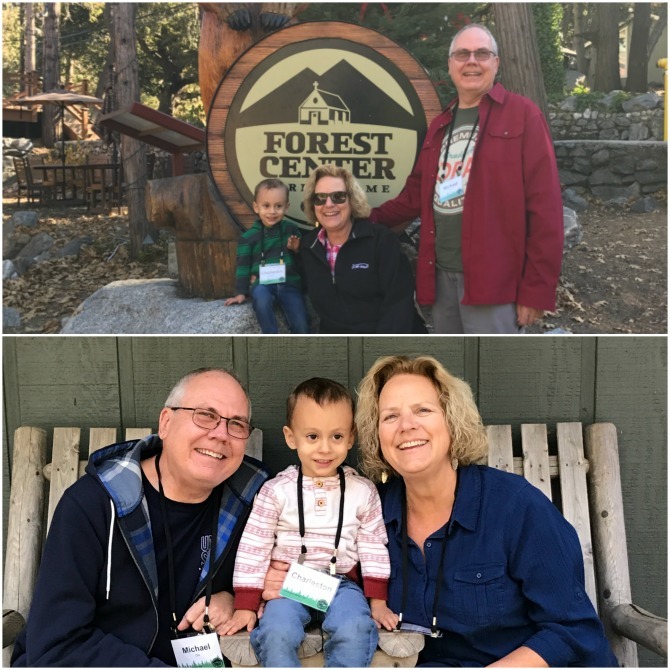 ---
I'm linking up with Leigh Kraemer to share what we're into lately. What was the highlight of your November?