Orson Scott Card is a Mormon author best known for his science fiction.  I am neither Mormon nor a lover of science fiction, which probably explains why, until recently, I was not familiar with his work.   However, a friend mentioned that she had read Lost Boys and enjoyed it, so I thought I would give it a try.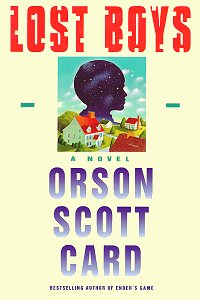 Set in 1983, Lost Boys revolves around the lives of a devout Mormon family who has recently moved to Steuben, North Carolina.  Step Fletcher, the father, is a game programmer who has taken a job outside his expertise with the hopes that the move will be in the best interests of his pregnant wife, DeAnne, and their three children.  Unfortunately, life in Steuben quickly begins to sour: Step is miserable at work, DeAnne has a hard time assimilating into their new church home, and the family's house is periodically infested with hordes of insects.  The move proves to be hardest on the Fletchers' oldest child, eight-year-old Stevie, who is bullied by his classroom teacher and ostracized by his classmates.  Step and DeAnne are concerned when Stevie resorts to playing with a handful of imaginary friends – a concern that turns to terror when they realize that the names of Stevie's friends correlate with the names of several young boys who have been mysteriously disappearing from Steuben.  It soon becomes apparent that supernatural forces are threatening to overtake the family, and it will require all of the goodness and strength the Fletchers can muster to triumph over evil.
Though it falls within the genre of supernatural horror, Lost Boys is a very believable story: the Fletcher family is realistic and relatable (making the tragedies they face that much more horrific).  I particularly resonated with the relationship between Step and DeAnne, who clearly love each other in spite of their constant squabbles.  Card has said that Lost Boys is largely autobiographical, and the author's own raw emotions are evident throughout the book.  Card's Mormon faith also plays a prominent role in the novel, which offers many insights into the practices and beliefs of Mormons.
Lost Boys is equal parts heartwarming and horrifying.  Though the writing did feel a bit stilted at times, Card is a powerful storyteller who manages to transform the story of an ordinary family into a poignant tale of redemption and sacrifice.
My rating: 4 out of 5 stars.