It's book review day! And I hope you've got your TBR lists ready, because I have some insightful, inspiring, and encouraging nonfiction reads to share with you today. Let's dig right into the reviews!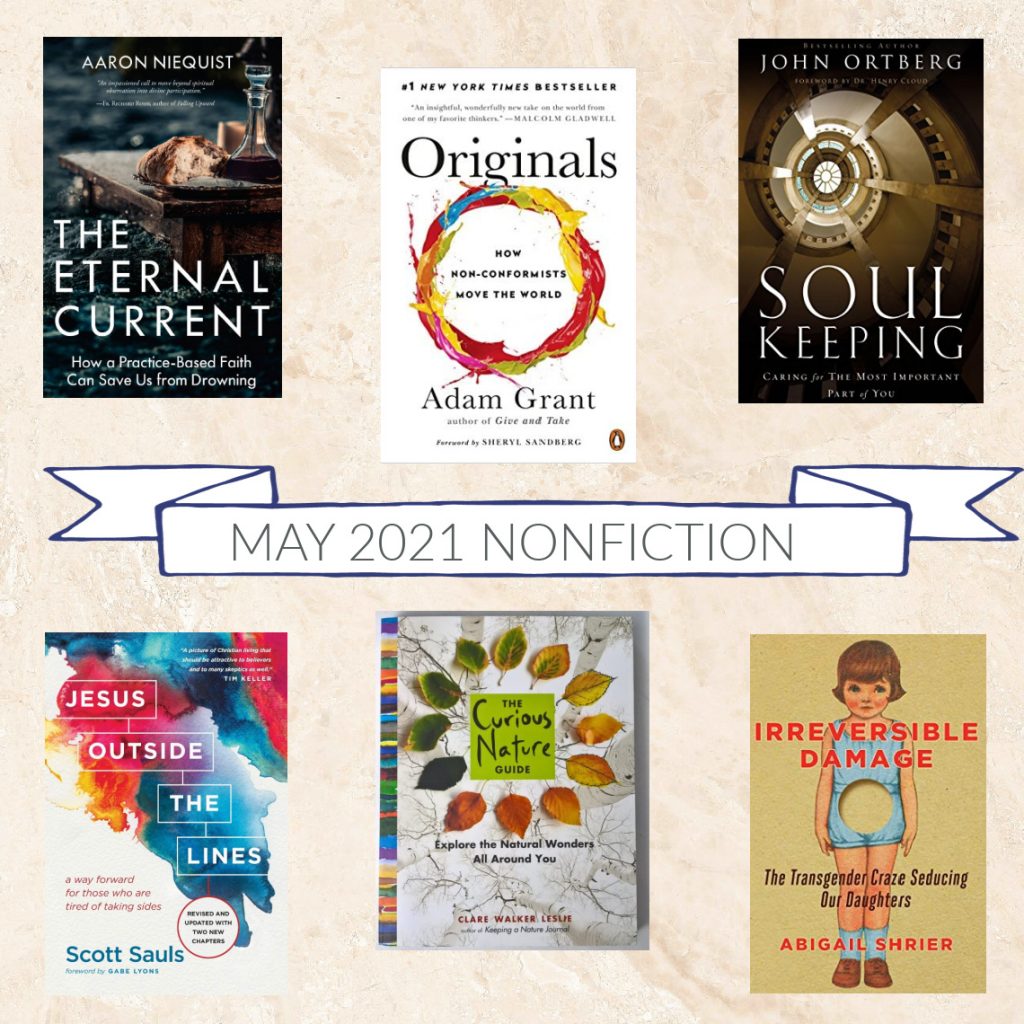 Originals: How Non-Conformists Move the World, by Adam Grant: Adam Grant is an organizational psychologist whom I have come to deeply respect and gain insight from through various podcast interviews over the last couple of years. I am looking forward to reading his most recent book, Think Again, and when placing a library hold on that book I realized I had never read his previous book, Originals, and that we actually owned the audiobook on Audible. (Luke and I share accounts and he purchased it a while ago.)
Originals explores the concept of originality: how do we (as individuals, organizations, and a whole society) generate new ideas, policies, and practices? What factors play into becoming an original thinker? According to Grant, it's not quite as straightforward as one might think! Grant uses studies, statistics, and inspiring stories of athletes, artists, inventors, politicians, and businesspeople to show how we 1) manage the risks involved in generating, recognizing, and voicing original ideas; 2) scale original ideas through appropriate timing and building coalitions; 3) unleash and sustain originality in ourselves, our children, and our companies; and 4) manage the emotions that keep us from pursuing originality. Throughout the book, Grant effectively models how we can battle conformity and the status quo in ways that are productive and beneficial.
This book is truly fascinating and counterintuitive in all the best ways. I was especially intrigued by chapters on timing (specifically the strategic use of procrastination), parenting (especially the idea of prioritizing moral values over specific rules), and the formation of coalitions (which seems particularly relevant in today's fractured cultural and political climates). I value Grant's perspective on why and how humans act the way we do, and how we can best navigate our own tendencies and those of our children. Grant's ideas are well-researched and presented in an engaging, easy-to-follow format.
Social science is not a hard science, so a lot of the ideas in Originals cannot be proven. There are no guarantees here, and no simple templates (though the book does end with a practical guide filled with implementable Actions for Impact). That said, regardless of the implications for my personal life, I always find it helpful to absorb inspiring stories about people who have been willing to let go of rigid thinking and perceived limitations, and Originals offers such stories in droves.
My Rating: 4 Stars.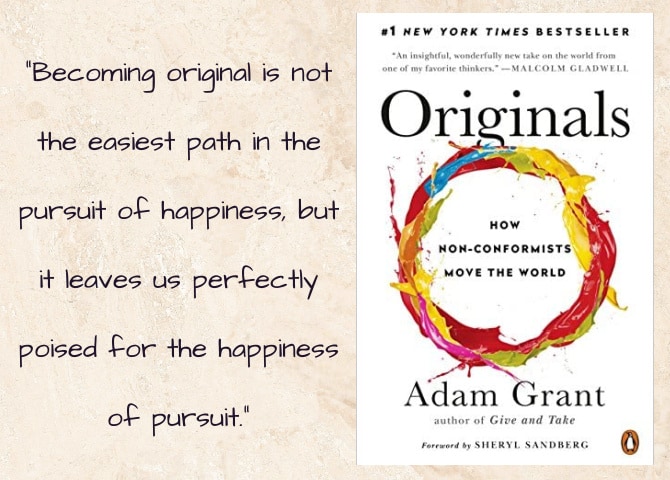 ---
The Curious Nature Guide: Explore the Natural Wonders All Around You, by Clare Walker Leslie: My friend Cara is great about encouraging me throughout the year with gifts that help me embrace my annual Word, and she knocked it out of the park with this wonder-inspiring nature guide that she gifted me for my birthday. This beautifully illustrated guide is unlike anything I've read before: it isn't so much a book as an invitation to an entire reading and nature-filled experience! Stunning photographs, colorful watercolorings, and creative pencil sketches are paired with poetry, writing prompts, mindfulness exercises, quotes, and intriguing nature facts, creating an invitation to appreciate, understand, and celebrate nature in enticing and original ways.
Though intended for adults, this book can easily be appreciated by all ages. Charleston and I read through this book across a week of afternoons spent on our front porch during the twins' nap, and we both enjoyed the book's encouragement to get out of our home and our heads for a bit to appreciate God's creation. With the book's leading we took "one minute vacations" with our senses, learned to identify shapes in the moon, named the types of clouds we could see from our yard, and imagined ourselves as deep-sea divers exploring exotic sea life. Such a wonderful tool in helping us reinvigorate an enthusiasm for the natural world.
This would be a fantastic gift book for a homeschooling family, young nature enthusiast, or anyone who appreciates creativity, nature, and the blending of the two.
My Rating: 5 Stars!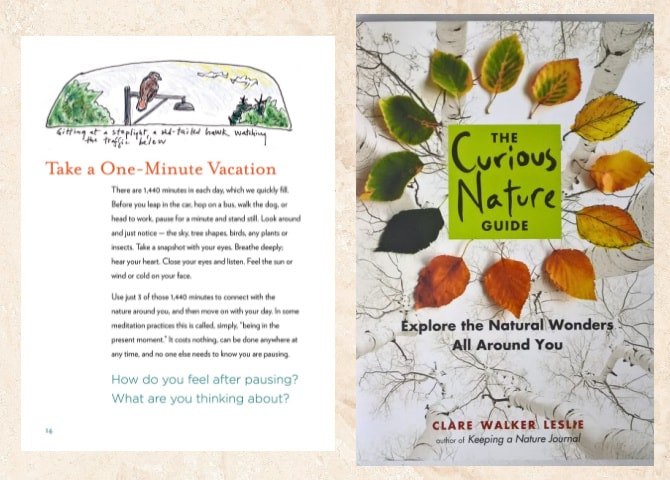 ---
The Eternal Current: How a Practice-Based Faith Can Save Us from Drowning, by Aaron Niequist: As a lifelong Evangelical Christian, I have grown comfortable with church looking and feeling a certain way: a few worship songs, a culturally relevant message (that may or may not be fully rooted in Scripture), perhaps the passing of an offering bucket or communion tray, then a closing prayer, and off we all go to post-church lunch. Worship pastor Aaron Niequist was also quite familiar with this church format, but for him it was no longer comfortable. The limits of his church and faith experience left him feeling spiritually empty, and his search for a deeper, more fulfilling and more fruitful faith led him to step outside of his own faith tradition to reclaim some of the practices and traditions of the past and of other denominations.
The Eternal Current walks through Niequist's personal experience of creating an intentional, practice-based faith community within his own megachurch. Niequist offers a portrait of a "practice-based faith" that is anchored in ancient personal and communal spiritual practices such as centering prayer, liturgy, confession, and a Eucharist-centered worship service. Niequist understands the importance and value of Sunday church but emphasizes that this single hour one time per week cannot be the main event of our spiritual formation, and he offers tools for a practice-based life outside the church walls as well. Through participation in these practices, we accept Jesus' invitation to step into the River of grace, rest, and freedom for the sake of the world.
Niequist's vision for a practice-based faith is intriguing and inspiring. In my own faith journey over the last several years (specifically since participating in a spiritual formation course ten years ago) I have adopted a number of the practices he describes, and these practices have enhanced my walk with the Lord in some powerful ways. While I'm not a church leader, Niequist's enticing descriptions of the communal faith practices have me brainstorming ways to introduce them to my own church or small group, as I have no doubt they would offer great value. I was also deeply encouraged by Niequist's high esteem for the church in all of its many facets, and his reminders of the depth that can be gleaned from believers of other denominations, ethnicities, and cultures.
This book skims the surface of the various options for spiritual practice. Niequist offers numerous resources to those hoping to explore them further, but I wish he had gone into a little more depth in his own book. However, I appreciate the book's vision and its invitation to step outside our comfort zone in order to access a richer spiritual life.
The book ends with an inspiring call to reintegrate through memory and imagination—embracing the wisdom and treasures of those who have gone before us, while building upon those memories to reimagine what those same practices may look like for us as Christians today. I love the idea of incorporating "new" old practices into my already robust spiritual traditions—all while remembering that, like knowledge or perfected theology, spiritual practices are not the point, but they ARE helpful tools for aligning with the Kingdom of GOd.
My Rating: 4 Stars.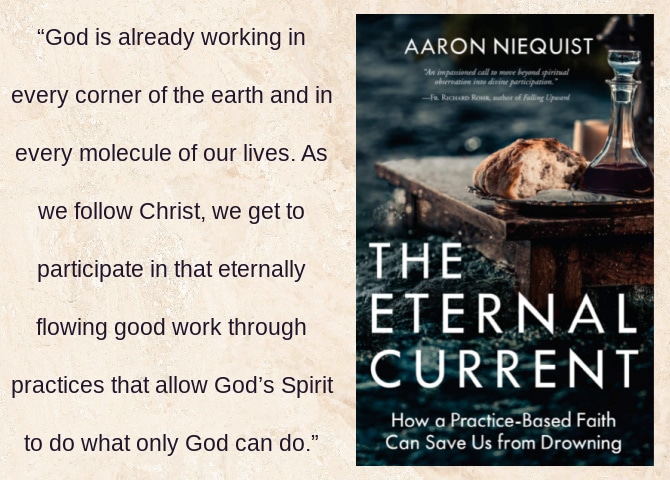 ---
Soul Keeping: Caring for the Most Important Part of You, by John Ortberg: The "soul" comes up a lot in our culture and language: from soul music and soul food, to work and hobbies and relationships and books that "feed our souls". The soul makes an even more prominent appearance in Christian circles, where it is often the center of the conversation. But have you ever wondered about what a soul is, exactly? And more important—what you can (and should) be doing to care for it?
In Soul Keeping, pastor John Ortberg explains that our souls are made by God, made for God, and made to need God: "The soul is that aspect of your whole being that correlates, integrates, and enlivens everything going on in the various dimensions of the self . . . Your soul is what integrates your will (your intentions), your mind (your thoughts and feelings, your values and conscience), and your body (your face, body language, and actions) into a single life." Ortberg explains that a healthy, well-ordered soul brings harmony between these three parts. Only a healthy soul can fully connect to God and His creation.
After exploring the nature of the soul, Ortberg unpacks the factors contributing to unhealthy souls before outlining ways we can attend to our souls by meeting our soul needs for God, blessing, gratitude, rest, and more. Our souls are the streams that give us life, and as the keeper of these streams, the care for our souls lies with us.
I don't know that I have ever thought about the soul in the ways defined in this book, and I found the content fascinating and applicable. The book's premise is centered on the work of Dallas Willard, a close friend and mentor to John Ortberg, and their relationship features prominently throughout the book. While these interactions between Willard and Ortberg add familiarity to the book, they tend to overpower the message; I wish Ortberg had written a dedicated memoir about his touching relationship with Willard and allowed the soul lessons he learned from Willard to stand alone in this book. I'll also note that Ortberg's offbeat humor didn't really resonate with me. However, where I was able to get past the writing style of Soul Keeping, I loved the ideas the book presents.
My Rating: 4 Stars.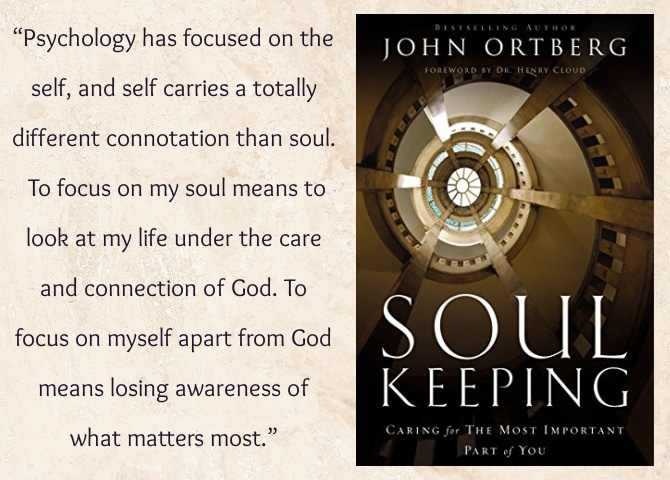 ---
Jesus Outside the Lines A Way Forward for Those Who Are Tired of Taking Sides, by Scott Sauls It's an understatement to say our nation has become polarized in recent years and especially over the past twelve months. Sadly, this division has found its way into the church, with a prevalent us-versus-them mentality between church and culture, and even inside the church itself. Scott Sauls has become a prominent voice for unity and grace, and this book—written SIX years ago, but more relevant now than ever—is a helpful, encouraging guide for fellow Christians who want to move beyond the frustrating clashes between two opposing sides.
In Part One of Jesus Outside the Lines, Sauls examines ways Christians can (and should) move outside of our individual church cultures and traditions, uniting and learning from other believers whose views on politics, race, gender roles, and money may differ from ours. Part Two steps outside the church walls, modeling how Christians may follow Jesus' example of demonstrating truth-filled grace on complicated issues such as homosexuality, God's sovereignty, and hypocrisy. Within each chapter, Sauls presents Jesus as the way forward through harshness, division, and stereotypes.
This book is such a breath of fresh air! Though completely nonpartisan relating to the "nonessentials" of Christianity and culture (such as specific political affiliations or Christian denominations), Sauls never waivers from the core Gospel truths, while remaining gracious and compassionate towards differing views. This is a nearly impossible balance to master, but Sauls does so while pointing readers to Jesus' model, from Introduction to Conclusion. The chapters related to politics were especially helpful for me as I have struggled to understand the perspectives of people whose views don't align with my own; Sauls helped me clearly see how someone could vote very differently from me based on Biblical principles, and his words convicted me (in a good way) on how I've prioritized my own comforts and biases over my care for the marginalized, disenfranchised, and hurting. I also appreciated his thoughts on how we can reach out to those who have clung to Jesus while abandoning the church, and his commentary on hypocrisy among believers (and the harm that it causes) was especially pertinent.
I would love to get this book and its powerful, NECESSARY message into the hands of every Christian in America. If we want to be light to a watching world, we will need to stop taking sides and follow our Lord Jesus who lived beyond our short-sighted, hard-hearted lines.
My Rating: 4.5 Stars (Rounded up to 5 Stars on Goodreads.)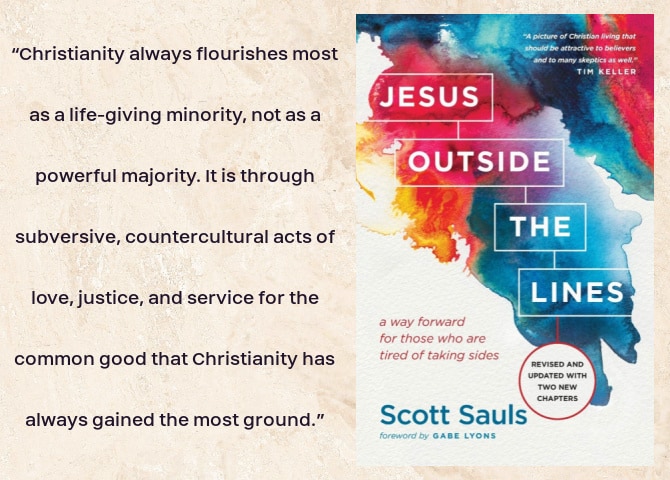 ---
Irreversible Damage: The Transgender Craze Seducing Our Daughters, by Abigail Shrier: I heard this author interviewed on The Daily Wire last fall, and when the book repeatedly came up in other podcasts, blogs, and conversations in subsequent months, I knew it was something I needed to read, even if the subject matter may be difficult to stomach.
In Irreversible Damage, journalist Abigail Shrier explores the shocking spike in transgender identification among girls over the past decade. Whereas gender dysphoria was once a rare affliction, it is now startlingly commonplace, with the transition of young girls to boys becoming not just accepted, but glamorized and encouraged by everyone from teens to media and, sadly, even medical professionals. Presenting detailed statistics and stories from real families, Shrier draws comparisons to similar past crazes, such as previously seen with eating disorders and self-harm, and she examines the various factors contributing to this contagion such as transgender-related curricula in public schools; high-profile trans influencers online; and new social mores that embrace perception over reality. After unpacking the psychological and biological science involved in both the transgender craze and actual experience of the transformation from female to male, she sounds the alarm on the numerous dangers involved in letting adolescent girls transition.
Shrier was obviously aware that her message might not be well received, and she is clear that this book is NOT about adults who have suffered a lifetime of gender dysphoria and associated stigma. (For more on that aspect of this topic, I would highly recommend Preston Sprinke's Embodied.) Shrier does not deny the existence of this affliction or invalidate the pain of trans adults' experience. This book is strictly about the transgender phenomenon among adolescent girls and the negative long-term ramifications for these girls in particular, and for society at large.
Shrier addresses trans activism and related controversies head-on, providing well-reasoned critiques of the gender-affirming model of care being adopted within the contemporary medical community. Heartbreaking stories from parents, detransitioned young women, and skeptical doctors reveal how this phenomenon is harming the broader perception of women, of same-sex attracted individuals, and even adult trans-identified individuals, but most of all, the impressionable young girls themselves.
I was right in assuming this would be a difficult read, but it was a necessary one. I had no idea how prevalent this issue was, and I found Shrier's analysis to be both honest and compassionate, and effective in its goal of helping parents understand how much is at risk for entire generation of girls. It's been a while since a book has shaken me quite like this one, but I beseech all parents to PLEASE read it, if not for answers for how to solve this problem, at least an awareness of its existence.
My Rating: 5 Stars.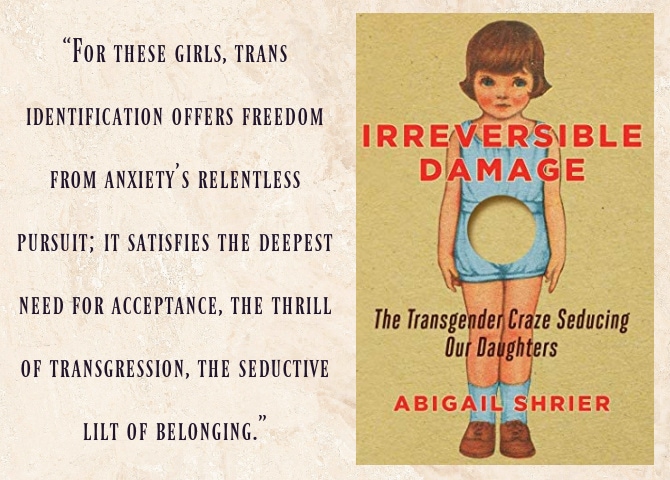 ---
Next Monday I'll be sharing reviews of six fiction books I've read in the past month. Until then, happy reading!